Mountain biking is not just a hobby, it is a passion and in order to pursue your passion, you need to be fully prepared. Being out there on the road, riding your bike, you can never what is going to happen next, but there is one thing that you can do- be able to fight the unknown, that is why preparation is key.
We all know, having the best bike at your side is the main important thing but people take their helmets for granted. What makes the perfect mountain bike helmet, is the one that offers the best head protection, this is very crucial when you are out on the trail, protection goes a long way if you have an accident or crash.
Bike Helmets are very essential pieces of safety gear and they should be given the exact same preference as mountain bikes or any other bike. Some people think that head bumps are minor, they go away but you would be surprised with the symptoms you would be getting later on.
No matter how good a bike helmet is, it can't fully eradicate the head injuries you might suffer in an accident. That is why we always have to make sure to get the best quality bike helmet so that if there IS a crash, the brain and head trauma will be drastically reduced.
Going to the market and looking for that perfect mountain bike helmet is going to be tricky, trust me, I have been there and done that. Luckily, this guide has been put together for your convenience so that you can make a sound decision.
This guide has compiled some of the top-rated bike helmets for different categories like enduro/trail, downhill, or cross-country. Let's get started!
Best Mountain Bike Helmets Ranked:
| | | | |
| --- | --- | --- | --- |
| S/N | Helmets | Why we love it | Price (MSRP) |
| 1. | Troy Lee Designs | Stylish, Aesthetically Pleasing | $545 |
| 2. | Scott Centric Plus | Aerodynamic, Budget-Friendly | $200 |
| 3. | Bontrager Starvos | WaveCel Technology, Affordable | $100 |
| 4. | Giro Artex | MIPS, Detachable Visor | $130 |
| 5. | POC Axion | Comfortable, Ventilation, SPIN | $150 |
| 6. | Bell Super 3R | MIPS, Full-Face Protection | $225 |
| 7. | Giro Chronicle | MIPS, Affordable | $64.95 |
| 8. | POC Tectal | Aramid Fiber, Anti-Sweat | $179.95 – $190 |
| 9. | Smith Optics Forefront | Lightweight, MIPS | $240 $192 |
| 10. | Giro Hex | Affordable, Great Ventilation | $80 |
| 11. | Giro Tyrant | Comfortable, Safety Features | $150 |
| 12. | B'Twin | Affordable, Enhanced Stability | $50 |
1. Troy Lee Designs D4- Editor's Choice
Price: MSRP $545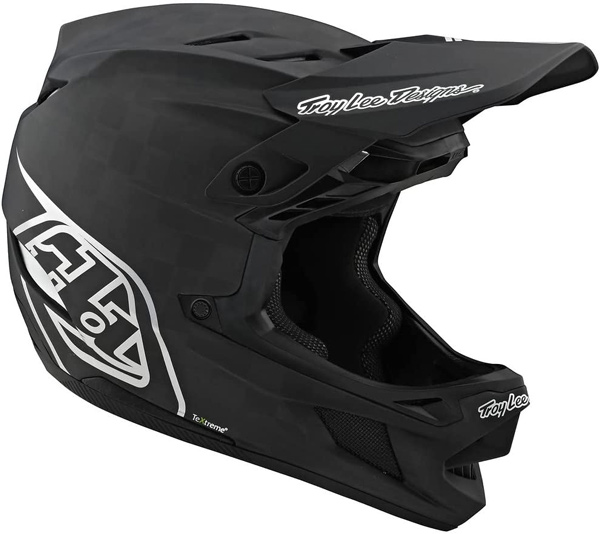 As you have come here looking for the best mtb helmets, you may recognize Troy Lee Designs, the industry veterans that make amazing, top-of-the-line downhill and motocross helmets. This is one of the best products that money can buy, this is the maximum level of comfort, safety, and quality, it just doesn't get any better than this.
Their D4 helmet just shows how protective helmets can be, the design is just so amazing. Even if the price is too much for some, the company even makes cheaper composite versions of the helmet so that everyone can afford it.
What I loved about this helmet are the 20 intake and exhaust ports. They made ventilation so easy and comfortable. Flexibility is also prioritized here as the helmet is available in different sizes.
The D4 helmet also has the option to add some graphics on it, customization is once again king. If you are not satisfied with the default colors, you can always choose different color schemes to go with your preference.
Advantages
Very Stylish, Aesthetically Pleasing
Top-Notch Performance
Comfortable Design
Top Industry Standard
Disadvantages
Editor's Choice: Troy Lee Designs is one of the best makers of helmets and I was immediately sold on their D4 helmet, made actually for racing, this helmet fits perfectly for every kind of occasion. The exhaust ports are nice and offer stable ventilation, and we also tried this helmet for dummy crashes, the results were very impressive!
---
2. Scott Centric Plus
Price: MSRP $200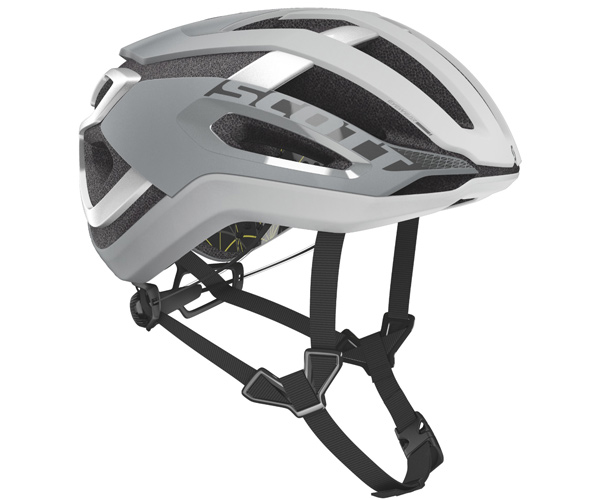 Ahh, the Scott Centric Plus, this helmet has been on my mind for some time, and now it has made its way to the list. Are you looking for the perfect bike helmet for marathon racing or just cross-country adventures? Then you should take a look at the Scott Centric Plus!
Constructed with lightweight materials, and with an amazing aerodynamic design, the helmet proves that it is ready for anything. The fact that it has been used by professional racers like Kate Courtney shows that this is one of the best XC bike helmets.
Not many bikes use the aerodynamic approach, which is not the case with the Centric Plus, which is also one of the many reasons that it is unique. The shape isn't the only awesome feature of the helmet, the inclusion of the MIPS technology offers additional support and protection against accidents and crashes.
Fun design, and large vents to keep you cool during everything make this an awesome helmet for trail riding.
Advantages
Lightweight Helmet
Comfortable Aerodynamic Design
Budget-Friendly
Comes with MIPS Technology
Disadvantages
Why I Like It: The Scott Centric is one of the best bike helmets that you can get, it isn't that much expensive either. One of the main reasons that I love it so much is because of the aerodynamic design, not many helmets do that. It also offers enhanced protection because of the MIPS technology.
---
3. Bontrager Starvos
Price: MSRP $104.99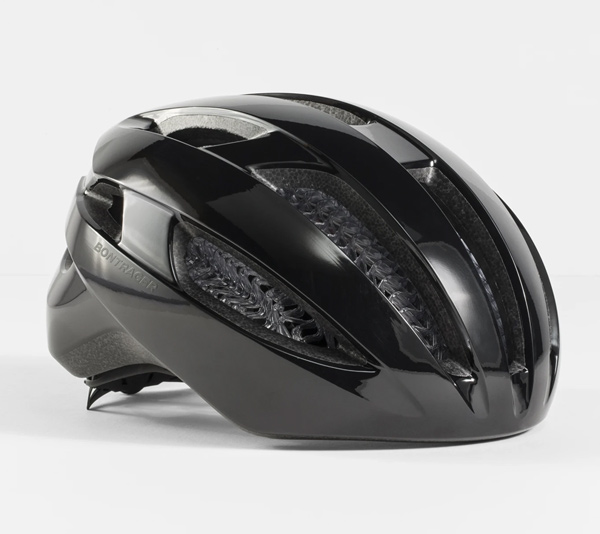 The Bontrager Starvos is one of the best budget helmets that you would come across, I mean with their new WaveCel technology, who wouldn't buy it? If you didn't know before, WaveCel is a new type of hybrid cell-like material. During crashes and accidents, it absorbs all the technology and saves you from critical injuries.
You would be pleased to know that Bontrager also makes this helmet in a MIPS version that combines the WaveCel technology for more effectiveness.
It feels very lightweight because of the low-profile design, you would enjoy the fast performance everywhere, may it be on the road or at an XC racecourse.
People that are looking for great bike helmet options that are budget friendly should go with the Bontrager Starvos, it is a great option.
Advantages
WaveCel Technology
Budget-Friendly Price
Comes In Different Sizes
Disadvantages
WaveCel Still Needs Some Testing
Why I Like It: You don't always have to break the bank when looking for great bike helmet options. The Bontrager Starvos proves cheap options can also offer the same premium quality, combined with the MIPS technology, this bike offers really good protection!
---
4. Giro Artex
Price: MSRP $139.95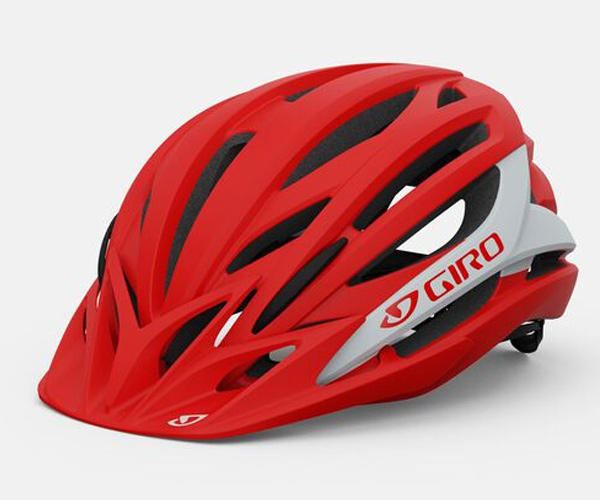 You don't always have to go with a racing bike helmet, it is okay if you want something light and comfortable for your casual rides, and if you are looking for something like that then the Giro Artex is the perfect helmet for you. It isn't well-optimized as other premium products but it works quite well with XC-Style riding and the price tag is just perfect!
The Giro Artex is a really fancy helmet that also comes with a fully detachable visor, which makes it perfect for any kind of riding including XC-Style.
Giro Artex has sneakily added the "Wind Tunnel" vents that allow for enhanced ventilation. They keep you cool on all those rides and the visor protects you from the sun, I don't think that it becomes any better than this.
No matter if you want to ride all day or just have amazing workouts, this is a must-have helmet!
Advantages
MIPS Technology
Comes With A Detachable Visor
Durable Design
Affordable Price Tag
Disadvantages
It Isn't An Actual XC Helmet
Why I Like It: This is one of the best lightweight helmets that you can find in the market, although it isn't a pure XC helmet, it still gets the job done and the results are very impressive. The MIPS technology makes the helmet more strong while the visor protects you from the sun!
---
5. POC Axion
Price: MSRP $119.00 – $149.88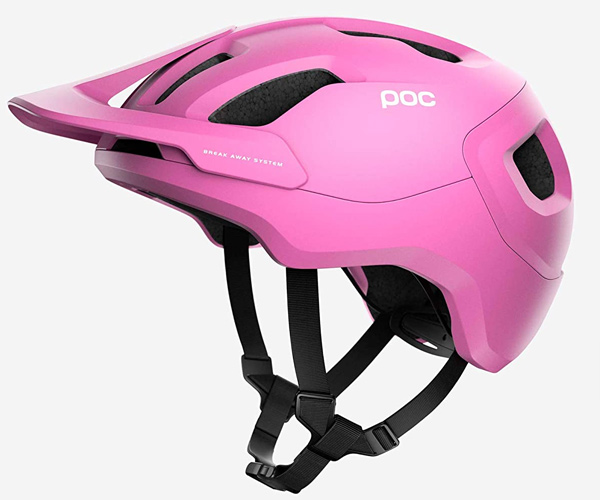 The Axion From POC is one of the best budget yet exemplary bikes in the market, the secret behind its amazing performance? POC's SPIN Technology! It is an exclusive safety technology from POC that bears a resemblance to the MIPS technology, although it is a bit simpler.
You won't believe that this is still the cheapest product from POC, I mean who would? It is constructed with an aesthetically pleasing design that is combined with a top-notch design.
I enjoyed trying the POC Axion on trail rides, It will even perform well on an enduro ride. It felt superlightweight. This is one bike helmet that you shouldn't miss out on!
Advantages
It Is Extremely Comfortable
Allows For Amazing Ventilation
SPIN Technology
Affordable Price Tag
Cons
Why I Like It: The MIPS technology was already amazing, but the SPIN technology makes the helmets even safer while also making things very simple. I love simple bike helmets that offer the best performance while also being reasonably priced, the AXION is one of those!
---
6. Bell Super 3R Mountain Bike Helmet
Price: MSRP $225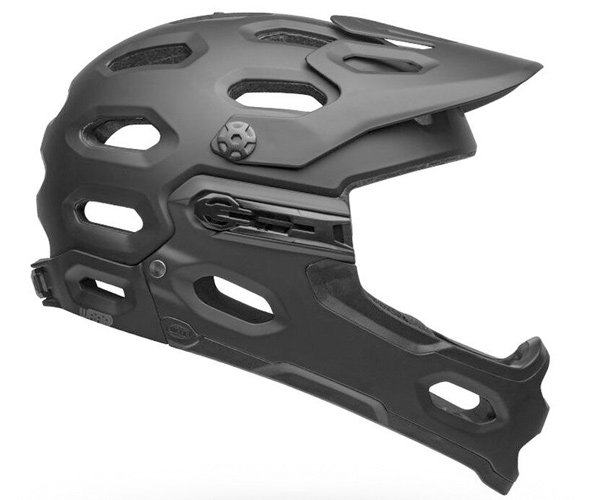 Comfort and protection are very hard to match sometimes but the Bell Super 3R Mountain Bike Helmet makes it seem so easy. This is a full-face helmet and it comes with a detachable visor, it isn't anything like the other downhill helmets that you may have gotten used to, you can even use the full-face option without making the helmet heavy.
Let me break it down for you, the Bell Super 3R helmet is special because of many reasons. First, you get amazing ventilation and safety in a bundled package. In case of violent crashes or accidents, you can totally rely on it! Secondly, the MIPS technology and the chin bar are wonderful addition.
You can easily make the Bell Super helmet fit on your head and that too without the fear of discomfort, the float fit system of the helmet can easily be manipulated. It is a great multi-purpose bike helmet that maximizes comfort and safety.
You would not believe but the Bell Super 3R helmet has about 23 vents, and out of those six are under the brow to promote breathability, how crazy is that? The helmet is also available in different designs and colors, some are even exclusive for women!
Advantages
MIPS Technology
Offers Full-Face Protection
The Chin Bar Is Amazing
Very Lightweight and Breathable
Disadvantages
Very Expensive
Useless Without Chin Bar
Why I Like It: The Bell Super 3R helmet is one of the must-have helmets in the market, there is no one who would pass up on this. 23 vents for extreme comfort and breathability, the MIPS technology, everything points out to an immediate purchase.
---
7. Giro Chronicle Mountain Bike Helmet
Price: MSRP $64.95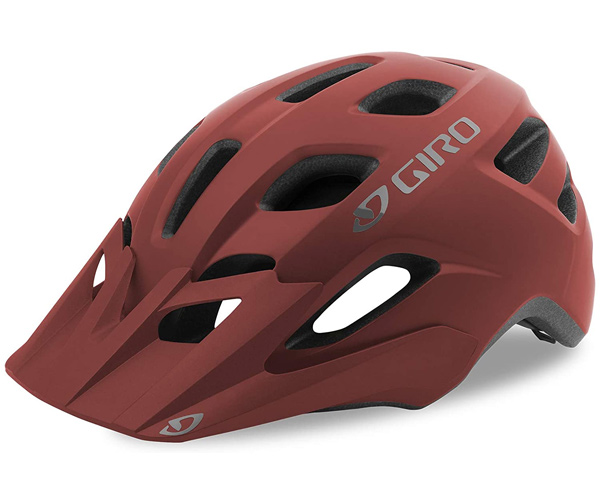 There aren't that many great price friendly options but The Giro Chronicle is a premium budget mountain bike helmet. It is equipped with MIPS technology and that makes sure that your skull is protected from everything. If you love riding on different kinds of terrains then the Giro Chronicle Helmet is perfect for you.
The sides and back of your helmet are going to be well-protected, thanks to the structure of the helmet. Another great thing about the bike is the adjustable visor.
If you are thinking about flexibility, fret not, the Giro Chronicle comes in different sizes and a common Roc Loc fit system, there won't be any kind of discomfort when you use the helmet. You can size up and size down according to your preferences.
For people who have irritation with sweat or any other problems, you would be pleased to know that the helmet is furnished with CoolMax, it is moisture-wicking padding, which will always make your head cool and dry.
Advantages
MIPS Technology
Very Affordable Price Tag
Can Be Used With Goggles
Disadvantages
Cheap Quality Visor, Doesn't Keep Out The Sun
Why I Like It: The Giro Chronicle makes the premium helmets look bad by being this affordable and this much awesome. It even has MIPS technology and it costs less than a hundred bucks, if you want a comfy and protective helmet then definitely go for this one!
---
8. POC Tectal Mountain Bike Helmet
Price: MSRP $103.79 – $111.48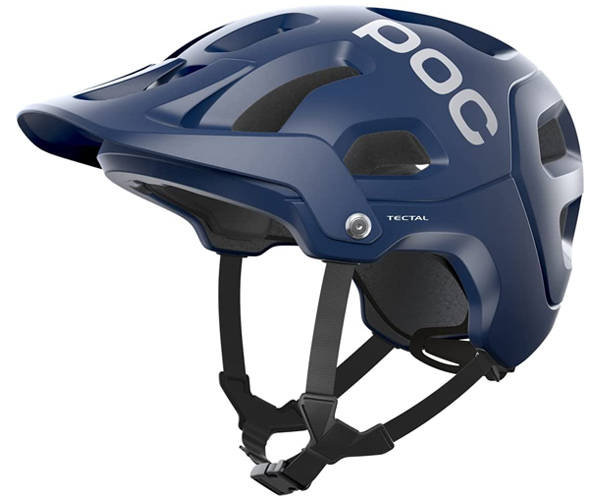 Apart from the POC Axion the POC Tectal is an amazing bike helmet that you should try, it is also packed with state-of-the-art features that you won't find anywhere else. One of the features that make this helmet truly unique is the inclusion of the Recco reflectors. For people that don't know about Recco Reflectors, this makes it very easy for the medical and rescue forces to find you in the case of an accident or an avalanche.
The POC Tectal bike helmet is available in different sizes so everyone can enjoy it. No matter how much you sweat, there won't be any odor on the bike because it is constructed with an anti-odor material-Polygene. Don't worry, your helmet will always smell pleasant.
Well, there is no MIPS on this helmet but instead, there is something better, the Aramid fiber grid. This material is used in military armor so it is quite amazing. Most of the impact is absorbed by this helmet during crashes, we tested it out thoroughly.
No matter how long you wear this helmet, you will always feel comfortable and dry, there is just no discomfort here.
Advantages
Comes In Different Colors
Fitted With Aramid Fiber Grid That Offers Maximum Protection
Constructed with Polygene- Anti-Sweat Material
Offers Amazing Ventilation
Disadvantages
Can't Install Camera On It
No MIPS
---
9. Smith Optics Forefront Mountain Bike Helmet
Price: MSRP $144.00 – $250.00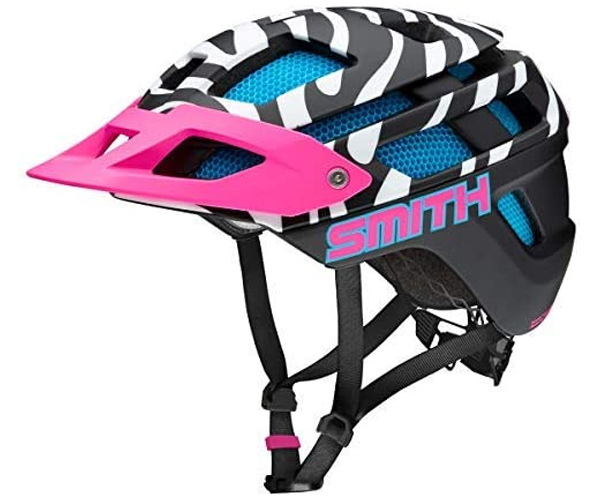 Well, Smith Optics had to make it to the list eventually as these are some of the best full-coverage bike helmets that I have ever come across, the sheer quality is top-notch and I wouldn't have it any other way. The Smith Optics Forefront Bike Helmet is one of the safest, most comfortable, and most durable options that you can go for!
This helmet is compatible with almost everything, may it be a camera, goggles, or even sunglasses, you will always get to experience the great quality Smith Optics is known for. Ventilation with the helmet is also great, although don't get your hopes up that much.
This is one of the few bike helmets that are constructed with Aerocore, you might be familiar with this. For those that don't know what Aerocore is, it's a foam technology that is a mixture of Koroyd and EPS foam, the end result is very durable and comfortable. It even absorbs 30% more at low-speed collisions or accidents.
The Aerocore doesn't just let the helmet absorb more after-shock but also makes the helmet very lightweight so it doesn't feel heavy when you are out on the trail.
The adjustable visor feels nice, you can take it off whenever you like, the visor also comes with Goggle Retention Strap, which makes sure that whatever eyewear you have stays in its place.
Advantages
Very Lightweight
Durable Design
Detachable Visor
Comes with MIPS
Disadvantages
Lack of Proper Ventilation
Not Enough Value For Money
Why I Like It: Aerocore is a great piece of technology, I was actually shocked that the Smith Optic bike helmet is employing this technology. The only thing that I don't like about this helmet is the lack of proper ventilation, well it is there just not enough. Other than that, with the MIPS and visor, everything feels great!
---
10. Giro Hex Mountain Bike Helmet
Price: MSRP $80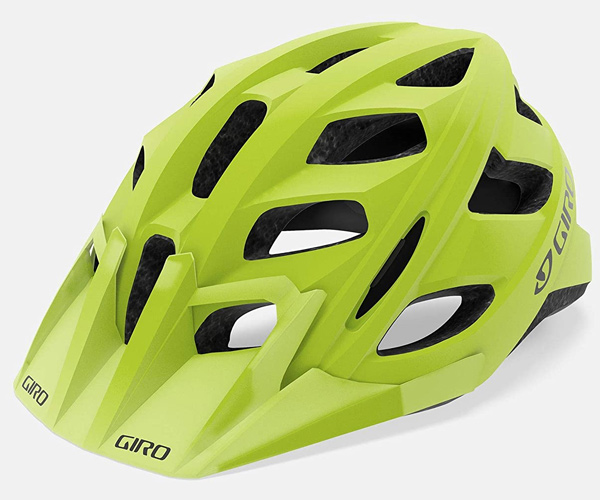 The Giro Hex is yet another comfortable and lightweight option for riders that don't want to invest in something that is expensive. No matter if you take long rides, this half shell helmet is constructed with top-notch materials that will make sure that you get the best measures of safety and comfort.
With the Giro Hex, you don't need to worry about adjustability or ventilation. It has 17 dedicated vents for the promotion of breathability and airflow, you will always remain cool on those long rides. You can also fit the helmet to your head size so it is always adjustable.
Now that I have talked so much about so many components, it is time to shift our focus to the A P.O.V. visor, it comes complimentary with the Giro helmet and acts as an effective shield against the sun. Not only will the visor protect you from harmful rays but also from bushes and branches while you have your fun on the trail.
The Giro Hex is a comfortable and safe option for riders that want a really good helmet but don't actually want to spend that much!
Advantages
Affordable Price Tag
Great Ventilation and Air Flow
Adjustable Visor
Rotational Impact Protection System
Very Comfortable Design
Disadvantages
Why I Like It: As I discussed with you guys before, there are not many cheap mountain bike helmets but the Giro hex proves to be yet another exemplary one. The best thing that I loved about the Hex is the A P.O.V. visor, it does so much more than just protect you from the Sun. Although the design is a bit outdated the performance is still very nice!
---
11. Giro Tyrant Mountain Bike Helmet
Price: MSRP $159.95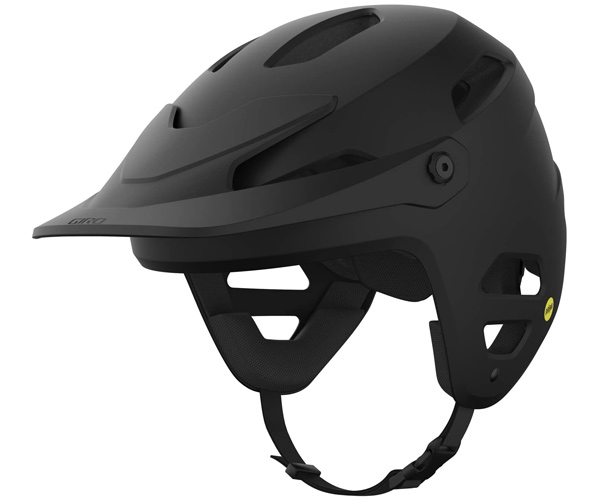 The Tyrant is a great mountain bike helmet by Giro, but things have changed this time. Giro Tyrant has an updated modern design, it offers great protection but it is a tad heavy than the other products from Giro. Ventilation is also okayish, I mean it gets the job done but isn't that much special as the Giro Hex helmet.
The design of the helmet is top-notch with a chin strap, it employs MIPS technology in its construction so that your brain is always protected in the case of an accident or crash.
Some people might not be wowed by the overall design of the bike helmet but I dig it, it is a mix of old and new looks, and fits perfectly when you are out on rides.
The extra coverage that you get with the helmet is priceless I would tell you, but you could get sweaty if you ride with it long enough.
Advantages
Very Comfortable
Offers Great Coverage
Great Safety Guaranteed
Disadvantages
Why I Like It: The products from Giro are amazing and the Tyrant offers great protection and comfort. I honestly want more coverage whenever I go out on rides and the Tyrant offers that, the sweat is worth it!
---
12. B'Twin All Mountain
Price: MSRP $50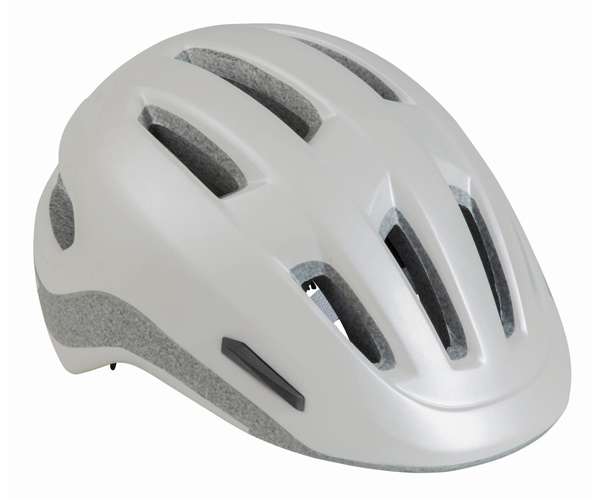 What if I told you that you could get an awesome mountain bike helmet for or under $50, well you would say I am crazy. The B'Twin All Mountain Bike Helmet proves that you can get premium products at a wonderful price! It offers safety, great coverage, and doesn't bug you when you are out on the trails.
If you have a nice pair of riding glasses, you would be pleased to know that this trail helmet is compatible with all types of riding glasses.
The only downfall that I felt with the bike helmet is that it could get very hot on long rides as there was a lack of proper ventilation. Other than that, this is a helmet that you really shouldn't miss out on.
Advantages
Enhanced Stability
Great Comfort
Affordable Price Tag
Disadvantages
Why I Like It: Sometimes I really don't want to break the bank in order to get a good enough bike helmet. I don't take that many long rides so the B'Twin is perfect for me, it offers the coverage I need and the comfort+safety is top-notch. It was definitely a must-have for me!
---
How To Choose The Perfect Mountain Bike Helmet
Did you know that back in the day when technology wasn't that much advanced, people used to wrap foam around their heads for protection during bike rides, that sounds ridiculous doesn't it? You would not believe how far the aspects of comfort, safety, and reliability have come for mountain bike helmets. The relics of the past have nothing to do with the modern bike world, that is why we let technology decide the best products for us.
There is so much common in mountain bike helmets and mountain bikes, in order to find the perfect one for yourself you have to try them out yourself, ride them, and experiment with them thoroughly! Your personal preferences will say a lot here, trust me.
Before you go to the market to look for the perfect mountain bike helmet, you will ask yourself this question- How is this the perfect one? We are here to answer your question and make sure that you actually find the perfect helmet for yourself.
Following are the aspects that you have to consider when choosing the perfect mountain bike helmet!
The Helmet Safety Standards Are Very Crucial
We start with the safety standards for bike helmets, nothing in the world now sells without the proper guidelines and standards that have to be met. Think of them as quality control, without their proper approval, the product won't even make it to manufacturing.
Every consumer product, this includes bike helmets have to pass/meet the Consumer Product Safety Commission (CPSC). These standards have to be followed at least in the United States as other countries have made their own standards. The following protocols have to be met:
The Helmet is fully secured and that it forms a head form
Able to measure G force after a collision
Able to protect to an extent that permanent head injury only occurs at 400 Gs and unconsciousness at 300 Gs
Stability, head straps, and coverage are fully tested
Although this isn't enough, you will have to test out the bike helmets, dummy experiments are a good option. You can go and believe the statistics every time, sometimes you have to make the decision yourself because these lab statistics won't tell you everything.

What is MIPS Technology?
You might be wondering about MIPS technology, we talked about it so much during our top bike helmet list. Now it is time to explain what MIPS is all about! As per the scientific explanation, "It is a thin layer between your head and the helmet, the layer allows you to rotate your head while wearing the helmet in the case of an impact".
Although there are many alternatives to MIPS, having it is a good enough option!
Materials and Overall Construction Is Necessary
You can get everything right with the bike helmets but if you get the overall construction wrong then there is just no point! The materials and construction of the bike helmets matter a lot! There is a crushable foam liner between the head and outer shell and that is very crucial.
If you didn't know, these foam liners are made from expanded polystyrene beads, this lessens the initial impact of a collision and slows down your head. Now, different companies make these liners adapt to slow-speed and high-speed impacts while some mix them both in one great package!
The other shell is also very important, without it on the helmet there is no helmet, just a hat! The outer shell isn't just fancy decals and stripes/patterns, it actually protects that foam liner, and the end result is a smooth surface. The difference between cheap and expensive helmets is how they bond to the shell.
The Helmet Has To Fit
What is the point of buying a mountain bike helmet if it won't even fit you properly? Only can see if the bike helmet fits you properly but still, it would be better if you follow these guidelines:
Without interrupting your vision, it should fully cover your head
Your scalp should be able to move with your head
Make sure that the straps are tight and not loose
Comes in different adjustability options
The Strap makes a Y shape when fastened
There Should Be Enough Breathability/Helmet Ventilation
If you want to go on long rides with your bike helmet then you need to make sure that you don't get hot or sweat that much. In order to do that your helmet should promote that much breathability and ventilation.
In bike helmets, there are ventilation points that are placed very strategically so that they can allow steady airflow and make sure they exit through the points and not get stuck in. You have to keep the vents balanced, more vents don't always mean good!
Other Things To Look Out For
Although these things aren't that necessary for performance, they would add to the fun and comfort of your bike helmets:
Compatible with riding glasses
Has a removable chin bar
Adjustable/Removable visor
Compatible with mountable cameras
Read also:
Helmet Choosing Tips And Tricks
Bike helmets and bikes go hand in hand, one isn't complete without the other. Follow these professional tips and you would always be ready:
Never ever go for a used helmet
Demo the helmet first
Always get a new helmet after an accident
Different terrains require different helmets
How We Choose – Our Process
As a passionate cyclist, I understand the importance of finding a high-quality bike helmet that promises safety and protection during those challenging rides. That's why I've spent countless hours searching for the best options out there. Through extensive research, including honest reviews, customer feedback, and personal testing of some of the listed helmets including the editor's choice, I've narrowed down the top 12 mountain bike helmets that offer superior protection and advanced technology.
Recap
In order to enjoy mountain bike rides, you need to be fully equipped and you can't be fully equipped without a proper helmet. Although I would definitely not recommend full face helmets for mtb riding, you have to meet all the safety procedures before going on rides because anything can happen at any time, being prepared is smart and cool!
My top pick among all the helmets is the Troy Lee Designs D4. It is the best mountain bike helmet with industry standards for perfection. Although a tad expensive but the value is unmatched!
Although that is my own opinion, you will always find the perfect fit yourself!
Happy Riding!