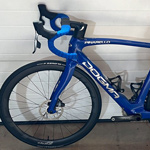 Meet Euan McKenzie – an avid cyclist with an unyielding competitive spirit. With several years of national-level cycling experience under his belt, Euan's passion for biking has led him to pursue a career in writing. As a writer for IceBike.org, Euan imparts his extensive knowledge and expertise on all things cycling – from training and nutrition to gear reviews and more.
Euan's fervor for cycling is contagious, and his articles never fail to inform and captivate readers. He has a remarkable ability to simplify intricate concepts, making them accessible to both seasoned cyclists and beginners alike. With Euan's articles, you can be confident that you'll gain valuable insights and tips to help you achieve your cycling aspirations.
At IceBike.org, we hold our editorial practices and ethics to the highest standards, and Euan is no exception. He adheres to the principles of accuracy, transparency, and fairness in his writing, ensuring that our readers receive content that is both informative and enjoyable. We are honored to have Euan as part of our team and eagerly anticipate his future contributions to our site.
Favorite Bike: Pinarello Dogma
Pro Tip: My tip is for road bikers to focus on proper form and technique. This can help maximize power output, avoid injury, and ride more efficiently. With good form and technique, road bikers can take on longer distances and more challenging terrain with ease.
About IceBike
IceBike is go-to source for everything related to biking.
Our diverse team covers an broad range of topics, providing you with insights into bikes, gear, bike maintenance, training tips, news, analysis, reviews, and opinions. Whether you're a seasoned cyclist or just starting, our content caters to your needs.
With decades of combined biking and cycling experience, our team of expert writers and contributors writes most of our reviews based on their personal experiences and hands-on testing. We also feature content from top contributing writers, coaches, and professional athletes worldwide to provide you with diverse perspectives and opinions.
Accuracy is crucial at IceBike, and our Expert Network comprised of biking professionals and researchers help ensure the accuracy of our content. Our team works tirelessly to keep our content up-to-date and indicates the most recent editorial updates at the top of each article.
At IceBike, we aim to provide you with comprehensive and reliable information on all things biking and cycling. Whether you're seeking tips to enhance your cycling performance, reviews of the latest cycling gear and accessories, or simply want to stay up-to-date on the biking world, IceBike is your go-to source!