Imagine choosing from a huge list of roof racks for your mountain bike, seems like a herculean task. That's not the fun part though, your main decision will depend on a lot of factors- your budget, car type, bike type (We have that figured out), and how many bikes are you planning to carry out at a single time. With this guide, we have tried to make everything easier for you.
Strong Roof Racks For Mountain Bikes (2023 Update)
They are here to open the door to new and bigger adventures, the kind of adventures that you have not experienced before. They increase the car's storage and make your life easier. After going through all that information, you may now want an amazing roof rack for yourself but where to start?
There are a lot of options in the market, and if this is your first time getting a roof rack then you need to prepare accordingly. The good news is that we have done all the research for you, so you don't have to do any kind of grinding.
Here are some of the best roof racks for mountain bikes that we could find.
| Best Feature | Roof Rack | Price/$ |
| --- | --- | --- |
| Best Overall | Thule FastRide Roof Bike Rack | 229.95 |
| Best Versatility | RockyMounts BrassKnuckles | 249.95 |
| Best Security | Thule 516XT Prologue | 161.95 |
| Best Bike Installation | YAKIMA HighRoad Upright Rack | 239 |
| Best Construction | YAKIMA FrontLoader | 199 |
| Best Weight Carrying Capacity | SEASUCKER Mini Bomber Fork Mount Rack | 499 |
Important Notice: All the prices mentioned are subject to change.
1. Thule FastRide Roof Bike Rack- Editor's Choice
Price: MSRP $229.95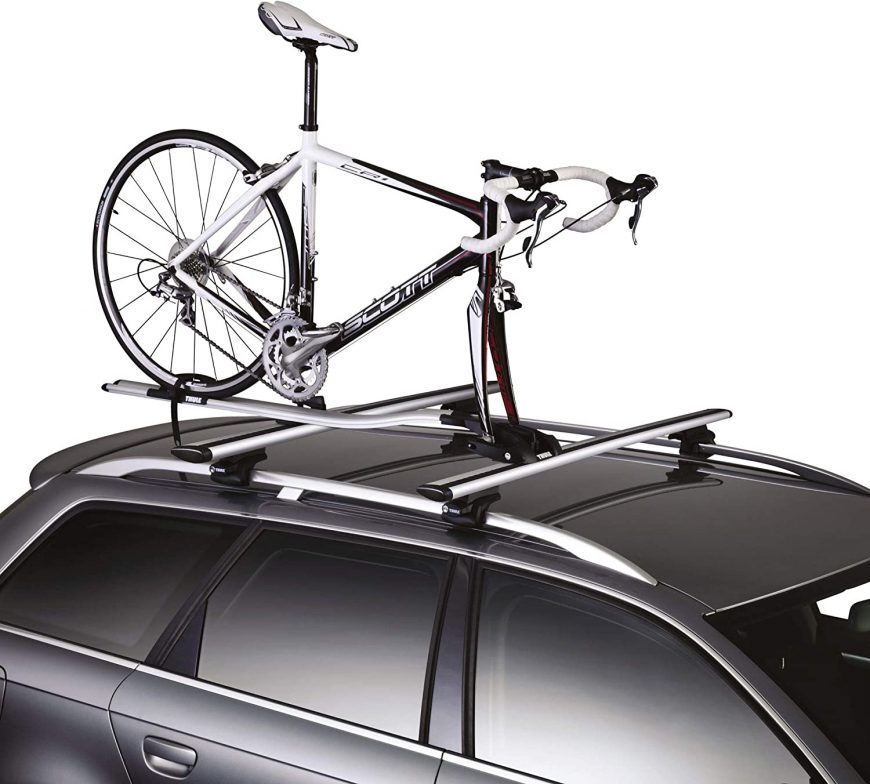 Let's start with the best roof rack that we tried, the Thule FastRide Roof Bike Rack. It has an elegant design and complements the storage space of your vehicle. This is a very lightweight roof rack, when your bike is stored, you won't even feel that difference.
This amazing roof rack from Thule even features a quick-release clamp, which makes detaching the bike very easy and quick. So as soon as the push the brakes, you can start off on your new adventure. The Thule roof bike rack is going to make you look like a professional and give a classy look to any kind of mountain bike that you will be carrying.
The amazing bike carrier has a weight limit of 40 lbs. If you have bikes with up to 3″ wide tires you can install them easily on the vehicle. Thule is my personal favorite because I have used it for a long time. It's not only the looks but this rack is sustainable and strong. I have used it on some pretty rough adventures and it did not disappoint.
The nature of the Thule FastRide is T-rack, it fits on all kinds of vehicles. This is the kind of roof rack that you will want for all kinds of adventures. The Thule OutRude Roof Bike Rack is my most favored choice for a reason.
The design is sleek, and it is also lightweight which means there won't be a lot of burden on your vehicle. Storing bikes has never been this much fun!
Advantages
Lightweight and Sleek Design
Quick-Release Clamp Is Very Useful
37.5 lbs Weight Limit Is Great
Disadvantages
Locks Have To Be Bought Separately
Editor's Choice: The Thule FastRide Roof Bike Rack is amazing, it gets the job done and even has a lightweight, sleek design. The quick-release clamp makes things even easier, just wait till you try this one out.
---
2. RockyMounts BrassKnuckles Bike Roof Rack
Price: MSRP $249.95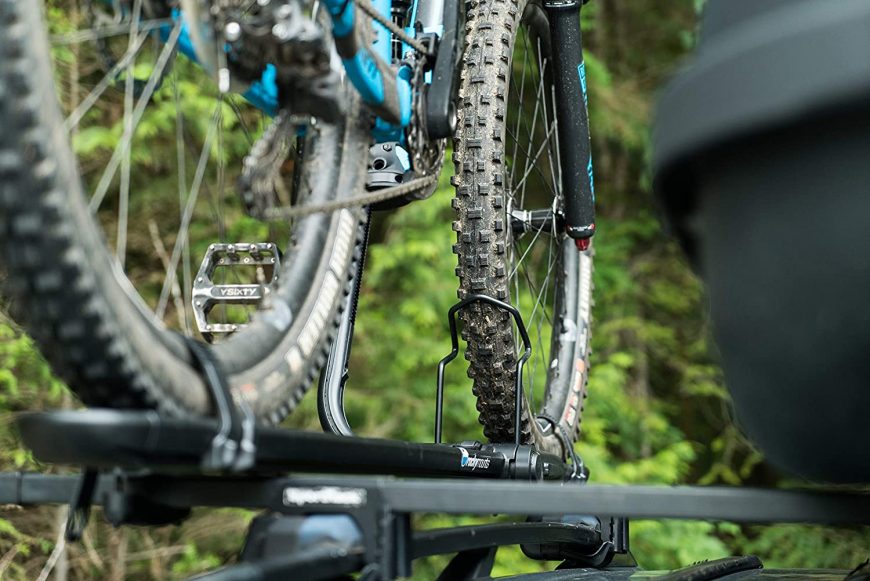 My second favorite is the RockyMounts BrassKnuckles Bike Roof Rack. This roof rack is made to boost your vehicle's versatility. This roof rack has the ability to carry any type of bike, from road bikes to fat bikes. Plus, if you want to carry some kid's bikes with you, that is also a possibility. Bikes of any shape and size can easily be carried with this roof rack.
One of the main problems that persist with roof racks is that you have to remove the front wheel sometimes. This won't be a problem with this roof rack. You can easily unclip your bike and make a move!
This roof rack even comes with tabs that keep the wheel straps away. With the advanced and extensive mounting options, the safety level of your bike also increases. I tried this mount on my last trip and it produced an amazing kind of versatility. The BrassKnuckles can carry any type of bike you want, may it be heavy mountain bikes or even road bikes. Even loading and unloading bikes is hassle-free!
When you are not using the rack, you can fold it to store it somewhere. Plus, there are also a lot of deals going with this rack so be sure to give it a look!
Advantages
Amazing Versatility
Safety Of Bikes Is Enhanced
Easy Bike Loading
Bike Removal Is Easy
Disadvantages
Rattling Noise Is Annoying
Why I Like It: The BrassKnuckles is a roof rack that you should get if you want the best versatility. It can haul different types of bikes of varying sizes, plus removing the bike is also very easy.
---
3. Thule 516XT Prologue Roof Rack
Price: MSRP $161.95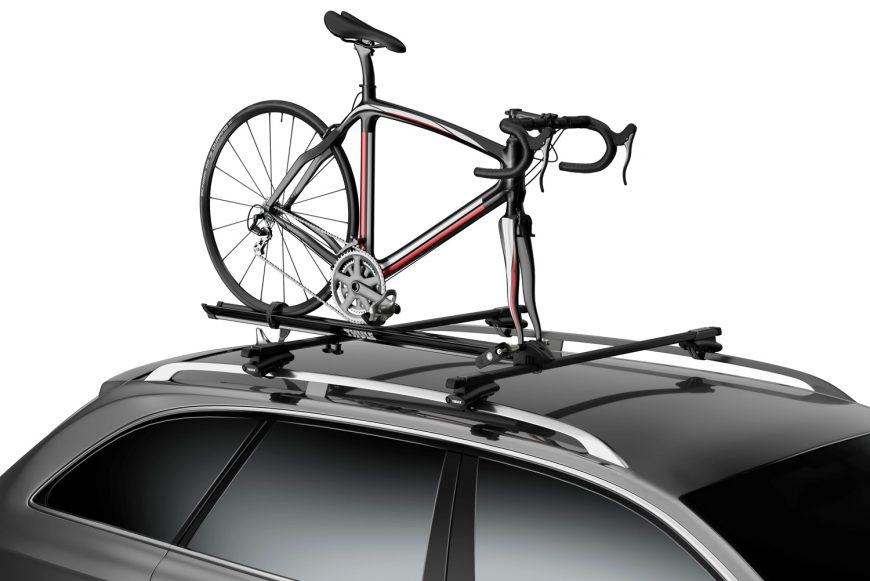 We had to add the Thule 516XT Prologue Roof Rack to our list, the lockable skewer makes it so much worth it. This skewer is the main reason to get the roof rack, it adds a bigger safety layer and provides stability so that you can carry your bike without any hitches.
The construction of the racks is also very impressive, Thule certainly brainstormed a lot while designing this one. This rack adds a single-wall aluminum tray, and the tire width that it can support is 2.6 inches with a wheelbase of 48 inches.
Now, you will not have to worry about the versatility, just fill up the rack with any kind of bike you want. This here is another amazing roof rack from Thule, it even maximizes your storage space. The lockable skewer is great for securing any kind of bike you have in storage.
The roof rack has seen some upgrades, it even supports the majority of the 9mm brakes while also working with 15mm and 20mm brakes. With these many features, it is hard not to love Thule and its amazing roof racks!
Advantages
Lockable Skewer Is The Unique Factor
Increased Security
It Has A Perfect Fit
Bike Mounting Is Quicky and Easy
Disadvantages
Rack Construction Is Not Sturdy
Why I Like It: The Thule 516XT Prologue Roof Rack is packed with amazing features, with the lockable skewer standing out. You can rack up and carry different bikes without having any kind of worries. The rack even works with most of the 9mm brakes now!
---
4. YAKIMA HighRoad Upright Rack
Price: MSRP $239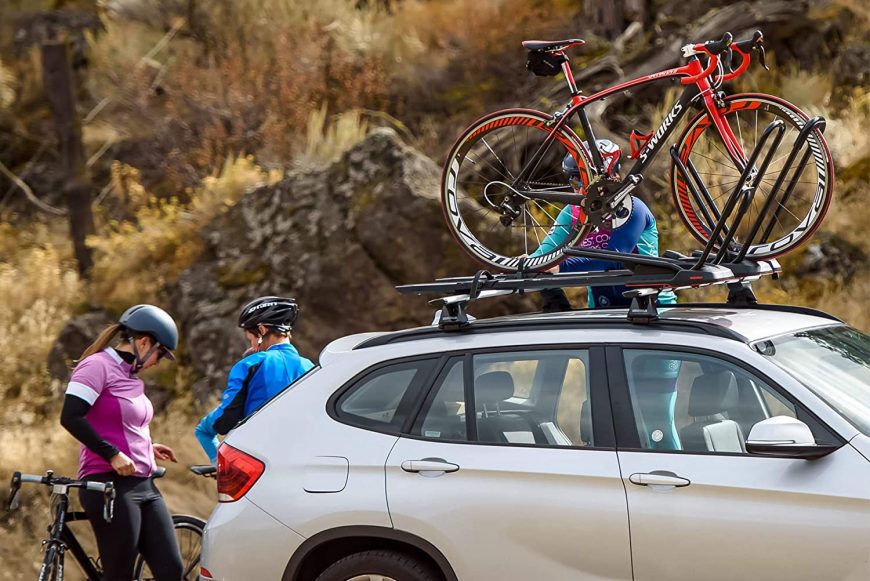 The YAKIMA HighRoad Upright Rack is here to make all of your worries go away. You can guess it by the name, this rack is designed to make sure that your bike reaches the destination safely, even if it is through the high road. This rack makes sure that the car's weight does not increase and the height of the roof also doesn't see that much of a difference.
This is the newest addition to the YAKIMA Roof Rack collection, but it has premium construction and comes with a hook and cradle. This is something that you don't see in a lot of racks. You can use the hook and cradle to adjust your bike's perfect fit as YOU want!
There is also no frame contact, thanks to the clamp and wheel strap. When there is minimal or no frame contact, there will be no dents or scratches on your bike. The installation process is very easy and you can also remove it without problems. Although if you need to fit bikes of all shapes and sizes, you would have to upgrade the base version.
Loading and unloading the bike is also fun and easy with the YAKIMA HighRoad rack. This rack does not require any kind of tools to unload the bike, just remove the strap and then unload your bike, it is that simple.
Advantages
Installation Is Very Easy
Cradle and Hook Eliminates Frame Contact
No Need For Wheel Removal
No Frame Contact
Disadvantages
Needs An Upgrade To Fit All Kinds Of Bikes (Different Shapes and Sizes)
Why I Like It: The YAKIMA HighRoad Upright Rack is a recent addition, but the quality is unmatched. They have already added the cradle and hook feature to make it more unique and fancy. With the no-frame contact feature, the protection of bikes is also increased. Although if you need to carry all sorts of bikes then you would need to upgrade the rack model.
---
5. YAKIMA FrontLoader Bike Rack
Price: MSRP $199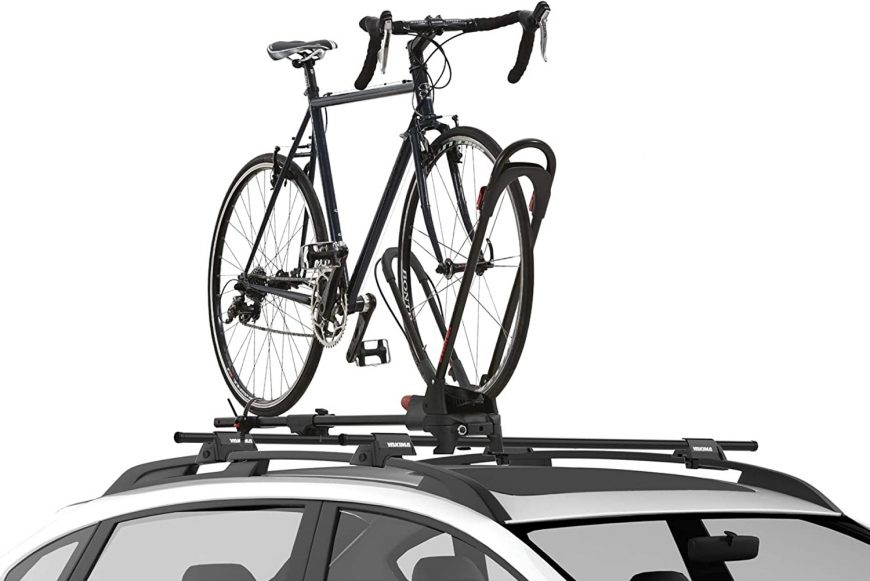 People love getting superior bikes, the kind of bikes that will separate them from others, but when it comes to accessories, why do they run away? With the YAKIMA FrontLoader Bike Rack, there will be no need to run away as this is the perfect roof rack for the expensive bike that you got!
This is not a budget-friendly roof rack, the features, and premium construction are the main reasons. It is also not that much expensive, if you can afford an amazing bike then definitely you can also get this roof rack. The FrontLoader Bike Rack is oozing with versatility and quality.
If you have a bike with 20-29-inch wheels then it can easily fit into this rack, you won't have to worry. This roof rack also supports all kinds of crossbars-Aerodynamic, square, or even round. The YAKIMA FrontLoader is the kind of roof rack that is going to complement the expensive mountain bike that you just bought. The quality and versatility are seriously off the roof!
This roof rack comes with a lifetime warranty, so if you have any problems or the rack gets damaged, you will either get a replacement or a full refund.
Advantages
Very Easy Assembly
Enhanced Safety- Twin Lock System
Supports All Kinds Of Crossbars
Sturdy Construction
Disadvantages
Lock Has To Be Bought Separately
Why I Like It: The YAKIMA FrontLoader Bike Rack is going to be a premium addition to your range of racks. From the features to the actual performance, this rack guarantees the best results. The Twin Lock system adds another safety layer to your bike.
---
6. SEASUCKER Mini Bomber Fork Mount Rack
Price: MSRP $499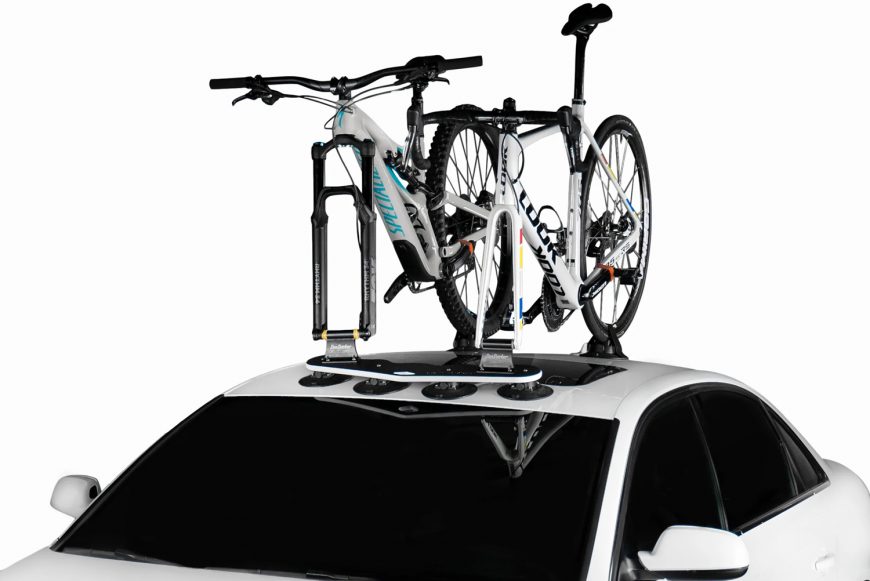 If you like fork mount racks, you are going to love this one. We have been waiting to tell you about the SEASUCKER Mini Bomber is the option to go for if you want to carry two bikes with you. You don't even have to install a full roof rack, just stick this bad boy on your car's roof.
The installation process is very easy, you don't need any nuts or bolts, this rack has vacuum suction cups so it attaches itself directly. The vacuum cups have been tested thoroughly and they can hold the maximum weight of 210 lbs which is just amazing.
With the SEASUCKER roof rack, your call will always maintain that sleek look that you are used to, there won't even be an extra bulk. When the rack is carefully installed, you can secure the front of the bikes very easily using the universal fork mounts and the two holders. With this rack, you will have to remove the front wheels of the bike.
The SEASUCKER is a very different kind of roof rack. This is a hassle=proof solution if you want to carry two bikes but don't want to go through the pain of installing a roof rack.
Advantages
Plenty Of Weight Limit (210 lbs)
Can Carry 2 Bikes
Hassle-Free Installation
Disadvantages
Why I Like It: The SEASUCKER Roof Rack is the ultimate option if you want a hassle-free option for carrying bikes. This does not require any kind of complex installation, just put it on your roof and clip the bike. I was honestly surprised by the weight limit.
---
Why Choose Roof Racks?
You must be asking this question- Why choose roof racks in the first place?
Roof racks are amazing, to say the least. Whether you are transporting your bike for a local race or a picnic, these racks will prove to be quite special. Having a roof rack installed means more space for the passengers to enjoy the ride, and you also won't have to worry about the bike. Plus, there will be no need to put the dirty bike inside the car after the ride, right?
If you are craving new adventures, then the bike racks are going to act as a ticket, they will allow you to go wherever you want. You can have the best kind of gear, bike, and even dedication to check out that new place for riding, but you will always run out of time, it happens to everyone eventually.
With a roof rack installed, you can have all the adventures you want. When you load up your bike, this will allow you to visit new places for adventures and even try a different discipline of riding, if you want. With these racks installed, many ideas come into play, why not have an amazing weekend after work or take part in a race far away from where you live?
Roof racks allow you to carry different types of stuff and not just bikes, you can carry surfboards, kayaks, snowboards, and much more. Whatever you can fit in there comfortably, you can carry with you, so that makes the options almost endless. You can choose hitch-mounted racks or opt for a fork-mounted rack, with these installed, the rearview will not be blocked and you will still be able to use your trunk without any kind of problems.
Advantages of Roof Racks
With bike racks installed on your vehicles, you will be able to enjoy the following benefits:
Storage Space is Maxed Out
Vehicle Appearance is Greatly Improved
Versatility Is Increased
Fresh Air Inflow is Promoted
Storage Space Is Maxed Out
The main reason why people favor racks over other kinds of bike racks is that they maximize the storage space. With them installed, the trunk is not blocked for usage. Apart from the trunk being usable, you carry all sorts of things on the racks like surfboards.
Vehicle Appearance Is Greatly Improved
If you thought that putting a roof rack over your vehicle would demonize the vehicle's look then you were wrong. They actually beautify a car's appearance, just make sure that you don't install a very simple-looking roof rack. You can go for the glossy options, or the customizable ones if they are an option for you.
Crossbars are also an option if you want, with roof racks installed, you can keep on experimenting as they can be removed easily without any kind of problems.
Versatility Is Increased
With normal vehicles, you don't have a lot of storage options, unless and until you have a pickup or even an RV. There are always going to be things that your bike will not be able to carry, well that is why you have roof racks. With them installed, you make your vehicle more versatile.
The installation period might take some time, but when you will be done, your storage capacity and versatility will increase.
Fresh Air Inflow Is Promoted
Imagine what would happen if you stored all of your food, dirty clothes, and sporting gear in one place. It would be a disaster and the kind of smell you would get exposed to will be horrid. This situation will never occur when you will have roof racks installed. Your interior will be free and this will allow proper inflow of fresh air.
Mountain Bike Roof Rack- Buying Guide and Criteria
Mountain Bike Roof Racks are amazing, with them installed you can have your adventures whenever you want. These racks give a sleek look to your vehicle while also being lightweight. If this is your first time getting a mountain bike roof rack then you might get confused, but don't worry, we are here for you!
We have done all the research there needs to be done about these roof bike racks. These are things that you need to look out for when looking for rooftop bike racks.
How Is The Installation Process?
Roof Bars and Racks should be very easy to install, the process should not be complex and it should not require a lot of tools. The best kind of roof rack for mountain bikes is one which can be installed without any kind of problems and also removed like that.
Trust me, there are some complex hitch mount racks out there that cannot be installed without the presence of some engineering knowledge, that is not how it should be. People think that if the roof rack is firm then they should go for it, but that should not be reason enough.
If you can go to the store and check out the rack yourself that is good, although if you are online shopping then do check out the customer reviews section.
Is The Rack Safe Or Not?
Your bike needs to be safe while being transported, so make sure that you check the safety and security features of the rack before purchasing. The racks need to be firm and they need to hold the bike tightly so it does not fall off. If the rack has a locking mechanism with it installed then that is even better.
Check The Size Of Your Bike
Checking the size of your bike before you get a roof rack is very critical. There are going to be some racks that support all shapes and sizes of bikes, while with some racks you will have restrictions.
Get a roof rack that already supports all kinds of bikes, there should not be a need for upgrades. You don't want to be in a situation where your bike doesn't fit when the roof rack is installed.
How Many Bikes Would You Be Carrying?
Typically, a roof rack can carry one bike, but if you plan on carrying more than one bike then you need to be prepared accordingly. Get a roof rack that supports more than one bike, that too in the base version of the rack. If you have to spend extra dollars to support another bike then that won't be worth it.
FAQs
How Do You Mount A Mountain Bike On A Roof Rack?
With some roof racks, bike mounting is very easy, you will need a set of tools and will have to remove the front wheel. The instructions are always mentioned in the manual that comes with the roof racks.
How Many Bikes Can You Carry With A Roof Rack?
Naturally, you can carry one bike with you but there are different roof racks that can carry multiple bikes simultaneously.
Can You Use Roof Racks For Bikes?
Roof Racks are made to transport bikes from point A to point B.
Recap
Mountain Bike Roof Racks are amazing, they allow you to carry bikes with you so that you can have amazing adventures. With these amazing tools, you can fulfill your wildest dreams without any kind of consequences. There are amazing bike racks that support all shapes and sizes of bikes, not just mountain bikes.
These are some of the best bike racks on the market but our top choice is Thule OutRide Roof Bike Rack. It has a premium construction and even the features to back that amazing performance.
In this guide, we discussed and showed you different kinds of mountain bike roof racks, and also discussed the criteria for getting a roof rack for all sorts of bikes, not just mountain bikes. If you don't think this is the right option, a good alternative would be to look for trunk racks or a hitch mount rack. We hope that after going through the guide you have enough knowledge about racks. If there are queries then do reach out to us in the comments below.
Also Read: 15 Best Bikes For Heavy Riders
---