Cycling is the type of sport that cannot be replaced, neither can you get enough of it. When a person goes on vacation, they usually leave their belongings back home, but true cyclists would never leave their bicycles behind. That is why we have bike racks, these wonderful tools allow you to take your bikes wherever you go!
Upon visiting the market we can see that there are a lot of bike racks on sale, different varieties and prices but all have the same main goal. These bike racks allow you to carry your bike wherever you go, without stuffing them inside your vehicle like a turkey! With that being said, with these racks, you can carry bikes easily, without sweat. Through this guide, we will help you find an excellent SUV bike rack that you can use for a very long time.
People want the best bike racks for themselves and they even think that it is easy getting one. Although that is not true, the definition of best bike racks depends on many things. The best bike rack for yourself will depend on the following aspects:
Type of car/mount
Tire size
The number of bikes you want to carry/transport
Spending budget
The Different Types of Bike Racks
Now that we know what makes the perfect bike rack, there is something that you must further know. There isn't a single type of bike rack, there are different types of bike racks and we will explore those different types. These variations in bike racks allow you to make your decision more easily while also exploring the different types of racks.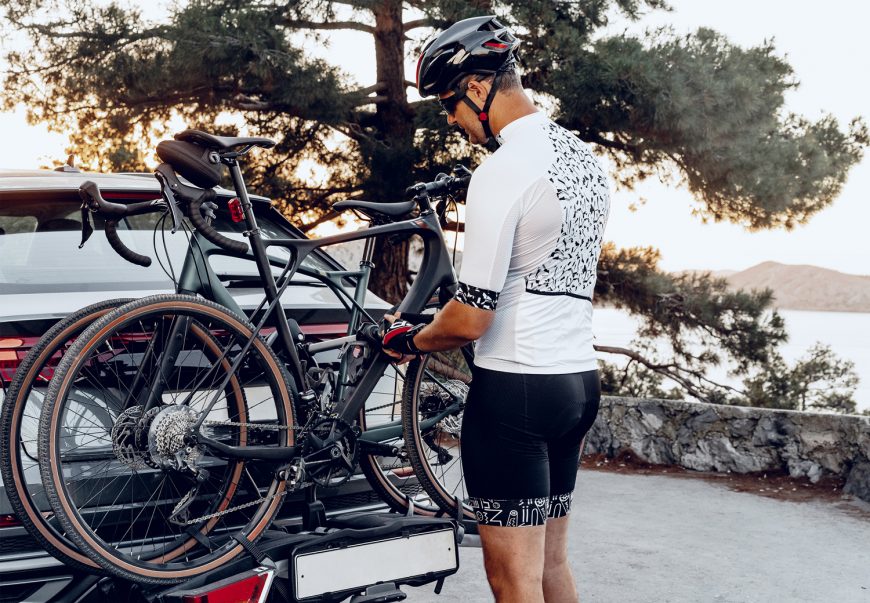 Let's take a look at the different types of racks that you can get:
Roof Racks
Hitch Racks
Trunk Racks
Tailgate Pads
Roof Racks
Let's discuss the roof racks first! When it comes to roof racks there are three types and you can choose between the two. First, you have the normal kind of roof racks, secondly, you have the trays that fit on your crossbars/rails, and thirdly we have suction cups.
You can carry your bikes with these roof racks very easily, it is your choice if you want to carry them with or without wheels. Although if you have bikes with disc brakes then carrying them without wheels becomes a huge problem. The best thing about roof racks is that they are very secure, and your bike reaches the destination completely undamaged, but you can still sometimes forget that there is a bike on the roof so caution is advised.
Overall, these roof bike racks are really good for transporting your bikes, you just have to be really careful. Although if you still have doubts then you can go for a hitch bike rack!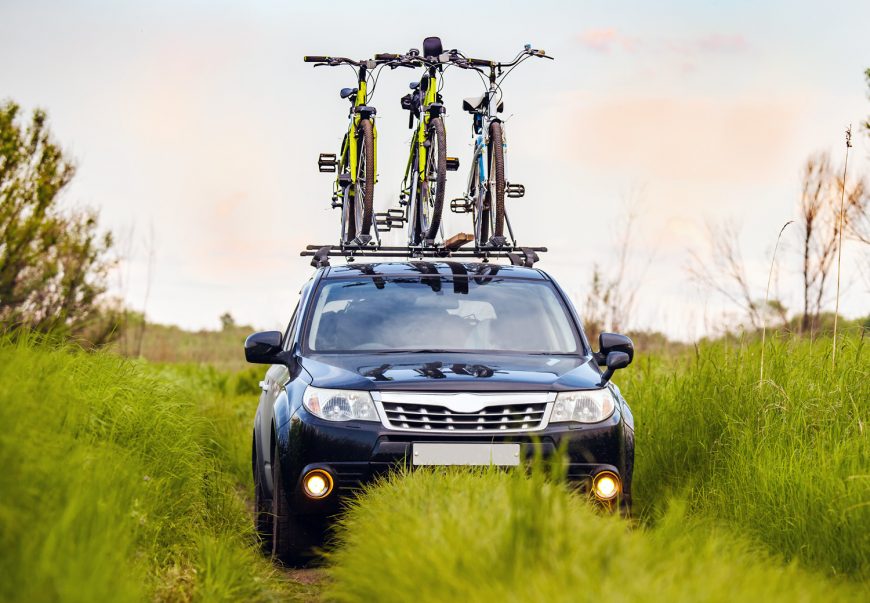 Hitch Racks
Of all the types of bike racks, hitch racks are the most convenient and fun to use. They are very easy to use, especially when we compare them to the hood racks. Hitch racks get installed very easily, and once they are installed, carrying bikes with them is seamless. How do they work? These racks slide into any kind of vehicle's receiver tube, the process is very simple! Hitch mounted bike racks are far better than the other options that you can get in the market. I have been using this tray style hitch rack and they are very satisfying!
The new kind of hitch racks is even more fun and advanced. These kinds of racks lock on to the hitch and when they are not being used, they fold up, which is pretty convenient. Some of these racks come with special integrated locks, and extended arms to protect the bikes. Trust us, the locking hitch pin comes in very useful.
The main downside of using these hitch racks is that they make the car longer and that does not look good if we are being honest. You could face some problems while parking! Overall, a hitch mount bike rack would be a really good option.
Tailgate Pads
Tailgate Pads are other options that you can avail. These pads actually attach to the gates of your pickup vehicle, from there they hold and cover your bikes and like that, you can attach a lot of bikes. You just need to attach the pads to the gate with a set of webbing straps, make a loop of them around the gate and you would be good to go.
The correct way of doing this is to load bikes to the rear wheel first, after that, you can secure every bike that you are carrying with the bike's down tube, just don't forget to use the looped straps. They are technical, but once you get used to them, they are very comfortable to use.
Trunk Racks
Let us talk about the trunk rack now, they are the cheapest option that you can find. As you can see, this kind of rack attaches to your vehicle's hood using only straps and hooks. After that, the feet of the rack stabilize against the car, it is yet another technical marvel.
It may be hard to get the concept of the whole thing, even attaching them for the first time is a problem but it gets really better. Installing and then uninstalling these racks actually gets fun with time! There is a certain risk with using a trunk bike rack though, if you park in a dangerous area, you will have to remove that rack and then store the bike inside of your car because these racks actually don't lock the bikes in one place.
The thing with trunk bike racks is that while using them, they can scratch the car's paint. Trunk mount bike racks are also not compatible with bikes that are shaped differently because they hold the bike by the top tube, you have to be careful with that.
Top Bike Racks For SUV Ranked:
Now that we have talked about the different types of bike racks, it is time to discuss the best racks that you can get right away.
Editor's Choice: Thule T2 Pro XTR
The Thule Y2 Pro XTR is one of the best hitch racks that we came across. The durability is amazing and you can use it every day without it getting damaged.
RockyMounts MonoRail
This is an extremely versatile hitch rack, is even priced very well. You can carry two bikes with this model of the RockyMounts.
Yakima OnRamp
If you have electric bikes then you are definitely in luck, this rack is exclusively made to transport them and with extreme ease too.
Thule UpRide
The Thule UpRide is an amazing roof rack, you can install and use it very easily. If you have a lower vehicle and lightweight bikes then this rack will do wonders for you!
Allen Deluxe 2-Bike Trunk Carrier
The Allen Deluxe is an amazing trunk rack that is best for people that don't have a very high budget. It is completely secure for your bikes and never compromises on quality.
SeaSucker Komodo
The SeaSucker Komodo is the type of roof rack that you don't see every day. It is very easy to use and provides amazing protection for your bikes.
Kupper Mounts
This single bike rack from Kupper Mounts is amazing, you can easily use them as a roof rack and their performance is unmatched.
1UP Equip-D Double
These hitch racks offer the most adaptability that I have seen in bike racks. Their wide structure allows you to carry fat bikes wherever you go!
Saris Bones 2-Bike
Are you looking for an amazing trunk rack? Well, Saris Bones 2-Bike is going to work really well with your car, this rack provides amazing protection.
Küat Sherpa 2.0
After the Thule T2, this is the next best choice that you should definitely go for! It offers easy installation and protection for the bikes!
1. Thule T2 Pro XTR 2 – Editor's Choice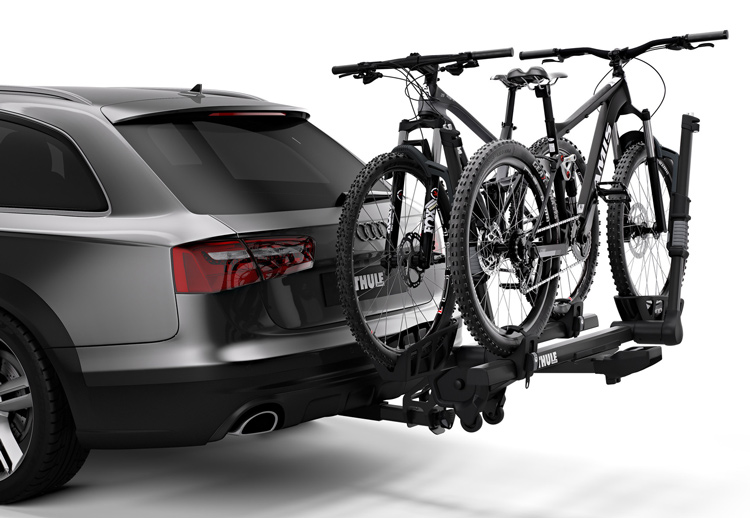 Price: MSRP $699
Rack Type: Hitch
The Thule T2 Pro XTR is one amazing hitch rack for bikes, we have tried it thoroughly and it has come on top without a doubt. This rack isn't something new or recently discovered, Thule has actually been making amazing bike accessories for a couple of years now.
One of the main reasons that make Thule T2 Pro the best is their amazing combination of versatility and user-friendliness, no one does it better than them. No matter if you are carrying something heavy as mountain bikes or something lightweight as road bikes, the utmost protection and transport of your bikes are guaranteed.
Even the features of this rack are amazing, you get to enjoy a low load height along with a ratcheting wheel clamp. I would say that Thule has really done it, when it comes to the T2 Pro XTR, the attention to detail is top-notch. The wide wheel tray of the rack allows you to store every type of bike, no matter the wheel size or the overall structure, you can even easily transport a fat bike!
Users are going to love the accessibility with this rack, with the tilt release mechanism, you can easily access the rear of your car without any kind of discomfort or problem. The price tag may be expensive, but it doesn't get any better than this so do try it out! This is the best hitch mounted bike rack to go for.
Advantages:
User-Friendly Construction
Durable and Sturdy
Extra Space Between The Trays
Easily Installed and Removed (Tool-Free)
Lateral Tray Adjustment
Disadvantages:
Expensive Price Tag
Very Heavy
Editor's Choice: The Thule T2 Pro XTR is one amazing hitch rack, it is currently the best choice that you can avail of in the market. When combined with the 2 Bike Add On, you can transport up to 4 bikes and that comes in very handy. It offers ease and comfort of usage, not many bike racks offer you that. It is a bit pricey but the quality does not come cheap!
---
2. RockyMounts MonoRail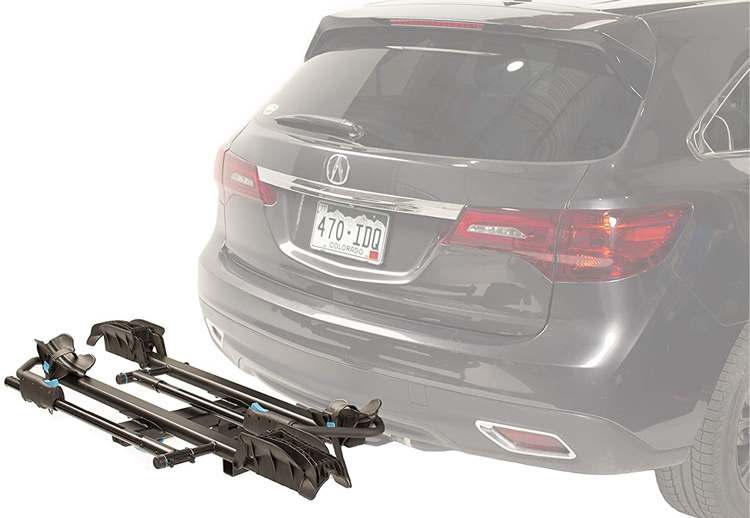 Price: MSRP $499
Rack Type: Hitch
Sometimes we try to look for bike racks that are actually inexpensive but in the long run, they do get very expensive, it is because they don't offer enough value to the customers. That is why we found an amazing option for you: The RockyMounts MonoRail. It is reasonably priced and offers really great value!
It has a good price but the features are all of the premium models that you see in the market, getting this bike rack is a really good decision. The versatility is amazing, the wheel tray system and ladder strap in combination allow you to store any kind of bike, fat bike included. This is a really good platform rack, that is why it holds all the bikes by the wheels, this way there is no contact with the bike's frame.
If we talk about user-friendliness, that is amazing too, thanks to the one-hand tilt release mechanism, you can store and unload bikes easily. The hitch pin lock and the cable lock system maximizes the protection of your bikes.
When I first saw this rack, I was very impressed by the overall construction. The rack is constructed with a strong metal receiver arm, bike trays, and main support arm. You have to try this bike rack for yourself! Although you have to be careful while using it, if you are not careful there could be some durability issues. This could be because of the plastic construction and the rear wheel trays.
Advantages:
Reasonable Price and Amazing Value
Strong and Durable Construction
It Is Highly Versatile
User-Friendliness Is Great
Secured With Locks
Disadvantages:
Difficult Assembly
Lesser Vehicle Clearance
Why I Like It: The RockyMounts MonoRail is a bike rack that maximizes value, even though it is reasonably priced. Simply, there is nothing like it in the market. It secures your bikes with extreme prejudice and you can carry them from point A to point B without any kind of problems.
---
3. Yakima OnRamp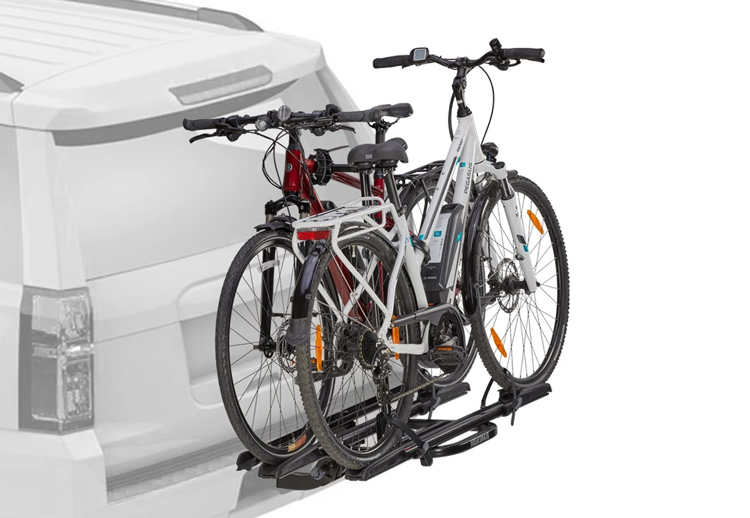 Price: MSRP $649
Rack Type: Hitch
You know that electric bikes are getting very famous nowadays right, especially electric mountain bikes. They are amazing but transporting them is very hard, they are very delicate, that's why. There are not enough bike racks in the market that allow them to be safely transported, but then there is the Yakima OnRamp. Yakima is here to solve all of those problems, with the OnRamp rack they allow you to transport heavy electric mountain bikes that require extra care.
The Yakima OnRamp rack comes with a removable ramp system, that way you can roll the bike on and off the vehicle. It has a maximum whopping weight limit of 66 lbs, so you can easily store any kind of bike you have in your collection. The adjustable design is where I fell in love with this rack, the frame claps, wheel straps, and trays can all be moved without any kind of tool.
The only thing that I didn't like was the loading time, but that gets easier too with time, you just need to be patient. The rack is available in both 1.25-inch and 2-inch versions, so you can get the right version according to your requirements.
The contorted and complex loading process might take some time to master, but that does not disrupt the overall experience and performance of the racks. Ratcheting straps are used to hold the frame of the bike, and that poses a problem because you can't avoid contact with the frame.
Advantages:
Can Store Heavy Weight Bikes Easily
Ramp Features Makes Loading Process Easier
Better Price Than Other Models
Disadvantages:
Loading Process Is Very Complex
Difficult To Use Tilt Mechanism
Why I Like It: When it comes to electric mountain bikes, Yakima OnRamp is an amazing bike rack that offers seamless transport. You don't have a lot of better options than the Yakima in the market so that is why it even offers a really good price. The adjustable design is amazing and that makes the Yakima very versatile!
---
4. Thule UpRide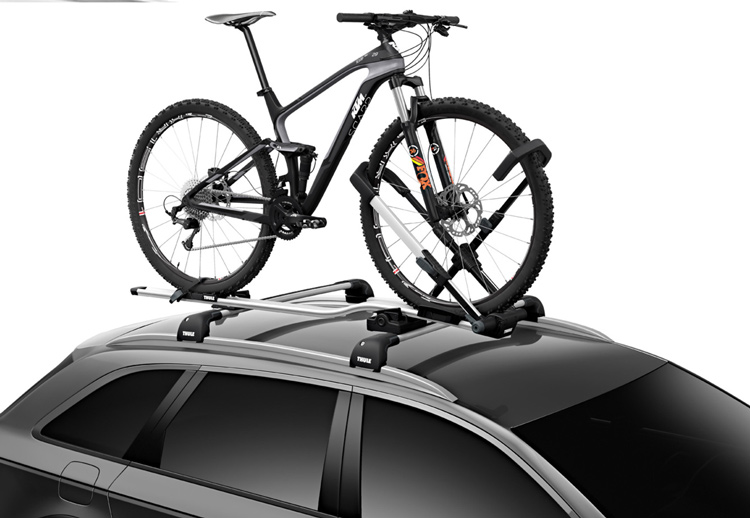 Price: MSRP $249
Rack Type: Roof
The Thule UpRide is an amazing bike rack that you should definitely go for, although it has an odd design, especially if you seem to love the fork-mount roof racks, the Thule is something that you shouldn't miss out on. If you use the UpRide rack then you won't need to remove the wheels, the bikes will be adjusted to the rack and secured with the two counteracting cradles.
Thule UpRide makes sure that bikes are secure with the wheel holding mechanism, this way there is no contact with neither the frame nor the fork of the bike. This rack proves to be even more amazing for the riders that have fancy carbon bikes, their bikes are extremely protected with the Thule UpRide.
If you are one of those persons that take extreme pride in their bikes, then the best choice for you would be to go for the Thule UpRide. Your bikes would be fully secure and you can easily transport them from point A to point B without problems.
Although, before you purchase the rack, it is recommended that you tally the rack size with the wheel size of your bikes so that there is no discomfort in the future. As this is a roof rack, it is best suited for lower vehicles and lightweight bikes.
Advantages:
Offers The Best Protection
No Contact With The Bike's Frame Or Fork
Very Easy Installation
Durable Design
Disadvantages:
Best Suited Only For Smaller Vehicles
No Inclusion Of Lock Cores
Loading Process Is A Bit Difficult
Why I Like It: The Thule UpRide is the kind of bike rack that offers the best kind of protection for your bikes. Additionally, if your bikes are lightweight and you have lower vehicles then it is even a plus point. There is no contact with the bike's frame and fork so even if you have a shiny bike it will always remain protected.
---
5. Allen Deluxe 2-Bike Trunk Carrier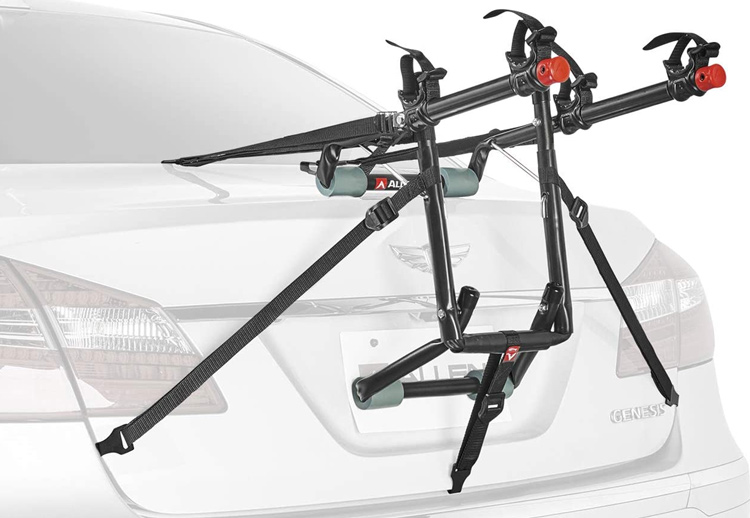 Price: MSRP $31
Rack Type: Trunk
For people that are looking for amazing trunk racks for their bikes, their search is over! The Allen Deluxe 2-Bike Trunk Carrier is one of the best choices that you can make when it comes to trunk racks, it offers great protection at an affordable price tag.
The Allen Deluxe is compatible with almost all sorts of cars and SUVs, and it can hold two bikes with each weight of 70 lbs. Even the installation is made very easy because it comes pre-installed, you just have to do one tiny step before using it. The Rack actually contains five straps and some plastic straps that hold your bikes, it is a very simple concept actually!
If you have a bike with a traditional frame shape then the rack is going to work even better with the bikes, but you won't have any kind of problems while using it regardless. This is a very lightweight rack, while only measuring up to 7 lbs, you can even store the rack easily when it is not in use.
Advantages:
Inexpensive Price Tag
Very Lightweight and Durable Design
Easy Storage
Assembly-Free
Disadvantages:
Comes Without Any Security Features
Comes Into Contact With The Bike's Frame
Very Simple Design
Can't Be Adjusted
Why I Like It: The Allen Deluxe 2-Bike Trunk Carrier is one of the best inexpensive options to go for if you are looking for a bike rack. It has a simple construction and design but offers safe transportation for your bikes. What I absolutely loved about the rack was its lightweight construction, it can easily be folded down when it is not in use.
---
6. SeaSucker Komodo
Price: MSRP $1,399
Rack Type: Roof
The SeaSucker Komodo is the type of roof rack that you have not experienced before, actually, I was even surprised the first time I tried it out. It works with both thru-axles and quick releases, so that is a really good thing. The way Komodo works is with the four vacuum cups that attach themselves to the car.
Installing and removing the rack is not hard, you just have to pull the tabs of these vacuum cups until they come out. Even if you are going 60-70 mph, the rack is going to stay in place. This means that you can easily adjust your bikes and make them stay in position when you move.
If you don't want to use the rack on the roof then don't, the rack fits anywhere where the vacuum cups can be attached, that is why it is actually more than just a roof rack. With that being said, the company actually advises you to use a very strong and firm point of contact.
Advantages:
More Than A Roof Rack
Very Easy To Install and Remove
Disadvantages:
Expensive Price Tag
No Locking Feature
Why I Like It: The SeaSucker Komodo actually works more than your usual roof rack, it can attach anywhere the cups can be fixed and that is what I love about this rack. It is very easy to install and remove and you don't have to worry about the speed limit while using them. They might be very expensive but the value that they offer is unmatched!
---
7. Kupper Mounts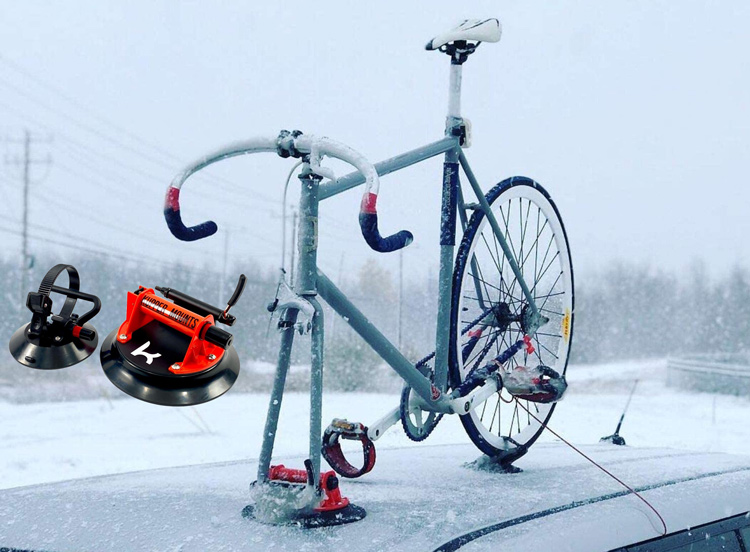 Price: MSRP $199
Rack Type: Roof
Kupper Mounts have launched an amazing bike rack that works exactly like the SeaSucker Komodo, as they both use vacuum seals to attach the bike to the roof of your car. Although when we compare both the models, the one from Kupper Mounts is actually more robust and cheaper, making it a far better choice.
With the larger vacuum cups of Kupper Mounts, the security of the bike is more enhanced. By using the Kupper Mounts, the bike can be attached to the top of your vehicle easily and quickly, which makes it the perfect kind of roof rack.
The Kupper Mounts rack consists of a fork mount and wheel holder that is not that heavy, they actually protect the whole rack when it is not in use. The fact that you can store the rack even in your suitcase for travel is a very big plus point. If you are going to use them, then they actually advise you to maintain a maximum speed of 75 mph and the weight limit should be 45 pounds.
As those limitations are mentioned, they have not actually been tried and tested so we cannot confirm that if it is safe to go beyond that. Either way, this is an amazing roof rack that you shouldn't miss out on!
Advantages:
Quick and Easy Installation
Easily Stored and Transported
Disadvantages:
Not Compatible With Thru-Axle Bikes
Why I Like It: Roof racks are amazing and these Kupper Mounts are far more convenient and cheaper than the SeaSucker Komodo, that is why they are more favored. They are lightweight so you can store them easily, they also offer safe and quick installation. The design is very simple so I think that people are going to use it even more than the Komodo!
---
8. 1UP Equip-D Double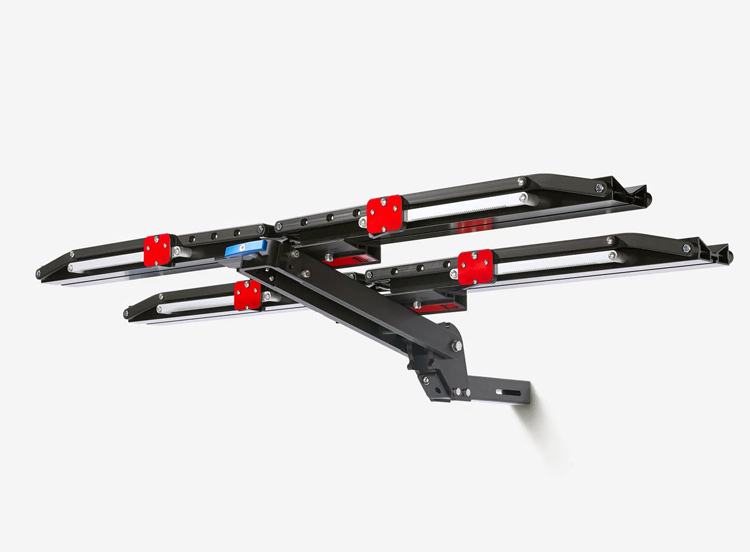 Price: MSRP $765
Rack Type: Hitch
If you are looking for amazing hitch racks, then you should definitely go for this rack from 1UP. They may have an industrial look but their simple approach is what makes their performance very amazing. There is no contact with the bike's frame or fork because the ratcheting clamps of the rack attach themselves to the wheels of the bike.
As there is no need for hooks, straps, or adjustments of any kind, it makes the process very easy. The 1UP Equip-D Double has wide and tall arms, this way even bikes with 29-inch wheels can be adjusted properly. The Equip-D has a very smooth mechanism, this way users can secure their bikes without any kind of problems.
No matter how you stack up the bikes, they are going to sit very close to each other thanks to the tiered tray system. Just try this rack once and you will not be disappointed!
Advantages:
Can Easily Accommodate 29-Inch Wheels
Impressive Release Lever
Disadvantages:
Very Simple Design
Availability Issues
Why I Like It: When it comes to hitch racks, the 1Up Equip-D does not disappoint. It has a simple structure, there is also no contact with the bike's frame or fork. If you have bikes that have big wheels then this is going to be a perfect choice for you!
---
9. Saris Bones 2-Bike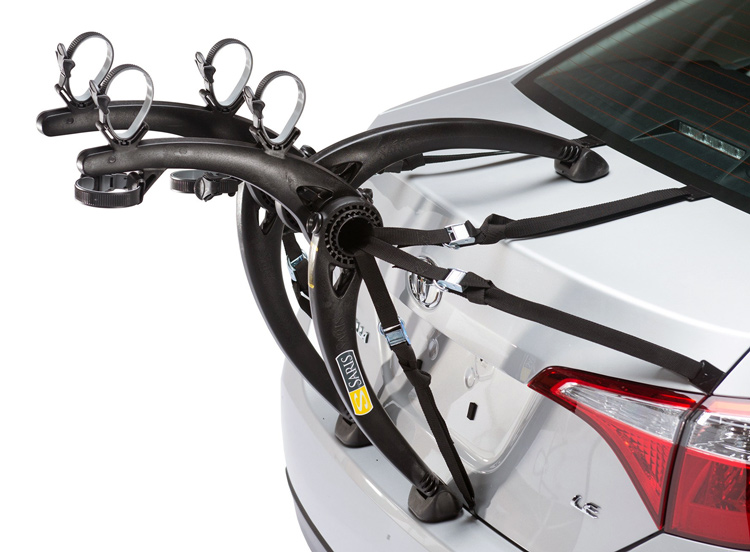 Price: MSRP $180
Rack Type: Trunk
The Saris Bones 2-Bike rack is something that I haven't seen before, it is a trunk rack, but it is definitely not a traditional one. It has a lightweight construction and you can install it very easily, without any kind of problems. Once you attach it, it won't come off that easily and that is a good thing.
What I love the most about this bike rack is the extent of user-friendliness. The arms and legs of the rack can be adjusted very easily and that too without the use of any kind of tools. Even if you have a curvy bike, you can easily fit it onto the bike rack with ease.
Trust us, your life is going to become very easy once you start using the Saris Bones 2-Bike bike rack.
Advantages:
Very Easy To Install
No Tools Required
Fully Compatible With All Kinds Of Trunks
Disadvantages:
Incompatible With Bikes That Don't Have Traditional Shapes
Why I Like It: The Saris Bones 2-Bikes is an amazing trunk rack that you should definitely get. Although it is priced at $160, the features are very nice and it handles your bikes quite impressively. The installation process is very easy and you don't even need any tools for that!
---
10. Küat Sherpa 2.0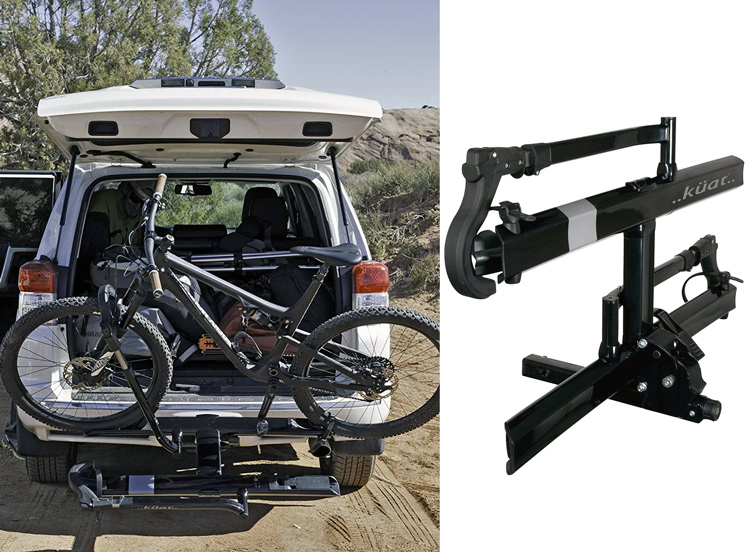 Price: Starts From $629
Rack Type: Hitch
You might have seen amazing hitch racks but you haven't seen anything like the Küat Sherpa 2.0. The Sherpa 2.0 is one of the most convenient and intuitive racks that I have ever tested out. It has a very sturdy and durable design, which is available in both 1.25 and 2-inch sizes. Plus, you can also get the rack in a variety of colors if that pleases you.
The Sherpa 2.0 can easily store and transport 2 bikes of 40 pounds each with three-inch tires, I think that is very impressive. You would not have any problems with the assembly, just follow the instructions mentioned in the manual. Other than that, the hitch-cam helps tighten the rack, so that there are no problems.
If you think that loading bikes onto the rack would be a problem then you are mistaken, it is literally smooth sailing once you install the rack carefully. There is a semi-integrated cable that locks your bikes so there is nothing to worry about.
Advantages:
Handy Hitch Cam
Cable Lock Is Amazing
Durable Design
Disadvantages:
The Rack's Strays Are Not Staggered
Expensive
Why I Like It: The Küat Sherpa 2.0 is an exceptional bike rack that you should definitely try out. It may be expensive but there is none other like that, the hitch cam of the rack is definitely impressive. You can store bikes easily and you don't even have to slow down the vehicle that much.
---
How To Choose The Perfect Bike Rack
Bringing your bikes to the next expedition sounds very fun, but the fun and excitement stop when you have to stuff those bikes in your trunk like a turkey. You can either choose the bike (If It Fits) or you can choose your luggage, that is a very hard choice to make unless and until you get a bike rack.
How do you choose the perfect bike rack for yourself? How do you even know if the bike rack that you have selected is the correct one for you? Unless you are guided properly, you will never know that is why we are here to help you out. Through this buying guide, you will be able to know, how to choose the perfect bike rack!
We have already discussed the different types of bike racks, now it is time to discuss the other aspects.
How Many Bikes Are You Willing To Transport?
This is the first aspect that you need to consider before going out to purchase a bike rack. Ask yourself this question first- How many bikes do I want to carry? You need to have a balanced approach, otherwise, your bike rack won't be able to handle that immense pressure.
Different bike racks have different cradles, these cradles carry the bikes. Some can carry only one bike at a time, while others can carry multiple. What you also need to consider over here is the maximum amount of weight the bike rack can carry, if you overload it then there could be problems along the road.
What Kind Of Car Would You Be Driving?
Find the best kind of bike rack for your car is actually a very tough job, but it gets fairly easy when you decide what kind of car would you be using for the road. Would it be a lower car or a higher SUV, this is what you need to decide first and then go from there.
The type of car that you will decide will directly affect your bike rack choice, you can go for a lighter option or a heavier option that will be able to carry a lot of bikes safely for you! Different car manufacturers actually provide vehicle fit guides that are beneficial in deciding the kind of bike rack that will be perfect.
You would also need to know what your car is compatible with, hitch racks, roof racks, or trunk? That is what you will have to see for yourself. Bike racks mainly come in two different sizes, so decide from there:
The Maximum Budget That You Can Spend
Your budget constraints matter a lot when it comes to getting a bike rack. You will either be getting an average quality one or an amazing bike rack that you can use for many years to come. Carefully determine your budget and then go from there.
The Rack Needs To Be Secure And Durable
Bike Racks need to be fully secure and durable so that you can transport your bikes safely and soundly. That is the one aspect that you definitely can't ignore. The higher-quality bike racks even have anti-theft features that you can use, while some of them will not have this feature. Get a bike rack that has this kind of feature, it will make your life a whole lot easier.
Additionally, the rack also needs to be very durable, that is why the installation of the rack needs to be done very carefully. Even if the whole process takes some time, do it carefully, having a friend around always helps.
Think About The Fuel Consumption
Vehicles consume a lot of fuel, especially when you are going on vacations, and if you are considerate about that then you would need to think again when it comes to bike racks. These racks mess with the aerodynamics of the car which actually makes them drink more fuel than usual.
Keep all of these things in mind before going for a bike rack. On an average scale, bike racks can increase your fuel intake by 25%-35%.
Read more
Recap
Bike Racks are amazing, they make your life easier by transporting your bikes safely without sacrificing the trunk space. There are different types of bike racks as we discussed, they range from roof racks to trunk racks and you can freely choose between them according to your preferences.
The best type of bike rack that I have seen is the Thule T2 Pro XTR 2. It handles multiple bikes with ease and there would certainly be no problems while using it as well.
We hope that through this guide you can make your choice easier and that you get to know everything about bike racks!
---