There are so many bike rack options out there that I put together this quick guide to understanding your needs and to inform you about some of your best options on the market today. But before we get into the nitty gritty let's talk about why you might need a bike rack. Why don't you just bike to where you want to ride? Why do you need a car or rack at all when you can just bike from your home?
This is a legitimate question. With carbon emissions at an all time high and most car trips being 5 miles or less why don't you just ride your bike from your house. I don't want to turn this article into a bike advocacy campaign but this question deserves some attention.
Explore your city, neighborhood, town, or countryside. I guarantee you that the more you ride, be it for recreation or transportation, the better you will get to know your place and the more surprised you will be with how much ridable terrain there is out there.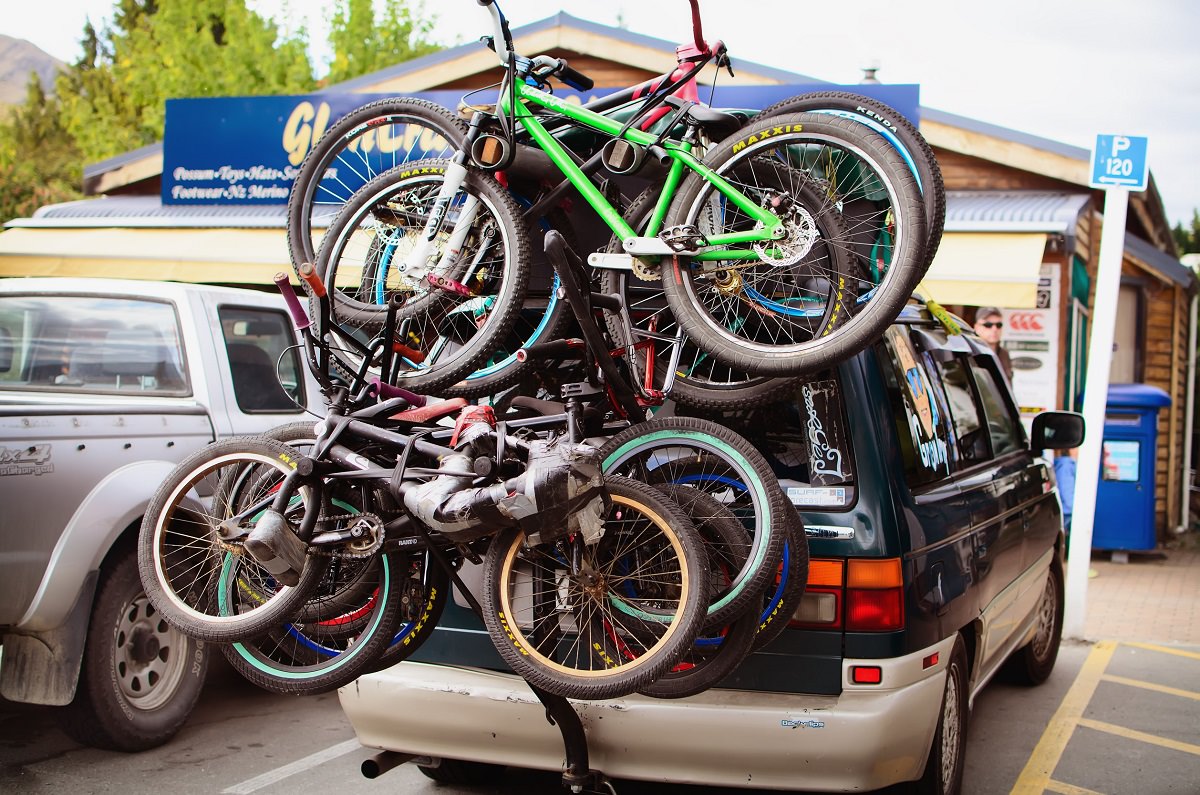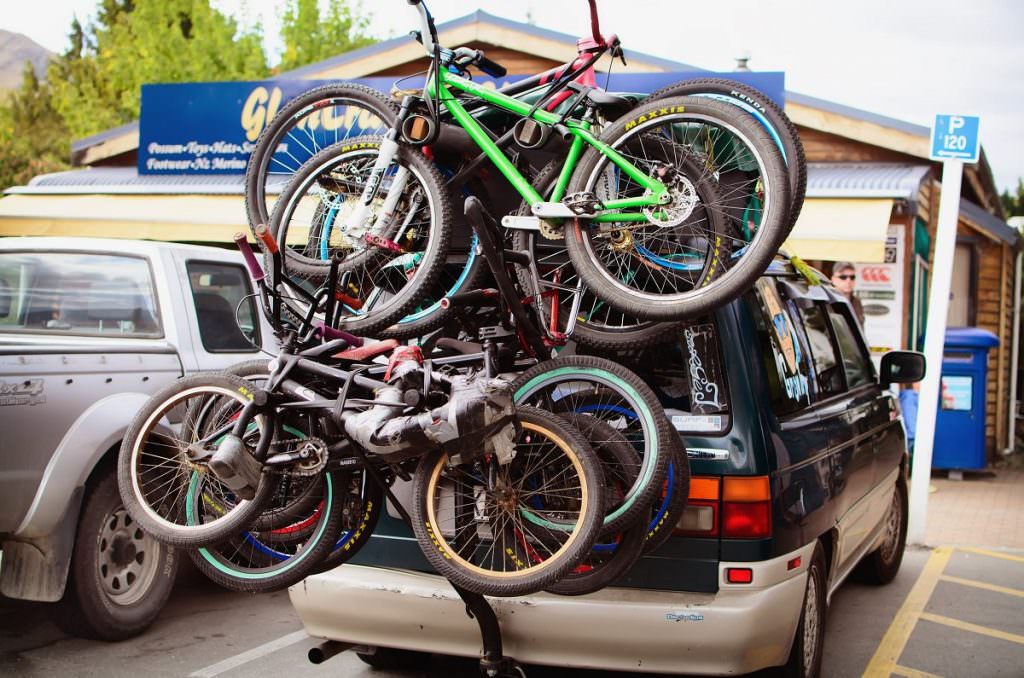 Do I need a rack at all?
I recently picked up a book titled "The 50 Best Rides around Portland," that way I don't have to rent a car every time I just want to get a quick 50 miles in. This also begs the question, "Do I need a rack at all?" You might already have ample space in your car, truck, or suv and a rack might just be another expensive accessory.
All of this being said; there are so many beautiful places to ride and you do not live close enough to all of them, especially you mountain bikers out there. It is not feasible to ride your bike 50 miles to a trailhead, ride another 100 on trails all day, and then ride back. That would take all the fun out of it.
Also Read: Best Mountain Bikes Under $500
Maybe you want more space in your car for camping supplies or your whole roadie gang, as you drive on down to Zion with your bikes in tow. These are perfectly legitimate reasons to consider buying a rack, and not that you even need so much of a reason as, it just might make your life a little easier. So, here we go. I am going to discuss and review some of your options that are carried by major retailers and online marketplaces.
Of course, feel free to do your own research and consider your needs before jumping in. In store professionals can certainly help with all questions about weight, length, and mounting positions. They get paid to know the ins and outs of their products and they are going to have a better relationship with the manufacturer than I do. Ask plenty of questions.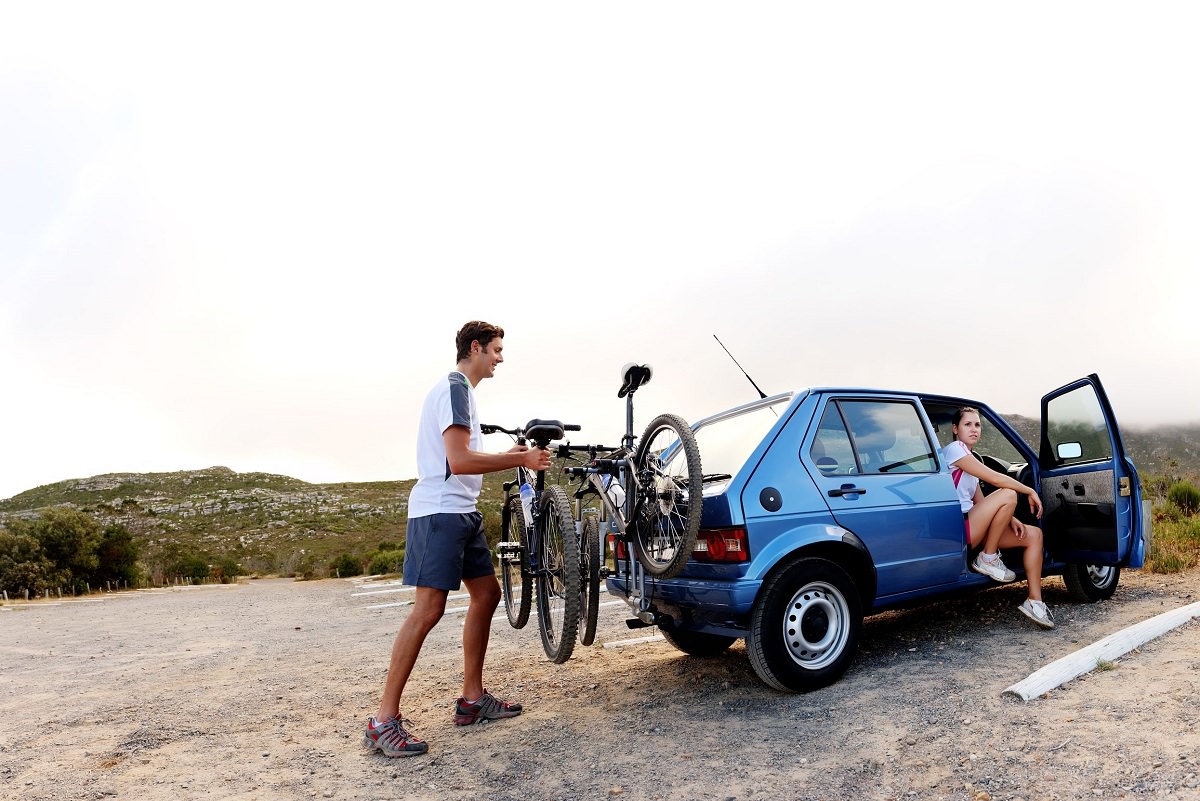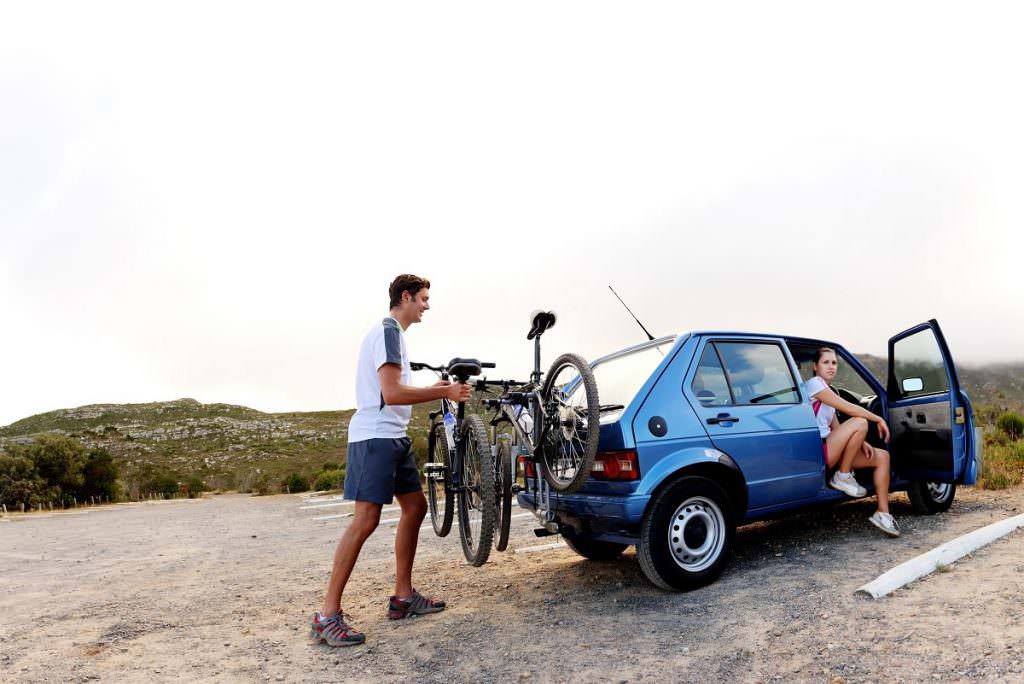 Hitch And Trunk Bike Racks
Kuat NV 2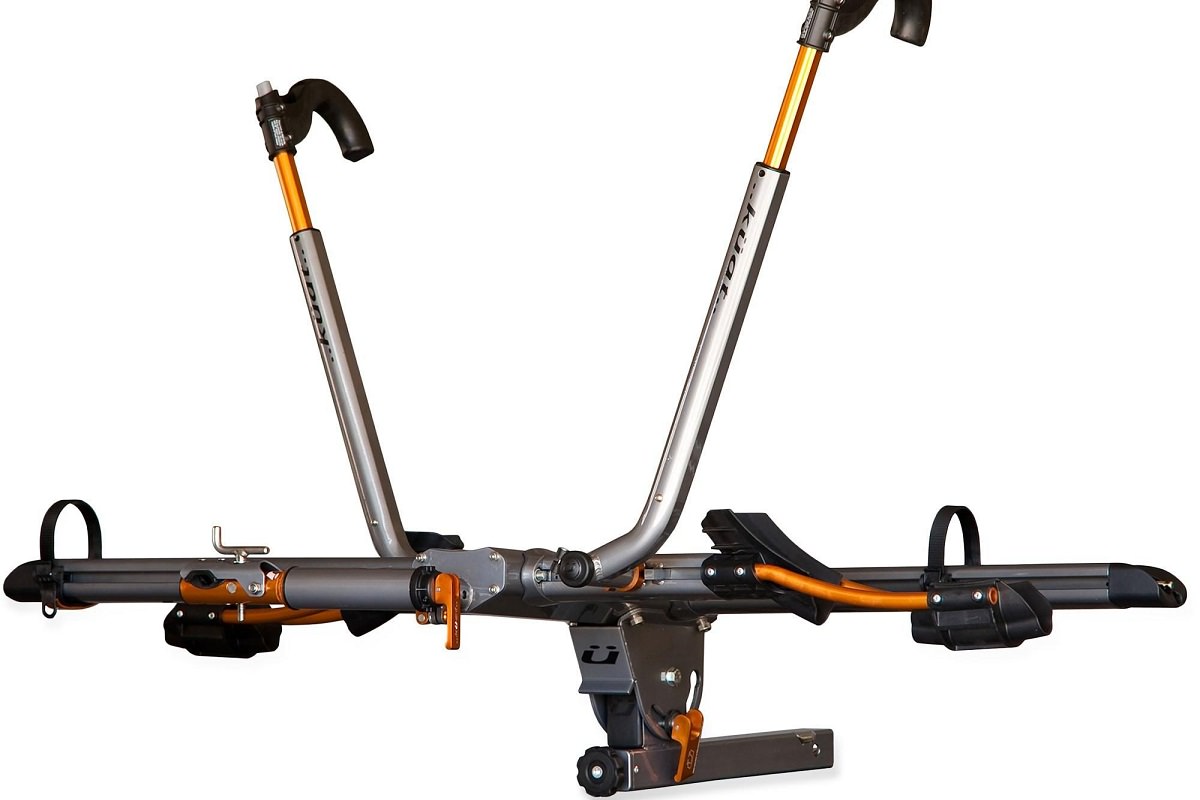 If I had the $549.00 I would go with the Kuat NV 2. It is a hitch mounting rack that fits 1.25 in or 2 in receivers and can hold up to 120lbs. Its telescoping arms come up over the front wheel and retract down to lock the bike in place. I can hold up to 2 bikes with clearance for 3 in. tires and that isn't even the coolest part. When in the up position this rack has a built in bike stand for quick adjustments or easy cleanup. It has integrated cable locks as well so you don't have to worry when you go out for burgers on the way home.
You can also increase the capacity to 4 bikes with this add on feature.
My only problem would be buying something that cost altogether around $900. You can get a decent mountain bike for that.
Available from: REI
Thule Doubletrack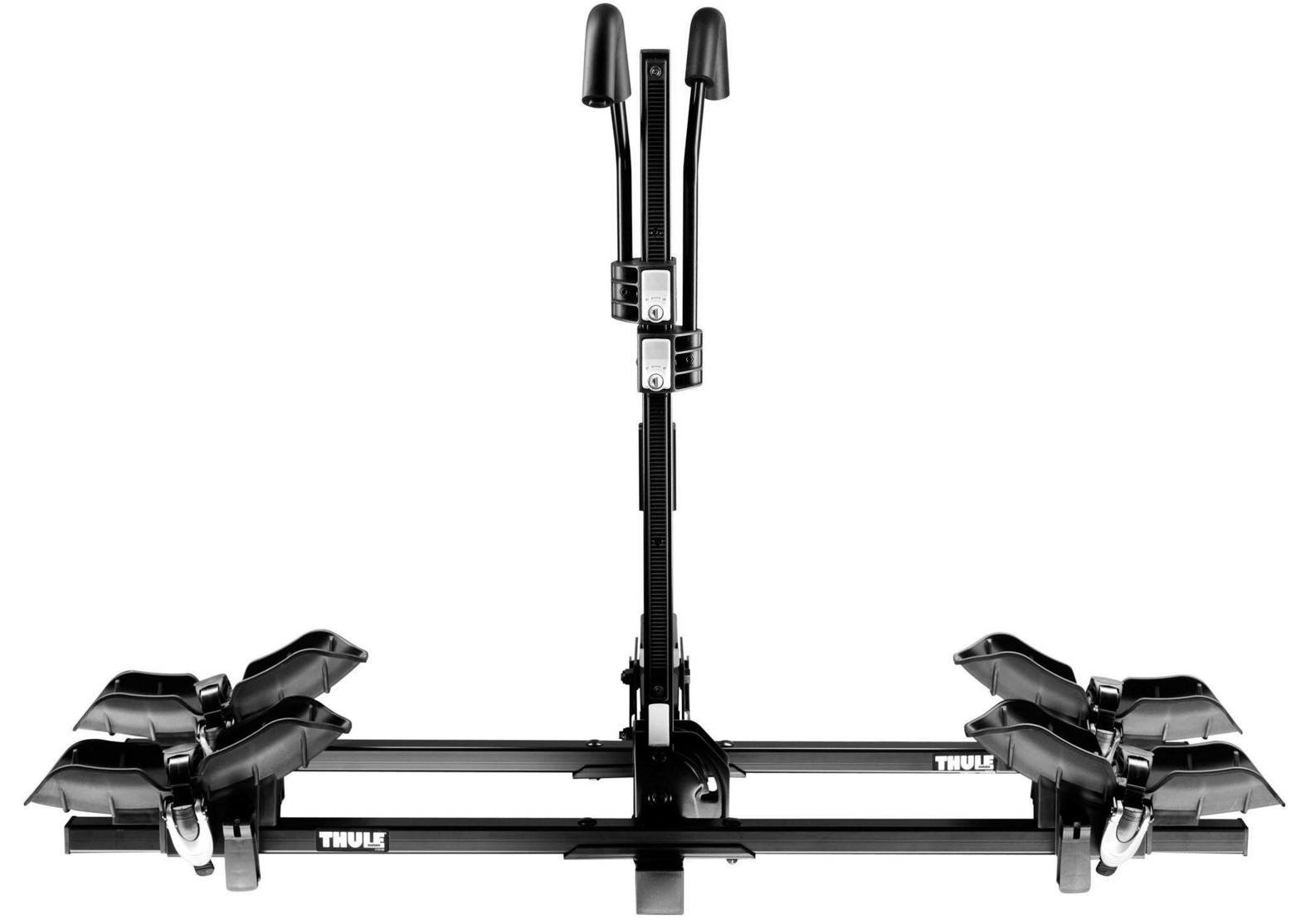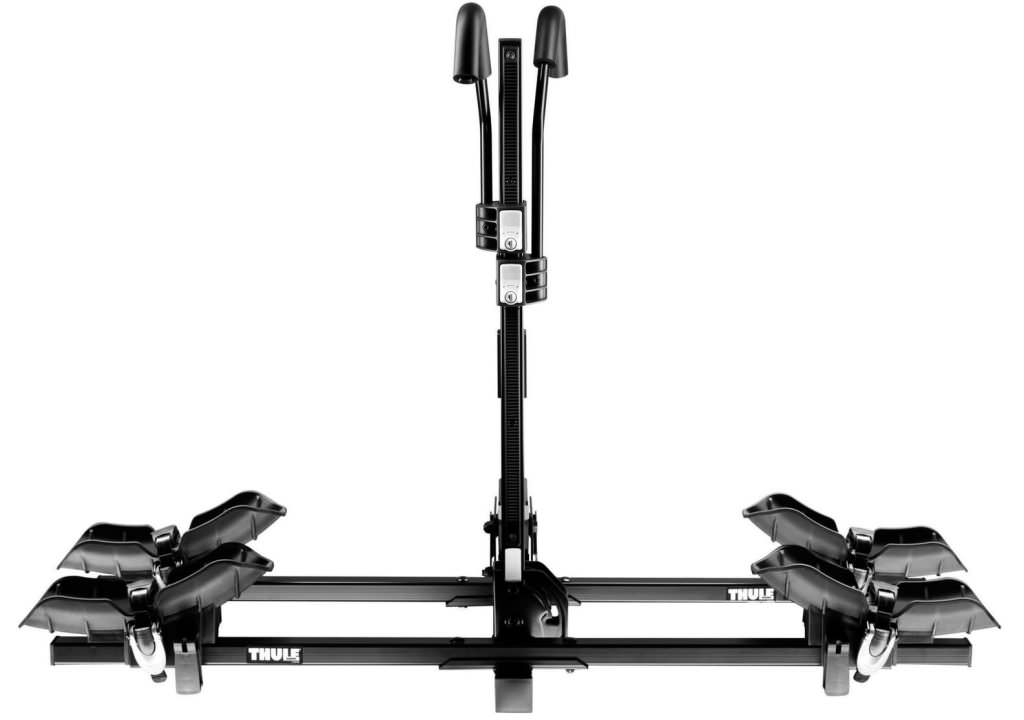 Clocking in at $300, this trusted Thule option is a 2 bike, hitch mounting rack as well. It holds bikes using a rubber dish for the wheels, same tire clearance of 3in but also accommodates a 48in wheelbase. This option is actually a little lighter than the previous at around 47lbs. It comes with locks as well. It has an adjustable hook that presses down on the top tube. If you don't like that and are worried about some paint scuffing, use some water pipe foam to protect any parts where it would touch the frame. Lastly, because of the hook presses on the top tube, bikes without a traditional top tube design might require a little more creativity.
Available from: REI
Saris Bones 2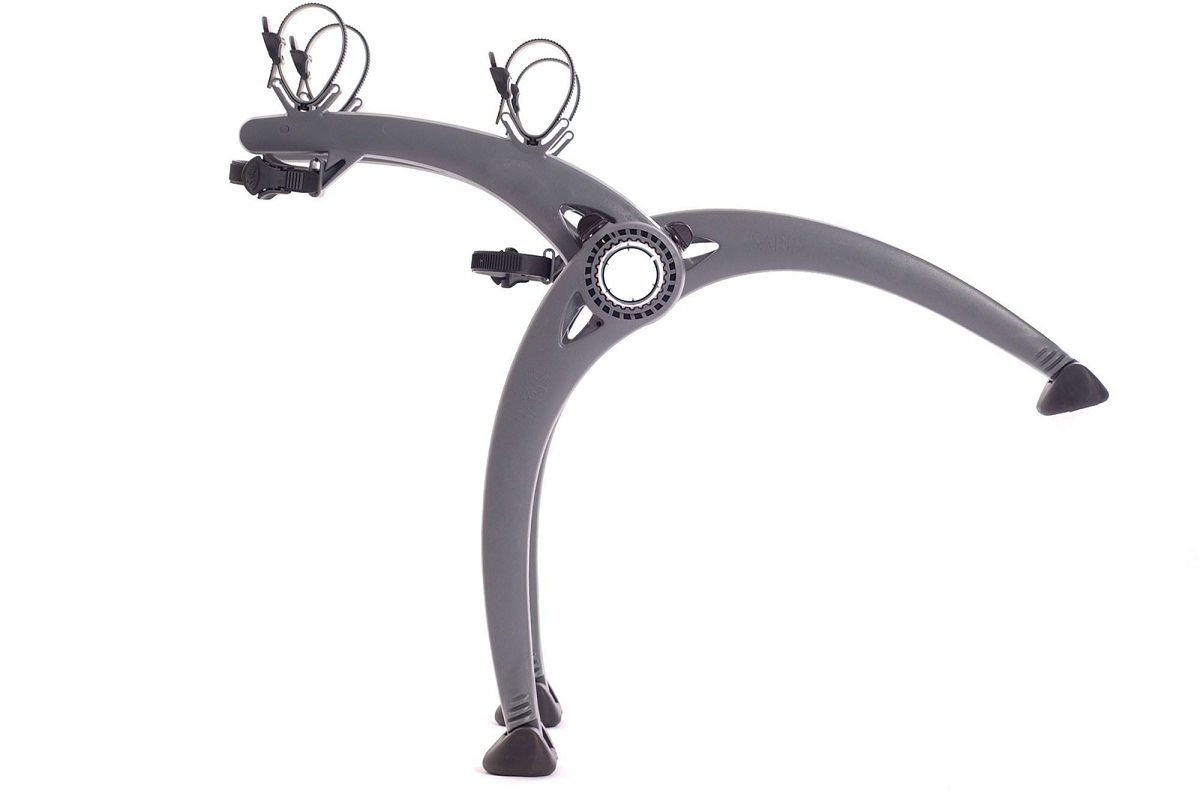 The Saris Bones 2 is a plastic trunk mounting rack that uses straps and rubber feet to reliably hold 2 bikes to the rear of your vehicle. At $150 it is far cheaper than the other models as well as much considering it is made of plastic. The product spec says it will fit most bike designs but again I would be worried about step bikes or even mountain bikes that have a much more compressed a frame. It uses ratcheting straps to keep the bike stable and unfortunately does not come with integrated locks like the previous 2. However I am sure it works just fine plus it comes with a lifetime warranty. It is a great option for the non truck owners out there and I think you will find the same.
Available from: REI
Thule T2 XTR2


The Thule T2 XTR2 is very similar to the Kuat NV 2 but a whole $100 cheaper at $449. They both come with lifetime warranties but after doing some research I think Kuat might have better customer support, at least easier with an online claim support center so you don't have to call some office somewhere. The XTR2 has an integrated cable lock and room for tires of 3 inches. It uses the same telescoping arm feature that locks down on the front tire so you don't have any frame contact. The rack stores upright while still attached to your hitch. It can fit 1.25 and 2 in hitches.
Available from: REI
Kuat Beta 2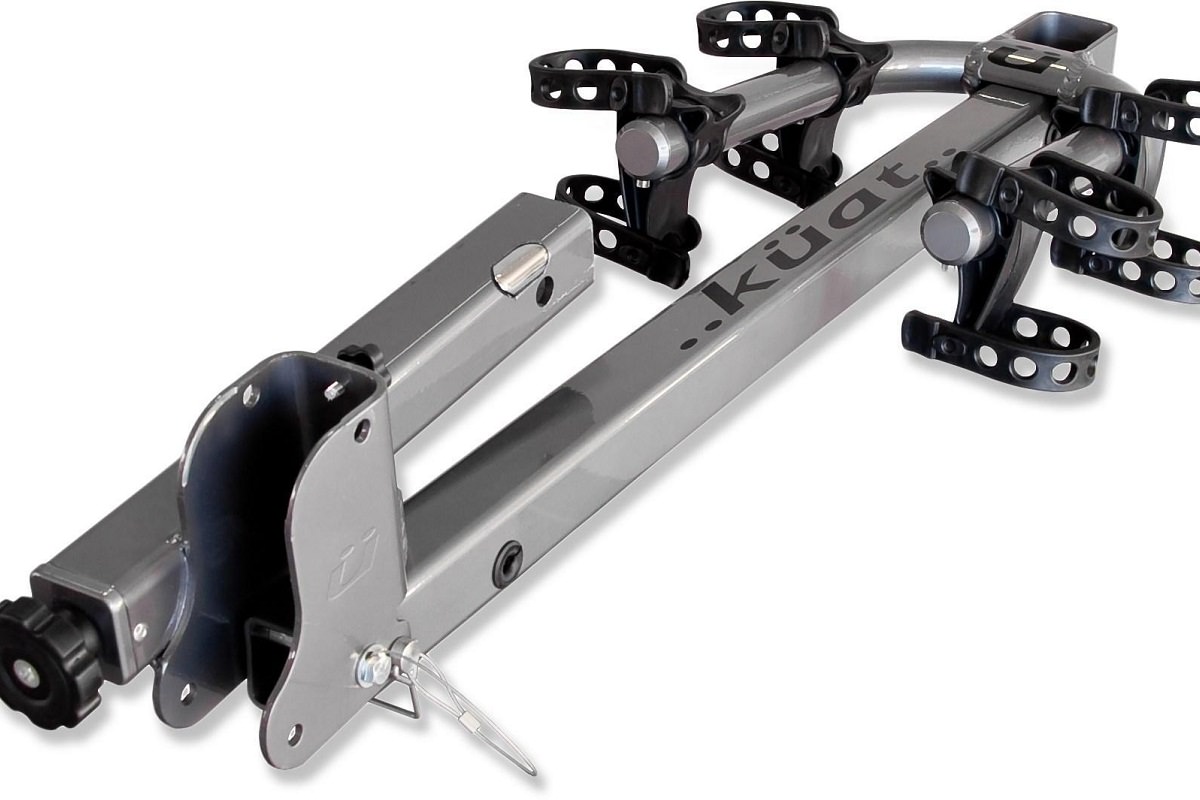 The Kuat Beta 2 is the lightest rack at 11lbs and relatively cheap at $195. It screws into the rear hitch receiver and tightens into place without requiring tools. It can hold 2 bikes and uses rubber straps to keep them from moving around. It does not include locks and I imagine bikes can really move around with only a strap on the top tube. You will have to find some solution for keeping your tires from knocking into the back of your car/truck.
Available from: REI
Saris Freedom 2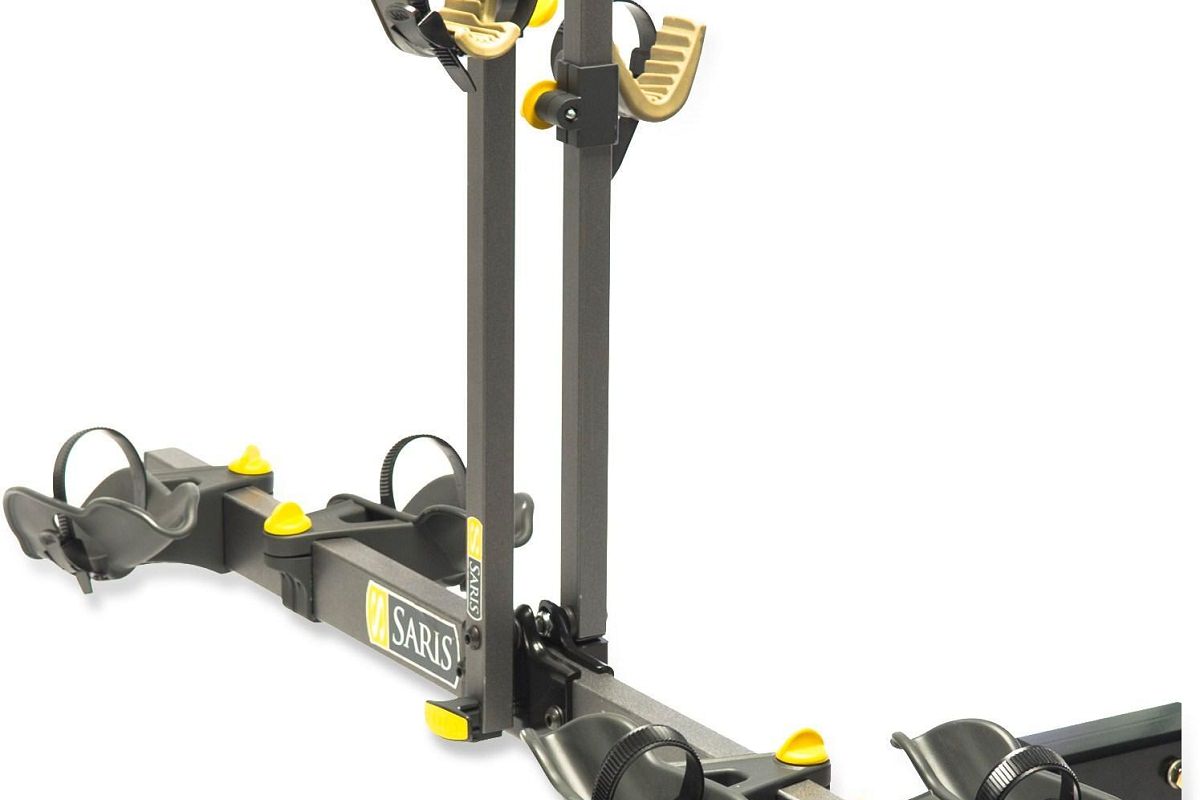 The Saris Freedom 2 is the 2nd lightweight option coming in at 21 lbs. It costs $260 and you get a lot of the same features as some of the other tray style hitch racks. Your bike's wheels fit into trays on the bottom and strap to a vertical post using ratcheting straps. This rack fits both 1.25 and 2 in hitch receivers. I think it is a good mid level option giving you a lot of the same features as the more expensive tire hook style racks. You can purchase hitch cable locks separately at most retail locations.
Available from: REI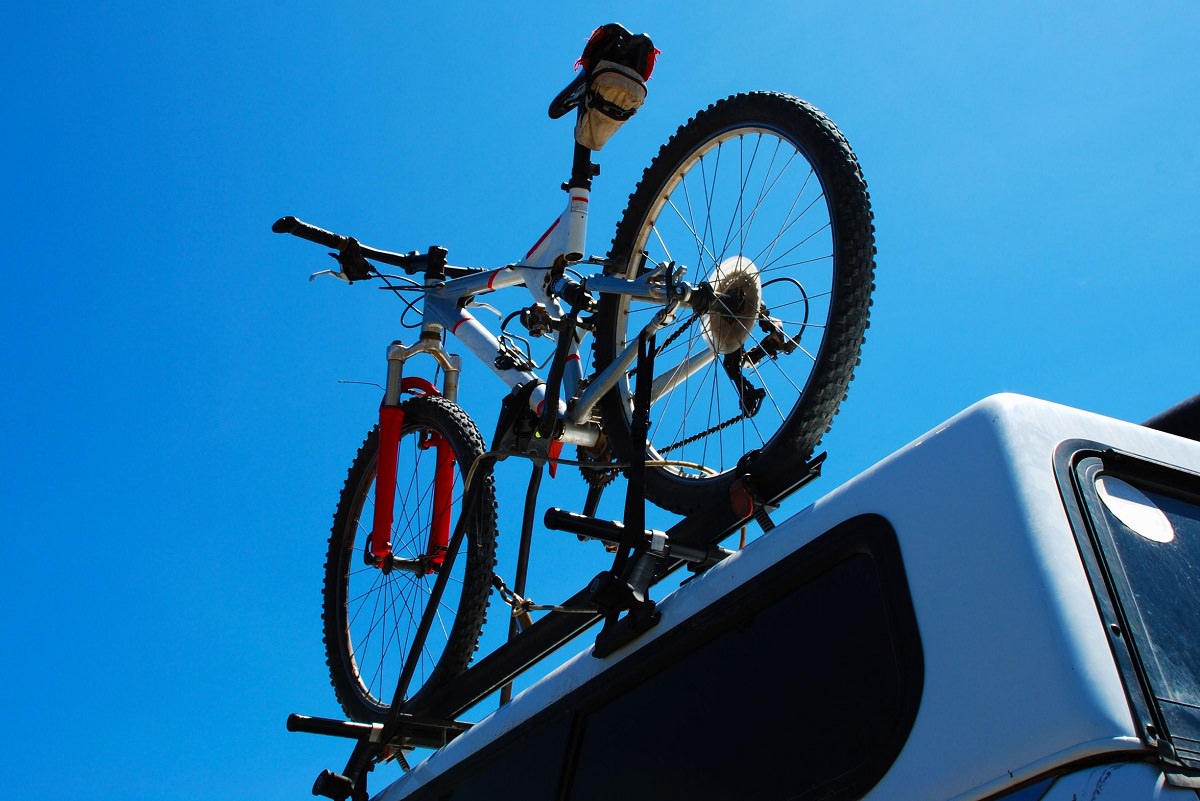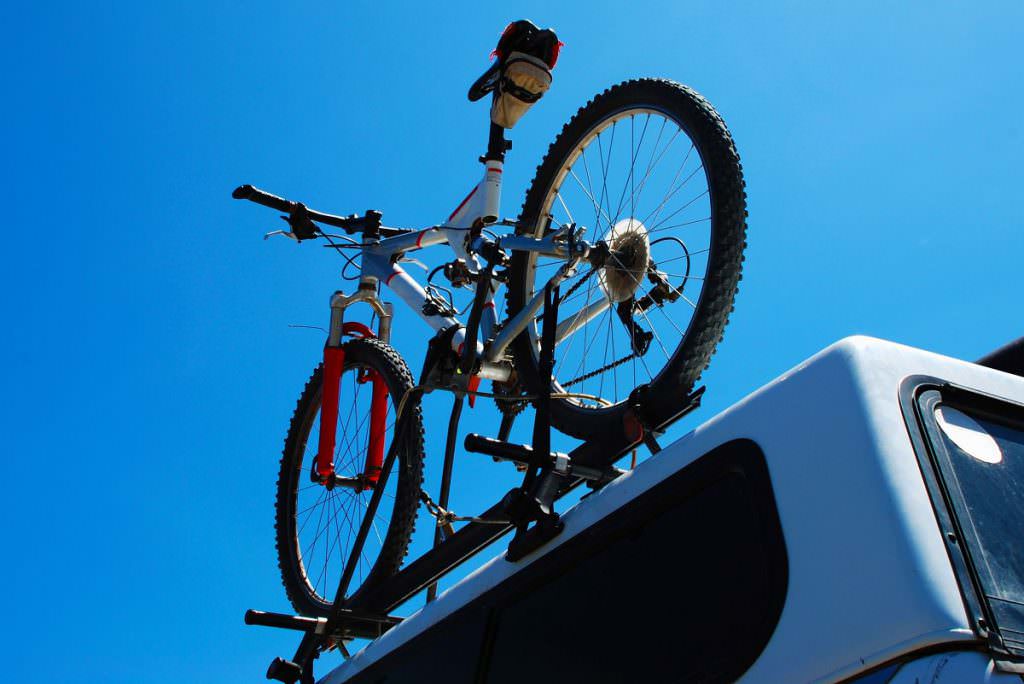 Roof Racks
Up until now I have only talked about hitch racks with the exception of the one trunk mounting rack. For people who already have roof mounts it might just be easier to set up a roof rack. Or if you think you'll be using a roof rack storage system more than a hitch mount storage system then maybe it is a smarter investment. For instance if you kayak, surf, or store your luggage on your roof then consider a roof rack because the accessories will be cheaper and easier when it comes to your multiple hobbies. Watch out for those overpasses.
Thule Sidearm


The Thule Sidearm roof rack can store one bike on your roof. Using the same wheel locking technology as some the hitch racks it is stable and pretty versatile in the types of bikes it can accommodate. At only $200 it isn't super expensive and it attaches to existing roof mounting features. You can purchase Thule's locking system separately. Users have reported stability even at high freeway speeds and the only problem seems to be confusing mounting instructions. There are plenty of online and in store resources to get you loaded up and out on the road.
Available from: REI
Seasucker Talon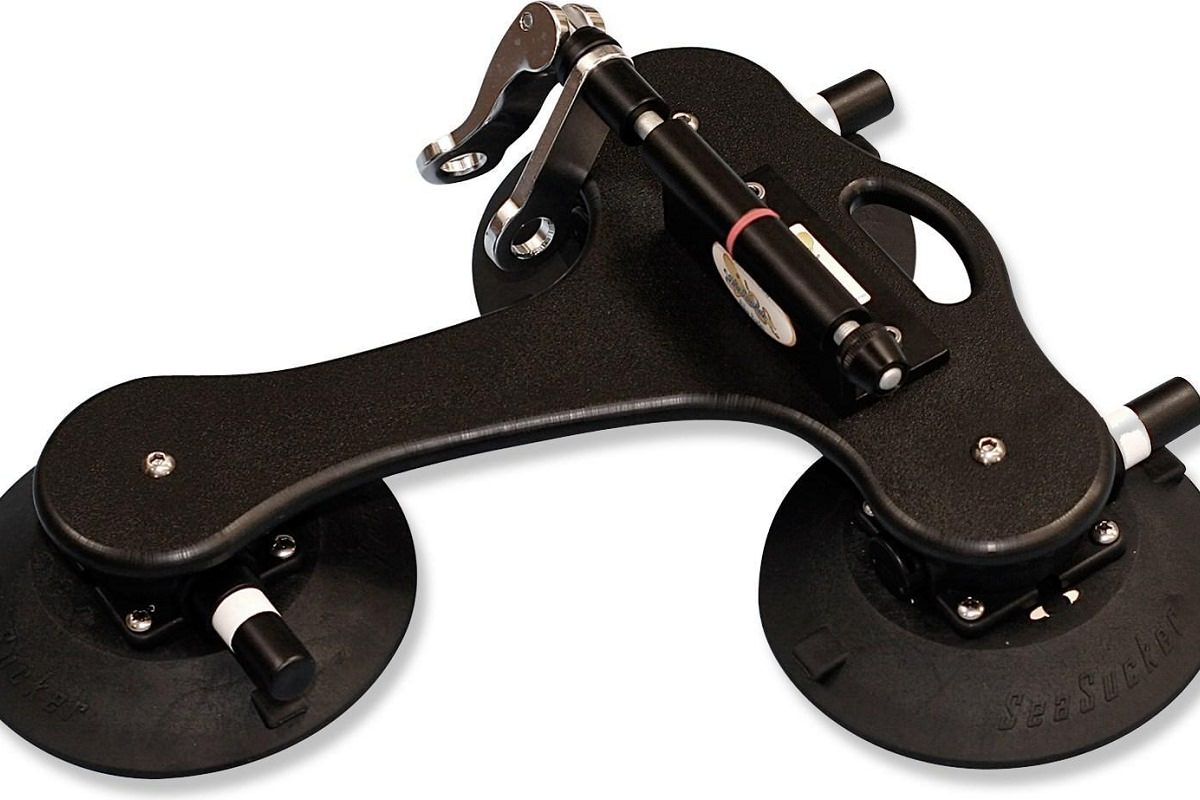 I figured I would include the Seasucker Talon kind of out of novelty. You may find that it is exactly what you have been looking for but upon first glance I am not sure it would be my go to. The Seasucker uses vacuum suction cups to attach to metal or glass surfaces. I would just be a little worried it might come unstuck and I would see my Pinarello go bouncing down the highway in my rearview mirror. The advantages I see are that it can accommodate any length wheel base as long as your bike isn't longer than your roof. The mounting cups for the front and rear are separate so you can have them as far apart as you would like. It is light and seemingly very durable however at $270 I am not sure it wins out over some others on this list. You also have to remove your front wheel in order to mount it on.
Available from: REI
Yakima Highroller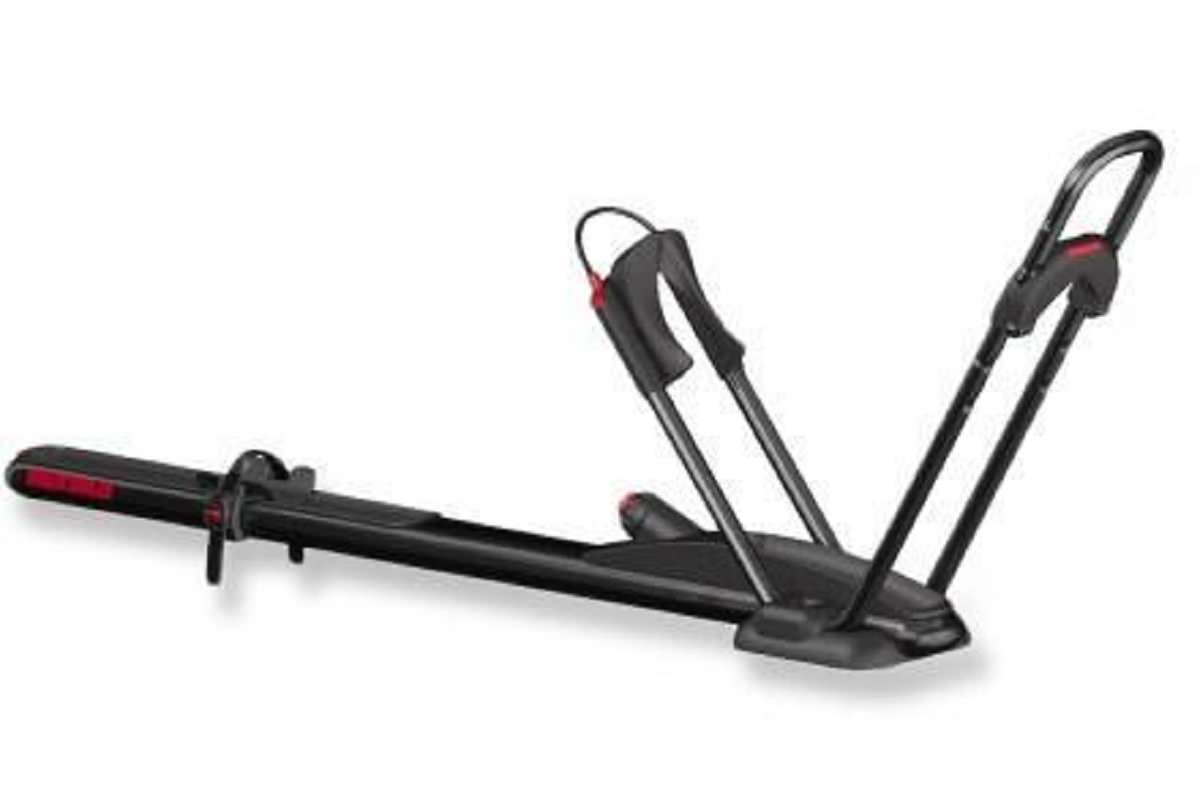 A brand first on this list, the Yakima Highroller. I am not sure why they don't have different styles of bike racks because this one looks like a pretty solid construction with a great warranty. Moderately priced at $200 it is similar to the Thule sidearm but has three points of frame contact instead of two; one on the front of the front wheel, one on the back of the front wheel and downtube, and one strap to hold the rear tire in its tray. It accommodates 29 x 2.5 tires and it has an integrated lock. If I had a roof rack this would be my first choice.
Available from: REI
Rocky Mounts PitchFork

A cheaper and lighter option from Rocky Mounts, this roof rack mounts to existing Thule or Yakima crossbars and tightens into place. The front tire of your bike must be removed and the fork is then locked into place using a quick release lock on the front the rack. The rack can accommodate wheelbases of up to 45 in and tires as wide as 2.7 in. It comes in many stylish colors and is only $110 dollars. Locks are sold separately. The only complaint is the quick release does not do so well with carbon forks. Keep that in mind when you are doing your search.
Available from: REI
Yakima Raptor Aero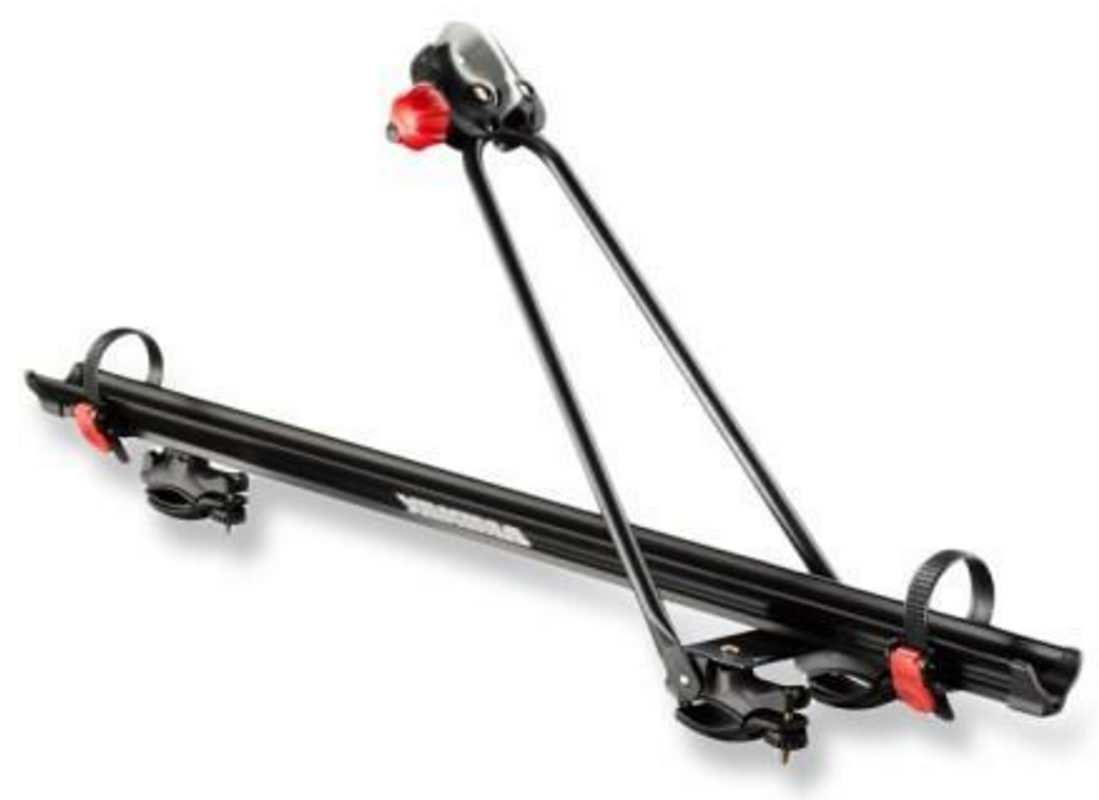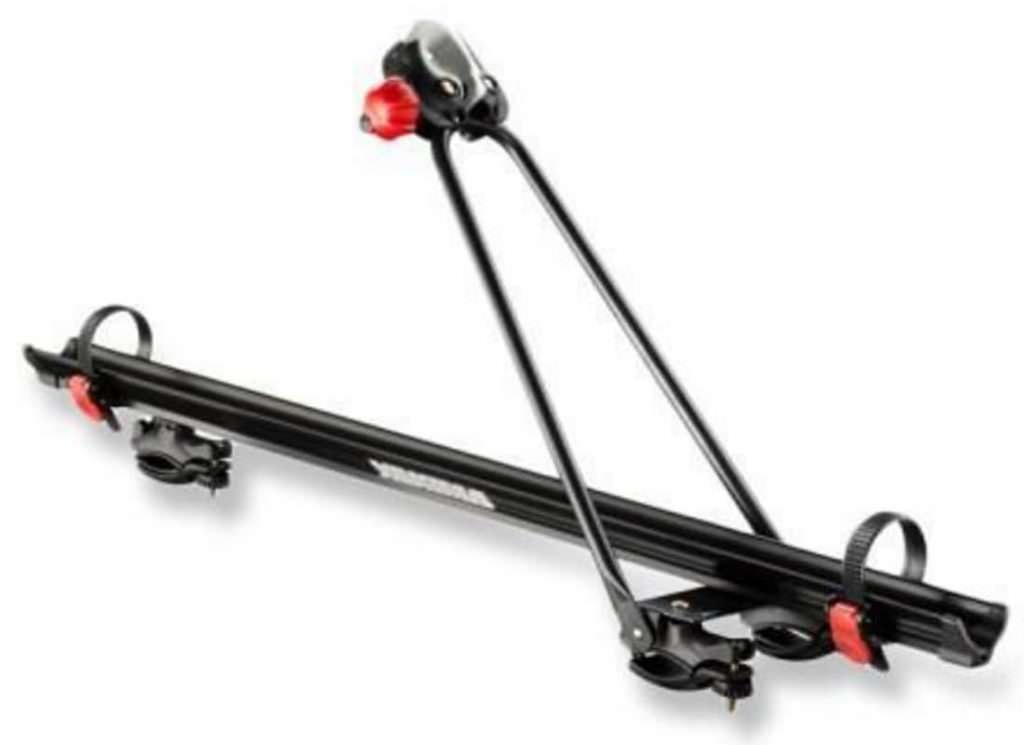 I thought I would give one last Yakima option. This one's unique "Raptor Aero" claws (branding) compress on the downtube for a reliable hold without damaging the finish. I thought this particular model was cool because it can fit a variety of downtube styles or models. Your fancy tri bike or those mid 80's Colnagos with the square downtube will fit just fine. It can fit all different kinds of bikes from downhill to kid's bikes. Be sure to do your research as some people don't like how it mounts.
Available from: REI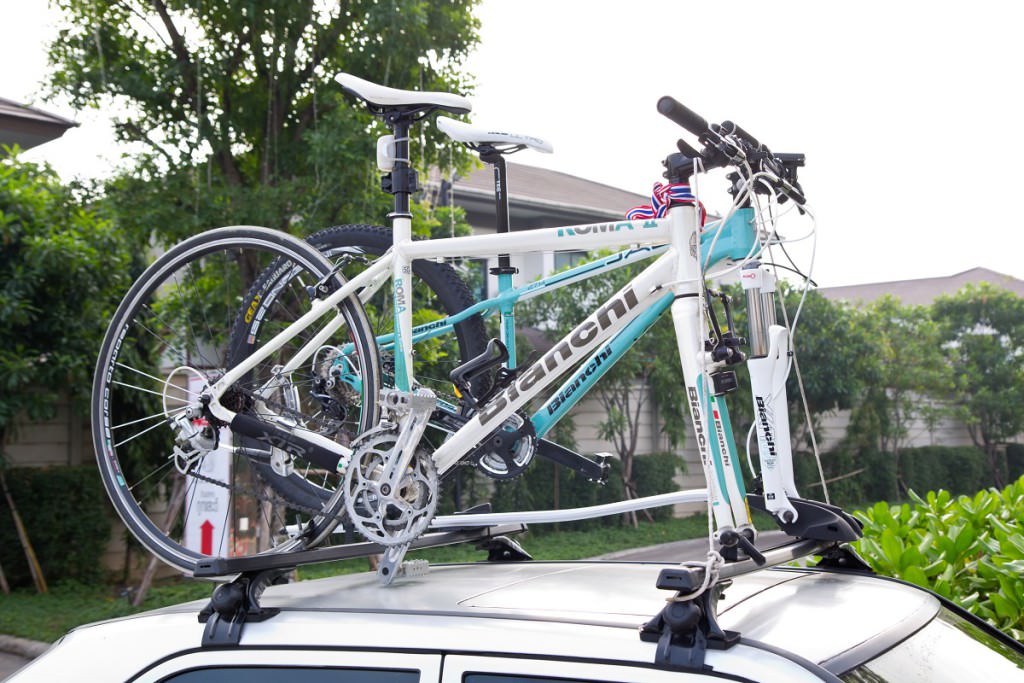 Buying Your New Bike Rack
So that does it for all my choices, of course there is an abundance of perfectly fine racks out there that will fit your needs. Be sure to ask plenty of questions if you are picking something in store or read plenty of reviews if you are thinking of finding one on-line. Most retail locations will price match so if you find one online that you like don't hesitate to take it in to someplace to get a better customer service experience. Most places will also mount your new rack for free.