Wherever you go with a beach cruiser you are going to turn heads in a good way! They look cool, they feel cool to ride, and they're normally cheaper than an equivalent road or mountain bike.
Beach cruisers stand out. Owning a Beach cruiser is like owning olden day class. They aren't designed to race down mountains, speed through traffic, or win races. Beach cruisers are all about comfort, elegance and living life at a different pace of life.
Just seeing one parked up against a wall should have you thinking about Californian beaches, calm seas, vivid blue skies and warm breezes in your face – regardless if you're riding Venice Beach, or cruising in the middle of London in November.
26 inch extra wide tires, sturdy upright frames, sprung wide padded seats, retro styled sweptback handlebars and old school coaster brakes are all part of what makes buying a Beach Cruiser such a good idea.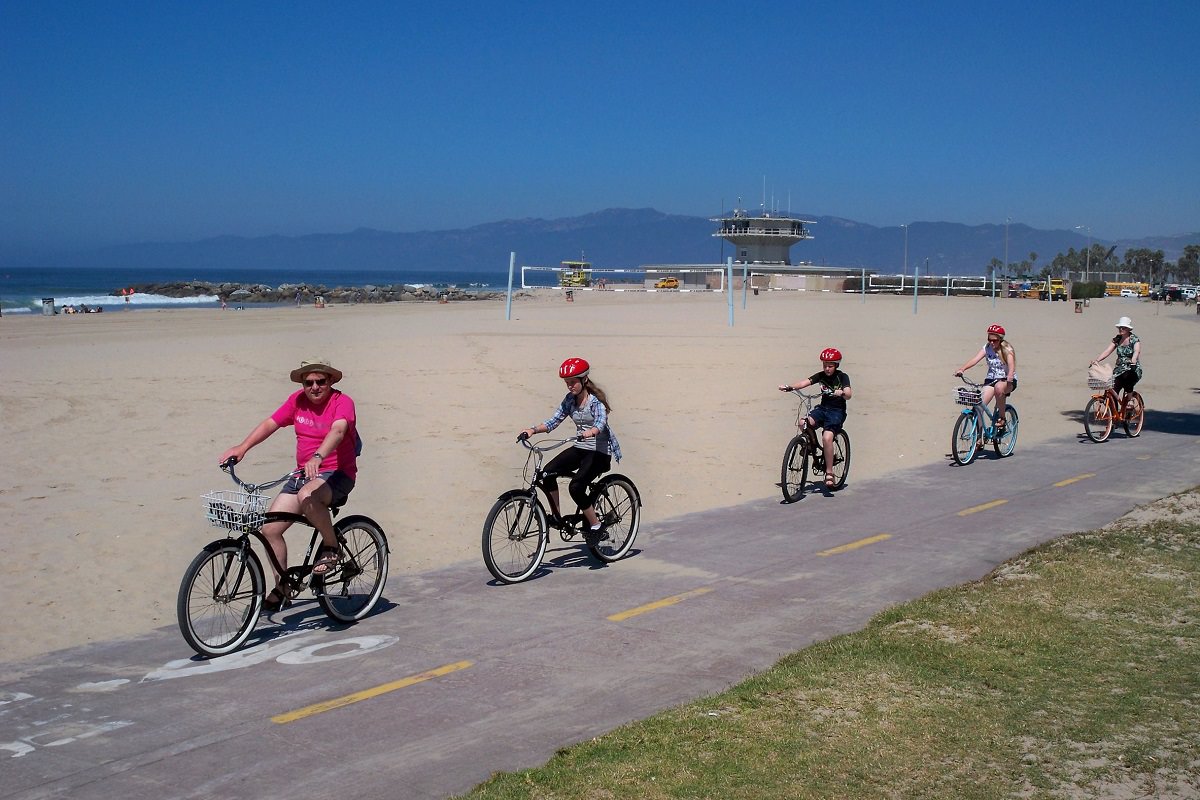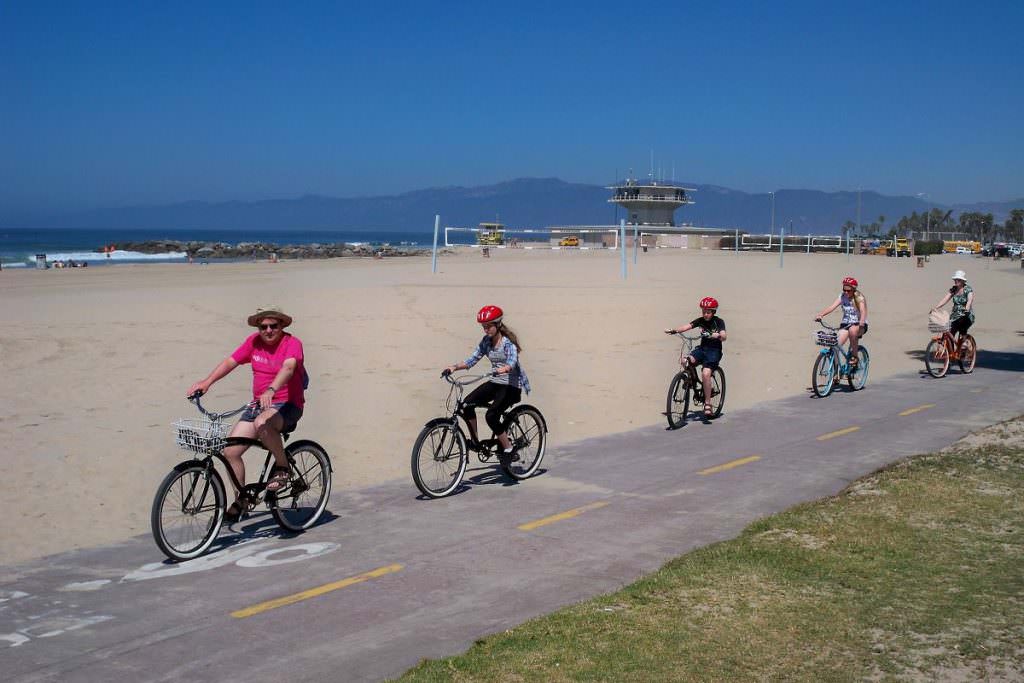 Commuting or just having fun?
Using a Beach Cruiser to commute is actually quite a good idea. Those big balloon tires, inherent stability, and ease of use make them an ideal bike for going to and from the office. One of the big bonuses is that because of the very nature of a Cruiser, you are less likely to show up to work all disheveled and sweaty looking.
Your colleagues will also think you're the s***, and think you've figured out the whole work/life balance thing and thus be more inclined to invite you to parties and social gatherings. Maybe. I don't know if it will or not; it's just a thought.
Unlike most types of bike, it isn't necessarily… necessary… to get one from a dedicated bike shop. The clue is in the name, Beach Cruisers are designed for cruising, not for speed, so in this case I would actually argue it's ok to go ahead and get one online.
Just make sure you know it's going to fit before you buy.
There are many different types and makes of Beach Cruiser out there to choose from. Generally speaking though they all have a few things in common, and when selecting your Beach Cruiser, it's a good idea to make sure you have a close look at the following few bits.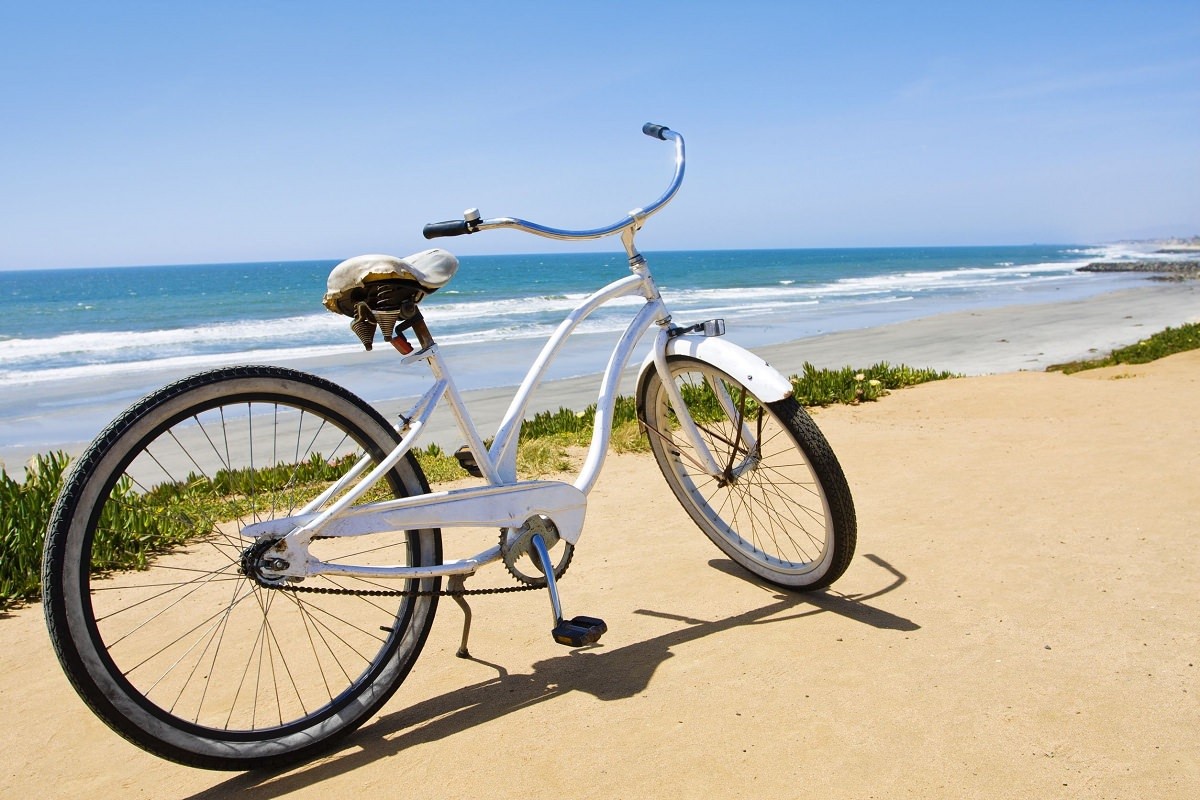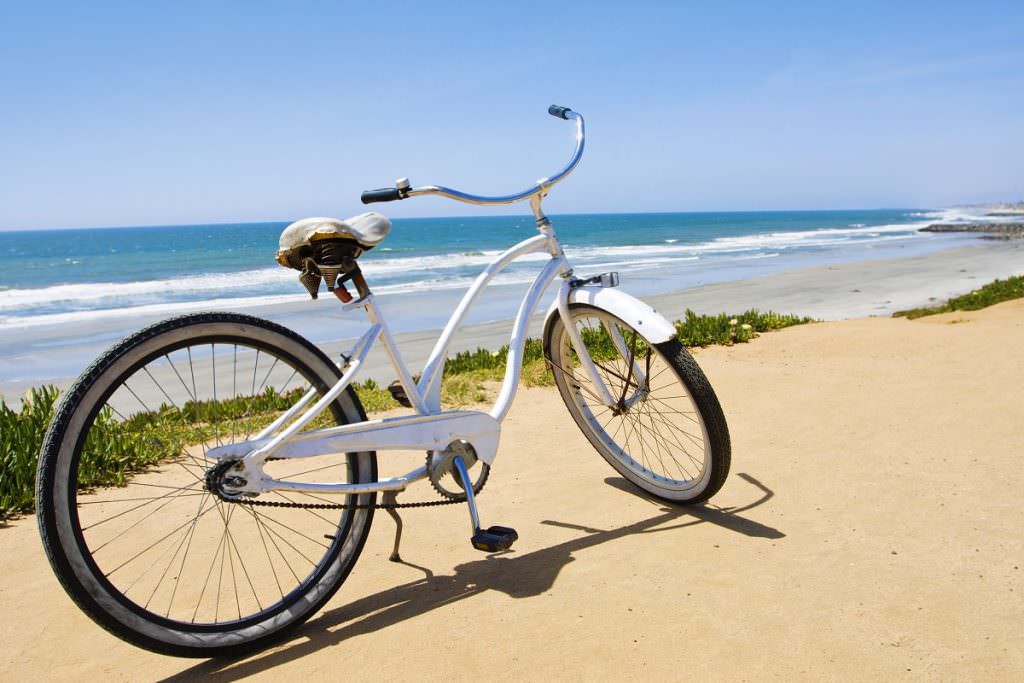 What all Beach Cruisers have in common
Frames: Beach Cruiser frames are generally made out of steel, and thus heavier than most other types of bike. This actually makes them less prone to wobble and thus more stable and easier to handle.As their popularity grows, some models are being built from aluminum, which is a lighter material. This doesn't matter as much as it might on an ordinary bike as you shouldn't ordinarily consider using a Cruiser bike for long distance travelling.Beach cruisers are not designed for climbing or competing in races. But they do make travelling on the flat easy, and can make for easy effort going along gravel and dirt trails.
Tires: Tires on Beach Cruisers are often referred to as being 'extra wide,' or 'balloon' tires. This is because they are! That doesn't mean they are puncture magnets.If anything, balloon tires are thicker than ordinary bike tires and therefore less likely to go flat. They also give you a more stable ride and are perfect for traversing boardwalks and sidewalks with ease.And if you've ever dreamed of riding a bike on an actual beach without sinking in up the axle, then this is where a Beach Cruiser excels. Just make sure the sand is relatively firm. Cruiser Bikes are still bikes, and are still governed by the laws of physics.
Handlebars and Pedals: Beach Cruisers feature swept-back handlebars and pedals set just that little bit further forward than they would be on an everyday bike. These are the main determining factor in the classic upright position associated with Cruisers.They put little to no pressure on your back, and encourage a more relaxed, chilled out experience when riding along, cappuccino in hand.
Gears: Traditional Beach Cruisers don't have gears, and why would they need to when you're only supposed to be using them on the flat and just riding in a relaxed manner being all cool and hip and stuff.I actually like single gear bikes. They are simple, and easy to use. It's amazing how much more aware of your other riding 'sense's you become aware of when you're not constantly switching up and done 36 individual gears.That said, the people who make and design Beach Cruisers have recently cottoned on to the fact that the rest of the world don't live on a beach.

So now it's becoming more common to find Beach Cruisers with 3 or even 7 gears, which makes them more suited for travelling those longer distances, or dare I say it even to commute with. In either case it does make it easier to ride up hills in style rather than walk your Cruiser up the hill in a stylish manner.

Brakes: Beach Cruisers normally have what we born in the 20th Century refer to as Coaster brakes. Instead of pulling on the brakes with your hands, you push back on the pedals to stop.If you've never used this type of brake, then don't panic as they're really easy to use. If you have used this type of brake before, then you'll also know just how easy it is to do the most awesome brake skids in the world.
Saddles: The older I get, the more I think about my butt when I get on a bike. I like to ride in comfort. Fortunately, Beach Cruisers will typically have wide posterior accommodating saddles with springs. Unlike road bikes, these saddles are the Lazy-boy armchairs of the cycling world and will smooth out all but the worst bumps in the road without you even noticing.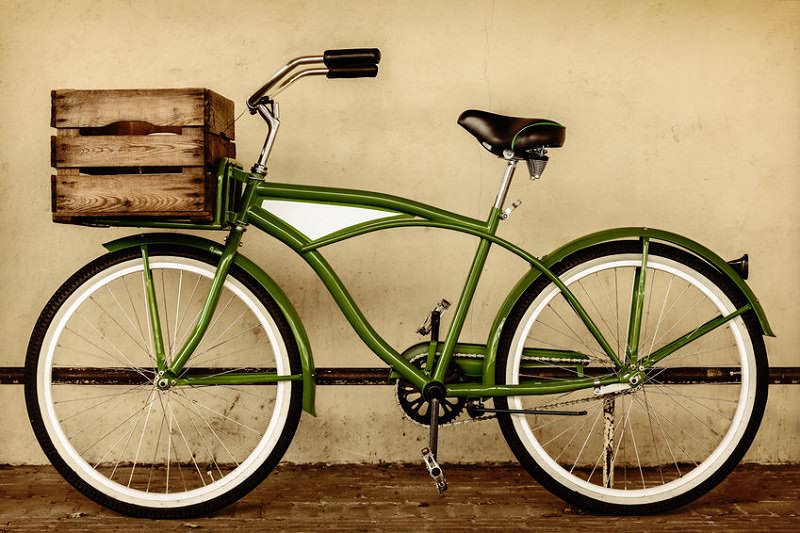 Is there a difference between Men's and Women's Cruisers?
Yes, and also no.
Cruiser designers have shown a tendency to design different style Cruisers for both men and the smarter, better looking sex. They also make bikes for women. Just kidding.
In practical terms the only real difference between the two different styles is one of aesthetics. Women's cruiser bikes tend to have different curvatures in the upper frame, and also be made from slimmer tubing.
And really that's it. If you're a boy or a girl and you like the look and feel of a bike built for either sex, then just go out buy it.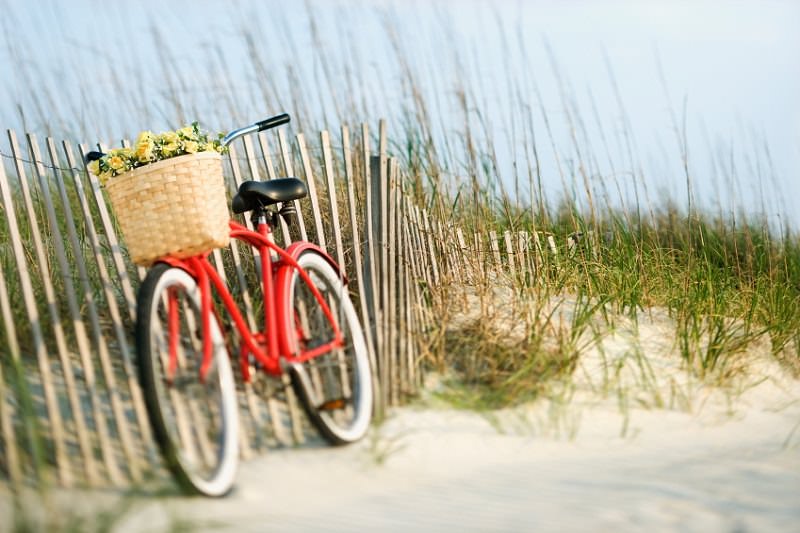 Are Beach Cruisers expensive?
No. Isn't that great.
For less than $300 you can pick up an absolutely fabulously stylish and practical bike that will serve you well for years. Most Beach Cruiser manufacturers also offer a free lifetime warranty for the frame; as in a forever warranty.
And why not. Beach Cruisers are essentially just a modern take on classic designs. My father for instance still has, and sometime uses, his father's old bike that was made in 1930 something. That frame is as good as the day it was bought.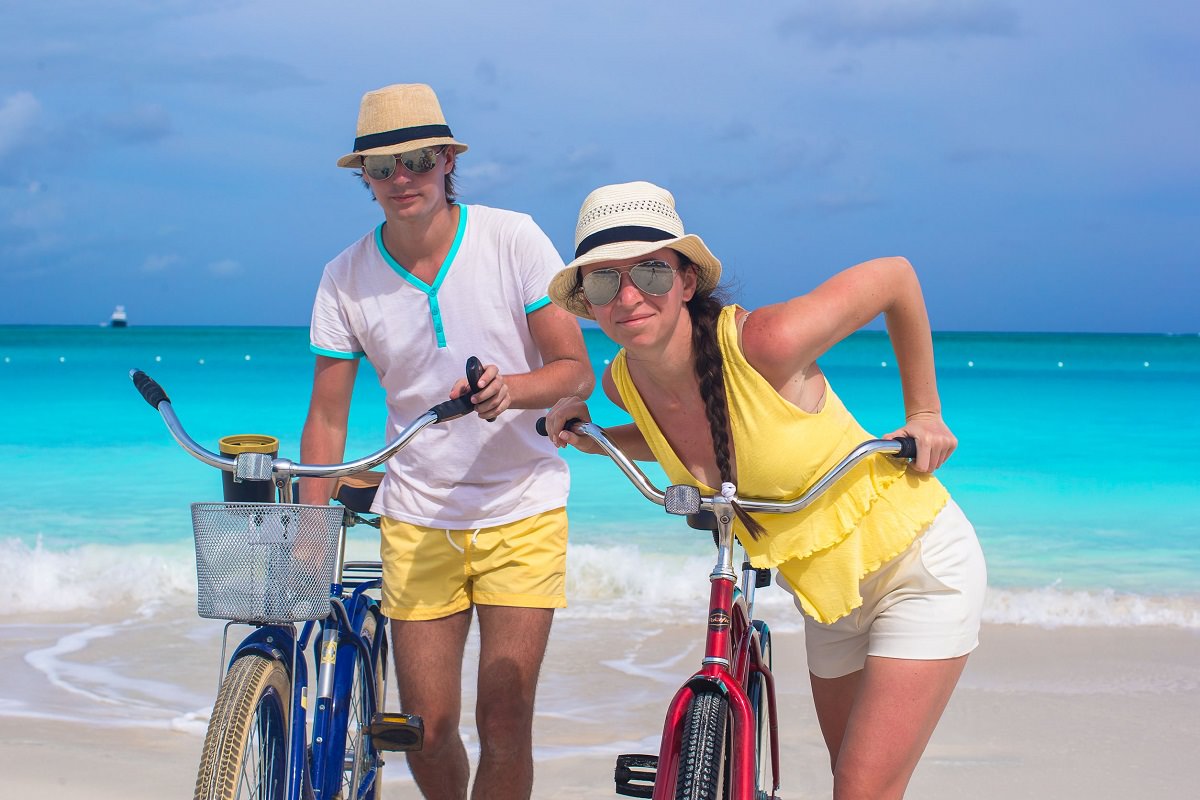 Which Beach Cruiser is the right Cruiser for me?
It's personal choice, but if you would like some informed advice and opinion based on experience then you could do worse than pick from the following bikes.
5 Beach Cruisers for men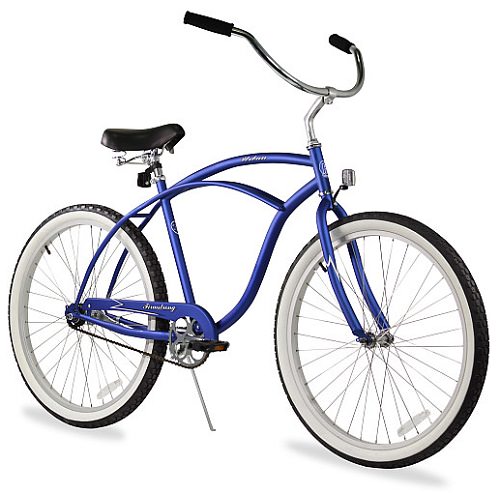 Firmstrong Urban Man Single Speed
Just look at the curves in that frame! Isn't almost a work of art? You can't go wrong with any Firmstrong beach cruiser. In the Beach Cruiser world, Firmstrong bikes are often the first people prospective buyers will turn to. This is the very definition of the classic cruiser style bike.
You get an awful lot of bike for a tiny $200. It looks good, will turn heads and is available in any color you want, as long as it's black.
And if you do order it online, it will come 80% pre-assembled so you won't spend all day with a set of bike spanners in your hand muttering and cursing under your breath.
The frame is built from high quality steel, but the 26" wheels are made from aluminum. And if you're concerned about that sort of thing, it was designed in Hermosa Beach, CA. It's a classic in its own lifetime and is one of the highest selling Beach Cruisers available today.
Available from Sports Authority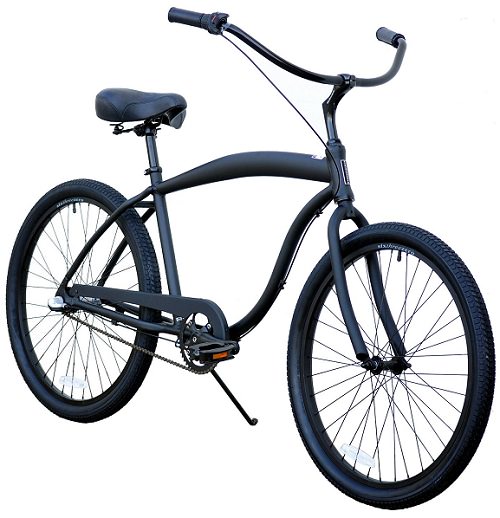 SixThreeZero In The Barrel 3-speed
Ok, so at $450 we might be at the limits of what you could call, 'cheap,' but just look at this bike.
This bike is perfect for a number of reasons. If Cruisers are designed to turn heads and be a joy to ride, then the 'SixThreeZero In The Barrel' has to be one of the ultimate rides.
Not only does it look stunning but it's also extremely comfortable to ride. In future history they may reference the saddle on this bike when they talk about cushiness.
It's also a very efficient bike to ride thanks to the internal 3 speed Shimano gear hub and the pushed forward pedals, which means you can consider longer journeys than you might otherwise do owning a 1 speed ordinary cruiser.
It comes with a large 18" frame which also makes it a more feasible bike for those of us who are slightly taller than the average bear. You can get this bike in a variety of colors, and this model is one of the most efficient Beach Cruisers available.
Available from Amazon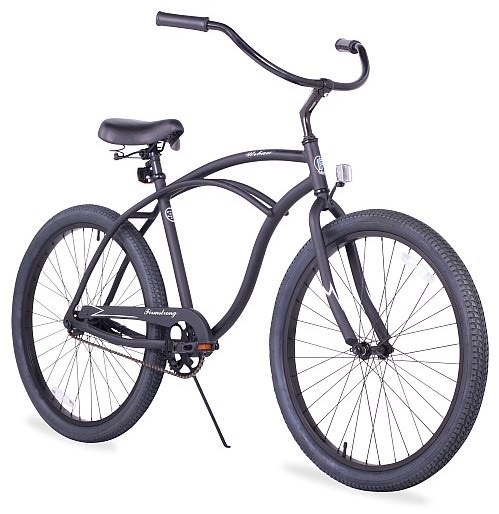 Firmstrong Urban Man Alloy Single Speed
Just look at the curves in that frame! Isn't almost a work of art? You can't…Wait a minute, didn't I just do this one? Yes, and no.
This is exactly the same bike as the first one in our list, but just that little bit lighter due the aluminum frame. At 37 pounds, fully assembled that makes it a whole 3 pounds lighter than its steel variant above. It looks exactly the same, rides exactly the same, but is just that little bit easier to pedal.
Both bikes are excellent, but if you do happen to have an extra $21, and if you're looking for something just that little bit lighter, then maybe think about this one.
Available from Sports Authority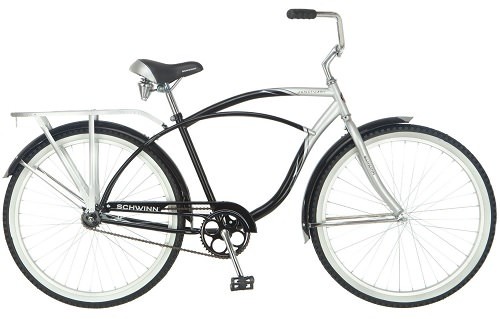 Schwinn Sanctuary
If you do want to go that little bit further and use your cruiser for more than just picking up your Decaff-half-caff-Americano-Soy-Cuppucino-No-fat-Mocha-Choco-Latte, and there may be hill or two on the way to your favorite Bagel Store; then the Schwinn Mens Sanctuary might be your best choice.
Perhaps a much more classic design than the others in this list, but what a classic design. And it should be. This frame is based on an original 1955 design. From the raised, turned handlebars to the rack on the back and the grippy rubberized pedals and mud guards as standard, the Sanctuary is a very good bike for the money, and one you won't regret handing over your credit card details for.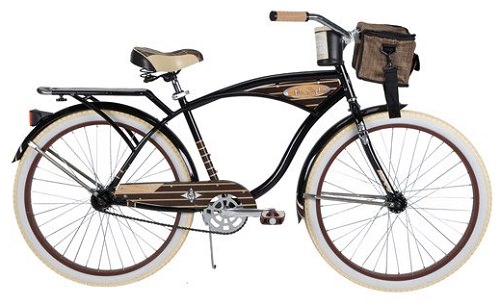 Huffy Panama Jack
There's no way I couldn't stick this bike here. You see the thing that always amazes me about Beach Cruiser bikes is just how much bike you can get for your money. The Panama Jack is no exception. It's a bike, and you pedal it to make it go forward. So in that respect it's the same as the others in the list.
But none of the others come with their own removable cooler on the handlebars or a dedicated bottle opener on the front forks…
The saddle, is as you would expect, thickly padded with a classic double spring set up. Not only are the chain and wheels covered by guards, but just look at the flat metal styling beneath the upper tube. The handlebars are soft and made from cork. Have you ever ridden a bike with cork handles? It's seriously old school, and therefore the epitome of cool.
And check out those 26" whitewall tires.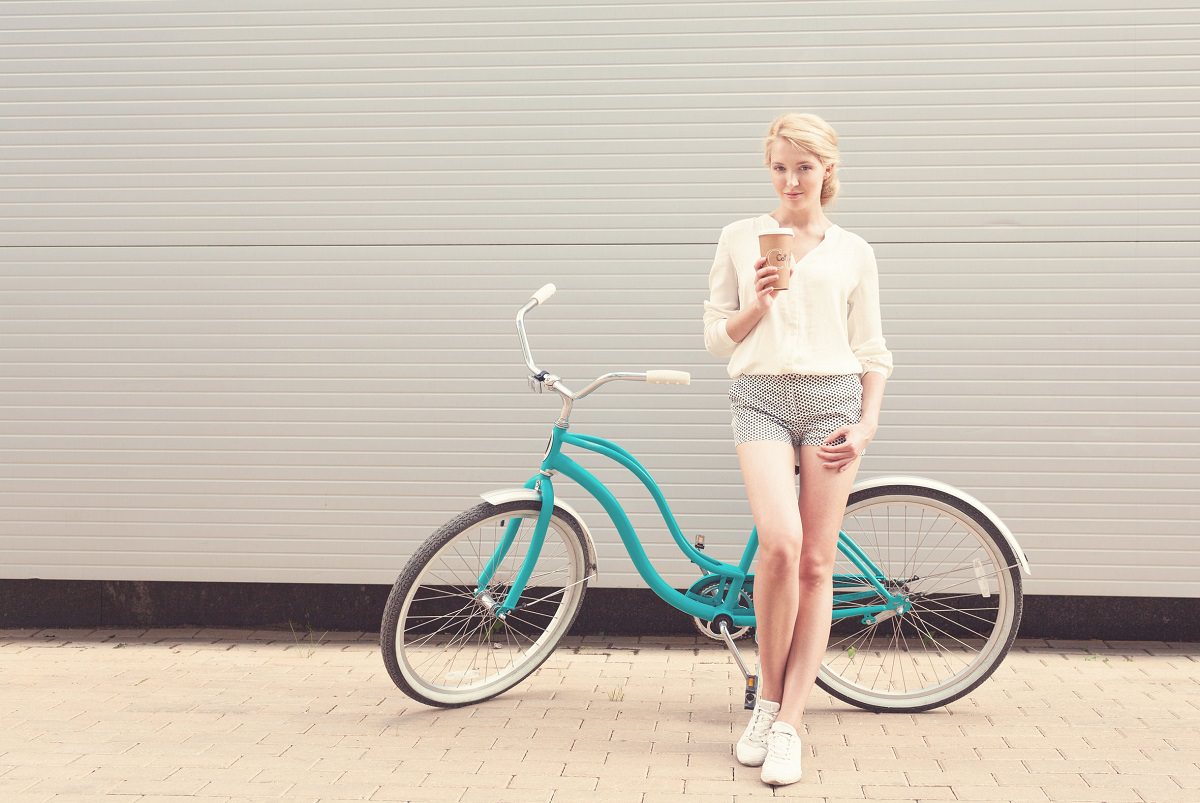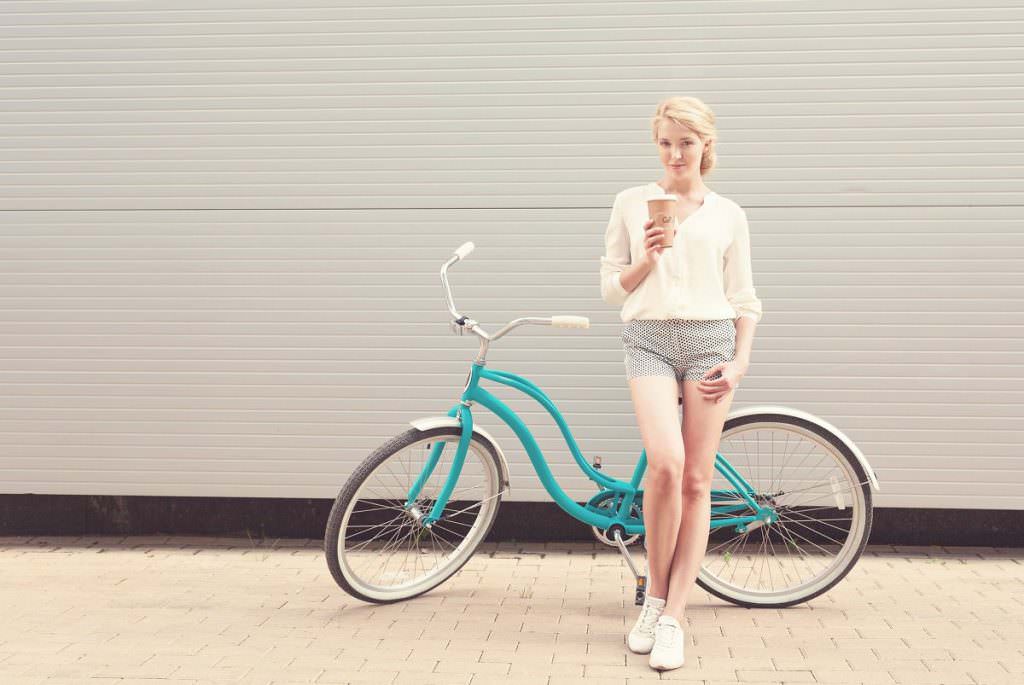 5 Beach Cruisers for women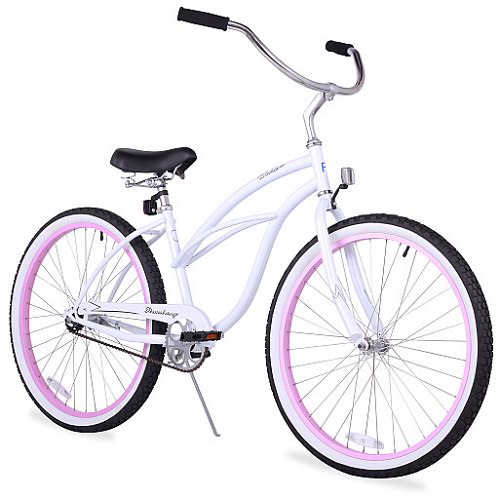 Firmstrong Urban Lady
Essentially, this is exactly the same as the mens version, just with a slightly smaller frame, and a different curved top tube. As it has been designed for women, it is also that little bit lighter than the mens version.
It is also available in a range of colors, as apparently women like to accessorize more than guys. Who knew?
Also, the ladies get a choice of either 24" or 26" wheels based on the average gender height discrepancies, but be aware the seat and handlebars can be repositioned to suit both the small and taller riders.
The frame itself also comes with a lifetime warranty, as in forever, just like with the mens version. The saddle is double sprung, wide and comfy.
One thing I did notice is that this bike does come with very strong and durable tires, so the period between flats will be longer than you might normally expect.
As with all Beach Cruisers it adds a certain style and grace to anything you do on your daily business, and does come with the option of either 1, 3, or 7 speed gear options, though expect to pay more for these than the $200 single speed option here.
Available from Sports Authority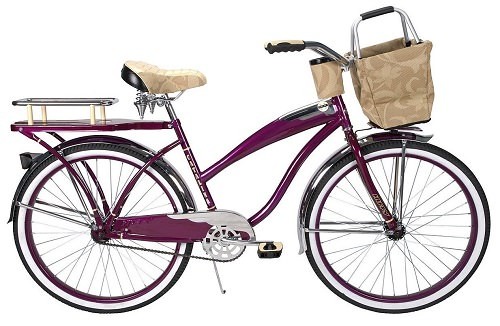 Huffy Catalina Women's Cruiser
Oh come on! If riding Beach Cruisers is about looking and feeling good then the Huffy Catalina is up there with being one the coolest bikes going. And for a measly $200 from Amazon, it's a phenomenal looking bike.
As well as looking great, this bike is also very practical. It comes with the rack on the back, a holder for your Mocha, and a rather stylish detachable front basket that turns into a rather handy bag you can take with you anywhere.
The alloy wheels, tires, and seat all combine to make this a very comfortable and easy bike to ride. The frame is as you would expect, steel, and the kick stand is handy for propping the bike up wherever you want to rest it.
This bike really is a bit of a bargain.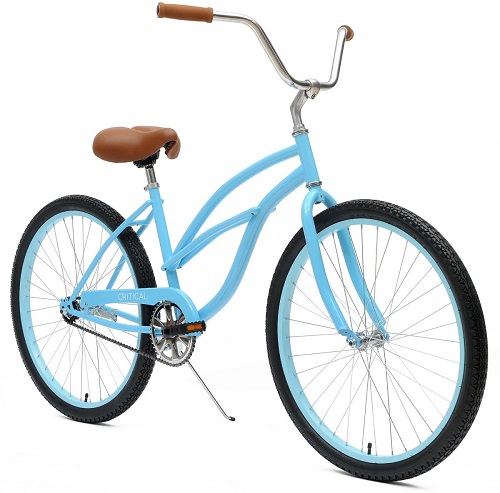 Critical Cycles Women's Beach Cruiser
Not only is this the 2nd cheapest Beach Cruiser in the entire list, it's also one of the coolest. The frame is hand built, and the seat and handlebars are as comfy and as extra wide as you would expect from your standard Beach Cruiser.
Again, it's single speed, and it doesn't have the fenders, baskets, and fancy accessories as some of the others. But it's cheap, effective and still stylish. It's the perfect college bike for zipping from dorm to class, or for just cursing the boardwalks down in Santa Monica.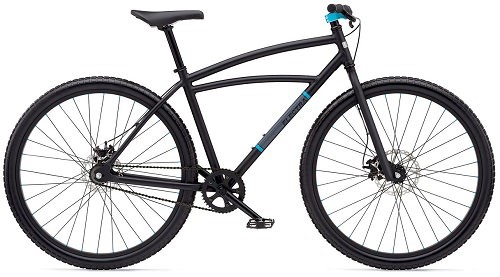 Electra Moto 1
So look, I'm 8 bikes down in a list of 10 so I think at this point we can just accept that all the Beach Cruisers recommended are built from steel, unless otherwise stated. We can also just agree that all the seats are wide, comfortable, spring loaded, that they are all pretty cool whichever one you might pick; and that they all come with 24"/26" wheels and those funky upright handlebars.
Except this one.
This one has 29" wheels, is designed for women, and the handlebars seem kind of…well…ordinary…And that's why I think if you want a Beach Cruiser that's just that little bit different from all the other Beach Cruisers out there, then you could do worse than pick this one.
This is the perfect bike if you want a Beach Cruiser you can take that little bit further afield. 29" wheels give you that little bit more momentum, and make it just that little bit easier to pick up some speed.
Of course it come with a nifty set of disc brakes so the frame remain neat while truly functional. This is a bike designed for more than just bobbing down the board walks, while at the same time being completely at home there.
Perhaps the most striking thing about this Beach Cruiser is the ordinary handlebars. Other riders will perform double takes when they see you riding along on it. They'll spot the upright pedaling position, the sporty saddle, the black balloon tires, and have to think about what they've just seen as you ride on by.
This bike is definitely the one for people who want something stylish that is still cool while remaining effective. Only issue is the price. At $500 this one isn't as cheap as the other Beach Cruisers.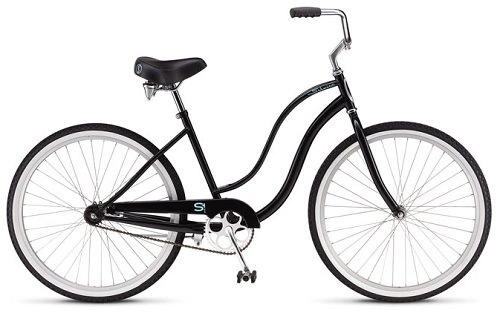 Schwinn Cruiser S1
So here we are back Schwinn one last time.
There's not much left that can be said. Schwinn make quality bikes, and this, is a quality bike indeed. One of the most impressive virtues of the S1 is the very low top tube which makes it really easy to get on or off. The frame is high quality, as is the paintwork which is available in a range of colors.
There's no gears and no shifters. This is pure simple 1 speed backward pedaling braking heaven. As you would expect from Schwinn, the balloon whitewall tires are durable and grippy. Sure it doesn't have a catchy name like the Catalina, or the Panama Jack, but herein also lies its secret.
Sometimes you just want to experience the simple pleasure of riding, and the S1 excels at that.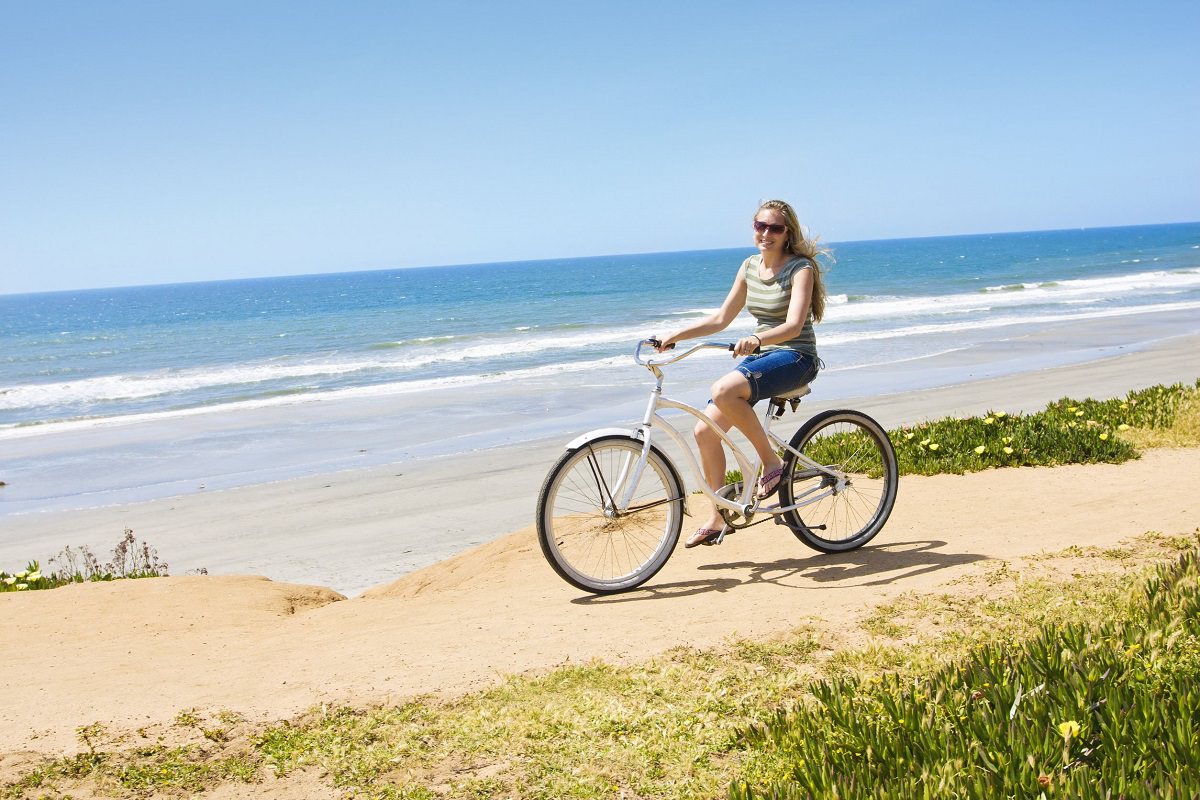 Final thoughts
Whatever your budget, whatever your motives, there's a Beach Cruiser out there for you.
You can spend over $2000 on one of if you want! But if you do, I think you're kind of missing the point.
Personally, I think you shouldn't spend any more than $400 on one at the upper limit. Beach Cruisers are about taking things slowly. They're about getting to where you want to go by travelling and arriving in style while relaxed.
Beach Cruisers by their very nature are supposed to be simple, cheap affairs that make a definitive statement about who you are and what you want out of life. And let me tell you, that statement is as valid in Santa Monica as it is in Amsterdam, as it is in London, as it is Sydney.
So whatever Beach Cruiser you buy, just make sure it's one that speaks to you, and does something to your soul.
Life is short, so make the most of it.