Single-Speed Bikes have been on the horizon for a while now, they offer great performance, speed, and are easier to maintain. Bikes that give exceptional performance and are easy to use sell like hotcakes and also gain immense popularity but they also get expensive eventually.
These Single-Speed bikes or simple bikes have fewer components than the other bikes in the market but still, they end up being more expensive. Not everyone can afford these expensive bikes that is why we have cheaper alternatives that are not so bad either and today we shall look at a brand like that, a brand that has been around for almost a year now which makes amazing bikes- Retrospec Bikes also formerly known as Critical Cycles!
Why Are Retrospec Bikes So Popular?
Technically, Retrospec Bikes is an urban bike company and the people behind it are Bike Enthusiasts! I think that is the main reason why they are so popular both locally and internationally! Imagine having a chef as an owner of a pastry shop or a bakery, the products for sale would surely be the best. That is the same case as having bike enthusiasts as owners of a business like that!
Another great thing about Retrospec bikes is their attention to detail and quality control, the things that are left unnoticed by other companies are given great importance by them, that is how they have earned their brand loyalty. Let us discuss Retrospec Bikes in detail!
The History Behind Retrospec Bikes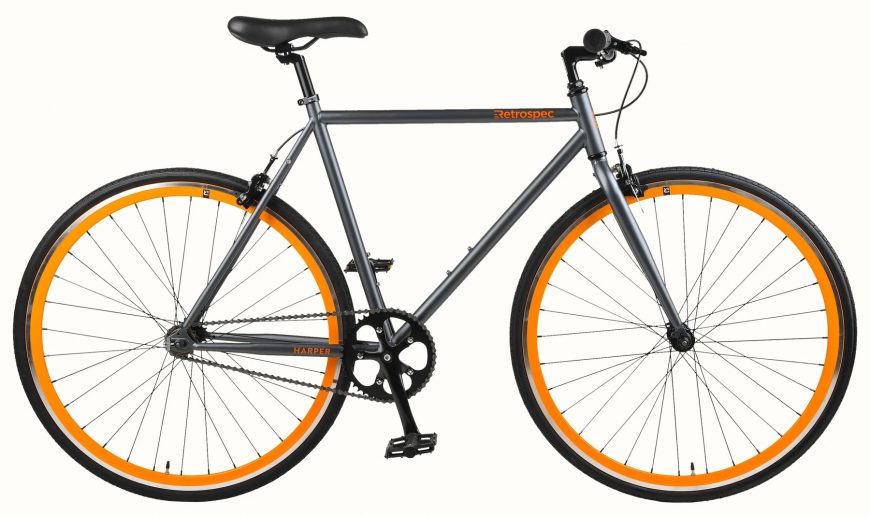 Every great company has a humble beginning and the story of Retrospec Bikes will leave you in awe. Retrospec specializes in single-speed bikes also known as fixie bikes but did you know that they were the actual key to success and all of it started way back in 2009.
Ely Khakshouri started Retrospec Bikes in 2009, and at that time he was still pursuing his studies at the University of Southern California. At that time, everyone was so fixated with the fixie bikes so if anyone started a business then that would be extremely successful!
Getting a fixie bike was no easy endeavor though as they had to be trimmed down and constructed from other bikes, this process wasn't cheap and that made fixie bikes very expensive. Ely had other ideas in mind though, he thought that it would be better if they started making these fixie bikes from scratch and then selling them for a slight mark-up.
Khakshouri started the company from a van where he used to sell the bikes alone, in his university he found a stable demand that he would easily control, and that worked out quite well for him, could you believe that the initial investment was only $16000. He started contacting different manufacturers for components and that didn't just save him money but also made things easier for him.
The success was so much that it eventually led to Khakshouri making his own holding company by the name of Westridge Outdoors. Now, Retrospec Bikes/Critical Cycles exist under the name of Westridge Outdoors, and business Tis booming!
The company has made so much profit, all I know is that they were pretty profitable from day one, and in 2020 alone they had profits of more than $50 million and that too in bike sales. As of now, Retrospec Bikes is one of the most famous brands for bikes, components, and accessories.
What About Pricing?
Retrospec Bikes is a budget brand, they know that good-quality budget bikes sell more than ever. You can expect their average prices around $350-$550.
Retrospec Bike Size Chart
Retrospec Bikes are mainly known for their single-speed/fixie bikes. Here is the bike size chart for a detailed guide.
| | | |
| --- | --- | --- |
| Height | Inseam Length | Frame Size |
| 5'1''-5'3'' | 27''-29'' | 48 cm |
| 5'3''-5'5'' | 28''-30'' | 50 cm |
| 5'5''-5'7'' | 29''-31'' | 52 cm |
| 5'7''-5'9'' | 30''-32'' | 54 cm |
| 5'9''-5'11'' | 31''-33'' | 56 cm |
| 5'11''-6'2'' | 32''-34'' | 58 cm |
| 6'1''-6'5'' | 33''-35'' | 60 cm |
The bike size chart is going to help you find the best bike for yourself! We prefer that you consider your inseam length as it is the most important factor when deciding the size of your bike.
The Current Status of Retrospec Bikes
Not many people know about the Retrospec bikes, for many this is an unknown brand that is why we decided to do some digging into that. The motto of Retrospec Bikes is- "Outdoors is for everyone" and we agree on that completely.
Retrospec bikes excel at creating an experience rather than just generic products, they have mastered the art of combining cost and quality. Now they have extended their portfolio to multiple-speed bikes but before the main thing that mattered about bikes was build quality.
Although this doesn't mean that what was famous in the past won't be famous now, Retrospec knows that and that is how they add value to their bikes. We have seen many companies in the bike industry that are still the Apex Predators. For chains, we all know to look at KMC and when it comes to tires then Kenda is the best manufacturer.
Retrospec knew that sticking with one sort of bike won't do them good in the long term that is why they extended their portfolio with more versatile bikes that can be used for almost everything. They even make hybrid bikes now with special lightweight aluminum frames.
They haven't just gotten better with the bike but the components as well, now all of their bikes use Shimano, the quality ranges till mid-level. Adaptability is the key here and Retrospec Bikes have mastered that, this is one of the main reasons behind their success and fame.
Everyone is wanting to try out Retrospec bikes, even more so now because they find themselves fascinated by the extended portfolio. Customers aren't bound by restrictions now and can try out any kind of bike they want.
Retrospec Bikes: What Can You Expect?
This here is a million-dollar question, should you actually go for Retrospec Bikes? What can you expect from them? We are going to discuss this in detail!
If you are thinking that Retrospec Bikes is stuck in the past or they do not improvise then that is false. They knew from the get-go that innovation and improvisation would be the key to survival and success. Now they have something for every kind of rider!
They are even offering multi-speed bikes, the speeds start from 3 and then go on to 21, you can choose according to your preferences. May it be fixie bikes or hybrid bikes, you will not be disappointed with their collection of amazing bikes!
There are not just adults bikes but also kids bikes, no one is left out from their reach. Retrospec bikes also favor accessibility so you can customize your bike to the heart's content!
Things are simple and fun when it comes to Retrospec Bikes, they want everyone to enjoy the outdoors, they don't believe in restrictions. Any kind of bike rider would be satisfied with their products and services, that is something that I can personally assure you!
Top Retrospec Bikes Review
There are a lot of amazing bikes from Retrospec and you will be amazed to see their lineup. Before we get started with the best bikes from Retrospec, these are all the types of bikes that they are currently offering.
Types Of Bikes Offered
Although Retrospec Bikes started from fixie bikes, they have evolved since then and stretched out their catalog of amazing bikes. These are the categories of bikes they are offering:
Balance Bikes
Folding Bikes
Beach Cruisers
Fitness Bikes
City Bikes
Hybrid Bikes
Fixed Gear Bikes
Single-Speed Bikes
Kids Bikes
With these amazing bikes, there are also plenty of accessories being offered too. You can also enjoy amazing customer service post-purchase. Now that we have mentioned all the bike categories from Retrospec, here are our top picks!
1. Retrospec Mantra – Editor's Choice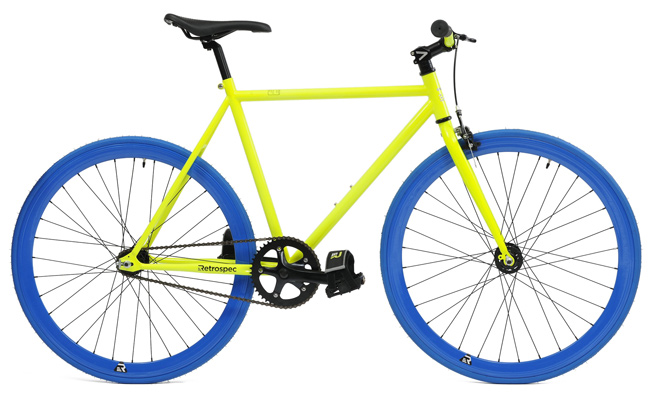 Let's start with the best bike from Retrospec, the Mantra Fixie Bike. As you might have guessed, this is a single-speed bike with a singular gear system, that is what makes it the best they offer. This time, they have installed a different hub system on their bike, there are both single and fixed gear systems attached on the wheels of the bike.
They have also made tire theft extremely difficult now thanks to the wheel bolt system. The Mantra is constructed with a strong lightweight steel frame. Some of the best features of the bike are:
Stars V-Rims
Fixed and Single-Speed Gear
Strong Design
The addition of the Stars V-Rims gives it a more strong look, but also very premium. You can expect to enjoy a very comfortable ride thanks to the aerodynamic features of the wheels that work so well with the overall construction of the bike.
If you are a fan of fixie bikes but also want something new then you should definitely try out the Retrospec Mantra!
Editor's Choice: .Needless to say that the Retrospec Mantra is one amazing unforgettable bike. The overall construction of the bike comes together to offer exceptional performance. Even the aesthetics of the bike are quite attractive! You shouldn't pass on this bike.
---
2. Retrospec Harper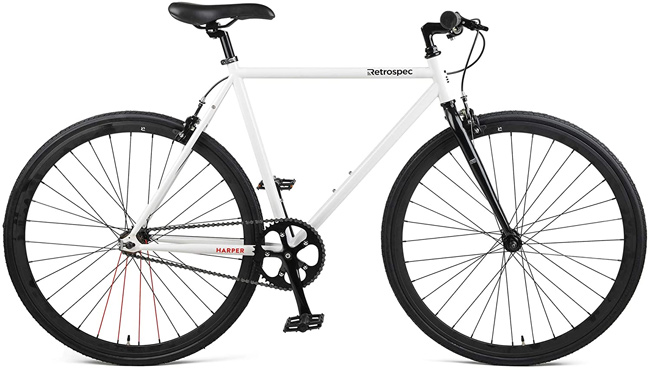 The Retrospec Harper is one of the company's top-rated premium models, and you can expect the best from it. The most fascinating thing about the Harper is the hand-built frame, it is actually more resilient than other bikes in the market. Only the best materials are used in the construction of the Harper so you can expect exceptional performance.
The way it is constructed, the Harper feels silky smooth even on the bumpiest of roads. Some of the best features of the bike are:
Kenda 700 x 28C Kwest Tires
KMC Chain
Easy Assembly
VP Freestyle Pedals
You would notice that the Harper has a premium look, even the components are top-rated, this is because Retrospec wanted to leave a really good impression on the market in regards to their premium models.
The Harper has a hefty weight limit of 220 lbs, you can fill up the bike and it would still perform exceptionally.
Why I Like It: A premium bike that doesn't break your bank? You can definitely sign me up for that! The Harper offers exceptional performance thanks to its brilliant construction and components. You wouldn't want to miss out on this!
---
3. Retrospec Mars Hybrid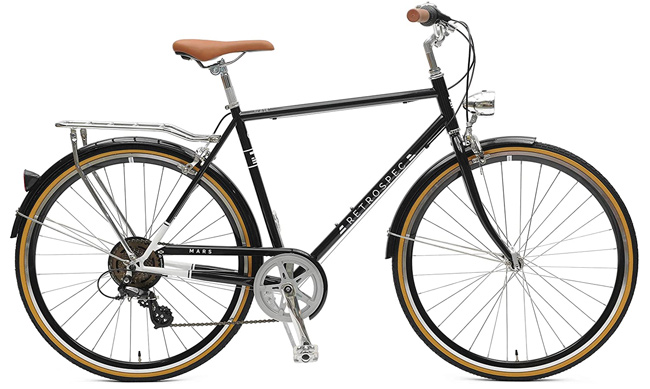 If you are looking for amazing hybrid bikes then you should definitely look out for the Retrospec Mars Hybrid. Think of it as an awesome combination of a hybrid and urban bike, with the qualities perfected! This is a very comfortable bike but sometimes it can feel a bit heavy but that is no bummer.
The Mars Hybrid offers great value at its price and you won't be disappointed by its performance. Some of the best features of the bike are:
Comes with Three Speed Options
Great Accessory Options
Amazing Vintage Design
Kenda Commuter Tires
The Mars Hybrid rocks a diamond frame and the vintage design looks just incredible. I think Retrospec wanted to go full old-school with this bike, you can even notice the nods as there is a front light and rear rack.
You will find the Mars Hybrid in different designs and colors, this is to accommodate flexibility. The bike uses caliper brakes for absolute stopping power.
Why I Like It: The Mars Hybrid takes me back to the golden days, even the design is amazing. It is a wonderful combination of urban and hybrid bikes that comes together to make something new. The high-end components make sure that the performance of the bike is exceptional!
---
4. Retrospec Mantra V2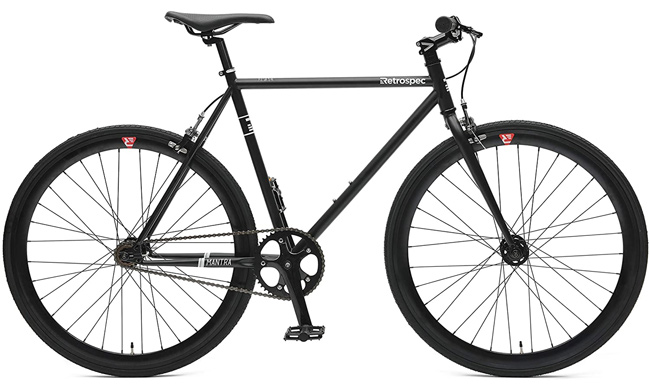 We have discussed the Mantra now it is time to discuss the Mantra V2, the updated version of the original. It isn't just a normal upgrade over the original as it offers you to choose between different speed gears, you can choose from a single-speed hub to a seven-speed setting, either way, the performance is exceptional.
Some of the best features of the bike are:
Caliper Brakes
Seven-Speed Version
Light and Flat Pedals
The caliper brakes on the Mantra V2 offer amazing stopping power. I think that this bike is a huge upgrade over the original. You would just have to spend a bit extra, but the value is so much here that you shouldn't let it go!
Why I Like It: Everyone loves upgrades right? I loved the original Mantra but the Mantra V2 gave me enough reason to come back. The seven-speed option is just amazing and it keeps things interesting. Do give this bike a try!
---
5. Retrospec Venus Dutch Step-Thru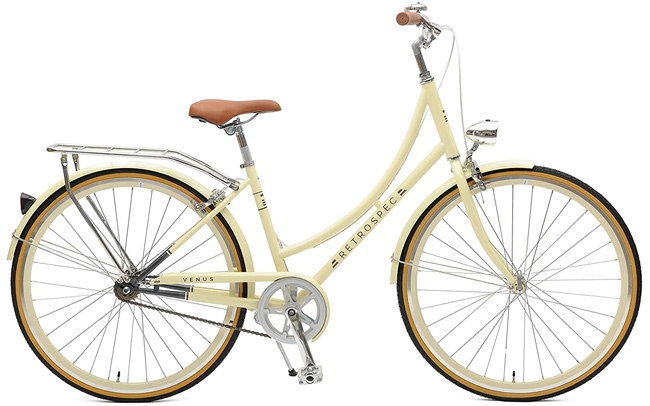 The Venus Dutch from Retrospec Bikes might be the most different bike they have ever produced. This is a bike that is all about comfort, it even features a seat that can recline so that you maintain a good riding position. The handlebars of the bike are upwards, you would have to reach upwards nor forwards to reach them, this is quite unique.
This isn't a bike for aggressive rides but rather focused on shorter comfier commutes. Some of the best features of the bike are:
Super Comfortable Design
Seven-Speed Versions
Relaxing Position
Comes With Hybrid Wheels
As I said before, this is a bike made for riders that want total comfort. It is perfect for the park rides and neighborhood patrols. Expect a carefree ride with the Retrospec Venus Dutch!
Why I Like It: If you want a bike for daily commutes or just roaming around the city then the Retrospec Venus Dutch is going to be the perfect choice for you! You can choose different speed versions and expect to enjoy the special handlebars!
---
6. Retrospec Cub Kids Bicycle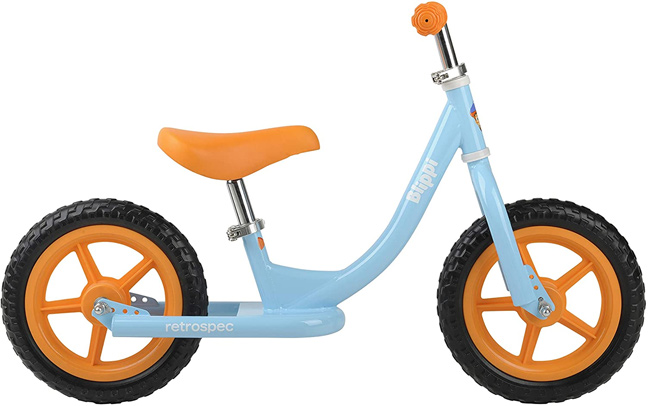 Retrospec Bikes believe that the outdoors is for everyone and that definitely includes children. Apart from the adult bikes, Retrospec also makes amazing kid's bikes and the cub is one of their best ones yet. The cub bicycle will definitely make any kid's day.
It is a low-framed bike that can be easily balanced, it is also quite comfy for kids. The frame of the bike is designed in this way that it will be handled without any kind of problem and will be durable for a good amount of time. Some of the best features of the bike are:
Durable Steel Frame
Easy To Maintain
Adjustable Handlebars
Affordable Price Tag
This is basically a balance bike so there are no pedals installed. The kids would only need to push themselves to ride the bike, that's it. From this bike, it would also be easier to transition to a pedal bike.
If you are worried about assembly then don't be, the bike comes 80% assembled. For kids aged up to 5 years, this is an amazing bike to have!
Why I Like It: This is one of the best kid's bikes in the market, there is more than enough value to be found here. The durable steel frame makes sure that the bike withstands all kinds of abuse, it is also very lightweight. For a beginner's kid's bike, this is perfect!
---
7. Retrospec Barron Step-Thru Comfort Hybrid
The Retrospec Barron Hybrid bike is best known for its multi-purpose prowess, no matter where you want to use it, it will always offer the same best performance that you are used to. The Barron proves that this here is one of the best hybrid bikes to come under $500, with the amazing quality too!
I would say that this is one of those sleek and sexy bikes that you can enjoy for a very long time. You can't always how with looks that is why the performance of this bike is exemplary too. Some of the best features of this bike are:
Shimano 21-Speed Gear System
Kenda Kwest Tires
Amazing Price Tag
With amazing components, this bike has the looks and the muscles to make it the best bike of the year. If you are worried about sizes then don't be, it comes in four different sizes so that it can accommodate every kind of rider.
One of the best things I like about this bike is the inclusion of the aluminum riser 35mm bar, this makes sure that the bike is always in your control and you have an upright position.
Why I Like It: I love hybrid bikes, they bring out the best of everything! Retrospec Barron is one of the top choices that you can go for. It is a bike that doesn't just look good but performs well too! For the price tag, you are certainly getting a mouthful here.
---
8. Retrospec Beaumont 7-Speed City Bike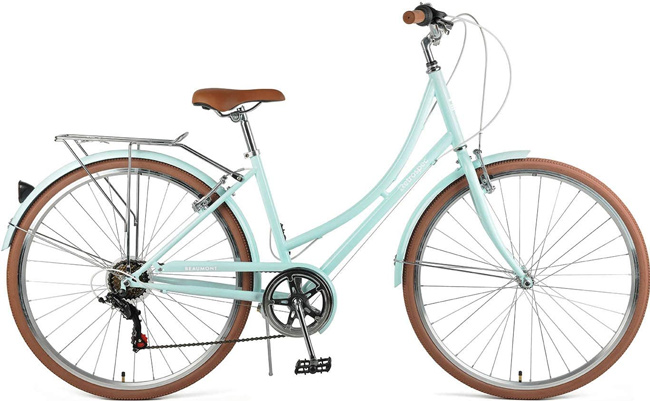 If you are looking for a great city bike and that too on a budget then you should go for the Retrospec Beaumont 7-Speed City Bike. As the name goes, this bike comes with a 7-speed step-thru, even the ladies can use this as their main bike. Actually, this was designed as mainly a women's bike!
This is a very lightweight bike, you can even see it. Some of the best features of the bike are:
A durable and lightweight frame
All-season tires
Shimano 7-Speed gear set
Women are going to have complete joy when riding this bike, it almost feels like a cloud. The durable and lightweight frame makes handling very easy, ladies wearing a skirt or any kind of dress would have no problem with it. The shape of the bike is very rigid which immediately makes you feel comfortable.
Higher performance is guaranteed to the user because of the slimmer tires, may it be any kind of surface, the bike will be amazing!
Why I Like It: A women's bike that aspires to confidence and offers top performance at the same time? Sign me up! The Retrospec Beaumont is a bike to behold, from the amazing construction to the features, it oozes quality all over. The never-before-seen thin tires offer great performance and comfort!
---
What You Need To Know Before Going For Retrospec Bikes
Retrospec bikes are all great what do you need to consider before actually going for them? Just consider these aspects and you would be good to go!
Comfort Or No Comfort
The first thing that you need to consider is if you are actually comfortable when riding a bike, if you aren't then there is no need to get a bike as you won't even be using it. You can opt for comfortable bikes and Retrospec makes a lot of those. You can emphasize features that make sure that you get the best out of your bicycle!
A good example would be a comfortable seat and handlebars, look for components that make your ride more memorable and fun!
Why Do You Need A Bike?
Some people need a bike for fun while others need it for professional purposes. That is what you need to decide and consider before going for Retrospec Bikes!
Your planned activities will play a big part here, are you going to use the bike for hobbies or just for fun purposes? This part is easy to decide though because Retrospec specializes in Urban and daily commute bikes.
How Is The Surrounding Landscape?
The last thing that you need to consider is the surrounding landscape, and what type of area you live in. The type of area you live in will make you decide between a single or multi-speed bike. An essential notice though: Retrospec Bikes are not suited for hilly regions because of their construction!
Only get these bikes if you don't live in hilly areas as the lack of gears would make traversal very difficult!
What Makes Retrospec Bikes Stand Out?
Retrospec is one of the best bike brands in the industry and it is wise if you have decided to go with them. Now that you have heard a lot about Retrospec, you might be wondering about the unique aspects that make them stand out from the other bike brands. We want to get straight to the point, so here are some of the best aspects of Retrospec Bikes.
Affordable Price Point
One of the first things that come to mind when we talk about Retrospec Bikes is affordability. We talked about the bikes being cheap, the price isn't that much, I mean you can get a good-quality bike from them for under $600. Normally, the bikes from Retrospec are priced between $350-$600.
Yes, these bikes have a very affordable price tag but what about the quality? Although these bikes are cheap, there is no kind of compromise on the quality. All of these bikes are constructed with the finest material and labor, and the durability of these bikes is also very impressive.
What about the premium Retrospec Bikes? Yes, there are some high-end bike models that will cost you thousands of dollars but they are also worth the price. I have been using the Koa Rev+ 26" Electric Fat Tire Bike and the experience has been wonderful so far.
Customizable Options
Customization is very attractive, if a brand offers enough customizable options with their bikes, then you know how much they value the customer and their brand reputation. Almost all the bikes from Retrospec have customizable options, some bikes offer two different frame types, while some bikes will offer different mounting options for racks.
When it comes to the Electric Bikes category, the batteries can be changed according to the needs of the users. For example, if a bike is installed with a smaller battery, you can install a powerful and bigger battery without any hiccups. The tires can also be exchanged, there are a lot of customization options that you can avail.
Eco-Friendly Practices
You will be very impressed to know that almost all the bikes from Retrospec are made from recyclable materials. There is almost zero strain on the environment since the materials can be recycled, and the production process is also made easier.
The Electric Bikes range from Retrospec is just amazing, these bikes are fast enough and responsive enough that they will replace cars in the near future.
Customer Reviews and Feedback
Here are some verified customer reviews, although the reviews are mixed, they should give you a good perspective about the brand.
Reviews on Retrospec Bikes
Beautiful, simple, lightweight, easy to use, and will use it for years to come!
Review by Kelly K. on 26 Apr 2023 review stating Beautiful, simple, lightweight, easy to use, and will use it for years to come!We love this scooter! We got one for my 4 year old for Christmas and my other child old loved it so much (read: he fought his older brother regularly to ride it), we got one for his 2nd birthday. My 2 year old is surprisingly good at it (even though age recommendation is 3+) and he LOVES having his own. They love scooting around everywhere together.
Kelly K. (Bought The Chipmunk Kid's Scooter)
---
So fun and worth every penny!
Review by Amy S. on 26 Apr 2023 review stating So fun and worth every penny!This bike is so fun!! I was worried it would be a bit big and heavy for me, I'm 5"1, 112lbs and 59 years old! I loved cruising around my neighborhood enjoying the spring weather and blossoms! I rode it to work once and my ride too and from was fun!! The bike had some damage on arrival however customer service was wonderful!
Amy S. (Bought The Chatham Rev Electric Beach Cruiser)
---
I really love my new bike, this is my second purchase with Retrospec, On this purchase I got two bikes one for my daughter and one for myself, they took a bit longer to get here, but when arrived they were both in perfect condition. I'm truly enjoying my bicycle and having a great time with my daughter. Also the sale prices where great!
Mariana B. (Bought The Ascent 26" Moutain Bike- Step Through 21 Speed)
Reviews on Amazon
Using the item is nothing special. The highlight is its awesome look. However build quality and performance are average, like in lower cost bikes from other brands. Yes, with everything that goes into it, the bike is too heavy.
What was turn down for us was that my teenage daughter saved up money for this bike for a while. Then assembling was super challenging. Their directions could learn a lot even from IKEA furniture assembly guides. Make a 5 minute video instead please. This experience made her almost not want to be riding the bike. Now she's telling all her friends bad things about the bike she was so excited about.
If paying for assembly is recommended and necessary, then add that to the cost of the bike. You're better off buying a more expensive bike in that case, with a better build, lower weight, and easier assembly.
Seward (Bought The Retrospec Beaumont 7-Speed Men's Urban City Bike)
---
Haven't been able to use the bike as it's missing the handlebar stem bolt/stem quill needed to attach the handle bar to the bike frame. Have tried to reach out to Retrospec for help, will update one we've received an answer. Seems like this is a common issue, disappointed.
Brett (Bought The Harper Fixie)
Note: The mentioned reviews are just for informational purposes. Some bikes from the brand are going to have mixed reviews but that doesn't depict the actual performance of the brand. We urge you to try the bikes yourself and then provide a genuine review.
Retrospec Bikes: Pros and Cons
Every bike manufacturer is going to have its own set of pros and cons, after all, there is no brand that is perfect.
Pros
Unique Design
Retrospec Bikes have a unique mixture of retros and modern design frames for almost all their products, you might have guessed it from the brand name. These bikes have amazingly pleasing aesthetics which attract every kind of audience.
You are not going to see these designs anywhere else, so if you want bikes that stand out from other brands, you have to try out Retrospec Bikes.
Durability Is Unmatched
Almost all the bikes from Retrospec are built to last, this goes from the kid's bikes to adult bikes. Once you get your hands on these bikes, you won't be needing any other bike for a while. From durable materials/frames to stellar designs, these bikes will definitely stand the test of time.
Comfort Is Key
These bikes are really comfortable, I have been using these bikes for a while and let me tell you this, everyone in my family has one Retrospec Bikes, this also includes my children. They just love playing around with the bikes, my daughter loves the Chipmunk bike and I love the Koa Electric Bike from Retrospec. I have tried out more than 500 bikes in my career and personal life but they haven't clicked with me as much as Retrospec.
Affordable Price Tags
Retrospec Bikes are cheap, you can get a bike for under $1000. There are a lot of options to go through so you will be confused once you go through the catalog. Yes, the quality is great too! Just because the bikes are priced cheap doesn't mean that you won't get a good quality product.
Cons
Not Practical Enough
Retrospec Bikes are good but they need to up their game in certain aspects. There are some bikes that you cannot use for daily errands even though they fall under the "City Bike" category. When it comes to mountain bikes, some of them won't even be fitted with mudguards even when they are advertised like that. Almost all the bikes from Retrospec cannot be used in bad weather, this is something that needs to get looked at.
Stock Problems
This is one of the big issues to date, there is a big chance that the bike that you have chosen might be out of stock. When a specific bike goes out of stock, you will have to wait a while for it to get restocked. Sometimes the process might even take months which will make you go for other options.
Uncomfortable Features/Components
We told you that these bikes are comfortable, and they are, but there are some bikes that are not just built the same as other bikes. There are even some bike seats and handles which just cannot be used as they are, they have to be replaced no matter what.
What About The Return Policy?
Retrospec Bikes have a return policy of 50 days, if you do not like the bike within 50 days of purchase, you can easily return the bike and get fully refunded. There is a catch though, the bike needs to be in good shape if you planning on returning it, if it's not then you won't be refunded!
Also, make sure that you have the original packaging of the bike, it won't be accepted without it.
Top-Notch Warranty
Retrospec Bikes have been working in the industry for quite some time now, through their immense experience they offer a warranty on their bikes. The frame and the fork of the bike have an actual warranty of 1 year accordingly while the components have a warranty of 60 days.
As the components go through a strict quality control procedure, Retrospec advises you NOT to replace them.
Check also:
FAQs
Question: Are Retrospec Bikes Good?
Retrospec Bikes are very good, they have good controls and are also very easy to use. You can expect to find amazing kid's bikes to adult bikes. Would I recommend them? Definitely!
Question: Are Retrospec Bikes Cheap?
Keeping the rising inflation in mind, the bikes from Retrospec are still considered cheap. You can get a good quality bike in the $350-$550 range. Yes, they also have high-end bikes that will cost more than $1000, the quality of those bikes is still unmatched tho!
Question: Where Are Retrospec Bikes Made?
In order to keep the quality and the vision of the company as authentic as possible, all production is done in California, USA.
Recap
Retrospec Bikes are amazing and there is no reason that you shouldn't try them out. They specialize in urban bikes and amazing components. Although they are new it is easy to be confused but we definitely recommend trying them out!
Of all the bikes, my top pick from Retrospec was their Retrospec Mantra. Others would have different opinions but I think that the Mantra does things quite well and keeps comfort/performance balanced.
Do check out Retrospec Bikes if you are a fan of amazing fixie bikes!
---