One of the hardest things to do in life is to stay in top shape, and you could be 50 but still look 30, everyone wants that. Some people even love having shortcuts for that goal, some go to the gym while others use the outdoors to achieve that goal. In order to look and feel that well, you need to lose weight, like a lot of it.
What if you want to lose weight but also want extreme thrills and chills simultaneously, well we all know about hiking the trails and swimming, but what about cycling? You can always look forward to the recumbent exercise bike.
People go for ideas that are going to be intensive yes but lack the thrill and fun, if you combine those things with exercise, the whole process just becomes more exhilarating. When it comes to outdoor cycling, you get loads of exercise, the thrills are there, the chills are there and it won't cost you anything, you would just need an amazing bike on your side. You can try a local bike shop to check out if anything fancies you or you could just invest in a fixed-gear bike, but where is the fun in that?
Bike workouts are amazing, with the upright riding position, you always feel in control and can achieve a lot. Indoor cycling bikes are also great as they have different functions that can make the whole experience more interactive. They allow you to enjoy a smooth and quiet ride. Let's not forget the on-demand classes you can enjoy from application subscriptions.
Best Fitness Bikes in 2023
| Best Fature | Bike | Price |
| --- | --- | --- |
| Best Overall | Tern Eclipse X22 | 2,699.00 |
| Best Lightweight Performance | Specialized Sirrus X 4.0 | 1,500 |
| Best Suspension | Trek Marlin 7 | 1,029.99 |
| Best Versatility | Cannondale Quick CX 3 | 910.00 |
| Best Protection | Ridgeback Speed | 748.27 |
| Best Durability | Cube Hyde Race | 1,316.62 |
| Best Mileage | Specialized Turbo Vado SL | Starting $5000 |
| Best Traction | Giant ToughRoad SLR 2 | 1,620.02 |
Important Notice: All the prices mentioned are subject to change.
These are some of the best fitness bikes to get if you want to have amazing workout sessions, daily commutes, or even go to work! These are the best! Let us get started!
1. Tern Eclipse X22 "The Blackbird"- Editor's Choice
Price: MSRP $2,699.00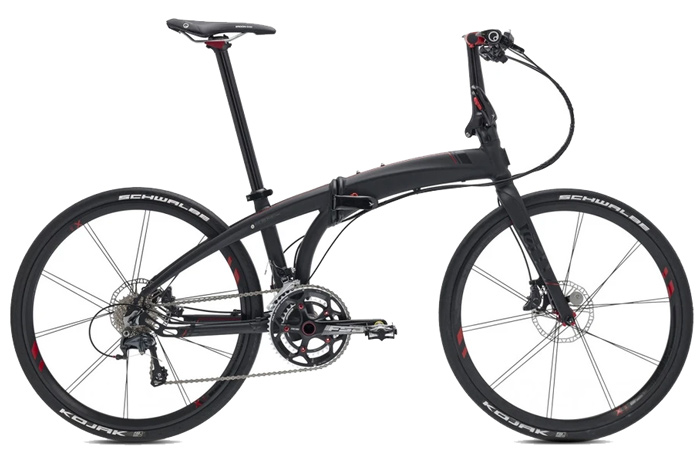 The Tern Eclipse is our favorite pick among all the other hybrid bikes, you must be wondering why is that so. Well, it starts with the design, the Eclipse X22 is designed to be the fastest hybrid bike you have ever experienced, it is also paired with a sleek and sexy design.
What I love the most is that this is a great hybrid and folding bike. It's easier to store the bike wherever I want and I can also carry it in the trunk of my truck. Some of the best features of the bike are Powerful 26-inch Wheels with an Ultegra Drivetrain. It's Shimano SLX Hydraulic Disc Brakes that gave me maximum control even when I go downhill on the bike. It is Surprisingly Compact
I personally love to have a quick workout session on the Tern Eclipse. This bike stands out the most because it features a very aggressive geometry, one that you can use for a variety of reasons, no matter what kind of terrain you are riding on. Trust me, you will not be disappointed with this bike.
The 26-inch wheels and tires do wonders here, it will never be a fuss traveling long distances, especially if it is a tour or a workout goal, and you will always get to maintain that same energy level.
I think that the Ultegra Drivetrain and Shimano Hydraulic Disc Brakes just complement the overall performance of the bike and other users seem to agree. I have had some amazing cardio workout sessions on this one and I definitely look forward to having more!
Advantages
Amazing Traction
Powerful Braking System
Seamless Gears
Strong and Durable
Foldable- Can Be Stored Anywhere
Disadvantages
Editor's Choice: The Tern Eclipse is an amazing hybrid bike that is easily foldable, so no storage issues there. It has a sexy design that is my personal favorite and with those amazing components like the drivetrain and hydraulic disc brakes, you can conquer almost every kind of road.
---
2. Specialized Sirrus X 4.0
Price: MSRP $1,500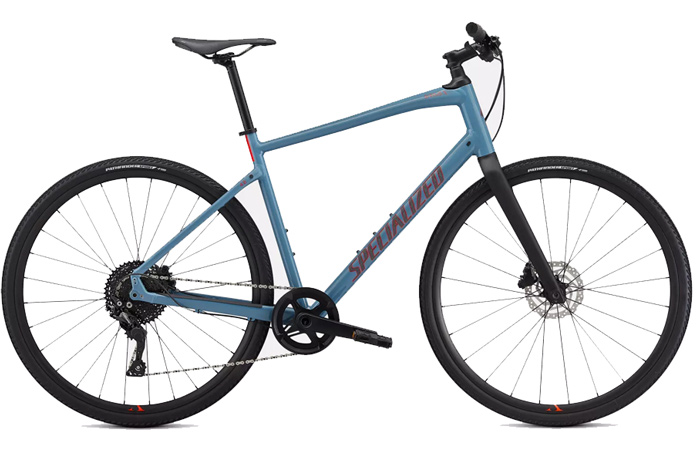 Bikes that are fun to ride and handy are so rare these days, yeah there are reviews from here and there but you can't always go with them, that is why we have the Specialized Sirrus X 4.0 hybrid bike for you! This upright bike offers top speed and comfort, all packed in one shiny package. Many authentic users found this bike as a fun option to exercise.
This bike has a wide gear range and space for fenders. This means that even if you go for the trails, you can always pack some vital stuff with you that won't slow you down. What users love the most about this bike is that it is a Shock-Proof Bike with great 38-mm Wide Tires. This matters because these are the features that make any bike Fast and Durable.
You get amazing momentum and speed on the road, no matter what kind of surface you are riding on, this is because of the 38-mm wide Pathfinder sport tires. The Sirrus X 4.0 is great for exercises, daily commutes, or even going to the job, the construction of the bike allows you to maneuver it without any kind of problems.
What makes Sirrus X 4.0 stand out is that Specialized has added a lot to this bike to enhance it. There are gravel tires, and their signature "Future Shock" which means you'll be riding all kinds of terrains. Do you know why I am such a big fan of the Future Shock feature?
It's because it is an amazing shock absorber. Basically, it is a rubber-based coil that helps the bike withstand shocks and vibrations. This results in a very smooth ride. For additional protection of the bike, there is also a carbon fork, which makes the bike lightweight. You can definitely expect a severe full-body workout with the Sirrus X 4.0.
Advantages
Amazing Speed
Lightweight Design
Shock-Proof Bike
Disadvantages
Why I Like It: The Specialized Sirrus is an easy-going bike, it is fun and effective. You get more than enough value for the cost, I personally loved the shock-absorption prowess of the bike, the carbon fork just adds to the performance and structure, making the bike lightweight.
---
3. Trek Marlin 7
Price: MSRP $1,029.99
The Trek Marlin 7 is an amazing all-rounder bike, it excels in performance, no matter how you use it. The bike is perfect for daily commutes, exercises, going on trails, going to the job, and anything you throw at it! Even if you were planning on conquering some single-track roads, the Trek Marlin will help you achieve your goals in no time.
If you are an aggressive rider, then this bike is made for you, it has a high bottom bracket, steep head, and seat angles, and comfort is then maximized because of the amazing fat tires this bike is constructed with.
What's best about this bike is its Shimano 10X Speed Drivetrain. You won't have to bother yourself about the gears because of the drivetrain. For me, shifting gears has never been this fun. Internal Cable Management is a feature to look forward to because it keeps your wiring safe. It also comes with a RockShox Judy 100mm Coil-Spring Fork.
When you think about the price tag, you will not expect this bike to have internally routed cables but that is how it is.
The RockShox Judy 10mm Coil-Spring Fork does an amazing job of protecting the bike against all kinds of shocks and vibrations.
Advantages
Lightweight Design
Internal Cables
No Maintenance Needed
Seamless Gear Shifting
Disadvantages
Lacks Tubeless-Ready Wheels
Why I Like It: Trek is known for making amazing bikes, the Marlin 7 is one of those examples. It has a sleek design and amazing features to make it worthwhile for exercising and regular fun. It could have come with tubeless-ready wheels but that is no tragedy there. Do have a taste of this bike!
---
4. Cannondale Quick CX 3
Price: MSRP $910.00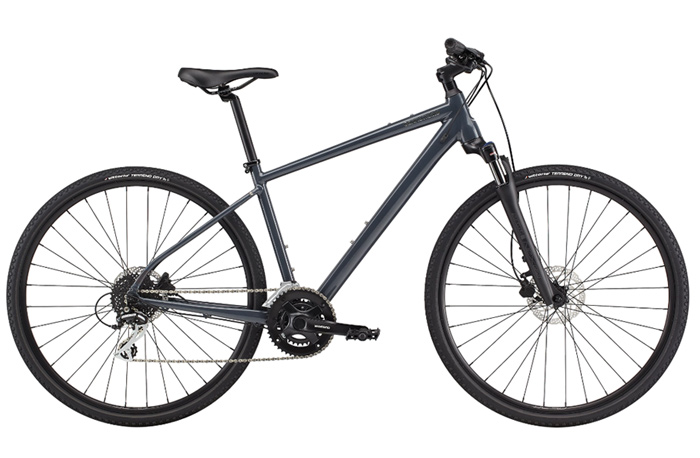 If you feel uncomfortable with the Trek Marlin 7 or just want to have more freedom with your bike then you should definitely try out the Cannondale Quick CX 3. It gives you more freedom and comfort than any other bike in that range.
It is constructed with a sleek aluminum frame, it definitely gives high-end vibes, and you don't expect this from bikes in this category. It is made even sexier. Especially from the rear end with the custom fork crown.
I have researched countless reviews about this bike and they all seem to agree that the microSHIFT 2×8-Speed Drivetrain paired with Shimano Tourney Cranks are the best features of this bike. Moreover, the Vittoria Terreno Dry Tires are ready to take you on adventures.
The bike has space for 2 main water bottles and a storage bag in the main triangle/hub, plus you can attach fenders. The microSHIFT boosts the bike's performance. It helps you easily shift the gears without any kind of interruption.
Some other amazing features of the bike that I came across in my research are the Shimano Tourney Cranks. These cranks make pedaling and handling easy as reported by various users. Then there is the Sunrace 11-34 cassette and the Vittoria Terreno Dry Tires. What's so good about these dry tires is that you will get the same amazing traction from the bike on all kinds of tracks. No matter if it is flat pavements or off-road trails, you will always feel in control.
Advantages
Amazing Traction on All Surfaces
Perfect Pedaling
Profound Durability
Disadvantages
Lacks Pre-Installed Fenders
Why I Like It: Feeling restricted by some bikes? If you don't have the freedom and are looking for something extra then the Cannondale Quick CX 3 is the bike for you. It offers more versatility than the Trek Marlin 7, while also featuring more features. No matter what kind of surface you are riding on, you still get the same best traction.
---
5. Ridgeback Speed
Price: MSRP $748.27
If you are looking for a great entry-level bike to get you started in the world of urban biking/adventures on the trail then the Ridgeback Speed is the perfect choice for you! You should consider this hybrid bike because it is extremely comfortable and perfectly suited for all kinds of adventures.
The bike is protected to the next level, it has a strong sturdy frame and is constructed with mudguards. Its most appealing features include the comfortable and relaxed Geometry supported by Rear Racks and Mudguards. The 3×7 Shimano Tourney Drivetrain and Promax V-brakes give you maximum control over your ride.
The Ridgeback Speed has a 3×7 Shimano Tourney Drivetrain and Promax V-brakes. Now in my experience, the V-brakes are easy to maintain but not as powerful as the hydraulic brakes. So you'll have to compromise a bit on that.
Nevertheless, with the Shimano drivetrain, you will always be in control when it comes to changing gears and maintaining speeds. Pair it up with the 42c tires, and you will always have amazing traction on any kind of surface.
Another fascinating thing about them is that the price point of Ridgeback Bikes isn't that much. They make amazing bikes for less than usual. If you are satisfied with their Speed hybrid bike I do recommend that you also try out their other bikes, which are just as amazing.
Advantages
Top-Notch Comfort
Amazing Protection (Mud Guards and Fenders)
Durable
Perfect Traction
Disadvantages
Why I Like It: Ridgeback is one of the most amazing companies to make hybrid bikes, their products are fun, durable, and do not slack off the performance. They are not that much expensive either, they also feature high-end components to make their products feel and look worthwhile. With Ridgeback Speed, you will have an amazing entry into the world of urban adventures.
---
6. Cube Hyde Race
Price: MSRP $1,316.62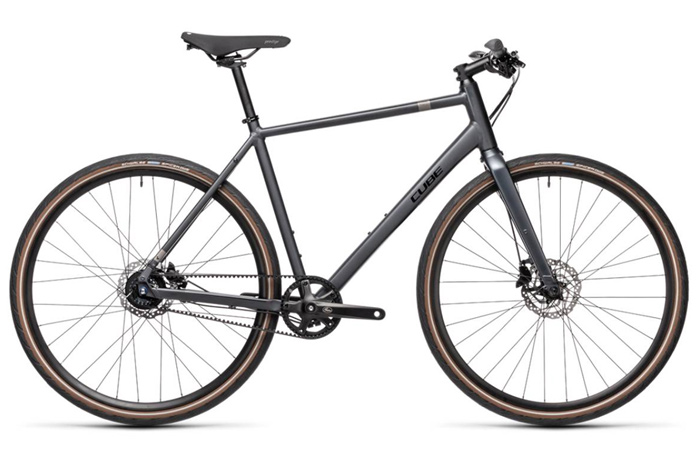 How about a hybrid bike that feels more like a racing bike, well that is what the Cube Hyde Race is, the ultimate combination of everything. The Cube Hyde Race sports a lightweight aluminum frame that allows the bike to be fast and responsive. You won't have to worry about maintenance or drag yourself down for that because of the Gates Belt Drive.
Some of the best features of the bike are the Shimano MT200 Hydraulic Brakes paired with Schwalbe's Spicer Tires. What I found best while riding this bike is that it comes with Tubeless Tires. You know how I always vouch for them!
This is one of those unique bikes that come once or twice a year. No one was expecting a racing bike disguised as a hybrid bike, it offers the best of both worlds. The bike is fitted with Shimano MT200 Hydraulic Brakes paired with those sweet 160mm rotors, the Cube Hyde will easily come to a stop with a stop clench of your hands.
The Schwalbe Spicer Tubeless tires work amazingly well with the Cube Hyde Race, even if there is broken glass or sharp debris on the road, the tires will have amazing protection against them.
Advantages
Amazing Traction on All Kinds of Surfaces
Profound Durability
Little To No Maintenance
Can Soar Amazing Speeds
Disadvantages
Why I Like It: I always wanted a hybrid bike that actually felt like a racing bike, with the Cube Hyde Race, my dreams have finally come true. This bike feels like a dream although you won't have to break the bank to get it, with the Schwalbe Spicer Tubeless Tires and MT200 Hydraulic Brakes, you will feel invincible on the road!
---
7. Specialized Turbo Vado SL
Price: MSRP Starting $5000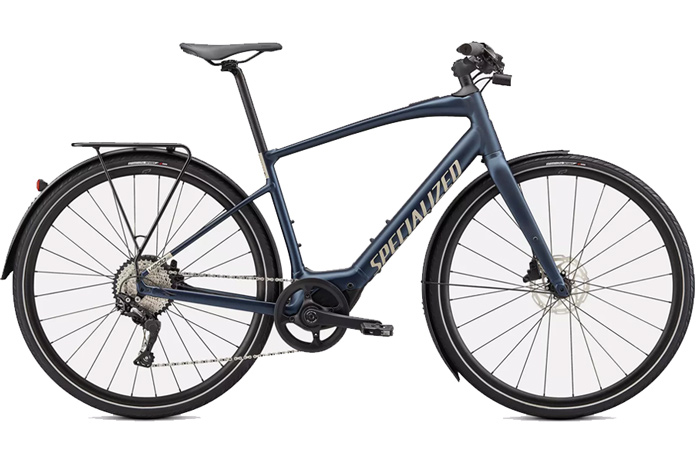 You would be surprised that E-bikes can be such amazing fitness bikes, a perfect example of that statement is the Specialized Turbo Vado SL. Even I was amazed when I came across this bike. It is an amazing hybrid bike with flat handlebars, it almost feels light as a feather which is very rare for bikes of this type.
The bike weighs around 15 kg and I still think that is quite light for an E-bike, it has the signature SL 1.1 motor system that you will definitely love. Some of the best features of the bike are its Lightweight Structure allowing you a 130Km Travel Limit with a 320Wh Battery.
The max speed of the bike is going to vary, the type of area you live in will determine the speed you will get to enjoy. The Turbo Vado SL is actually quite impressive, the bike's motor can give an output of almost 240 watts, and other than that there is a 35nm torque.
The E5 Aluminum frame from Specialized does wonders here. What's best is that the bike is lightweight but still very stiff. I would recommend customizing the tires. Swap out the 700x42C tires for the 43 mm variant. Bigger does not mean comfortable always. Or you can just keep the front tire and change the rear one.
Advantages
Lightweight and Durable
Good Travel Mileage
Amazing Battery Life
Great Traction
Disadvantages
No Future Shock Treatment
Why I Like It: I didn't think that E-bikes can be such amazing fitness bikes but the Turbo Vado SL changed my mind drastically, I am completely in love with it. The Turbo Vado SL is very lightweight if we talk about the structure, it has great traction and you can travel a lot before you have to recharge, this is a bike that you should thoroughly enjoy.
---
8. Giant ToughRoad SLR 2
Price: MSRP $1,620.02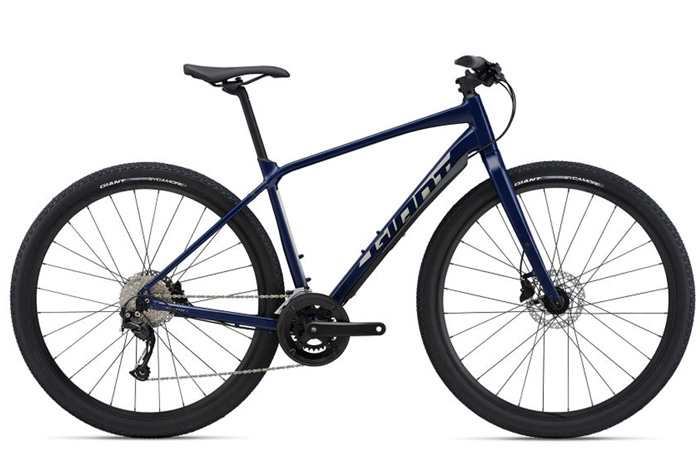 Make way for the Giant! The ToughRoad SLR 2 is an amazing bike, and as the name goes, it will provide amazing traction regardless of whatever surface you are riding on, even if it is skulls! The bike's frame is made from Giant's Signature ALUXX SLR aluminum, all of this is paired with a carbon fork that makes the bike lightweight and protects against shocks and vibrations.
The rear end of the bike is also protected. Most riders find the D-fuse Seatpost comfortable. Some of the best features of the bike are that it has a Downtube Fender and a Lightweight Carbon Fork. The bike also has a 50mm Tires Compatibility!
As we discussed in the beginning, the ToughRoad has some killer traction and that is all possible because of the 50C Giant Sycamore tires, they have an unmatched grip on the road.
The rider will always be comfortable riding the bike. Since an upright position is maintained, it keeps a balance between pedaling prowess and comfort. The ToughRoad also features a fender on the downtube that makes things easier for the rider. There is a mix of components from Shimano, Atlus, and Alivio, you get an amazing drivetrain, 1-36T cassette, and much more!
Advantages
Lightweight and Durable
Amazing Traction
Upright Position For Riders
Disadvantages
Not The Fastest Bike I Have Seen
Why I Like It: The Giant TougRoad SLR 2 is a bike that will make you push your absolute limits, it goes without saying that the durability of this bike is amazing. Alongside the amazing ALUXX SLR aluminum frame it also has a carbon fork that makes the bike lightweight and shock-proof. If you want to fly on the road, try out the SLR 2 today!
---
Hybrid Bikes Size Chart
SizeRider HeightFrame Size (Inches)
| | |
| --- | --- |
| Height | Frame |
| 4'10" to 5'2" | 13" to 14" |
| 5'2" to 5'6" | 15" to 16" |
| 5'6" to 5'10" | 17" to 18" |
| 6'1" to 6'4" | 19" to 20" |
| 6'4" to 6'6" | 23" to 24" |
Note: To find the perfect hybrid/fitness bike for yourself, just use your height(s) and consult the sizing chart!
How To Find The Perfect Hybrid/Fitness Bike?
As of right now, you would be very excited to get your hands on a fitness bike/hybrid bike, after all, they are great for exercise and a variety of other things. There are thousands of bikes to choose from and if this is your first time getting a fitness bike then you can get easily confused and overwhelmed.
The Type of Handlebar Matters
The performance and handling of your bike are affected by the type of handlebars you have. The main distinguishing factor of hybrid bikes is the flat handlebars, this makes them have a longer reach than any other kind of bike while also maintaining an upright position for the rider which is very necessary. With flat handlebars, the steering is nice and manageable.
Then comes the drop handlebars, with them you be aggressive on the field, and they allow you to have amazing speeds while also maintaining that sleek handling. The choice is yours if you want to go balanced or aggressive.
Braking Structure- Type Of Brakes
Another great feature of hybrid bikes is the inclusion of hydraulic disc brakes which are way better than rim brakes. Even if it is wet or snowy weather, they will still have that amazing performance, and your bike will come to an absolute halt with a soft clench. These hydraulic brakes offer the best handling and modulation and you would never want to go back to rim brakes.
With that said brakes are also going to be of different types, depending on how much budget you have. Either you will have hydraulic brakes or cable-actuated brakes, this strictly depends on the cost that you are willing to pay. If you want an actual hybrid bike then go for hydraulic brakes, they offer the most absolute power and require little to no maintenance but are pricier than the cable brakes.
Suspension Or No Suspension
When it comes to hybrid bikes, you absolutely have to avoid suspension forks. There are plenty of reasons to support that statement, they will slow down the bike because they are heavy, they are pricier but don't give you benefits, and they do a rubbish job of shock absorption. Suspension forks are very low-end and they will have a lot of wear and tear with time. It is better to ignore them and have a bike that gives you amazing tire clearance, combine that with 650lb wheels and you would be good to go!
What About The Belt Drive?
Hybrid bikes also have an absolute need for drivetrains, naturally, you have three options to go for:
Belt Drive/Internally Geared
1x
2x
Let's start with the belt drive/internally geared options first. They do a fantastic job of packaging all the gears in the rear end, and with the stroke of a single lever you can easily shift, plus they are also very easy to maintain. They are not light though, some of them are very heavy and you need to consider that.
The 1x and 2x are the traditional derailleurs with drivetrain options, the only difference between them is the number of gears as the name suggests. With the 1x option, you get a clutched rear derailleur and the chainrings are also going to be protected. You do all of your shiftings with a single lever though! The price point is also something to consider with them, they are pricier than the other options!
I would say that the best choice would be to go for 2x. They are budget-friendly but require a lot of maintenance, avoid them if you don't want to get stuck in a greasy mess.
Related: 7 Exercise Benefits Of Real Bikes Vs. Stationary Bikes
Great Bikes Mean Great Exercise
To do outdoor cycling, you need to have a perfect bike, the type you can use for exercise without frills and problems. That is one of the tricky parts, you have the idea but what kind of bike should you get, I mean there are thousands of them in the market, which one would suit you?
As people are different, so are bikes, and sometimes to choose the best product, you need to figure out your own taste and preferences. There can't be a single bike that will be perfect for everyone, people have different sets of goals, body weights, and methods.
People could want a comfortable bike that they can go easy on, while some would want bikes for intense workouts, the type of bike that let them be free. You can choose a recumbent bike or a peloton bike for sunny health fitness.
Or you can opt for a stationary bike for indoor cycling. I have tried the Yosuda indoor cycling bike and it is a joy to ride. It's a completely noiseless machine and you will be enjoying a quiet ride on it, Anyway, you get the idea, the bikes that I just discussed are the best exercise bikes, I am sure that these will produce the best results, no matter how you use them.
Additional Resources: Pick The Best Hybrid Bicycle
Fitness Bikes/Hybrid Bikes Are Prime Choice For Exercise
You have heard of hybrid bikes, right? The combination of road and mountain bikes, well, fitness bikes are the performance-oriented variants of hybrids. These types of bikes are great for exercise, they are stylish, they perform well, and are not THAT expensive.
One of the great features of these fitness bikes is powerful hydraulic brakes. Even if you are having intense workouts on the harshest of terrains or weather conditions, with one clench of your hands, the bike will come to a smooth stop without any kind of delay.
People think that handlebars impact their performance on the road BIG TIME, but that depends. You don't need to have a drop handlebar on your bike to gain amazing speed on the road, it can be done with any handlebar. Flat handlebars on the other hand give you more confidence on the road when you are soaring at high speeds, these allow you to have an upright position so that your focus doesn't shift.
Looking for more than exercise? These fitness bikes have got you covered, they are also perfect for daily commutes. They can be fitted with mudguards and all sorts of protection, so no matter what happens on the road, you will always be protected. Besides that, you can also carry additional luggage with you when you go out, there will be no need to get a storage bag or anything.
Fitness bikes will check all the points you have on your list when choosing bikes for exercise. They are amazing all-rounder machines but another option that you have is the recumbent exercise bike. These upright bikes can also prove to be a good exercise
How We Choose
As someone who loves staying fit, I know firsthand the importance of finding a high-quality exercise bike that ensures safety and protection during challenging rides. That's why I've dedicated countless hours to scouring the market for the best options out there.
Through extensive research, including honest reviews, customer feedback, and personal testing of various listed bikes (including the editor's choice), I've carefully narrowed down the selection to the top exercise bikes that offer an amazing workout with a fun twist.
FAQs
Are Hybrid Bikes Expensive?
Hybrid bikes are not that expensive, they even start from $300 and go all the way north of $20000.
What are Fitness Bikes?
Fitness Bikes are performance-oriented versions of hybrid bikes, they combine the best features of road and mountain bikes!
Are Hybrid Bikes Good For Fitness?
As of right now, hybrid bikes are great options for fitness and fun events, you can use them on on-road and off-road trails without any kind of problems.
Is It Cheaper To Build A Hybrid/Fitness Bike?
As experience states, it is usually more expensive to build your own hybrid bike, brands are willing to offer a complete package for less, this way you save a lot of money.
Recap
Fitness Bikes are a great source of exercise and fun, with them, you can push yourself to the absolute limit. Exercising is necessary for perfect health, but with cycling, you can achieve more in very little time. That is why it is recommended to have amazing fitness/hybrid bikes on your side.
My favorite bike among all these choices is the Tern Eclipse X22 "The Black Bird". It is an amazing hybrid bike that also happens to be a foldable. This simplifies things a lot. I have been riding it for some time now and it still performs the same. That's why I would definitely recommend you to try it out!
If you want to enjoy exercising and fun activities, my advice would be to try out fitness bikes today! You'll definitely notice the change! Happy Cycling!
Also Read: Best Mountain Bikes Under $500