Investing in your fitness is one of the best and important decisions that you will ever make. These exercise bikes with screens, also known as smart indoor trainers are here to get you fit. Indoor Trainers are one of the best ways to get you in shape, and they don't require any kind of preparation.
You must be guessing now, why get an indoor bike all of a sudden, especially when you can ride outdoors? Well, there are a bunch of reasons for that. Even if do go outside there are some aspects that you can't control, sometimes the weather may be out of hand, bad enough to go out which is why we have indoor trainers.
If you think about it, for one hour at the gym, you need to make an awful lot of preparation. Sometimes it is worth it, and sometimes it is not, these are all the things that you need to consider before going out for a ride. Professionals already know the advantages of stationary bikes, it is the newcomers that are going to have the most fun.
The stationary bike is going to do wonders for the newcomers, firstly they will be able to achieve their fitness goals properly and the whole process would be fun/interesting for them. They would not have to tackle all that hilly terrain for sunny health, this way, calories burned will be interesting!
Best Exercise Bikes With Screen- Top-Ranked In 2021
In this review, we will be featuring some of the best exercise bikes with screens, also known as indoor smart trainers. These indoor bikes will provide an amazing experience that will resemble actual bike riding- but with more options that you can take advantage of. We will also take a look at recumbent bike options.
Among these options, we have also listed down the VeloCore Indoor Cycling Bike, as it is one of the best smart indoor bikes/trainers. We hope that through the list you are able to make the best purchase. Let's get started!
Peloton Indoor Trainer – Editor's Choice
You must have seen their ads on the TV many times, the Peloton Indoor Trainer works amazing for both casuals and professionals. The experience enjoyed by this trainer is unlike any other, and with that amazing screen, you wouldn't want to switch.
The Nordicktrack S15i Trainer
This is a high quality exercise bike that you can fully take advantage of, it even offers a full-year subscription to iFit.
DMASUN Indoor Trainer
DMASUN Indoor Trainer is best for the whole family, every member can use it and have fun. It even has adjustable foot straps, so no more problems with the foot not fitting and all that.
The Cyclace Indoor Trainer
Even if your floor might be a bit unstable, the Cyclace Indoor Trainer is going to offer the best performance and stability.
The Schwinn Upright Bike
The Schwinn offers the best upright spinning experience that no other indoor trainer can offer in the whole market. The Dual track screen also has an LCD screen from where you can easily track your performance.
Sunny Health & Fitness Indoor Trainer
There are not a lot of amazing smart trainers that also come cheap, surprisingly Sunny Health & Fitness offers amazing features at a very affordable price tag.
Echelon Smart Connect EX3
The Echelon Smart Connect EX3 is another great cheap option to go for, its performance is exemplary so you will not be cutting back on quality.
StagesBike SB20 Smart Bike
This is another smart plug-and-play trainer that you can fully enjoy. Its amazing features will make you explore all the options and help you reach your fitness goals in no time!
Tacx NEO Bike Smart Trainer
You can easily have the best possible workout and keep a track of your power zones with the TACX NEO BIKE SMART TRAINER.
Bowflex VeloCore
The Bowflex offers an amazing experience, something that is truly unique for a trainer of its kind. If you want the best of workouts do try this one out!
1. Peloton Indoor Smart Trainer – Editor's Choice
Price: Starting at $1495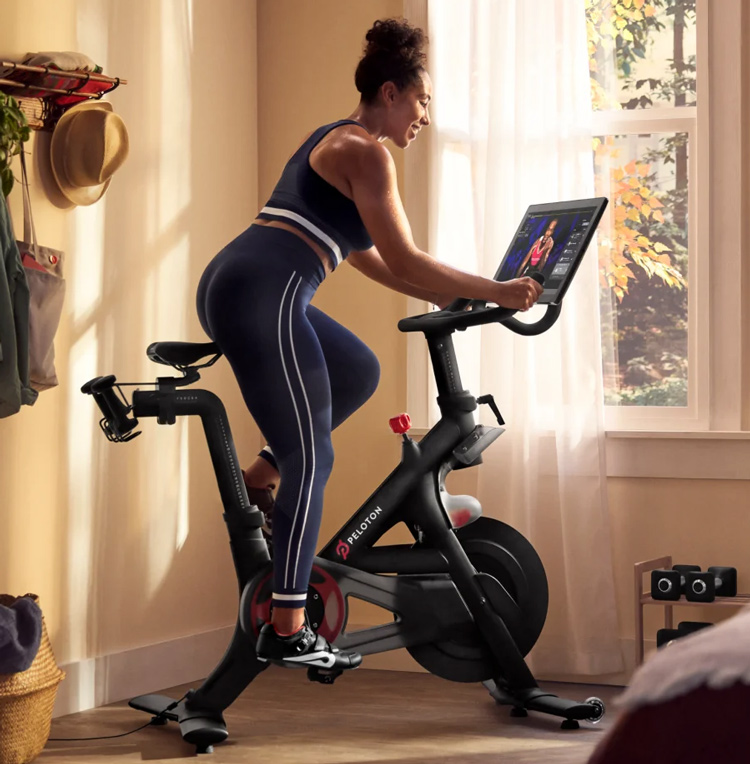 The Peloton Smart Trainer proves to be an amazing indoor cycling bike, guess the ads were correct all along. Peloton is known worldwide for its amazing products and it has a huge cult of loyal customers too. If you want to go by the cycling classes you can easily stream them on the amazing 22-inch touchscreen.
There are only two considerations to look out for before you get the Peloton Trainer. Your overall weight and height should be according to the guidelines, if they exceed the limit then you won't be able to use the trainer properly. (Maximum Height Should Be 6'5ft and Maximum Weight Should Be 305 Pounds/138 Kgs). Some of the best features of the trainer are:
Adjustable Seat and Handlebar
Clipless Pedals
Amazing Subscription System
Vibrant 22-Inch Touch LCD Screen
With the adjustable seat and handlebar, you can have a really comfortable experience with the Peloton. Throughout the whole workout session, you will be easily able to adjust the seat and handlebar according to your comfort.
The clipless pedals of the Peloton Trainer are going to come in real handy, they are comfortable to use and are compatible with the SPD SL Cleat systems, so you will not have any problem when it comes to that. This trainer features magnetic resistance.
The subscription service system is the main attractive part of this trainer, you can avail of the monthly subscription for about $39 and if you go for an annual subscription, you can save money. With their premium subscription, you can have those Pleton classes that are available 24/7.
With the subscription service, you can join your friends in workouts and keep a track of everyone's performance. If you don't want the subscription then you can use the on-demand workouts, they are available for everyone for free. This is an amazing indoor trainer that you shouldn't pass out on!
Advantages:
Amazing Peloton Screen
The premium subscription works wonders
Guided workouts available
Top-notch comfort
Disadvantages:
Editor's Choice: The Peloton Indoor Smart Trainer does wonders for both professionals and casuals. When it comes to comfort and performance, the Peloton really delivers. If you want to enjoy the Peloton to the fullest then do subscribe to their services.
---
2. NordicTrack S15i Studio Cycle
Price: MSRP $1480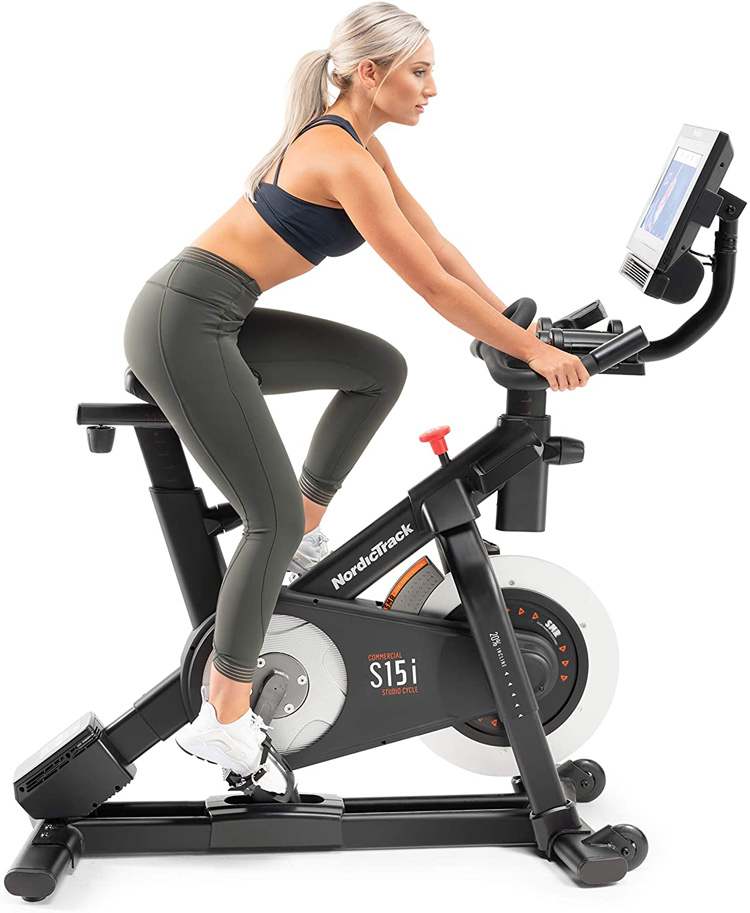 People love fitness subscriptions, they are the Netflix for avid gym users. You can now save money on a whole year's worth of subscription and that will save you around $400. With the NordicTrack, you can avail yourself of a whole year's subscription of iFit, that is the sole reason for getting the trainer for some.
These interactive and trainer-led classes give you an exclusive studio experience. Although you have to keep in mind that this deal is only available with the NordicTrack trainer. The 14-inch HD screen works wonders, and you can learn all sorts of things with the trainer. Some of the good examples of workouts are hiking, swimming, yoga, and much more. Some of the best features of the trainer are:
14-Inch HD Screen
Amazing Deals On iFit
24-Resistance Levels
Powered By Silent Magnetic Resistance (SMR)
The NordicTrack trainer has built-in 24-resistance levels, you won't get a better smart exercise bike than this one, I tried the spinning experience and it was amazing. If you are worried about the incline levels then they range from -10% to 20% which is a really good range.
Many people are disturbed by the sounds these trainers make, that is why you would be pleased to know that the NordicTrack is powered by Silent Magnetic Resistance, this means that the trainer will be really quiet during the workouts so that you can enjoy your personal workouts.
The trainer also allows you to cross-train, which is why it has two dumbbells included. The maximum weight for this trainer is around 350 pounds.
Advantages:
Durable Construction
1 Year's iFit Subscription
24-Resistance Levels Allow For A Personalized Experience
Silent Magnetic Resistance
Disadvantages:
Availability Issues
Absence Of Live Classes
Why I Like It: The NordicTrack is one amazing indoor exercise bike. With that amazing 14-inch screen, you are going to have a lot of fun with those interactive classes. The Silent Magnetic Resistance also makes sure that all of your workouts are enjoyable!
---
3. DMASUN Indoor Trainer
Price: $264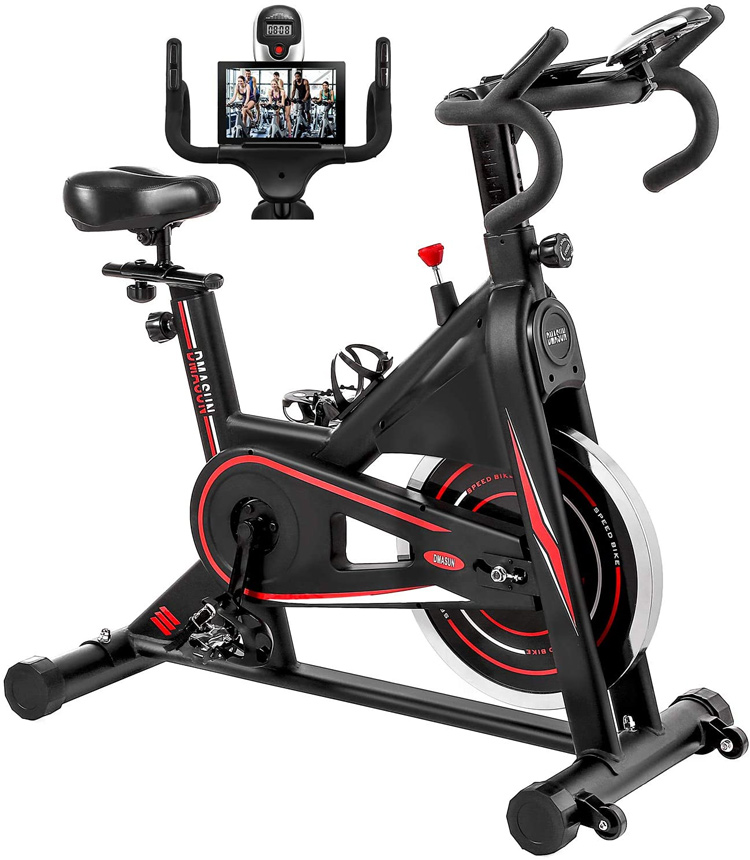 DMASUN is the kind of trainer that everyone in the family can use, this is really good news for users that have problems adjusting to a single stationary trainer. The pedals of the trailer are clipped and with those adjustable straps, people with all sorts of foot sizes will be able to enjoy the DMASUN.
With the multiple handlebars of the DMASUN trainer, you can have any kind of workout you want, however, you want it to be. Want to sit rather than stand, with the trainer you can easily do that. Some of the best features of the trainer are:
Vibrant LCD Display
Clipped Pedals
Multiple Handlebars
Adjustable Resistance
Design is a very big aspect when it comes to buying an indoor smart trainer, DMASUN has a very elegant design, one that will definitely attract you. The soft and comfortable handlebars of the trainer are going to give you extreme comfort just by looking at them.
The LCD Display of the DMASUN is vibrant, it tracks all the performance and stats of the user, which makes their progress fun to watch. From the workout time to calories burned, the screen will show you everything.
The trainer's saddle comes with a cushion so that speaks a lot about comfort, you can even adjust the resistance of the trainer how you want it to be. That way you can try out all the kinds of workouts that are on your list.
Advantages:
Vibrant LCD Display That Tracks All Data
Family Friendly
Very Comfortable
Disadvantages:
Does Not Feature The Class System
Why I Like It: The DMASUN trainer is a big package for the whole family. Everyone can use the trainer without any kind of problems, no matter what the foot size is. The trainer also offers extreme comfort, something that the new trainers have completely forgotten about.
---
4. Cyclace Trainer
Price: $350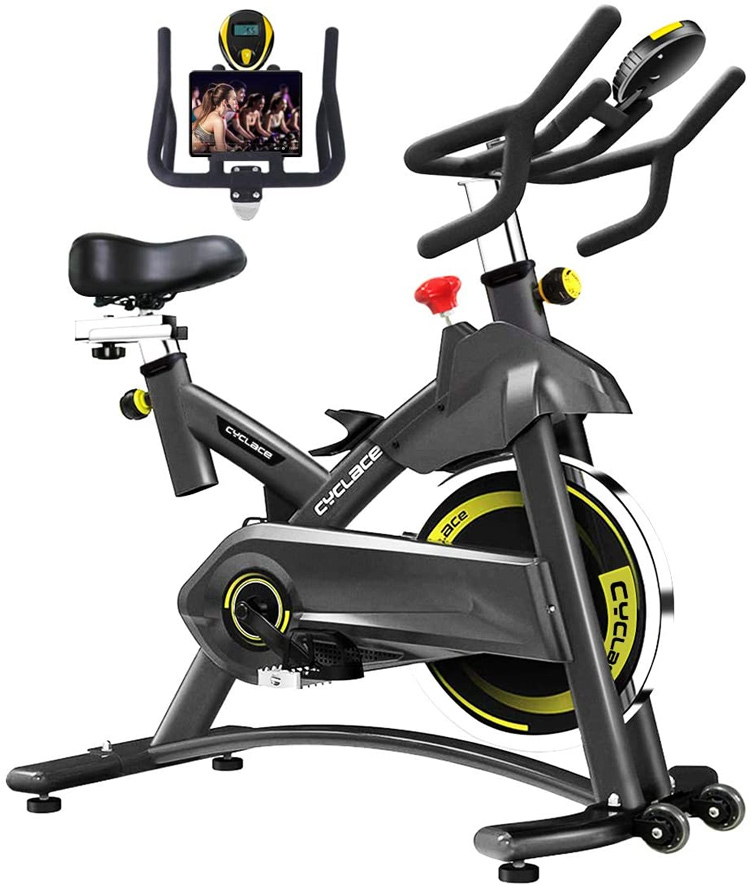 People have made their man-caves in a pretty stylish manner, I know I have one too. One of the problems with the floor space of these exercise areas is that they are unstable at times. With unstable floors, you either have to shift the machinery somewhere else or you have to buy another piece of equipment which will be compatible with that. Luckily, for those problems, we have the Cyclace trainer.
The Cyclace is an amazing bike that comes with adjustable balancers, this means how much unstable the floor is, you will always get to enjoy that amazing performance. Even a 36lb flywheel is added for more stability and support. Some of the best features of the trainer are:
Vibrant LCD Display
Stable Construction
Adjustable Handlebars
Comfortable Saddle
The Cyclace trainer that we are talking about is an updated model, so it has corrected the errors and shortcomings of the previous model so you can definitely expect some improvements here. The trainer comes with a resistance bar now and people with a maximum height of 6.5ft can easily enjoy the trainer.
It also comes with a vibrant LCD Display, you can connect it with your phone on your tablets. The seamless connection is amazing, peloton and other apps work pretty well with the Cyclace trainer. This is a great studio bike option that you should go for!
Advantages:
Amazing Stability
Adjustable Handlebars and Seat
Can Be Connected To All The Devices
Disadvantages:
Sourcing Required For External Workout Apps
Why I Like It: The Cyclace Trainer is an amazing piece of machinery, it offers performance and stability like none other. Everything from the features to the components makes sure that you get an amazing experience. The Cyclace can be used anywhere regardless of the floor settings.
---
5. Schwinn Upright Bike Series
Price: Options Start From $575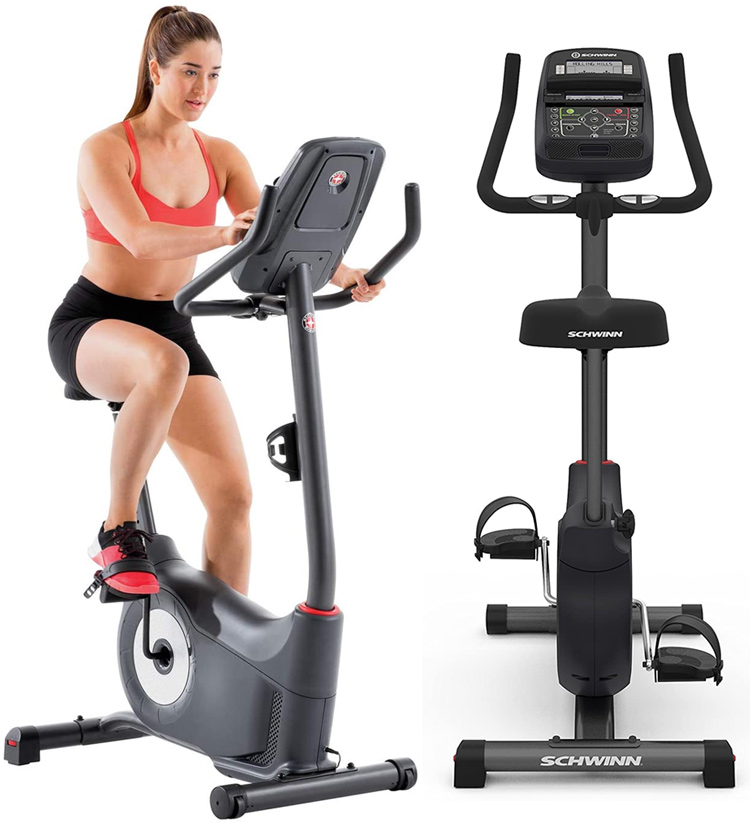 Maintaining your upright position while exercising, especially indoors is very necessary. Without the proper posture, you won't be able to enjoy your workouts, and would actually be putting yourself in harm's way. That is why we have listed the Schwinn Upright Bike Series for you, they are just amazing and the experience they offer is top-notch.
Aesthetics make a bike and you will fall in love with the Schwinn Upright Series the moment you look at them. Some of the best features of the trainer are:
Dual Track Screen
22 Workout Programs
20 Resistance Levels
Comes With A Padded/Contoured Saddle
People that love an amazing screen with their trainers will certainly have a treat. The Schwinn Upright Series comes pre-installed with a dual-track screen, LCD panel included. This is a great studio bike option that you should go for!
Working out your whole body is definitely an option when it comes to Schwinn. The trainer comes packed with 22 workout programs and 20 resistance levels, you can easily keep the workout casual and competitive. Enjoying the on-demand classes is no problem, the Schwinn Series comes installed with the Schwinn Biking app, where all those workout videos are available.
They have even installed a contoured padded saddle for the extreme comfort of the user. This way the user gets to enjoy amazing comfort and performance.
Advantages:
Amazing Upright Bike (Best Performance)
Flexible Workout Programs
Smooth and Silent Ride
Comfortable Experience
Disadvantages:
Why I Like It: The Schwinn Upright Series is amazing, these are trainer bikes that you can always enjoy. From the dual-track screen to the workout programs, these bikes are a steal. Schwinn has made sure that your comfort is always prioritized
---
6. Sunny Health and Fitness Indoor Trainer
Price: MSRP $200 (Discounted To $169)
What If we told you that you can get an amazing smart indoor trainer in less than $200 (Well, technically)? That would seem like a cruel joke because all the good trainers start from $500+, but trust me this is certainly not a joke. The Sunny Health and Fitness Indoor Trainer is an amazing option to go for if you are on a tight budget because the trainer is only $200.
This trainer features an ergonomic seat that is great for comfort and performance. There are 4 adjustments available, and the seats are also padded, your comfort will never be neglected. The trainer also features an inseam ranging from 26-32 inches, all for the user's comfort. Some of the best features of the trainer are:
Amazing Price Tag
4-Way Adjustment
Removable Resistance
Vibrant LCD Screen
Sometimes users love resistance and there are times when they don't and want to enjoy freeride, but with the resistance system, it gets impossible to do that. That is why this trainer allows you to remove the resistance at will. This is a great indoor bike option that you should go for!
With the LCD Screen, you can easily keep a track of all the movements and enjoy those workout videos. If that does not work out then you can link any kind of device even the TV to your trainer. The weight limit is a bit odd because it is only restricted to 220 pounds.
Advantages:
Very Cheap
Monitors The User's Data Perfectly
Top-Notch Comfort
Amazing Flexibility
Disadvantages:
Not Enough Flexibility With The Weight Limit
Why I Like It: Everyone likes great quality at cheap prices, this is exactly what the Sunny Health Trainer offers you. It has premium-range features and never neglects quality. The weight limit might be odd for some, but overall this is a really good option to go for!
---
7. Echelon Smart Connect EX3
Price: MSRP $799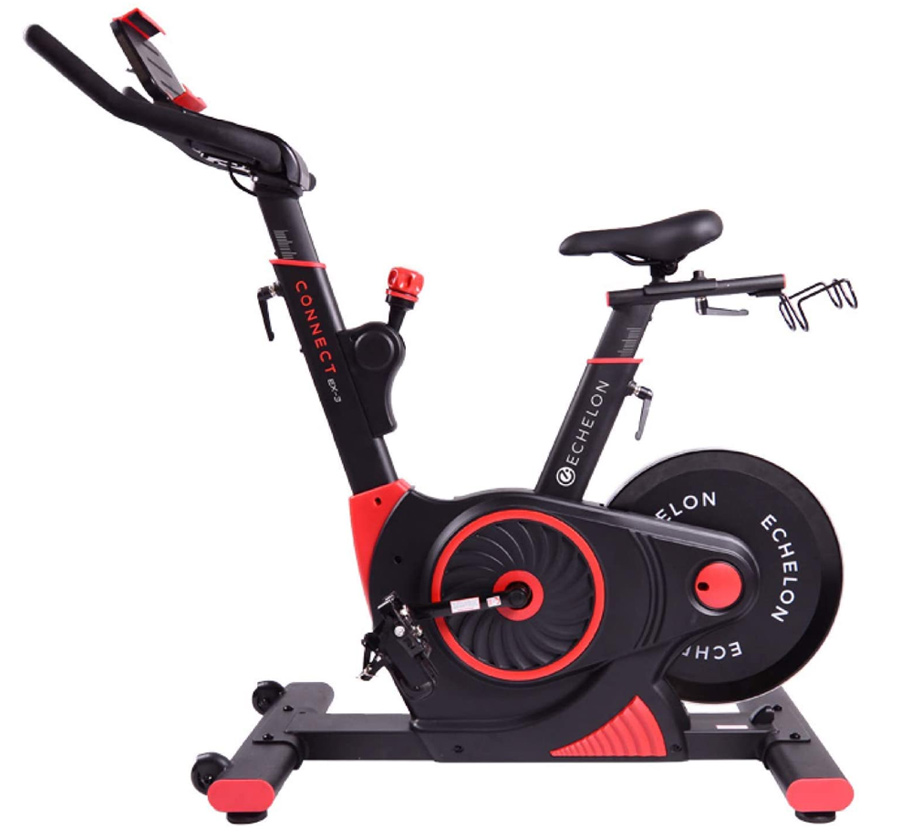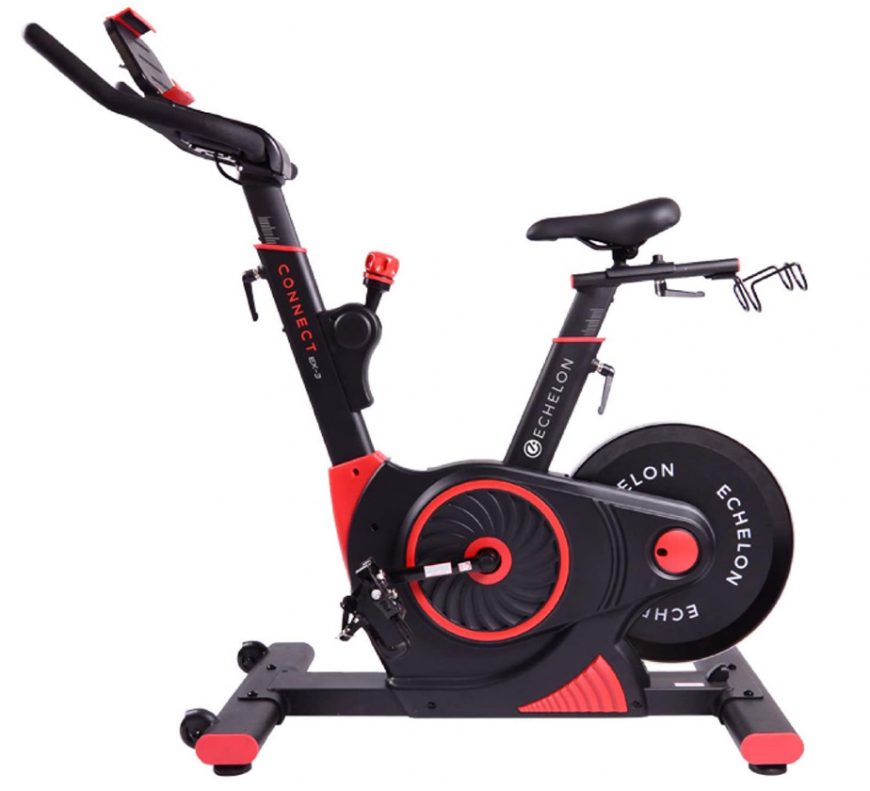 Echelon Smart Connect EX3 is one amazing trainer, it offers perfect comfort and functionality. This trainer is great, let me tell you that, you can even customize the EX3 in some ways. The oversized seat is really comfortable and works quite well, and you can even adjust the handlebar console.
The trainer is also constructed with a magnetic flywheel, this gives an option of 32 resistance levels. This way both professionals and casuals can enjoy the trainer to the full limits. Some of the best features of the bike are:
32 Resistance Levels
Personalized Workouts
Features Upright Riding Position
If you are looking for a great Peloton alternative, then the Echelon will certainly do the trick for you. After getting the bike, you might have to subscribe to their services. Well, of course, you can use the bike without a subscription, but with the subscription, you will just be able to use the trainer as it exactly should be. You will love those cycling classes and they will come in extremely handy.
A standard subscription that offers unlimited workouts and videos is around $39/month. You can choose the subscription from your needs, if you want the trained instructors or not. The price for the yearly subscription will depend upon your needs and commitments.
The trainer also allows you to have an upright position while always riding the trainer, there is definitely no discomfort there. With the trainer, you will feel that you are actually on the road experiencing a real bike. In terms of upright bikes, you should definitely go with the Echelon.
Advantages:
Amazing Price In Terms Of Competition
Lots Of Entertainment Options
Simple But Elegant Design
Disadvantages:
The Rider's Position Might Be Discomforting For Some
Requires A Monthly Subscription
Screen Sold Separately
Why I Like It: The Echelon Smart Connect Bike EX3 is a really good cheap option to go for. Cheaper when we compare it to the other high-end options in the market. There are tons of entertainment options that you can enjoy while training but the idea of a mandatory subscription service and the seating position being uncomfortable might be a dealbreaker for some.
---
8. StagesBike SB20 Smart Bike
Price: MSRP $3149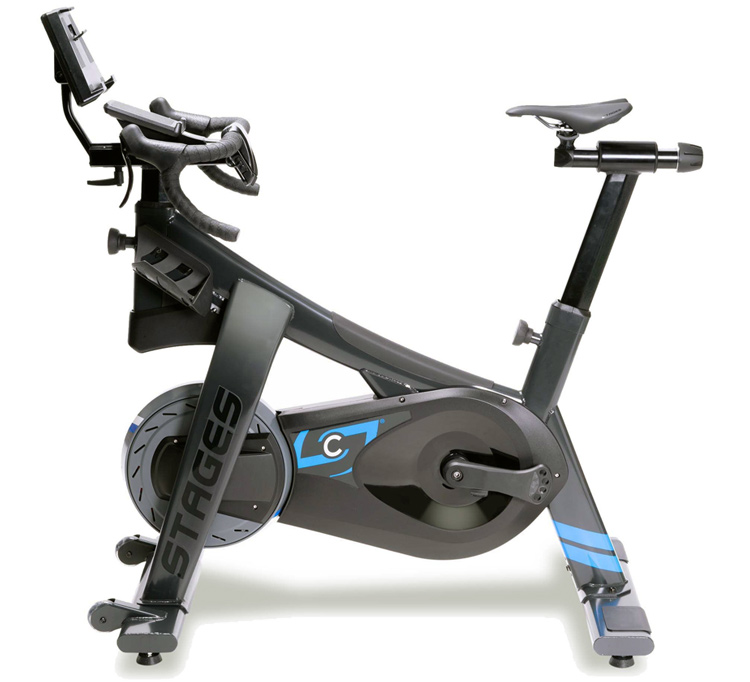 You might have seen the Stages Bike in commercial gyms, this is one of the best exercise smart trainers that you can get a hold of. Seeing that it performs so well in the gym, it makes for an outstanding machine for home workouts. It is constructed with a flywheel that is lighter than others but there is never a compromise on quality, at least I have never seen one.
There is enough momentum in the flywheel to construct the real-life road experience and that says a lot about the SB20 Bike. The weight here is more than that of the Wahoo KICKR or Wattbike but the quality is just the same, there is a difference when it comes to the resistance though. Some of the best features of the trainer are:
Flexible Resistance
Amazing Power Measurement
Comfortable Seats
Electro-Magnetic Resistance
The SB20 Bike has a very durable and sturdy construction, it will be able to withstand anything you throw at it, but you still have to be careful with it. The dual-sided power meter works wonders here, as it is used to operate the crank arms.
With this smart trainer, you will get an accuracy of +/- 1.5% along with integrated cadence, the deal is pretty good if I say so myself. The maximum electronic resistance that can be offered is 2,200 watts though!
Advantages:
Great Customization Options
Flexible Resistance
Mount System/ Tablet Can Be Attached
Disadvantages:
Heavy Construction
Display Does Not Shift
Why I Like It: I was using the Stages Bike in my gym and I was thrilled to bring a lookalike smart trainer from the same company to my home. It offers amazing performance even though when the price is too high, the value is still unmatched though. There are no better options than this one so you better try it out!
---
9. Tacx NEO Bike Smart Trainer
Price: MSRP $3,199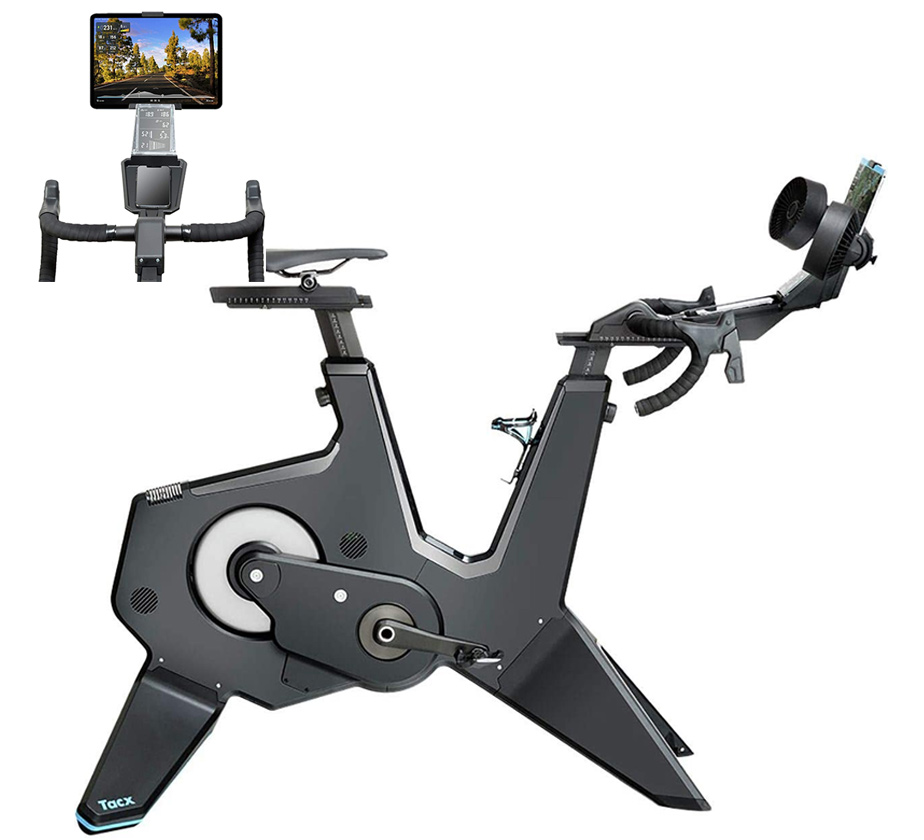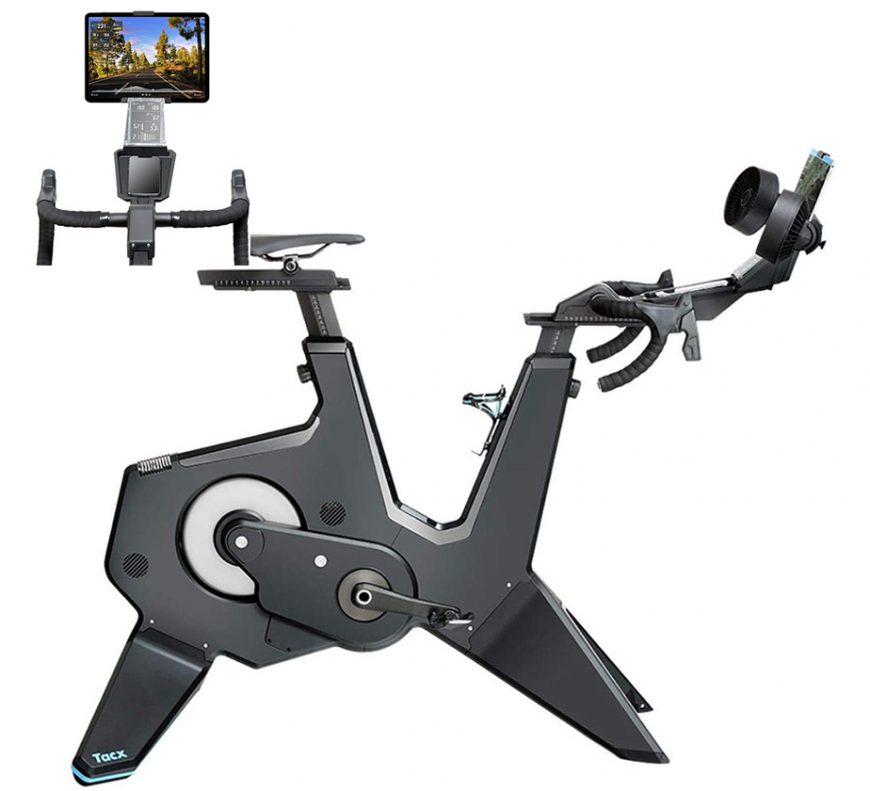 The TACX NEO SMART TRAINER is one of our favorite choices when it comes to smart trainers, from the features to the components it makes sure that the users get to enjoy that beefy performance, and it has magnetic resistance. The power measurement is around 2,200 watts and you would be able to enjoy the 25% steep steps, overall this is a really good smart trainer.
TACX NEO is all about the ride feel, the trainer is programmed to make you feel that you really are outside riding your bike, even the virtual chain jump is there to replicate the feeling of changing into a new gear. We don't want that much reality when it comes to smart trainers but the feeling is still there, people are going to have mixed feelings about that. Some of the best features of the trainer are:
Realistic Feeling
Magnetic Resistance
Connectivity With the Internet, Bluetooth, and ANT+
All the modern features are here, like pedal analysis, cadence, you will certainly not feel left out whenever you use the TACX NEO. Another great feature to discuss here is the air fans, they cool you down according to your heart rate and the power output which is quite genius!
Connectivity is also something that has been improved, you can now connect all sorts of devices, from your mobile phone to the laptop. You can also use WiFi, Bluetooth, and ANT+ for connectivity.
Advantages:
Vibrant Display Screen
Amazing Connectivity
Wireless Structure
Top-Notch Comfort and Stability
"Real" Ride Felling
Disadvantages:
Heavy Construction
Expensive
Non-Shifting Display
Why I Like It: The TACX NEO SMART TRAINER is an amazing choice for an indoor trainer, if you don't like the Wahoo then this is the best choice to go for. It offers a very realistic ride feel, will make you feel like you are on the road. The connectivity options are also great, although be careful while moving the trainer because it is really heavy.
---
10. Bowflex VeloCore
Price: Starts at $1699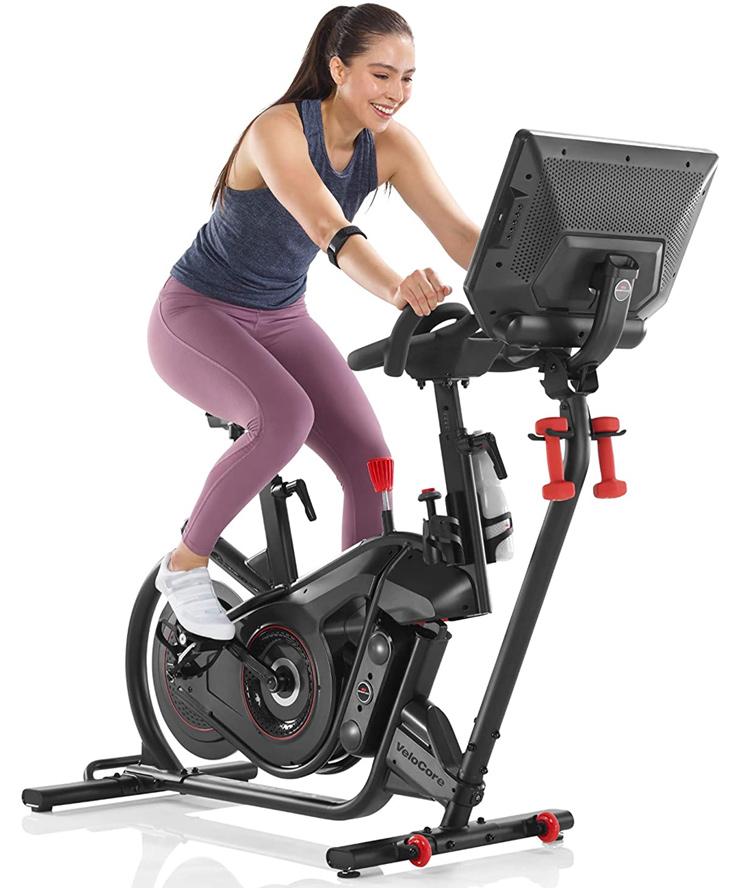 If you are looking for an alternative to the Peloton that also comes in cheap then the Bowflex Velocore is going to be a really good choice for you. The best experience of the Bowflex is in their 22-inch screen model which is just amazing. As the name goes, with the trainer you actually target your core and make it stronger.
If you have tried the NordicTrack S15i which lets you simulate back and forth, with the Bowflex the feeling is going to be kind of the same, although here you will be able to move sideways. This gives the user a more realistic feeling and approach to workouts. Some of the best features of the trainer are:
Vibrant 22-Inch Screen
Realistic Workouts
JRNY Software
Some people might think that the leaning feature isn't that necessary but it actually is, I have tried it myself and it adds a lot of value to the workouts. The whole trainer gives premium vibes, from the overall construction of the trainer to the pedals.
With the magnetic resistance, you can have all of your workouts in silence, there will be certainly no disturbances. When it comes to the user experience, the software is amazing, it feels really interactive whenever you use the trainer. If you want, you can even stream your favorite shows from Hulu and Disney+ on the Bowflex.
Advantages:
Premium Quality
Seamless Connectivity With Apps
Amazing UI
Budget-Friendly Subscription Service
Disadvantages:
Why I Like It: The Bowflex Velocore might be the best one from the company, it already allows you to move sideways, creating a very realistic feeling. The premium construction is great, makes you feel comfortable and relaxed while you ride. Even I was surprised by the UI, it definitely feels a lot better than the other trainers that I have used.
---
How To Find The Perfect Smart Trainer?
Smart Trainers are amazing, they make you feel like an absolute powerhouse, and because of them, indoor training is fun again. If you are searching for a smart trainer then you have come to the right place, this guide will provide all you need to know about smart trainers and what to look out for when buying one!
Let's Start With The Flywheel
Have you ever wondered what makes these trainers feel like an on-road experience, the rumble effects, and all that? The answer is flywheel! The flywheels stores all the kinetic energy, and it shows true effects, almost resembling coasting whenever you come to a halt.
Now some might tell you that the weight of the flywheel impacts the whole ride quality of the trainer but that is not true, at least not now. The whole construction, materials, and features of the trainer will impact the ride quality, and because of technological advancement, many trainers come without flywheels but with magnets that are far better for simulation.
Trainers with magnets/virtual flywheels are a lot more expensive than the flywheel versions though. They can adjust the level of inertia depending on the terrain you are riding on the virtual platform, this creates a unique rumble effect for the user. If you have the budget then you should definitely go with trainers that have virtual flywheels!
Power Measurement and Gradient Simulation
Power figures of a trainer are directly related to the amount of resistance they can generate, the more power, the more resistance the trainer would be able to offer. The power measurement ranges from 1500 to 3500 watts, the least amount gets the job done but even if you are a professional then 2000 watts would be more than enough. When people go for trainers that have 3000+ watts measurement it usually means overkill.
Gradient Simulation is a whole other thing, the gradient figures denote the incline a trainer can offer, simulating the effects on the road. The more percentage of the simulation the more realistic feeling for the user. There is a common misconception when it comes to the gradient simulation, these values will not affect the performance of the user, even if the percentage is lower, the user will still be able to perform well, as performance goes beyond the gradients.
Weight Matters
All the trainers that you see, come in a variety of shapes, sizes, and weights. If you are looking for light and compact trainers then you have the wheel-on trainers for that. They can be moved around the house very easily and stored. Direct-drive trainers, on the other hand, are bulkier, they too can be moved around easier but sometimes depending on the design of the trainer will be harder to store them. You can still find amazing direct-drive trainers that will be easier to store, although have the mindset that they are going to be heavy!
If you have a dedicated indoor training area like a personal gym then the weight of the trainer doesn't matter, things can get difficult if you have to move the trainer every now and then!
Loads of Accessories
I would say that accessories make or break a smart trainer, the trainer itself could be amazing and all that but if it doesn't have the right accessories then it won't even matter. Let us start with the power first, all smart trainers need to be plugged into the power supply in order to perform at their very best, now the cords supplied with them aren't the best, that is why it is recommended that you always get a power extension so that you can even use the trainer from a distance!
Connectivity is also very important, you need to make sure that the trainer you get can be connected via regular means, Bluetooth Smart, Wi-Fi, Smartphone, Tablets, ANT+ and ANT FE-C.
If you would be training on a wooden floor then you need to get an exercise mat, and on top of that, the trainer will come. The mat is necessary, it won't just catch your sweat but will also dampen the vibrations. Wooden floors tend to amplify the sound effects/rumble effects so you need to be careful.
Noise Or No Noise
In the past, indoor trainers used to be very noisy, the whole neighborhood could hear you exercise but things have changed for the better now. May it be direct-drive trainers or on-wheel trainers, they have improved drastically over the past years.
If you are looking for the quietest trainers of them all, then you should get the direct-drive trainers, only the drivetrain emits the noise nothing else. These trainers are going to be the comfiest and most noise-proof, try them out for the best experience ever!
Related: Best Bikes For Exercise
FAQs
Are Smart Trainers Expensive?
Smart trainers are available in both inexpensive and expensive options. A good budget trainer can be bought for as little as $500.
What Is The Best Trainer To Use With Zwift?
Almost all smart trainers are compatible with Zwift.
Question 3: Can You Use A Smart Trainer Without An App?
Yes, some smart trainers can be used without any kind of virtual platform.
Recap
Indoor Training is awesome, it has improved so much over the last years. Many people are ditching the gyms and constructing their own man caves where they can train themselves without any kind of restrictions. Smart trainers help you achieve your fitness goals without any kind of restraint and you should definitely give them a thought!
The Gold Standard for smart trainers is the Peloton Indoor Smart Trainer, there is just no other trainer like it. If you want the best product for your money then you should try this one out!
Fitness has never been more fun with these smart trainers, and you should get yours today!