The evolution of bike companies is really funny and interesting at the same time, some times they go for an upgrade while some go for a downgrade sometimes, this is not the case with Wahoo.
There are many cycling trainer companies but there are none like Wahoo, from the start they were just about the connectivity and sensor devices, they wanted to bring the world a little bit closer.
While other companies like Zwift, Peloton, and CycleOps were switching to making new products, Wahoo completely changed the nature of their business, they combined their unique abilities with bike trainers and thus introduced the Wahoo KICKR in 2013.
You will notice that Wahoo's motto is "Connectivity-Forward", they want to give people such products that will help them connect with others and grow together. This doesn't mean that the company doesn't make normal bike trainers, they do! Snap is one of their most famous bike trainers but the Wahoo KICKR is where the real deal is.
The Wahoo KICKR is a smart trainer as you might have guessed and it just keeps on getting better with the ability to add more components to it, when you think of smart trainers, the name Wahoo KICKR will certainly cross your mind.
In this guide, we will be discussing the Wahoo KICKR Core, this is the more affordable option of the original KICKR but is it better? All the necessary information, specifications, performance impressions, competition, everything will be discussed here. So let's get started.
Wahoo KICKR Core Review
The Wahoo KICKR Core is a mid-priced version of the original KICKR but offers the same easy-to-use and stable version, it is quiet and it is realistic, do not pass on this one!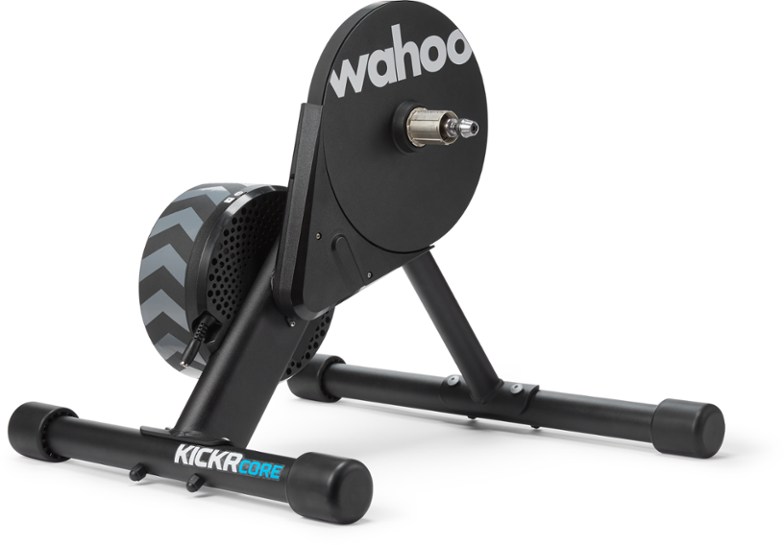 The Wahoo KICKR Core is an amazing smart bike trainer that is also mid-priced that doesn't make it any lesser than the other brands, let alone other trainers from Wahoo itself. It doesn't back out on any of the features, even the level of technology is the same as other products.
The only thing that I considered different was the size of the flywheel, this time it is belt-driven. This is a lighter version of the flywheel, not as one as the glob version of the normal KICKR. Many of you would now be concerned about the size of the flywheel, be assured that we tested out both versions and there wasn't any kind of notable difference.
We all know that a bigger flywheel especially on the premium models enhances the feel of the ride. That is what we thought before trying out the KICKR Core but we didn't notice any kind of disturbance nor compromise. Also, the KICKR and KICKR core were tested back-to-back simultaneously so we can assure you that they are one and the same.
How Does It Work and Speed Cassettes
You might be wondering how the Core is different from the main KICKR and how does it work? Spoiler Alert! It is all very easy.
The KICKR core mainly works with the quick-release axles but if you look more closely in the box then it also has adaptors 12 x 142mm and 12 x 148mm thru-axles, flexibility for everyone is made a priority by Wahoo, they have just added so many options.
Now, what about the speed function and other settings? I basically tried out the Core 8-speed, but it will surely work with 9-, 10-, and even 11- speed cassettes so there is nothing to be worried about. It does not matter if you want to try things slowly first or fast, the functions are amazing and you should have no problem navigating through them!
What's The Reason Behind The Price Cut?
If the Wahoo KICKR and KICKR Core are one and the same then why is there such a price difference? There isn't that much difference except for the legs of the KICKR Core.
Well, they are fixed so in order to take it out of the box you have to bolt them out but this is just a one-time thing, you don't have to do it over and over again. After you are done setting up your new smart trainer, the legs can now be folded if you want to pack it up and store it. Keep in mind that the trainer isn't that much small as you might have imagined it to be.
Quick Setup- Things Made Easy
The setup of the KICKR Core is very easy and you would be amazed by the process. Just install the trainer first and then you would have to calibrate the settings using the dedicated Wahoo Fitness App. I used the app to quickly adjust my wheel settings, it was so quick and smooth.
The trainer supports Bluetooth and Ant+ so everything is already made easy if you use that, you can even use third-party apps with the KICKR Core. If you want to test out your new smart trainer then you can even use Zwift for it, I know I did.
Important Notice: I would suggest that you follow the Wahoo app for all the necessary calibrations, there might also be a need for a spin down, which you can easily manage. Trust me, you will thank me later!
Wahoo KICKR Core: My Personal Experience and Impressions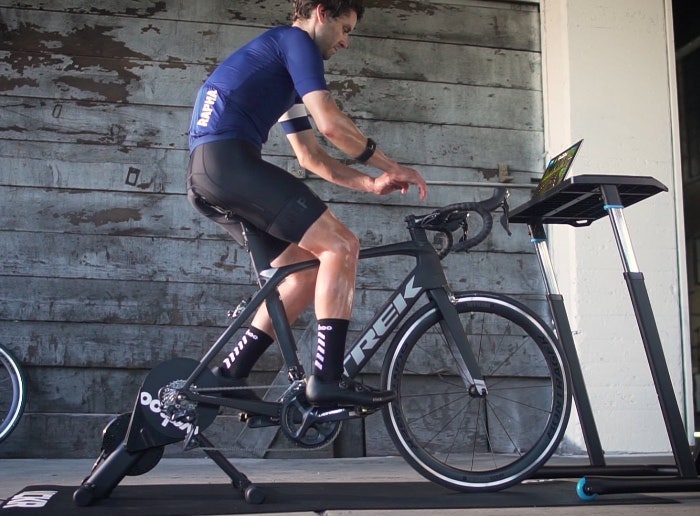 I meant what I said at the beginning of this review, the Wahoo KICKR Core is well justified as being one of the best in the market. Just wait till you ride it, you will have the same impressions as me. Packed with amazing firmware, it is quite unique, the KICKR Core offers you a stable footing that you will enjoy and it is virtually silent.
They say that looks give the first impression and if that was true then we would be disappointed by the Wahoo KICKR Core without even trying it. I would've been wrong if I actually went with that but I didn't, after trying the trainer for the first time, I was just in awe.
After riding it, you will get to notice that the Wahoo KICKR Core is very stable and that actually came as a surprise. Why does stability matter you would ask? Well, stability is very important when you are aiming for high speeds or an inclined position, especially sprints!
The KICKR Core also offers stable footing, sometimes people suffer because of their legs being uneven or just not being able to find the right footing, as a result, their ride gets disrupted. The foot leveling works amazing I would say, the trainer offers you a lot of range. Some people might be doubtful if they are using an old surface, that is definitely not a problem with the KICKR Core.
Many you would have problems with the firmware options of Wahoo, especially the choices that they made with their previous trainers, sometimes these problems go beyond the trainers, there is a bigger picture to see here. Sometimes there would be connectivity issues or even disruption but you would be glad to know that Wahoo has now solved it with the KICKR Core, there would be no firmware problems at all now.
Power Management
After plugging in, the Wahoo KICKR Core manages the power quite nicely and is very responsive. Although if you want a more effective way to save power then there will be a hardware upgrade for that later on.
What Are The Axis Feet?
The Wahoo KICKR Core has a very unique modification that you will love, the Axis feet, with them you can easily move side-t0-side, the rotational limit is 5 degrees though.
This makes you feel that you are actually on the road, although this is just a simulation, the experience is quite real. If you want to have that feeling of riding outdoor then we definitely suggest that you install this modification. You won't get to enjoy the fresh air though, but this simulation is amazing.
Wahoo's Signature Durability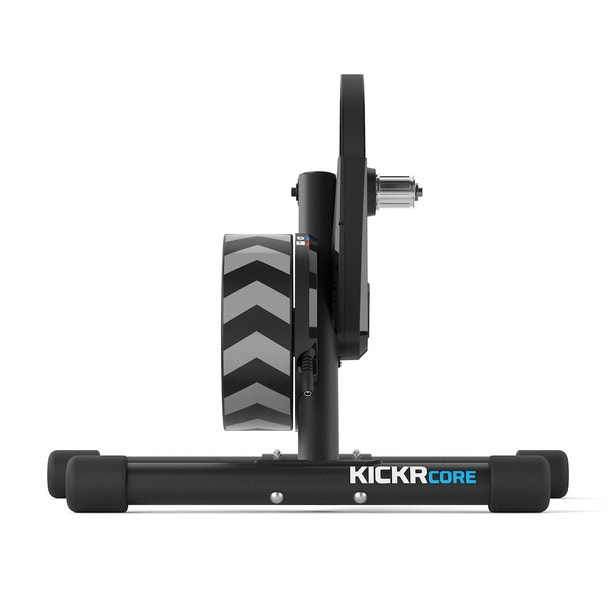 There is a reason people love Wahoo so much, it is because of their amazing construction and the renowned durability. The Wahoo KICKR Core has an amazing durable body, and we check it out thoroughly.
We know that Wahoo was plagued with the firmware issues in the past models but they have learnt their mistakes and improved upon it. Although everything is good but after how much time would you need the repairs?
According to athletes and other users, the Wahoo KICKR is great and you would be able to put in hundreds of hours into it before there is even a slight indication of a repair. There are chances that you don't even have to do that so there is that. Wahoo is the ultimate brand for all of your fitness needs.
Pros
If you purchase the Wahoo KICKR Core then you would be enjoying the following benefits:
Virtually Silent, Comfortable Performance
Able To Change Resistance Fast and Easy Without Problems
Connectivity with Bluetooth and ANT+ in mere seconds
The KICKR Climb add-on is amazing, simulates real-time sensations
Attractive Price Tag
Cons
If you purchase the Wahoo KICKR Core then you could be at a disadvantage because of the following reasons:
Not all the bikes are compatible
Performance tracking becomes glitchy at times
Not easy to pack and transport
Expensive than other brands
Comes without a carrying handle
The legs of the trainer aren't adjustable
Pricing
As the Wahoo KICKR Core is so amazing, all of you would be wondering what is the actual price of the unit. Well, it isn't that much!
The KICKR Core is priced at ~$900.
---
Compatibility and Connectivity Impressions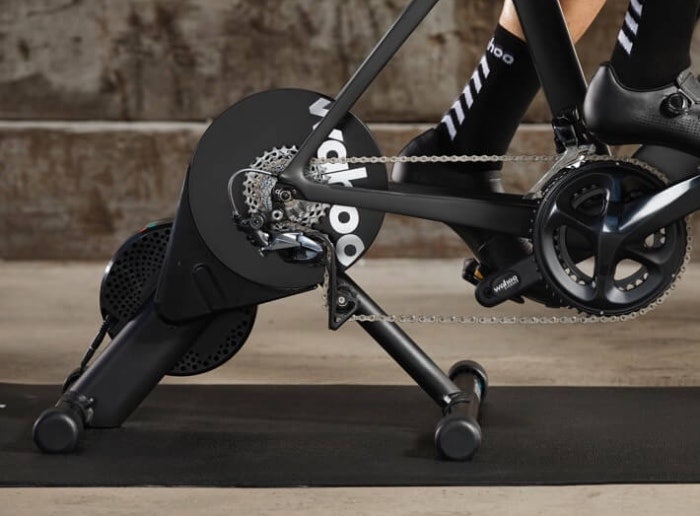 Connectivity and Compatibility with the new Wahoo KICKR Core have been amazing, you are absolutely going to love it. The experience is like nothing before, there are no firmware crashes, not even mere disruptions! The connectivity is silky smooth now.
What about connectivity? Well, that too is amazing. I have always believed that a really good smart trainer should just be able to connect with the app in mere seconds, if it doesn't then it isn't that good either. You just need to start pedaling and the trainer would start, after that just follow the track setup instructions.
I would say that the hard part about smart trainers is just setting them up, and honestly even that isn't that much hard, you just need to follow the instruction manual.
Wahoo is all about smart connectivity, so whatever app that you want to use with the KICKR Core will be available in only seconds. Some of the apps that we recommend are:
Zwift
Rouvy
Trainerroad
Sufferfest
Responsiveness and Accuracy
The main strength of a smart trainer resides in how they manage the power and much responsive they are. Till now, I have been more than pleased with the power consumption and accuracy of the KICKR Core. No matter if there is a fluctuation in the power supply or not, it will respond that way, as if it were in real-time, that is very impressive if I would say.
Wahoo has claimed that there would be a +/- 1% difference when you would be tracking the wattage difference. We knew that Wahoo was going to keep their word but just for verification we went on ahead and did the necessary tests, we weren't disappointed.
Lags are really bad, let's admit that! Smart trainers are known for their responsiveness, and if they don't respond when you change the power settings then it could be a bummer. Although, there is nothing to worry about the Wahoo KICKR Core as there are no lags at all with this machine.
Starting the trainer is very easy, the time it takes for you to land on the start screen is almost instantaneous. It would only take mere seconds to ramp up the machine, this wait is nothing as compared to the other trainers being sold in the market. Even if you lower down the acceleration, the power won't go down to zero.
Noise Performance
The noise performance of the Wahoo KICKR Core is amazing, the noise is exactly as it should be- nada! When you are using it, you can actually see that the noise level is extremely low, you wouldn't even notice that the machine is on. The only time I heard some noise was when I was using the lower cadence, other than that during my normal routine and the higher cadence, there was no noise at all.
Where exactly does it get loud? The KICKR Core gets loud when you are installing your bike for the first time, and the drive train, but these are the usual things that will result in noise disturbance, other than that everything is good.
No matter what you expect of the KICKR Core, the noise performance of this machine is exceptional and will definitely meet all of your needs.
Instant Mount and Drive!
The Wahoo KICKR Core is a direct drive trainer, you just need to connect your bike to the trainer with a chain, and all is set! All the smart trainers are like this, the KICKR Core will still surprise you in some ways!
One of the surprising and nice features of the KICKR Core is that it comes with a speed cassette pre-installed. As far as we know, the Wahoo KICKR Core is the sole direct drive trainer that comes installed with a speed cassette. There is no need for a setup because of the 11-speed cassette, things couldn't go any better than this. If you don't like installing components or are just lazy as me, then this is great news!
This feature may not be that extreme but it certainly makes the users happy and enhances their experience. In order to enjoy the best experience on your trainer just carefully attach your bike, after that you just need to enjoy!
Introducing The KICKR Climb Add-On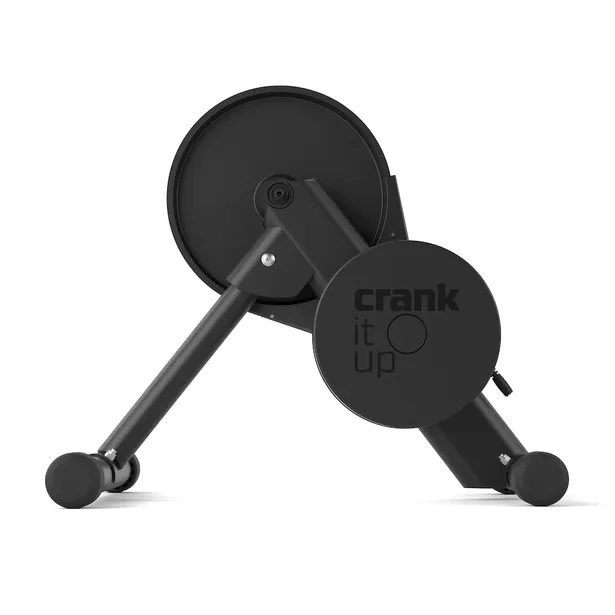 Many smart trainers come with add-ons of their own, the Wahoo KICKR Core comes with the KICKR Climb. This allows users to mount their ride on another piece of equipment that looks like a trainer. The KICKR add-on simulates elevation. The add-on is mainly compatible with Zwift, you can enjoy a variety of functions with that app.
The KICKR Climb add-on can be purchased for an additional $600 but it is completely optional, without it you would still be able to enjoy your smart trainer. If you want more fun and a challenge then we recommend getting the KICKR Climb add-on.
If you are using second-party apps like Trainerroad, then there won't be any benefit of using the add-on. If you want the best results then you need to use Zwift, we thoroughly tried it and were very happy with the results. With Zwift, you would be able to fully feel those inclines and declines, the way the climb software works, you would be very happy because of the real-life experience.
The main reason you would want the KICKR Climb add-on is because of the amazing simulation, just by being indoors you can feel the outdoors. You would be inserting more life in your rides, the incline would make you feel as if you are mounting a hill so you would hunker down. The decline would give you the feeling of actual descent, so you would limit your speed, if you can afford it then you should definitely go with the Climb add-on.
The Best Safety Features
Checking the safety of all the smart trainers is our job, after all, you would be doing lots of grinding over here, that is why we need to make sure that the trainer is safe and stable enough for usage. Although we have mentioned this before, we are going to do it again, the Wahoo KICKR Core is extremely safe!
With the bike attached to the trainer, you would want to be in complete power and would also want the unit to be stable and that is exactly what the Wahoo KICKR Core is.
There is only one thing to be concerned about that KICKR Core and that is the flywheel, it is just so exposed. When you use it, it becomes very fast, the spin rate is unbelievable, but it is depicting a real-life experience. Apart from being very fast it will also become quite hot so make sure that you use the trainer alone when no one is nearby because if a kid or a pet comes in contact with the flywheel at that time, then they could sustain critical injury.
The weight limit on the Wahoo KICKR Core is around 250 lbs, so if you are a heavy rider then there are other options that you can try out!
Wahoo KICKR's Alternatives
Although the Wahoo KICKR Core is an amazing smart trainer there are other amazing brands as well that you should definitely try out!
1. TACX Neo 2 Smart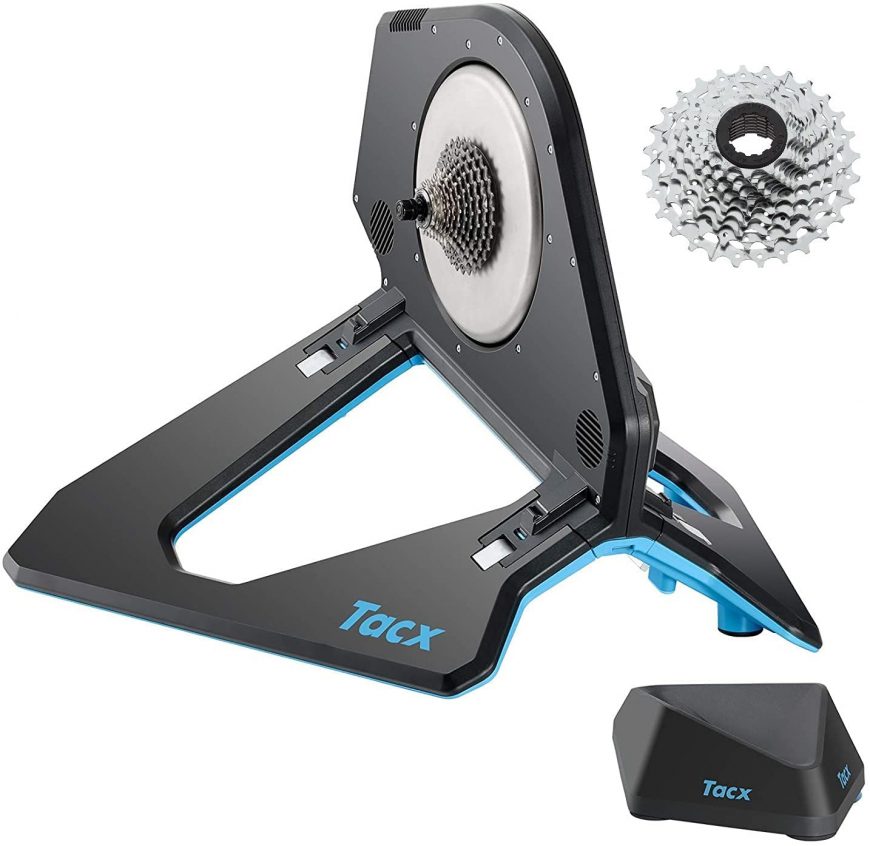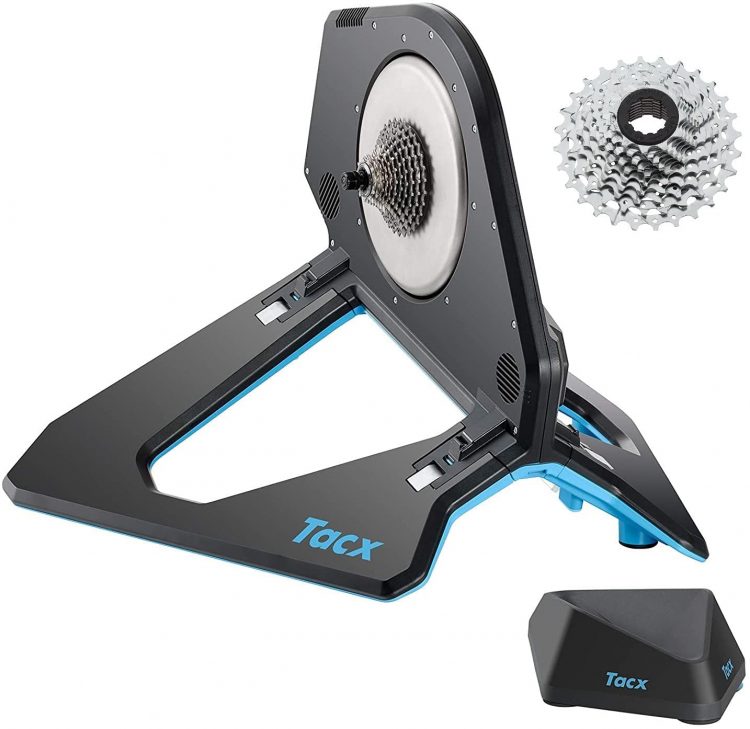 Price: MSRP $499
Some consider the TACX Neo 2 Smart trainer as their main benchmark trainer, I consider it to be an amazing rival to the Wahoo KICKR Core. The TACX is all about upgrades, it has learnt from its past mistakes and now comes in stronger than ever and we couldn't be happier.
The smart trainer is constructed with an amazing chipset that makes sure that you get an amazing ride quality, it was like this before but with the TACX, things just got even more better.
Like the Wahoo KICKR Core, it is also virtually silent, you wouldn't even notice that it's on!
---
2. Elite Direto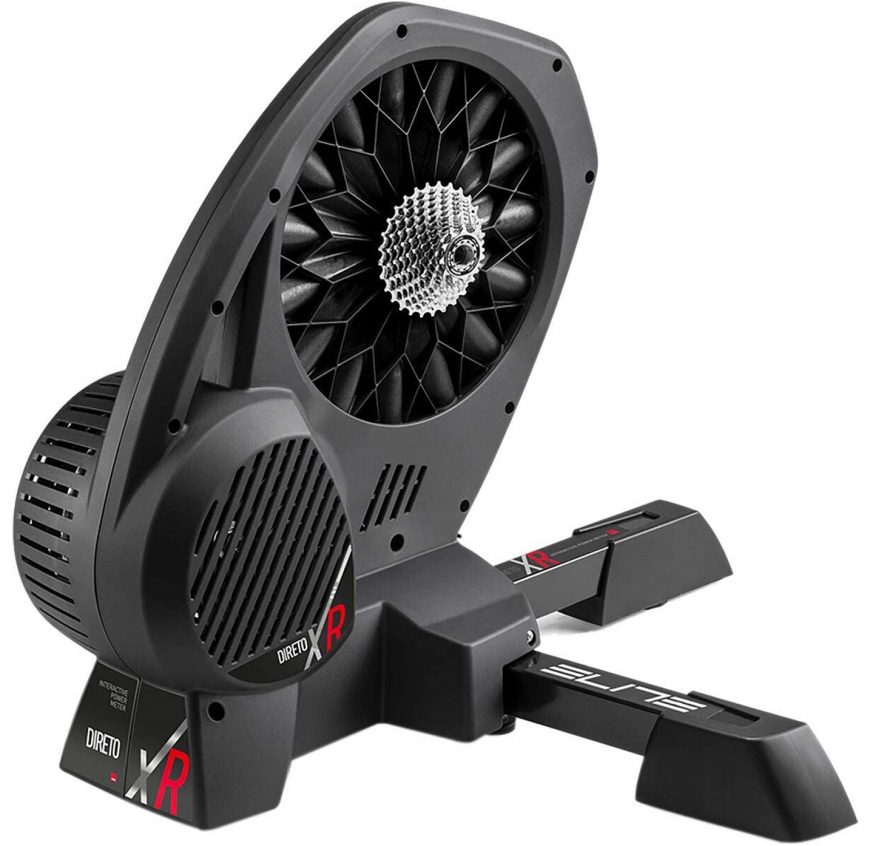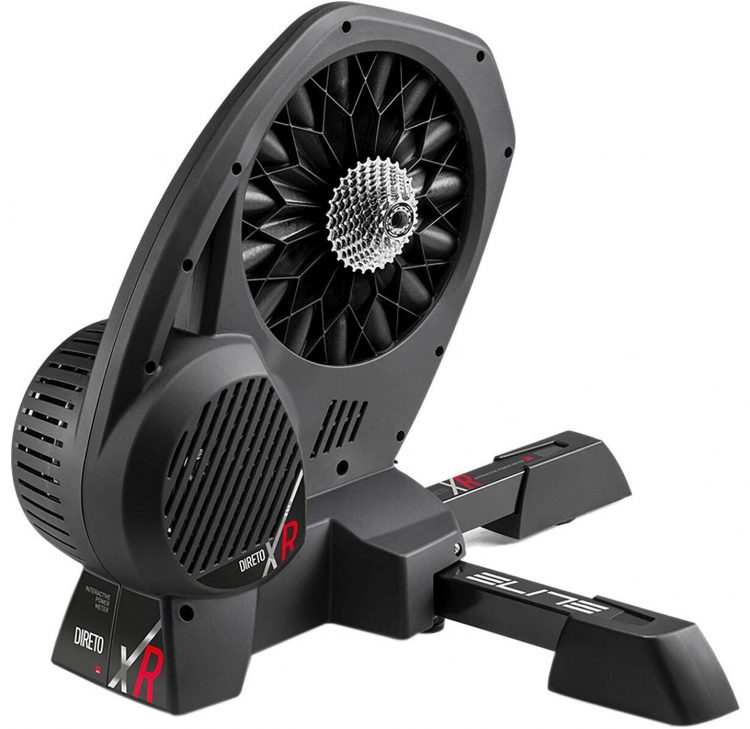 Price: MSRP $949.99
Next up is the Elite Direto, this too is an amazing smart trainer like the Wahoo KICKR Core, it is also almost priced the same. Do not be fooled by the mid-ranged price, even the professionals are using the Elite Direto and they are loving it!
The Elite Direto generates a power output to almost 1400 watts and boasts a power accuracy of 2%, I mean these are good numbers but not as good as the new models from TACX and Wahoo.
Although, with that being said, the design of the trainer is very strong and durable, you would be able to put countless amount of hours in it without the need for a repair.
---
FAQs
Is the Wahoo KICKR worth it?
Wahoo KICKR is one of the best smart trainers in the market and it is nicely priced too! The drivetrain and speed cassette performance is amazing.
Should I get KICKR or KICKR Core?
The only difference between them is the inclusion of the speed cassette and that the KICKR Core is $300 cheaper. Other than that everything is the same!
Will indoor training damage my bike?
While there isn't any chances of serious damage, there could be sweat corrosion and wheel strain.
What cassette do I need for the KICKR Core?
The 11-speed cassette would be perfect with the smart trainer.
Recap
The Wahoo KICKR Core is one amazing smart trainer that you should have in your house. Setup is easy, using the bike is easy, you can even customize the speed settings without any kind of problems. The Climb add-on is very impressive and urge you to try it.
With this smart trainer you can easily have the feeling of riding outdoors while being indoors. Even the price is amazing, I don't see any reason that you should pass this up!