Exercising is all fun and games until you have to make the most difficult decision- what kind of exercise bike will you be getting for yourself? Apart from bodyweight exercises, using exercise bike machines is the best way to work on different muscles simultaneously.
They have become so popular now that almost everyone uses them. From commercial gyms to personal homes, they are the main way to go for exercise. Some people might ignore them but this is the main attractive point: You will notice calories burned without the super-extra effort, and that is a win.
There are different types of exercise bikes to choose from, should you go for Recumbent Bikes or Spin Bikes? Also, what is the main difference between the? These are some of the questions that we will be answering today.
Why Get an Indoor Exercise Bike?
Since the COVID-19 Pandemic started, strict restrictions were imposed on people. Those restrictions allowed them to be better versions of themselves and thus exercise. Since gyms were closing and opening on an irregular basis, people took it to themselves to get an indoor bike for themselves.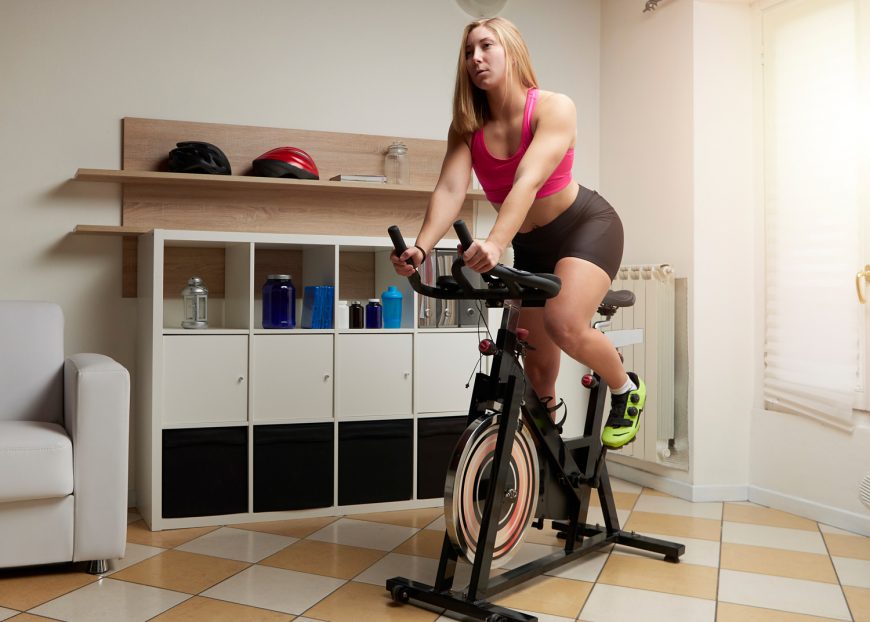 If you are trying to fill up your gym or want to get an exercise bike for your home, you have come to the right place. With an exercise machine like that, you would be able to perform a more intense workout than before.
Even exercise of 30-40 minutes will result in a good cardio workout, and when that happens, you automatically start losing weight. Pushing and pulling the pedals of these bikes will result in resistance which will promote drastic weight loss, all you need to be is consistent.
Different bikes are going to work different muscles of your body, that is what you need to know. Once you have the knowledge you can choose between the different types of exercise bikes.
Advantages Of Indoor Exercise Bikes
Here are some of the advantages that you can enjoy by getting an indoor exercise bike.
Cardio Fitness Is Drastically Boosted
Helps A Lot With Weight Loss
Body Fat Is Easily Burned
Legs and Lower Body Muscles Are Strengthened
Is Safer Than Actual Road Cycling
Now that you know the various advantages of indoor exercise bikes, let's discuss the different types of bikes that you can try out.
Recumbent Bike – The Reclined Option
Recumbent bikes are great exercise machines to go for, and as the name suggests they are reclined rather than upright. If you look up the meaning of the word recumbent it means lying down and that is what you will be doing, you will be using the bike while almost lying down.
As compared to other exercise bikes, they have a traditional seat that comes with a backrest rather than a saddle. This makes the whole experience worthwhile, especially when we compare the comfort level of the user. People look for intense workouts, but they want to be comfortable while doing that.
In order to use these bikes, you need to stretch out your legs to the pedals, the crank is in line with the seat horizontally. If you want a leisure workout, which doesn't have that much of an impact on your lower body then you should go for recumbent bikes, plus you can also watch TV while using them.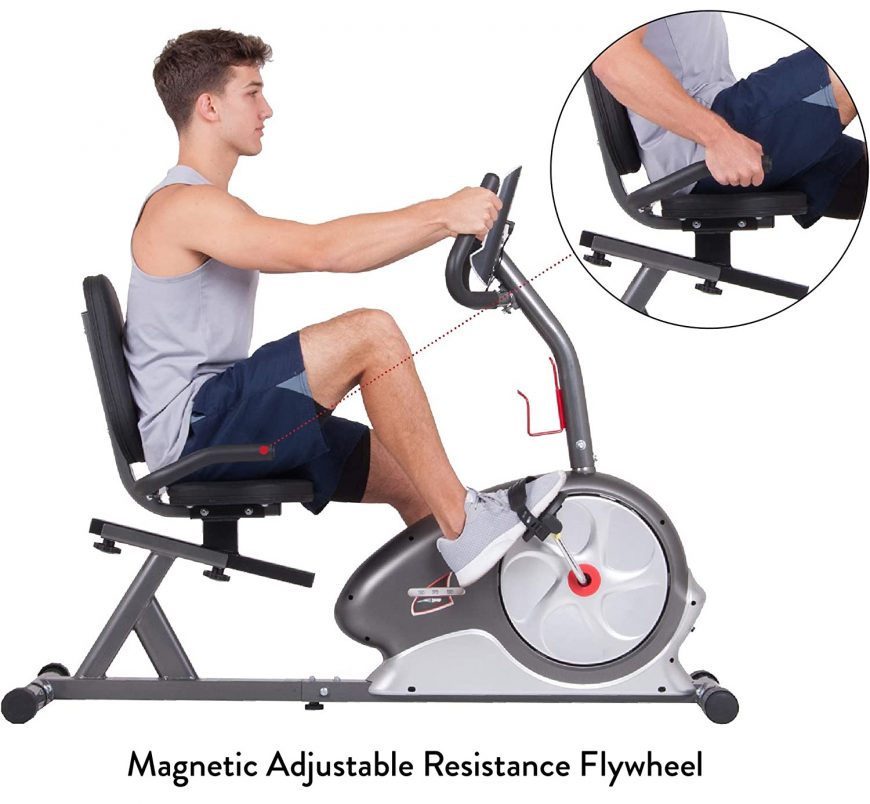 Advantages of Recumbent Bikes
Recumbent bikes are great, to say the least, here are some of the advantages that you would be able to enjoy after using them.
Enhances Cardiovascular Health
If you haven't noticed, recumbent bikes are the source of great benefits that includes aerobics and cardiovascular advantages. The first thing is that you would be able to enhance your overall cardiovascular health. A high-intensity interval training of one hour could even result in about 800-900 calories burned, plus a lot of muscles will be triggered during that exercise.
These exercises will improve your overall heart and lung functions. When this happens, you will start seeing a lot of benefits, including reduced blood pressure.
Muscle Strength Is Increased
Recumbent bikes allow you to enjoy a good cardio workout but apart from that, a lot of big muscles also get worked. Some of those muscles are Quadriceps, Glutes, Calves, Hamstrings, and abs.
A Safer Way To Enjoy Cycling
Recumbent bikes are much safer and more comfortable as compared to upright bikes, comfort is what makes them safer for riding and exercising. The extra back support will give you more area to sit and also make you relaxed while you exercise.
There Is Less Stress On The Body
Recumbent bikes do a great job at lowering the overall stress on the human body. The knee and hip do not flex that much with each passing rotation as compared to other bikes. In these bikes, the pedals are right in front of you which decreases the overall stress on the lower body.
If you have arthritis, then recumbent exercise bikes should be your top priority.
Spin Bikes – The Flywheel Option
Spin Bikes are very different from stationary bikes, they have a different structure and work in a unique manner. They are also known as the "Indoor Cycle", although they don't have a console where you can choose the settings, they do have an exposed flywheel. This exposed flywheel is actually heavier and much thicker than the one you will see on a stationary bike.
These indoor cycles have two types of resistance to offer, magnetic and friction. Magnetic resistance is very discrete and is similar to what you see in stationary bikes. Friction resistance is very different though, in this kind of resistance rubber pads are pressed on the flywheel to resist the motion when you start pedaling, this promotes an intense workout. Dials are then used to increase or decrease resistance.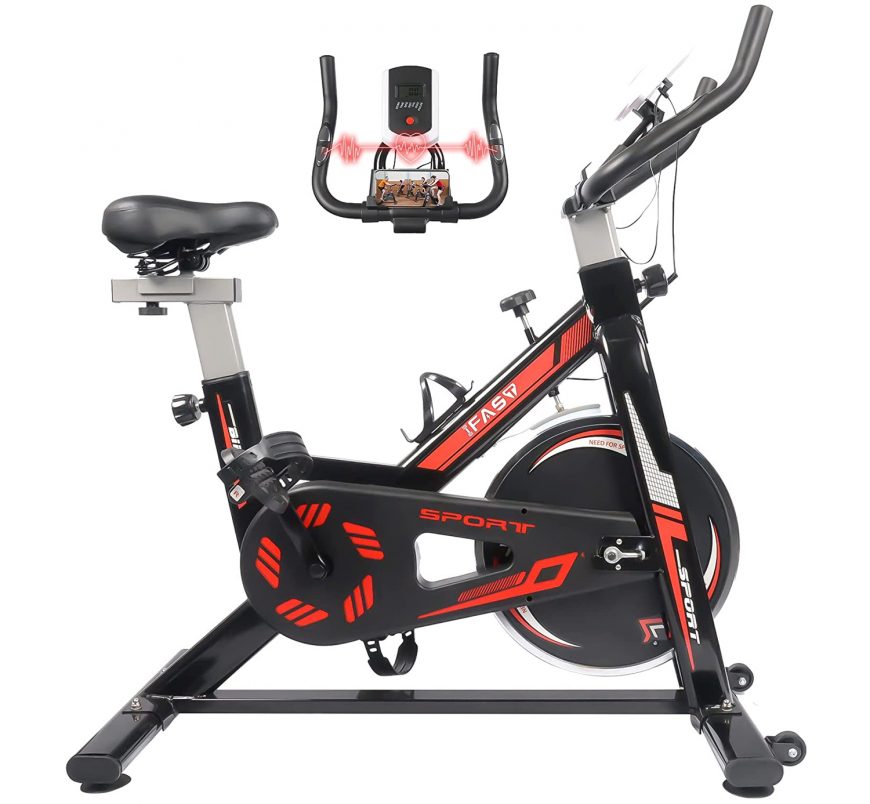 Advantages of Spin Bikes
Spin bikes promote great upper body workout, here are some of the benefits that you will be able to enjoy.
Strong Muscle Definition
Spin bikes are great at giving a strong muscle definition for your core and legs. Have you ever wondered why people skip leg days? This is because leg exercises are more intense and dangerous, but they also contribute a lot to your leg muscles.
Spin classes or spinning bike exercises are a great alternative for those that want to build leg muscle but are intimidated by squats and lunges.
There Is A Lower Risk of Injury
When doing leg exercises, seemingly squats, and lunges, there is a high risk of injury if you are not doing those exercises properly. Spinning bikes offer a very low-impact exercise where there the chances of injury are almost non-existent. You don't even have to lean forward that much while exercising.
A good pair of cycling shoes compared with an excellent spin bike will do the trick for you!
A Stronger Immune System
Spinning bike exercises allow you to have a stronger immune system, and a stronger immune system allows you to have a longer life void of any serious illnesses.
The thymus gland contributes a lot to your immune system, a good lifestyle full of exercise and healthy food also makes sure that you have a strong immune system. The thymus gland creates T-cells that hunt down bacteria and when people age the Thymus gland shrinks thus reducing the production of T- cells.
Old people can still get their daily dose of exercise with spin bikes, this will allow them to recover the amount of T-cells produced.
Work Intensity – Which Is Better?
Recumbent bikes offer a more relaxed kind of workout as compared to spin bikes. There is more muscle activation when you are using a spin bike but you certainly cannot use them for long. There is more focus on the core and upper body and that allows you to have a very strong workout.
Spin bikes have a heavier flywheel as compared to a stationary bike, which means that you can even climb on the spin bike and do your exercises, aggressive efforts will definitely lead to aggressive gains.
Most of the spin classes that you will attend will result in HIT (High-Intensity Training) exercises which will promote your cardiovascular health. You can also try out easy pedaling on a spin bike and then work from there.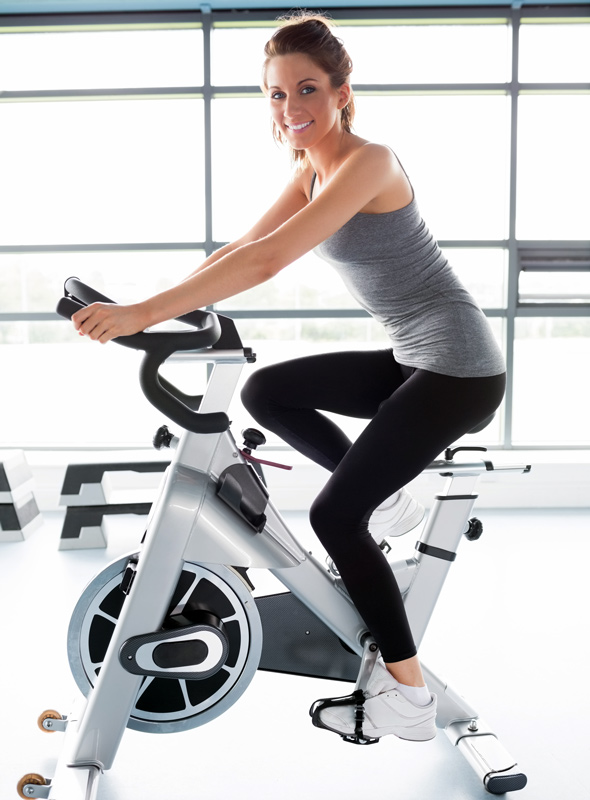 Comfortability and Ease of Usage
Working out on machines is not easy, that much is proven and that is why a lot of people ignore them. They can be very intimidating and difficult sometimes, that is why you have recumbent exercise bikes. As the overall design structure is very convenient, people are going to have easy and fun workouts with these types of bikes.
Large reclined seats with a lot of space to use are what people love the most, the backrest also reduces the chances of any injury. Elderly people, even cardiac patients can use recumbent bikes for a long amount of time.
Spin bikes on the other hand are also easy to use but there is not that much comfort there. People are not going to love the seats and the whole structure might also feel alien to them. They feel almost like an upright bike, there is also increased stress on the user's spine, knees, and tailbone.
Which One Is More Versatile?
People do exercise for the sake of versatility, and if you want more of that then you need to try out spin bikes. Trying out different positions is something of a rarity when it comes to exercise bikes, with spin bikes you can exercise in different positions. You can exercise while standing or sitting, it is completely up to you.
Recumbent bikes work in a manner that allows you to have only one kind of position (The Sitting Position). If you want more versatility, then you need to try out spin bikes.
Hitting Different Muscles- Which Bike Does It Better?
You can save yourself a whole day of exercising if you work out different muscles simultaneously. Using spin bikes for exercise allows you to target different muscles at once. While using them, you can target Biceps, Triceps, Core, Back, Glutes, Upper Body, Quadriceps, and Hamstrings.
If you use recumbent bikes, then you would only be able to target the lower body, hamstrings, and calves.
Programmable Exercise
If you are an exercise junkie like me, then you want different kinds of exercise. With recumbent bikes, you can choose different types of exercise modes, and use the console however you want. These bikes also show you the calorie and distance count, alongside the heart rate monitor. With recumbent bikes, you will never get bored as they always come with a console.
You cannot program spin bikes, on the other hand, you have to control your workout sessions manually which is a pain most of the time.
Recumbent Bike vs Spin Bike- Which One Should You Go For?
Recumbent Bikes and Spin bikes both are amazing exercise machines, both have some of the best features and advantages to offer. The right choice here for you will depend on what kind of exercise bike are you looking for and what kind of workout you want?
Recumbent bikes target the lower body and calves but they are extremely comfortable to use. You can try out different exercise programs, and even use them for a long period of time. Spin bikes on the other hand target different muscles of the body simultaneously providing for a very intense workout. Plus, you have to program your workouts manually here.
Both are great bikes to get, just keep in mind what you are looking for!
What Might Interest You