Fitness is not an easy thing to pursue, even if you are super careful, there are a lot of bumps that you can hit and get unhealthy. Assigning an activity that brings various health benefits and also a good amount of leisure is necessary these days. Cycling is one of those activities, it is a highly competitive sport and also brings a lot of advantages.
You can notice that it is actually very easy to add some fat to your waistline, all you have to do is not pay attention or care about yourself. If you want to get rid of all that fat then just get on a bike and see wonders for yourself. Cycling will not just bring you leisure but it will also shed all those extra pounds that you have stored. Getting on a bike will make you stronger and leaner in no time!
If you really want to lose fat while cycling, then here are some of the professional tips that you should follow.
Ride At A Steady Pace
Now, most people would be wondering, even if they are new to this-Does cycling really burns belly fat? The answer to that is yes, yes it does! When cycling there is not that much pressure on your quads or glutes than regular exercises, there is still pressure on your stomach thanks nature of cycling, given there is an aerobic position. This kind of position allows you to burn belly fat while riding, while also toning your muscles.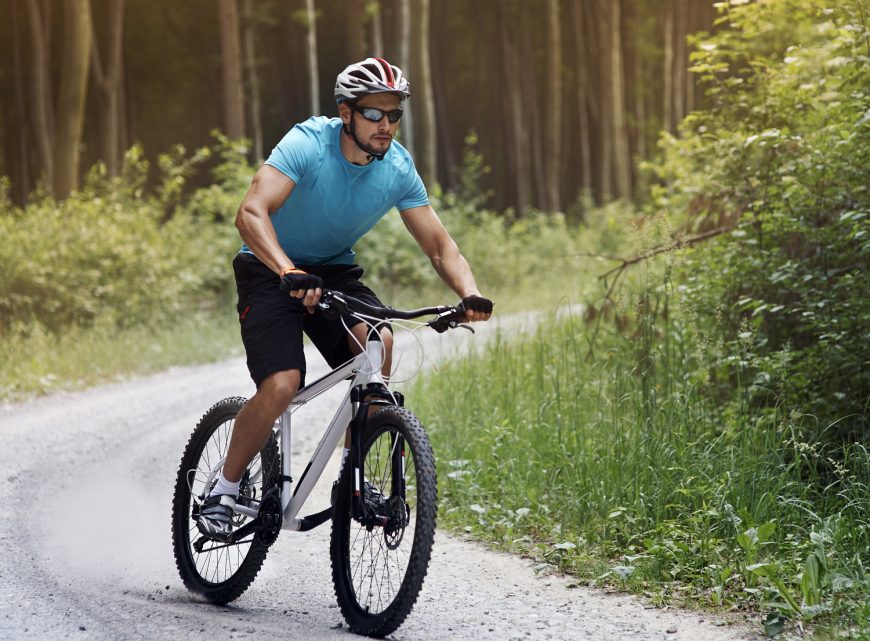 You need to cycle at an intensive pace but it has to be steady, there is no need to go overboard here. We would suggest that you keep on your heart rate monitor, it should not exceed 80%, which is perfect for an intense workout that burns calories and allows you to lose belly fat.
Cycling like this is considered to be lower-intensity training, but the benefits reaped will be the same as high-intensity training, even more. You will burn fat, but keep in mind not to go overboard here, there is just so much that you could do with cycling but there are still limitations.
Plus, we would suggest taking your post-ride snacks in a minimum quantity, you don't want to gain the fat that you just burned.
Try Indoor Cycling
Some people want to get fit but they don't want to go outside for cycling, that is pretty understandable. You can try out some of the best exercise bikes to take your fitness to the next level. There are a lot of programmable exercises that you can take advantage of indoors, a high-intensity workout of 40 minutes could burn 300 calories or more.
When choosing indoor exercise bikes, you need to know exactly what you want. First, take a look at your fitness goals and then go for the machine that will help you achieve them, we don't want you getting a bike that you won't even like using. The next step would be to choose the right kind of music for the exercise, the music is as important as the exercise itself.
Motivation plays a very big part in your taste in music, always go for the music that energizes you, so our best recommendations would be R&B, electric, or rock music.
How To Get The Most Out Of Indoor Cycling
With indoor cycling, you need to plan your workouts because careful planning will get you the results you need to progress further. We would suggest that you do a little warm-up before really starting the exercise, you can pedal at a very light pace so your legs are ready.
If you want your legs to hit peak performance, then you need to pedal for at least 70 rotations per minute (RPM), if it is more that is also good but also keep an eye on your heart rate. For an amazing workout, always keep the RPM between 70-90 and not more than that.
When you will be working hard, your heart rate will reach more than 70%, which will allow for amazing weight loss. Always have a balanced workout, like this, your heart won't be exhausted and there won't even be a strain on your muscles.
Interval Training Works Wonders
You might have heard of interval training or even have done that in the gym, let us tell you how you can apply that to cycling to reduce belly fat. Mixing interval training with cycling will help push burning calories and will also increase muscle mass. Cycling is a form of aerobic exercise and these kinds of exercises help you push your limits.
At the end of your cycling session, what you can do is go all out for two intervals, pedal really hard and really fast but only for 30 seconds. Each of the two sessions should only last 30 seconds, you don't have to go overboard. Start with 30 seconds and as your form will improve, you can keep on going for a longer interval.
Doing these intensive intervals will burn fat and improve your metabolism. At the end of the day, you will notice that you have burned a lot of extra calories. Keep this up and you will see the change for yourself!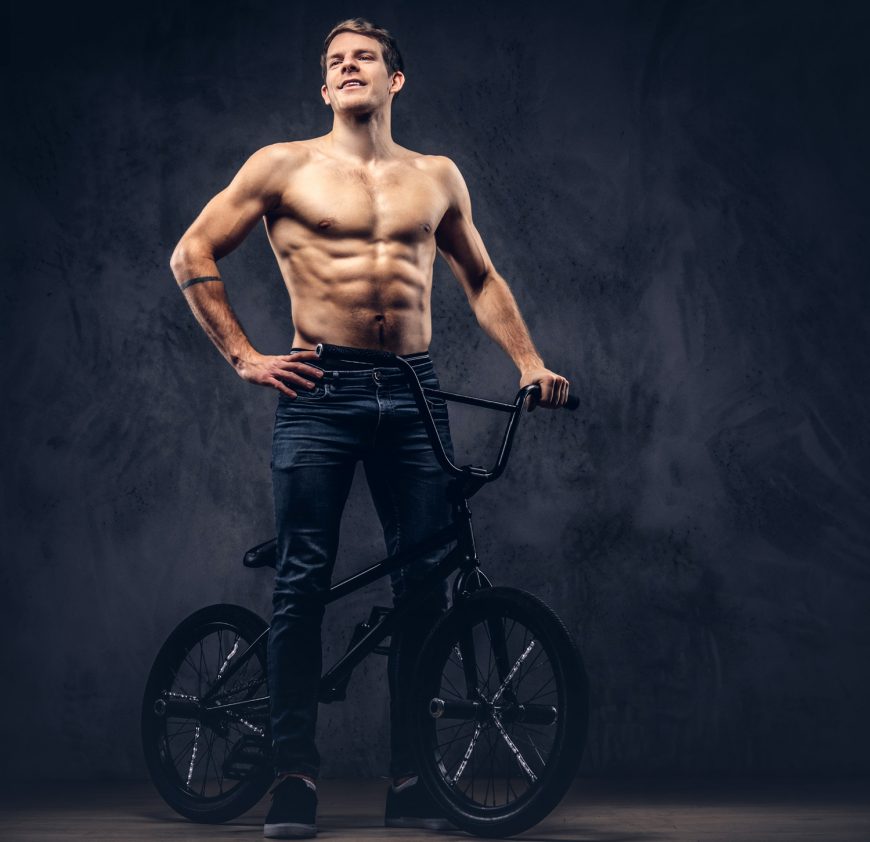 Also read: Does Biking Work Your Abs?
Try Off The Bike Exercises
Many people believe that only doing core workouts like crunches and sit-ups will eliminate all the belly fat they have, this is wrong, there needs to be a variety of exercises to keep the body in shock. Core exercises will definitely improve the strength of your core but they will not burn the belly fat, you will still need to do aerobic exercises for that.
For even better results, you can always try cross-training, mixing different kinds of exercises will make sure that you lose a lot of calories. These exercises will also improve your overall bike performance. Some of the best aerobic exercises that you can try out are the lying bicycle and planks.
Different Types Of Exercises To Try Out
For people that don't want to do these exercises, they can always try out Zumba and Boxing. Body combat exercises like Boxing and MMA will improve your overall stamina and strength, this will not just burn calories but also make sure that you have the strength for longer cycling sessions.
Pilates and Yoga are also recommended because they help stretch the muscles, this is very important if you cycle for long intervals. Cycling for a long amount of time can tighten the muscles that result in pain, pilates will also make sure that you are safe from injuries the next time you do cycling.
If you want to opt for bodyweight exercises, that will also be great. These exercises will not only burn fat but will also give you the strength to cycle for longer. Some of the best exercises that you can try out are squats and planks. These are some of the exercises that target multiple muscles, you will be able to tone your shoulders, core, and legs with only one exercise.
Eating Right For A Healthy Lifestyle
How do you burn body fat? The answer to that is pretty simple, you have to go into a calorie deficit. There is a lesser intake of calories and you burn more calories during workouts, that is how it works. It may seem easy and simple, but a healthy lifestyle and a good diet are the hardest to keep.
What Is Eating Right?
Keeping a healthy weight and losing belly fat is anything but easy, but once you set on the right path, things do become easy. Many people will tell you to "Eat Right" but what exactly is that. Your diet needs to be a mix of protein, carbohydrates, and sometimes even fatty foods. Keeping a balance is all that matters, you should try eating those carbohydrates and protein that burn at a slower pace so that they will keep you full for a longer time. Whole grain pasta, multigrain bread, and peanut butter are only some of the good options out there.
Some people might even drastically reduce their calorie intake but that would only make them weak instead of being strong for any kind of workout. If you don't fuel your body properly then you won't be able to enjoy your workout sessions, and instead of dropping body fat, your body would be dropping muscle mass.
Mental Health Matters A Lot
After all the exercises and the lifestyle choices, you might think that there is nothing else to take care of, that is where you are wrong. If a person stresses more than their mood swings can cause a lot of harm, some people get depressed and don't eat proper food that allows them to lose weight in an unhealthy manner. Others turn to comfort eating when under a lot of stress and this allows them to gain a lot of weight, neither of these things should happen naturally.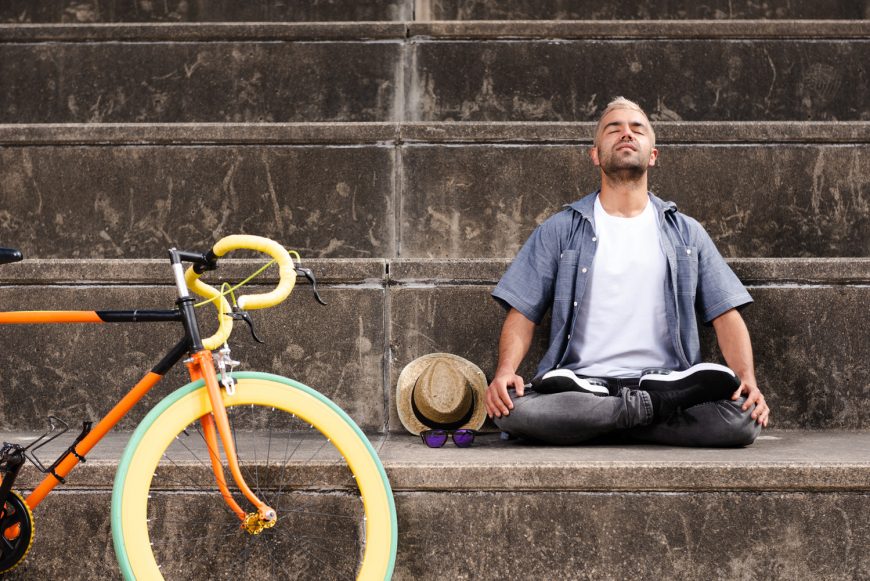 If you don't control your stress levels then it can be very harmful to your overall health and your weight goals. Doing exercises regularly and keeping yourself happy is one of the few ways to combat stress and you need that in order to accomplish your goals.
Even if you exercise with a moderate intensity then it would be best for you, just be consistent and don't let stress bring you down.
What To Do Post-Cycling?
After a full day of burning fat, what is there to do? What is the best way to end the day? The best way to end the day is to relax and take it easy. If you shifted a lot of weight during the day then you need to rest and sleep properly because chances are that you must have been deprived of sleep.
According to various researches and studies, a person should get a healthy amount of sleep between six to eight hours daily at night. A good night's sleep is the best way to end the day full of exercises, this will make sure that your muscles recover and calories are burned properly.
After following all of these tips, you would be able to lose fat and build your muscle. Even if it takes you a while to be consistent with the new lifestyle, do it, there is nothing else more important than one's health.
Also Read: