Are you planning to take your mountain biking experience to the next level? We have just the right kind of dropper posts for you! Dropper posts have really made our lives easier, especially if you compare the mountain biking experience with the old days. Let me give you an overview of what exactly used to happen in the past!
If you had a mountain bike in the past when dropper posts weren't even a thing, you were presented with a lot of problems. Let's take descents for example, if you had to ride down a very steep yet tricky descent then you actually had to get off the bike, bring the saddle down and move downwards. Or you could just ride down the bike and pray that you make it in one piece! A dropper seat post will enhance your riding experience, you just have to install the right one.
Then came the dropper posts and everything changed, with these installed you can easily lower or raise your saddle with just a push of a lever that is mounted on your handlebars. Although they are used with mountain bikes in most cases, even XC racers are adopting dropper posts now.
The Best Dropper Posts Of 2023 – Ranked and Reviewed
Dropper posts are game-changers and we want you to experience only the best of them. Even though they are mainly used for mountain bikes, you are welcome to try customizations suited to your needs. Just to make sure that you get to experience a quality product, our expert testers tried out different dropper posts. Some of them are compatible with internal cable routing, there is even a wireless dropper post to add variety.
After countless hours of research and trying out more than 15 dropper posts, we finalized the following products for you. We are sure that with our selection of dropper posts, you will be able to make that perfect purchase. Let's dive in!
| Dropper Post | Price ($) | Remote |
| --- | --- | --- |
| Bike Yoke Revive 2.0 | 389 | Triggy |
| Tranz-X Kitsuma Air | 185 | Tranz-X 1x |
| OneUp Components V2 | 250 | OneUp |
| Wolf Tooth Components Resolve | 350 | OneUp V2 |
| RockShox Reverb AXS | 861 | AXS 1x remote |
| Fox Racing Shox Transfer Performance Elite | 309 | Transfer 1x remote |
| Bike Yoke Divine  | 269 | Triggy Alpha |
| Brand-X Ascend II | Starting At 57 | Brand-X |
Note: All mentioned prices are subject to change. Some products come with dropper post remotes while some have to be bought separately!
1. Bike Yoke Revive 2.0- Editor's Choice
Price: MSRP $389

There are chances that you might have heard about the German company Bike Yoke, but once you start using their products, there will be going back. They are the pioneers of dropper posts and their Revive makes it to the top of our list. We got to know about the Revive from a close and reliable source and it really increased our hype. Once we used the Revive dropper post, it surpassed all of our expectations, this is a unique component that you need to get your hands on.
It has a smooth travel and compression force, something that is truly remarkable. We are in love with the design of the Bike Yoke Revive, another great feature of this dropper post is the unique feature: Revive Valve. Hydraulic internals tends to sag over time, with this feature you can easily reset the internals without any kind of hassle, all of this is done in mere seconds.
If you purchase this dropper post then it will also come with Bike Yoke's Triggy 1x remote lever, which feels like a dream to use. The two-bolt saddle clamp design is very easy to set up, another plus point that we love about the Revive.
You might feel that the price of this dropper post is a bit high than the competition, especially if you go for the 185mm version, but the price is also justified. You won't find a dropper post like this one in the market.
Advantages:
Easy and Seamless Setup
Adjustable Spring Rate
Unique Revie Reset Valve
Amazing Remote Dropper Lever
Disadvantages:
Expensive Than Competition
Long Extended Length For Some
Editor's Choice: The Bike Yoke Revive is an amazing dropper post, it ticks all the requirements. You get a reset valve that can fix your internals in seconds. The setup is so easy that you can do it with your eyes closed although we don't actually recommend that. Once you use this dropper post, you won't feel like using any other brand.
---
2. Tranz-X Kitsuma Air
Price: MSRP $185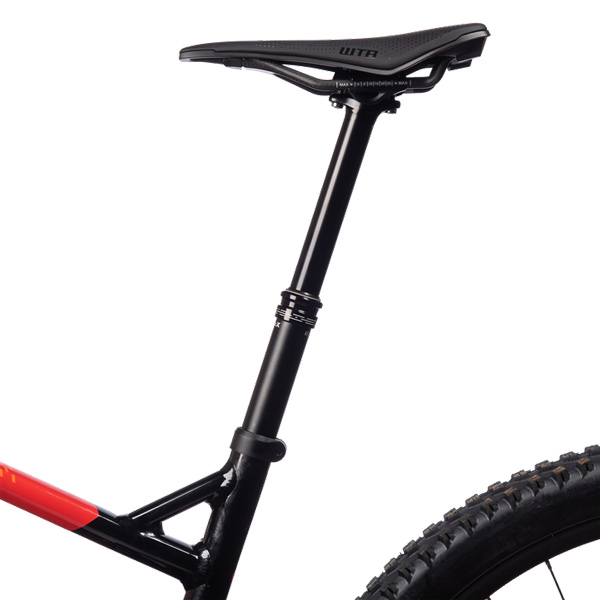 For a more affordable option, you need to try out the Tranz-X Kitsuma Air. After expanding its distribution, Tranz-X has now come up with some of the best and most affordable dropper posts for you to try out. Although the Kitsuma Air is affordable, it never compromises on quality and performance. The installation is very easy and seamless, even the remote levers can be used without any kind of problems.
The one thing that surprised us the most was how comfortable this dropper post feels. The ergonomics are great and it even feels lighter than others. Kitsuma Air's super smooth travel in extension and compression is also very impressive. With the air spring, you can also alter the rate of return, all of this feels very handy. I was personally very happy with the construction of the Kitsuma Air, it features a sturdy two-bolt clamp that secures the saddle rails tightly, you will certainly be at ease.
We had to go with the longest option so we tried out the 200m post. Although it might be the heaviest version, it is also the longest, once you start using it, the weight doesn't feel problematic. There is one thing that you should know about the Kitsuma Air, the remote will have to be bought separately. For the price being offered, you cannot get a better dropper post!
Advantages:
Affordable Price
Comes In Three Different Lengths
Air Spring Is Fully Adjustable
Butter Smooth Travel
Disadvantages:
All Versions Have Longer Overall Length
The Bling Factor Is Missing
Why I Like It: The Tranz-X Kitsuma Air is one of the most affordable yet comfiest dropper posts that we got to try. It features butter-smooth travel that we really can't get enough of. It comes in three different lengths so you can easily go with your preference. The construction of the dropper post is certainly impressive, unlike anything we have seen before.
---
3. OneUp Components V2
Price: MSRP $250

OneUp V2 is one of the best dropper posts that you have to try, even our own testers were thoroughly impressed with it. Let me just pinpoint two things for you, exceptional performance paired with affordable prices, what else do you need? If we roughly compare the performance of the V2 with dropper posts that cost twice or more than this one then the V2 easily takes the cake.
The stack height of this post is impressively short, even if the extended length is adequate. Featuring adjustable travel, you can now customize the drop length and choose your own fit, there are a lot of options available for you. Even though this is a cable-actuated post, it is very easy to install it, just be careful with the cut end of the cable. What really impressed me was the butter smoothness of the travel and compression force, you don't get this level of amazing quality at this price range.
The OneUp V2 remote feels very natural to use, the ergonomics are great, the lever feels very light, and with the help of a short throw, you can easily adjust the saddle height. Currently, the V2 dropper post is only being offered in five lengths: 120, 150, 180, 210, and 240mm.
Advantages:
Affordable Price
Great Quality
Smooth Travel
Lightweight Design
Adjustable Travel
Disadvantages:
Remote Dropper Lever Has To Be Bought Separately
Why I Like It: For the price and quality, there is no better dropper post than the OneUp V2. It has everything that you can ask for, great quality, smooth travel, and compression, all of it is topped with a lightweight design. Yes, the remote lever has to be bought separately but that doesn't undermine the exceptional performance of the V2.
---
4. Wolf Tooth Components Resolve
Price: MSRP $350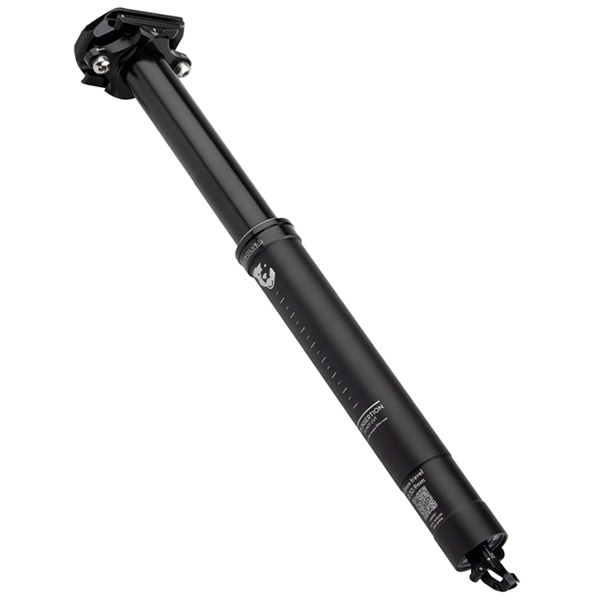 When it comes to companies that make amazing bike components, Wolf Tooth doesn't hold back. It is an American company that knows all about bike customizations, bike components and so much more, we want you to try out their Resolve dropper post. We are surprised by how lightweight this post is, without the remote it weighs only 545 grams and with the remote, it is 592 grams.
Even though it is a very light dropper post, we were impressed by the bountiful amount of travel it provides. Naturally, this one makes a perfect choice for the weight-conscious rider, even though the lightest components reduce the overall weight of the bike. Moving to the performance side now, even the on-trail performance of this post is very impressive.
Speaking of cool features, this dropper post is filled with them. Let's start with the self-bleeding cartridge, which prevents unwanted sag automatically, travel reduction, and even swaps the lower tube to a different diameter (Depending on specifications) when you shift bike frames, that's crazy!
Some of you might turn away from this dropper post just because of the price, but there is so much going on here. You cannot ignore features like the self-bleeding cartridge, they make or break the whole experience. Then comes the topic of durability, even though the price is too much, the dropper post lasts long enough and provides exceptional value to users.
Advantages:
Very Lightweight Design
Fully Adjustable
Cool Features Like The Self Bleeding Cartridge
After Sales Support
Disadvantages:
Why I Like It: We know that the Resolve is an expensive dropper post but that is what we must pay for quality. With this dropper post, the concern isn't even about quality, it is about the extra features that we are getting. There are rarely any posts that can compete with the self-bleeding cartridge feature. Wolf Tooth also offers amazing after-sales support that cannot be ignored!
---
5. RockShox Reverb AXS
Price: MSRP $861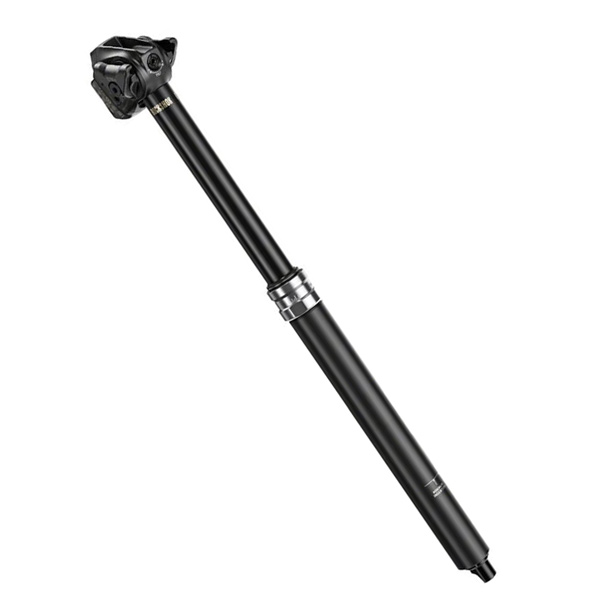 We have to confess, ever since the RockShox Reverb AXS was announced, we were really excited to try it out. RockShox has done an amazing job here, stellar Reverb aesthetics are combined with AXS technology to produce something truly exceptional. You are going to love the wireless technology of the Reverb AXS, although it is a bit expensive.
So let's get one thing clear, the Reverb AXS provides a very clean setup. What do we mean by clean here? There are no cables or hoses to be found, so the post installs seamlessly. The recorded movement in compression and extension is butter smooth, and it is also resistant to cold temperatures. In the case of sagging, which happens naturally to dropper posts, RockShox has even added a Vent Valve so that you can make repairs from the comfort of your home.
Let's talk about the saddle clamp now, its construction is rock solid, and the user-friendly design paired with a single bolt clamp/separate tilt adjustment works wonders here. What about the remote though? It has a paddle-shaped button and feels very easy to use, and doesn't require that much force.
There are some considerations though, it is uber pricey, and only if you can justify the price for yourself, should you go for it. Then comes the weight, although it is pricey, it isn't lightweight, which can be a major drawback for some people.
Advantages:
Cable-Free System
Seamless Installation
Excellent Remote System
Enhanced Performance
Disadvantages:
Super Pricey
Very Heavy
Batteries Need To Be Charged Often
Doesn't Support Saddlebags
Why I Like It: If you can afford it, then the Reverb AXS is the ultimate dropper post to go for. It has a clean and wireless construction which is something of a rarity these days. The remote is excellent, can be used without even exerting that much force, and the whole post installs in a jiffy!
---
6. Fox Racing Shox Transfer Performance Elite
Price: MSRP $309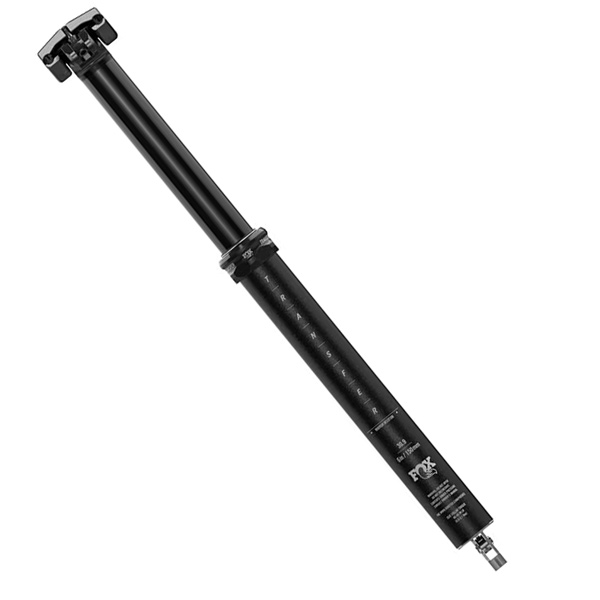 The Fox Racing Shox Transfer Performance Elite is another top performer on our list. The Transfer dropper post has been recently updated, and we were more than excited to try it out. What are the new features that you should be excited about? Some of the featured highlights are reduced weight, a fully redesigned saddle clamp, shorter stack height, and an overall short length. Just by adding these features, the Transfer post has become a most-wanted product.
There are some features that the New Transfer post has kept the same as the previous version, the super-smooth internals for example. Just because of these smooth internals, adjustments on the trail become very fast and easy. Dropping the post doesn't require that much weight, even the ending thump seems very reliable this time around. The dropper post isn't the only thing that has been redesigned, even the 1x remote lever has undergone some changes. This time around you get to use a high-leveraged, thumb paddle that works like a shifter, the sealed cartridge inside of it ensures seamless action.
Advantages:
Features A Short Stack Height
Very Easy To Install
Smooth and Consistent Performance
Remote Dropper Post Lever Is Fantastic
Disadvantages:
Comes Without Travel Adjustment
Height Isn't Satisfactory
Why I Like It: We love transformations, and the Transfer dropper post just had a massive transformation. With the new updated model, it performs wonders that weren't possible before. It has a very lightweight design this time, the stack height is short and it is also very easy to install. We loved it because of the smooth and consistent performance that it provides!
'
---
7. Bike Yoke Divine
Price: MSRP $269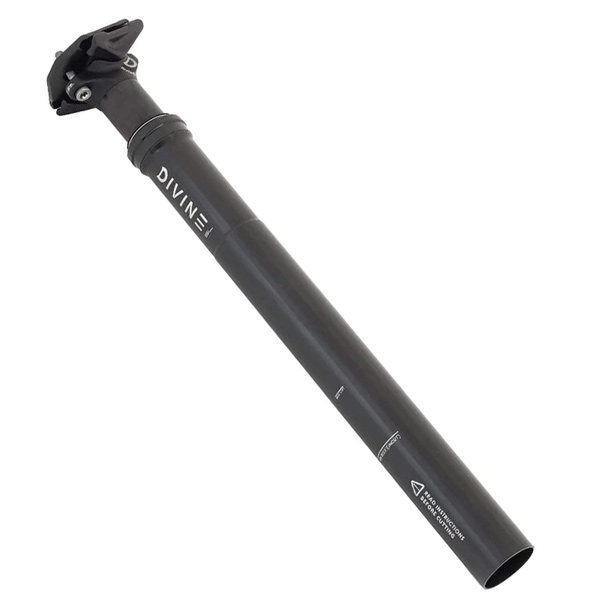 Let's discuss another dropper post from Bike Yoke, the Divine is something that all of our audience should try out. We can easily say that this is one of the best dropper posts out there, even being cheap because of the simple hydraulics it offers consistent and quality performance. The easy travel adjustment is also another great feature here.
The Dive features the same auto-refresh mechanism that Bike Yoke is known for. The mechanism can "Bleed" itself, this reduces sponginess and the super-slim collar also looks cool. If you have used dropper posts from Bike Yoke then you may have noticed their bottom activator, with the Divine, things are a bit different. The Divine offers you an amazing ability to actually twist the bottom activator away from the bottle bosses. The seat tubes also allow maximum insertion which was something we hoped for from Bike Yoke for a long time.
You can even reduce the drop to 5mm increments thanks to the spacers. There is one thing that we didn't like about the Divine dropper post, the remote has to be bought separately.
Advantages:
Features The Auto-Refresh Mechanism
Easy Travel Adjustment
The Bottom Activator Can Be Twisted
Disadvantages:
Remote Is Sold Separately
Why I Like It: Honestly when the brand Bike Yoke comes in front of us, we get really excited. All their products are automatic purchases, but the Divine feels really special. It features the auto-refresh mechanism that the German brand is known for. The compression travel is also very smooth, in order to enjoy the Divine as it should be, you have to get the remote separately which isn't a deal-breaker!
---
8. Brand-X Ascend II
Price: Starts At $57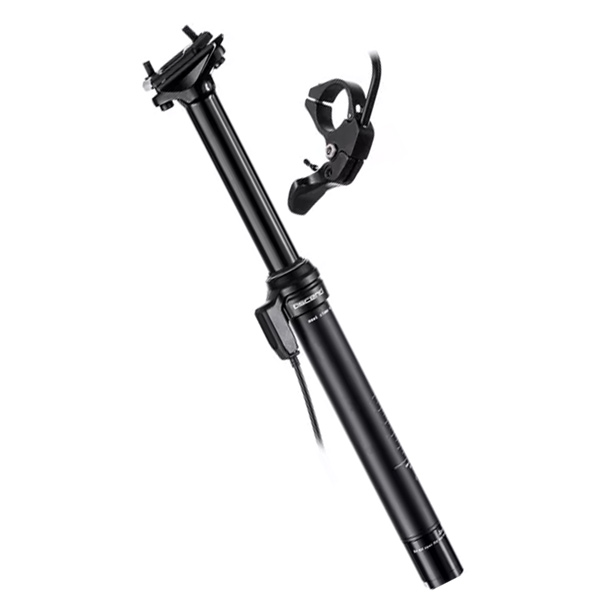 What makes the Brand-X Ascend II dropper post so special? Let's start with the cable barrel attachment which is at the post end, there's no need to trim the inner and outer cables. This is an externally-routed cable dropper but you can still go with other options if you want.
We tested this one on many rides and it impressed us every time. On any kind of trail, the return speed is nearly perfect, this is something very hard to keep consistent. but the Ascend does it anyway. Just be sure to limit traversal on wet surfaces, the supplied cable is can corrode very quickly.
Advantages:
The Cable Barrel Attachment Is Great
Near-Perfect Return Speed
Disadvantages:
Not Best For Wet Surfaces
Why I Like It: When it comes to affordable but quality options, we really advise you to get the Ascend II. The comfort is unlike anything in this price range, you even get a near-perfect return speed. What else could you want?
---
What's The Best Dropper Post Out There?- Buyer's Guide
Now that you know about the best dropper seatposts, it is time to know how to choose the perfect one. Even if you are a professional or just beginning your cycling journey, you need to know what defines the perfect dropper post. Just like bikes, new dropper posts keep on being introduced and launched, some are even constructed with a new technology that gives them an edge.
The Size Of The Dropper Post Matters
First things first, you need to know the internal diameter of your mountain bike's seat tube, then you work from that. Check your current dropper post, it will be written there in millimeters, if it isn't available there you can refer to the frame manufacturer's specifications. If both of these options aren't available then you can measure it yourself with vernier calipers. You don't have anything to worry about though, the seat post sizes are standardized now. The most common sizes now are:
Longer Or Shorter Travel Drop Post?
All of us want the longest travel dropper seatpost, no one even goes for the shorter option, but how long are we looking at? Well, this actually depends on your budget, because in the end, you want proper pedaling height and maximum clearance. We even got to experience some amazing posts that offer 200mm of drop, but that's another case.
Getting a post that offers a big amount of drop is one thing but then again, you are going to be limited by your frame and saddle height. You will have to start with some measurements, start measuring from the top of the frame tube to the top of the saddle rail. (Make sure that the saddle rail is at the perfect pedaling height).
At this point, you would have selected a dropper post already, you need to get an exact sample of it. In the next step, compress it and measure it from the top, from the saddle rail to the lowest point where the frame fits. There is usually a collar at the top of it, this should make things easier for you!
Now that you have two measurements with you, subtract them from each other. What you get is the maximum travel dropper post travel from that specific design (In Theory!). You should also know that not all the dropper posts will be the same, some will offer more while some will offer the bare minimum.
Make Sure It Fits Into The Frame
Getting an exceptional drop post is one thing but making sure it fits into the frame is another crucial detail that you have to pay attention to! Suppose you get a longer travel dropper post, you will also need a longer body to install it in. For this, you will need a great insertion depth into the frame.
If you have a long seat tube then the drop post will fit like a charm, problems arise when you have a short seat tube or one which is kinked. Since the drop post can't get that much into the frame, you will need to figure out the maximum insertion depth of your bike frame, which isn't that problematic.
In order to start, you will need a fixed post and stick it into your frame, then see how far it goes. You need to check where it bottoms out, although it won't, if it does then you need to mark it by the collar. Pull it back now and measure from there to the end of the post, that will be your figure.
Calculate the difference between the extended dropper post and the optimum pedaling height that you measured earlier. If the result is lower than the maximum insertion depth of your frame then you are good to go. In the case of an unfavorable result, just get a travel post that will fit into your frame easily.
Different Types Of Remotes
When it comes to dropper posts, you are going to get two different types of remotes. Bar mounted ones and the ones that are fixed on your post. Bar-mounted remotes are present with average-priced dropper posts while the latter is only available with budget options, we don't actually recommend them.
If you are going with a bar-mounted option then make sure that it works with your current controls. Running the remote under the left-hand side of the bar will be easier to operate. If you are running a single chainring drivetrain then it becomes even better to control.
Why You Should Care About Dropper Posts
Since many of our readers will be mountain biking, it is very important to adjust the saddle height, that is what makes or breaks the whole experience. There should be an optimal balance in height, it should be high enough for efficient pedaling on technical terrain but low enough when you have to go through a steep descent. Keeping the saddle low enough will allow you to move your body weight very easy to remain in control.
Thank God for dropper posts because before them it was a hit-or-miss opportunity for almost everything. You could only set your saddle at a fixed height and pray that everything goes according to the plan. That has changed now, having a dropper post allows you to have both positions without any problems. You can easily move from climbing to technical descending! Most dropper posts today have a very strong construction which can endure almost any kind of terrain.
There are a lot of dropper posts in the market and it can be scrutiny to go through all of them. Luckily for you, we will now be focusing on the aspects that matter the most!
Watch: Do You Really Need A Dropper Post?
Do you really need a dropper post now or are you good? We are sure that this question is now lingering in your mind. In order to answer it and provide all the necessary details, watch this amazing video put together by Global Mountain Bike Network.
FAQs
Are Dropper Posts Compatible With All Bikes?
It has to be noted down very carefully that there are going to be constraints, not all the bikes allow drop posts to be installed. Not all bike frames are built like that, some cannot even accommodate the new generation of dropper posts.
What Dropper Post Has The Most Travel?
Exceptional dropper posts keep on getting launched. We even got to experience the Eightpins NG2 which offers 285mm of travel.
Are Dropper Posts A Good Investment?
If you are planning on mountain biking then installing a dropper post is necessary. They make sure that your adventures go as smoothly as possible.
Recap
Dropper Posts have revolutionized the whole mountain biking experience. We love them for giving us comfort and making our adventures very smooth. There is one thing that all of us should know though, not all dropper posts are made equal and we should know exactly where to invest our money.
Our top choice has to be the Bike Yoke Revive 2.0, it offers plenty of travel and the performance is also unmatched. For the price and the value, there is no better option right now so do give it a try!
We also included information about the perfect dropper post but that will vary from person to person. We just want you to make the perfect purchase for yourself!
Also Read: