Talking about bike tubes isn't that exciting but when it comes to bike enthusiasts or you get too many flat tires then this is going to be a really interesting topic. It does not matter if you have a road bike, mountain bike, or even a beach cruiser, you should have a stock of bike inner tubes.
We may try our best but one day we are going to get a flat tire and for that, we need to be fully prepared. Every biker is prepared for this day and so should you! It is a fact of the cycling life, preparation for it will save you time, money, and a lot of frustration.
You seriously don't want to have this frustration that you left the house, got a flat tire on the way, and weren't even prepared for it. Another piece of advice I would give you is to buy these bike tubes in bulk whenever they are on sale or promotion, although they are small, they can easily sabotage your monthly budget if you aren't careful!
Top 10 Bike Tubes Review
These are the top-rated bike tube/systems that I came across, once you stock up on these, you won't ever have to face a flat tire ever again! Let's get started!
1. Vittoria Latex Road Tube- Editor's Choice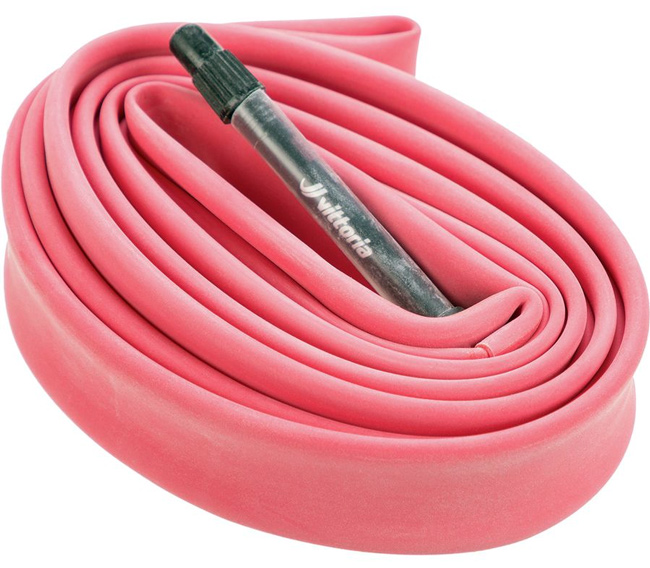 Price: MSRP $13.99-$16
Available In: 700c x 19-23 mm, 700c x 19-24 mm, 700c x 25-28 mm
Let's talk about my favorite choice first, latex tubes are considered more durable and lighter that is why the Vittoria Latex Road Tube is one of the best that you can find in the market. If you want the best, then you have to get the Vittoria, it just looks amazing in that catchy pink color.
If you have a deep dish wheel then this tube is perfect, the removable valve cores make everything easier. The price may be high for this one, but I don't think that you can get a better one, it is also one of the most user-friendly tubes out there!
Latex Tubes tend to be more porous comparatively than others, so it is advised that you check the tire pressure before going out for a ride.
Editor's Choice: The Vittoria Latex Road Tube is one of the priciest tubes available but the quality is unmatched, it is also the most racer/user-friendly. Gets the job done without any kind of hiccups and is available in many sizes. If you have to go for a premium tube then definitely check out this one!
---
2. Surly Ultra Light Fat Tube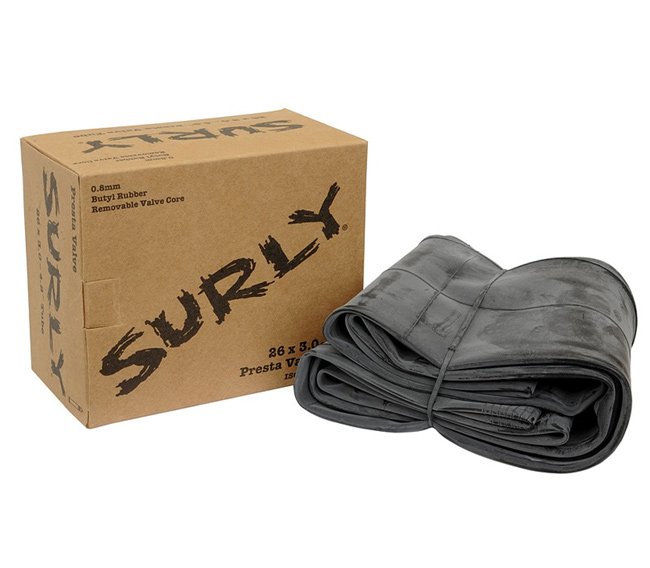 Price: MSRP $20-$35
Available In: 26 x 3.0 in and 26 x 4.8 in
Thinking of fat biking anytime soon? Well, all of your worries are going to go away with the amazing Surly Ultra Light Fat Tube. If you have a fat bike then you should definitely go for the Surly fat tube, it is just perfect for the 26-inch bikes. The tube is currently available in two different sizes: the 3-inch variant and the 4.8- inch variant.
It has that Presta valve that is great for fat bikes, plus we tested it out and it was lighter than the other tubes in the market. The tube weighs around 310 grams, it is light but not that light when compared to the road bike tubes.
The Surly Ultra Light Fat Tube is an amazing choice if you have a fat bike, it comes in different sizes, will fill up all the needs and you won't have to see a flat tire ever again. Additionally, this tube is covered with a 1-year warranty!
Why I Like It: Fat Bikes need special care as compared to the other bikes and you need to be extra careful when looking for the perfect bike tube. Gladly, we have the Surly Ultra Light Fat Tube that fits around just perfectly. It comes in different sizes and is quite flexible to install. You would be glad to know that it is also covered with a 1-year warranty!
---
3. Continental Race Tube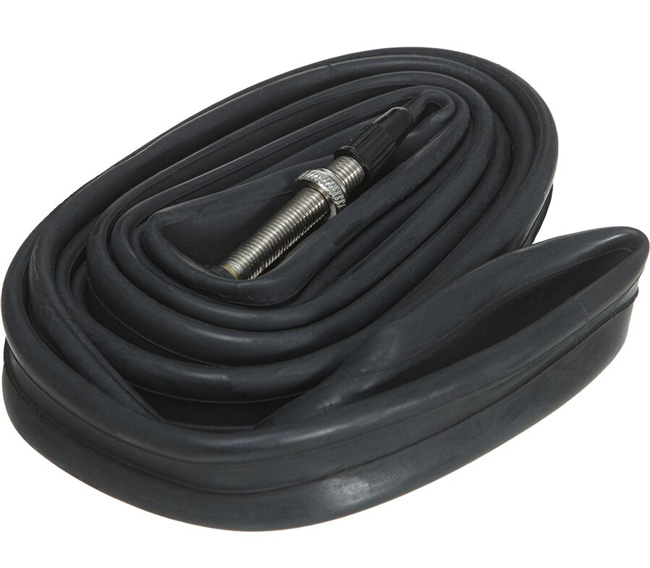 Price: MSRP $6.99 – $8.99
Available In: 700c x 18-25mm and 27in x 1¾-in options
The Continental Race Tube is one of the best bike tubes that you can get your hands on! Let me lay it all down for you! It has a butyl tube that will be more than enough backup for a professional race. Many people would want to go for a latex tube, but you also have to know that they don't go that well with carbon. You combine a latex tube with carbon and you are definitely going to get a flat tire!
With that said, it is actually wise to opt for traditional tubes to be on the safer side, that is why I chose the Continental Race Tube for this list, it may be simple but it is easy to use and gets the job done without any hiccups.
Sizing isn't that flexible but it is still adequate, the Continental Race Tube is available in a 700c x 18-25mm size, which is perfect for almost all the normal road bikes.
Why I Like It: The Continental Race Tube is a great option if you have a road bike, you don't need to go for latex tubes if you can get a better one in a more traditional form. The Presta valve on this tube comes in two variants, the 42 or 60mm. You can choose between them according to your preferences but they will have the same amazing quality.
---
4. Challenge S.C. Latex Tube
Price: MSRP $17.99 – $19.99
Available In: 700 x 29/38 mm, 700 x 19/28 mm
The Challenge S.C. Latex Tube is not just a light tube for your bike but also protects you from all kinds of debris and sharp objects. It is one of the expensive ones sure but it brings down the weight of your bike, although it weighs around 86 grams itself.
This latex tube has a 47.5mm Presta valve that would do more than fine with the majority of the rims. The Presta Valve is extremely durable but if you have a bike with a deep rim then you would have to get an extender but that's okay.
Once again I would say that the S.C. Latex Tube is one of the best tube options to go for, it is available in both 700 x 29 / 38 mm and 700c x 19 / 28 options, the first option works great with gravel bikes while the latter is best with road bikes.
Why I Like It: Latex Tubes are famous and infamous at the same time, their performance is amazing, under the right circumstances of course. S.C. Latex is available in different variants so all of the riders can use it. Sometimes there might be a need for an extender but other than that, everything is amazing with this tube!
---
5. Q-Tubes Cyclocross Tubes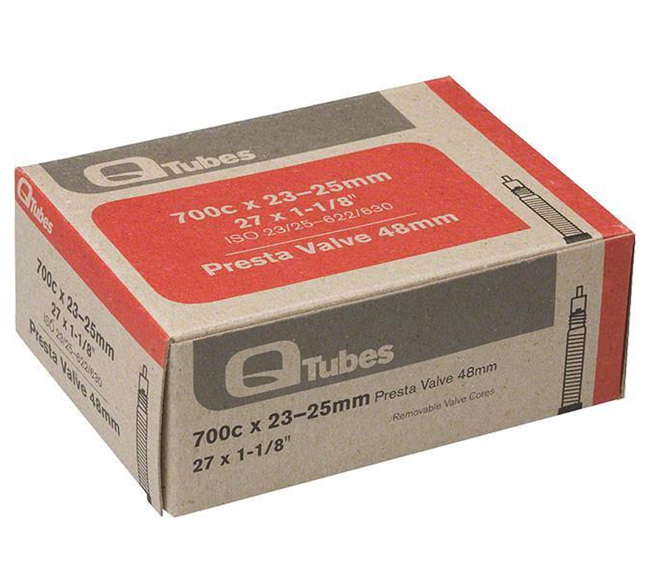 Price: MSRP $6-$9
Available In: 700 x 30mm
This amazing bike tube from QBP is one of the most reliable and durable in the market. The Q-Tubes Cyclocross is actually a collaboration between Kenda Tires and QBP, and let me tell you, it is the finest team-ups that I have seen in a while.
Although the tube costs around $6-$8, its performance is quite exemplary. These tubes have the Presta Valve in them and it is about 48mm long, making them great for cyclocross and racing wheels, it just can't get any better than this.
These tubes weigh around 125 grams each, they are light but not that light when compared to the other bike tubes, but then again, as beefy the cyclocross wheels are, we definitely need tubes like these. The Q-Tubes are available in 700 x 30mm, which is more than adequate.
Why I Like It: Everyone loves collaborations, even more so when they work out for the best right? Well the Q-Tubes from QBP are the result of that, and let me tell you this: THEY ARE AMAZING. They aren't that light but certainly get the job done, the Presta Valve is just amazing, making them perfect for racing and cyclocross bikes!
---
6. Street Fit 360 Tube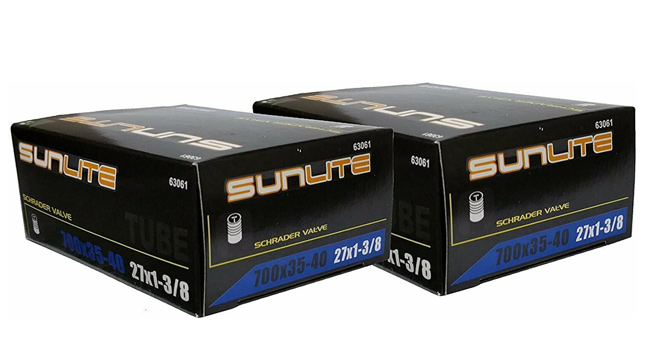 Price: MSRP $14.89
Available In: 700c x 28-35
Sometimes you need to have some of the best replacement tubes for your bikes and the Street Fit 360 Tubes are just amazing. These may be a little different than the tubes that you are used to, because these tubes use the Schrader valves, plus they can be installed easily and quickly.
If you want these tubes to work perfectly then you need to make sure that your tire has the correct pressure, only then will the tubes be able to adjust properly.
These Tubes are easy enough to install and they work great too, plus you can use them for a variety of bikes.
Why I Like It: The Street Fit 360 Tubes are amazing, they are easy to install and are secure too! You just need to take care of your tires and leave the rest to these tubes. The Schrader valves work perfectly with any kind of bike and with this price, you are not going to get a better product!
---
7. Kenda Bike Inner Tubes-Original Version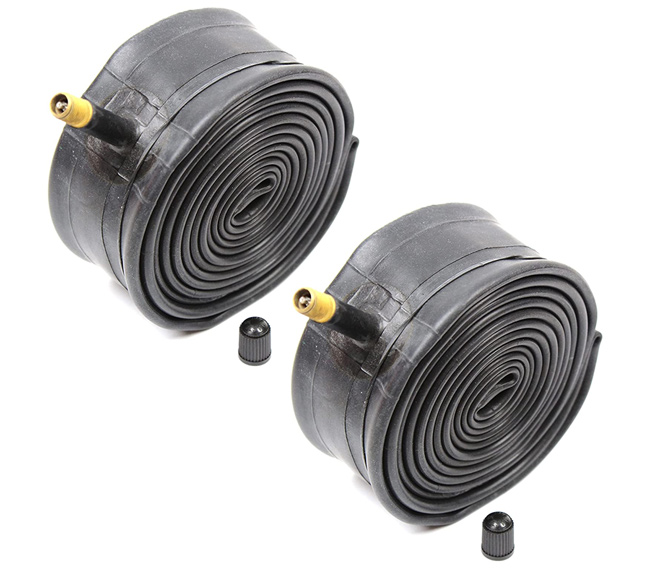 Price: $14.25
Available In: 26″ x 1. 90″ to 2. 125″
You might be thinking that all the bike's tubes are the same, well you might have to rethink that! Each brand is different and each of their product is different, if you are looking for one of the best tubes in the market then you should definitely go for the Kenda Tubes.
Kenda is known for making amazing products for the last 50 years and they are extremely skilled when it comes to improvising. These tubes also come with the Schrader valves that go along with almost all kinds of bikes, I think that you would be extremely satisfied with their performance.
The Kenda Tubes are made from Butyl Rubber, which is quite resilient as compared to the other tubes. They might be heavier than other tubes but they are more durable and great value for the price I would say!
Why I Like It: The Kenda Tubes are amazing, they are a bit heavier but get the job done. Kenda is the company to trust when it comes to bike and related products, after all, they have been serving the market for more than 50 years now. Plus you can get 2 packs easily, there's always a deal going on!
---
8. SCK 2 Pack 20 Inch Bike Tubes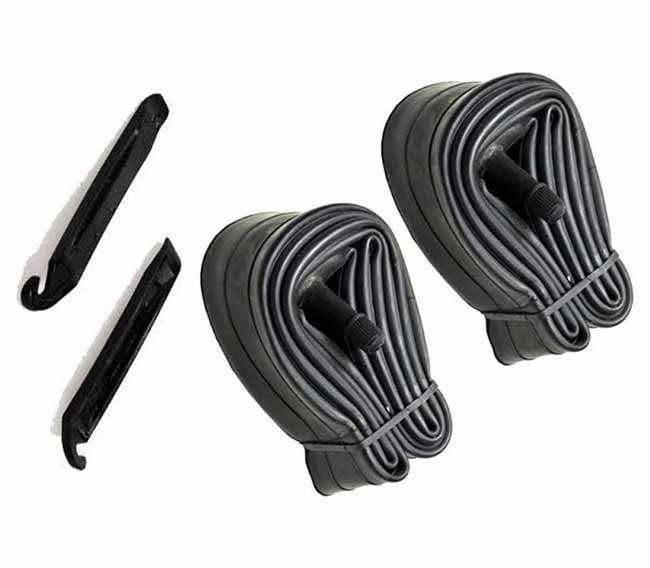 Price: MSRP $15
Available In: 20″ X 1. 75″ To 2. 125″
Hybrid and Mountain Bikes also deserve the same love as road bikes and others, that is why the SCK 2 Pack is going to work quite well. No matter what kind of bike you have, these exceptional tubes are going to uplift the performance.
Installing them is very easy, you get a manual and from there you just have to follow the instructions. Now, after using them you will become a professional on changing flat tires and tubes, ain't that special? They are not that much expensive so you can easily stock up on them!
You get 2 packs and there is great value for the price, even if you don't have any kind of experience, you will be easily able to change the tubes. They are also constructed with the Schrader Valves so great quality is guaranteed!
Why I Like It: The SCK Tubes are great and work well with all types of bikes, even more so with hybrid and mountain bikes. For the price, there is great value, you get 2 packs. Plus there is a manual that lets you install these tubes, the Schrader valves are equally beneficial to the whole construction.
---
9. Bike a Mile Continental GatorSkin Bike Tires – with Continental Inner Tube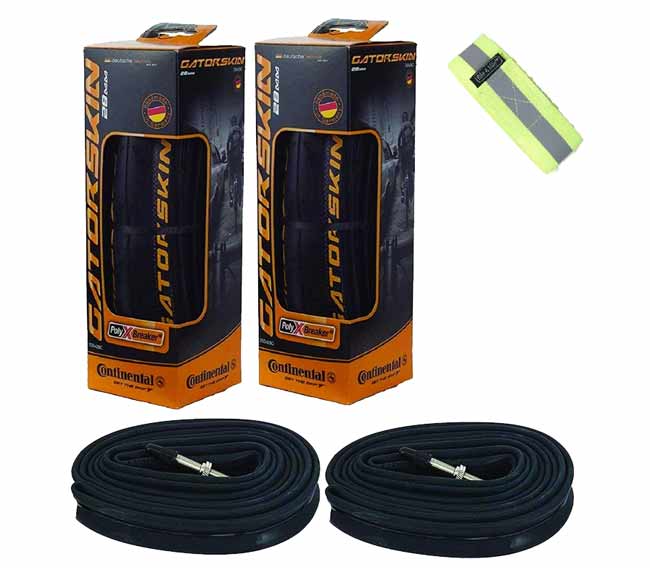 Price: $89.99 – $99.99
Let's now talk about a really good package that you should avail- Continental GatorSkin Bikes Tires With Tubes. Bike Riders get very annoyed and disheartened whenever a flat tire occurs, and the situation gets even more intense if you don't have a spare inner tube with you.
That is why we have brought you this amazing deal from Continental Tires, you get their amazing GatorSkin Tires with the Continental Inner Tubes. They are known for their amazing PolyX Breaker puncture protection, and on top of that you also get DuraSkin lightweight sidewall protection, this package is more than you asked for!
You can use the tires for a variety of bikes, although they work best with sportbikes. Get this combo and you won't have to go through a flat tire ever again.
Why I Like It: This great combo from Continental Bikes is much favored, and you should definitely try it out. You get amazing bike tires with inner tubes, so you don't have to look anywhere else for them! Extra protection is offered here, and there won't ever be a flat tire again!
---
10. Michelin Aircomp Butyl Aircomp Ultralight Road Tube
Price: MSRP $9
Available In: 700cm x 18/23 mm
The Michelin Aircomp Inner tubes are amazing and they work even better than carbon wheels. You shouldn't always go for the latex tubes because their compatibility differs, these ultralight road tubes will work with any kind of bike.
These tubes are very lightweight, the Presta Valve in these tubes weigh less than 80 grams so that actually lessens the weight of the bike too. Plus, they are made from Butyl Rubber.
Why I Like It: These Michelin Tubes work amazingly well with all sorts of bikes, and they are lighter than latex. Currently, they are available in three options: 40mm, 52mm, or 60mm. If you want to try road tubes then the Michelin is the one to go for!
---
How To Choose Bike Inner Tubes?
Inner Tubes are very essential parts of any kind of bike unless you have a bike with tubeless tires then you should definitely know how to choose the perfect inner tubes. No matter how good your bike performs, how strong those tires are, you will have to replace the inner tubes at some point.
Whenever there's a sale or promotion, make sure to stock up on inner tubes, they will come in handy, trust me!
Important Sizes To Consider
In order to choose the perfect bike inner tube, you need to consider the size of two very important bike components.
Tire Width: The Width depends on the type of bike, for example, a mountain bike is going to have a very different width than a road bike. These widths can vary between 19mm to 4inches.
Wheel Diameter: Once again, the wheel's diameter will also depend on the type of bike. A wheel's diameter can vary between 12" and 29".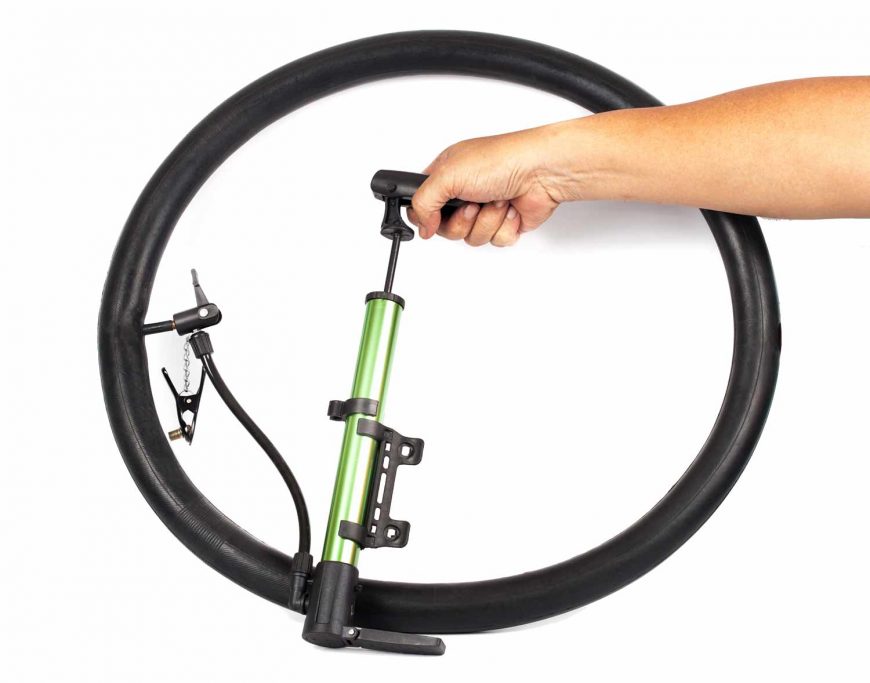 Inner Tubes Sizing
Inner Tubes Sizes are going to vary on the types of bikes you have. You will need to look at the sidewall of the tires, all the tire manufacturers print the numbers there.
Road Bikes: 700x23c
Hybrid/Mountain Bikes: 26×1.75
Road Bikes are going to have 700c wheels, so you would be needing tubes that are 700c in order to fit properly. There can be exceptions sometimes, some bikes could be different road bikes like gravel bikes that have 650b wheels, for that you would need 650b tubes.
City and Hybrid bikes on the other hand have mostly 26-inch wheels, and with those wheels, there are wide tires. So you would be needing different tubes, all of them varying. Another important thing that you need to consider is the width of the tube.
If you get a 700c tube then it will easily fit into tires that are 25mm, but that's not it. You can easily find wider tubes to fit on even 28mm tires.
Let us talk about mountain bikes now, their tires are measured in inches. Although there isn't that much difficulty with the terminology, the road bike and mountain bike tires have almost the same dimensions so a 29inch tube for mountain bikes would be the same one as for the 700c road wheels.
Inner Tube Valve Types
There are basically two main types of valve types in the inner tubes, let us discuss them.
Schraeder Valves: These are chunky/heavy valves and are in entry-level bikes. Although they are beginner level, the performance is still good enough!
Presta Valves: These are the lighter valves and are in the premium-level bikes. You will find them fitted on the higher-end wheels too. Be mindful that these valves are going to vary in length.
You can say that the Schraeder Valves on your bike are the same as on your car, after all, they use the same kind of material. Although, you can't install one valve in place for the other! Apart from the types of valves, you need to be considerate about the length.
You will be needing tubes with longer valves if you have deep-section wheels, having longer wheels will make it easier to protrude through the rims, otherwise you could have problems. What if you are out riding and you get a flat tire, your tubes should be long enough to be replaced, there are even some tubes that are 8cm long, so yeah.
Bike Inner Tube Types: Latex Or Butyl?
Now let us talk about what the inner tubes are made of and which one you should go for. Bike Inner Tubes are made from two main materials:
The majority of the bikes that you see around you are having inner tubes made from Butyl Rubber, it is the most common material and the least expensive. Don't go thinking that this is a cheap material, regardless of the price, this is still one of the most robust materials that you can get your hands on.
If you get a flat tire with a Butyl Rubber Inner Tube, then you can easily get it fixed with a standard puncture kit. Not a lot of maintenance but the performance is quite good. Most of the manufacturers use inner tubes in the bikes that are made from Butyl Rubber because they are more reliable. They are light but instead of the weight, they are but fragile, and you can easily get a flat tire with them if you are not careful enough!
Next up is the Latex Tubes, they are lighter in comparison to the Butyl Rubber and also the fastest. Although they are the fastest, they are even more fragile and if you are not careful enough, you will get a flat tire sooner than you think. Latex Tubes are the newest addition, people prefer them over the Butyl Rubes but they actually leak air quicker.
Plus, if you get a flat tire with a latex tube, it cannot be repaired like the Butyl Rubber and would have to be replaced completely. You would also have to check the tire pressure every time you go for a ride so there is to that. If you have carbon clincher wheels then you would need to be careful using the latex tubes. The heat transmission in carbon wheels is prolonged as compared to the alloy wheels, so prolonged braking is going to damage the tubes rather quickly.
Should You Go For Tubeless Tires?
You maybe are thinking about tubeless tires now, should you go for it or not? Well, these tubeless tires have been in mountain bikes for quite some time now and they are also increasing their availability in road bikes. To go fully tubeless, you will need to make sure that the bike you are using has a tubeless-ready wheel and tire otherwise it won't just work.
Most of the advanced and new bikes in the market have tubeless tires in them, you can always customize your wheelset if the bike you bought doesn't have tubeless tires. Tubeless tires use a special kind of Presta valve that is sealed with a rubber end, when you put the valve in place, you can easily install a tubeless tire after that.
Advantages Of Tubeless Tires
You won't get a puncture that easily
The Bike will still be able to work on low pressure
Liquid sealant works wonders
Air will escape slowly from tires, so you can easily refill
They are much more stable
Disadvantages Of Tubeless Tires
They are very difficult to install
If you get a puncture by any chance then fixing it is a real problem
Very Expensive
Recap
We initially thought that the topic of inner bike tubes was going to be very tube but if you are a bike enthusiast then this guide would have been more than interesting for you! Inner Tubes are very essential for your bikes and you need to stock up on them because one day you will have to replace them!
My top choice from the list is Vittoria Latex Road Tube, they are light, have Presta valves and get the job done perfectly!
Happy Biking and Stay Safe!