Technology has come a very long way, it has helped us move a hundred years in the future. Even cycling has been forever changed, we can actually use the benefits to improve our experience, the perfect example for that is Bike Computers.
Think of it as your personal computer when you go out, it will guide you in every way. Directions, workout plans, and even donut shops, your trusty bike computer will handle everything. Of course, there are many amazing brands of bike computers in the market (Which we will discuss later), we need to figure out first why you are buying one!
Before we actually get started, let us discuss what bike computers actually are and how they function!
Bike Computers: An Introduction And How They Work
"Bike Computers are electronic devices that attach to your bikes, showcasing a variety of information from the distance traveled to speed and etc".
This is just the definition but it goes above and beyond that. Bike Computers are going to be your new buddies on the road, they are going to take care of all the necessities that you need on the road. Some of the best functions of these devices are:
As they have magnets and different sensors on the bike frame, they can easily track speed
The most basic versions calculate distance and speed easily, while the advanced versions can also measure the cadence
They can also act as your personal GPS, so you don't need to worry about getting lost
Calculate heart rate, find out the temperature, and elevation
The main way that bike computers work is by attaching very small sensors to the forks and wheels of bikes, this makes them collect a lot of data like speed and distance traveled.
Now, these devices can be small gadgets that only have limited functions or you can go big with them. They can be small gadgets that don't much rather than calculating distance and speed or there is the option of the advanced ones that will transform you into a true athlete.
You won't believe the level of popularity Bike Computers has gained over the course of these past years, now they sell like hotcakes!
Best Bike Computers:
Now that we have given a brief introduction to bike computers, it is time to discuss the top computers in the market that you need to go for!
1. Garmin Edge 1030 Plus- Editor's Choice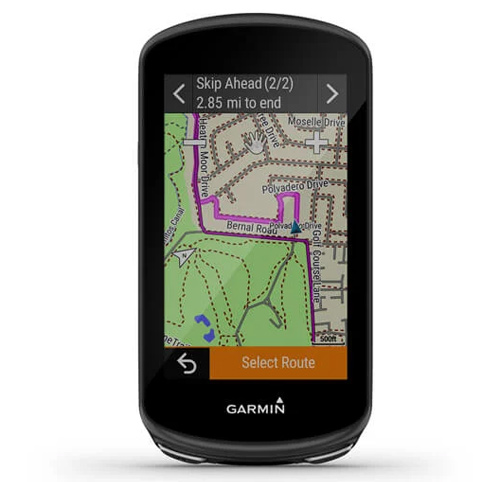 Price: MSRP $499 (On Sale Now)
Previously we discussed the Garmin Edge 830, and now it is time to go beyond that, there is another amazing product from Garmin and that is the Edge 1030 Plus. Now, this product is everything that you can buy with money because it grants you the best features in the market.
The Edge 1030 Plus carefully resembles the structure of a smartphone and is even big like that, this makes the user interface easy and fun. It has a colored display and every app is ready and fun to use, the features are where it gets really interesting. Some of the best features of the device are:
24 Hours Battery Life
Vibrant 3.5 Inches Screen
Fully Automated GPS
You can also enjoy a Live Tracking
Has Bluetooth, Wi-Fi, ANT+
Navigation isn't just made easy with this computer but also smart, you don't even have to worry about hazards or deep descents as there will always be an alert waiting for you whenever that happens. Just lookout for the small messages on the right side of the screen.
Immersion is made more fun because whenever you have to start a climb, you will be notified. You will always be fed the necessary data like distance left and gradient etc, I found this feature quite helpful. Wi-Fi, Bluetooth, and the other features just make the device better and more fulfilling.
You can stay in touch with friends as your location can be shared, this comes in very handy in case of an accident or something. If you have the money then this is definitely the device to go for!
Editor's Choice: This is one of the best products from Garmin, I tried it fully and even let my friends borrow it. All the opinions led to this- this device is the best money can buy. It handles you with such care, has all the modern features and one big vibrant screen to control it all. What else could you want?
---
2. Hammerhead Karoo 2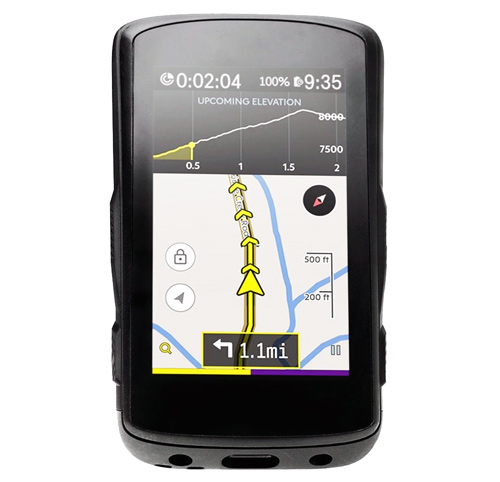 Price: MSRP $399
The Hammerhead Karoo 2 is going to be the second bae after your smartphone. If it actually weren't for smartphones you would think that this is the next big thing, the evolution. Even if you were using Google Maps on your phone, switching to the Karoo is going to be fine, you won't even feel it.
It has the Android operating system, has 32 GBs of storage, you also have unlimited access to worldwide maps so going from one place to the other is going to be no problem. Some of the best features of the device are:
14 Hours Battery Life
3.2 Inches Screen Size
Has Bluetooth, Wi-Fi, ANT+
Is Fully GSM Cellular
High-Res Screen
With the Karoo 2, you are looking at a mini-phone + computer hybrid, it will prove the be the best companion on the road. With the map features installed, it offers a turn-by-turn direction system, also the points of interest like stops.
By inserting the sim cards and offering 3G and 4G systems, you basically get internet without the need for a smartphone. This device is already giving established brands trouble and you should definitely check it out.
Why I Like It: The Hammerhead Karoo 2 immediately caught my attention due to its amazing design and features. There are few bike computers in the market that offer something like this. You can even use it to make calls, with the apps installed you will find it to be an amazing replacement for your phone.
---
3. Wahoo Element Roam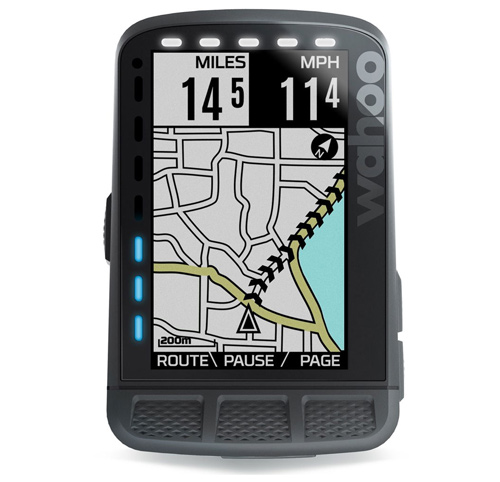 Price: MSRP $350
Wahoo is one of the most amazing established companies that offer bike computers and other products. Safe enough to say, the Roam device might be the best one yet from them, at least in my experience. This is actually the main replacement for their old entry Element, I think it improves upon it in every kind of way.
It offers amazing navigation and also comes packed with onboard rerouting. You can even customize your track route and then download it for more options. Some of the best features of the device are:
17 Hours Battery Life
Is Very Easy To Set Up
Has Bluetooth, Wi-Fi, ANT+
Fully Automated GPS
Beautiful 2.7 Inches Screen
If you want to use the GPS on this device then you are prompted to download the Elemnt app, do it and you will have access to all of the device's features. The next step would be scanning a QR code that you are given, do it and everything is good to go then.
The mapping works in such fun ways, you can easily create your routes with third-party apps like Ride With GPS or Strava. You can then sync the route directly to the Elemnt app. All of this is very fun and very easy to use, which makes you buy a bike only for this reason.
Immersion is also made very easy because of the Roam's color screen, it just can't get any better than this.
Why I Like It: Wahoo has always done an amazing job, but with the Element Roam they have gone above and beyond the call of duty. It is everything that a perfect cycling computer should be and more. I don't think that you will get features like this and at this price anywhere else.
---
4. Garmin Edge 830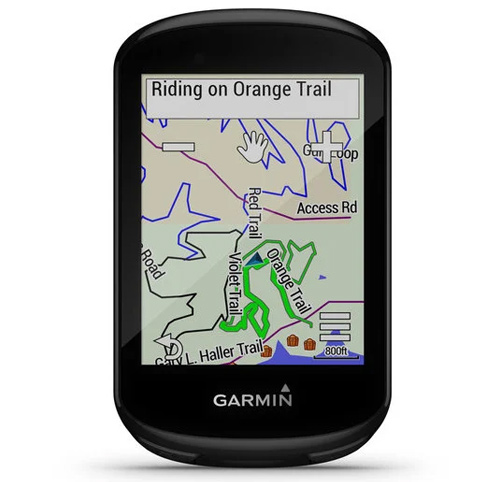 Price: MSRP $399
You might have heard of Garmin, they are one of the famous companies known for cycling computers. If you have tried their biggest- the 1030 computer then you would be surprised and happy with the Edge 830 as it is actually a miniature version of 1030.
It has a battery life of 20 hours and has all the advanced features that you could ask for, amazingly fast routes, live tracking, nutrition intake, incident detection, it has everything, and more. Some of the best features of the device are:
20 Hours Battery Life
Beautiful 2.6 Inches Screen
Has Bluetooth, Wi-Fi, ANT+
Fully Automated GPS
Easy To Use
If you think that this is an inferior version of the 1030 computer then you are wrong, it has all the advanced features and more. Even third-party apps like Strava make it more amazing, my most favorite feature is incident detection, comes very handy, actually it is a blessing in disguise.
The way the device handles all the features, you get the vibes that an AI is fitted into it. You also get the natural prompts to stop and have a bite from time to time. All in all, this is a great device that you should definitely get a hold of.
Why I Like It: A miniature version of the amazing 1030 computer, count me in. The features are amazing and that battery life is just what I wanted in the computer. The best part of the device is the incident detection, you won't get a device like this anywhere else.
---
5. Bryton Rider 15 NEO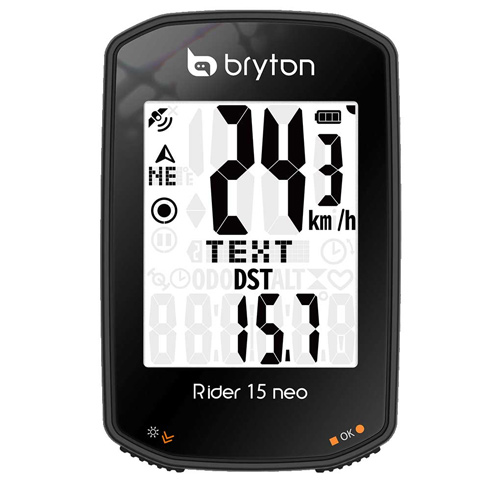 Price: MSRP $69.95
People think of Bryton Rider 15 NEO as a stepdown from other computing devices but that isn't the case here. If you are worried about features that honestly shouldn't be a problem, the Rider 15 NEO comes packed with 30 amazing features.
The screen is good enough, has a good day and night time set installed. When the sun goes down, the backlight turns on, this makes immersion fun and seamless. This device is definitely a no-brainer, I haven't had any more fun than this, it makes for a really nice companion on the road. Some of the best features of the device are:
Comes packed with 30 different functions
It has a backlit display
Has a 16 Hour Battery Life
Is Fully GNSS Supported
Very Easy To Use
This device is truly for cycling enthusiasts, it makes sure that you have all the necessary features when you go for a ride. It doesn't have a touch screen but 3 buttons for navigation, the screen is fully weather-proof though.
Even if you are planning to ride the whole day, that wouldn't be a problem, thanks to the amazing 16-hour battery life of the device. The IPX7 display of the device is very impressive, as I told you before, it is fully weather-proof and you won't have to worry about it getting damaged.
Why I Like It: The Bryton Rider 15 NEO is a really good computing device if you are just starting out. I love that the company has added 30 different functions, with this installed on your bike, you won't have to worry about anything else. It could have come with a touchscreen but for the money, it is well worth it
---
6. CAT EYE Padrone Wireless Bike Computer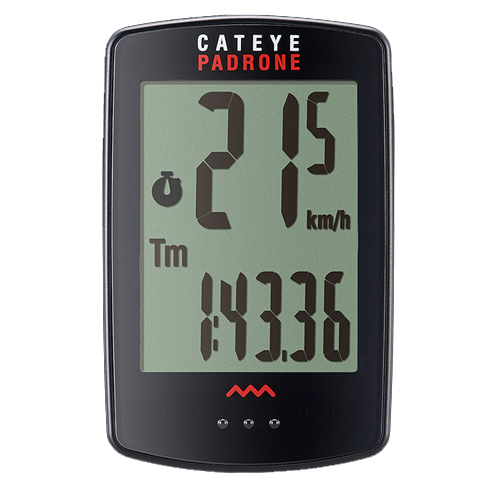 Price: MSRP $55
If you are interested in getting a great cycling computer but don't want to break the bank then the CAT EYE Padrone is the one to go for. Many have tried it and all have good things to say about it, it isn't that much complicated like the other devices, especially the high-end ones, but it certainly gets the job done.
It is a wireless computer so you don't need to worry about getting the wires tangled, all the features are offered like distance traveled, speed, heart rate, and many more. Some of the best features of the bike are:
Very Affordable
Easy To Use
Weather-Proof
Good Battery Life
If you were worried about cycling in the rain and being worried that the device might get damaged then you have nothing to worry about. It is fully weather-proof and will perform best in all kinds of weather, so just go on ahead and have an amazing ride.
Some people worry about the screen size, but with the CAT EYE, you will be very comfortable. It has a large screen that is also easy to maneuver, using it is quite fun! This isn't a basic computer if you were thinking so, just go on ahead and try it.
Why I Like It: The CAT EYE is a brilliant device and will prove to be an amazing companion on the road. It is a simple device that has more than enough features for beginners. It is also fully weatherproof so you won't have to worry about it getting wet or damaged on your trails.
---
7. MEILAN M4 Bike Computer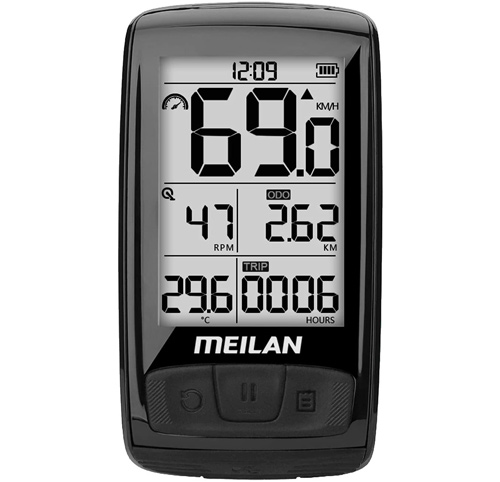 Price: MSRP $60
The MEILAN M4 Bike Computer is a dream come true for all the young riders out there. If you are looking for an amazing bike computer and are tight on budget then this might be the best option yet. For the price point, it has advanced features like a Cadence sensor and being water-proof.
It has a beautiful 2.5 inches screen that is installed with a backlight, so if you want to go for a ride at night, that is taken care of. Some of the best features of the device are:
Beautiful 2.5 Inches Screen
Fully Weather-Proof
You can connect it to the heart rate monitor
Comes with a replacement guarantee (3 Months)
Tracking is what the MEILAN does best and it is proud of it! Maximum speed, minimum speed, draw distance, calories, and temperature, all of this will be shown on the device and you won't have to worry about a thing.
If you are worried that the device will eventually break or something else will happen, fret not! The company offers a 3-month replacement guarantee with the device.
Why I Like It: Every enthusiastic rider needs a good device to practice on the road. MEILAN is that one amazing device, it has all the features that beginners and professionals need and that too at a great price. The 3-month replacement program just sweetens up the deal.
---
8. Lezyne Enhanced Super GPS
Price: MSRP $150
Don't go for this one's clunky and clumsy looks, it performs just as awesome as the other models from the brand. You get tons of features and for the price point, it is very impressive. I think that the way this device mounts on the bike is better than the majority of the brands out there.
If you are worried that it might not perform well or might not be best suited for the road then you definitely need to try it for yourself first. Some of the best features of the device are:
Has USB and Bluetooth Connectivity
Fully Automated GPS
Comes packed with all the latest features
Easy To Use
Honestly, when I first saw the Lezyne Enhanced Super GPS I didn't know the extent of its performance. Only by using it, I came to know the full feature set and I couldn't be happier. It performs great, I especially love the tiny pop-ups that you get from time to time.
Third-party apps like Strava are also available, and you also get the incoming call and text notifications so that works out for everyone's benefit. With the dedicated app of the device, you can easily find any destination point and then navigate to it.
Why I Like It: For the price point, the Lezyne GPS is amazing and it gets the job done without any kind of problems. If you don't want to pay up a fortune for your computing device then this is the best option to go for. It has all the modern features that you need for a perfect ride!
---
How To Install/Calibrate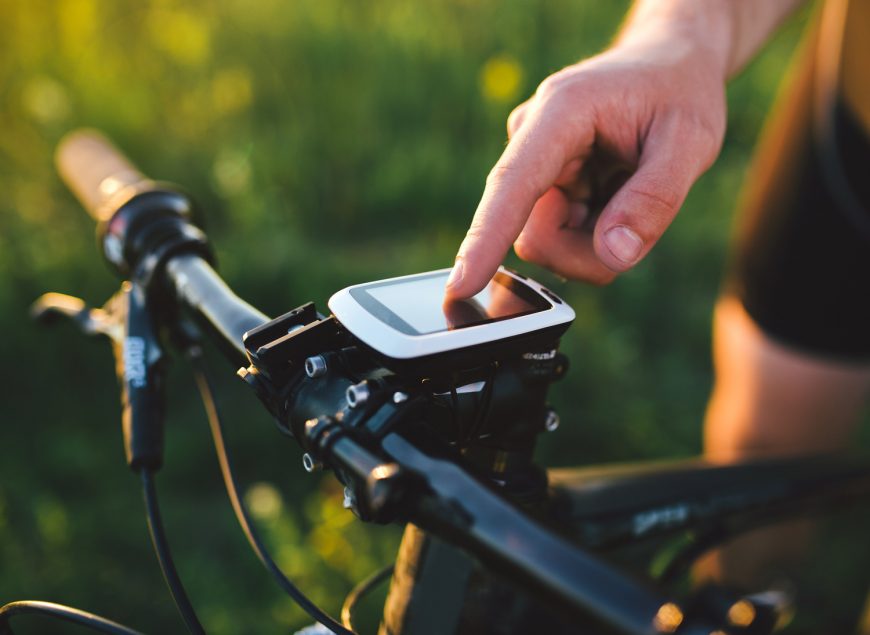 Installing bike computers isn't that hard, you just need to attach the parts in the right manner and that's it. Most of the bike computers in the market use magnetic sensors to get all kinds of data. Some of the features don't use magnets though like GPS and other peripherals.
All of it starts when magnets are attached to the front wheel of the bike and one of the fork legs. In order to start proper calibration, riders are instructed to use their wheel sizes for the collection of data. (All the instruction manuals of bike computers give proper guidelines)
When everything is done properly, the sensors will collect the necessary data whenever a successful wheel rotation is made.
Important Notice: Each bike computer is different that's why you will need the help of instruction manuals for installation.
Types of Bike Computers and Difference Between Cheap and Premium Models
Well, the main differences between the cheap and high-end models are the construction and how they work/perform. You will see that the common/cheap models have a lot of wires, this sometimes becomes harmful when using the bike.
Secondly, the higher-end models have more advanced features and are wireless. These are recommended for athletes and professional riders. If you are starting out then it is recommended that you first try out the common models and then transition to the premium computers.
Given the popularity of the premium models, even they are now available at better prices.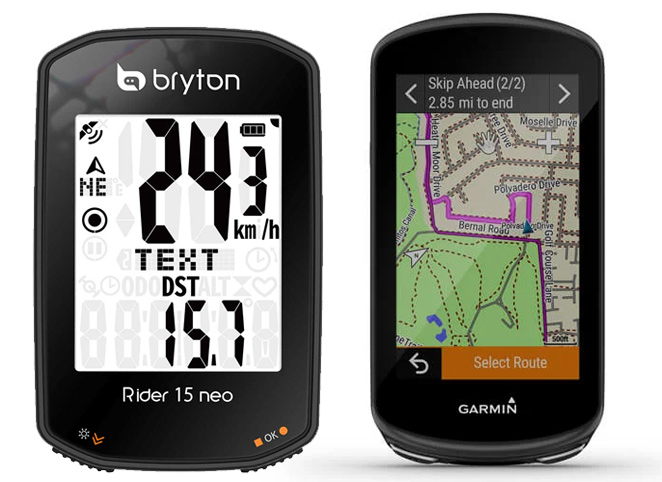 Which Bike Computer Is The Best For You?
Bike Computers are great devices, every enthusiastic bike rider should have one installed. Although, this one question always arises- Which one is the best for me?
Well, hopefully, with this guide we will be able to answer that question for you. There are two things that you need to know first. The first one is that even the most basic of models will get the job done, they will calculate your speed, the distance you traveled, and how long you have been riding.
Then there are the premium models, that work wirelessly and have advanced features like GPS, Cadence and etc. These two models have the same structure sometimes but you have to decide for yourself what you want.
For what purposes would you be riding? Are you just starting out or are you aiming to become a professional athlete? These are the questions that you have to ask yourself before you go shop for a computer!
How To Choose The Right Bike Computer?
With so many bike computers swarming the market, it gets quite difficult and hectic to land on the perfect one. For some people, all the devices might look and perform the same, but that is where you need to allocate the features in order to make the perfect purchase!
When going to buy a bike computer, there are certain aspects that you need to look out for. If all of them are available then it is a great purchase. Let's get started!
Navigation And Maps Are Must
The bread and butter of bike computers is basic navigation and maps, without them, there is no need for a device. You will notice that even the most basic and cheap models out there in the market offer some kind of navigation so you must look for that.
Advanced devices will allow you to download routes or even customize so you can play around them. It is your choice from here on if you want the basic or advanced models.
Smart Notifications Compatibility
Most of the bike computers in the market are smart notification enabled, I mean that is what people want now. People want computing devices that resemble their smartphones and a really good computing device should definitely have that.
Imagine getting a call or a text in the middle of the road and being able to answer that without any kind of problem, that would feel very nice. Some of the devices can even sync with your smartphones!
A Good Battery Life
What is even the use of bike computers if they can't have really good battery life? Sometimes athletes have to be on the road for the whole day and that is why you should always opt for a device that has MINIMUM 15 HOURS OF BATTERY LIFE.
15 hours is the bare minimum over here and some devices stretch it to 25-30 hours. A good device with a good battery will take care of you on the road for a good amount of time. That is something that you should always consider!
Sensor Compatibility Is Necessary
Always go for the bike computer that is compatible with a variety of sensors and devices, even make sure by connecting it to them. This feature will give you a lot of benefits down the road like the heart rate monitor, cadence monitor, and a lot more.
This is the most basic feature, so make sure that the device you go for is installed with it.
FAQs
What are the Best Bike Computer brands in the market?
According to statistics and popularity, the top bike computer brands in the market are:
Wahoo
Garmin
Lezyne
Giant
Polar
Can I use my phone as a bike computer?
Yes and no, if your smartphone has a dedicated health app then you can use it for cycling purposes. Other than that, the bike computer actually synchronizes with your phone for additional features.
Why are bike computers so expensive?
Bike computers are available in both cheap and premium models. The more features and comfort you want, the more it will cost you! More features=More cost.
Where do you put your phone when riding a bike?
You can either mount it on the steering bracket if you have one or in the pocket of the jersey you are wearing.
What should I look for in a bike computer?
The most important features to look out for in a bike computer are:
Navigation
Battery Life
Sensor Compatibility
Smart Notifications Compatibility
Recap
Bike Computers are marvels of science and technology, they come together to shape up athletes and bike enthusiasts. If you are planning to get one then know that they are going to transform your cycling experience fully. This guide showed you how bike computers work, how to install them, what are the types and the best ones to go for.
My top choice from all the bike computers all there is the Garmin Edge 1030 Plus. It has a great battery life and more than enough features. If you are looking for a great bike computer then I suggest that you definitely try it out.
As there are different types of bike computers, you know that mainly differentiates them. Know what you actually want and then make the perfect purchase for yourself! You won't be disappointed. Now go on ahead and enjoy riding!
Also Read: Best Mountain Bikes Under $500
---