If you look closely at pedal-powered bicycles then you will notice that their design hasn't changed that much in more than 150 years. Yes, technology has definitely been involved in the past 200 years, it has allowed us to create better frames, components, and much more, but the concept remains the same. Two round wheels joined together by a frame and that's pretty much it, until the famous YouTube channel The Q decided to break the law of physics with their inventions.
This isn't the first time they have tried something ridiculous though, a little over a month ago, they made a square-wheeled bike (You Read That Right!) and it was fully functional! When you come to imagine the bike being like that, it seems unrideable, but The Q proves us wrong. All thanks to a very intuitive design, they were able to pull it off and that bike looks mighty impressive, I have to confess. The wheels don't have to roll at all, they just have to function like they are supposed to. The tires function as treads and they propel the bike forward like a tank!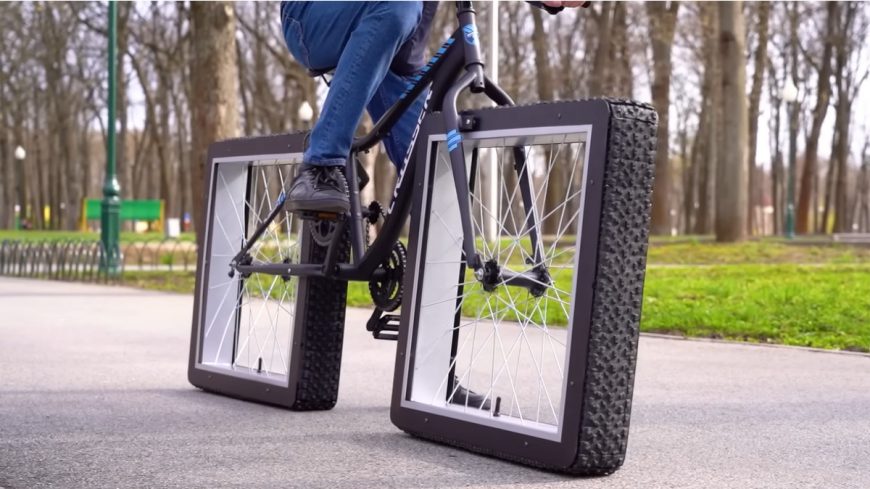 Following the stellar success of the square-wheeled bike, why stop just there? The Q decided to execute the impossible again and have come up with a bike design featuring triangular wheels, they have given a new meaning to the word "Tricycle".
Look at this video here!
I bet that before you watched this video, the whole idea would have seemed uncomfortable but it has been proven wrong right? In reality, this is a very attractive bike and I am more than excited to try it out!
How Does It Work Though? This triangular bike functions by slightly curving each side of the triangular wheels and engineering a pair of articulating arms that allow the center of each wheel to move up and down. Surprisingly, the bike can be ridden without the rider ever experiencing any up or down movement.
Yes, the rider could experience a subtle surge whenever in forward speed whenever they start pedaling but that's about it. I have to say, this is a remarkable design, and will become adept one day at riding through uneven terrain. Keep your eyes peeled for more bizarre yet ingenious inventions coming your way!
Also Read: Canyon Spectral:ON Upgraded With GPS Tracking, Canyon Smart App, Security, And Much More
Featured Image Via YouTube/The Q
---