It is a beautiful day outside, the kind of day that makes you want to go out and do some cycling. You take a look at your bike and then you see a flat tire and all of your plans come crashing down, this is definitely not how you pictured your day. If it has been a while since you have used your bike then it would be an easy fix, considering that there is only low tire pressure to deal with.
Cycling has always been instinctive, which means that we have not actually needed any kind of training to use a bicycle and that is true. You get on a bike and it immediately comes to your mind what you have to do, it is almost like the body starts moving on its own.
With that being said, taking care of your bike or maintaining it is a whole other story, this is not instinctive, you have to learn it. If you know how to take care of your bike and fix problems, like in the instance of a flat tire. Unless you know how to use a bike pump, you would just abandon your evening plans with the bike, we are here to make sure that never happens. Learning to use the bike pump is a necessary skill and you will be needing that unless you want to go to the local bike shop every now and then.
If you have or haven't used them before then know that there are different types of hand pumps. Only the usage is different but they do the same job.
Portable Pump
Floor Pump
Electric Bike Pump
Now that we know what kind of bike pumps are there, let's move on to how we can start using the bike pump on our own.
1. Determine Which Valve Type You Have First
In order to fix your flat tire and use the bike pump, you need to first know about eh valve type your bike has. There are mainly two types of valve types the bike is equipped is:
Presta Valve
Schrader Valve
Presta Valve
Let's talk about the Presta Valve first, these are slightly more complicated than the Schrader valves. Presta valves are thin and long, and they are pointed towards the tip. They have additional components as compared to Schrader valves, you can even remove the valve cores and the locknuts if there is a need for extra security. For performance and security-wise, these are the best type of valve types.
Another thing is their exclusivity, Presta valves are only limited to bikes. Schrader valves you will find everywhere, from car tires to every other type of vehicle.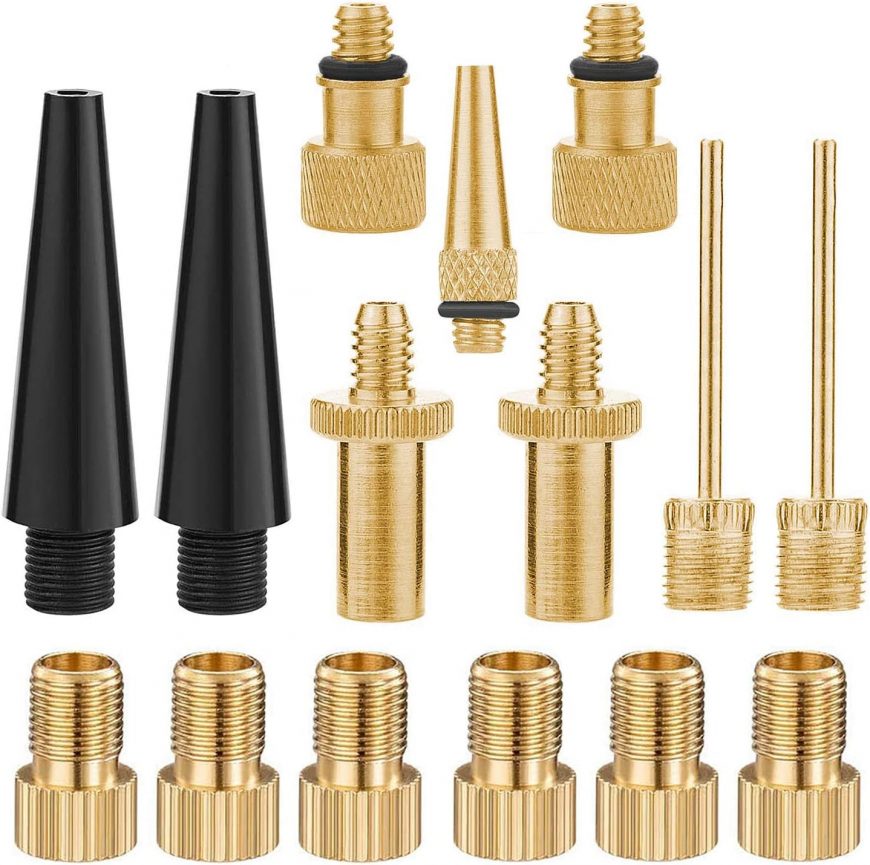 Schrader Valve
Schrader valves are shorter and wider, they are also very common as compared to Presta valves. The fact that they are being used in all the other types of vehicles makes them common and also easy to use. They might not be complicated as the Presta valve but they get the job done and also offer good safety.
Why Does Valve Type Matter?
You might be thinking that does a tire valve type really matter? It does as they serve different kinds of purposes. You might not have first known the type of valve your bike is equipped with at first but you can get to know it later on. This especially comes in handy if you are planning on getting another bike.
2. Remove Valve Cap Carefully
The next thing that you need to do is remove the valve cap, once you have identified which one your bike has. Start by removing the plastic cap the valve has, this will make sure that the valve is safe from dust and other kinds of foreign materials.
You must be careful not the lose the cap once you have removed it, it will come in handy when you would be using the hand pump for the bike tire.
3. Inspect Current Tire Pressure Level
In the next step of our guide, we will be checking the current pressure level of your tires. Tire pressure is very important to check if you would be using the bicycle pump. You must have checked the tire pressure of your car, the process is the same when it comes to checking the tire pressure of your bike.
Make sure that the tire's pressure levels are at the recommended level, they can be close to that. Keeping the tire pressure level up to the recommended level is necessary for cars as compared to bikes. In cars, if the pressure levels are more than recommended then they will simply burst.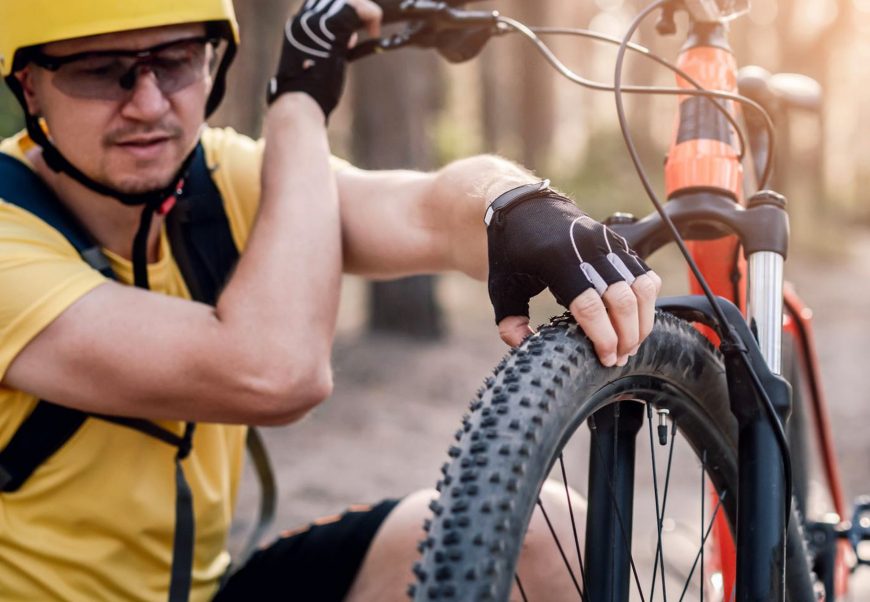 Recommended Tire Pressure Levels
Different bike types have different recommended levels of PSI. Make sure that you follow them when using the bike pump:
4. Check The Pump Type
In the next step, you need to figure out the type of bike pump you have. There are two types of bike pumps:
Floor Pump
A floor pump is the traditional type of bike pump you will come across. You place your feet on the base and then pump the air through the pressure hose. If you want a quick fix then this is the pump to go for. Competitive cyclists use this kind of pump as it can supply large volumes of air in a small amount of time.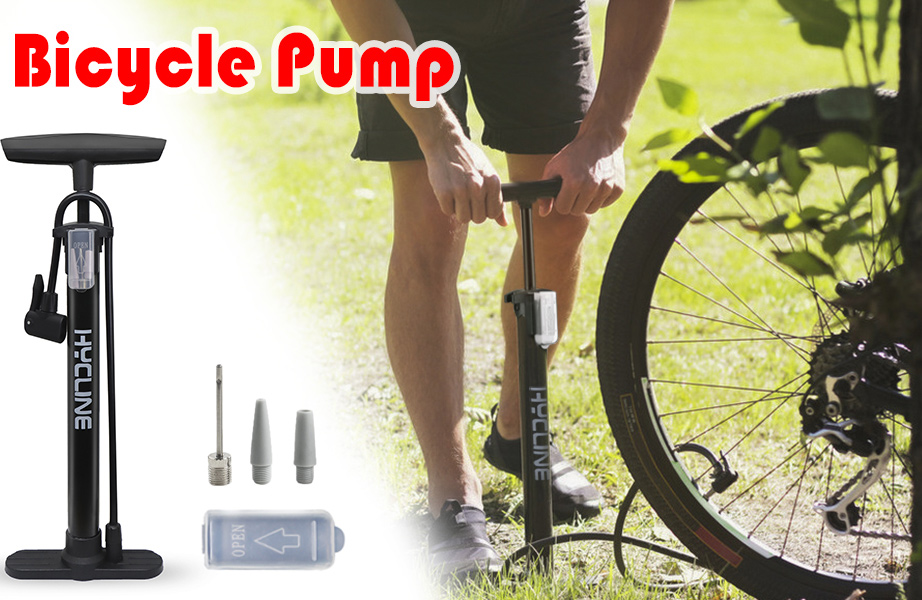 Hand Pump
This is a small kind of pump as compared to the floor pump, it comes with a small bulb-type rubber material that is used for inflation. You have to squeeze the bulb in order to supply air to the tires. This pump is used if you want to fill the tires with a precise amount of air rather than overflowing them.
5. Open The Valve For Air Filling (Presta Valve)
If you have a Schrader valve then you can just skip to the next step. Now you all need to do is pump the air into the tires, in the case of a Presta valve, you will have to open the valve first.
Use pliers to unscrew it, you can use your hands but with pliers, the job gets easier. Now that the valve is open, it is time to push down on the top gently, this will remove a minimal amount of air pressure. Time for the next step!
6. Attach Pump Nozzle On The Valve
Now you need to attach the pump nozzle to the valve, but first, get to know the exact nozzle hole. We know that Presta valves are longer and the Schrader valves are wider. Schrader valves will require a big hole and Presta valves will require a small hole.
In the case of a floor pump, you can always use the pump lever. Make sure that there is a 90-degree angle before using it. In the next step, attach the nozzle to the valve, you can press on it or screw it, either option works. When done, push down a little, this will secure the nozzle. People panic when they see some air escaping, which is completely normal so need to worry.
7. Time To Pump Air In The Tires
Now that the pump nozzle has been attached to the valve, it is time to pump air. Hold the nozzle in place carefully to start. Using the other hand, pump the recommended air into the tires. With a floor pump, the process would be quicker as compared to a hand pump.
When using the hand pump, start with the high volume setting first and then move to the high-pressure setting.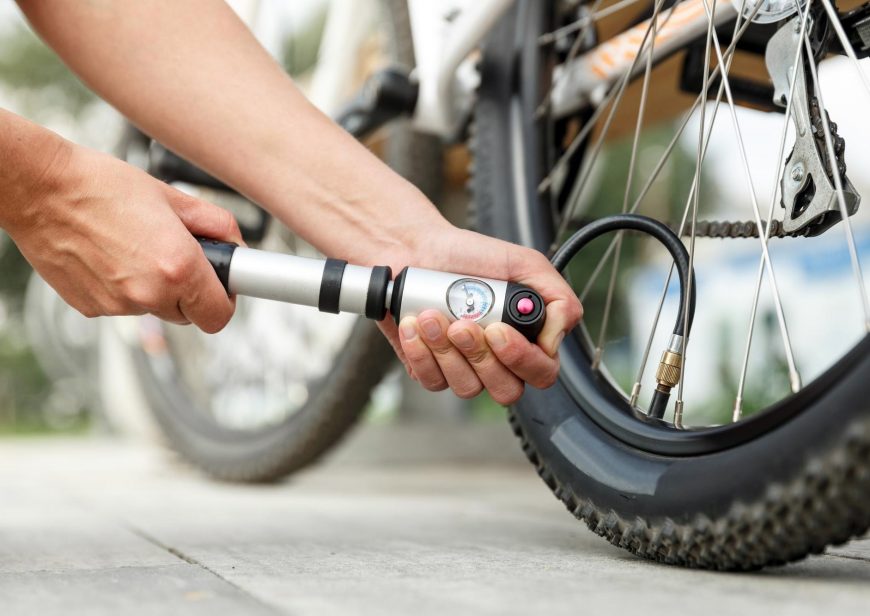 8. Remove The Pump
By now, the air must have been filled correctly, so remove the pump from the nozzle. You might be surprised, but it is completely normal if you lose some air in the process, just try to minimize the amount of air loss.
9. Close The Valve
Now you have to close the Presta valve, but be careful. You can use pliers for the process, just make sure that you don't close them too tight. If you did it correctly, then there would be no "Hissing" sound. The pump head must be handled with extreme caution.
Final Step: Replace The Valve Cap Carefully
Remember the plastic cap that you removed in the beginning, you need to find it and reattach it to the valve. You must make sure that the valve is not damaged, and handle it with extreme care. Make sure everything is in place, a final inspection is recommended here.
Congratulations, your bike is ready for the road now!
Also Read:
Using Bike Pumps: A Recap
Bike tires are the main point of contact between the bike and the road, and you must take care of them. Maintaining them could be a pain but we still have to do it, either use floor pumps yourself or takes the bike to a local bike shop for full maintenance/servicing.
In the guide, we mentioned steps on how to use a bike pump. We also discussed the different types of bike pumps so that there is no confusion.