If you have ever used BMX Bikes then you know that they are best known for hardcore sports, another name of these bikes is the off-road sports bicycle which precisely describes the true nature of these bikes. These types of bikes are very appealing, and the charm is double if you are a fan of motocross superstars.
As you are looking for the best BMX bikes, you have definitely come to the right place. BMX Bikes are popular for racing, doing different sorts of stunts, and even as a means of transport. Once you get them, it is completely up to you, how you use them.
One of the best things about BMX bikes is that they can be used effectively on all sorts of terrains, unlike the regular bikes that you use. Taking advantage of this nature, people of all age groups can take up BMX riding as a healthy sport.
Now that we have told you a lot about BMX bikes, it is time to dive into the best cheap BMX bikes that you can find in the market. Going to the market without any kind of knowledge only wastes your own time and you lose hard-earned money too. Going after advertisements is also not advised as most of the time they are just click-bait.
This guide is specially crafted for you, we have compiled some of the best BMX bikes that you can get without breaking the bank. From intermediate riders to even professional ones, there is something for everyone here. Let's get started!
The Different Types of BMX Bikes
Getting the perfect BMX bike can be very tricky let us warn you this, whether you are looking for someone or just want the perfect machine for yourself, this whole endeavor will be hard. Before you get started on the search, there are a few questions that you will have to ask yourself- Do you want to do BMX Racing? Do you want light and comfortable rides? Will You be enhancing your skills at the skatepark or someone's backyard?
These are some of the questions that you need to ask yourself, this is because people throw around the BMX term like it is something very generic, it is not, there are in fact different types of BMX Bikes that you should know about. There are mainly three different types of BMX bikes: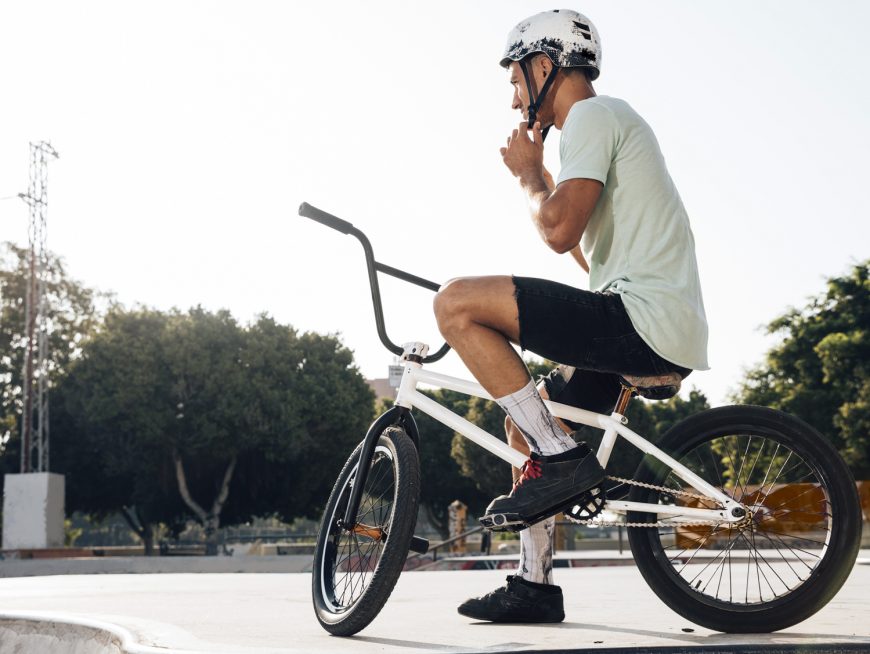 BMX (The Original)
The True BMX Bikes are the ones that started this whole generation of bikes, these are also called the originals. Their whole advent dates back to the 1960s, their whole design was a knockoff and inspired by Motocross Motorcycles. These bikes can jump and perform really well in the dirt and are designed for "Hardcore" sports.
These bikes usually have 20-inch wheels but you can also get their 24-inch variants but honestly, bikes that big then become cruisers and are no longer considered BMX. Their construction is generally aluminum or Chromoly steel, you can also get these bikes in a variety of sizes.
Freestyle
Freestyle Bikes emerged right after the original BMX bikes, and instead of racing, these are more focused on tricks, very aggressive street racing, and the skatepark. Apart from this, you can use this bike for a variety of other reasons, like going to school.
Their construction is also very unique, they either have the "Mag" wheels that are made from sturdy nylon or the heavy models that have 48-spokes wheels, you can choose between them according to your preferences. Their tires are 20 x 2.125, you can also opt for wider options, these are also known as the pavement pounders.
For making stunts easier, these bikes are included with axle pegs, although there are some manufacturers that leave out this option.
Jumpers (Dirt Jumpers)
If you want something really wild then try out the Jumpers, these bikes are made for flying. Most of these models don't even have front brakes on them and have 36 rugged and gauge 13-spokes. Dirt Jumpers are also best for heavy riders because they come installed with 24-inch wheels.
Top 10 Inexpensive BMX Bikes (Updated 2023)
With our guide for the best inexpensive BMX Bikes, you don't need to go anywhere else. Here we have added some of the best BMX bikes of all three types for adults and kids alike. These bikes also come with different upgrades and customization options, making them an ultimate package. You will not find cheaper BMX bikes anywhere else, especially if you want the BEST BMX Bike!
Mongoose Title Elite Pro BMX Race Bike- Editor's Choice
If you want an amazing BMX Bike that is known for its best performance and design then you should get the Mongoose Title Elite Pro. It is definitely worth the money!
X-Games FS20 Freestyle BMX Bicycle- Best Freestyle Bike
The X-Games FS20 is the best choice to get if you want a freestyle bike. This bike will let you do all the tricks in awesome style.
Mongoose Legion Street Freestyle- Best Construction
The Mongoose Legion takes the prize when it comes to having an amazing construction. Featuring a Hi-Ten Steel Frame, this bike will let you be fully free.
Guardian Kids Bikes Ethos- Best Starter BMX For Kids
The Guardian Ethos is an amazing choice if you want a budget BMX bike for kids. Both boys and girls can use this bike without any kind of problems, it also has an overall strong construction.
Redline Bikes Roam 20 Youth BMX Bike- Best Durability
The Redline Bikes Roam 20 is known for its amazing durability, you do not want to miss out on this. With this bike, young riders can easily practice and show off their cool skills to the crowd.
Redline PL 26 BMX Race Cruiser- Best Features
Another amazing bike from Redline, the PL 26 does wonders when it comes to an original BMX Bike. This is a Chromoly BMX bike and has tons of amazing features.
Schwinn Sting Pro and Predator- Best Design
The Schwinn Sting Pro is one of the best BMX bikes for adults, it has a classic design and amazing features. Offering a great sense of freedom, riders are going to have a lot of fun with this bike.
RoyalBaby BMX Kid's Bike- Best Design For Kids
The RoyalBaby BMX Kid's Bike is a must-have BMX bike for kids. It has kids-friendly geometry that you will absolutely love. Plus, you can get this beauty in a variety of colors.
Razor Nebula BMX Bike-Best Control and Traction
The Razor Nebula allows the rider to have an amazing experience. May it be stunts or just aggressive racing, you will have a blast riding the Nebula.
Diamondback Nitrus Complete Youth Bike- Best Skills Enhancement Bike
With the Diamondback Nitrus, you can easily enhance your BMX skills without any kind of problems. This is a bike that is solely designed for agility and longevity, making it the best option.
1. Mongoose Title Elite Pro XL BMX Race Bike – Editor's Choice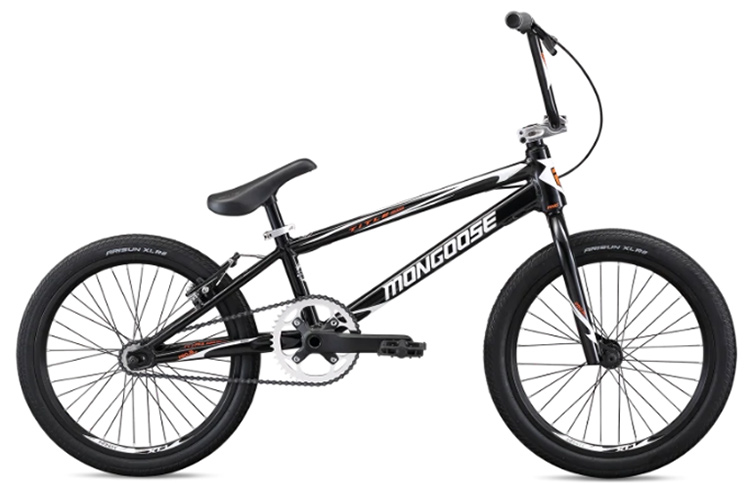 Price: MSRP $639
Let's start our guide with the Mongoose Title Elite Pro XL BMX Race Bike, it is the best one in the market in terms of price, value, features, and performance, you are not going to get a better BMX bike than this one. Mongoose is best known for its fat bikes and BMX bikes that is why are very trustworthy.
The main goal of Mongoose is to provide amazing value to its customers, how does it do that? By making amazing BMX bikes that everyone can enjoy, the Title Pro Elite is one of those bikes.
Some of the best features of the bike are:
6061 Tectonic T1 Biaxial Hydroformed Aluminum Frame
4130 Chromoly Handlebars and Fork With 50mm Stem
Double-Walled Rims
Arisun XLR8 20-inch Tires
The bike's frame is made from T1 Biaxial Hydroformed Aluminum, which means it is extremely light but also strong and durable. With this bike you can easily perform any kind of tricks you want or become an aggressive rider, the choice is fully up to you.
Even if you want to take on the hills or become an urban adventurer, the Elite Pro BMX will always let you do that without any restrictions. The amazing handlebars, rims, brakes, and tires work together to bring forth a stellar performance that you will always love.
Pros:
Allows High Performance For Riders, Even Professionals
High-Quality Construction
Linear-Pull Brakes Give Amazing Stopping Power
Easy Assembly
Cons:
Small Plastic Pedals Hinder The Experience Sometimes
Editor's Choice: The Mongoose Title Elite Pro XL is everything that I wanted in a BMX bike. It has all the necessary features and components that give an exceptional experience. Although the plastic pedals of the bike ruin the overall amazing experience sometime!
---
2. X-Games FS20 Freestyle BMX Bicycle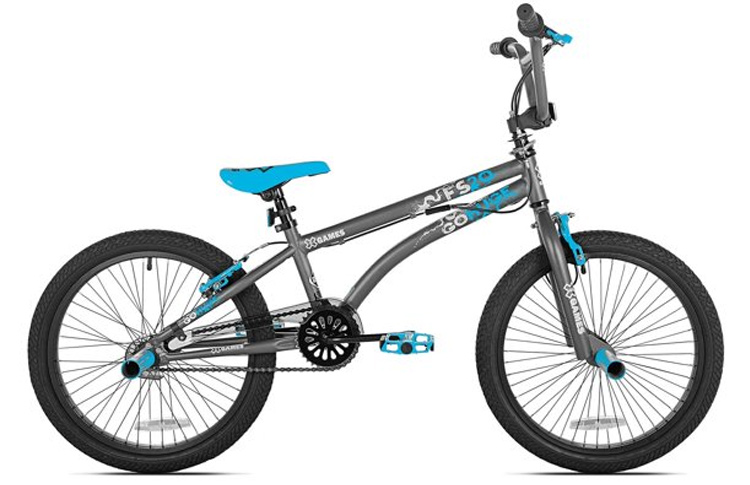 Price: MSRP $169
While looking for a BMX bike, if your main focus is form and function then you should get the X-Games FS20 Freestyle Bike. This bike excels because of its aesthetics, and when you will ride it, heads will surely turn in awe. Apart from the amazing design, the bike is also capable of high-performance like none other.
Some of the best features of the bike are:
Stylish Aesthetics
Gyro Braking System
Strong Frame and Fork
BMX bikes are for hardcore sports, and these types of bikes need exceptional stopping power. Luckily, the front and rear brakes of the X-Games FS20 are amazing, the bike also takes full advantage of the Gryo Braking System. It is a relief that there are no brake cables to deal with here, this bike allows the riders to have amazing rides without any kind of problems.
The construction of this bike is strong, the steel frame and fork of the bike make sure that it will have an amazing performance while also being durable. With the inclusion of the four pegs, the riders can do a variety of tricks on the X-Games FS20.
Pros:
Has Plenty Of Safety Features
Sturdy and Durable Construction
Stylish Design
Cons:
Heavier Than Other Options
Why I Like It: The X-Games FS20 is an amazing youth BMX bike. It has all the features that make for an amazing BMX experience, if only it was also for adults then this would be the number one purchase for everyone. It just feels heavier than other bikes I have tried but that still isn't a deal-breaking situation.
---
3. Mongoose Legion L80 Freestyle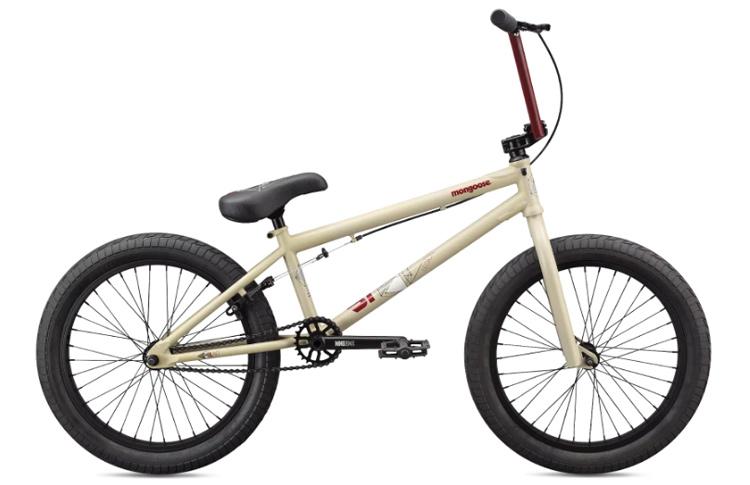 Price: MSRP $469
Everyone knows about Mongoose bikes and if you don't then you should definitely know about them, they make amazing bikes that range from fat bikes to BMX bikes, you don't have to worry about the quality or the performance because they always blow away all the expectations.
The Mongoose Legion L80 Freestyle is a bike that you should definitely have, especially if you are a beginner. This bike still fits for professionals but it is the beginners that will have the most advantage here, they can hone their skills to the max without any kind of problems.
Some of the best features of the bike are:
4130 Chromoly Front Triangle, BMX Freestyle Geometry
Beginner-Friendly Low Geometry
Aluminum MAG Wheels
When you look at this bike, you can see that the features and components are all amazing. The Hi-Ten Steel frame of the bike gives it the much-needed durability, riders can easily perform all kinds of tricks with this bike without any kind of compromises.
The low geometry of the bike is an amazing feature for beginners and when this is combined with the frame and fork, the performance becomes stunning. With the sealed bearings, the bike and riders are protected against contaminants like water and mud, this also reduces the overall wear and tear of the bike.
Pros:
Amazing Single-Speed Performance
Exceptional Aerodynamic Capabilities
Heightened Durability
Excellent Gearing System Best For Beginners
Cons:
Tires Will Have To Be Replaced Frequently
Comes In Only One Size
Why I Like It: The Mongoose Legion L80 is a bike that you should definitely try out if you are a beginner. I started my whole BMX journey with it and the whole experience helped me become a better rider. It helps you hone your skills, has amazing features and components, and also handles really well.
---
4. Guardian Ethos Kids Bike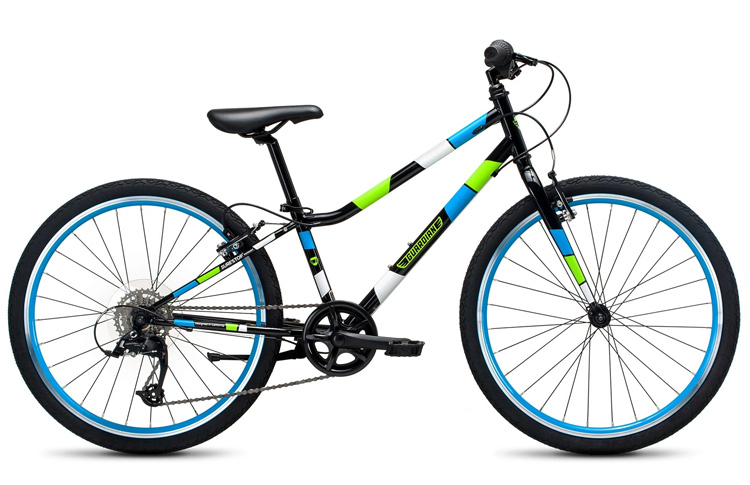 Price: MSRP $379
The Guardian Ethos is another amazing kids BMX bike that you should definitely consider getting. Guardian is known for making amazing bikes, especially for wild adventures, now joining their roster are powerful BMX bikes and the Guardian Ethos is one of them.
Kids love bikes that they can attach themselves with, the Ethos is surely that. The first thing that you notice in the Ethos is the amazing aesthetics, it comes packed with bright and colorful patterns that kids will adore.
Some of the best features of the bike are:
Sure Stop Technology
Lightweight Components
Colorful Patterns
When it comes to kid's BMX bikes, nothing else matters other than safety, that is why the bike comes installed with the Sure Stop Technology. This one-hand braking system is very powerful, kids will not be confused while using it and by comparison, it is 50% quicker than other brakes and braking systems.
Stability and lightweight design are the main plus points of the Guardian Ethos, with this bike, kids can perform their tricks without any kind of disturbance. Being parents, a hard fact about kids' bikes are the long and exhausting assembly. The Guardian Ethos comes 99% pre-assembled, you just have to attach the handlebars and brakes, that's it.
The bike's frame is supported with a lifetime warranty so if it gets damaged, you can always get a replacement for free. Another thing is the full refund after 30 days of usage, if you are not satisfied you can always return the bike to the manufacturer.
Pros:
Exceptional and Safe Braking System
Very Lightweight Construction
Comes 99% Pre-Assembled
Upright Position
Amazing Comfort
Full Refund After 30 Days Of Usage
Cons:
Not Suitable For Aggressive Young Riders
Why I Like It: The Guardian Ethos is a bike that is very encouraging and comfortable for kids. Safety is the main best feature of the bike, all thanks to the Sure Stop Braking System. Being a parent myself, getting a bike for your kids can be very tough, but the Guardian Ethos makes it very easy, it also comes pre-assembled.
---
5. Redline Bikes Roam 20 Youth BMX Bike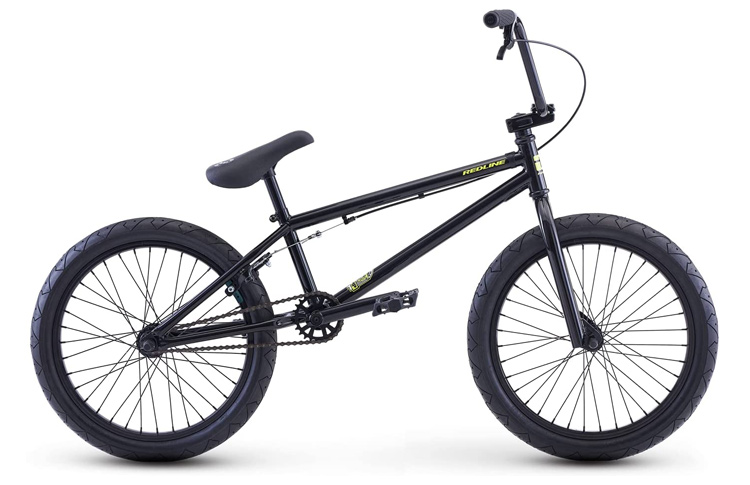 Price: MSRP $265
When it comes to starter bikes, the Redline Bikes Roam 20 is another stunning BMX bike that you should have. Durability and control are the main focus of the Redline Bikes Roam 20, all of this supported by the Hi-Ten Steel Frame.
Young riders are going to have an absolute blast riding the Redline bike, with the race-inspired geometry, young riders can hone their skills to the maximum and also have fun, show off their skills to the crowd. This is the kind of bike that they will be using for a very long time.
Some of the best features of the bike are:
Hi-Ten Steel Frame
Race-Inspired Geometry
Strategically-Positioned Handlebar
Rust Resistant 20-Inch Alloy Wheels
Powerful Rear Brakes
Young riders also need to have an upright position while riding, a natural and strong riding pose is critical for an amazing but safe riding experience, that is what you will get with the Redline bike because of the strategically-positioned handlebar.
With the rust-resistant 20-inch alloy wheels, you can have adventures all day long without the bike getting that much dirty. The wear and tear of the bike are also drastically reduced due to this satisfying component.
Pros:
Rust-Resistant Wheels
Upright Position While Riding
Best For Aggressive Riders
Lightweight Design
Exceptional Braking Power
Cons:
The Cranks Are The Weakest Parts Of The Bike
Why I Like It: The Redline Roam 20 is an amazing choice to go for young riders, especially if you love to ride aggressively. From the powerful braking system to the lightweight design of the bike, this is going to make all of your wild BMX adventures fun and unforgettable.
---
6. Redline PL 26 BMX Race Cruiser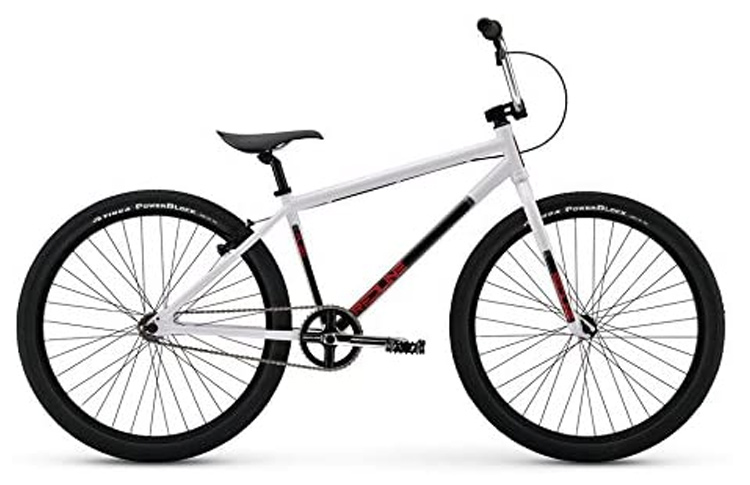 Chromoly BMX bikes are amazing, the Redline PL 26 is an amazing example of the Original BMX, that is the main reason why you should definitely get it. This bike is all about being tough and durable, so if you want something for aggressive rides or even doing some tricks, the Redline PL 26 has got you covered.
The Redline PL 26 has strategically chosen the Chromoly frame, it is both lightweight and durable, and definitely does not get into the way of performance.
Some of the best features of the bike are:
Chromoly Steel Frame
Double-Walled Rims
Tektro 930AL Linear Brakes
Traction and control is something that is quite exceptional with the Redline PL 26, the tires are so amazing, even if the bike is budget-friendly. The wheels of the bike have double-walled rims and are installed with aluminum hubs, they won't get damaged that easily.
With the Tektro 930AL Linear Brakes, you get exceptional stopping power whenever you want. There will be no delays when you want the bike to stop, not even for split second.
Pros:
Durability
Super Comfortable
Allows Upright Position While Riding
Great Stopping Power
Cons:
Spoke Design Isn't Reliable
Availability Issues
Why I Like It: BMX Bikes with Chromoly Steel Frames are known for their amazing comfort, lightweight design, and durability. The Redline PL 26 is an amazing budget-friendly BMX bike that has exceptional features and components, it doesn't even feel and look like an inexpensive bike.
---
7. Schwinn Sting Pro and Predator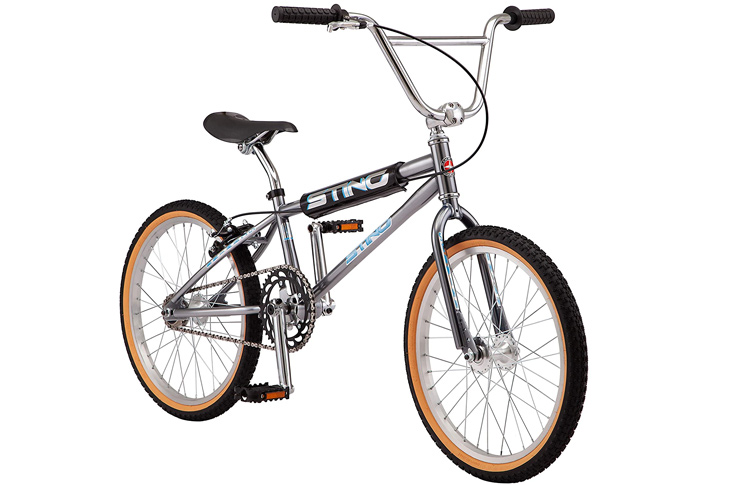 Price: MSRP $625
If you have a love for classics, especially the BMX bikes from the eighties then the Schwinn Sting Pro/Predator is going to be one amazing bike for you. One of the best things about the Schwinn Sting Pro is that this bike is best suited for both kids and adults.
The Hi-Ten Steel frame of the bike reinforces durability while also making the bike lightweight enough for all the aggressive riding and tricks. The amazing features of the bike make sure that you have the same exceptional performance that you are used to on any kind of terrain.
Some of the best features of the bike are:
Classic Nostalgic Design
Hi-Ten Steel Frame
Internal Cable Routing
Sturdy Three-Piece Cranks
All of these amazing features like the ones I mentioned and classic gum wall tires, caliper brakes, rattrap pedals, will provide an unforgettable experience.
The main reason for getting the bike is the nostalgic design, if you want to stun others in awe of this bike and also to enjoy the amazing features of this bike then definitely get it.
Pros:
Nostalgic Appearance
Sturdy and Durable Frame
Exceptional Control and Stopping Power
Easy Assembly
Cons:
The Bike's Saddle Is Hard
Why I Like It: The Schwinn Sting Pro is a bike for classic lovers, that still love the design and features of the amazing bikes from the eighties. Although the Schwinn Sting Pro also does something different here, the classic design is well met with modern features that allow for an awesome experience. Just be careful about the bike's saddle though, it is unexpectedly hard and narrow.
---
8. RoyalBaby BMX Kid's Bike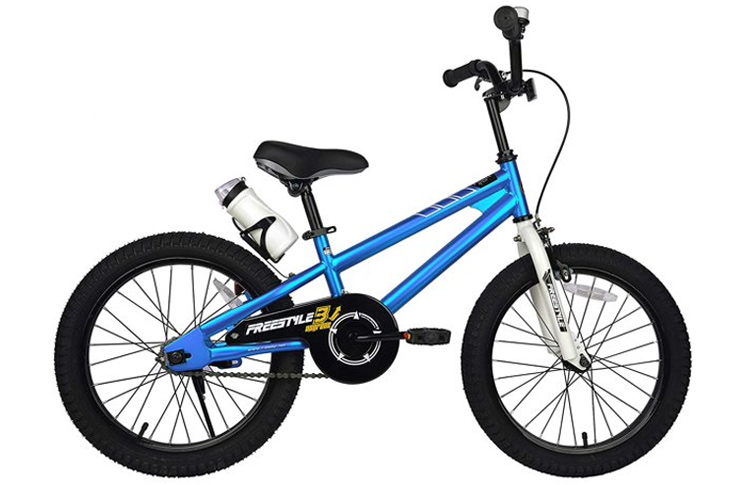 Price: MSRP $174
The RoyalBaby Freestyle Kid's BMX Bike offers an amazing introduction into the realm of freestyle riding. This is a bike best suited for both boys and girls, plus you can even get the same bike with training wheels to reinforce training.
The construction of this bike is very sturdy, the bike's frame is made from aluminum, there is also a fork attached that dampens vibrations.
Some of the best features of the bike are:
Available In Different Colors
Lightweight Aluminum Fork and Frame
Rubber Tires
Non-Slip Pedals
Chain Guards Installed
When it comes to kid's bikes, safety is a concern that all the parents have and that is rightfully so. The 2.4 inches width tires offer good traction and amazing tread action on all kinds of terrains, so even if you wanted kids to have some fun on the hills then that would be a possibility with the RoyalBaby bike.
How is the bike safer than the other options though? There are amazing features that reinforce that, for example, the one-piece crank, front caliper brakes, rear brakes, and even a bell for emergencies or just plain communication. With the rubber grips of the bike, there is increased comfort for the kids and they will have a fun time learning freestyling.
Pros:
Amazing Control and Stability
Safety and Security
Exceptional Braking System
Available In Different Colors
Heightened Durability
Cons:
Why I Like It: The RoyalBaby BMX Freestyle Bike is an amazing introductory bike that all kids should enjoy. It offers the riders to have perfect control over the bike while also being fully stable while riding. The safety and security features are great. Plus, you can get this bike in different colors that the kids will surely love!
---
9. Razor Nebula BMX Bike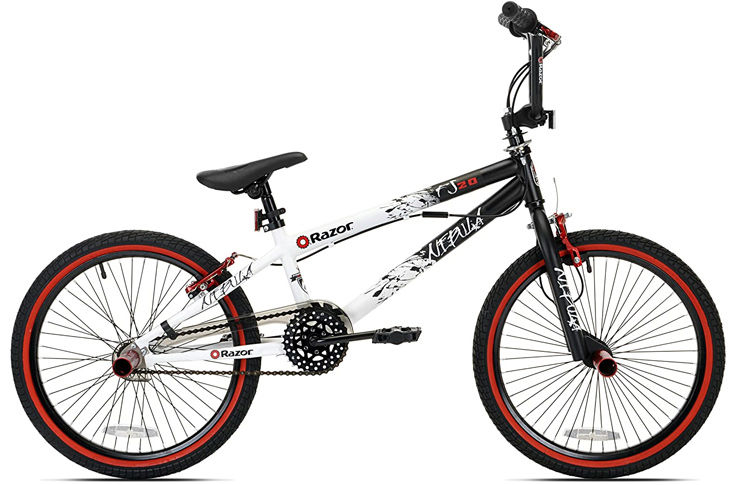 Price: MSRP $183
Become the leader of your riding group with the Razor Nebula BMX Bike, this is a bike that allows masterful tricks and aggressive riding, all in one budget-friendly package, there are not a lot of bikes like this one.
The Nebula has a steel frame that is surprisingly lightweight and also durable. It is installed with a freestyle rotor that allows the riders to perform different types of tricks without ever feeling burdened. The strength, endurance, and construction of the bike are truly stellar.
Some of the best features of the bike are:
Strong and Durable Steel Fork and Frame
Comes Installed With A Freestyle Rotor
Powerful Front and Rear Brakes
Stable and Rust-Proof 20-Inch Wheels
With the overall construction of the Razor Nebula BMX Bike, you will always remain in control, there will also be stability whenever you ride. No matter what kind of stunts or tricks you want to do with the Nebula, there will be no barriers towards progression.
Pros:
Strong Construction
Amazing Stability and Control
Exceptional Stopping Power
Best For Aggressive Riders
Allows For Impressive Stunts and Tricks
Cons:
Why I Like It: The Razor Nebula BMX bike is one of the best choices to go for aggressive riders. It has an overall strong construction and gives riders the freedom to perform awesome stunts and tricks. I thoroughly enjoyed my time with the Nebula, even got to learn a few new things about BMX tricks thanks to this one!
---
10. Diamondback Nitrus Complete Youth Bike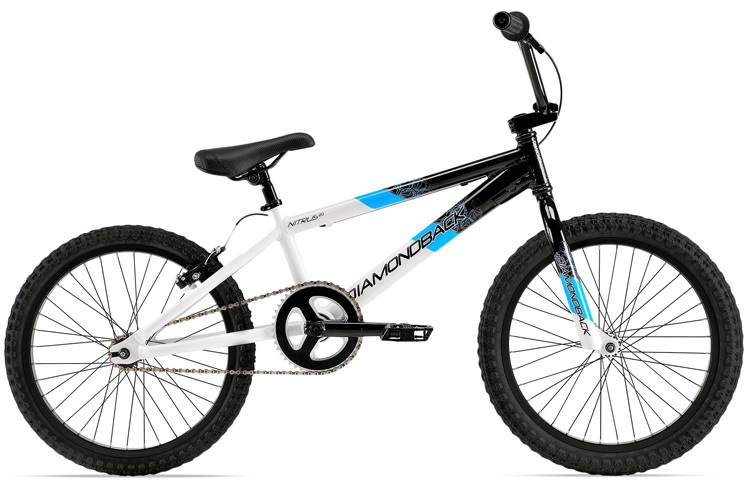 Price: MSRP $170
The Diamondback Nitrus Complete Youth Bike is a complete package for youngsters. The main design of the bike encourages, strength, durability, and control, these aspects are essential for an amazing BMX bike. If you are looking to improve your skillset and become a professional the safe way then definitely try out this bike.
Some of the best features of the bike are:
Single-Speed Drivetrain
Hi-Ten Steel Frame and Fork
Dual-Colored
Reliability is the main package of the Diamondback Nitrus, you always feel confident and safe while riding, that is what we want when it comes to BMX Biking.
The Diamondback Nitrus is an amazing dual-colored beast of a bike for youngsters, definitely try it out.
Pros:
Strong Construction
Durability
Reliability
Best For Aggressive Riders
Cons:
Tires Need To Be Replaced Often
Why I Like It: The Diamondback Nitrus is a bike that is a gem for youngsters, with it you can enhance your skills and get more confident while riding. The Dual-Colored aesthetics of the bike are very cool, ultimately making them really attractive for youngsters.
---
BMX Bike Size Chart
With this BMX Bike Size Chart, you can easily find the perfect-sized bike for your kids and yourself. If you need help in finding the right size then reach out to us in the comments.
| | | | |
| --- | --- | --- | --- |
| Age | Rider's Height ( Feet and Inches) | Rider's Height (Centimeters) | Wheel Size |
| 5-7 Years | 3'7''-4'0'' | 110-122cm | 16'' |
| 7-11 Years | 4'0''-4'10'' | 122cm—147cm | 18'' |
| 11+ Years | 4'10''-6'4'' | 147cm-193cm | 20'' |
Related: Bike Size Chart: What Size Bike Should I Get?
How to Choose The Perfect BMX Bike
BMX Bikes originated in the early 1970s, and since then they have evolved a lot. These bikes are perfect for aggressive riding and doing all sorts of stunts and tricks. After all, they have been inspired by motocross bikes, this naturally makes them lightweight and durable.
The modern BMX Bikes have completed evolved the whole industry, they are nothing like the bikes of the past, they have become a distinct category. You can see these bikes in adrenaline-fueled events, especially the X-Games and other types of races.
How Did We Choose These Bikes?
These BMX bikes that we chose for our guide are inexpensive ones, but what is the actual cost of a really good BMX bike? There are BMX Bikes under 200 but most of them are between the range of $150-$650. A good but also inexpensive bike will cost less than $1000 but if you want the best of the best, that is mainly the choice of professionals then you should be prepared to go beyond $300.
Important Note: As the pandemic is ongoing, there is going to be an increase in the overall price of sporting goods, which includes bikes of all sorts. A bike that was $300 in 2019 will be more than $1000 now or even worse. There might also be availability issues, so you have to keep that in mind while going through the guide and also purchasing these bikes. We hope that you find the perfect BMX Bike for yourself!
Since we already talked about different BMX Bikes and the riding disciplines, let us move on to other different aspects that you should look for in a BMX.
The Overall Construction (Frame and Fork)
A bike of any category is known by its construction, that is the core, if the construction is not strong enough then the bike will eventually fail. You might have noticed that many entry-level BMX bikes and freestyle bikes are made from Chromoly steel.
Generally, these bikes are made from different types of materials:
Chromoly Steel
Hi-Ten Steel
Aluminum
Carbon Fiber
Chromoly Steel is present in the freestyle and entry-level BMX bikes while Hi-Ten Steel is used for the lower end and bikes that you can get even from your local utility store, I would personally suggest avoiding the bikes that are lower end as they are not meant for long-term usage. One of the best features of Chromoly Steel is that it can be butted, which means it can be made thinner, which reinforces the strength and agility of the bikes.
You might be wondering why are almost all the BMX bikes made from steel, steel is the most resistant type of material against fatigue, and fatigue is the true nature of BMX bikes. Although that does not mean that other materials are not used in the construction of BMX Bikes.
If you are looking for BMX racing then that is another topic, for that purpose, the frame needs to be very light but also offer amazing performance. Aluminum and carbon fiber frames are used for BMX Racer Bikes.
Wheels, Rims, And Tires
As per our BMX Size Chart and generally, the normal wheel size of a BMX Bike is 20-inches. This is much smaller than other types of bikes like mountain bikes, road bikes, or even cruisers. Kids' bikes will be limited to 16-inches or 18-inches wheels, and we prefer it that way. You might even see some Trail BMX Bikes with 24-inch tires but going for tires that big is a lost cause.
The other types are Racing and Cruiser BMX Bikes and these are fitted with 20-inch and 24-inch wheels. If you are a tall person and love to ride aggressively then the best option to go for are bikes with 24-inch wheels as they offer more stability and control.
When we talk about the rims, a normal freestyle bike will have rims that have a width of 32mm and if you are really adventurous then you can opt for rims that have a width of 36mm. These rims of BMX bikes are made from aluminum, they can even be single, double, or triple-butted, which means they can be reinforced. This increases the structural support of the bike but also increases the overall weight of the bike, you have to keep that in mind while opting for this feature.
Tires are also very necessary when choosing a BMX Bike, after all, they are what actually comes in point with the road. If your main aim is street riding and even parks then you should get wider tires that are also smooth, 100psi is recommended if you want high-quality tires.
If you are looking for dirt jumpers though then that is a completely different story, these tires have lower pressure and offer amazing traction. 20in x 2.1 tires are the best option to go for.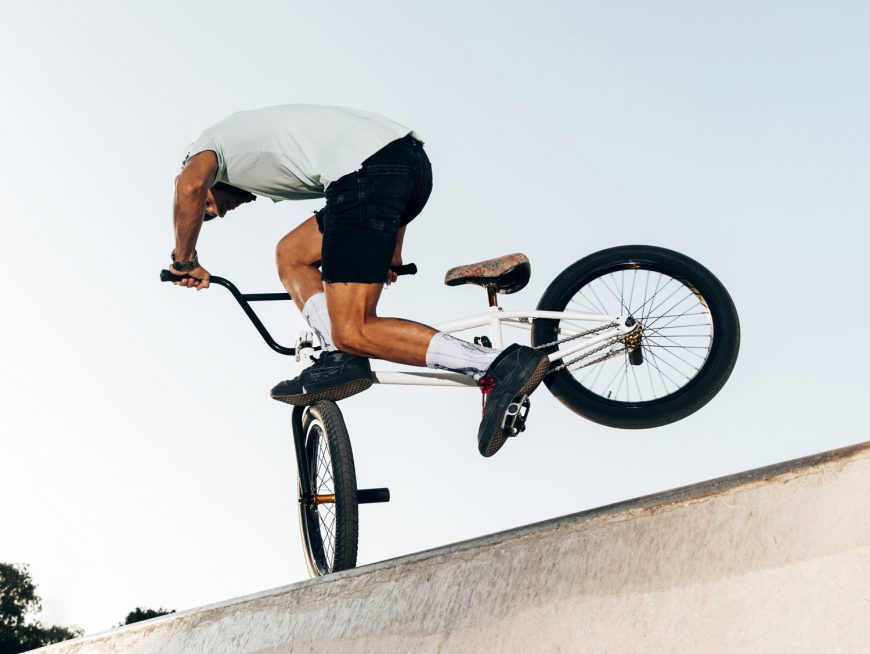 Hubs
Hubs are the centerpieces of wheels and when it comes to BMX bikes, they house the main bearings and that is where the wheel spins from. You should always go for BMX bikes with sealed bearings, these ensure the safety of the rider and also promote reliability.
There are generally four types of hubs:
Free coaster: These types of hubs are used by riders if they want to perform specific stunts and tricks. They have an internal clutch system installed.
Cassette: These have independent drivers fitted in themselves and are the same as road or mountain bikes. Their weight is comparatively lower and is also very easy to install.
Freewheel: These hubs used to be the main standard but are now replaced with cassette hubs.
Coaster: Coaster hubs are also known as the back pedal brakes, only found in entry-level bikes.
Gearing Systems
BMX Bikes unlike other types of bikes don't have multiple gears and have single-speed drivetrains. What you need to consider here is the number of teeth on the chainring and sprocket, and an ideal combination of the two would enhance the overall performance of the bike.
A normal gear ratio for BMX bikes is 25/9 which means (Chainring and sprocket).
BMX bikes are hardcore bikes and in order to use them effectively, the rider needs to summon monstrous power, for that purpose a larger chainring is used. Keep in mind that these gear ratios can be changed by the riders for different types of purposes and races.
Cranks
BMX bikes have three types of cranksets. Here are the following:
One-Piece: They spindle as one and are installed in BMX bikes for kids and some lower-end bikes. They have the right and left crank arms.
Two-Piece: The spindle is attached to only ONE crank here, they are sturdier in nature.
Three-Piece: The strongest of the bunch, they spindle as three independent and different units.
If you want the best performance then always go for bikes that have two-piece or three-piece cranksets. A normal crankset length is between 145mm to 190mm. Go for an option that fits between this range, many riders go for 165mm.
Brakes
BMX Bikes of almost all types are installed with rim brakes, this is because of the nature of these bikes, they can withstand the most amount of fatigue. Freestyle BMX bikes are a bit different though as they are fitted with U-brakes, and there are different types of U-brakes too. These are different rear braking systems for BMX bikes:
Most of the racers don't even use a front brake when using BMX bikes.
More on BMX Bikes:
FAQs
Question: What Is The Cheapest BMX Brand?
There are a lot of BMX brands that make cheap bikes that range to $500. Some of them are:
Diamondback
Mongoose
Redline
Question: How Much Does A BMX Bike Cost?
An inexpensive but good quality BMX bike will cost around $500, but if you are looking for an amazing bike for professionals then should cost north of $3000.
Question: Is It Cheaper To Build Or Buy A BMX Bike?
Getting a fully-made BMX bike is way cheaper than building a bike from the scratch yourself.
Recap
Nothing gets your blood pumping more than a BMX bike, they are meant for the most hardcore of stunts and aggressive racing. There are different types of BMX bikes that we discussed, each is unique in their own manner and are suited for different people with different tastes. Within this guide, we added a cheap BMX bike, affordable BMX bike, racing BMX bike, professional BMX bike, and worthy freestyle BMX bike along with other surprises.
From our list, the bike that stands out from the crowd is the Mongoose Title Elite Pro XL BMX Race Bike. It has the best features and components that you should look for in a BMX bike and it doesn't even cost that much.
Apart from listing different BMX bikes we also discussed how to actually buy a really good BMX bike and what you should look for. This helps you decide what will be best for you even if you are a professional rider. We hope that all of your queries will be solved with our guide. If you have any questions then do reach out to us in the comments below.
Also Read the detailed guide on: