Gary Sansom is running BMXmuseum.com where you can check out more than 50,000 classic BMX bikes. On top of that, he has hundreds of classic BMX bikes in his basement – and he used to be expert rider himself in the early 80's.
That's not bad at all, so I arranged an interview with Gary: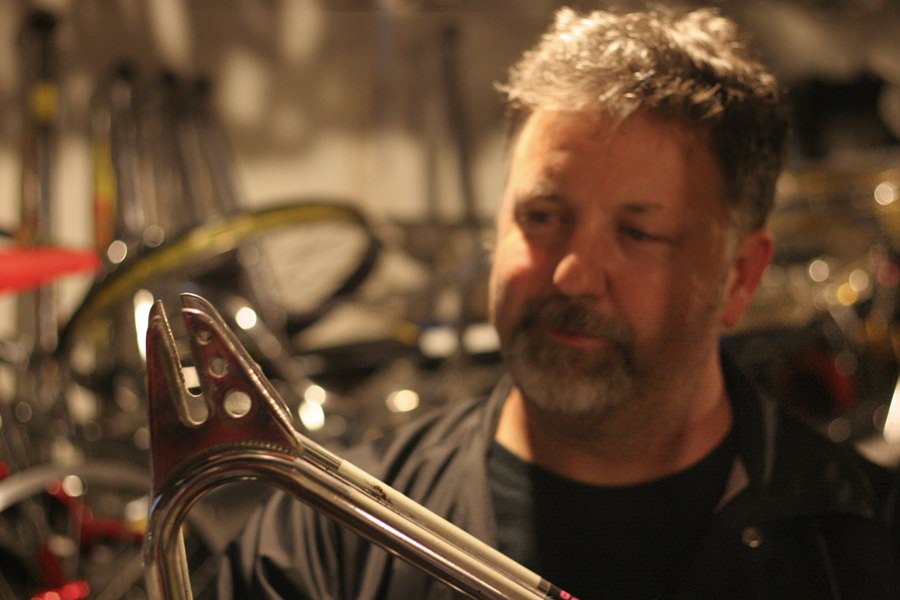 How did you get into BMX in the beginning?
I have been riding bikes since 1969, I started racing with my friends in 1978. I have always enjoyed the freedom that comes from riding.
Riding with friends was a way to get around, fight boredom and go where we wanted. We rode soo much, we decided to check out the local track, and the fun began..
I grew up in many place, I raced in Boise, and later went to northern California and raced several tracks. Aptos, Watsonville and Gilroy to name a few.
Racing was run by the ABA at that time. I raced beginner, novice and then expert. It was a great time to race as the bikes kept getting better and lighter during the early 80's.
I was one of the top 200 experts way back in 82. It was a points system, so the riders that could get to the most races, and/or nationals would get more points and a higher national number at the end of the year. I was fast enough to get a co-sponsorship, but did not go to all the big racers.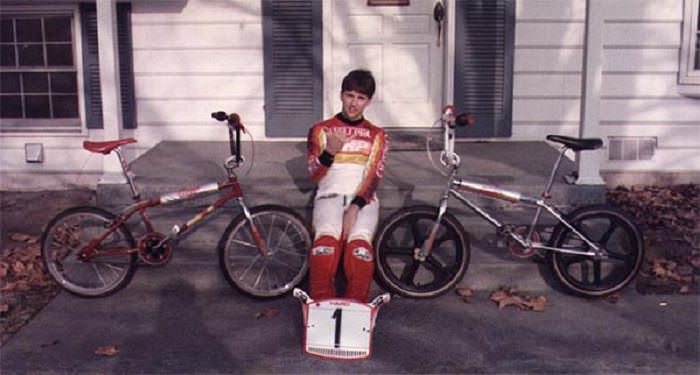 Compared with today, how was BMX different when you were a top rider 30 years ago?
30 years ago was a golden age of bmx, the bikes then were very light and fast, I rode a Mongoose, Redline, Panda Pro AM and GT Pro.
I liked how parts were interchangeable back then, and the bike became an extension of your personality. Seems most bikes these days are sold complete.
I know you live in Portland, so how is the BMX scene there?
The bmx scene in portland is fun and varied. I know racers, park riders, street riders and flatlanders.
We all come together for a show at least once a year. I attend events of each type also and I still do ride BMX most everyday, mostly street and some skatepark. There are a few tracks around that I ride sometimes, although I haven't raced in a few years. Mollollala, Newburg and Salem to name a few. There are also lots of single track trails and pump tracks that are really fun.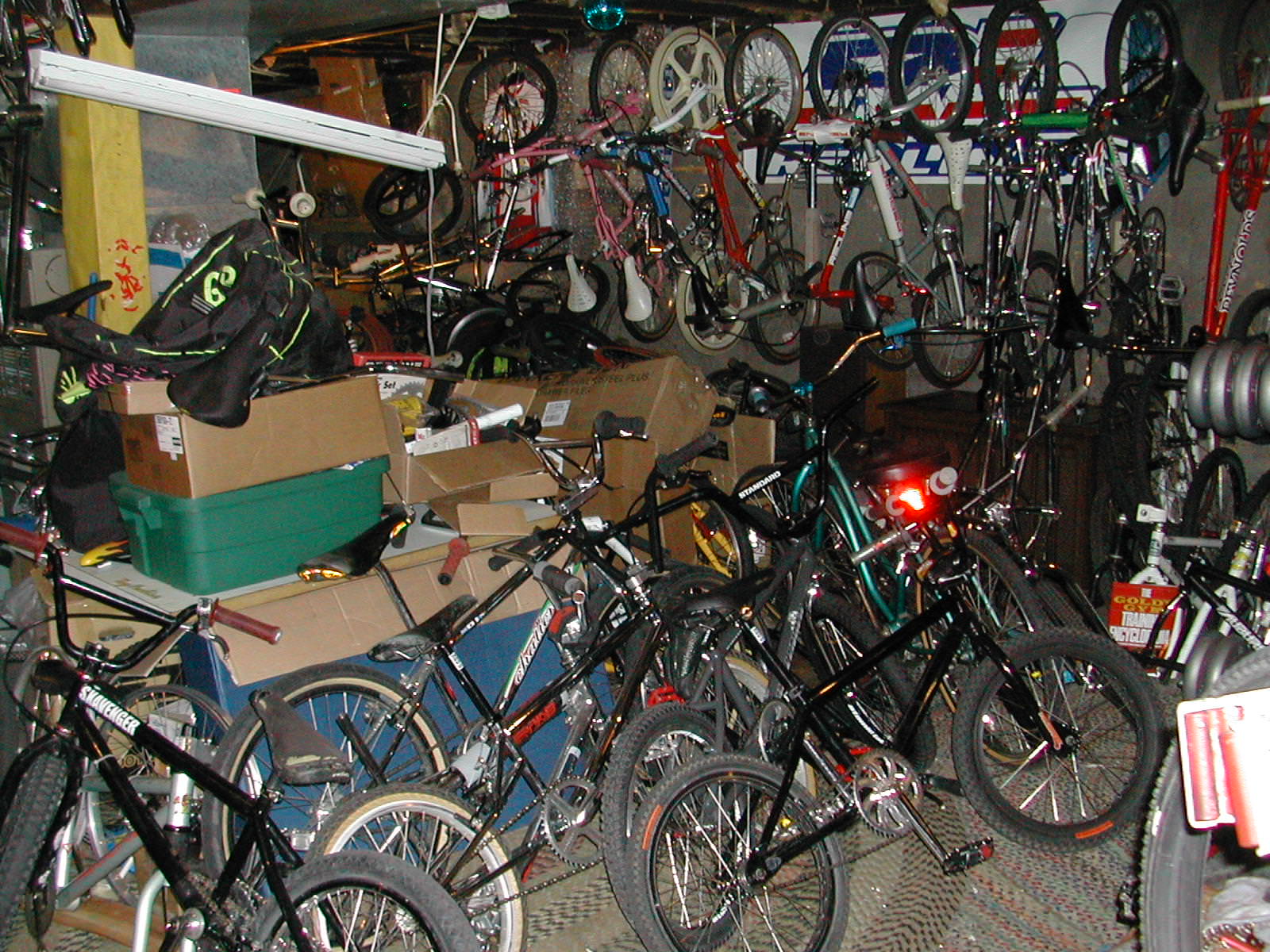 How did you end up with 300 classic bikes in your basement?
I have approx 600 bikes actually, 400 frame sets and 200 complete bikes. I do ride them sometimes. Part of the quest has been for me to find the best all around bike. I also collect to preserve the history of bmx.
I do occasionally give tours of my collection/basement, by appointment only.
In the future I hope to have more bikes on display, and keep the dream alive by cataloguing every bmx on the planet. I still enjoy getting new bikes and have helped to develop a few retro series bikes, with more on the way.
There are SOO MANY FANTASTIC BIKES, lots of one of a kinds now.. The only Phil wood frame, Neal Wood's bike from a cover shot where he jumped through a ring of fire, Neal Woods prototype, a 24kt Gold Hutch Trickstar, a Johnny Chopper JMC 26 replica and even my own custom commisioned 24 Hutch Judge.
The collection is priceless to me and many bikes are one of a kind or very rare.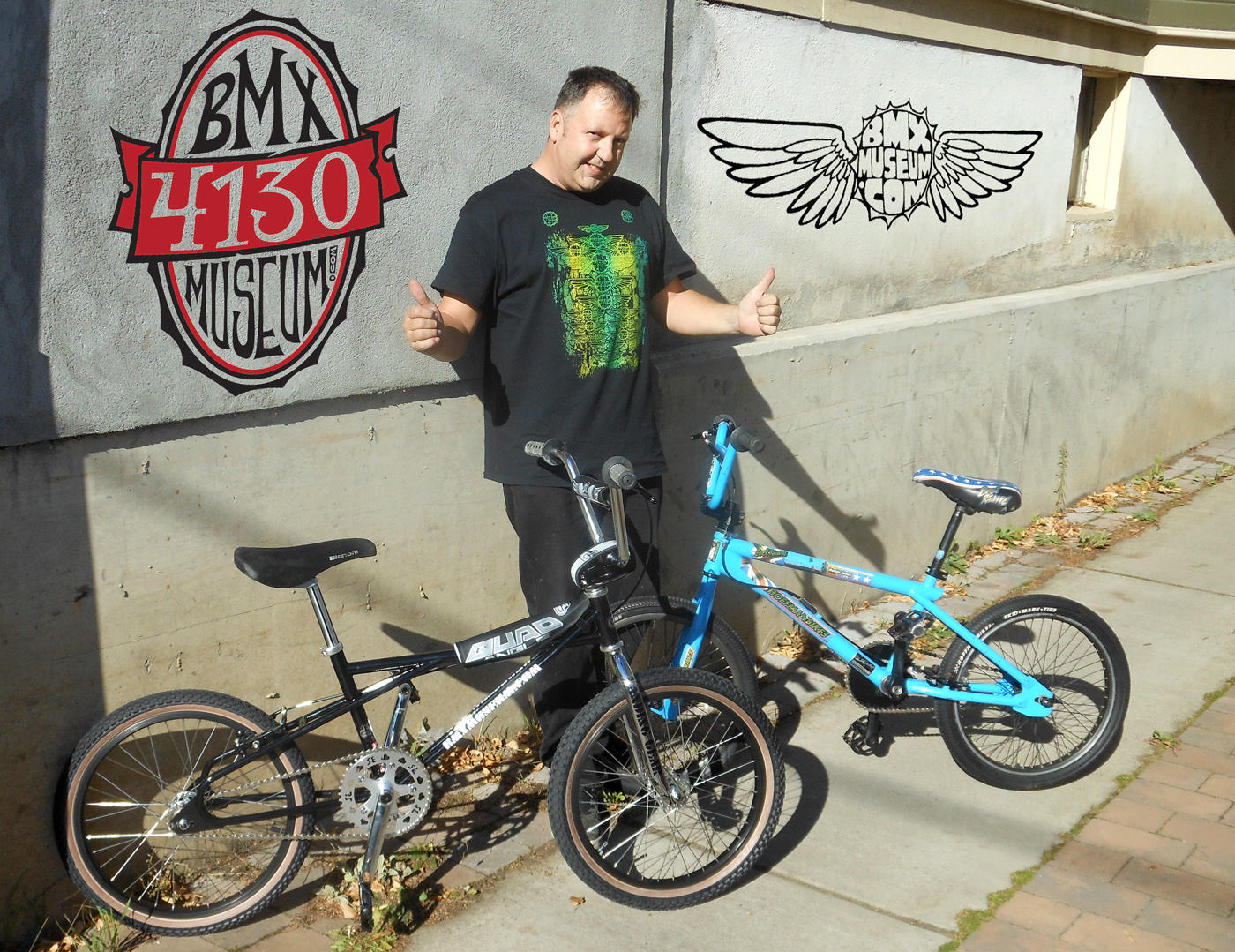 What bikes do your ride yourself these days?
I have a couple riders, and often build up the newest ones I have. One of my main bikes is a 2012 SE Racing OM Flyer, I also have a couple of newer 24″s, Skyway, Haro and Tribute. I also have a S&M 22″ that is really fun to ride.
My favorite bike really depends on the situation. Lately I have been riding my 2012 OM Flyer the most, but the new Sunday 24″ is quite fun too.
All the bikes I have mentioned are in this list.
What do you consider the best BMX bike brands and the best BMX bikes ever made?
I like bikes that are built by riders for riders, a couple of the best these days are S&M and Standard, which are both made in the USA. These companies value rider input and are constantly innovating.
Hate is a strong word, but I strongly dislike Mongoose and other cheap bikes sold at Walmart and other dept stores. They often break and/or somehow end up injuring children. I wish every kid could start on a decent quality bike.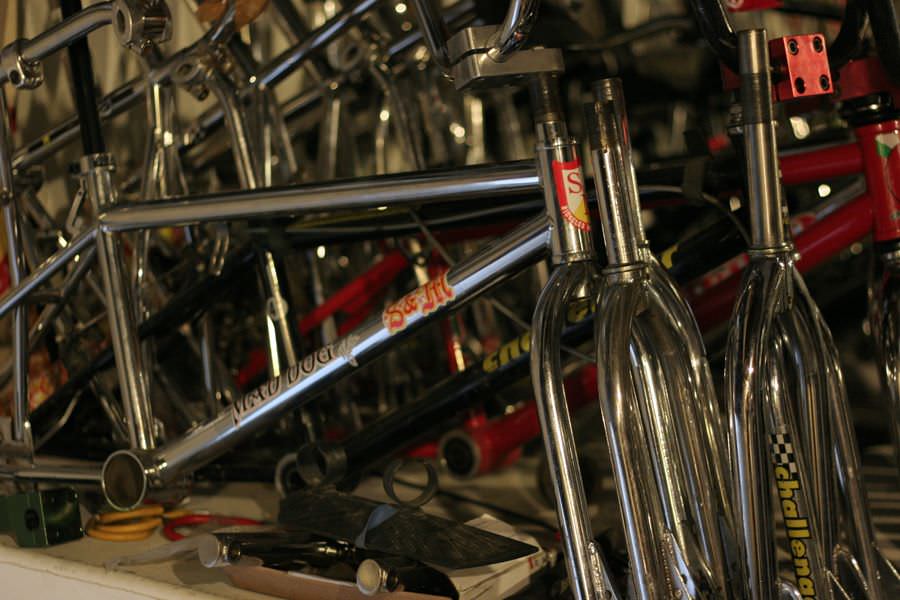 How did BMX Museum become so popular?
I think the museum is popular because it is a labor of love, more than a profit driven business. Also the fact that we accept all bikes in the museum database helps. The forums have really helped the site grow as well.
The forums started in 2006 when I hired a web master to develop the site. We also started a memberships system in that time.
Today there are usually over 200 people on the site at all times.
What were the highs and lows of building the museum?
Hmm, the highs are the constant growth, helping people rebuild bikes from the past, and helping people make their bike dreams come true. Some low points have been staff issues, and dealing with scammers.
Staff issues were just difference of opinion on direction and running of the site. Scammers come in many flavors, outright liars, cheats and thiefs. The staff is excellent in helping people get refunds or the items that actually ordered. The feedback system helps with that too.
How do you feel about flippers and collectors?
I understand some people have limited budgets, so they need to sell stuff to buy more. That is ok, I just don't like people who lie and say they will keep the bike forever and then sell it on Ebay less than 1 week after buying it.
The economic crisis have slowed things down on the site in some ways, but other areas have grown. More discussion and less sales lately.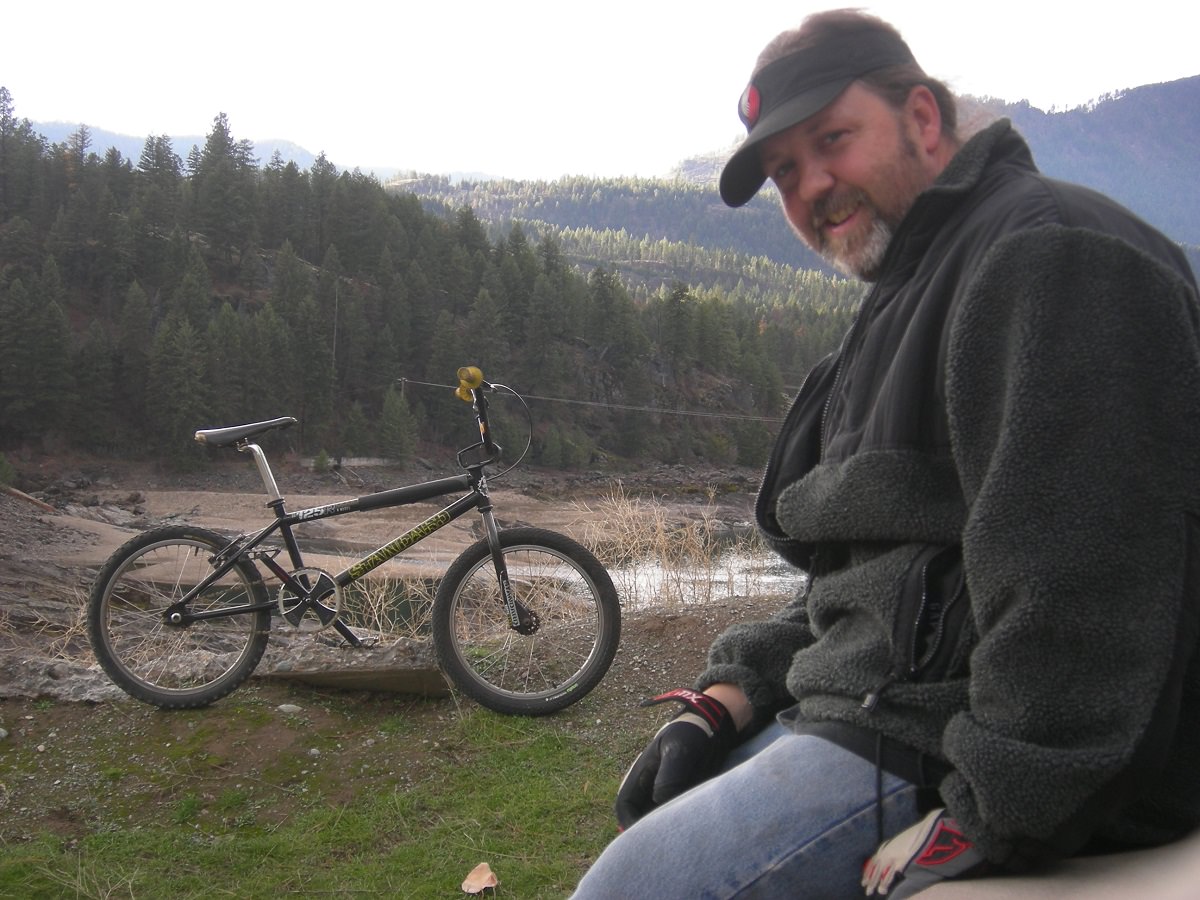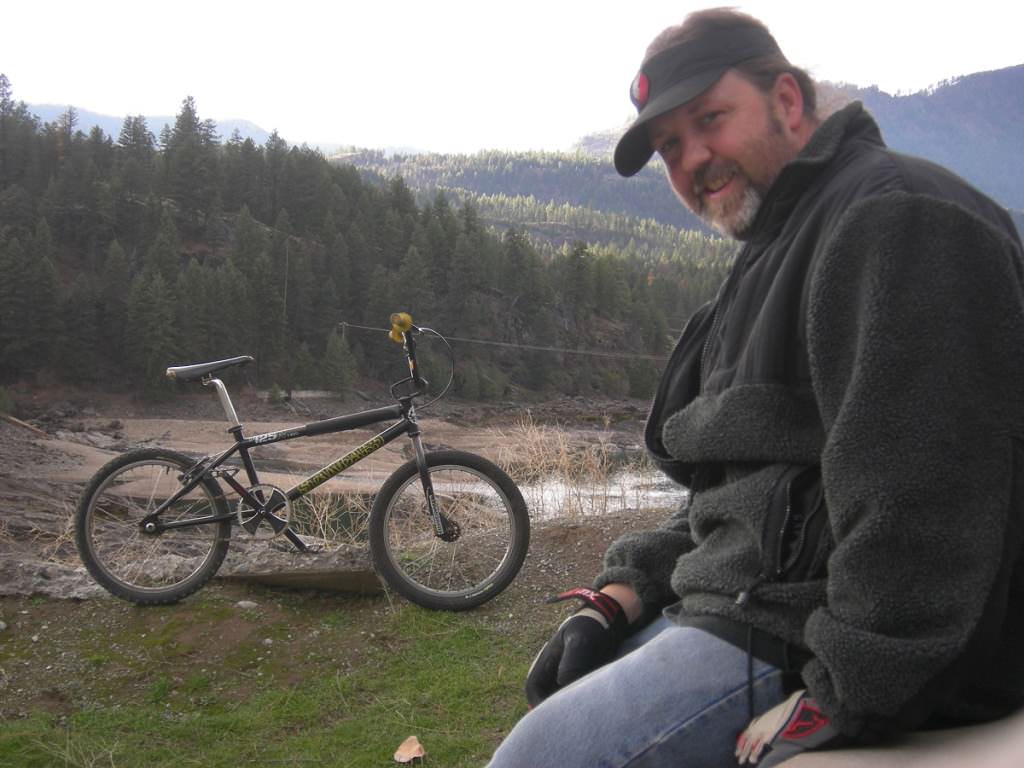 What are your plans for the BMX Museum?
My plans are to have an actual space to display the bikes, and to keep on doing what I love: Riding bikes and talking about them with other riders/collectors.
There are bikes on display at Goods BMX, the Lumberyard Indoor Skatepark and soon Velo Cult. I also take the bikes to shows around the north west.