Cargo bikes have been around since the 1800s when they were used by merchants in Holland to deliver and move their goods around the country. The idea seems to have stuck over the years, so these businessmen must have been on to something. People today are looking for the best electric cargo bike to easily carry their goods, kids, cargo, or something else.
In our modern world, it's not hard to figure out what electric cargo bikes are for. They can carry a lot of groceries, take the kids to school, or just be used around town instead of a car. You can also attach a cargo box to haul all your goods. Even though the idea behind cargo e-bikes is pretty simple, some do their jobs better than others.
Electric cargo bikes used to be seen as strange and only good for certain tasks, but now they are finally getting the makeover they deserve. Manufacturers are making more modular designs so they can meet a wider range of needs. We think that a good cargo bike should be able to carry a child and some kind of load, like a couple of grocery bags.
No matter what someone wants to carry, most people who buy cargo bikes are likely parents.
If you have a good cargo e-bike, you can ride to the store instead of driving. It can also make everyday tasks more interesting and fun. Since cargo e-bikes have so many advantages, we at Icebike set out to identify the top models for 2023.
Best Electric Cargo Bikes of 2023 For All The Heavy-Loads
We know that not everyone has the same requirements, so we've tested and reviewed a wide variety of electric cargo bikes; we're confident that everyone can find at least one viable option on our list.
| Cargo Bike | Price/$ | Motor/W | Battery/Wh | Weight Capacity/Kg | Top Speed/Mph |
| --- | --- | --- | --- | --- | --- |
| Blix Packa Genie | 1,999 | 750 | 614 | 113.40 | 20 |
| Tern GSD S10 | 5,499-$6,299 | 250 | 400 | 200 kg | 20 |
| Rad Power Bikes RadWagon 4 | 1,999 | 750 | 48V | 158.76 | 20 |
| XTRACYCLE RFA | 4,495 | 630 | 630 | 181.44 | 20 |
| Momentum PakYak E+ | 5,500 | 250 | 500 | 164 | 28 |
| Surly Big Easy | 5,000 | 250 | 500 | 181.44 | 20 |
| Benno RemiDemi 10D | 4,099 | Bosch Performance Sport mid-drive | 400 | 181.44 | 28 |
| Yuba Spicy Curry | 5,199 | 250 | 500 | 199.58 | 20 |
| Riese & Muller Load 75 Vario | 9,329 | 250 | 1,000 (Dual Battery) | 200 | 28 |
Important Notice: All the prices mentioned are subject to change.
1. Blix Packa Genie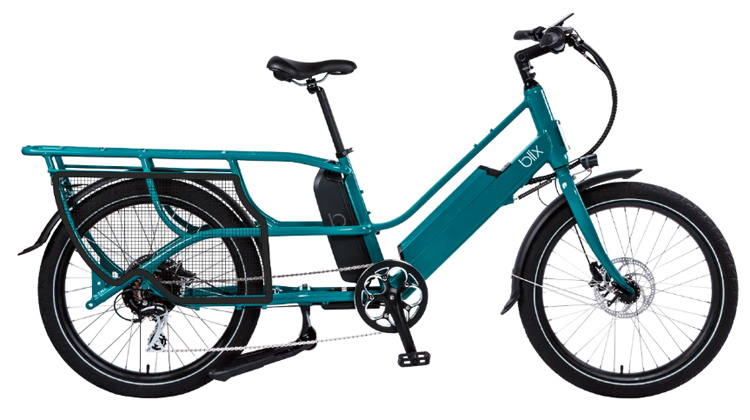 Blix did an excellent job with the Packa Genie, their electric cargo bike. Thanks to its robust frame and wide selection of available accessories and mountable extras, this electric bike is a fantastic all-arounder in terms of its cargo-carrying capacity. It's no secret why the Packa Genie is always spoken of in glowing terms.
The Blix Packa Genie is an electric cargo bike that can carry up to 400 pounds and is built for durability and safety. The Packa's aesthetics were not the only thing that grabbed our attention. The Packa Genie's 7-speed Shimano Acera gearbox, dual 48V 12.8Ah (614Wh) batteries, and robust 750W motor give it a high sense of value.
Improved stability and relative performance to the terrain are provided by the 24″ x 2.4″ high-volume tires on the Packa. The Packa's broad PSI range of 35 to 65 provides riders with a wide variety of sensations and traction.
If you want to go further on your rides, the Packa Genie has a two-battery system. A secondary battery is normally sold separately, so it's great that Blix bundles one in at no extra cost. With a maximum range of 80 miles per charge, this is the best option for those who plan on taking a road trip.
When it comes to electric cargo bikes, the Packa Genie checks all of our boxes. It has a powerful 750W motor, tires that are resistant to punctures, and a wide gear range, making it ideal for climbing steep inclines. The Packa can be customized to fit the needs of its user in one of up to 200 accessory configurations.
Pros
Value For Money
Dual Battery Supported
Powerful Motor
Outstanding Range Mileage
Strong Built
Cons
Editor's Choice: The Blix Packa Genie is a great buy for the price. For what you pay, you get some really cool features and parts. It has a powerful motor and a dual battery system that you can buy as an add-on and is well worth it. Together, these features make it a great way to move things. The Packa Genie is very well made in every way. It's clear that it was made to last and be ready for any job. I think the Blix Packa is a great choice for any kind of cargo riding, especially when you consider how much you get for your money. It's a great addition to our list of the best electric cargo bikes.
---
2. Tern GSD S10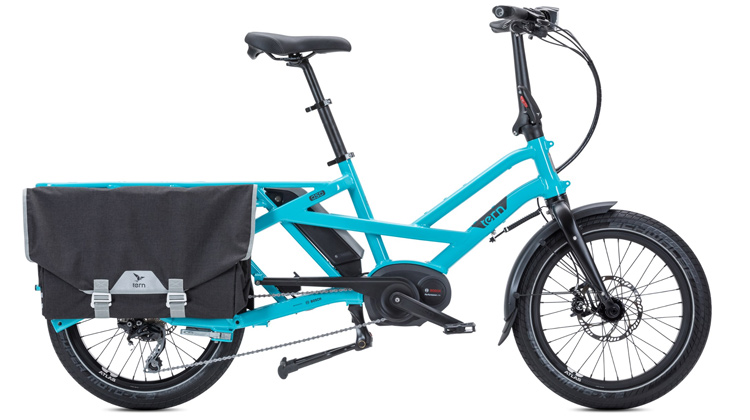 Tern Bikes is a popular brand of cargo bikes known for producing expensive models. The GSD S10 is a longtail electric cargo bike that rides on a relatively small 20-inch wheel and features a sizable integrated rear rack. With its versatile rear rack, it can serve as a high-quality utility e-bike or a family cargo bike for transporting various items.
The GSD S10's 74-pound frame makes it lighter than competing cargo eBikes, allowing the bike's 250-watt Bosch Cargo Line motor to deliver impressive results. This mid-drive motor produces 85Nm of torque, making it possible for cargo bikes to reach their top speed of 20 mph (32 km/h) even when fully loaded. The 400Wh PowerPack battery can assist your pedaling for up to 53 miles before it needs to be recharged.
A robust 10-speed Shimano Deore drivetrain backs the pedal-assist motor, making easy work of grueling uphill treks even when laden down. High-response 4-piston Magura MT5 hydraulic disc brakes are equally helpful on downhills. The telescoping Seatpost and collapsible stem and handlebars make it possible to store the bike in a relatively small area at home.
The maximum combined weight of rider and cargo is 440 lbs (200 kg), and the Tern GSD S10 is suitable for riders between 4'11" and 6'5″.
Pros
Smooth Ride
Comfortable
Well-Built
Cons
Why I Like It: While it may be expensive, its spacious interior makes it a viable alternative to driving for shorter distances, especially considering the skyrocketing cost of car ownership.
---
3. Rad Power Bikes RadWagon 4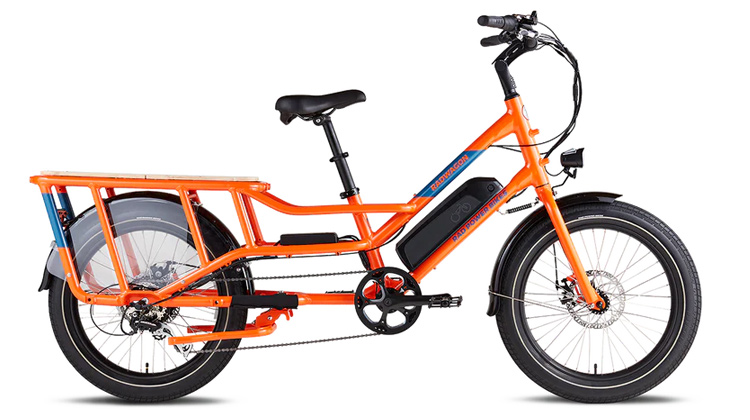 The Rad Power Bikes compact cargo ebike is a widely used and inexpensive longtail option for transporting heavy loads or light passengers. With 22-inch wheels up front and behind, this vehicle has a low center of gravity and is simple to steer even when fully loaded.
This RadWagon bike has a strong motor and long-range battery, but its payload capacity is only 350 pounds (158 kilograms), making it slightly less capable than the typical cargo bike. Hill climbing is made easier with the 750W geared hub motor's 5:1 planetary reduction, which results in increased torque and low-range power.
The 48V removable Lithium NCA battery allows you to travel up to 45 miles (72km) without recharging, so you can get a full day's work done without worrying about running out of juice. Along with the pedal-assist motor, the 7-speed Shimano Acera drivetrain provides an adequate range for pleasant urban cycling.
Tektro Aries mechanical disc brakes with 180mm rotors provide stopping power, which is more than enough for the speed and weight limits of the RadWagon 4. The LCD screen, front and rear lights, fenders, and a kickstand are all included and ready to use right out of the box. Baskets, racks, bags, and even child seats are just some of the extras that can be purchased from Rad Power Bikes.
Because of its telescoping Seatpost and adjustable handlebars, the RadWagon 4 can accommodate riders between 5'1″ and 6'4″ in height. This electric cargo bike may lack some of the high-end features found in competitors, but it offers exceptional value for the money.
Pros
Grand Payload Capacity
Powerful Hub Motor
High Capacity Battery
Cons
Heavy
Primitive Rear Derailleur
Why I Like It: As if its already impressively stable and smooth ride weren't enough, it also comes packed with user-friendly features. The RadWagon 4 has you covered if you're hoping to cut down on your car use or save cash on gas.
---
4. XTRACYCLE RFA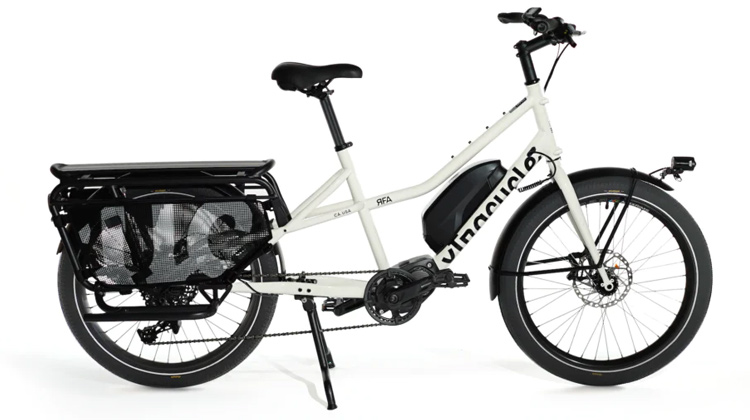 The Xtracycle RFA electric cargo bike is built for versatility. Considering that the acronym stands for "ready for anything," RFA is obviously well-prepared. We agree that Xtracycle did an excellent job making the case according to the RFA's stated specifications and features.
Xtracycle set out to make a cargo e-bike that can be customized to the rider, and they were able to do so thanks to the many thoughtful additions and adjustments. The RFA's wheel dropouts are adjustable, so riders can change the length of the bike's wheelbase to suit their needs. Riders can tailor the RFA's setup to their preferences, making it either more agile or stable, thanks to the variable wheelbase.
The SRAM NX 11-speed drivetrain and Shimano EP8 630Wh 250W drive unit are two more fantastic features and components that help riders conquer steep inclines while carrying heavy loads. Those who plan on riding for longer distances or carrying heavier loads will appreciate the RFA's mount for an extra battery. The RFA is built on a Chromoly steel frame with numerous mounting bosses, allowing you to make the most of the bike's space. The RFA's frame is coated in black to prevent rust and comes with a lifetime warranty from the manufacturer.
The RFA is equipped with high-end parts, so expect to pay a premium. Priced at $5,000, the RFA may be out of reach for some customers. If you're looking for a reliable, no-excuses cargo e-bike that is genuinely "Ready for anything," though, the RFA is an excellent choice.
Pros
Ready For Anything
Strong Frame
Wide Gear Range
Powerful Motor
Customizable
Cons
Overall Expensive
Non-Standard Bags And Fenders
Why I Like It: To fully realize the RFA's schlepping potential with the base model would cost you around $5,000. However, I liked it because it can be tailored to your preferences over time thanks to its durable construction, two available wheelbases, and wide range of compatible add-ons.
---
5. Momentum PakYak E+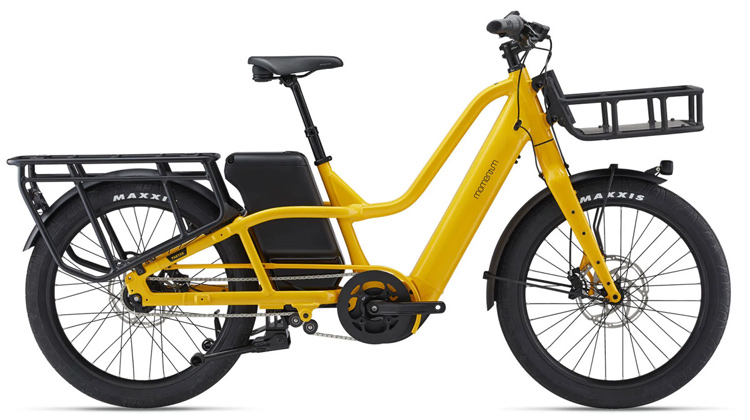 As a Giant subsidiary, Momentum produces reliable cargo bikes despite their relatively low profile. The ALUXX alloy frame that Giant is so well-known for is the ideal complement to an electric cargo bike, as it is lightweight and durable.
As advertised, the PakYak E+ from Momentum has everything you could want from a longtail electric cargo bike. With its EnergyPak 500Wh battery and Yamaha's most efficient SyncDrive Pro mid-drive motor, the bike can travel up to 60 miles while producing 80Nm of torque.
This bike is great for transporting kids because it is compatible with the Thule Yepp child seat without the need for any additional mounts. As a result, the front platform can be used for cargo, while the rear platform can be converted into a cozy seat for the kids. An exceptional Nexus internal hub from Shimano provides five gear options, which is a feature not commonly seen on electric bikes.
When coupled with the powerful motor, this makes it possible to easily pedal up steep hills while carrying a heavy load. The 4-piston Tektro hydraulic discs on the Momentum's 203mm rotors ensure reliable stopping power at high speeds or on downhills.
The rider height range for the PakYak eBike is 5'2″ to 6'2″. Built with high-end parts all the way through, including a 40mm travel suspension dropper and Maxxis Hook Worm wheels with 242.5″ tires.
Pros
Seamless Pedaling Assistance
Amazing Weight Load Capacity
Cons
Why I Like It: You are able to comprehend the rationale behind the substantial cost of this bicycle. Those who won't settle for anything but the very best will find this electric cargo bike to be of the highest caliber possible.
---
6. Surly Big Easy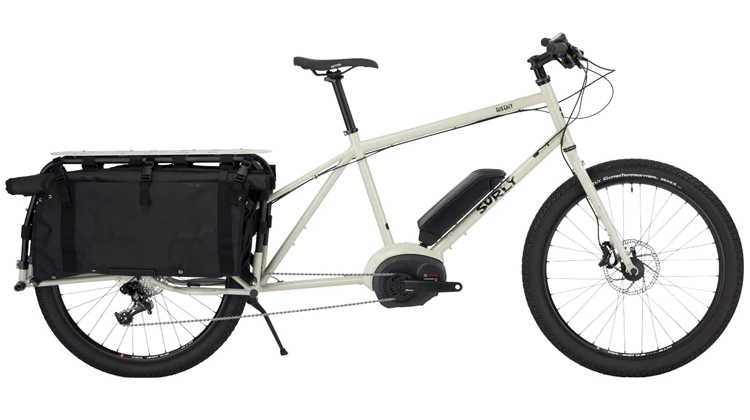 Founded in Minnesota in 1998, Surly has been producing high-quality frames ever since. Their expertise was on full display with the Big Easy cargo e-bike. To this end, Surly set out to create a Big Easy that could be used in a variety of situations and would last for a long time. Surly also prioritized the development of competent handling. The Cane Creek ViscoSet damping headset and the 26″ x 2.5″ Surly ExtraTerrestrial tires are just two examples of the high-quality parts that can be found on this bike.
The Big Easy is an attractive choice thanks to its three available sizes. Both the Bosch Performance CX mid-drive motor and the Bosch PowerPack 500 battery used in the Big Easy are among the most refined and powerful units of their kind. The motor's 85 Nm of torque is impressive enough, but the PowerPack 500 battery's respectable battery life will allow riders to travel further in comfort.
The Big Easy is perfect for the rugged individual who enjoys riding their bike through the woods and drinking IPAs. To me, this is the ideal electric cargo bike for the outdoorsman. Those who have experience on mountain bikes and riding off-road will fit right in on the Big Easy.
Pros
Durable
Impressive Looks
Easy Off-Roading
Powerful Torque
Cons
Exposed Battery
Not Wide Enough
Why I Like It: Those who enjoy cycling, in general, are likely to enjoy The Big Easy. In other words, I don't think you'll find many electric cargo bikes that also feature a dropper post. The Big Easy is a fantastic alternative to driving because it's not just a cargo e-bike, but also a fun bike to ride.
---
7. Benno RemiDemi 10D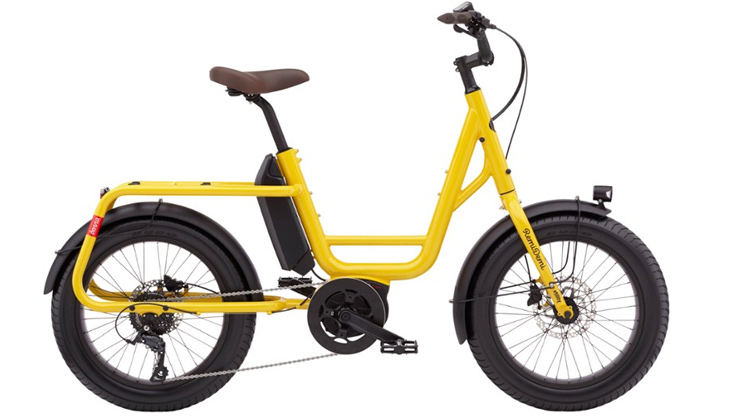 Benno makes a variety of cargo bikes, including this compact model, which is very popular among city commuters and urban cyclists.
20-inch wheels and massive 4.25-inch Duro fat tires power the RemiDemi 10D Sport electric cargo bike. It has a small rear rack that can accommodate various accessories or a child's seat, and it can carry up to 400 pounds of cargo. Consequently, it is a fantastic option for a young family that needs to do frequent trips to the supermarket.
The model's 400Wh battery and 65Nm of torque-producing Bosch Performance Sport mid-drive motor allow for a pedal-assist range of 25-75 miles. It also features Shimano BR-MT200 hydraulic disc brakes and a Shimano Acera/Sora 9-speed drivetrain.
This electric cargo bike may not be the lightest option (weighing in at 65 lbs), but its capacity of 400 lbs makes up for its weight. As an added bonus, a Thule Yepp Maxi child seat can be used in it without an adapter, making it ideal for taking younger children on field trips.
Pros
Powerful Brakes
Properly Placed Kickstand
Well Positioned Motor And Battery
Cons
Stiff Ride
One Size Frame
Noisy Motor
Why I Like It: The Benno RemiDemi 10D Sport e-bike is a new breed of electric bike with superior control and comfort thanks to its sturdy frame, upright seating, stable ride, and high load capacity. Combine these features, and what's there not to like about this beauty?
---
8. Yuba Spicy Curry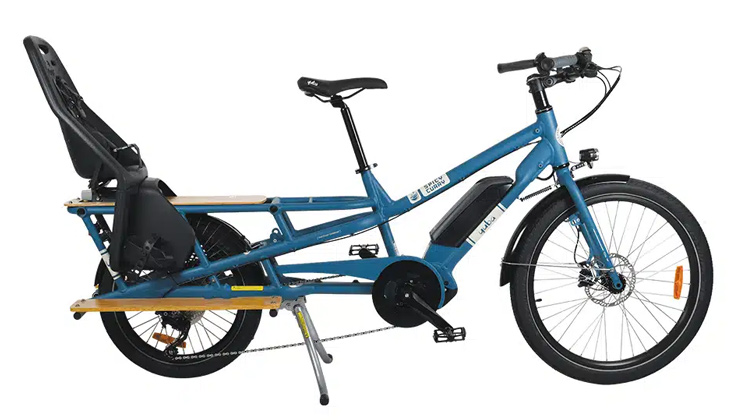 The Spicy Curry is great at toting around heavy loads without ever making the rider feel off-kilter or wobbly. The Spicy Curry is an electric cargo bike that can carry up to 440 pounds and has a Bosch Cargo Line mid-drive motor, and 10 gears.
Yuba's "Steady Stay Technology," which allows the Spicy Curry to handle well in tight turns even when fully loaded, was integrated into the design of this bike. With the help of the Steady Stay Technology's uninterrupted "stays," the overall frame rigidity and stiffness are improved.
Everyone from couples to solo diners will love the Spicy Curry. It can haul a variety of cargo thanks to its roomy interior and strong Bosch mid-drive motor. The one-size-fits-all frame is suitable for riders as short as 4 feet seven inches and as tall as 6 feet four inches.
Spicy Curry will appeal to cyclists who are willing to spend more money but care more about having high-quality parts. We realize that for some people, the price tag of just under $5000 may be too much.
The Spicy Curry has a lot going for it, not the least of which is the fact that it was made by a company with a proven track record in the cargo bike industry dating all the way back to 2007. All of Yuba's bikes are built with sustainability in mind, and the company backs them for two years against defects.
Pros
High Torque
Responsive Handling
Cons
Why I Like It: What I liked the most about this cargo bike was that when going uphill or carrying a heavy load, the Bosch electric motor provides the extra boost you need to reach your destination. The Spicy Curry's low center of gravity has made it more agile and durable. Take it for a spin, and you'll immediately notice the difference.
---
9. Riese & Muller Load 75 Vario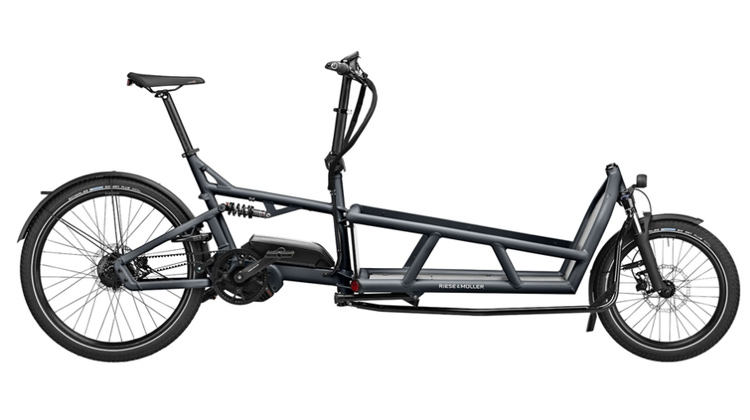 Although it is the only full-suspension cargo e-bike on our list, the Riese & Muller Load 75 is one of the most user-friendly cargo bikes we've tested. The Load 75 is a little pricey because it has such high-quality parts and a novel layout. But if you want a top-tier e-cargo bike that doesn't skimp on quality, this is it.
Its full suspension immediately raises suspicions that Load 75 wasn't brought to the game; after all, how often do you see suspension on a cargo bike? Cargo is protected from being jostled around when going over speed bumps or curbs thanks to the full suspension design.
The R&M bikes have an X-Fusion Glyde rear shock and a Suntour Mobie A32 fork with 70mm travel. Although full suspension frames aren't particularly common among cargo bikes, we were impressed by Riese & Muller's ability to include one on the Load 75.
The Load 75 Vario has a huge 536% gear range thanks to its Enviolo variable transmission, making it ideal for climbing steep hills while hauling heavy loads. Bosch Cargo Line Cruise is also used as the motor for the Vario. The Vario's transmission and mid-drive motor make it suitable for a wide range of cargo-hauling applications.
Both the rear shock (an X-Fusion Glyde) and the front fork (a Suntour Mobie A32, measuring 70 millimeters in diameter) on R&M bikes are designed by X-Fusion. We were impressed that Riese & Muller were able to include a full suspension frame on their Load 75, as this is not particularly common in the cargo bike world.
For climbing steep hills while transporting cargo, the Load 75 Vario's Enviolo variable transmission and its enormous 536% gear range come in very handy. The Vario is propelled by the same motor found in the Bosch Cargo Line Cruise. The Vario's transmission and mid-drive motor make it suitable for a wide range of cargo-hauling applications.
Riese and Muller built Load 75 with safety and stability in mind at high speeds. Their 'Control Technology,' which improves ride quality, handling, and responsiveness while reducing vibration and impact, is the key to their success. It appears that they are aware that cargo e-bikes aren't necessarily the most enjoyable bicycles to ride, but they have done an excellent job of ensuring that theirs is.
Pros
Full Suspension
Value For Money
Unique Design
Comfortable
Responsive Handling
Cons
Heavy
Takes Up More Storage Space
Why I Like It: The Load 75 is the electric cargo bike for you if you have a large budget, a taste for utilitarian design, and want to get around town without using a car. You can tell it was designed by Riese & Muller because of the quality of its appearance and performance.
---
Types Of Cargo Bikes
There are three different types of electric cargo bikes that you should know about before making a buying decision.
Long-Tail Bikes
Children and other things can be carried on an extended rack that is right above the back wheel. Such bikes are famous among larger families. This rack can hold a child seat or a bench.
Mid-Tail Bikes
These are much shorter than the longtail bikes. Some of these bikes are about the same size as a normal bike, but they can carry more. Many can be put away, moved, and folded up. They might not be as useful for bigger families because they might not be able to handle more than one child.
Front-Loading Cargo Bikes
In front-loading cargo bikes, a container or box mounted low between the front wheel and the handlebar can be used to transport items. These bicycles are popular among families because the front basket makes it easy to keep an eye on children and pets while still having a conversation. Even though you have to learn how to ride them, they are surprisingly easy to control.
Tips To Choose The Perfect Cargo Bike
There are many things that you need to keep in mind before making a buying decision. Here are a few tips to assist you in choosing the perfect cargo bike for you.
Ensure That Your Cargo Bike Fits You
The important thing to note here is that most cargo bikes are available in one size only but its not always a one-size-fits-all scenario. Ridders that are short face more challenges fitting a bike most importantly when it has accessories that limit the adjustability of the saddle height. Even if you are a taller rider, you might find that the bike is too small for you.
If you have the opportunity to test drive a bike before buying it, exploit it. Another option is to join a cargo electric bike group. In this way, you can connect with riders who are the same height as you and may even have the same riding preferences. You can know what worked out for them and make a decision that's best for you.
Knowing The Adjustable Features
Electric Cargo Bikes have a lot of adjustable features which allow you to make some modifications to ensure that the bike fits you better. Changing the stem, seat post, or handlebar can prove to be really helpful to make the bike larger or smaller and more comfortable for you.
Keep Your Needs In Mind
It's best to keep your current needs as well as your future needs in mind before deciding on a bike. Consider if the bike will be able to carry your goods, kids, pets, or cargo because different bikes are designed to do different jobs for example if you want to carry multiple kids, some bikes will do a better job than others. Even if you just want to carry your pet, different bikes will deliver different quality.
Storing A Cargo Bike
Cargo bikes are heavy, so it is not like you can hang them on the wall like other bikes. Another challenge is lifting these bikes up the stairs. That's why storage constraints are a very big deal. Some people in New York just store their bikes outside, they cover them up and use some heavy-duty locks to secure them. They also get their bikes insured and that works for a lot of people.
Consider Your Budget
Electric cargo bikes can be really costly. So my advice would be to consider your budget before you make up your mind to buy one. They are expensive because these are very special bikes that are built to be very strong. There is obviously the option of producing a less expensive electric cargo bike, but how well do you believe it will perform?
When you compare different models and types of electric bikes, the price may make sense to you. You may even conclude that you will not need to upgrade in the near future or own something that will last longer, so the cost begins to make sense to you.
FAQs
How Quickly Does A Cargo Bike Travel When Fully Loaded?
There are electric bikes that can go faster, but cargo bikes can only go up to 15.5mph.
When Should You Perform Maintenance On Your Electric Bike?
Daily commuters, eMTB riders, and riders who put in a lot of miles on their eBikes should perform thorough maintenance procedures once a year. You may need to bring your bike in for service every 6-9 months if you regularly leave it outside or if you don't give it a thorough cleaning after long rides.
How Do You Move A Large Electric Cargo Bike?
A key point to keep in mind is, Tail first. Pad the back of the bed to keep the tailpiece of the bike from getting dinged. After loading the bike, you can either rest the front wheel on the open tailgate or turn it around and lock it inside. Fastening straps to the seat rails is a time-saving and efficient solution.
The Verdict
In recent years, electric bikes have become increasingly popular in the United States and Canada, but few subcultures within the e-bike community have attracted the same level of devotion as electric cargo bikes. If you're looking for an electric cargo bike, the Packa Genie has everything you could want. The Blix Packa Genie is a sturdy, well-designed electric cargo bike capable of hauling up to 400 pounds. Our interest in the Packa wasn't only piqued by its attractive design. The Packa Genie meets all of our requirements for an electric cargo bike. Up to two hundred different permutations of Packa accessories allow for highly individualized service.
Electric cargo bikes are a practical and environmentally friendly alternative to gas-guzzling cars for people who want to get rid of their car but still have errands like grocery shopping and picking up the kids from school. Despite their bulk and awkward handling, e-cargo bikes are a fantastic illustration of how e-bikes are revolutionizing the way we get around.
They can be difficult to ride on the narrow or nonexistent bike lanes common in less bicycle-friendly areas. However, if you are fortunate enough to reside in a location that welcomes these mammoths, it is time to join the electric cargo bike movement; you will not be disappointed.
Also Read: Best Cycling Headphones – Perfect Sound For Adventures (Review And Buying Guide 2023)