Your bike's chain is the main memoir of all those amazing adventures you had, and in order to get the best from your bike, you need to keep it healthy and clean. Bike Chain Degreasers are your bike's best friend and they should be yours too!
Bikes need to be in the top shape and condition when you go for a ride, did you know that a properly cleaned and lubricated bike reduces the amount of friction and that is only one of the benefits. No matter what kind of riding environment you have, if it is off-road trails or even the desert, regularly cleaning and taking care of your bike will increase its life span.
Another reason that you should properly clean your bike often that it actually improves the pedaling. This results in enhanced handling and more speed. There is actually no reason that you shouldn't maintain your bike often!
Now that we are talking about bike maintenance, chain degreasers play a very vital part in all of this. May it be chain degreasers or chain lube, both of them keep your bike in pristine condition. If you are looking for the perfect chain degreaser for your bike, this is the perfect guide for you!
It is a real struggle when you can't find the perfect product in the market, getting confused is easy! I have had my fair share of trouble and that is why this guide exists to help you now!
Advantages of Bike Chain Degreasers
Before we get started with the guide, it is important to discuss the main benefits you get by applying a bike chain degreaser!
Simple and Easy Maintenance: Bike Chain Degreasers make chains clean and shiny and no time, thus making maintenance very easy. The best thing that these degreasers do is that they eliminate the dirt so easily from the chains so that you can enjoy that amazing performance again. If you try combining degreasing with some cleaning products, the result is going to be even more amazing.
Great Efficiency With Bikes: The bike's overall performance and efficiency drop when the chains are riddled with grease and grime. A good bike chain degreaser will eliminate all of that and make sure that you enjoy the top performance.
Enhanced Durability and Protection: The first job of bike chain degreasers is cleaning up your bike, which means all the grease and grime would be eliminated. Whenever there is excessive dirt found on your bike's chains the overall lifespan of the device will fall. Degreasers make sure that your bikes are in top condition and that their life span and durability are prolonged.
The Different Types Of Bike Chain Degreasers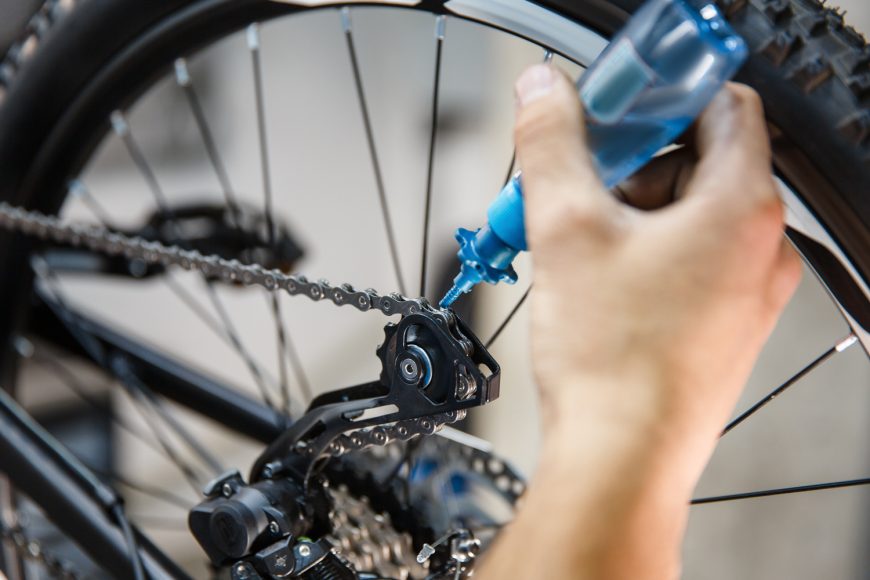 If you are new to bike chain degreasers then you should know that there are different types. It is best that you know all about them so that you can make a sound purchase.
Cans
If you are planning to do some heavy-duty cleaning or want to use them for commercial purposes then go for the can versions of bike chain degreasers. They are going to be more in quantity, that's why stored in cans, you will also save some extra cash this way.
These can degreasers are actually more potent and strong because they have to be diluted in water first, this also makes them long-lasting. Choosing the perfect blend for your chain degreaser also gets easier plus it is cheap. If you are looking for the best chain degreasers and that too in amazing price then go for the can versions.
Aerosol
Aerosol degreasers are actually more flammable than the other options actually that is why their packaging is different. They are stored in strong metal containers which protects them against hazards. As you might have noticed these Aerosol degreasers are very easy to store and portable, that is because they are so lightweight!
If you want to use them on the go you can easily do that, just store these degreasers in your repair kit and you are good to go, there won't be anything else to worry about. You just need to be careful about one thing, store them in a cool dry place, and make sure to not put them in direct sunlight as that could lead to trouble.
Spray Bottles
Packaging makes all the difference when it comes to bike chain degreasers. Spray Bottles are the most common types of bike chain degreasers that you will come across. They are very reliable and easy to pack and travel with, need an immediate portable solution, look no further than these spray bottles.
BTW these chain degreasers that come in spray bottles aren't that corrosive so you have nothing to worry about!
Now that we have discussed the types of bike chain degreasers, it is high time we discuss the best products in the market!
Top Bike Chain Degreasers – Reviews and Guide:
1. White Lightning Clean Ride- Editor's Choice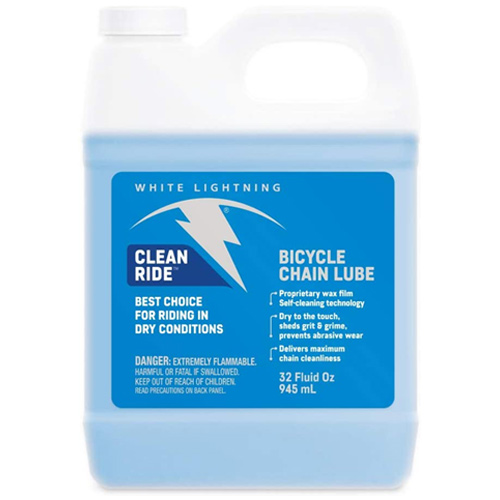 Price: $70
Let us start with the best cleaning lubricant in the market! The White Lightning Clean Ride is a must-have lubricant for the top performance of your bike. This lubricant will clean every kind of dirt on your bike like grease, and grime and afterward you would enjoy a shiny wax on your bike, it doesn't get any better than this.
The White Lightning formula is really clean, that is one of the things I love about it, unlike other formulas, this one contains no oils or any other kind of harmful material. As this formula is completely oil-free the bike won't even get dirty after a thorough cleanse.
You can use the White Lightning for a thorough and deep cleanse, it can easily be applied on chains, and cables of bikes. It can also be easily stored and transported anywhere.
Pros
Offers a Deep and Thorough Cleanse
Affordable Price
Doesn't Attract Dirt and other Contaminants
Cons
Not Reliable In Rainy Weather
Wears Out Rather Quickly In Heat
Editor's Choice: The White Lightning leaves a very nice and clean wax every time you use it, no matter what kind of trail you ride it, it will not attract dirt. No other lubricant or degreaser cleans it like the White Lightning, and it is very affordable too!
---
2. WD-40 Bike Cleaner and Degreaser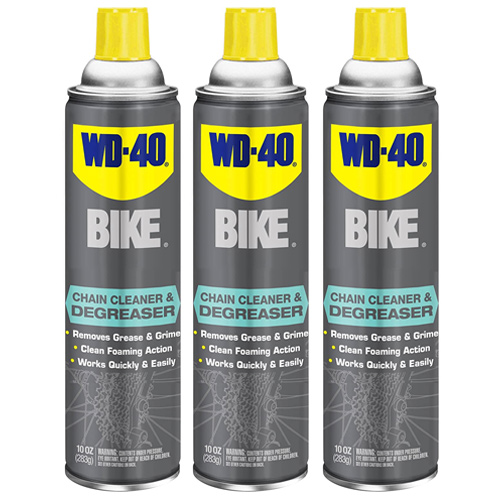 Price: $10
This is the best and most versatile bike cleaner and degreaser that you can come across! It doesn't have a kit so you can use it instantly, easy to store, and easy to use. It has a very unique type of foam that just sticks to the bike's surface and penetrates after, any kind of grease and grime would easily be eradicated!
If you want to keep your gears clean and at the best performance then definitely go for the WD-40. It is also safe from all harmful materials.
Pros
Penetrates Everywhere
Suitable For All Sorts Of Bikes
Easily Removes Even The Toughest Of Grease
Keeps The Paint Safe
Cons
Lube-Less
Bike Doesn't Remain Clean For Long
Why I Like It: The WD-40 cleaner is a no-brainer if you want top performance. The only drawback to it is that it doesn't come with lube but that is fine. You can use this cleaner for every type of bike and that speaks a lot!
---
3. Finish Line 1-Step Bicycle Chain Cleaner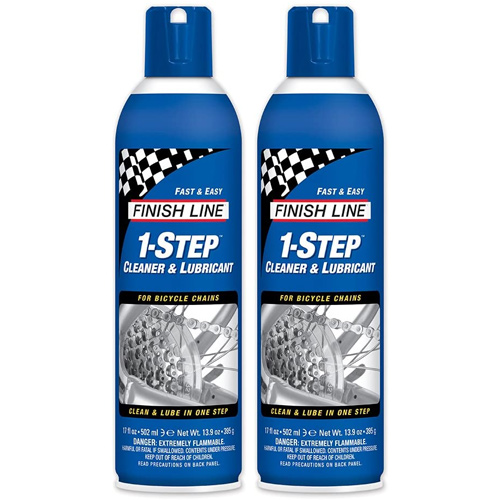 Price: $13
This is another wet-style lubricant that you should get your hands on, the way it penetrates and kills the grease from within the gears is just purely spectacular. This chain cleaner is extremely efficient, you just need to try it out once. If you need to get rid of harmful buildups and other residues that would rather undermine the great performance of your bike then try the Finish chain cleaner.
This is a multi-purpose product, it acts both as a cleaner and a degreaser, with this your bike will always be in the top shape. What is the Finish Line cleaner best for? Well, it cleans your chains, different mechanisms, and cables while also keeping them in the top shape.
This cleaner is also available in aerosol cans and drip bottles, this makes users so comfortable with the product.
Pros
Available in Aerosol and Drip Bottles
Penetration Is Exemplary
Very Affordable
Cons
Difficult To Use
Frequent Reapplication Is Required
Why I Like It: The Finish Line 1-Step Bicycle Chain Cleaner is a really cheap and effective way to get your bike cleaned. It is also available in Aerosol cans and Drip Bottles should you choose to try it. The grease and grime from your bikes would disappear after using this product.
---
4. Finish Line Speed 1 Bike Chain Degreaser Dry Version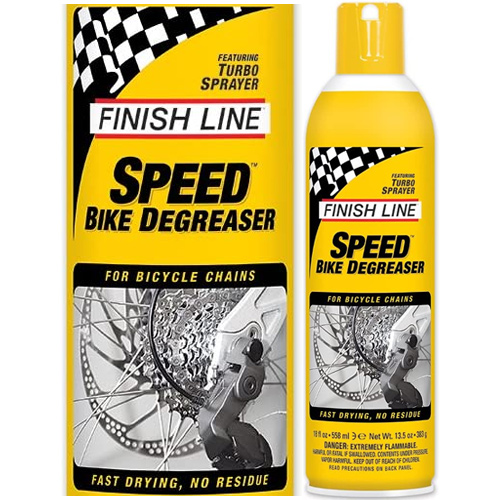 Price: $15
This is yet another Finish Line bike chain degreaser, but it is a complete dry version. This makes sure that all the dirt is gone from your bike without any kinds of residue left behind. This product makes sure that the chains, disc brakes, and everything gets super clean, while also being dry.
That isn't just it, the Finish Line degreaser also comes with a turbo sprayer option that you should definitely try out. I tried it out myself and it just cleans your bike in a flash! You can also use the product in the house easily, may it be plastic or paint, this product is multi-purpose.
Pros
Dry Version feels amazing, no residue
Turbo Spray option is incredible
Can be used indoors too
Cons
Not recommended for heavy-duty cleanups
Not recommended for excessive dirt/clogging
Why I Like It: The Dry Version of the Finish Line Speed 1 Chain Degreaser is the same quality as the other product, it just only offers more. The Turbo Sprayer option is amazing and when I used it, I could really feel the difference. The fact that it can be used indoors without problems speaks a lot!
---
5. Oil Eater Original Cleaner and Degreaser
Price: $30
The Oil Eater Original Cleaner and Degreaser is one of the oldest products in the market when it comes to bike maintenance. This is a multi-purpose product and you can use it everywhere, may it be the grills, carpets, or just floors, you can use it for more than bike purposes. Don't be worried about using it on different kinds of surfaces, it has a non-abrasive formula that won't do any kind of harm.
In order to kill the toughest of dirt and other kinds of contaminants, this product gets diluted in water, only then it has the top result. The degreaser is where it gets interesting, it has very unique, it is water-based and then combined with a formula that is biodegradable. If you are worried about the safety of the environment then there is nothing to be worried about as the degreaser is completely harmless.
For the normal price, you get a lemon-scented 1-gallon bottle, generally this much should last around a year or so, even if you use it frequently.
Pros
Multi-purpose cleaner
A normal bottle lasts an entire year
Affordable price
Cons
It can damage your skin
The bottle is difficult to use
Why I Like It: A bike chain degreaser that can also be used around the house? Well, sign me up! The best thing about this product is that it can be used with everything in the house, you don't have to go out and look for other products. Plus, you get a year's worth of cleaning with only 1 bottle!
---
6. Park Tool CB-4 Bio Bike Chain Degreaser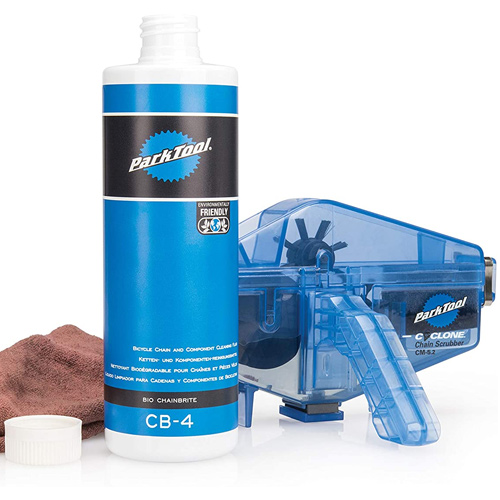 Price: $10
Looking for a natural bike chain degreaser that isn't polluted with toxins, then the Park Tool is the one for you! This is as natural as it could be when it comes to bike chain degreasers, and you would be pleased to know that the cleaning liquid is fully biodegradable, now you don't have to worry about anything!
It is actually plant-based if you were wondering, apart from the bike usage, you can actually use it as a general degreaser, not a lot of products offer that, I checked that myself. This product is very powerful but it isn't harmful to you!
Pros
Can also be used as a general degreaser
The liquid is 100% fully biodegradable
Isn't harmful to plastics
Cons
Why I Like It: This is another amazing general-purpose degreaser that you have to try out! I wanted to try out a product that was most natural and I was impressed with the results. It penetrates the grease and dirt in such an amazing manner that you would instantly love it.
---
7. Molten Speed Wax Bike Chain Degreaser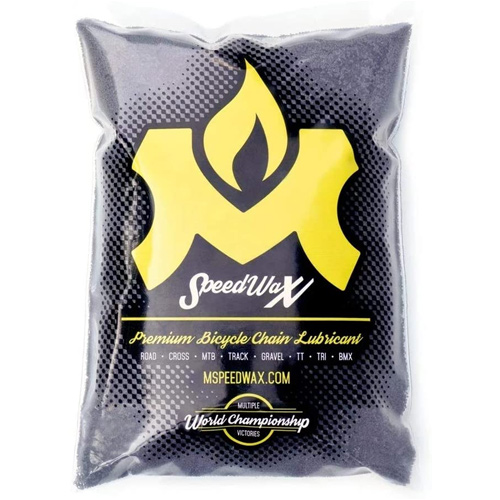 Price: N/A
Are you tired of using standard chain degreasers for your bike? Well, it is about time that you tried something new and better, try out the Molten Speed Wax Bike Chain Degreaser! This isn't just an alternative, it will make sure that your bike gets the best treatment it deserves.
Did you know that wax is known to be the fastest and most effective lube? The way it cleans your bike is exemplary! Another unique aspect of speed wax is that it completely dries the bicycle, unlike the liquid products that you have been using in the past, this way it also doesn't catch any kind of dirt or contaminant.
In order to get the best results, just melt the wax using a crockpot, apply it to the chains thoroughly and then just leave them to dry. After that just enjoy the results and have fun!
Pros
Best For Racing Purposes
Dries Quickly
Very Effective
Long and Durable Cleanse
Cons
Not Suited For Every Weather
Why I Like It: Molten Speed Wax is an amazing alternative to the liquid degreasers that I was using in the past, this is speedy and the results are very impressive as well. I am a bike enthusiast and this product really fills up app my bike maintenance needs!
---
8. Pedro's Pig Juice Chain Degreaser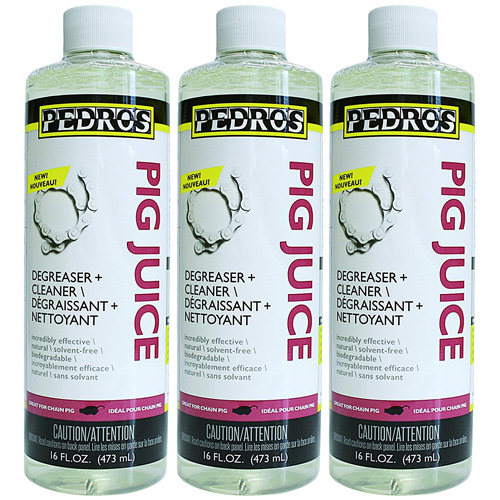 Price: $20
Don't go for the name with this one, Pedro's Pig Juice Chain Degreaser is one of the best plant-based products that you can find in the market. It is a really great product with almost no chemicals, offers a thorough clean, I don't think that you should miss out on Pedro's.
The way it cleans your bike's chains is exemplary, only a few can match this level of effectiveness. Once again, this product has nothing to do with pigs, in fact, it is solvent-free!
Pros
Totally Plant-Based
Solvent-Free Product
Very Effective
Cons
Buy It Here
Why I Like It: As far as plant-based bike chain degreasers go, this is one of the best ones in the market. It is very gentle on bikes and makes sure that the cleaning is thorough, all grease and grime get eradicated quickly. It keeps the bike shiny and clean and is made without toxins, you shouldn't pass on this one!
---
9. Muc Off Nano Tech Bike Cleaner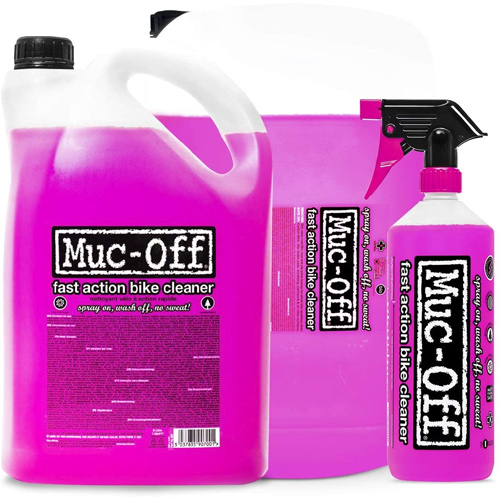 Price: $17
The Muc Off Nano Tech Bike Cleaner is so effective and gentle that you can use it almost anywhere on the bike and it will still offer the best results. Yes, not just the chains, you can even use this degreaser for use on the brake pads as well!
Don't be worried about chemicals or anything else when using this cleaner, it is 100% biodegradable. Everyone likes to use simple cleaning products from their bikes, and this is one of the simplest and effective products to date. How to use it? Just spray on the area you want to clean and then clean after a while, your bike would feel brand new.
Pros
Very Easy To Use
Fully Biodegradable
Can Be Used On The Bike
Quick Clean
Cons
Have To Be Used Frequently
Buy It Here
Why I Like It: Muc Off Bike Cleaner is a very fast and effective degreaser, and I tend to love simple products. It penetrates the grease very nicely and makes sure that your bikes feel brand new every time you clean them with.
---
What Makes A Best Bike Chain Degreaser?
There are plenty of bike chain degreasers in the market, but actually going in the market and trying to find the best product can be very tricky, especially when you don't have knowledge about the product. Here we shall discuss what you should look for in bike chain degreasers so that you can easily make the purchase!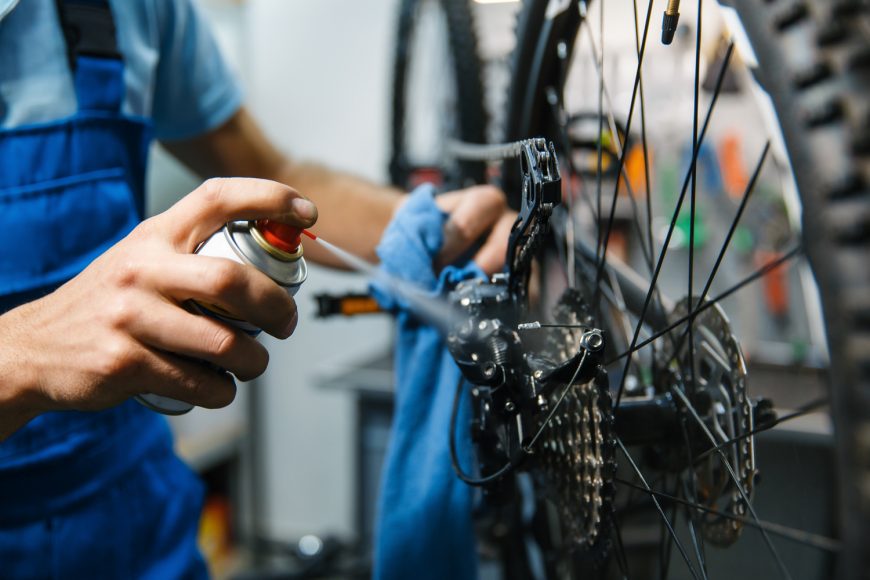 They Should Be Biodegradable
When cleaning your bike with a formula you need to be careful about the environment and yourself! You need to make sure that the formula can be easily washed off and it doesn't harm the environment, so that is why go for products that are fully biodegradable.
If you are cleaning outdoors or in your backyard then get a formula that doesn't harm the grass and which can be easily drained.
Ease Of Usage
What is the point of bike chain degreasers if you can't even use them properly and that too without ease? You should definitely go for products that are fast, effective, and easy to use, otherwise, there is just no point at all. If you go for the products that are difficult to use then you won't even be using them regularly and thus they would become useless.
Make the cleaning process enjoyable and opt for products that are fast and easy to use!
Offers Great Value
Go for products that offer great value for their cost, there is no point if you have a cleaning product that can't even last a month, especially when you paid a hefty amount for it.
It is always advised to go for products that have a great reputation in the market.
Fast Drying
Bike Chain Degreasers should be able to work quickly, there is no point if you have to wait hours for the bike to dry up. The best product is that does the job rather quickly, combine a fast-drying degreaser with lubricants and you would get the perfect results!
Important Bike Chain Degreaser Tips
No matter if you have the best bike chain degreaser in the market, you can always make your experience better by following in on some professional advice:
Always go for bike chain degreasers that will perform in every type of weather. You don't want a product that will just soak up in rain or damage the bike. Multi-weather products go a long way and offer the best performance.
After 2-3 rides make sure to degrease the chains of your bike and lubricate them. This will not just increase the life span of your bike but also offer the best performance possible. Keep on doing this if you want smooth and relaxing rides.
Sometimes you could be out of equipment to clean your bike, a very nice alternative is a folded rag or unused towel. You can use the cleaning liquid on the rag and then just apply it on the bike!
FAQs
Can I use any degreaser on my bike chain?
No, you must go for multi-purpose or degreasers that are only suited for bikes. Otherwise, you would just end up damaging your bike instead of cleaning it!
Is WD40 a good bike chain degreaser?
Yes, the WD40 is one of the best bike cleaning products in the market, it is very reliable and quick!
What can I use instead of a degreaser?
One of the best alternatives to a chain degreaser is distilled vinegar, it gets the job done.
Why do bike chain degreasers need to be biodegradable?
Bike chain degreasers need to be fully biodegradable so that they can easily be washed off and don't harm the environment.
How often should I degrease my bike?
At the least, you should degrease your bike once a month. Other than that, it depends on the frequency of the usage of your bike.
Recap
Bike maintenance is very easy, you need to make sure that your bike always has the best performance but you also have to be smart and careful about it. Bike chain degreasers make sure that your bikes are in top shape, so get the perfect cleaning product for your bike.
Among the list, my top choice and the one that I will always recommend is the White Lightning Clean Ride, it is quick, effective, and thorough. It is a tad expensive but the value it offers is unmatchable.
Follow the criteria for selecting the perfect bike cleaning product and the professional tips and you would always be enjoying the top bike performance!
---