A Bike that is in top shape and clean isn't just for aesthetic purposes, it also enhances the overall performance. The difference between a clean and unclean bike is phenomenal, just wait till you try out the difference. The bike's chain is a very important integral part, you keep it clean and lubricated, and there will be many benefits.
What exactly happens when you keep the bike's chain clean though? Well, there are tons of things that will happen once you start cleaning the chain and those are:
Better Performance
Quiet Performance
Prolonged Life
Along with all of these things, the grease stains are also kept at bay. Once you start cleaning the bike's chain regularly, you will notice the amazing difference yourself. In this guide, we have compiled the opinions and tricks of many renowned professional mechanics that have given more than 10 years of their life in this field.
The tips and tricks also come from various technical seminars from the best manufacturers like SRAM, Shimano, Saris, and many others. This guide is going to add a new layer to your knowledge of bike maintenance.
Tools Needed to Clean Bike Chain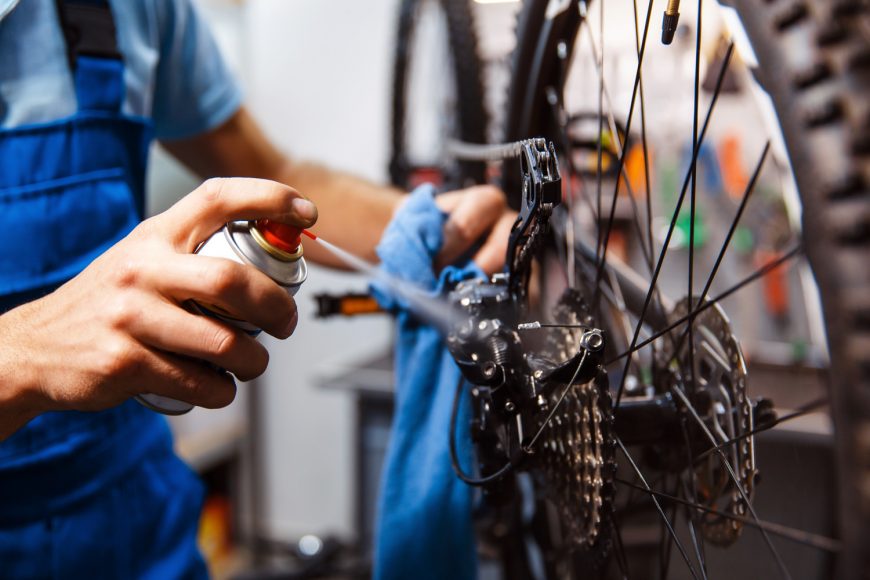 When we talk about cleaning the bike's chain, there is complete flexibility over how you want to proceed initially. You can either go for soap or a degreaser, whatever suits and interests you the best. Here are the tools that you be needing:
Soap
Degreaser
Scrubber
Chain Lubricant
You can choose between a soap and a degreaser, you have complete freedom over that. With that being said, it is absolutely necessary that you get a scrubber and a lubricant, you can always choose the brand, etc.
[Bike Maintenance Tips: How To Remove Rust From Bike]
What Kind of Cleaning Agent to Use?
The first part that comes when you start cleaning the bike's chain is your choice of the cleaning agent. There are mainly two options to go for, either go for soap or a bike degreaser, you have complete freedom here. Cleaning a bike's chain is not technical, so even if you find something really good in your local grocery store, you can probably use that to clean the bike's chain.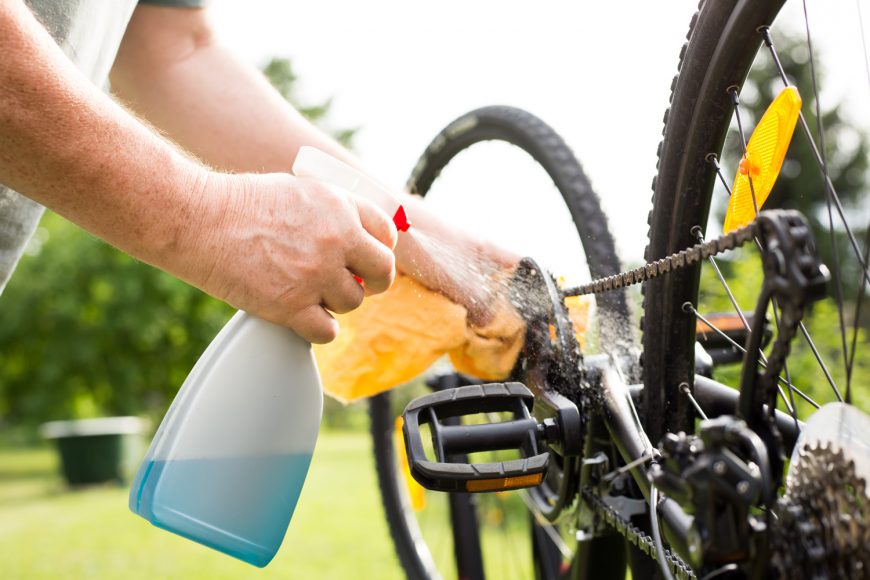 The common thing that all professionals recommended was using dish soap to clean the chain, this was an odd choice but it works the best. Apparently, the dish soap can wash the surface of these drivetrain components quite effectively. When it comes to cleaning the bike's chain, you need a product that isn't too harsh. Degreasers are way too harsh for cleaning the chain!
Another disadvantage of using the degreasers is that they remove the initial lubricant from the chain, this is the kind of lubricant that cannot be applied again so you need to be very careful. The only way you could reapply that lube is to take the chain off completely and give it a thorough lube bath, and that requires a lot of patience and technique.
With the bike's chain, you need to be as gentle as possible, if you aren't then it will only lead to problems. The main problem that can happen is the removal of the original factory lube, you certainly don't want that. Why is the factory lube so important though? If you remove the factory lube then it lessens the bike's life by a whopping 1000-1,500 miles.
Cleaning Agents give you a lot of freedom, you can experiment as much as you want, each cleaning agent will give you a unique experience. Choose the best for yourself!
What Kind of Scrubber to Use
Scrubbers are very necessary for bike chain cleaning, and our professionals recommend tools from Park Tool- one of the best bike-related manufacturers. There are other amazing companies that you can try out too, but with Park Tool, you just cannot go wrong. Amongst amazing brushes, they also make devices that just stick on the chain and allow you to clean it thoroughly.
Anything that you can use to brush the chain will do just fine, a fine example of that is also a toothbrush. You were maybe hoping for a dedicated cleaning tool, but some professionals love toothbrushes, especially the ones with long bristles. Who knows you might love the experience of a toilet brush maybe?
Now let's get started with cleaning the bike's chain.
Cleaning The Bike Chain – Made Easier With Steps
With these steps, you can clean the bike's chain very easily. There are mainly three steps involved with cleaning the bike's chain, just do that effectively and you would be impressed by the results. The three components that you need to go after are:
With these three steps, you will be done with your bike's chain in a zap!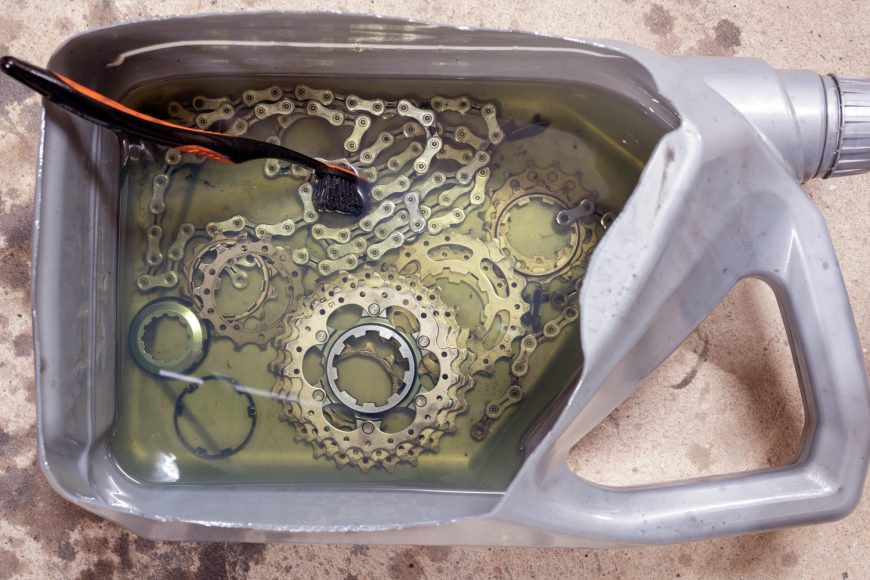 How to Clean The Cassette
In order to get started, you need to shift the gears first, this will put the chain on the other end of the cassette. Now, you need to clean the cassette thoroughly, apply the cleaning agent to a brush and start the cleanse, make sure that all the cogs are covered except for the one that is close to the chain. When one side of the cassette is cleaned, shift the gears again, and clean the other remaining side of the cassette properly!
Yo do that properly and your first step is already done, now three more to go!
How to Clean The Chainring
The next step is to clean the chainring, the best way to do this is to remove the chain from the chainring and then start. That way the results will be more effective and thorough! The process is the same as what we did with the cassette. Apply some soap or degreaser and give it a thorough cleanse!
How to Clean The Chain
The last step is to clean your chain, do it properly and you would be done. You need to get started with shifting your chain to the chainring, in the case that you have multiple chainrings, shift your chain to the largest chainring. Now, you need to apply the soap or degreaser again and clean all angles of the chain, keep on doing that till all the sides are clean.
You can even use the chainring as a surface effectively, just scrub the sides of the chain while leaning it against the chainring, this is a very genius hack according to the professionals. Once you do this properly, you will see that the chain has been cleaned properly from every angle, if there is an area left then make sure that is clean too!
Water and Rinse Gently!
Now that the cleaning is finally done, you need to rinse the drivetrain with water but gently. Being gentle is the main concept here, if the water pressure is too much then it could actually damage your drivetrain instead of cleaning it. Apart from damaging the drivetrain, water can go to areas that you will not like!
Dry Everything Fully!
There is one last step that you need to perform before you put your bike back into storage. You need to dry your bike completely, make sure that there is not even one single wet spot, an air compressor would work best here. There are other options as well such as the leaf blower but the choice is completely yours.
If you don't dry your bike before storing then there are chances that it could catch rust.
Reapplying The Chain Lube is Necessary
When everything is done, you need to reapply the bike chain lube, which is the most final part, after that you are done. You can use any brand that you love, apply it to the chain thoroughly, let it dry, and then just wipe off any excess. Make sure that you apply the lube in between the roller and plates area nowhere else, otherwise you will only be attracting dirt and other contaminants.
If things get very nasty, you can always replace your old chain with a new one to stay away from risks.
When Does Replacement Become Necessary?
If you actually keep a track of your bike's performance and make sure that you are ahead of the wear and tear then your bike will always have a prolonged life and will perform at its best. You need to be ahead always, even if it is by one step, if a chain becomes too stretched then you need to replace it immediately!
If the wear is over 0.8mm then your chain needs to be replaced asap. If the situation is much worse then the whole chainring would also need to be replaced. Professionals love pushing their bikes to the limits and that is why you will need a new chain often, once you do that, it is crucial that you test it out first. If there is a problem at the rear of the bike then it is suggested that you also replace the cassette.
This whole replacement process might seem too much for you but there is nothing to be overwhelmed about. If you have good habits from the start and you take care of your bike frequently then there is absolutely nothing to be worried about.
Read More Bike Maintenance Tips:
Recap
Taking care of your bike is very necessary, you need to make sure that every component of the bike is fully cleaned and working at its best. Maintenance is the key here, do that often and you will never have to face any major problems with your bike.
Cleaning the chain and keep it in good form is very necessary. Once you do that, you will always experience the best and quiet performance and the life of your bike will also be prolonged. With this guide, we hope that you are able to learn about your bike more and keep it in great condition!
---