Getting a new bike can be very exciting, especially if it is going to advance and compliment your progress. Although sometimes, you would be greeted by a setback, your budget could hold you back from attaining that progress boost. People having these setbacks have no other option than getting their bikes used, and that is a very risky endeavor.
What if you could eliminate all of the risks involved and get an amazing platform where you can sell and purchase pre-owned bikes? Pro's Closet is the biggest online marketplace where you could do all of that and more. The platform is totally certified and it even offers a guaranteed buy-back program.
Let's get started with Pro's Closet!
How It All Started: The Philosophy Behind Pro's Closet

Pro's Closet was started a decade ago by professional mountain biker Nick Martin. He was struggling to get his daily livelihood into place and that is when he came with a plan to start Pro's Closet.
He wanted some extra cash to ease off and that is when he started selling his unused bike gear, apart from that he also helped his friends sell their bike gear on different platforms like eBay. That is when Martin got the idea to start Pro's Closet- a friendly online platform that will help people and completely revamp the way we sell and purchase bikes, it was going to be a game-changer. Pro's Closet would be a company that would help people change and modify their garage hassle-free.
A decade later. Pro's closet sells and purchases certified pre-owned bikes. All of the bikes and gear have been inspected by professional technicians, this adds credibility to the advertisements you will be seeing on the platform. Every item has been tested out so that upon purchase you can immediately get into using them.
The cherry on top is the amazing 18-month buy-back program. This gives you the benefit of purchasing a bike every year if you are not satisfied.
How To Get Started With Pro's Closet: A Guide On Selling and Purchasing
Pro's closet as the name suggests is a very professional company and they have set themselves apart from other platforms. You can't sell any kind of old bike on the platform as there are certain criteria to be met. You want The Pro's Closet to buy your bike from you right? Then these are the criteria that you will have to fulfill no matter what:
The bike that you are trying to sell should be a maximum of 5 years old, no more than that.
The bike should have had a minimum price of $1,500 MSRP, it can't be less than this.
The only types of bikes that are considered for purchase are Mountain, Road, and Gravel.
If you are trying to sell wheels, frames, and other kinds of bike components then they should be completely unused.
The bike that you are trying to sell should have good suspension and it should be less than 5 years old.
After you have met all the criteria, it is time to head over to the Sell/Trade section, just fill in all of your information and you can get started.
Upon favorable consideration from The Pro's Closet, you will be offered a quotation. You can receive it in a variety of ways:
Cash
Store Credit
Trade-Off
Choose the option you want to go for and you're set! The cash you can spend any way you like, the store credit option lets you purchase bikes and gear directly from their store. The trade-off option lets you purchase a bike from The Pro's Closet's partners like the Competitive Cyclist.
How It Works: The Certified Guaranteed Buy-Back Program
The Certified Guaranteed Buy-Back Program is what makes The Pro's Closet truly unique. It is a unique mechanism that lets you try out and change many bikes. How does it work though?
First of all, every bike that you see on their platform is going to be Certified Pre-Owned. This means that the bike has been thoroughly inspected by professional technicians, they made sure that it is in pristine condition ready to be used. Their approval means that the bike's integrity, condition, and quality are top-notch.
This approval of the professionals gives The Pro's Closet a boost of confidence that whatever bikes they are selling are in the best of shape and still have many miles in their lifeline. In conclusion, the Pro's Closet offers Guaranteed Buy-Back on any kind of bike you purchase from them. This means that within 18 months of purchase, you can sell the bike back to Pro's Closet and experience something new and better. The price point of your purchased bike is updated on a monthly basis until those 18 months expire.
The options that you get against your bike are generous as you can again choose from the store credit or cash. Although, it is recommended by The Pro's Closet to not go with cash offers as they are generally lower, an average of 13% loss is recorded.
Still, there are certain criteria that need to be fulfilled if you want the certified buy-back program:
The bike should be in pristine condition, safe from any kind of harm or structural damage.
The original paint and decals must be preserved, which means no customization is allowed.
Any upgrades or downgrades that you make to your bike performance-wise will certainly be taken into account.
How Does Bike Inspection Take Place?
The Pro's Closet makes themselves exemplary through their inspection procedure, but how does all of it actually happen? The first thing that you need to know is that all of the inspection is done by trained professionals and their remarks are absolute!
The professional technicians of Pro's Closet go through a 141-inspection list, in this list, they make sure that the bike does not have any kind of damage, which includes the overall structure and components. They also make sure that the bike has retained its original cosmetic value and shape.
Rest assured, all the bike parts are carefully and thoroughly inspected. Even the parts that we don't see are inspected like brake fluids, derailleurs, wheels, and cables. If anything is missing or worn out, it is replaced immediately!
After the careful examination, the technicians' rate the bike which is between the score of 7-10. 7 means okay whereas 10 means excellent. They present these ratings on a visual chart to make things easier. The main reason that the Pro's Closet doesn't use bikes ranging from 1-6 scores because they believe in utmost quality and performance, they also don't deal in bikes older than 5 years.
The Bikes From Pro's Closet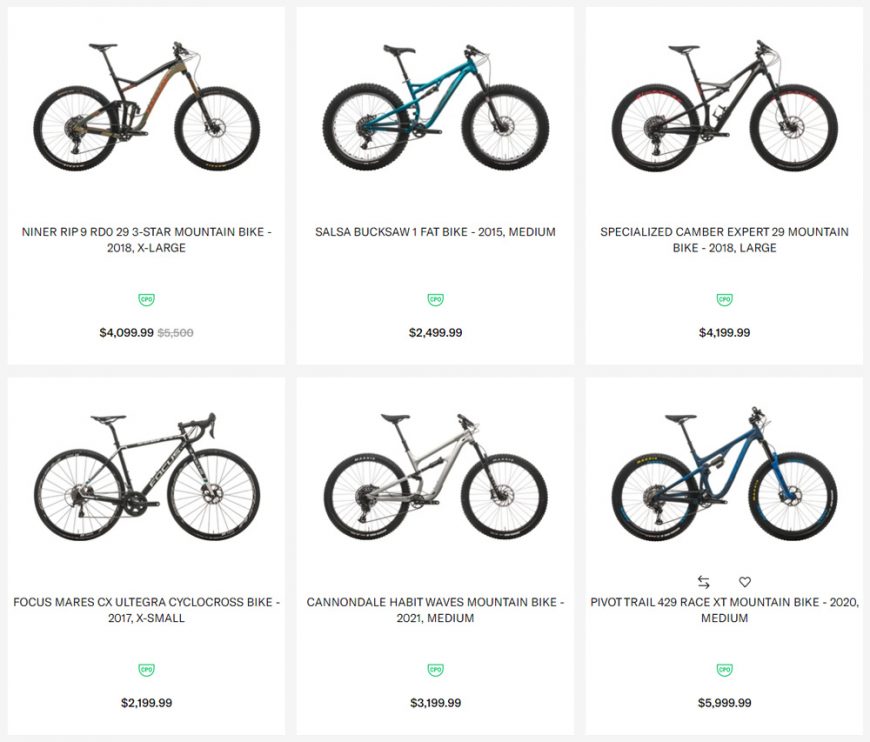 As the introduction stated, Pro's Closet is the biggest online marketplace for the sale and purchase of pre-owned bikes. The offer that they have on bikes is amazing, as of right now, there are more than 575 bikes on their site which are in the following categories:
Electric Bikes
Track Bikes
Triathlon Bikes/TT Bikes
Gravel Bikes
Cyclocross Bikes
These bikes are then further categorized into cheapest and expensive, with the $1000 being the cheapest and $12000 being expensive. Within this range, there are bikes for everyone, beginners and pros both can get any kind of bike they want. You can check all the types of bikes they have to offer over here.
It does not matter if you want a bike for normal recreational purposes or professional races. You will find everything you need at the Pro's Closet.
There are certain limitations with Pro's Closet though, they do not offer kids bikes, bikes with previous generation specifications, BMX bikes, cruisers, and 26-inch mountain bikes. That's the only reason you will find performance road, gravel, and mountain bikes on their website.
The filters on their website also make the search easier for your perfect bike, you will find filters such as gender, price, size, brands, brake type, frame type, etc.
Don't worry about clarity, all the bikes being offered on their website have high-resolution pictures that should make your choice easier.
Brands Offered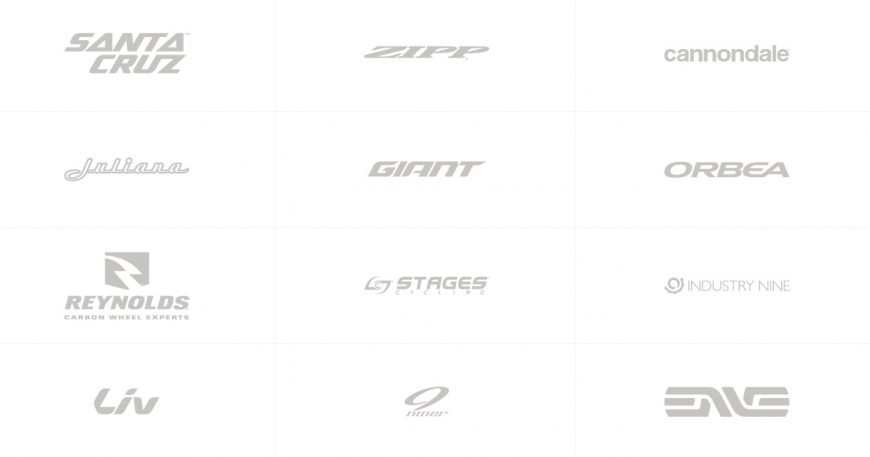 Pro's Closet offers some of the best brands in the market, you can easily find products from every performance-oriented cycling brand on the planet. The brands that they offer are very impressive, as of right now, they have more than 165 brands in their closet!
Some of the amazing brands that you can find are:
Santa Cruz
Zipp
Cannondale
Giant
Canyon
Rockshox
Orbea
Bianchi
Specialized
Juliana
Don't worry, these are some of the brands being offered right now, The list changes from time to time, something new comes up? It definitely gets updated! You can check all of them here.
The "Others" Category
As we discussed before, Pro's Closet deals in bike gear too apart from bikes, and they are in phenomenal condition. You will see that they sell wheels, frames, and other types of components. Considering upgrading your bike but lacking the budget? Don't worry, The Pro's Closet has got you covered!
If you search their website, you will find the following:
Apparel
Accessories
Components
Wheels
Frames
All the items are thoroughly inspected by the professional technicians before being on sale so there is nothing to worry about. Doesn't matter if it is a drivetrain or suspension you are looking for, everything will be in the best of shape. If you don't like what you bought, you can always get a refund within 30 days of your purchase.
Check the website here.
Explore The "In Stand" Section
Did you explore all of the sections in Pro's Closet and still couldn't find what you were looking for? You can explore the "In Stand" section, over here you will find bikes and components that will be available soon. If you like anything from that category then you can put them on your wish list, Pro's Closet will notify you the second they get available.
Should You Buy From Pro's Closet?
Pro's Closet has established itself as one of the best online marketplaces for bikes, components, and apparel. The list is so long that you are going to need days to go through the whole website. Some people have concerns when it comes to buying second-hand bikes, and components. This is a dilemma that needs to be fixed, Pro's Closet has a distinct and exclusive team of professionals that thoroughly check all the products listed on their site. Their verification, and quality assurance team is tough and doesn't let anything out of their sight.
Many users have bought products from Pro's Closet and they have only good things to say.
Here are some of the reviews:
I received many offers for my Infinito bike but Pro's Closet had the best deal possible, I used the sale of the bike to opt for store credit and got myself the new GMC bike everyone is talking about. No matter what kind of product you are looking for, they have something for everyone and that too at the best prices. Do check them out! (Steve Smith- Rated 5/5 stars)
Here's another:
Personally, shopping at Pro's closet was an amazing experience, I bought the Saris glider and some bikes for my kids. Totally satisfied with their services, will definitely buy from them again in the future. (Stacy Kim- Rated 5/5 stars)
FAQs
How does Pro's Closet Work?
You can be totally assured of Pro's Closet. All of the bikes they sell undergo a rigorous 141-inspection list, where it is made sure that they are in the best condition.
Does Pro's Closet ship to Canada?
Yes, they do ship the products to Canada.
Where can I sell my used bike?
There are plenty of platforms where you can sell your pre-owned bikes:
The Pro's Closet
eBay
GearTrade
Facebook
Reddit
Recap
Pro's Closet is an amazing platform where you can get certified pre-owned bikes and accessories. I would say that this is the biggest store where you can get everything you want. Yes, their prices are steeper than the other options you have in the market but it is so worth it. The bikes and components offered are thoroughly inspected by professional technicians.
I don't personally think there is anything wrong with Pro's Closet, neither have I heard any complaints yet. You want an amazing product? Do try out Pro's Closet!
---