People nowadays focus on the technical parts a lot, they focus on the wheels, frame, steering, and all that but that isn't everything. While searching and going crazy over all these features, people forget the most basic things sometimes- that bikes are made for fun!
Sixthreezero EVRYjourney is constructed on the foundation of fun and versatility, this is what the engineers wanted. This is one of the best cruiser hybrid bikes on the market and if you haven't tried it out then you are certainly missing something great!
Let's discuss in detail what the Sixthreezero EVRYjourney really is!
Sixthreezero EVRYjourney Review
Constructed with a timeless and classic design, the Sixthreezero EVRYjourney is a bike that will make sure that you become the talk of the town. If we talk about construction-wise first then it is a mix between a beach cruiser and a hybrid bike. That's why we have dubbed it a hybrid cruiser bike!
If you want the perfect bike for those amazing breach cruises, rides around the city or just casual rides in the park then the Sixthreezero is definitely the bike to have. The best thing about the bike is that it is made in consideration for both tall and short riders, the pedals are right in front of the saddle.
If you want to stretch out your legs, you will just have to lower the saddle and that's it. The bike is extremely customizable for men and women and it is also available in different colors.
Colors Available:
The Sixthreezero EVRYjourney is available in the following colors:
Mint Green
Cream
Navy
Teal
Black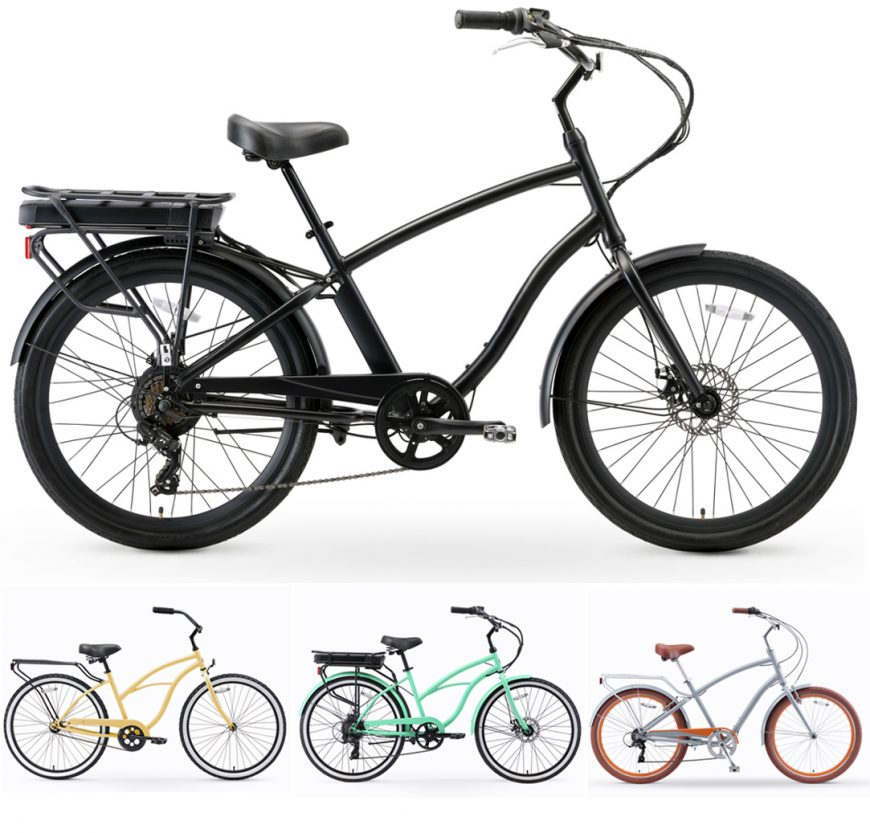 No matter what your personal preferences are, you can now easily customize your Sixthreezero EVRYjourney bike!
This here is a bike that is only trying to do what it does best- be a fun bike! It handles that quite impressively though. It is a luxury cruiser bike and will get you from one point to the other in a comfortable and fun way. We can all love the comfort and leisure of this bike easily!
What I loved most about the bike was the design, it is a mixture of modern and retro design, there is a one-universal size fit and you won't have to go through the pain of assembling the bike when it arrives at your doorstep.
Just visit the Sixthreezero site, check out the bike size chart, fill in your information and a perfectly fitting bike would be delivered to your doorstep without any problems.
Sixthreezero Bike Size Chart
Rider Height
Rider Leg Inseam
Suggested Frame Size
Size
Foot/Inches
Cms
Inches
Cms
Inches
Cms
XS
4'10'-5'1'
147-155 cm
24''-29''
61-73 cm
14''
47-49 cm
S
5'1'-5'5'
155-165 cm
25''-30''
63-76 cm
15''
50-52 cm
M
5'5'-5'9'
165-175 cm
26''-31''
66-78 cm
16''
53-54 cm
L
5'9'-6'0'
175-183 cm
27''-32''
68-81 cm
17''
55-57 cm
XL
6'0'-6'3'
183-191 cm
28''-33''
71-83 cm
18''
58-61 cm
XXL
6'3'-6'6'
191-198 cm
29''-34
73-86 cm
19''
61-63 cm
The following bike size chart is available for the Sixthreezero EVRYjourney also check our Bike Size Guide.
Specifications
You can't purchase a bike without knowing the full specifications, that is why here are all the details of the Sixthreezero EVRYjourney bike:
Frame: 17.5" Aluminum Alloy Frame
Fork: Standard Steel Fork with Quick-Release Wheel Mounts
Headset: 25.4mm Steel
Wheels: Aluminum Alloy 26″ 36-Spoke 14G Rims, Quick-Release Hub, 3/8″ Threading
Tires: 26″x1.95″ Semi-Slick Cruiser Tires
Weight: 38.1 Lbs
Crankset: 44T Steel Crank With 170mm Arm Length
Cassette: 18T Shimano Cassette
Chain: 118L, 1/2″ x 1/8″
Shift Levers: Shimano Index Revo Shifter 7 Speed
Rear Derailleurs: Shimano Tourney Rear Derailleur TY300D 7-Speed
I honestly think that these specifications make for one amazing bike that you should definitely try out!
People' Experience
When people try out the Sixthreezero bike, they immediately notice one thing- this is a luxury bike. It is a bike that exceeds the value that they have paid for. It may be a hybrid cruiser bike but it can also handle off-road trails very easily.
People have used the bike to mount steep hills and they haven't been disappointed yet. With the modern design, this becomes quite the beauty and aesthetically pleasing. You just need the stamina and the bike will do the rest!
Overall, this is a bike to have if you want to have comfortable and leisure rides. Plus it also comes in different speed variations which we will discuss shortly.
Sixthreezero EVRYjourney Speed Variations
We know that people will be using the Sixthreezero bike for a variety of reasons, that is why the bike is available in different speed variations. Let us discuss the different speed variations available for this bike:
1- Speed (Single Speed): The single-speed configuration is best if you only want to use the bike for flat surfaces. If you live near the beach or a non-hilly area then this is the option to go for. Single-speed configurations don't have any kind of derailleurs so that means no maintenance. You also won't get any kind of slack from the chains, so if you want to take the bike to its full limits then go for the single-speed option.
3-Speed: Now, the 3-Speed is a good and complicated choice than the 1-speed as you get one sprocket in the front and three in the rear. You get amazing value and versatility from the 3-speed as there are three gears now instead of one.
7-Speed: If you are looking for something professional then the option to go for is the 7-speed variation. It is often chosen by bike enthusiasts who want to push the maximum limits of their bikes. It is best suited for the combination of both flat surfaces and hilly areas, if you ride regularly then go with this variation.
21-Speed: This combination is the maximum of the maximum if you want the best versatility, speed, and comfort and want the bike to perform on every kind of surface then go with this option.
Sixthreezero- Main Features
Every bike has its own stand-out features and the Sixthreezero is the same. It has not one but multiple features that stand out and show just how unique this bike really is.
Frame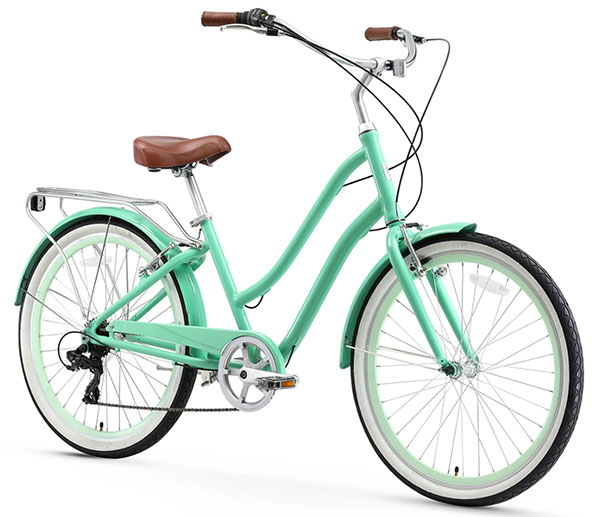 The Sixthreezero EVRYjourney has a 17.5" Aluminum Alloy Frame and it is very easy to mount/dismount whenever you want. Ease of access is mainly prioritized with this bike and we can't love it more! The pedal position is also foot forward which makes it very easy for all kinds of riders. This is what I love about the bike, comfort and versatility are always prioritized.
If you want to put your feet flat on the ground then you can do that easily while staying put. You will always maintain an upright position while riding the bike, which is both needed for good performance and is also recommended health-wise.
The upright riding position relaxes the pressure points in the body. Plus, your bike will always look brand new thanks to the aluminum frame.
Maximum Comfort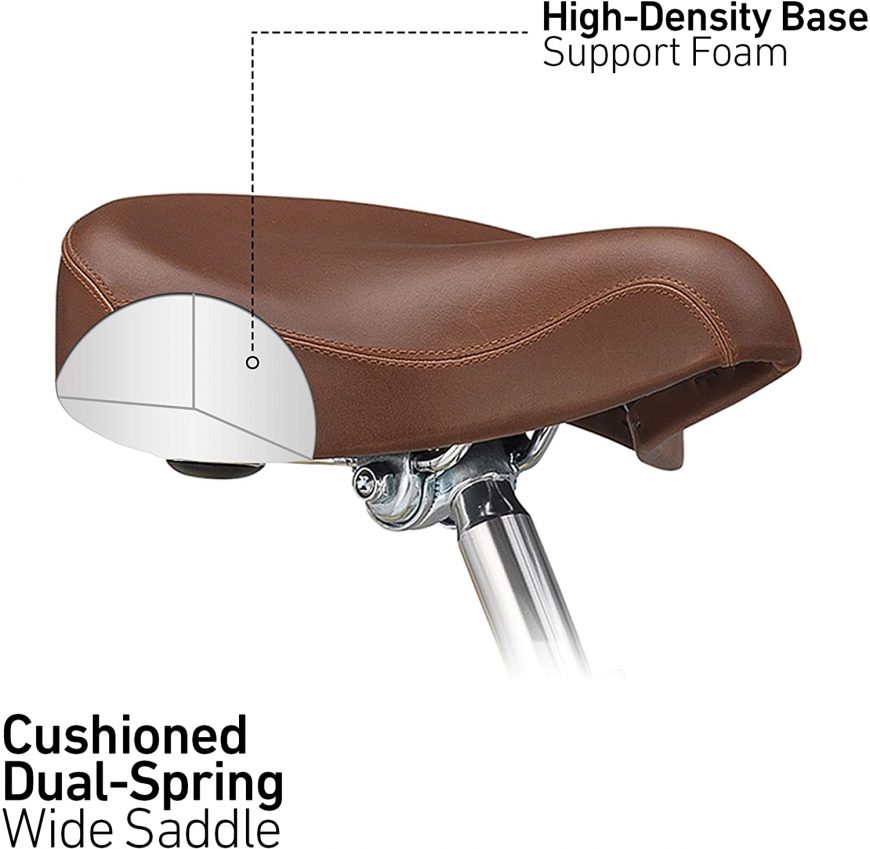 If you were looking for an extremely comfortable bike then the Sixthreezero is an amazing choice. The Sixthreezero EVRYjourney is the comfiest bike that I have ever experienced and reviewed, it goes beyond saying that this is a LUXURY BIKE.
Apart from having an amazing comfortable saddle, you also get an upright position while riding the bike, this relieves the pressure points in your body and relaxes/eases you. The saddle on the other hand is engineered to give you great comfort, it is also wide in a structure. All in all, you will feel that you are on cloud 9 while experiencing this bike.
The handling on this bike is also amazing, there are leather grips on the bike, which makes maneuvering peachy and comfortable. The Sixthreezero is made for comfy luxurious cycling and it definitely feels like that, the engineers have done a remarkable job of creating the comfiest bike ever.
One Size To Rule Them All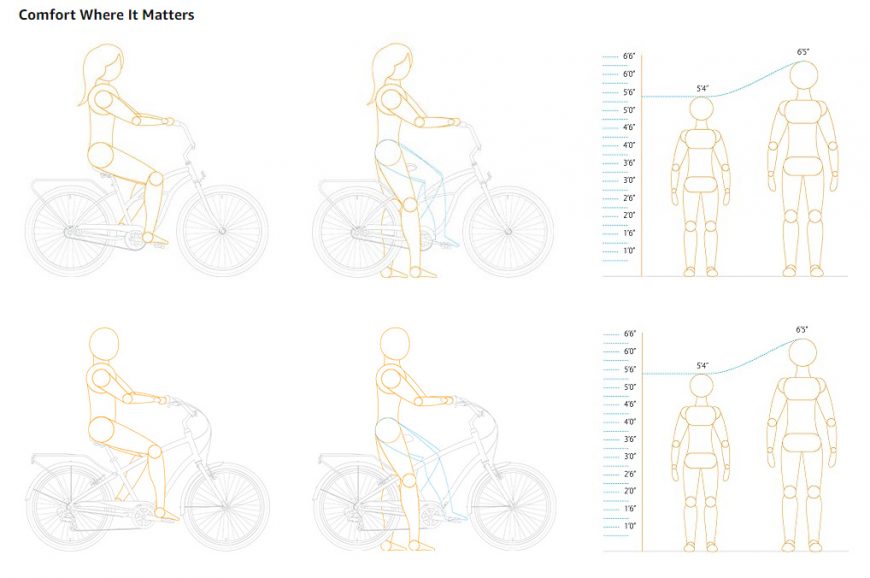 The Sixthreezero EVRYjourney bike is known for its versatility and comfort, that is why it is made for a variety of riders, no matter if they are short or long. Even the weight limit on the bike is nice enough, I mean with 300 lbs you can fit any type of person and they would enjoy the many joys of cycling.
Even if any kind of sizing issue persists or you get confused about anything then you can simply visit the Sixthreezero website. They have a sizing chart ready at your disposal, you can fill out the necessary measurements and they will take care of the rest. The company will make sure that you get an amazing bike that fits you perfectly.
There have been reports that some people with joint pains are not able to enjoy the bikes, it is with great pleasure to say that even those people would be able to enjoy the Sixthreezero bike without any problems thanks to the upright position of the bike.
Customization Is King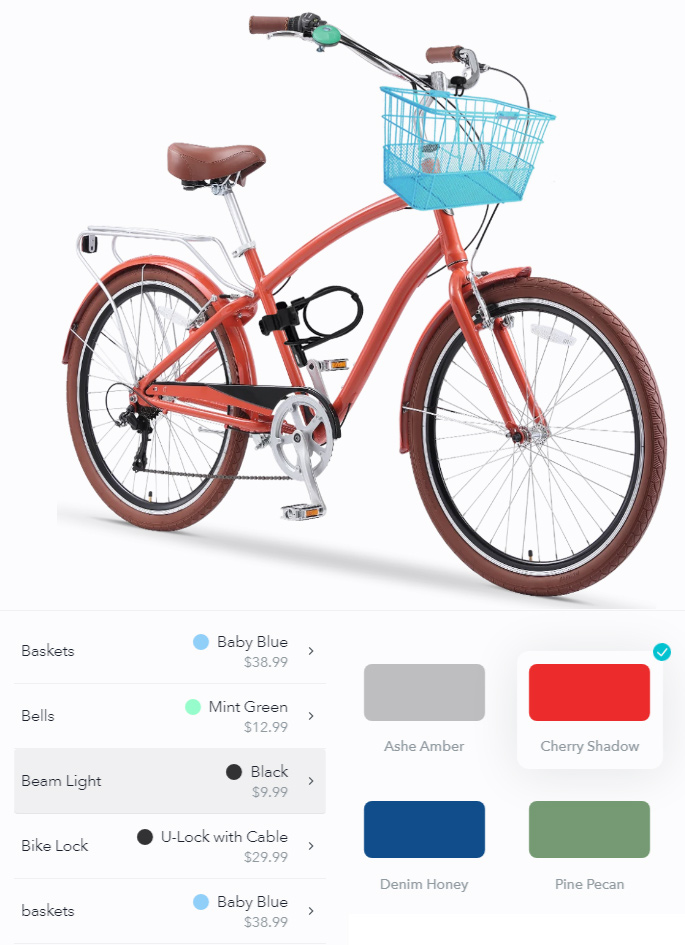 What good is a luxury bike if you can't even customize it properly or at the least customize it? I can tell you this gladly, with the Sixthreezero EVRYjourney you can go ham with the customization options. No matter if it is a color or a design, you can do everything you want.
If you want to take your children along with you, especially newborn babies then there is also an option for that. Baby seats, baskets the options are endless and you won't have to wait for them to install as these attachments are made very easy.
Customization and leisure bikes go hand in hand, so if your leisure bike doesn't offer customization then it isn't a leisure bike really. I for one, put on some baskets and bottle holders as I can't control my thirst when I am out on the road.
Plus, we already told you about the speed gear variations that you can choose from, you will definitely be amazed by the capabilities of this bike.
The Retro Handlebar Looks Amazing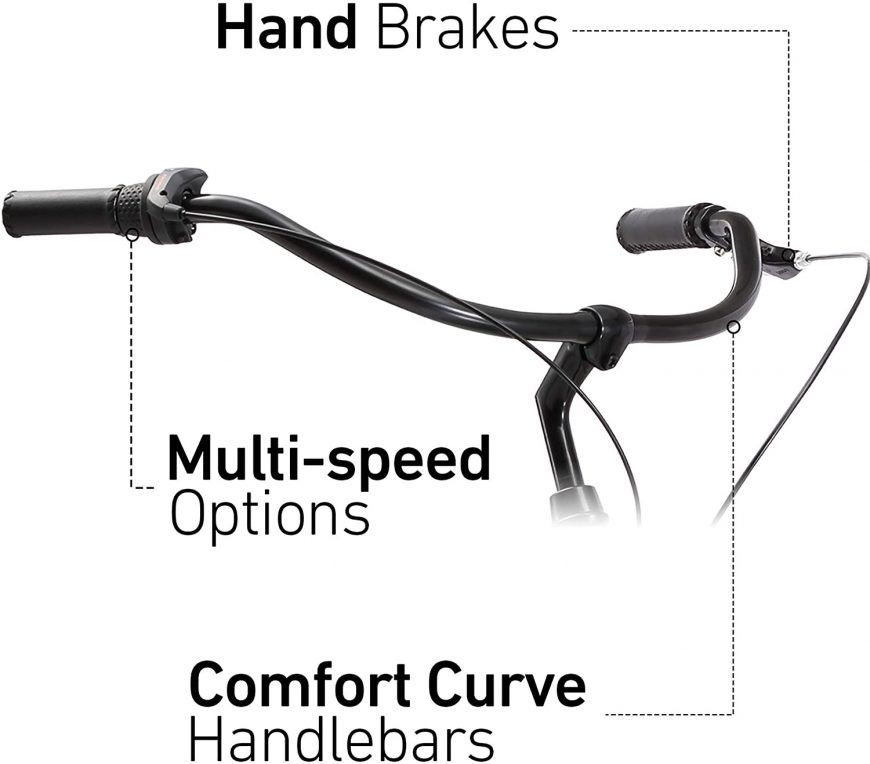 This bike looks absolutely gorgeous, no matter what angle you look at it from. The bike is already fitted with top-tier components but the first thing that I noticed was the retro handlebar, it just looks phenomenal. With the old-fashion touch, it looks absolutely sexy, it is a beast!
Looks aren't everything and the company knows that as well. The handlebars aren't just eye-candy, they are built that way to give you the maximum comfort you know! They make sure that your hands are very close to your body and you are always in an upright position.
You get a good look at the surroundings, people around you, traffic, good eye contact is always necessary for a smooth ride and this is what the Sixthreezero EVRYjourney ensures.
The Construction Just Gets Sexier
The Sixthreezero EVRYjourney might have the looks, might be a luxury bike but it also performs amazingly on the road. Thanks to the amazing construction, this is still one beast of a bike. The aluminum-steel hybrid frame of the bike is exceptional, it is super light so that the riders can maneuver it without any problems.
Thanks to a very strong rack, you can install baby bike seats or baskets for grocery, anything you want with your bike is already within your grasp. Let's talk about the tires, the EVRYjourney is equipped with the amazing 26"x1.95" these tires work amazing for flat surfaces and even off-road trails.
The bike is also equipped with Shimano derailleurs if you were wondering about that, there are also V-brakes as well. Everything you want is here with the Sixthreezero EVRYjourney so make sure that you get it!
What About The Pricing?
Everything seems good about the Sixthreezero EVRYjourney but what about the pricing? You would be glad to know that this amazing bike is very much affordable, you won't have to pay up a fortune to acquire it. The prices basically start around MSRP $399 but with all the customizations and all that expect the final price around MSRP $500-$600.
---
Pros
The Sixthreezero EVRYjourney is most among the customers because of the following reasons:
It has a very lightweight aluminum frame
The assembly process is very easy
The retro classic design fits perfectly
The dual-spring saddle is amazing and super comfy
The fenders and rear racks are amazing
Great and affordable price
Comes in 21-gears too
Shimano components
It rides amazingly well
The pastel color range is amazing
It can even fit shorter people without problems
Cons
The Sixthreezero EVRYjourney isn't that famous with some people because of the following reasons:
It may be a hybrid bike but it isn't fully specialized for off-road trails
Some users complained that even after repairs, the gears weren't working properly, had loud noises
Some people would have problems assembling the bike
There are online issues like late deliveries, missing parts, etc.
Some riders said that the bike didn't fit them properly
Are There Other Variations of The Sixthreezero?
There isn't just the main Sixthreezero EVRYjourney bike, there are other models as well. If you are familiar with the company then you can definitely try them out as well!
Men's Ultimate Hybrid Cruiser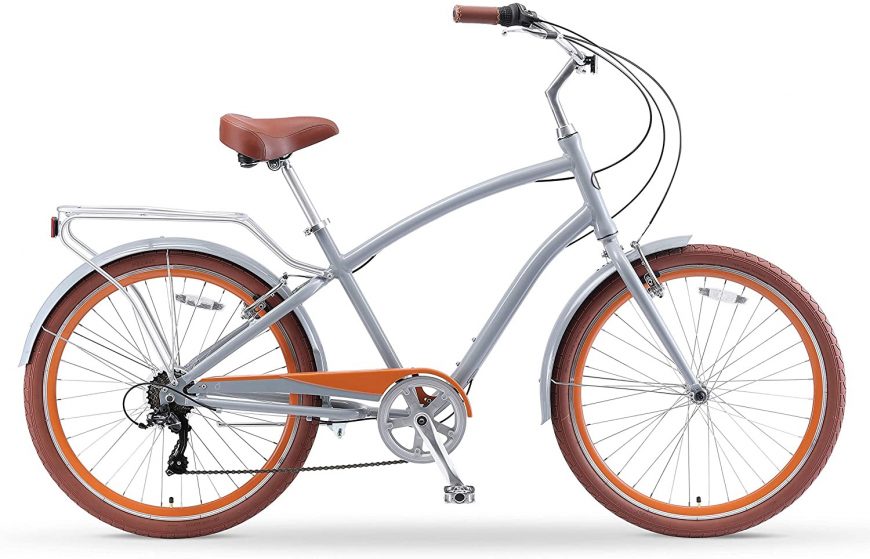 The first one that we are going to discuss is the Sixthreezero EVRYjourney Men's Ultimate Hybrid Cruiser. If you are looking for the perfect tool for those off-road trails and professional races then this bike is the one for you! It is also constructed with a lightweight frame and 26" wheels that are perfect for traversal.
It is available in a variety of amazing colors like Denim Honey, Shocking Red, Navy Blue, Midnight Black, and Pine Pecan.
---
Sixthreezero Women's Bike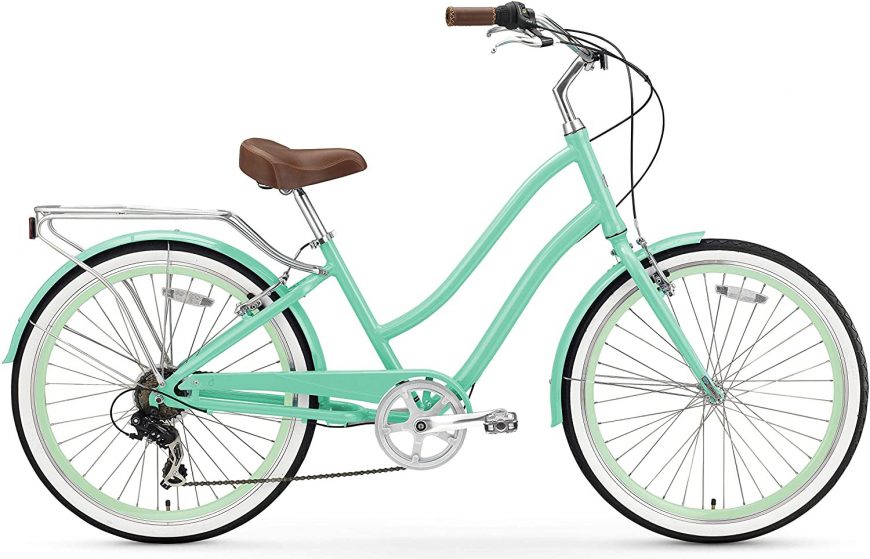 There is also a dedicated women's version of the bike if you don't want to go for the unisex model. It has a cool step-through design that is specifically designed for women so that they can use the bike easily.
It also comes in amazing colors and you can choose between the 3-speed and 7-speed gear variations. This is a great option for women if they want to embark on their personal bike journeys.
---
Sixthreezero EVRYjourney Tricycle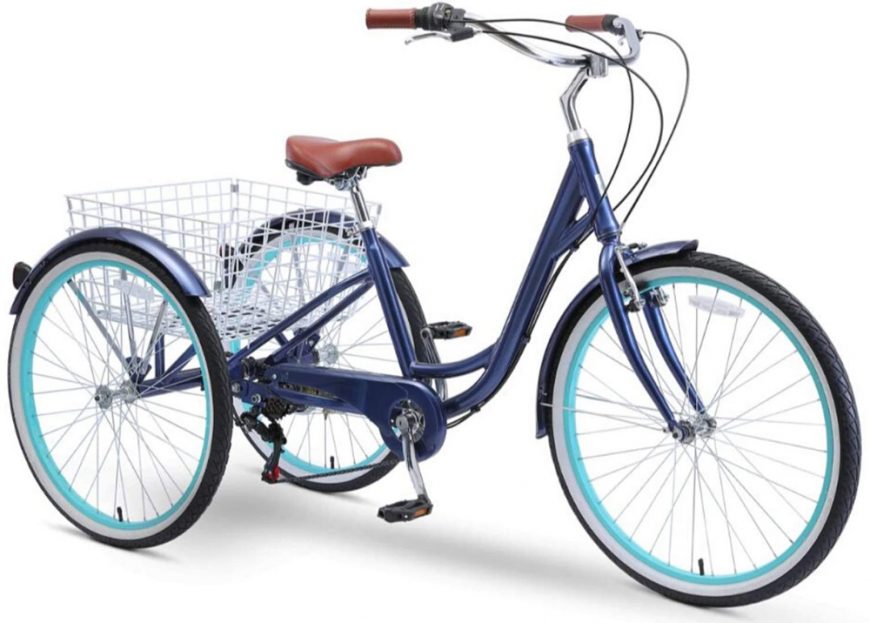 If you are a fan of trikes and always wanted to get them then you would be happy that there is also a tricycle version of the Sixthreezero EVRYjourney. As you guessed, it is just as amazing as the other bikes and performs nicely too.
You can glide over every terrain, smooth sailing over here riders! Commuters are definitely going to love this version of the Sixthreezero.
---
Recap
What else can I say about the Sixthreezero EVRYjourney bike that I love it? Although deemed as a leisure bike, it does so much more. It is a hybrid cruiser bike, you can ride it anywhere and you will feel like you are walking on clouds.
The components and different features come together to make a fun bike that performs just as amazing as it looks. With all the different speed-gear variations, it seems that this is the ultimate bike for everything. Yes, there are some limitations but that happens with every other bike.
The bike is also great from a health perspective, always keeping an upright position, this bike makes sure that all of your pressure points are relieved and that you feel relaxed all the time.
If you are looking for an amazing leisure hybrid bike then definitely go for the Sixthreezero EVRYjourney.
Also Read: