People are getting more and more conscious about their lifestyle choices, they are actually caring about the world more now. Let's talk about electric bikes, for example, majority of the people are drawn to them because of their amazing environmental benefits. Apart from those benefits, they are also amazing performance-wise. So, I have to introduce you to a really impressive electric bike: My Akatora- An Electric Bike Made From Bamboo.
We have known for a while that wood and bamboo are sustainable materials when it comes to bikes, and manufacturers around the world are experimenting with them. My Akatora, however, is a brilliant invention from a German-based manufacturer by the name of My Boo. They actually are the masters of crafting bamboo-based bikes, and My Akatora is their best work yet.
What's New About This Bike?
The idea of bamboo bikes isn't anything new, we have been talking about them for a while now. Still, talking is one thing, and actually implementing is another. My Boo has done a miraculous job here, they have developed an electrically-assisted mountain bike from Bamboo which no one has done yet. For whom is this bike going to be perfect? If you have an amazing sense of adventure and want to venture into the wilderness without having to worry about the environment, this bike is going to be the best choice for you.
Motor, Battery, and Performance Impressions
What Good is an electric bike if it can't even have decent performance? Let me tell you one thing before we get into the specifics of this bike, this is a Performance-Oriented MTB. It is equipped with the popular Shimano EP8 motor which delivers 85 Nm of Torque, the motor is then powered by a 504 Wh battery which has a range of more than 111 miles, crazy stuff. The bike also features innovative sensor technology, which makes sure that the bike's driving dynamics adapt to every riding situation there is.
Now you might be thinking about bamboo and why they had to go with this material. Did you know that bamboo is actually one of the strongest and most resilient materials in nature? So yes, if your bike is made from bamboo then it will be one tough machine. Apart from being strong, bamboo is also renewable and it emits 30% more oxygen than trees.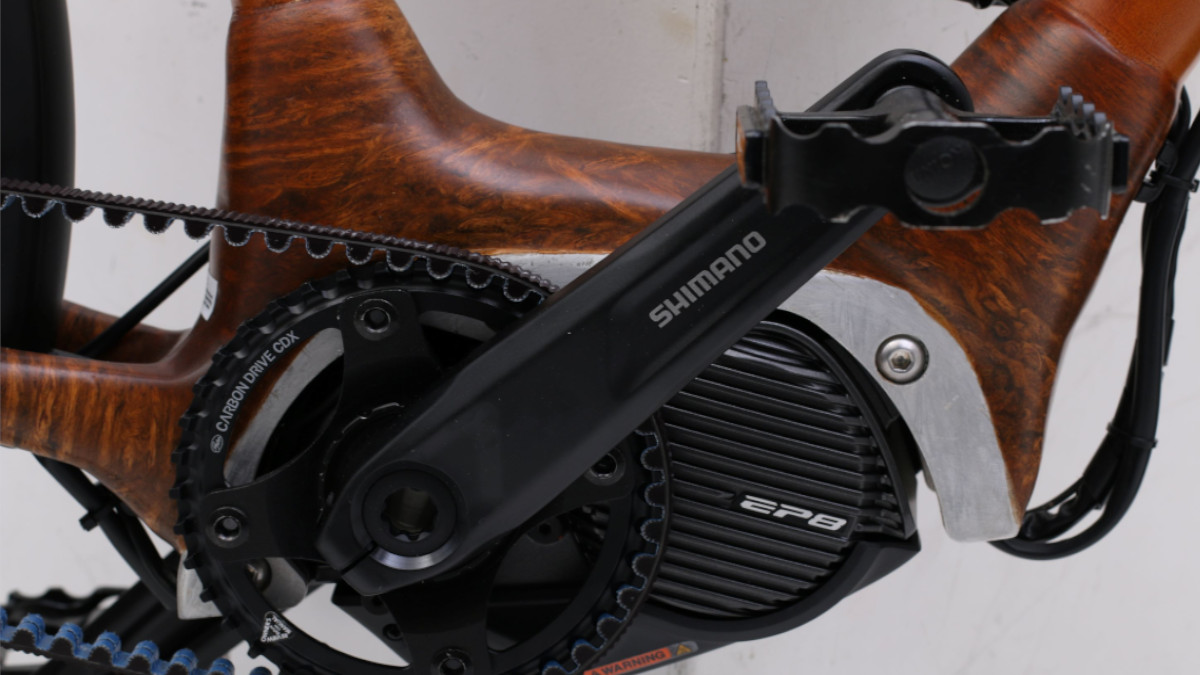 My Akatora makes wonderful use of a powerful motor, and it has to be built exactly up to the standards. All of their frames undergo rigorous and detailed quality assurance before being launched, you don't have to worry about a thing.
How Are They Made?
One of the main reasons why I love My Akatora is that it brings something very unique into the fray. Apart from being really unique, it is also the first electric bike model of the German brand. The bike fully satisfies the European Standards for Bikes (EN14746).
I really love how the company has gone all out with My Akatora, this is an e-hardtail bike that features a 100mm-travel RockShox Recon suspension fork along with Shimano Hydraulic Disc Brakes, this is the kind of bike that you don't miss out on. The bike also presents itself with various customization options that you can avail of.
There is another reason why My Boo chose to go with Bamboo for their first, although it is very resilient, it also proves to be very lightweight. The bike has a weight of 50.7 pounds (23 kg) and is fitted with Shimano MT501, 27.5″ wheels.
Pricing and Availability
Currently, My Akatora is available in two different versions. First, we have the basic version (My Akatora EP8) which starts at 5,499 Euros which is ($6,092) according to the current exchange rate. Then we have the Pro Model which is fitted with a Fox Suspension Fork, Shimano XT 12-speed gearbox, and DT Swiss H1900 Wheels.
For more information about My Akatora, click here.
Also Read: The New HELM MKII 29 Fork By Cane Creek: Enjoy The Limited Edition Adventures
Featured Image Via My Boo