Bike hand signals are important. They can help you avoid any mishaps when you are on the road. And they help you be more aware of your surroundings too. Hand signals are an important counter-crash measurement of the road. This was proven in a study conducted at the Transportation Research Center for Liveable Communities.
These signals let other bicyclists and other drivers know about your intended movements. So, if you think about it, they make sure that you are safe on the road! This is why in many United States, different municipalities and states actually have laws that require you to use hand signals!
You might be thinking there are so many hand signals. Which one is he talking about? Well, guess what? I have listed the most important hand signals that are even recommended by the National Highway Traffic Safety Administration (NHTSA).
Ready for the good part? Let's get reading!
4 Most Important Hand Bike Signals
Here are the basic signals you should know about.
1. When Taking a Left Turn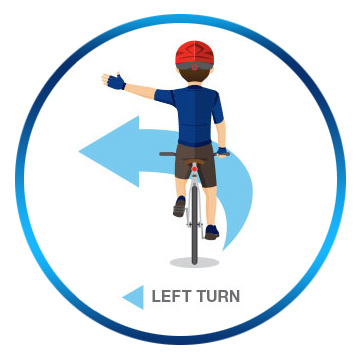 Let's start with the most basic of bike hand signals. If you want to signal a left turn while riding, all you need to do is extend your left arm to your side, that's it. You need to keep your hand open, otherwise, it can be confusing.
2. Signal For Taking A Right Turn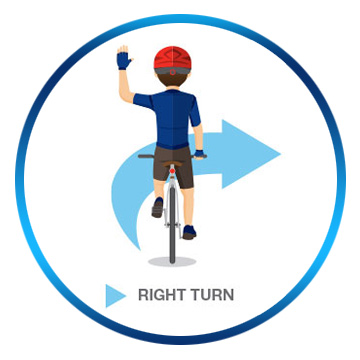 You can use two-hand bike signals when taking a right turn. Both methods are easy to use. You can use either one of them. Whatever you feel more comfortable with.
Method 1
Let's start with the method that is the most popular. You just need to extend your right arm to your side, the same way as you did with the left turn. In order to make the arm fully extended, don't make other movements. This is a very easy method to use but it is not allowed in some states of America.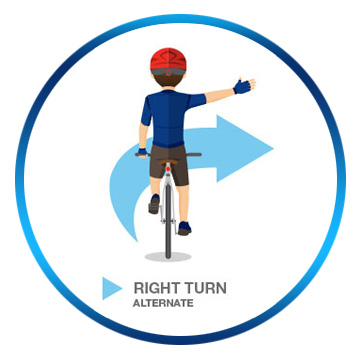 Method 2
Extend your left arm straight to the side as you did with the left turn, then turn the arm up at a 90-degree angle. Confused? don't worry, try to practice it but you can practice it over and over again. Remember, keep your arm straight.
Learn how to stay safe and avoid the kill zone with our expert tips today!
3. Signal For Stopping Or Slowing Down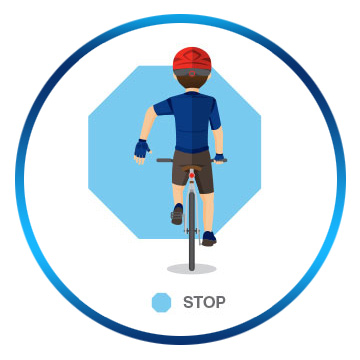 Stopping or Slowing Down is another common bike hand signal used by cyclists. This signal is important because most of the bikes don't have brake lights. That's why it is really difficult to tell when they are slowing down. This signal also comes in handy when you are changing lanes.
In order to show that you are slowing or stopping down, just extend your left arm to the left side, and bend your left hand down to a 90-degree angle. Make sure that your hand is open and not closed.
Learn how to prevent injury while cycling with our guide and ride with confidence.
4. Signal To Show You Are Approaching A Road Hazard/Pothole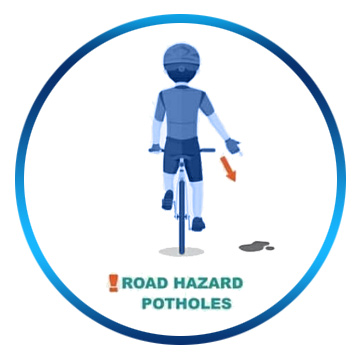 If there is a hazard on the road and you are approaching it, you can use this signal to let others know. The hazard could be anything from a pothole to a drain cover.
To signal, stretch your arm to the side and point at the hazard. If there is time you can even make a circle with your hand. This is a good way of letting others know about potential dangers.
Stay informed and stay safe on the road. Explore our guide to learn the safety impact of bicycle laws and what you can do to protect yourself.
Tips To Properly Use Hand Bike Signals
To use any bike hand signal, you need to slightly look back on the road while riding. Then make an eye contact with whomever you wish to tell about your movement or indication. Why I recommend looking back is because it will give you a broad idea of what is happening around you. It will also help you communicate better that way.
Many cyclists, both professionals and beginners sometimes have a problem when they want to stop or slow down. I also recommend signaling at least 100 feet before you want to stop or slow down. It will give others enough time to process the signal.
When using the signal, hold the signal for about 3-4 seconds before you stop, slow down, or make a turn! This signal window allows you to make the signal properly and get your hand back on the bike before you make the turn.
Don't let a text message be your last. Read our guide to learn about the dangers of texting and driving and how you can stay safe on the road
The Importance of Bike Hand Signals
According to a research study, there were many bicycle-related accidents in 2022 alone. There were 966 reported bicyclist deaths in motor-vehicle crashes in 2021 alone. According to another study, more than 130,000 bicyclists suffer injuries in accidents and crashes in the United States every year. The reasons were different. But one of the main reasons is the misunderstanding that occurs between cyclists and motorists.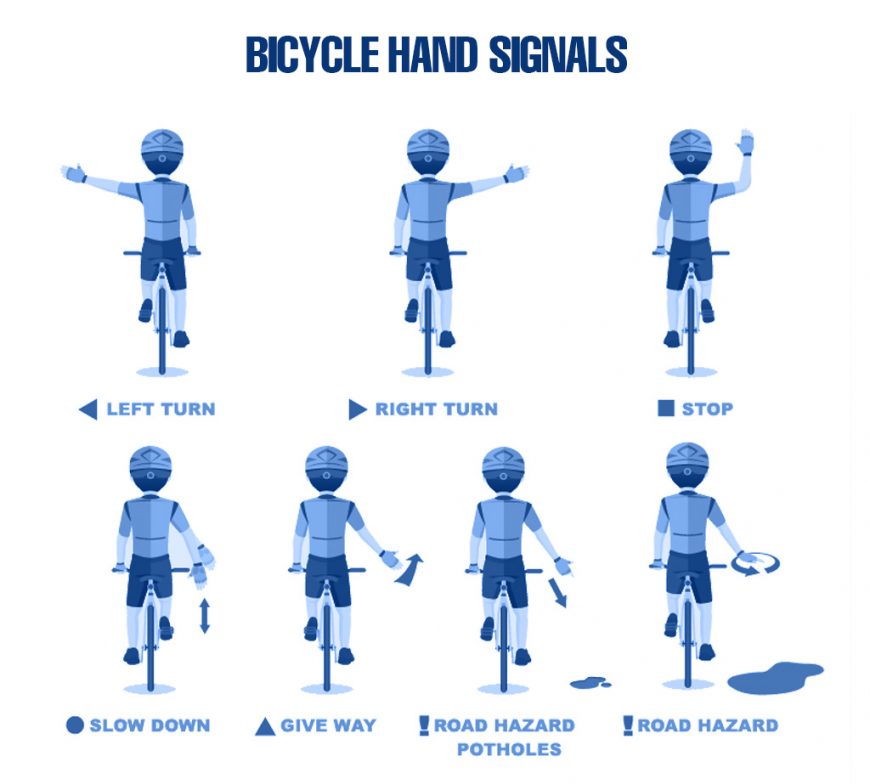 Using hand signals does not fully protect you from motor vehicles, I mean they might get careless and hit you on the road. Although using hand signals definitely reduces the possibility of that ever happening. No matter what direction you are going in, turning left, right turn, or slowing down, these hand signals can convey your intentions to other road users.
Get real-time traffic accident statistics and stay informed on the latest road safety trends.
FAQs
What does a bike and 2 arrows mean?
A bike and 2 arrows mean a shared line of motor vehicles and bicycles.
How many feet do you give a cyclist?
3 feet is the recommended distance that you should give a cyclist.
What is the minimum distance for a cyclist?
The minimum distance a cyclist should maintain is at least 1 meter.
Why do people on bikes ride close to traffic?
People on bikes usually ride close to traffic to be visible.
What is the speed limit in the cycle lane?
There is no set speed limit for a cycling lane. If there is a required speed limit, it will be usually indicated on a roadside pole. However, some paths have a speed limit of 15mph.
Recap
Bike Hand Signals are very necessary for when you are riding on the road. These signals make it easier for everyone to be safe on the road. Remember, these hand signal laws are not reinforced but they are important for road riding.
I hope that by now, you now know the importance of bike hand signs and the important signals. If you have any confusion, feel free to reach out to me in the comment section. Be safe out there!
Also Read:
---