Have you ever wondered why people wear cycling caps under their helmets, especially the senior riders? I used to think it was a styling choice but you will be surprised to know that just a little research proved me wrong. That's right! Cycling caps keep the sweat out of your helmet and tug your hair in place. But they offer so much more!
So I sat down with my father, a lifelong cyclist, who has been wearing cycling caps since the 1965s-1970s. I interviewed him to find out why he never gave up on wearing these things. He gave me many reasons and over the Labor Day weekend, I tested to find if these purposes were really applicable.
Here's what I found out:
The Purpose Of Cycling Caps
If nothing else, the old man told me it's a better experience to wear the cap under a helmet. Here are the purposes of cycling caps that I found through research:
1. Easier To Manage Unruly Hair
Caps are a practical solution for managing your unruly hair. Especially if you have long hair. Long hair tends to escape from the helmet vents. It's a very uncomfortable situation because it feels like someone is pulling your hair. Not to mention the look you will have once to remove the helmet!
Caps fit very snuggly under the helmet and keep your hair in place. So there will be no stand poking out to ruin your aerodynamic profile. Cycling caps are designed to fit under a helmet. You won't find this advantage with other kinds of caps like a baseball cap.
2. Keeps Your Helmet Clean
Cycling caps help keep your helmet clean. Riding leads to a lot of sweating. So if you have a cap on, the cap will catch the sweat and grime. So the sweat will not come in contact with the inner mesh of your helmet. It is very easy to clean a cap as compared to thoroughly cleaning your helmet. Not to mention that helmet pads are very expensive. The sweat and then the frequent washing will lead to the wearing down of these pads quickly.
Check out our top 12 picks for the best mountain bike helmets and choose the one that suits your riding style and budget.
3. Helps Control Sweat
So I have established that caps help keep your helmet sweat-free. But how so? These caps act as a moisture-wicking barrier, keeping the sweat out of your eyes. They kind of absorb all the sweat from your forehead. This purpose is really beneficial if you do not have hair. If you are bald, you naturally lack the sweat control provided by hair.
4. Provide Protection From Sun And Rain
Caps were originally invented to provide protection from sun and rain. To this day, this purpose remains relevant. The brim provides a barrier from the sun and also protects your face from rain. You won't have sunburn in the summer. For the wet rides, keeping the peak down helps keep the raindrops away. They also keep the wind out of your eyes.
UV rays are the common culprit when it comes to skin cancer. Not only cancer, it can cause various skin diseases. When you are outdoors for longer periods of time, especially without a protective layer, you are exposed to these harmful sun rays. Many riders who do not have hair have suffered from skin burns on their heads. You surely will not enjoy a skin burn on your head in the pattern of your helmet! Even the riders who do have hair, suffer from sunburns on their faces.
The American Academy of Dermatology, the Skin Cancer Foundation, and similar organizations have issued various guidelines to protect oneself from the sun. Their studies and research have laid importance on wearing protective clothing and using sunscreen to protect your skin from harmful UV radiation.
George Hincapie, a retired professional cyclist famous for his multiple Tour de France appearances said:
As cyclists, we spend countless hours outdoors, exposed to the sun's rays. It's crucial to protect our skin from the harmful effects of the sun to ensure a long and healthy cycling career.
The cycling caps are a form of protective clothing for your head. They also provide shade to your face. So it's way easier to wear a cap rather than covering your bald head with loads of sunscreen.
5. Keeps You Warm On The Colder Days
These caps provide a base layer to your head. So on the colder days, you will have a bit of warmth. Riding in the cold air can quickly make your ears freeze. This is an uncomfortable situation where you can be forced to stop riding at all. Especially if you are a bald rider, it helps in maintaining your temperature.
6. Acts As A Barrier Against Insects
Insect intrusion is really annoying when you are cycling. Insects like black flies, deer flies, greenhead flies, moose flies, mosquitoes, and other insects can easily crawl through your helmet vents and then roam freely on your head. That tickling feeling like something is walking on your head can make you lose your focus quickly. Some of these insects also bite which can be very dangerous.
Cycling Cap Recommendations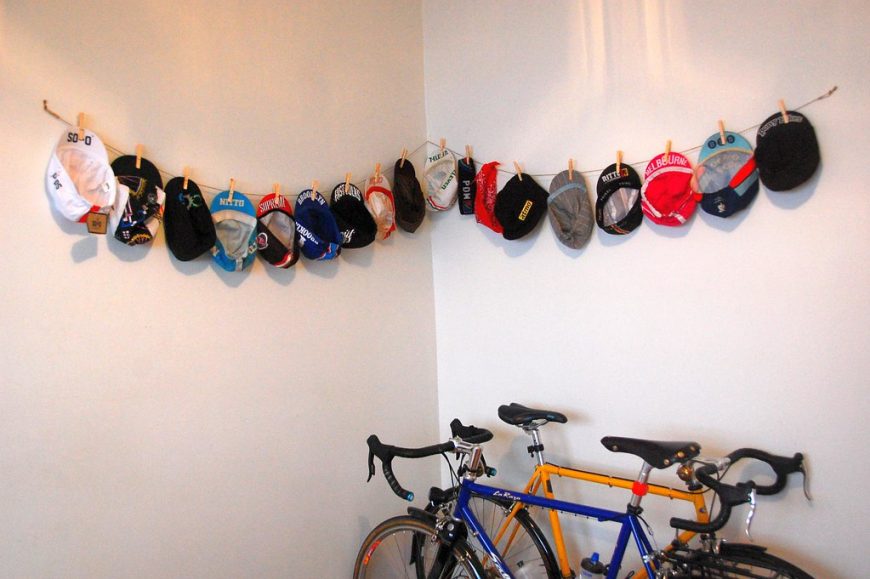 Do you want to know what types of cycling caps will be good for different weather? Well, I am so glad you asked because I was thinking the same. Here are the different caps you can wear to ride in different weather.
Weather
Type
Cap Recommendation
Summer
Lightweight, breathable caps

Assos Trail Cap
Rapha Lightweight Cycling Cap

Winters
Caps are made from thick materials like wool.

Pearl Izumi Elite Thermal Cap
Gore Wear C5 Gore-Tex Infinium Thermo Cap

Rainy
Water-proof cycling cap

Showers Pass Elite Cap
Castelli Pro Rain Cap

Windy
Cap to protect your head from the wind. They have an aerodynamic shape to create wind resistance

Assos Aero Cap
Giro Foray Aero Cap

Transit Seasons
Cap with a combination of breathable and insulating material

Castelli Pro Light Cap
Pearl Izumi Elite Pursuit Cap

Sun Protection
Cap with a sun flap or visor

Giro Foray Cap with Sun Flap
Assos Trail Cap with Sun Visor

Extra Visibility
Cycling cap with reflective material

Proviz Reflect360 Cycling Cap
Tips To Style A Cycling Cap
Cycling caps fulfill a lot of meaningful purposes but that doesn't mean you cannot style them. They can be a fun way to define your personality by adding a flavourful touch to your cycling attire. Here are some of my cycling cap styling tips that you can easily follow:
1. Coordinate The Colours With Your Kit
Match the colors of your cap with your cycling kit. This will give you a more polished look. Put-together apparels have a better vibe.
2. Be Mindful Of The Peak Direction
Traditionally these caps were worn with their peaks facing forward. But you can also try new things like flipping the peak backwards for a unique look. But on rainy days, I would suggest keeping the peak facing front and downwards to keep the raindrops out of your eyes.
3. How To Poisiton The Cycling Cap
Positioning your cycling cap has a big impact on your style. You have many options here. You can go with peak facing forward or backward, the bill can be up or down. It is better to explore these styles to find out which goes better with your sense of styling.
Bill Up
This classic look gives a retro vibe. If you are a fan of classic appearance with timelessness, I would suggest keeping your bill up.
Bill Down
Keeping the bill down is more of a sporty look. I prefer to keep the bill down because it protects from the sunlight as well as from the rain.
Tilted To The Side
You also have the option to keep your cap tilted to the side. This will add a slight touch of attitude to your look.
4. Buy Compatible Sunglasses
Buy cycling sunglasses that are compatible with your cap. Compatible glasses will not interfere with your cap. Your cap should be able to sit above your sunglasses without your glasses sliding down. That is an uncomfortable situation especially when you are riding.
If you live in a region where you have to frequently take colder rides, take a look at how you can select the best winter cycling goggles to make your rides more interesting.
5. Choose The Right Cap
The most important thing you must consider when buying a cap is its material. For hot days, the cap should be lightweight and made of moisture-wicking synthetic material. For rides on the colder days, a slightly thicker cap will be more comfortable. Choosing the appropriate headgear for winter cycling is a must.
6. Be Mindful Of The Occasion
The type of ride that you are heading on to real matters. Be mindful of the occasion you are riding for. If you are going for a casual ride, you can be as playful as you want to be. You can personalize your cap and add pins and name tags to it if you wish to. But for races or other events, it is better to go for a classic look.
7. How To Manage Long Hair With A Cycling Cap
For long hair, it is better to tuck your hair under the cap to enjoy a better aerodynamic profile. Make sure that you tuck it in a way that it stays securely fixed.
8. Wear Your Cap Confidently
The best styling tip when it comes to wearing your cycling cap is to wear it confidently. Let your personality shine through your uniqueness. Confidence is the key to looking more stylish!
FAQs
Should You Wear A Cycling Cap In Summer?
Yes, wearing a lightweight, moisture-wicking cap is good for summer. It can help you manage sweat and also protect you from the sun.
What Do You Wear When Cycling In The Summer?
Breathable cycling jerseys that have a moisture-wicking quality are good for cycling in summer.
Can You Wear A Flat Cap In Summer?
Yes, you can wear a flat cap in summer but it will not provide much protection from the sun. This is the main benefit of a cycling cap which you will be missing out on.
Can I Wear Normal Clothes When Cycling?
Yes, you can wear normal clothes when cycling but only when you are going out for a casual ride. For long and intense cycling, it is better to wear appropriate cycling attire.
When Should You Not Wear A Cap?
You should not wear a cap when it is extremely hot. The cap can trap heat causing discomfort. Moreover, avoid wearing caps indoors.
Is There Any Disadvantage Of Wearing Cap?
Yes, wearing caps in hot weather can cause severe discomfort. As the cap can entrap heat.
Recap
Cycling caps are important. I came to this conclusion after riding both with and without a cycling cap. No matter if you are a pro or just starting out cycling, it is better to have your cap on. They keep the sweat out of your eyes so you can ride without any distractions.
I prefer wearing it now under my helmet. And while it may not make sense to the spectators around me, I know I am safe. I definitely do not want to suffer another sunburn on my head!
Now that you know the purposes of cycling caps, I want you to think about the question: Would you wear a cycling cap or is it a skip? Let me know in the comment section below!
Also read:
Capture your biking adventures with ease by following our guide on how to mount a GoPro camera on your bike helmet.
Stay safe while cycling by understanding the bike helmet laws in your state.
Keep your little ones safe while they ride their bikes with our top picks for the best toddler bike helmets of 2023.
---