The fact that there are more bikes than vehicles in Amsterdam makes it one of the most famous cities in the world and no doubt the most interesting one too. This historic city has long embraced a way of life that is more eco-friendly, wholesome, and effective.Amsterdam's bike culture is unlike anything you've ever experienced before, from the recognizable bike lanes and bicycle bridges to the enormous assortment of bike-friendly infrastructure. It definitely looks like a bike-friendly city and has all the necessary biking vibes about it too.
Let's begin our literary tour of this cycling city and learn how it became the first place with more bikes than cars.
History
Picture yourself riding a bike through the beautiful streets of Amsterdam. It's the 17th century, and you are surrounded by beautiful buildings and picturesque canals. The sound of the wheels clicking on the cobblestone streets fills your ears as you glide through the bustling city.
This was the era when Karl von Sigmaringen introduced the concept of bicycle transportation to the city. He encouraged others to take up riding by displaying his customized bike. The bicycle became a symbol of freedom and independence as it became popular among people. By the end of the 19th century, it had become a cultural phenomenon in Amsterdam and has remained a beloved part of the city's identity ever since.
Interesting Fact:
In Amsterdam, the Netherlands, there are an estimated 881,000 bicycles and 251,000 cars, meaning that bikes outnumber cars by over 3.5 to 1.
Bike Travelers in Amsterdam
According to the Amsterdam municipality, there are approximately 1.2 million bicycle trips made in Amsterdam each day. Amsterdam has an enormous system of bike lanes and trails, which along with the efficient management of technical and environmental affairs make cycling more approachable to people of all ages.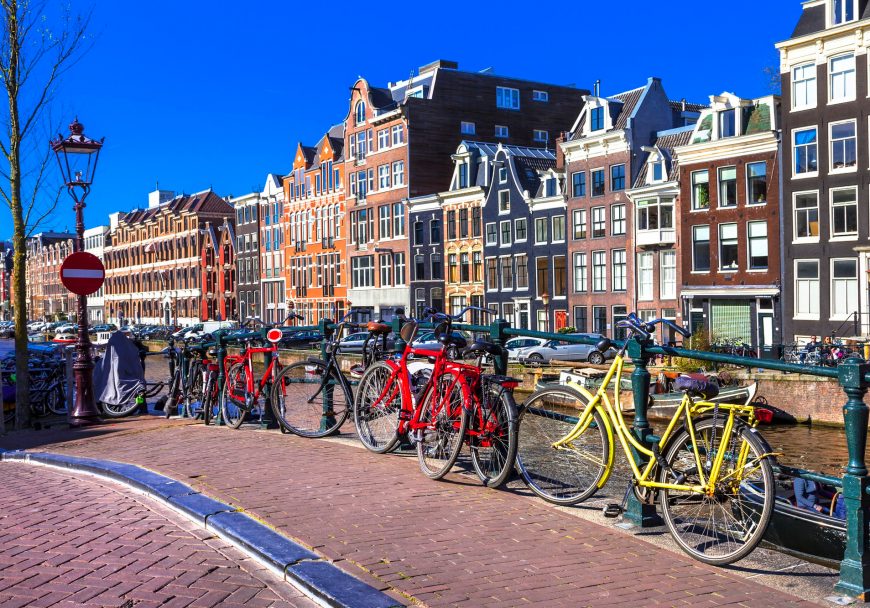 Biking-Infrastructure
With the onset of the 20th century, the city underwent some vigorous changes in its biking infrastructure. A network of trails and bike lanes was built all around which resulted in more emerging cyclists on the street since it became easier to get around on the streets and enjoy the scenic beauty while commuting.
The bike-friendly infrastructure facilitates cyclists. The charming streets of Amsterdam have a dedicated web of bike lanes and trails, enveloped in stunning architecture and serene waterways which provides bikers with a convenient and safe means of transportation. With over 400 bicycle parking spaces scattered throughout the city, finding a safe spot to park your bike is never a hassle in Amsterdam.
The good news is that even if you do not have a bicycle you can still go cycling in Amsterdam as renting a bike is a popular option for tourists who want to explore Amsterdam in a unique way. You can choose from a wide range of options such as electric bikes, standard bikes, cargo bikes, and specialty bikes like tandems. Learning about the city and all of its attractions on two wheels is a fun way to spend your day!
What Makes Amsterdam A Bike-Friendly City
Amsterdam is not just any city, it is a cyclists' paradise. There are various factors that have contributed to making Amsterdam one of a kind bike-friendly city.
Firstly, the infrastructure of the city is all aligned with bike-friendly features. There is a complete network of broad bike lanes and dedicated cycle paths. This resulted in more individuals riding bikes because it was safer and simpler.
But that's not all – Amsterdam has also implemented policies that prioritize cyclists such as giving them priority at specific junctions and having their own traffic lanes.
And let's not forget about the city's pro-cycling culture, where bikes are viewed as a vital part of everyday life. The city's comprehensive public transportation network allows individuals to travel to their destinations more quickly and easily using their bikes. All of these steps promoted the use of bikes rather than cars to a great extent. The city has seen such a huge drop in car traffic that it is almost car-free.
Bike-Friendly Programs In Amsterdam
Amsterdam Bicycle Program
The Amsterdam Bicycle Program aims to make cycling a more safer and pleasurable experience in the city while also reducing air pollution and traffic congestion. The program comprises infrastructure upgrades, bike-friendly public transportation, bike lanes, bike trails, and bike parking.
Cycling Events
Amsterdam has got the back of all riders by offering various fun-filled events throughout the year, including Cycle Week and the Amsterdam Bike Festival. These events offer riders a fantastic chance to network with other cyclists, discover new bike routes, and enjoy a fun and safe way to explore the city.
Amsterdam Bike Sharing Program
The city even has a bike share program that enables both residents and visitors to hire a bike for a day or a week at any of the more than 500 stations located all around the city.
Bicycle-Friendly Businesses
A lot of efforts have been put in place to encourage the use of bicycles in commercial settings and to promote cycling as a practical and sustainable mode of transportation. This involves setting up bike parking spaces, mounting bike racks outside of commercial establishments, and promoting cycling as a viable alternative mode of transportation.
Other than these, many other initiatives are also on the rise that makes it easy for riders to park their bikes safely and access commercial settings.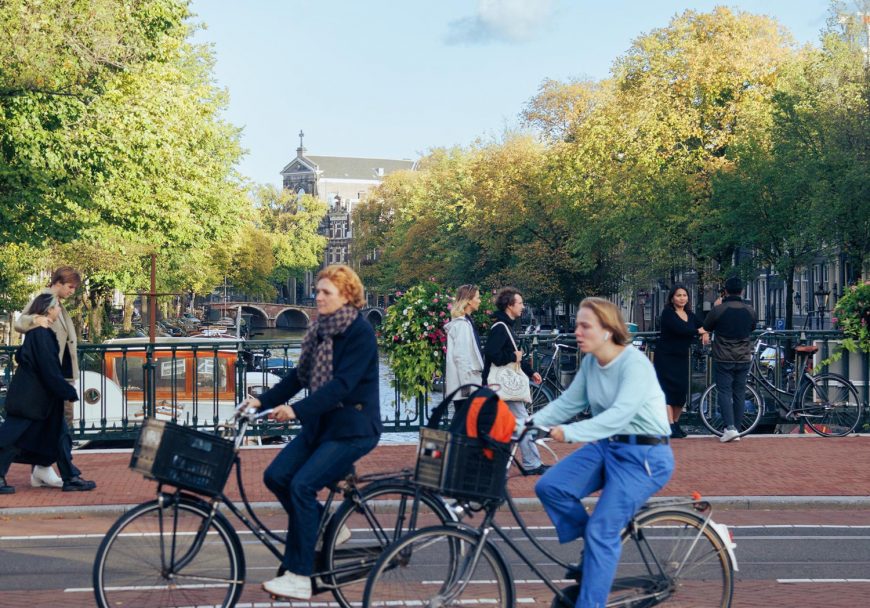 Bike Safety Measures
Making cycling safe and enjoyable for everyone is something Amsterdam should be praised for. The effort is no doubt remarkable as the city has taken a number of different measures to make cycling a better and more convenient alternative for cars such as bike-friendly traffic regulations, the installation of bike lighting, and the creation of bike priority zones.
Amsterdam Free Bike Festival
Amsterdam free bike festival is a two-day celebration that revolves around biking. The legendary Amsterdam Bicycle Club has been in charge of organizing it since 1979. It includes a variety of activities including bike tours, racing, bike polo competitions, daredevil performances, and even a cycle movie night. It spreads over a span of two days and includes bike excursions that take visitors on an exploration of the city's landmarks and attractions.
These excursions are led by cycling experts who have extensive knowledge about the history and culture of the city. These trips are even customizable to suit the rider according to their level of expertise. If you are feeling competitive then this festival also includes races that are inclusive of professionals as well as amateurs. They are carried out on the streets and are a good opportunity to win cash prizes as well as cycling souvenirs.
This event is a one-of-a-kind experience that brings like-minded people together who have a passion for cycling and gives them a chance to get acquainted with each other.
Cities That Follow In The Footsteps Of Amsterdam
Cities throughout the world have relied on bicycles as a mode of transport for centuries. However, in some places, the number of bicycles on the streets is more than that of cars. From Amsterdam to Bogotá, different cities are embracing cycling because of its unlimited advantages. These cities are now recognized worldwide for their bike-friendly streets. Today, the number of communities that are following the trend of having more bicycles than cars is increasing dramatically. It wouldn't be wrong to say that these cities have more bicycle traffic. Bikes are the latest craze, whether for convenience, environmental, or health reasons. Here is a list of cities other than Amsterdam, that are bike-friendly and have, in fact, more bike riders.
1. Copenhagen, Denmark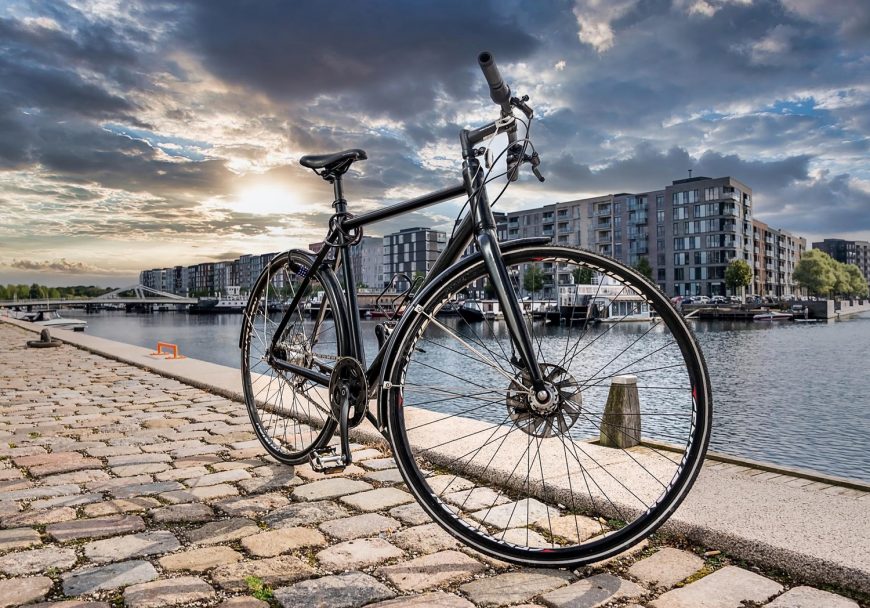 Copenhagen, the city of cyclists, is a true paradise for bike enthusiasts and is renowned as one of the world's bike-friendliest cities. With almost 500,000 bicycles in use, there are more bicycles in the city than humans. There is no doubt that the city's infrastructure is built with bikers in mind as around 62% of Copenhagen residents ride bicycles daily.
Cycling in Copenhagen is made easier and safer thanks to the city's large network of cycle tracks and lanes, traffic signals, and other precautionary measures. With over 2,000 bikes available for rent, tourists and locals alike can take advantage of this eco-friendly mode of transportation. Copenhagen also provides free bike parking like Amsterdam and public showers for cyclists to further encourage the sport.
Interesting Fact:
In Copenhagen, Denmark, there are an estimated 625,000 bicycles and 240,000 cars, meaning that bikes outnumber cars by over 2.5 to 1.
2. Utrecht, Netherlands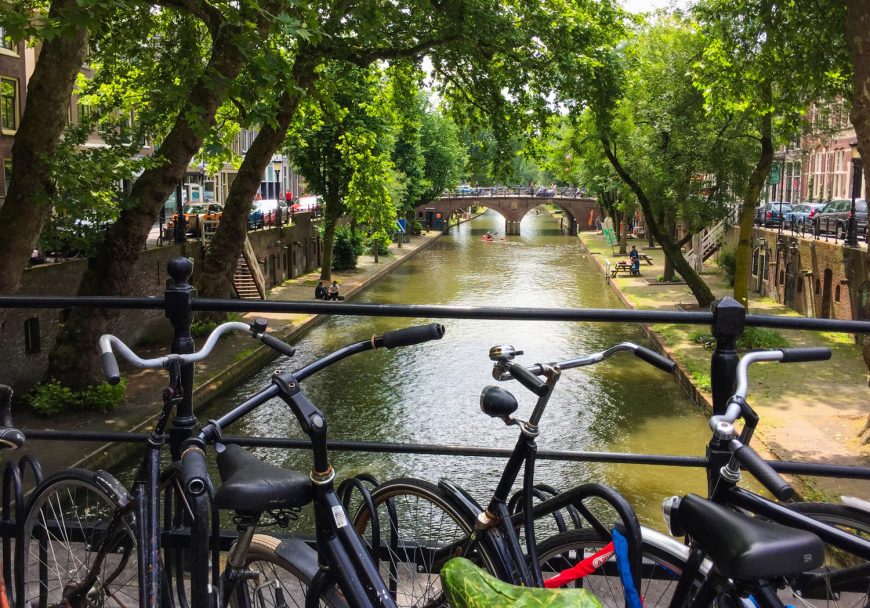 Utrecht is Netherlands' fourth largest city. It is home to one of the oldest universities in Europe called Utrecht University. But this is not the only reason why this city is well-known. This city truly embodies the Dutch cycling culture. With almost 200,000 bicycles in the city, it has the highest number of bicycles per capita in the Netherlands.
Cycling through the city is very safe and secure due to the extensive network of bike lanes and trails. The city has also put in place a number of initiatives to promote cycling, including rental stands, bike-sharing programs, and bike parking facilities. With Utrecht's flat terrain and scenic routes, it's the perfect place to hop on a bike and explore the city.
Interesting Fact:
In Utrecht, Netherlands, there are an estimated 400,000 bicycles and 130,000 cars, meaning that bikes outnumber cars by over 3 to 1.
5. Strasbourg, France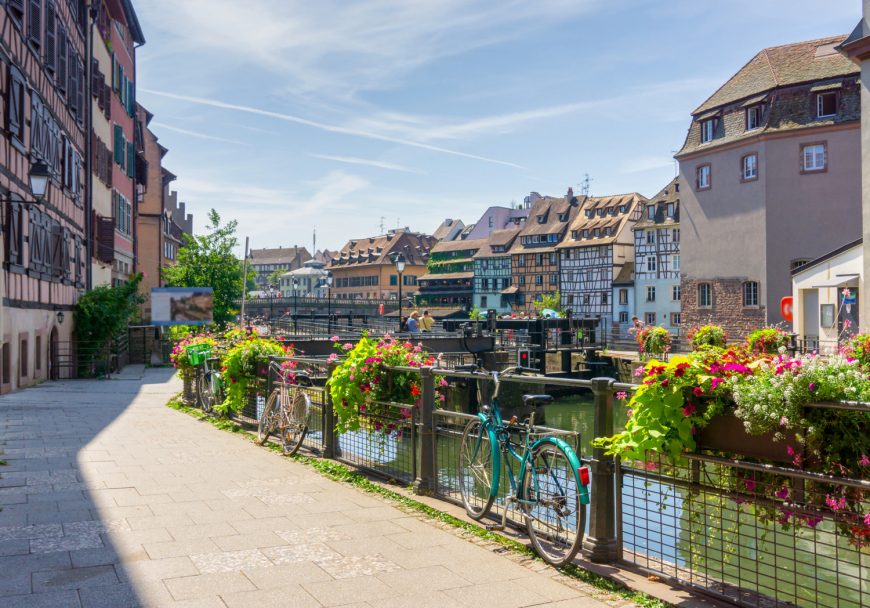 Imagine cycling through the most beautiful sceneries and that too on proper bike-friendly infrastructure! Strasbourg is exactly the place where this dream can come true. It has some of the most vibrant cycling scenes and has an infrastructure that is aligned with the needs of cyclists. This makes the city a key hub for cyclists.
A 2017 poll found that there were 1.3 million more bikes in Strasbourg than there were cars. It even has more than 500 kilometers of cycle routes. The city also has a bike-sharing scheme called Vélhop, which provides visitors and residents with inexpensive bike rentals.
Interesting Fact:

In Strasbourg, France, there are an estimated 300,000 bicycles and 140,000 cars, meaning that bikes outnumber cars by over 2 to 1.
3. Boulder, Colorado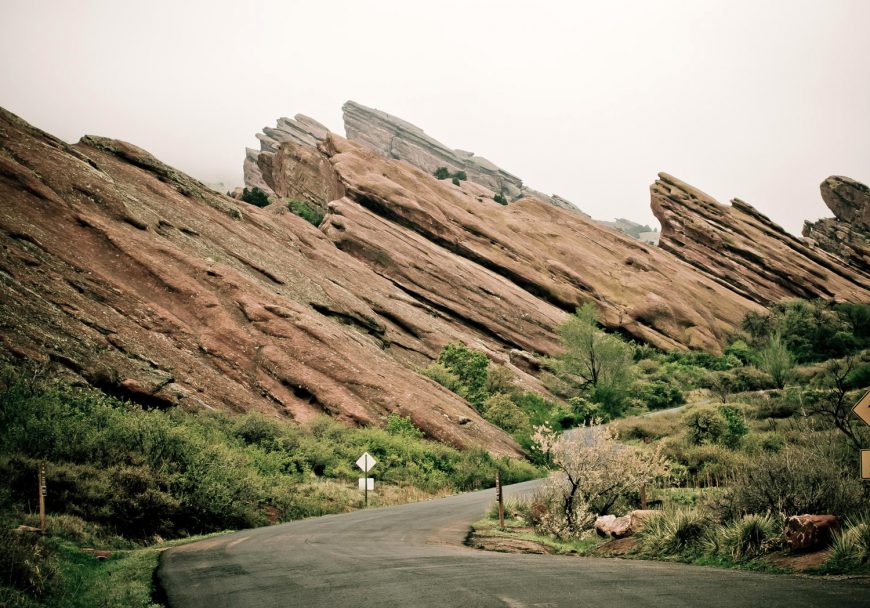 From the US, Boulder made it to the list of bike-friendly cities in the world. Over 70% of Boulder residents cycle to work or school, and the city offers more than 300 miles of bike routes and trails. Moreover, the city also has a B-cycle bike-sharing program that allows the locals as well as the tourists to rent bicycles from any of the bike-share stations in the city.
Boulder is also home to a variety of bike stores. It has been named the best city in the country for cycling many times, and its dedication to the sport is clear from the bike-friendly measures it has implemented.
4. Davis, California
Davis, California is the most bike-friendly city in the United States after Boulder. In fact, the city hosts more bikes than cars. There are an estimated 1,600 bikes for every 1,000 residents. The wide network of bike lanes, pathways, and bike-friendly streets in Davis make cycling an easy and safe way to get about town.
There are various services like bike rental, bike maintenance, and bike-sharing throughout the city. You will also find a lot of bicycle advocacy groups based in the city, like the Davis Bike Collective, whose main goal is to raise community awareness of cycling safety and promote better bicycle infrastructure.
6. Seville, Spain
Spain's Seville is a well-liked tourist destination because of its fascinating history and culture. It's also gaining popularity for its bicycle culture. There are now more bikes than automobiles in some parts of the city, which has experienced a surge in the number of bicycles on the streets.
In order to promote the cycling culture, the administration has authorised a number of bike lanes, bicycle pathways, and other infrastructure. Moreover, just like other cities on this list, Seville also has bike rental and bike-sharing facilities, making it simple for visitors to navigate the city on two wheels.
7. Malmö, Sweden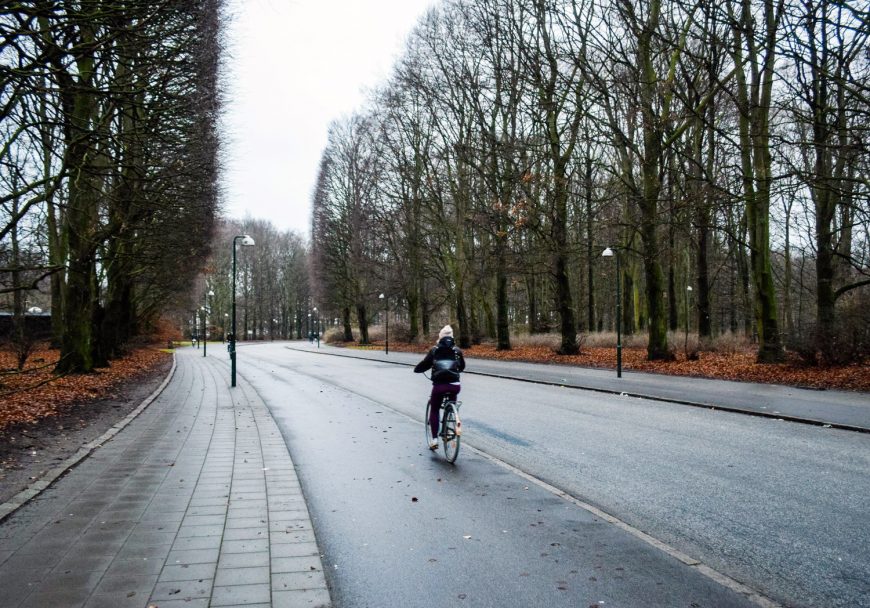 Another city famous for being bike friendly is Malmö, Sweden. The city is one of the most bicycle-friendly cities in the world with more than 570 kilometers of bike routes. Furthermore, there are thought to be 40,000 bikes in Malmö compared to about 30,000 cars.
This is a result of the city's dedication to encouraging cycling as a practical and effective mode of transportation. The city's large network of bike-sharing programs also makes it simple and practical for bikers to tour the city.
8. Berlin, Germany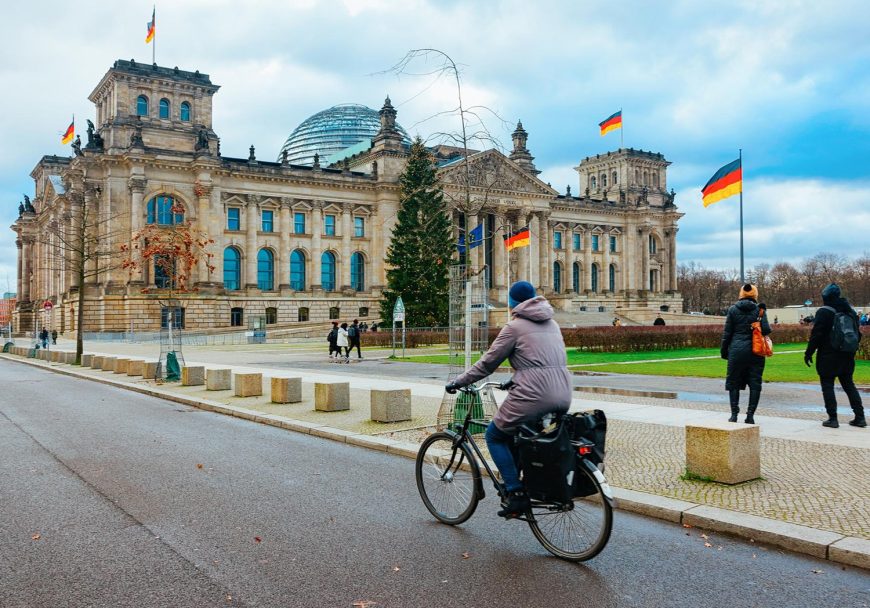 With its abundance of bike paths and lanes, cycling events, and dedication to making the city safer for cyclists, Berlin is a fantastic city for bikers. It is hardly surprising that the city has more bicycles than vehicles given its dedication to cycling.
It is simple to navigate around the city on a bike because it has a bike trail network of more than 500 kilometers. The city is also home to a large number of bike-sharing businesses, making it simple and quick for both locals and tourists to borrow bikes.
Watch: How Amsterdam Became A Bicycle Paradise
We know that after going through all that juicy information you want to pack your bags and head to Amsterdam! Watch this fun video to find out How Amsterdam Became Heaven For Bicycle Riders!
Interesting statistics about bicycle usage in cities:
According to data from the European Cycling Federation, the average bicycle mode share (the percentage of total trips taken by bicycle) in European cities is around 5%. However, this varies greatly between cities, with some cities having mode shares as high as 30%.
In the United States, the League of American Bicyclists reports that the average bicycle commuting mode share is around 1%. However, this also varies greatly between cities, with some cities having mode shares as high as 8%.
Studies have shown that cities with higher bicycle mode shares tend to have a greater number of dedicated bicycle infrastructure, such as bike lanes and bike-parking facilities. They also tend to have more compact land use patterns and higher population densities.
Research suggests that increasing bicycle infrastructure and promoting bicycle use can lead to reductions in traffic congestion, air pollution, and greenhouse gas emissions. It can also improve public health and promote livable, sustainable communities.
Conclusion
One way that cities can become more sustainable and ecologically friendly is by following the example of Amsterdam. This city is leading the way in demonstrating how urban areas may reduce carbon emissions and safeguard its population from air pollution by investing in bike-friendly infrastructure and encouraging more people to cycle. This city is a model for others to follow, and it serves as a reminder of the need for collaboration in building a sustainable future.
Personally, I feel like bike-friendly infrastructure and safety measures for bikers are important factor that provides ease and peace of mind to cyclists. In this regard, Amsterdam sure is a model for others to follow, and it serves as a remind
Note:
The statistics in this article are based on estimates and may vary depending on the source and the time period for which the data was collected.
It's worth noting that these cities also have a high percentage of bike commuters (around 50% in Amsterdam and Copenhagen) which contributes to high numbers of bikes. Additionally, these cities have implemented policies and infrastructure to support biking, such as bike lanes, bike parking, and bike-sharing programs, that have led to a higher number of people choosing to bike over drive.
Also Read: The Best Winter Cycling Locations In America
---