Cycling is one of the most amazing and competitive sports ever and people also enjoy it casually. May it be a tournament or just a casual backyard race, people have fallen in love with their bikes and ditched cars for the thrill of the ride. When going into the realm of cycling, there is a lot of emphasis on the bike itself when accessories are not given the limelight, that is not how it should go.
Accessories are what make the whole experience of cycling efficient and more fun, and cycling shoes are the most important of accessories. The truth is that cycling shoes are the most overlooked of accessories, they are not given the same level of importance as the other ones. With this guide, we will be changing that perception, as your feet are the main contact points on a bike, they deserve protection too!
Best Cycling Shoes For Performance and Comfort- Reviewed In 2023
Which is the best pair of cycling shoes? How will we know when we have found the best cycling shoes for ourselves? These are some of the questions that we will be addressing in our guide and review section. The best kind of cycling shoes will make sure that you are efficient while riding, no matter what kind of skills you have.
Here we will be talking about some of the best cycling shoes that we came across (We tried a lot and finalized these options!). There is going to be a variety of choices, we will have some of the best road bikes, mountain bikes, and indoor and cyclocross shoes for you to choose from.
| Cycling Shoes | Price/$/£ |
| --- | --- |
| Fizik Transiro Infinito R1 Knit | 399.99 |
| Giro Savix Women's Road Shoe | Starting at 70 |
| Chrome Industries Storm 415 Traction Boot | 180 |
| Specialized S-Works 7 Road Shoes | 249 |
| Scott Road Comp Boa | - |
| DHB Dorica MTB Shoe | 51 |
| Boardman Carbon | 85 |
| Bont Motion | 69.95 |
| Triban GRVL 500 | 50 |
| Specialized Torch 1.0 | 89 |
| Giro Savix II | 95 |
| Gaerne Carbon G. STL | 489 |
Note: All the prices mentioned are subject to change.
1. Fizik Transiro Infinito R1 Knit- Editor's Choice
Price: MSRP $399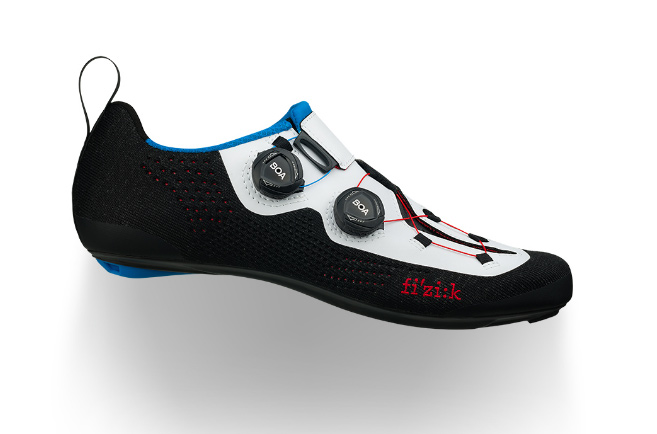 Cyclists love going for shoes that make them feel whole, the Fizik Transiro Infinito R1 Knit is one of those amazing shoes. This is the kind of pair which you can use for any discipline of cycling, may it be road or mountain biking. The stiffness of road shoes is combined with a user-friendly design that allows for an easy transition. If we had to really go into the details then this is a triathlon shoe and a road shoe, making it a multi-purpose wonder.
Comfort is what everyone wants, we want a pair of shoes that will feel comfortable regardless of the ride length. With the Infinito R1, no matter how far you travel, you will always have that amazing comfort and performance. You can even use this pair without socks- now tell us, how fun does that sound?
Let's talk about some of the key benefits that you will be getting from the Fizik Infinito since there are a lot of technologies that went into the production of this pair. You can adjust the forefoot area according to your absolute comfort. This is thanks to the Infinito system, which is a textile webbing of sorts. The fit of the pair feels comfortable and supportive due to the closure system.
The construction of the pair is where it gets really interesting. The upper material is made from a machine-knitted material that just locks in the user and feels pretty comfortable. When it comes to the outsole there is an R1 full-carbon soleplate, which gives the maximum power output fit for any kind of rider. There are also vent openings that allow for maximum airflow to make your feet feel cool while riding.
Advantages:
Perfect Build Quality
Top-Notch Comfort
Multipurpose
Amazing Fit
Disadvantages:
Editor's Choice: The Fizik Transiro Infinito R1 Knit is something that you don't get to see every day. It is a multipurpose pair of shoes that perfectly combines different kinds of disciplines. The stiffness is there, the comfort is also there. You just need to try them firsthand!
---
2. Giro Savix Women's Road Shoe
Price: Starting at $70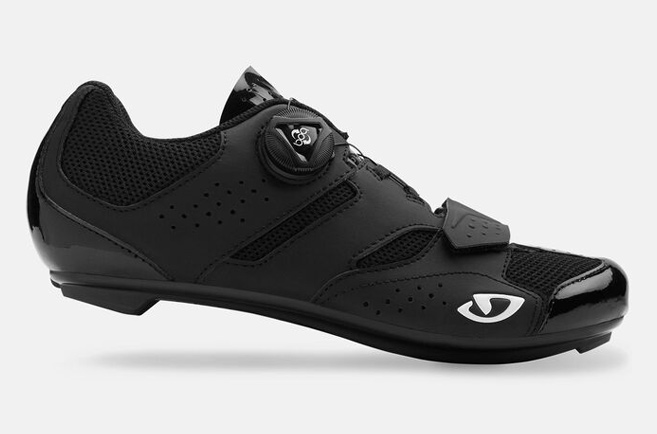 The Giro Savix Women's Road Shoe is one of the best choices to go for females that want to enjoy cycling. They can be used for either road or mountain biking, despite the name and the performance is something that you will immediately fall in love with. This pair is fully compatible with both 3-bolt and 2-bolt cleats, which makes them multipurpose. Although while reviewing them, we found them to be more comfortable with road bikes, but that did not stop us from going all out on mountain bikes too, the difference was subtle.
The outsole of this pair has injected nylon which keeps the power transition balanced. The die-cut insoles are there to make sure that the user has maximum comfort, and is fit for female riders. There is breathability while wearing the Giro Savix, and the weight of the shoes does not feel much.
The fitting of Giro Savix feels fine although you can adjust the upper system thanks to the Boa L6 lacing system. Our advice would be to try them out in stores in actuality before purchasing them.
Advantages:
Boa Dial System Is Amazing
Top Performance
Comfortable Build
Best For Women
Disadvantages:
Why I Like It: Th Giro Savix is a leading choice for female riders, there is comfort and there is accuracy in performance. Getting a balance of these attributes is hard which is why we suggest getting this pair as soon as possible.
---
3. Chrome Industries Storm 415 Traction Boot
Price: MSRP $180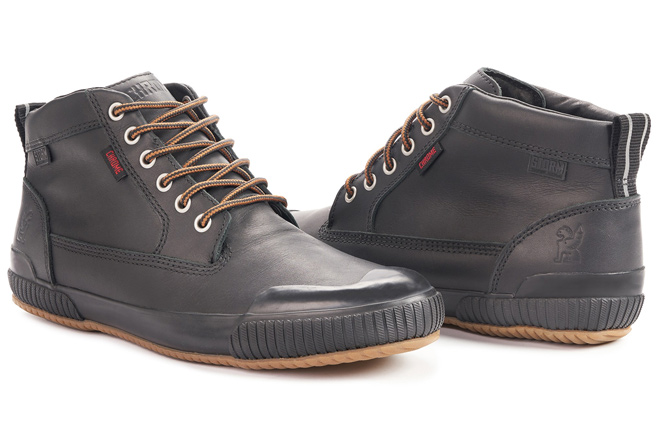 People love commuting in their cycling shoes, and if you love to do that then we present the Chrome Industries Storm 415 Workboot. You won't find a robust pair like this anywhere else, the Storm 415 is also 100% water-proof. The break-in period for these boots is also very low as compared to the other shoes that we have reviewed.
Keeping in mind the weather protection that this pair offers, there is a break-in period that is required. The construction of this pair is also commendable, the upper part is made from oiled full-grain leather, and with the internal 4-layered breathable membrane, it provides a very relaxing experience for the user.
While wearing these boots, you are always going to feel in power, almost indestructible too, thanks to the protective layers. The extra-added layers allow the user to be protected from ankle damage which is a big concern while commuting. Do you know what would enhance the overall experience? Combine these shoes with weather-proof trousers and you will be set.
What I absolutely loved about these shoes apart from the features is their design, they just look gorgeous! They are workhorse boots so use them to the fullest!
Advantages:
They are 100% Water-Proof
Full-Grain Leather Build
Can Be Used On/Off Bike Comfortably
Disadvantages:
Why I Like It: These boots work perfectly off and on the bike and if you want to take them for commuting then that would be best. They are water-proof and robust in nature and apart from that, they look absolutely gorgeous while worn.
---
4. Specialized S-Works 7 Road Shoes
Price: MSRP $425 (Now $249)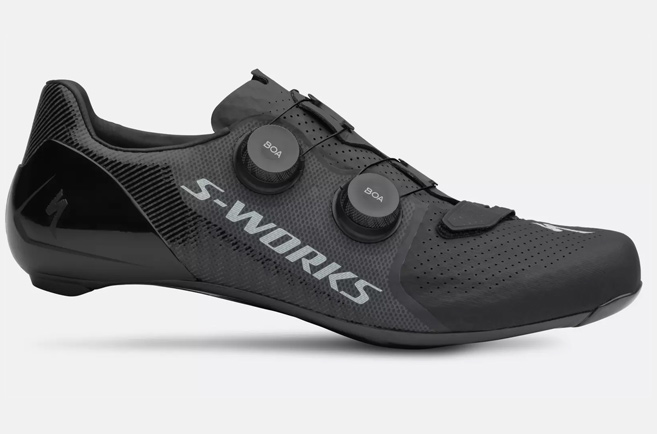 Looking for maximum power transition? Then look no further than the Specialized S-Works 7 Road Shoes. Also dubbed as the best racing shoes, the Specialized S-Works is a beast of a pair that you should not miss out on. These shoes have a powerline carbon sole which naturally feels very light but also stiff. Thanks to the Padlock heel system, the boots lock your feet in place, which makes travel over long-distance comfortable and very relaxing.
Dyneema material is used for the construction of these shoes, the best thing about them is that they don't stretch out when pulled. This makes sure that your feet are protected, they actually get to stay in your shoes. Users can also adjust the fit of their shoes because of the Boa S3 Snap dial, this takes flexibility to another level.
These shoes might be pricey, but you won't find the quality anywhere else!
Advantages:
PadLock Heel System Feels Amazing
The Stiff Carbon Plate Is Secure
Durable Build
Disadvantages:
Why I Like It: These are the best racing shoes that I have tried in a while. The build is comfortable and feels very secure. The Dyneema material is something that made me really happy, the shoes never stretch.
---
5. Scott Road Comp BOA
Price: MSRP $129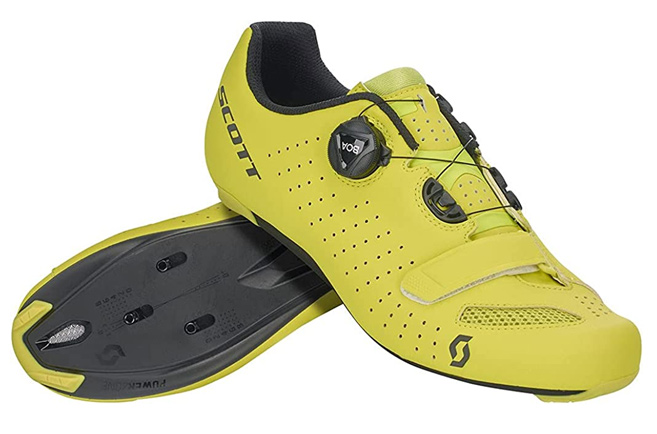 The Scott Road Comp BOA is a budget-friendly option that never sacrifices quality. As the name gives away, this pair comes with BOA fasteners which enhance the overall amazing performance.
This pair has a nylon and fiberglass sole which increases the performance but also brings the price down, something that people will definitely love. They may not be that stiff like the full carbon options, but they are good for a ride and everyday use if you want to use them off the bike.
Combine them with thick socks and you will love the overall fitting. You will never ever have to worry about the comfort of these shoes, they are of the same quality as the higher-end options from Scott's.
Advantages:
Amazing Price
Boa Fasteners
Balanced Between Fit and Performance
Available In Different Colors
Disadvantages:
Why I Like It: The Scott Road Comp BOA is going to be an amazing addition to your cycling shoe collection. It has an amazing price and comes with BOA Fasteners, you won't have to look for an alternative. You can also get this pair in different colors, which adds more choice for the user.
---
6. DHB Dorcia MTB Shoe
Price: MSRP $51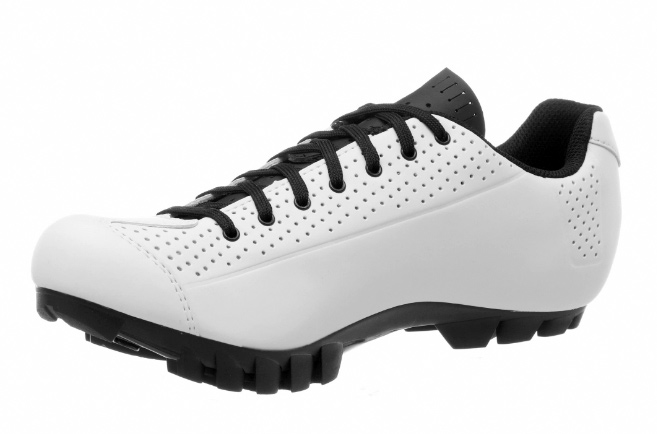 When it comes to cycling shoes, the lace-up style has become very famous, their popularity has definitely grown. Advanced features but with an old-school design, almost everyone wants a pair of shoes like that. If you are into that or want something fancy then check out the DHB Dorcia MTB Shoe. DHB already has a great lineup of cycling shoes, even though the Dorcia might be entry-level it still gets the work done thanks to the amazing performance it offers.
With the laces already fitted into the shoe, you get next-level adjustability. You can tweak the fit of your shoe on the go, this is the kind of flexibility this pair offers, something that everyone will come to love.
Thanks to the semi-perforated upper build of the shoe, the ventilation is enhanced which promotes breathability. It also has a nylon sole that is compatible with both three-bolt and two-bolt cleats. This means that you can use this amazing pair for both mountain and road biking.
Advantages:
Price Is Affordable
Retro Look Brings Back Nostalgia
Comfortable Fit
Disadvantages:
The Outer Layer Can Get Damaged Quickly
Why I Like It: The DHB Dorcia is a retro pair of shoes that you should not miss out on. There is a lot going on here, there is a lace-up style that you can take full advantage of and the fitting is just perfect. It is also great from a price point of view, which means everyone can try them out.
---
7. Boardman Carbon
Price: MSRP £85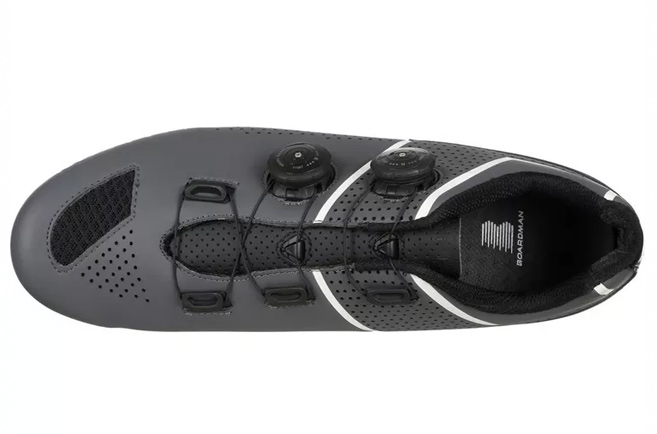 The Boardman Carbon may look very simple but it has a very advanced build and through that, the user gets to enjoy a lot of features. The one thing that stands out here is the all-carbon sole, which is rare to find in cycling shoes of this price tag.
The Atop dial adjustment is also what the users will love, think of it as a cheaper alternative to the Boa dial system. It gets the job done just like Boa, so there is a lot to praise about the Boardman Carbon. Comfort is certainly there, users have expressed that they feel quite comfortable when wearing the Boardman, this is thanks to the internal padding. The venting is also generous to make sure that your feet always remain cool.
Toe box width is also generous, comparatively, there is much more space to be enjoyed here with this pair than with the other shoes that we have mentioned.
Advantages:
Affordable Price Tag
Great Value Offered
Atop Dial Adjustment
Disadvantages:
Why I Like It: We want great quality shoes, that much is clear, but we also want alternatives to the pairs that we love. The Atop dial adjustment in this pair works great, for those that are limited by their budgets can love this pair fully. Just be careful while ordering as stocks don't last long.
---
8. Bont Motion
Price: Now $69.95 (Was $99)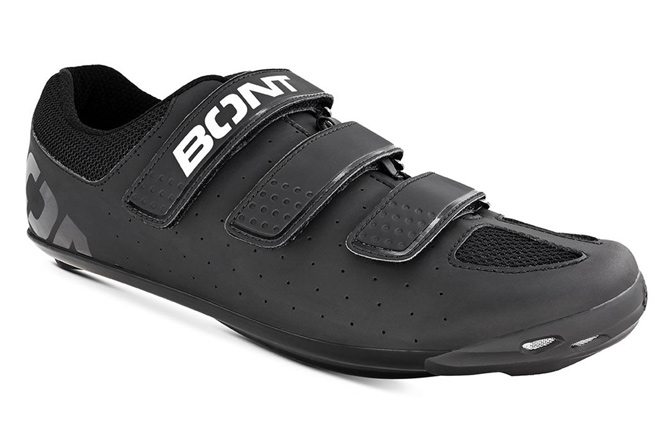 Bont shoes are known for their stiffness and just because of that, we had to add the Bont Motion to our guide. The fiberglass sole is what makes the Motion amazing, there is a fine balance between the weight and stiffness.
Keep in mind that these shoes are heavy than some of the other shoes listed in this guide, the weight is also something that people will love in regard to the shoe's stiffness levels. The width is also great, there is a difference that is noticeable when you put this pair on.
Velcro straps also increase the overall value of these shoes, and when combined with the shoe's fitting is something that every user will love.
Advantages:
Affordable Price Tag
Amazing Stiffness
Heavy Than Others
Disadvantages:
Some People Might Not Love The Shoe Being Heavy Than Other Options
Why I Like It: We had to add the Bont Motion to our guide list. The company is known for its stiffness, the Motion is a bit heavier than other options out there. The stiffness balances it out though, the performance is something that you will love no matter what!
---
9. Triban GRVL 500
Price: Now $50 (Was $89)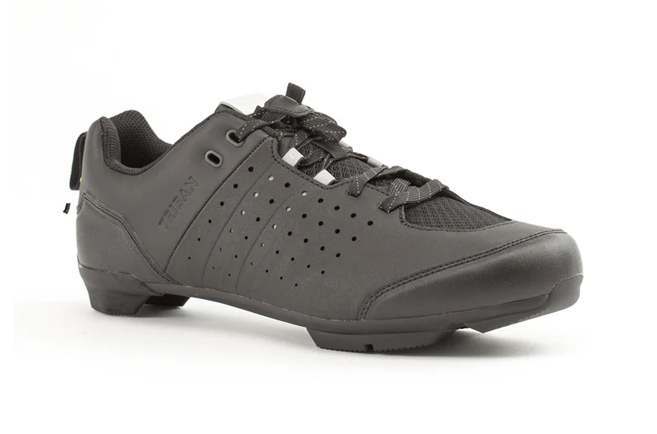 Triban GRVL 500 works best for those that don't want to spend too much on cycling shoes but also don't want to sacrifice the features. There is a great balance between the pricing and features offered, so plenty to love here.
Just like the Bont Motion, this pair has a nylon shoe that is reinforced with fiberglass. Compatibility is also what you will love, they are fully compatible with SPD cleats and the deep rubber sections allow for an amazing experience off the bike when you are running or walking. Even though you have planned out a day's-long ride you will absolutely love the comfort of the Triban GRVL 500.
If you want to try these for commuting or wild adventures like the off-roads then the Triban GRVL 500 is the best choice for you. Just try them out!
Advantages:
Affordability
SPD Cleats
All-Day Comfort
Disadvantages:
Heel Raise Could Be A Concern
Why I Like It: The Triban GRVL 500 is something that everyone will love. For a person that has budget constraints, there cannot be a better pair than this one. We love how affordable they are, and the SPD cleats also bring out more performance. You will love taking them out for a day's long ride if that is what you prefer.
---
10. Specialized Torch 1.0
Price: Now $89.99 (Was $120)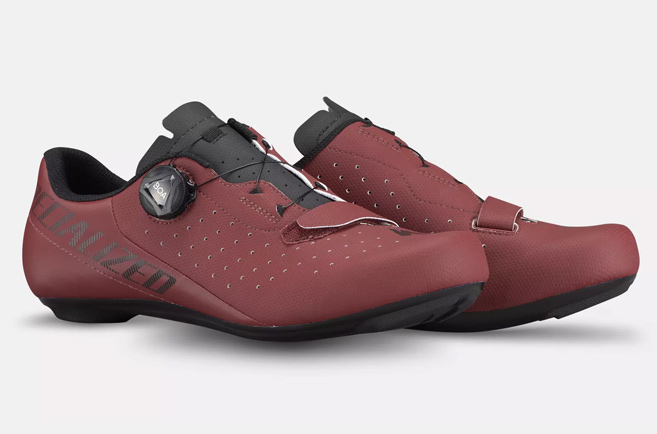 If you want some amazing shoes then you really have to try the Specialized Torch 1.0. The way these shoes are built will impress every rider, this time the velcro straps have been swapped for a Boa L6 dial and crossed cord top closure. All of this makes the shoes drop some weight, making them extremely lightweight.
When I tried these shoes out, I was really impressed with the stiff nylon composite sole, it makes the shoes very comfortable. You won't feel any kind of strain while wearing this pair.
The shoes are actually made more secure and comfortable thanks to Specialized's Body Geometry insoles. These shoes have a special shape structured to support and cater to the foot's natural curves, you are really going to love the feel of these shoes.
Advantages:
Boa Dial Adjustment System
Amazing All-Day Comfort
Lightweight
Disadvantages:
Why I Like It: If you are tight on a budget but still want quality shoes then you have to go with the Specialized Torch 1.0. The construction of these shoes is on the same level as the premium-quality shoes from Specialized. I used these shoes for an all-day ride and had a lot of fun!
---
11. Giro Savix II Cycling Shoes
Price: Starts at $95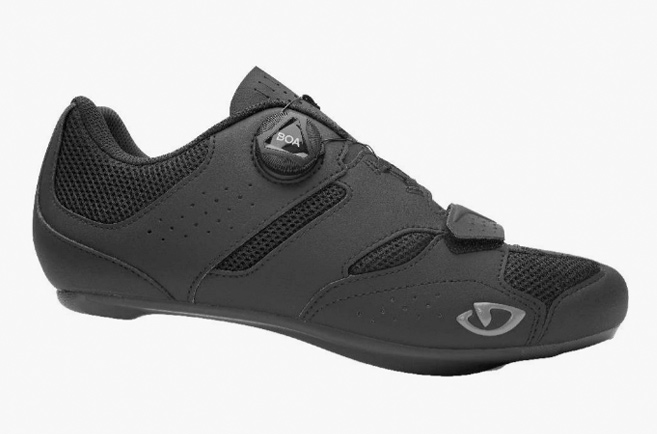 The Giro Savix II shoes provide a well-balanced experience. They are very comfortable and also provide amazing performance. These shoes are stiff enough and perform well even without a carbon sole, I mean the durability is great, this was a surprise when we tried out these shoes.
The rider's versatility is also going to be increased by the two-bolt and three-bolt cleat mounting options that are offered from the very start. These shoes also have a lot of ventilation, thanks to the synthetic upper which is on the top, and mesh panels. This pair of shoes is also well-padded which increases comfort. For the closure system this time around, Giro has done an amazing job of combining both a single Boa L6 dial and a front velcro strap.
The fitting of these shoes is surprisingly good, which is why they will work with different foot shapes. The soles are also going to hold up really well as they were protected by front and rear TPU pads. You really have to try out these shoes!
Advantages:
Features A Stiff Nylon Sole
Compatible With 2 or 3 Bolt Cleat
Impressive Ventilation
Boa Closure System
Disadvantages:
Not Suitable For Cold Environments
Why I Like It: Shoes that offer a great mix of performance, price, and comfort should not be missed. These shoes are compatible with a 2 or 3-bolt cleat system which increases your overall versatility. The durability is also enhanced thanks to a stiff nylon sole. Just be sure to not use these shoes for cold environments, the ventilation is too much for that.
---
12. Gaerne Carbon G. STL
Price: MSRP $489.95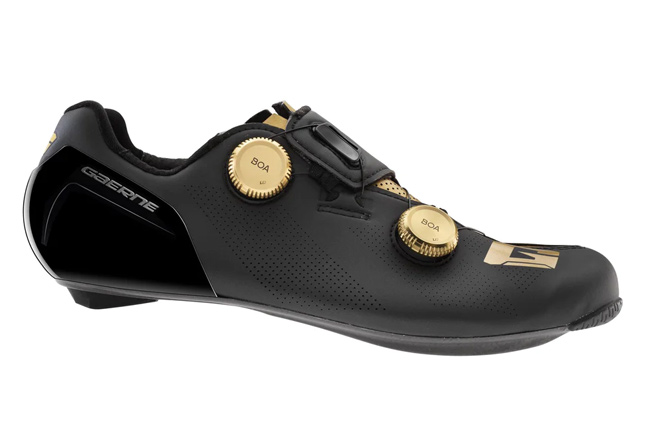 Gaerne is a phenomenal Italian shoe brand that has become quite famous over the last couple of years. If you are looking for a premium pair of cycling shoes, then we recommend the Carbon G. STL from Gaerne. Honestly, there are plenty of reasons to try out these shoes, let's start with the stiffness which is just amazing. Apart from that, users are going to love the rigid heel cup which comes with a cat's tongue inner surface to help with the heel lifting problem.
There is one main issue with these shoes, there are no mesh sections so we won't recommend using these shoes for too much warm weather. We found these shoes to be very comfortable, I have wide feet and I faced no issues during my testing time. Since these shoes also have the Li2 BOA dials, you can easily loosen the bindings during long rides which will increase your comfort.
Advantages:
Stiff Sole
Amazing Heel Lift Prevention
Unmatched Comfort
Disadvantages:
Why I Like It: If you want premium cycling shoes which provide a balanced ratio of both performance and price then you have to try out the Gaerne Carbon G. STL. The comfort is unmatched, even if you have wider feet like me. Just be careful not to use these shoes on hot days as there are no mesh sections to cool things down!
---
Now the question that arises over here is- What Kind of Cycling Shoes Should You Go For?
What Kind Of Cycling Shoes Are The Best For You?
When it comes to cycling shoes, there is not just one kind, there are many for a variety of disciplines. Now you may like one of them or you would even be tempted to get all of them. Each type of shoe will have different features, and these features will be best suited to their intended use. Let's discuss the different types!
Road Bike Shoes
Mountain Bike Shoes
Cyclocross Shoes
Indoor Cycling Shoes
Road Bike Shoes
Road bike shoes are amazing because they offer the best kind of power transfer, if you want seamless performance then definitely go for these. They have a very stiff sole, probably the stiffest, and have wide cleats, which makes them amazing for the job ahead. When it comes to compatibility, you can easily use them with a pedal setup and even a 3-bolt cleat.
On the other hand, walking with them will prove to be very difficult, this is because the cleats are exposed. As the name goes, these are best if you will be doing road biking with them and won't be using your feet much while resting.
Mountain Bike Shoes
Mountain Bike shoes have some of the best stiff and rugged soles that you will find in shoes. They are made in such a way that they offer the best traction on rough terrain. They are easier to walk around because of their 2-bolt cleat design, we found them to be much more comfortable than road shoes. Mountain Bike shoes offer amazing versatility, and if you would be doing some trail walking too then get these amazing shoes asap.
Cyclocross Shoes
Cyclocross shoes are just different kinds of mountain bike shoes. These shoes have different types of soles that have spots that can be fitted with spikes for enhanced traction. For a cyclocross rider, you spend a lot of time jumping off your bike, so the extra traction works wonders here.
Indoor Cycling Shoes
Let's take a look at indoor cycling shoes, these are also called spin class shoes. These shoes have soles with grippy treads, much like mountain bike shoes, very comfortable for walking.
Cycling Shoes Buyer's Guide- The Essentials
May it be road cycling shoes or mountain biking, going shopping for the first time can be a total nightmare, especially if you don't even know the essentials. You will be presented with so many options, from expensive cycling shoes to triathlon cycling shoes, you must go for the one that you love the most, the pair that makes you feel very comfortable.
If you have been cycling for a while now, you might finally have an idea of what really ticks you. The kind of cycling shoe that defines you will only be dependent on you, so make the right choice here. Here we will discuss what you need to know about cycling shoes before going out to purchase them.
Make Sure The Fitting Is Perfect
If you have tried out cycling shoes before then you would know that they are built around a mold called last which is basically shaped like a foot. This "Last" is what other brands use to shape and manufacture their shoes so that the design is perfect.
You need to find and go for the shape that fits you the most, so the best option here is to try different options. Sometimes you also have to keep an eye on the heel cup, it should be balanced, don't go for a heel cup that is lifted too much. Most cycling shoes, especially budget cycling shoes have a nice fitting system, you can also try out them.
Purchasing from an online retailer without any kind of knowledge is really hard and not recommended. Always try out the shoes before purchasing, if you have to go to a physical store then make sure that you go. A flexible return policy would also help out a lot here. If you don't follow this, you could have a problem with the cycling shoe soles.
Different Shoes- Different Soles
Carbon is something that works best with both bikes and cycling shoes, you may want to go for a shoe with a full carbon sole because of its amazing properties. Shoes with carbon soles are very stiff and are also lightweight, but there are also some downsides that you need to know about.
Entry-level cycling shoes on the other hand will have nylon soles with fiberglass. These are also good options, but sometimes they increase the weight of the shoes. However, these budget cycling shoes are still more flexible than carbon cycling shoes so choose carefully.
The Closure System
There are three main closure systems that you need to know about when it comes to cycling shoes. Traditional laces are also there, some might love them some might have even matured from them. Then there are Velcro straps and micro-adjustable dials like the Boa and Atop that we mentioned.
Velcro straps are something that you will find in every budget cycling shoe whereas higher-end shoes will have the Boa system. So it is really a question of what makes you comfortable.
Cleat Compatability
It is critical to make sure that the shoes you choose are actually compatible with the pedal system of your bike, otherwise, you will just be wasting a good pair of cycling shoes. The most common type of pedal systems which are being used are Look, SPD, and Speedplay.
Breathability Is Necessary
You need to go for shoes that have mesh sections, this will enhance the ventilation of those shoes. If your choice of shoes are offering enough breathability then you will be cool during hot rides, just make sure to keep a balance. Don't ignore this important feature/aspect of cycling shoes otherwise, you will have a tough time while cycling during hot summer days.
Durability
You just bought a premium pair of cycling shoes but they wear out very quickly, this is something that you should have paid attention to before purchasing. Always make sure that you get a pair that can withstand wear and tear and doesn't degrade that quickly. Shoes that are constructed from durable materials are a plus point!
Style and Color Options
If you are going to be spending so much on cycling shoes, why not go for the stylish options? This aspect is more of a personal preference although there are some options that can improve your overall visibility on the road.
FAQs
Question: What Are The Best Shoes For Cycling?
There are a lot of great cycling shoes that you can get right now, some of the popular ones are even on flash sale. If you want some specific options then I would suggest that you go for:
Fizik Transiro Infinito R1 Knit
Specialized Torch 1.0
Triban GRVL 500
Question: What Is The Average Price Of Cycling Shoes?
There are some cycling shoes that you can get for as low as $50 or as high as $1000+, all of this depends on your choice.
Question: Do You Wear Socks With Cycling Shoes?
That's totally up to you, but with socks, your comfort and control will increase. Cycling shoes have to be very stiff and snug enough for efficient pedaling, make sure that the socks that you go for can actually integrate with the cycling shoes.
Watch: All You Need To Know About Cycling Shoes
Still confused about how to get the perfect cycling shoes? Watch this cycling footwear guide from GCN, should clear all of your queries!
Recap
Without a proper pair of cycling shoes, the cycling experience just becomes dull. These accessories make sure that you have an awesome experience while cycling. There are a lot of cycling shoes, and we discussed them in this guide. You can choose from amazing road cycling shoes or even triathlon shoes, all of these shoes will offer a different kind of experience.
From the guide, the best one for us was Fizik Transiro Infinito R1 Knit. It is an all-rounder cycling shoe that offers the best performance for any kind of cycling discipline.
There are also essentials that you need to know before going out for cycling shoes, we discussed them in this guide thoroughly. Make sure to use the best of that knowledge for yourself. If you have any queries then do reach out to us in the comments below!
---