Beside the fact that they are out in the cold and the wind-chill, your hands are also locked in the same position on the bike for your entire ride. This can reduce circulation and you can get really cold hands, perhaps frost bitten in short order.
During the early fall or late spring a set of light cloth gloves under your cycling gloves are all that you need. Full fingered gloves made for cycling are generally ok down to freezing, but beyond that you are going to need something warmer.
In years past, the only way you could reliably keep your fingers warm was by switching to ski gloves. These are designed with the fact that the hand will be locked in the same position all day too, except around a ski pole rather than an handlebar. Any warm ski glove should give good service, and I use them to this day on some rides.
Winter Cycling Gloves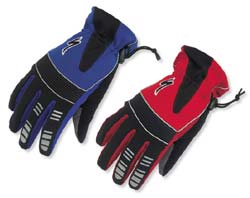 In the last few years there have been some really warm hand gear appearing on the market, specifically designed for cycling. These usually contain some form of neoprene combined with other materials, usually in layers.
Examples include Performance Neoprene Cycling Gloves and Specialized Sub-zero gloves (right). These are designed for fairly cold weather, although not as cold as the typical icebiker experiences. Remember that these are race oriented companies.
A more realistic approach is taken by Lake, with their MXZero Winter Cycling Glove. It has a wind and water resistant outer, and a fleece inner glove that can be removed for cleaning. It even has a vent zipper on the back if its just too hot. Note that this feature can keep you from drenching your gloves with sweat. The palm is designed for cycling with reinforcements in all the right places.
Three Finger Gloves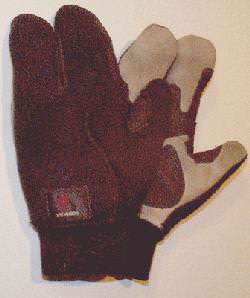 Some of the warmest hand gear produced by a cycling company were the Specialized Lobster Claws.
A similar product is the Nashbar Penguin Glove, and the Pearl Izumi Stretch Amfib. These are three fingered gloves. Two fingers in each segment and your thumb in the other.
The Idea behind three fingers is that each finger has a mate to keep it warm, and there is less exposed surface. Your thumb must fend for itself. They have a fleece liner and a layer of foam with a terry cloth back cover (guess why), they do not breath well, and moisture can build up, but turning them inside out to dry keeps them fairly fresh.
With the Performance Claws, my hands usually sweat even when the temperature is about Zero(F). I don't wear them until it is well below freezing as they are just too warm. I don't see them listed on the Specialized web page, but I found them in the LBS as late as 3/97, and they are featured on the back of the Nashbar late fall 97 catalog.
An even more aggressive design is the Vulpine Adaptive Icebike Mitt. We have a full review of these located here. These are very warm and roomy winter mitts suitable for expedition conditions, or extended outings. These have a full zipper access and reflective patch for traffic safety.
Pogies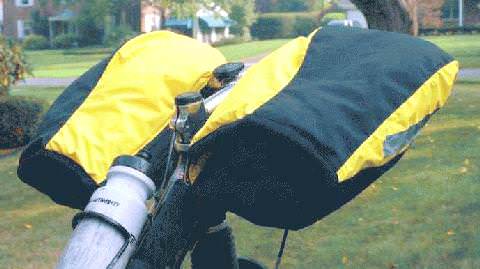 Another solution is Pogies. Bike pogies are oversized mittens that fit over the handlebars. They let you ride barehanded when you'd wear gloves and let you wear gloves when you'd need heavy mittens or gloves.
They attach to the handlebar covering the brake and shift levers, which means you can operate these in comfort. If you use more than one bike, you either have to move the pogies with you (demount and re-mount each time) or get another pair.
Several icebikers report that pogies are the warmest solution they have found. Pictured here is Charles Beristain's full suspension C'dale with pogies mounted. You put your hands in the large opening at the rear, and the pogie forms a natural wind barrier that protects up your hand and part of your forearm.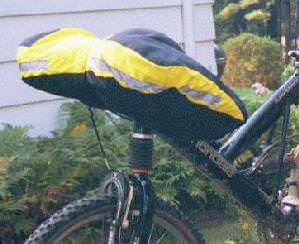 I've lightened the photo to the point of washout so that you can see where your hands are inserted. Note that there is ample clearance for brake and shift levers inside each Pogie.
The second picture shows the pogies from the front. Note the reflective piping for night visibility.
Now if someone would just send Charlie some snow…
All Weather Sports sells pogies, and you can probably order then through any good LBS. If they don't know where to get them just send them here to Icebike.org.
Moose Mitts
Moose Mitts is another manufacturer of pogie like handlebar mittens.
Available on line, these handlebar mitts include an internal pocket to keep keys cell phones or anything else you want handy and warm. They cost about $80 per pair, and are available in a selection of colors. Made of 400 Denier Cordura provides a strong, abrasion resistant material, which is also coated with water repellent, and wind proof.
Fleece Lining Provides a warm environment for those digits. Once the internal area gets warm from your hands they stay that way.
Auxillary heat
In seriously cold environments where prolonged exposure is planned, such as a winter camping trip or day long trail rides, you may want to take along some backup protection.
One option is chemical hand warming devices. These generate prolonged gentle heat, and are safe to place inside your gloves. They work via an oxidation process, using powdered iron and salt water. Safe for the environment, they are said to last 7 hours.
---