The products mentioned on this page are rather old, so they are not available any longer. But there is still good stuff to be learned from the reviews, so that's why we are keeping them here.
To learn more about ice biking, check out this page. You might also want to check out our guide to winter cycling clothes and winter cycling gear.
There are more than a few products that you may or may not think would work in icebiking applications. Some that do and perhaps some that don't appear here as various folks on the Icebike list have the time to review items in the winter environment.
We can offer selective reviews of products that either pass the freeze test (when you might not think them suitable) or fail (when they were marketed for winter cycling), or are new or different or grab our attention. If it doesn't fit elsewhere on our site, it might just show up here. It will probably show up here first.
Showerspass Century Jacket
My Seattle area commute has varying conditions throughout the ride. It can be snowing and freezing in one town, and blowing and raining in the next. I needed a warm winter jacket that was waterproof and not too sweaty.
When I bought this jacket last year, I wondered about the price tag. It cost $159 for a "rain jacket". The jacket is ultra thin, made of pertex and is very durable. The folks at Showers Pass have been testing this jacket in Chicago and the Pacific NW for about 2 years.
Unlike other pertex jackets, this one needs no special care and all seams are taped. I've worn this jacket for close to 2,000 miles without a problem. The jacket blocks wind, rain and cold and I've used it even in 15F temps along with a base layer and polar tech fleece layer. The jacket wicks water away from your skin but moisture tends to condense on the inner shell itself. When you take the jacket off, it dries quickly as in 10 minutes or so.
by Virginia Kelley
Sealskinz Chillblocker Socks
I got the socks on Friday. Sat. a.m. temps low 30's wind 5-15mph. I used the socks with sidi mega road shoes with the Pearl Izumi Amfib booty. I lasted for 1.5hrs with pretty comfortable feet. They were just starting to get cold. On Sunday, it was 35 degrees, wind 5mph, I wore the socks with neoprene toe covers, ok for 90 min.
I did notice that although "breathable" I did sweat with them on and my foot was very wrinkly when I took the sock off – more so with booty's on. This may have contributed to their performance, don't know for sure. I will perhaps find a thin wool sock to put underneath, or a poly bike sock Perhaps and try again.
These are the best socks I've tried. In road shoes that are 1/2 to 1 size bigger than normal, since socks are thick. The socks fit well, are elastic, and stay up on the calf. I don't think, by themselves, they will bring you to temps below 25-30. I think they have a place for the roadie that's wants 2 hrs of comfort without the extra fuss and time putting on a booty.
I also may have strapped the shoes too tight, decreasing evaporation and warmth so I still need to experiment with that. You still get some pedal feel with them on, and they are comfortable and conform to your foot nicely.
Editors note: Sealskinz are water proof socks that have a breathable waterproof membrane between two heavy fabric layers. You can turn them inside out and fill them with water and they don't leak.
by Nicholas J. Peckio R.N.
Vulpine Adaptive Icebike Mittens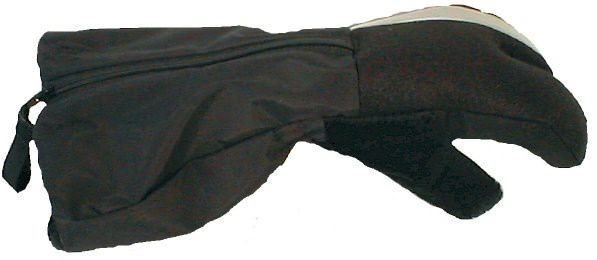 These three-fingered mitts are lobster-claw style with a difference. They have a large zipper that extends from the over-sized cuff to the knuckles with large zipper-pull that you can grasp easily even when you are wearing one of these mitts. Behind the heavy-duty zipper is a weather flap to keep cold air out.
In addition the super bright reflective tape makes signaling a turn to following traffic in darkness easy. Its bright!! The thumb is soft absorbent material for wiping your, ah, brow, yeah, that's it, your brow.
Review
Vulpine Adaptive's Kevin Kinney contacted the Icebike site with the suggestion we review his winter Access Mitts for use in winter cycling.
The discussions of his product quickly lead to some ideas on how his standard three fingered Access Mitt (Lobster Claw style) might be modified for icebike use. Kevin is an icebiker himself from Duluth, Minnesota and, knows a thing or three about riding in the winter.
Kevin added a absorbent top layer on the thumb and a vary large bright 3M reflective material patch for night visibility, and closed cell insulating EVA foam in the fingers to cut wind chill. He kept all of the other excellent features such as long cuffs, durable zippers with large zipper pulls and rugged exterior, PVC coated palm for secure grip on the handle bars.
Note that I've had to lighten these images almost to the point of wash-out in order to show construction detail. These mitts are coal black (except for the reflective patches). They appear blue here only due to the manipulation of the image.
Some samples were assembled and shipped to three icebikers for review, one of which dropped out due to Canadian Customs charges.
The Mitts had to wait for cold weather as the 2002/2003 winter was one of the warmest in Alaska where the reviewers lived. These mitts are simply too warm for above freezing days. Even at 5 degrees below freezing they were warm enough that this reviewer's fingers sweated.
I found by adding a thin polypro glove that aided in wicking that they were more comfortable in the warmer weather. Adding another layer seems counter intuitive but it worked to prevent the clammy feeling of sweating hand. The other thing that worked was partially unzipping the zipper, which is located on the top of the mitt, and runs from the cuff all the way to the knuckles.
The construction detail is flawless, with solid seams, a wide breeze-flap under the zipper and fairly water proof seams (notice, that Vulpine does not rate these as water proof, but the freezing winter rains of South-East Alaska show no mercy just because one is expecting colder weather. The gloves met the rain test anyway).
The zipper pulls are huge, and make zipping the gloves with a mitt on your hand easy. The inside lining is a deep pile fleece, and the outside covering is rugged but supple. The EVA foam liner for the fingers make the finger compartment hold its shape, creating an air pocket around your fingers as well as totally blocking any wind.
The effectiveness of this foam was demonstrated to me on a wind 10F (-12C) ride. My fingers were warm. My thumb was a little cold, but. because of the design I could easily pull it into the main compartment to warm it up. The soft covered thumb is useful for "warming" your nose. I'm not sure the foam is used in the thumb.
Kevin reports that Vulpine has adopted industry standard sizing for the 2005 model year. This solves the problem of the mitts being too large. Not that roomy-ness is a detriment, mind you. I found them far more comfortable than some older tight fitting lobster claws that I have used. I could slip them on and off easily while riding.
The large size also takes up a lot of room on the handlebars. My bar-end extensions cramped these mitts a little, but not enough to make them uncomfortable. The were still supple enough for me to manipulate the tiny switch for my headlights.
The effectiveness of the reflective patches was something I was interested in testing. On my normal evening commute, in pitch blackness I waited till I could see a motorist approaching from the rear. When the car was half a block away, I stretched out my arm and waved it up and down. Each time I did this I could hear the motorist let up on the accelerator and slow down, or moved further left.
For every second car I rotated my hand palm-to-the-approaching-car (hiding the reflective patches). These motorists usually ignored me and sped past. Note that I did have my usual compliment of tail lights and reflectors on the bike, so they could easily see me, but the extra motion of these highly reflective patches did have the desired effect on their behavior.
These are not cheap mitts, but rather quality winter wear that you can expect will give several seasons of use. At $115 a pair (singles also available for replacements) they are a bit expensive. But they are durable, and long lasting as well as washable. Mine show no wear, even after a couple falls when my freewheel pawls froze up and refused to engage unexpectedly.
You can ride all day in these and still have warm fingers. Some "snowmobile-ers" that I know were jealous of these mitts.
Vulpine Adaptive is an excellent company to deal with and willing to deal with special needs.
Update: Kevin a Vulpine Adaptive writes that major improvements have been made in the icebike mitts for the 2005 season. These changes are the result of owner feed back and new materials.
The changes include:
Switching to the rear of the fingers to a panel of neoprene laminated with fleece. It's more flexible, and makes a better snot/perspiration/slop wiper. We've also extended this panel to the rear of the hand to add more
protection from the wind.
The reflective stripe is now 50% longer, and we're using a higher grade tape with a better safety rating.
The zipper is shorter to reduce the stiffness of the rear panel.
The shape of the hand is completely changed. We've squared off the finger pockets. The split is actually a bit shorter to prevent pinching
the web between the fingers. We've reduced the thickness of the entire hand to about 1″ for better dexterity.
The thumb is moved about 1/2″ to the side to allow more reach across the palm. We've made the entire outer panel of the thumb from a thick
windproof fleece. Its really stretchy, and adds a layer of dead air space to keep the thumb warmer.
On the inside, we've started using two types of fleece to make the lining. On the gauntlet there's a lighter layer of regular polyester-covering the areas that would be inside a jacket sleeve anyway.The entire hand and thumb is lined with a laminated fleece. It's thinner than the previous model, but warmer and less compressible. With this windproof layer inside, there's a defined pocket within a pocket-ensuring dead air space around the hand. The laminated fleece makes a better barrier to conductive heat loss across the palms.
The outer surface of the palm is now a heavier synthetic Toughtek 9000 with a raised dot pattern. We switched to this material for all of our hand wear.
Kevin also reports that he has dreams of a winter cycling shoe project for the future.
Col d'Lizárd Polartec 100 Powerstretch Tights

While riding home from work on a cold winter evening, I was making a mental note that the new Cannondale Heavy Weight tights were doing their job. It was Minus 12C (10F) and windy, but I was quite warm with just thin capilene long-johns under the tights. But they were are rather stiff, due to the wind proof front.
In my mailbox were my long awaited "Experimental" Polartec 100 Powerstretch Tights from Col d'Lizárd. I call them experimental, because I believe I have serial number 002 (number 001 went to a lucky icebiker who works with Gekko).
I had been chatting via e-mail with Kathy Austin (the owner of this small Winter Park, Colorado company) and lamenting the difficulty of finding good winter tights. She suggested Powerstretch 100 might be good for this. The swatch she had mailed seems a little light. I was dubious.
Upon feeling how light the tights were I was getting more doubtful. In addition, I thought Kathy had lost all concept of what a size "large" should be. These things were tiny looking. Maybe she mis-read my email and sent me a medium.
Upon trying them on (over the capilene) I was surprised to find they really did STRETCH. They fit perfectly (how could I have doubted?!?).
I just HAD to test them on ice. So back out I went, into the pitch dark, with batteries still half depleted from my commute. I headed for a trail that had some rather nasty ice knobs from the last thaw. The ice knobs were really sharp and rutted. I had to work to keep upright, and I noticed that the tights were noticeably less restricting than the Cannondales that I had on just half an hour ago.
Beyond the ice knobs, I was into the wind. The Gekko tights were still very warm, with very little hint of cold wind blowing through. Powerstretch wasn't billed as wind proof, but it almost felt like it.
Half an hour into the ride my lights started to dim, my batteries were getting low. On the run back, I noticed that there was no zipper grinding into my ankle where the tights went down into the boot. Yet there had been no problem getting them on over my foot. Stretchy stuff. Lots of flexibility.
As I rolled into the yard, the lights were a mere glimmer, the battery had packed it in.
But I was warm. I was also sold on these Col d'Lizárd Powerstretch 100 tights. At only $56, they had out performed the high priced tights from the big name company, and were substantially more breathable. Besides, I was tired of black anyway.
Need to go colder? For -20C (-5F) add an underlayer with Col d'Lizárd Microfiber Tights.
Get Them Customized !!!!
Another opinion:
I just got the Icebike tights from GekkoGear and am very impressed. I've been wearing XL PI tights, which were OK, but made for someone 6'6″ and the ankles were pretty tight and the waist pretty big. I ordered size L (I'm 36 waist, 32 length) and they fit really well.
The material is stretchy. Don't order too big, because they don't have drawstrings at the waist. They come up higher up the back. I can't say about how warm they are yet, but they seem pretty warm. Even the size L had plenty of length in the legs. I am wholeheartedly recommending these. 5 stars out of 5 stars. Great. Best tights I've worn, though I have to actually ride with them on.
The Icebike logo comes all the way up near the waist, which might get covered by a jersey. It could possibly be moved down on the thigh a bit more.
Bob VonMoss
Another opinion:
I'm a Masters road racer in New Jersey, so while not spending much time on ice, I do ride through the winter. I'm using products from both Foxwear and Vulpine Adaptive LLC, both companies which I found through this site.
The similarity between the two companies is that both Lou Binik of Foxwear, and Kevin Kinney of Vulpine, are very generous with their time and effort to make sure that their customer gets products which best fit the customer's needs, at very competitive prices.
I contacted Vulpine Adaptive in my search for "the better bootie", given that I train wearing cleated road shoes even in winter. Kevin didn't have booties in his product line, but rose to the challenge of modifying existing items to create a new bootie.
I've been testing his prototype, and love it. It is laminated material with a pile lining, and a laminated neoprene sole. They breath better than all-neoprene booties, and have several design features which, while they look odd at first, are genuine improvements.
They are slightly oversize, with velcro straps to snug them down – so I have the flexibility of either using them on both road and MTB shoes, or more importantly, fitting a second pair of booties (my old ones) inside, for really cold days (24F-32F may not be super-cold air temperatures, but I'm out for as long as 3 1/2 hours).
The top zipper (most booties have rear zippers) lets me partially unzip them for added ventilation on rides which start cold, but warm up – again flexibility I haven't found elsewhere.
If you're interested, drop Vulpine an e-mail, because the booties are probably not yet listed on their website.
"Micheal Flack"
Col d'Lizárd 100 Powerstretch Arm Warmers
Conditions: Overcast.
Temperature: 35 degrees F.
Winds: 9-12 mph.
Location: Northern New Jersey.
Terrain: Steep climbs and descents on roadway and single track.
Bike Speed: 2-40 mph.
Both of these products are remarkably warm, lightweight and comfortable. The seams are straight and the stitching is excellent. Best of all, they look really, really good on me. :~)
The Arm Warmers are the 'perfect' accessory. They keep you warm, block the wind, and are easily removed and stowed as the day warms up. Somehow they stay where you put them WITHOUT the elastic ends digging into your skin. I wore them all day in the office (the heat is broken) without getting those nasty red marks that other products leave behind.
I have a 38″ waist, 32″-33″ inseam, and the XL Tights fit perfectly without bunching up anywhere. The high waist keeps the cold air out, and the Polartec 100 Powerstretch fabric really blocks the wind, even at high road speeds. During difficult climbs, perspiration is wicked away instantly. On fast downhills, they dry out without letting you get cold.
Jeers: The Arm Warmers are flawless. The top Icebike logo on the tights should be moved down a bit so that it is not covered by outerwear.
Summary: I couldn't have been more impressed. Everyone should own at least one pair of Arm Warmers, and TWO pair of these Tights (I plan to order another pair tomorrow).
Special Note: When I called Col d'Lizárd to place my order for the Arm Warmers and Icebiker tights, Kathy answered the phone. I told her that I have very long arms and wondered if the large Arm Warmers would fit.
I was stunned when she told me that since the fabric had not come in yet for the Tights, she would have time to make a special pair for me. In a world where doctors no longer make house calls and you have to pump your own gas at a 'Service' station, this is a most remarkable attitude.
It's unlikely that I'll ever meet Kathy from Col d'Lizárd to thank her properly, so I'd like to encourage everyone who reads this to support her and her new company. The world needs more people like her, and she produces fine products to boot!
by Anthony Metzler
Col d'Lizárd Powerstretch Headband
Cheers: Wow! This Headband is very thin, lightweight and comfortable. The seams are straight and the stitching is excellent. It does a remarkable job of wicking away perspiration and keeping you warm and dry. I am surprised by its ability to block the wind, even at high road speeds. It performs every bit as well as my heavy Polarfleece Headband, but doesn't seem to affect my ability to hear.
Jeers: The Col d'Lizárd Logo Patch is smack dab in the middle of your forehead. It would look better rotated to one side. Look, if I hadn't found something to complain about this section would have been left blank.
Summary: I really like the way that this Headband performs. Its ability to block the wind, but not sound is a major safety advantage over heavier Headbands.
by Anthony Metzler
Foxwear Cold Weather Tights
Need something a little warmer? On days when its quite a bit colder, or for day-long outings, having tights made of warmer material is really welcome.
The small Idaho firm called Foxwear makes tights similar to those above but they are made out of 200 Weight Powerstretch (300 weight on request). The construction detail is very good, seams are strong and well made. The 200 weight Powerstretch tights are noticeably thicker than the 100 weight, but were still light and supple and form fitting.
I expected the 300 weght to be bulky and uncomfortable, but they were every bit as comfortable as the 200. The 300 weight is almost windproof. Great for those really cold days. I think the 300 weight would easily be warm enough at -10F (-23C).
I reviewed both Blue and Black in two different weights and I like both. The tights lack gripper elastic in the cuffs, but ride-up didn't seem to be a big problem. They are cut long enough to make a good snow proof tuck into your boot.
These tights are priced competitively ($40) and Lou Binik of Foxwear will make custom fitting adjustments if you ask. They also do custom fitting for women. Call or Email for a borschure with fitting instructions.
Scroll down this page for a review of the Foxwear Jackets. Also available are hats (see review) and skin layer garments.
Lou is an icebiker himself and knows the fitting requirements of cyclists.
Another opinion:
Hi IceBikers,
Several weeks ago I saw on the Icebike site a section that listed Foxwear as a place that sold clothing suitable for biking.
Well, I tried it. I sent email to Lou and told him what I was looking for and he suggested several choices for material to use. I think Foxwear is unusual because Lou will make the clothing to fit your size and using the material that you choose. I also find the prices to be very reasonable.
I ordered some tights for my kids and myself. I also had a pair of pants made using Windblock material. I have found that pants made from that material is difficult to find…especially in my size.
Lou made the clothing and sent it to me in about a week. The kids like wearing their tights as pajamas at bedtime. Very comfortable. I use the tights and pants for biking, downhill and cross country skiing. They also are very comfortable and warm. Obviously the suitability of the clothing will vary depending on what material you choose.
What is helpful is that Lou is familiar with the requirements of clothing in different winter activities, and he is very knowledgeable about the different kinds of materials. He often will send out samples of the materials for you to look at before you make your choice.
He offers a money back guarantee … in my case because he doesn't have on-line ordering, he made the clothing and sent it to me with a bill. If I didn't like the clothing I didn't have to buy it.
I'm not connected with Foxwear in any way, just a satisfied customer.
James C. Park
Turtle Fur Sehllclava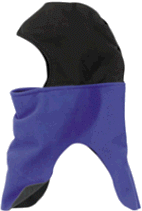 The last few years I've had a headgear combination that I like very much: a windproof helmet cover, plus a "shellclava" from turtle fur, viewable at the Turtle Fur web site.
The picture looks like an improvement over the version I got a few years ago. It's a balaclava made of thick material around the neck, and thin material under the helmet. That way if you have a good snug fitting helmet it will still fit with the Balaclava.
It's sort of like a thin Balaclava plus a neck tube, but the advantage is that with the pieces sewn together, the neck tube gets pulled up around your ears and held there.
by Charles R. Sullivan
Sentinel Jacket by The North Face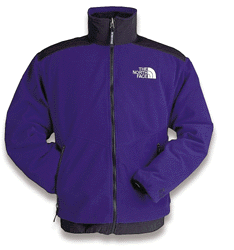 The North Face Sentinel Jacket is designed as a stand alone jacket or toe be zipped into the same companies Mountain Jacket. The combination is overkill for most cycling needs but the Sentinel alone is just right.
Using Gore's single-faced Windstopper fleece gives the Sentinel Jacket great flexibility and weight while still maintaining windproofness and breathability in cold weather activities. Supplex Nylon overlays in the shoulders and elbows provide superb abrasion resistance. Lighter weight than most basic fleece jackets, but cuts the wind like a shell piece. Wt. 20 oz.
It is cut extra long, and therefore accommodates the cyclist's position on the bike. In addition the zip up neck keeps cold drafts out. Nice tight cuffs prevent snow up the arm should you need to part company with the machine temporarily.
Because its so incredibly LIGHT in weight, it doesn't feel like it should be warm. But because it blocks all the wind, and still breaths, you end up staying warmer without getting that muggy feeling. Its easily good to 0F (-18C) with only a thin weight Polartec shirt below. With a heavy weight Polartec shirt, and a capilene skin-layer, I've personally ridden in this jacket to -15F (-26C).
Its not cheap, about $195, but it may just be what you were looking for.
Icebiker Wayne Estes has this to say about the Sentinel: I bought it a year ago because I needed a more breathable and less bulky jacket than the lightweight down parka I was using when biking in cold weather.
This jacket feels more windproof than the Activent jacket, but I think that is because it provides much better insulation. The wind just doesn't feel as cold with the Windstopper jacket. I am comfortable in this jacket from about 5C to -20C (41F to -4F) on my 30 minute commute with just a single middleweight wicking layer underneath.
The jacket is not water-proof, but it does seem to have a DWR coating which causes water to bead up. I have never ridden in rain with this jacket. I have ridden in snow many times, and once I go inside the melted snow always beads up on the surface and evaporates without soaking into the material.
This is my main jacket for commuting when the temperature is below freezing.
E Vap Jacket Foxwear Jackets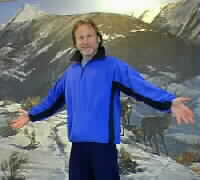 In addition to the cold weather tights (reviewed above) Foxwear of Salmon Idaho, makes several great looking jackets for such organizations as Stanford University Ski Team, Salmon Search & Rescue. Less than half the price of the Sentinel Jackets above, some models come in your choice of full Zip or half-zip (pullover). Also available is a sleeveless vest, for those crisp fall or late spring rides.
The Evap Jacket (pictured here) is great substitute for the North Face Sentinel jacket at half the price. And the Evap is available in bike commuter yellow for high visibility in dark winter rides. Its a comfortable jacket, cut just right for cycling and has WindBlock everywhere except the black trim stripes. Those stripes are powerstretch and they add the breathability and form fitting stretchiness. I've tested the Yellow model and have switched to it as my primary jacket on dark winter days for commuting.
In addition you can select the fabric, colors and weights to fine tune some jackets to your local winters. Choose from 200-Wt, 300-Wt Polartec, Windbloc or Retro-X for really cold environments.
New in 2004, Power Shield: an extremely abrasion resistant face for long lasting durability; this fabric maintains its form and function regardless of abrasive contact. It blocks 98% of the wind to prevent wind chill, but allows enough air to circulate to keep you from overheating. The water repellent surface sheds rain and snow.
This is the only company we have heard of that allows you to tailor your garment for your body as well as your particular degree of winter. Their Website has information about each of the fabrics, and they will be happy to consult with you by phone or email about which fabric would be best for your needs. US$70-80 depending on fabric.
Patagonia Regulator R2 Jacket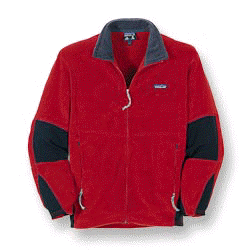 Patagonia makes a lightweight jacket called the R2 out of Polartec ThermalPro "Regulator" fabric.
The R2 weight is touted as lighter , more breathable, and warmer, than 8 oz fleece. Not advertised is the fact that this gear is twice as expensive as regular fleece.
In spite of this I recently broke down and purchased an R2 jacket. This stuff is great. On a -10 c day I was able to go mush about wearing the R2 jacket, a microfibre undershirt and a polyester windshell. I remained comfortably warm even when not moving and rejoiced in the fact of wearing 3 layers without feeling like a nylon armadillo. Even when cranking through heavy mush there was no interior moisture buildup. Nice touches on the R2 are a drop beaver tail that keeps the small of the back toasty warm and a thick collar cuff.
According to the Patagonia web site, R2 fabric is as warm as 8-oz. Synchilla®, but lighter and more compressible The R2 Jacket features: Full-length front zipper (offset at the neck) allows you to easily vent en route. Stretch panels in critical flex areas. Zippered handwarmer pockets and drop tail style. Fabric: 6.5-oz. Regulator R2 fabric (Polartec® Thermal Pro™ polyester); 6.5-oz. Lightweight Activist™ Fleece stretch fabric on sides of torso, at elbows and cuffs. US$129 when last checked.
by Francis Fuller
Pearl Izumi Prizm Jacket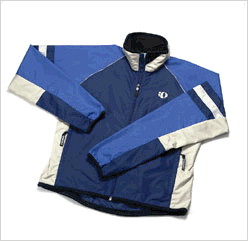 This is still the only jacket I trust for cold winter cycling. Others may breath just as well, or block the wind, but no manufacturer makes a more reflective jacket. The Scotchlite taping is in the right spots on the florescent yellow material.
The zipper gets stuck more than it should – a problem I've noticed across the entire Pearl Izumi product line.
It does have a draft flap, two front zippered pockets, and side fasteners for tightening the bottom fit. The collar is nice and high, though it could fit a little smaller, at least for me.
The new Pearl Izumi Prizm jackets (ahown here) have less Scotchlite (cost $99) and are no longer available in all yellow.
by Todd Scott
Performance Triflex Tights
Fit: Unlike many winter tights that fit loosely these fit as snug as normal fall tights. Though this approach maintains the "cycling style" it seems to be less effective at keeping the legs warm than a loose fit. With a tight fit warm air cannot move around and an area of the tight that becomes cold stays pressed against the same patch of flesh.
Construction: The catalog description is accurate but the pair that I purchased has had a problem with seam integrity. The thicker material must be harder to align properly as several places weren't sewn with sufficient overlap and had to be hand sewn (by me) to keep from pulling apart.
Breathability/Waterproofness: This is where you can decide if the tights are right for you or not. The "Triflex" material that covers the front and center rear of the tights is *extremely* waterproof. For short rides this poses no problem and for wet/sloppy rides this is desirable.However, if you are riding for an extended period the lack of breathability. causes the same panels to become damp with sweat and lose quite a bit of insulating power.
Warmt: Good (on my legs) from 35 f to around 10 f. Limited in the higher direction by sweating. Extendable to lower by wearing fall tights underneath and wind pants over.
Overall: These pants appear to be designed with the MTB rider in mind. They are well suited to short, wet, and cold rides. In a commuting role they are less desirable because of the lack of breathability. Not as warm as looser fitting fleece-type tights with windproof front panels.
by Ric Miller
Windstopper Jacket Marmot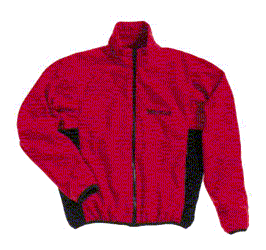 Marmot Yellowstone Gore Windstopper Jackets are lightweight (a medium weighs around 450g) and feature pit zips, Powerstretch side panels in black, zipped handwarmer pockets and a drawstring collar for extra cold days.
The Windstopper fabric is the same as the sentinel jacket above, but the cut is a little shorter than the sentinel. The price is usually less than the sentinel as well. The other plus is that these jackets include pit zips.
Writes icebiker Francis Fuller:
I use a product by Marmot. Has very long pit zips and is constructed from Gore's Windstopper fabric. Works well under a light shell but needs additional insulation layers when it gets "cold enough to skin ya."
VisorGogs

Last week I got my Visorgogs from Lab Safety (Search for Visorgogs).
I am a prescription glasses wearer, so I never got cycling glasses. Rudy Project makes some cycling glasses with Rx inserts. This seemed interesting to me, but I didn't feel like carrying 2 sets of glasses everywhere and didn't want to get contacts. Also the price of Rudy Projects is pretty expensive at $140 before you get the Rx lenses.
The Visorgogs seemed to be worth trying on several counts: – the price is $6.90 + shipping. Can't beat that. The price of cycling glasses has seemed too high to justify looking into them. I was not interested in paying over $100 to carry around 2 pairs of glasses – Visorgogs fit over regular glasses
After getting them within a week, there was another big plus: Visorgogs can easily be stored away in a pannier when you're not using them, unlike other solutions.
I figured that I would only consider wearing them when the temps were below +20F or when I was riding into snow or sleet.
Initially, when I put them on, I was a little disappointed because the lens does touch my glasses and rest on them. Also, the visor didn't seem to match the forehead well. However, these points didn't seem to matter, because it stayed in place and didn't squish my glasses on my face and I'm usually wearing the balaclava anyway.
I guess the biggest negative is that it is a visor and since I ride a road bike, if I'm on the drops, I have to make a little more effort to look up, but no big deal.
They work better than I expected.
With regular glasses alone, cool air (below +20 F) easily streamed to my eyes and caused them to tear up even on mildly blustery days. With visorgogs I had virtually no tearing even riding into 15 mph wind. They cover almost all of the eyes, but have a breathing area near the ears and tiny holes in the visor. I haven't had any fogging up at all of either the visorgogs or my glasses. I pretty much like them and plan on wearing them at least below freezing.
by Bob VonMoss
Buffalo Mountain Shirt
A novel solution to cold/wet weather has been developed in the UK by a company called Buffalo.
The Buffalo system (and its imitators) is based on a pile inner with a pertex nylon microfibre outer.
Pile is a tougher, higher-performance insulator than fleece, which can best be described as a fluffy nylon carpet. The reverse side of pile (beneath the pertex shell) is quite rough and not so "sellable" in the shop, which accounts for the rarity of pile only jackets. The twin layer garment is worn next to the skin (fluffy side innermost).
The theory goes like this:
Thermal control is achieved by using the full length side-zips and neck zip. Sweat is wicked away through the pile, and into the pertex, where it will quickly evaporate. Rain will be wicked over the pertex and evaporate. Heavy rain will soak through, but the pile does not absorb water, and its thermal qualities are unaffected.
You can squeeze a pile/fleece more or less dry, and any residual dampness will be driven off after 5mins exercise.
My P+P jacket is grossly oversized, and I only use it on cold days for low-intensity cycling like shopping trips. It comes into its own on cold evenings cycling home after a night of dancing in a sweaty disco. I ditch the sweat covered T-shirt, don the P+P jacket and head out into a freezing night. Within 30 seconds I am pretty cozy, and a sharp hill climb will get me warm.
P+P is rated as professional gear and used by the military and mountain rescue units in Scotland.
Buffalo make a standard pullover, a cycle specific shirt with heavyweight pertex and lightweight pile, and a professional version (heavyweight everything). These shirts don't weigh much and cost about £90 (roughly $150). They last for ever, don't cost too much, and they work.
You don't need to develop Gore-Tex paranoia around smokers and those nice old ladies with charity tins and lapel badges. You can repair any damage yourself with no loss in performance.
Very difficult to find in North America, you can order Buffalo products from NeedleSports, they reportedly will ship anywhere.