You might want to think that trekking bars are new energy bars, once you consume them, you are filled with tremendous energy but that is not the case here. Butterfly Bars, also known as trekking bars are one of the best handlebars to go for, they provide amazing comfort and performance, but what is their extent?
The origin of Butterfly Handlebars stems from Europe, from there it spread to the UK, then to America, and then other countries. These trekking handlebars provide amazing comfort, we have tried many handlebars, but none compare to the likes of butterfly bars.
What Are Butterfly Handlebars?
Butterfly Bars are handlebars made for maximum comfort while riding, and you will see them on European Touring Bikes. Their origin stems from Europe but now they can be availed anywhere. These trekking bars work and perform like a drop bar, the only difference would be in some hand positions.
These are not traditional bicycle handlebars, instead of the hand positions going up and down, trekking bars hand positions actually go forward and back.
There is no reaching down with these butterfly bars, in fact, you will reach farther forward than before, which increases the comfort of the rider. Multiple hand positions like these stretch out the rider's torso, it lowers the body, yes, but it also makes the rider have an upright position.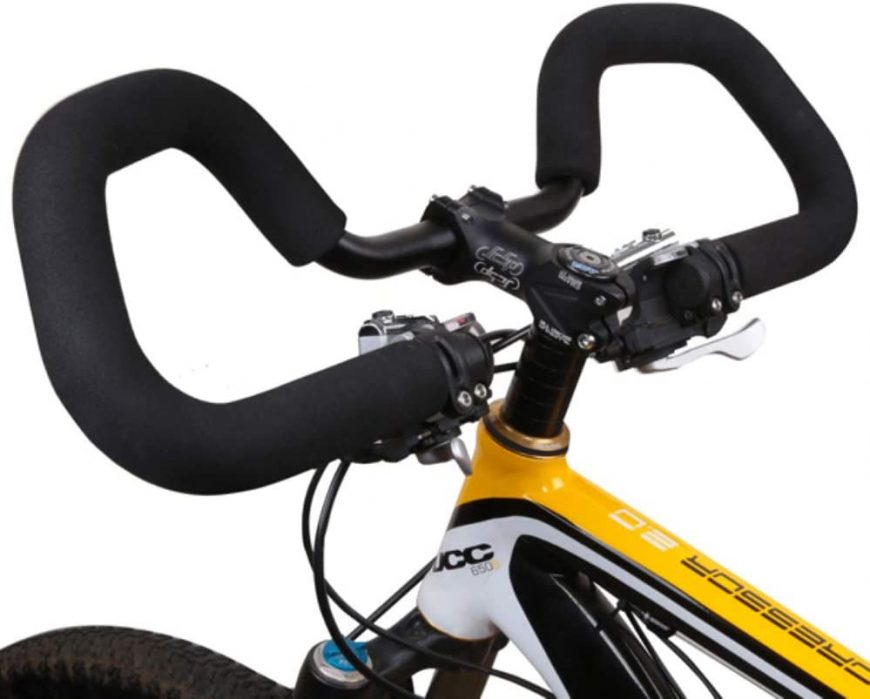 Why You Should Get Butterfly Handlebars?
These butterfly handlebars are amazing, we get that, but how amazing are they actually? The first thing that we need to know about trekking bars is that they are made for long-distance touring. If you try to use them on a bike for fast travel, it won't work as it should.
These trekking handlebars when combined with a wide seat position work best. You would be able to enjoy far better control at slower speeds than any other kind of bicycle touring handlebars. Whether it is rough terrain, gravel roads, or riding mountain bikes or road bikes, you will always get to enjoy an amazing performance.
The Other Advantages Of Butterfly Bars
Apart from the advantages that we discussed, there are other benefits that riders will get to enjoy from using these trekking bars. Let's take a look at them!
Always Enjoy An Upright Position
The first advantage of using butterfly handlebars will be having an upright position while cycling, not just sometimes but always!
We already discussed that using the trekking bars makes you reach farther forward, and when your torso is also stretched, you get to enjoy an upright position while cycling. So people that have pain in their body while cycling, especially in the lower back will have absolute comfort.
Your Cycling Posture Will Improve
Using the drop handlebars ruined my body If I have to be honest. I was experiencing body pain every time I started riding, there was no way out until I started using the butterfly bars. What it immediately did for me was better my cycling posture, now I always have an upright position whenever I ride.
My torso is stretched out even more than before and my body seems to be fully in sync, every motion and every gust of wind is felt throughout my body. Whether it is a mountain bike or any other kind of bike, you will see your cycling posture increasing drastically once you start using the trekking handlebars.
Enjoy Comfort Like None Other!
With butterfly handlebars, there will be comfort like none other, the comfortable cycling posture and upright position are hard to replace. Using drop bars over a long period of time would make the person feel pain, even in areas they haven't felt pain before.
Trekking bars are made for the COMFORT, they ensure that their rider is always in top physical condition.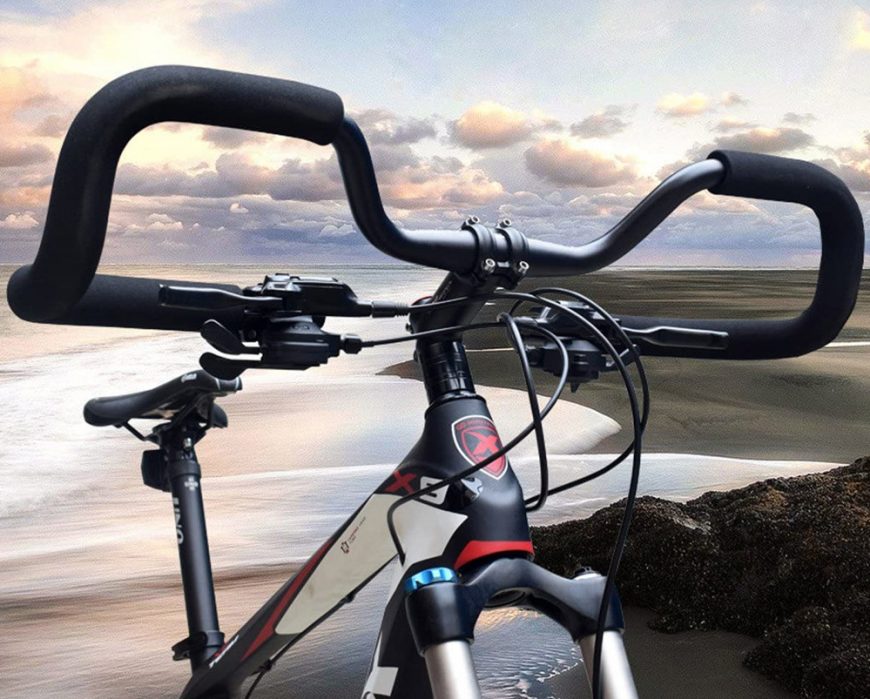 They Are Inexpensive
Butterfly Handlebars are inexpensive when compared to other handlebars. They are more comfortable, and you won't break the bank getting them. There are some great trekking handlebars that you can get right now, we will discuss them soon.
Experience More Control
With trekking bars, riders would have more control over their bikes. One of the really good examples is over rugged terrain, gravel roads. These wider handlebars are easier to control and provide more comfort. The next best thing that provides this level of comfort would be aero bars.
Why You Should Avoid Butterfly Handlebars?
Butterfly Handlebars are great and all, but they still have a lot of drawbacks. Some of these drawbacks need to be discussed so let's explain them.
Little to No Customizations
With trekking bars, there is little to no room for customization. Let me explain that, you won't be able to install headlights or a handlebar bag. This would things quite difficult in the long run so be very careful before installing them.
You could install these types of bars on temporary bikes and not the prominent ones then?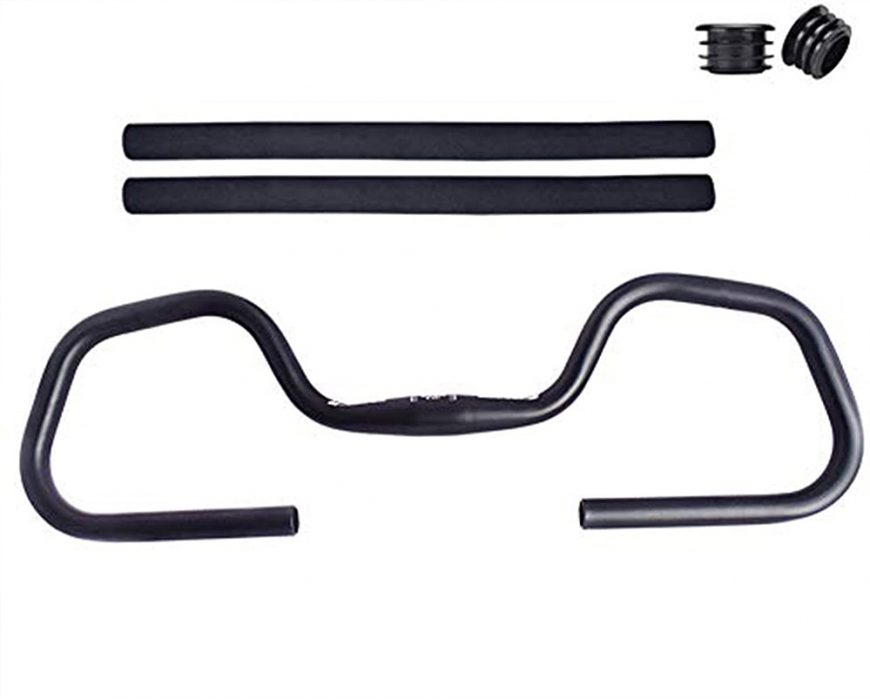 Design May Be Ugly For Some
Trekking handlebars look great until they don't! These bars have a unique shape surely, but some people don't actually admire this kind of shape. They still favor the other kind of handlebars over the butterfly, but who can blame them, everyone has their own taste.
A Longer Stem Will Be Needed
These butterfly handlebars often come into contact with the bike's frame when turning. So if you do install them, it is recommended that you get a longer stem too. That will make sure that the end of these handlebars doesn't come into contact with the bike's structure.
Bike Sizes and Handlebars- What's The Relation?
There is a deep connection between the bike sizes and different kinds of handlebars. Bike frame sizes with drop handlebars are going to be a lot more different as compared to bike frames with butterfly handlebars, so keep that in mind before getting a bike fit and choosing the right bike size for yourself.
Let's take the example of a road handlebar. You will be fitted at the top of the brake lever, which is also known as the "Hood Position". If we compare this to a flat handlebar, you will have a longer reach, approximately 50mm longer. Thus, different handlebars are going to have different benefits and drawbacks.
Different Bike Manufacturers make sure that their bikes reach handle different types of handlebars, well most of them anyway. If they are designed around flat handlebars then they increase the top tube length by 50mm. This does not give birth to any complications though.
You can still install different kinds of handlebars on a bike that was designed with a flat handlebar. After installing them, just make sure that you adjust the bike fit by going down a size or two, you also need to be comfortable while riding the bike.
Best Butterfly Handlebars- Reviewed 2023
Here are some of the best butterfly handlebars that we got to try this year. All of these handlebars are different from each other but offer great performance. Let's take a look at them!
1. UPANBIKE Trekking Butterfly Handlebars
Price: $31.99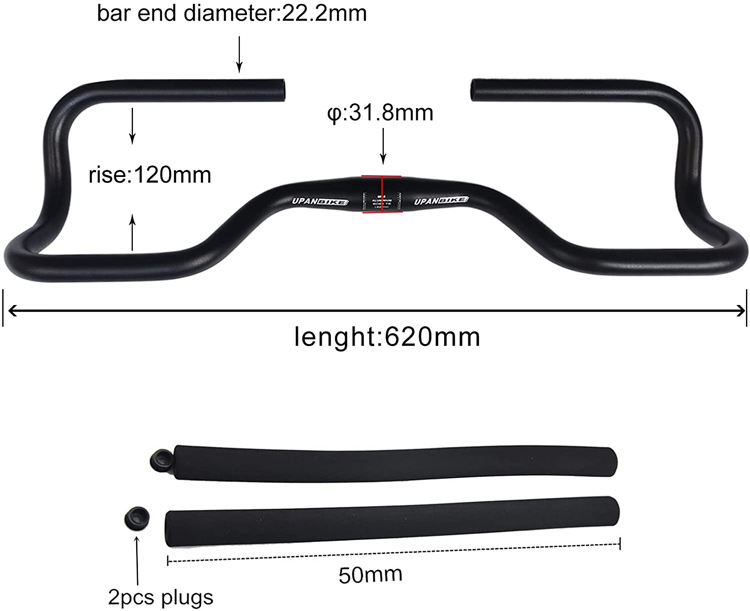 These handlebars are great, they offer style and performance, all-in-one. They are constructed with aluminum alloy, making them resilient against wear and tear. The UPANBIKE handlebars are even rust-proof so that is an added bonus here.
You can change the hand positions quite often with these handlebars, and the comfort is unmatched.
Advantages:
You Can Easily Change Hand Positions
Compatible With A Lot Of Bikes
End Plugs Of The Handlebars Are Included
Disadvantages:
There Will Be Trouble Installing The Sponge
Some People May Not Love The Design
---
2. RXL SL Carbon Handlebar Road Bike
Price: $49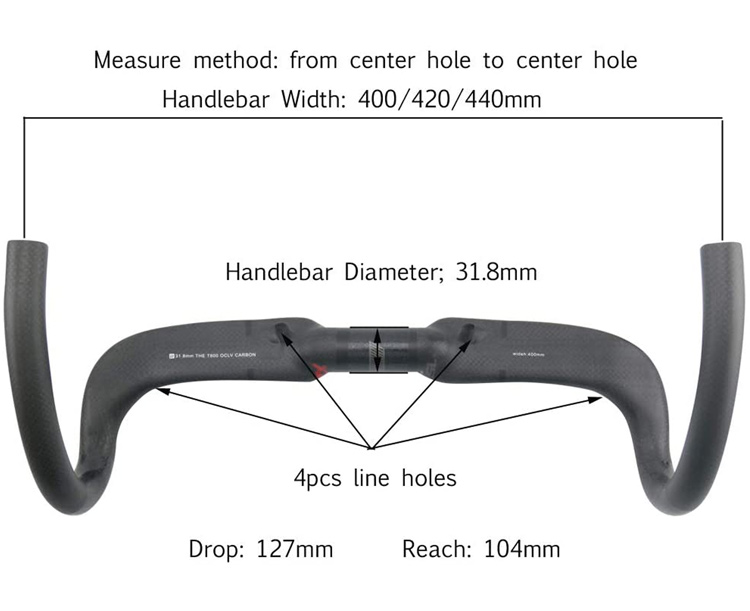 After the UPANBIKE bars come the amazing RXL SL bars, they are strong and lightweight, figures because they are made from carbon and aluminum. They are also rust-proof and are available in different shapes and sizes, you will not have any trouble finding them.
They are only available in a black color tho, if you are okay with that then do go for them.
Advantages:
Comes With Sponge Grips and End Plugs
You Can Hold Every Part Of The Handlebar
Offers Amazing Versatility
Disadvantages:
Sponge Installation Is A Bit Difficult
Cycling Positions May Tire You
---
Read also:
Recap
Butterfly Handlebars are amazing, they provide amazing comfort and are best suited for long tours. Although getting used to them may take some time, that happens with a lot of handlebars. The only thing that matters is that they are indeed better than a lot of other handlebars.
We discussed some of the best handlebars to go for, there are a lot of other options as well, but these were our top picks! Make sure that you check the appropriate bike frame size to go with these handlebars. If you have any queries regarding the trekking handlebars, do comment below!