Trekking bars are mostly used for long-distance cycling. Now, are you thinking this is a type of bar that you eat to get the extra energy kick? Wait, let me stop you right there! Trekking bars, more commonly known as butterfly bars are a type of handlebars. They have a unique shape which helps increase the comfort of your rides.
They were first seen on European touring bikes. From there they traveled to the UK and then finally made their way to The United States of America and other parts of the world. They are a go-to option for long-distance bicycling. If you look at it, a butterfly handlebar works like a drop bar. The difference is in some of the hand positions! Let me explain to you in detail.
Learn everything about bikes, their parts, and how they function. Give a read to our guide on bike anatomy.
How Do Butterfly Handlebars Work?
That's a very good question. You see, a butterfly handlebar 7 hand positions. Out of these, you have 4 main and 3 secondary positions. Instead of reaching down, you will be reaching a further forward. So you will be stretching your torso and lowering your body all the while having an upright riding position. Isn't that great?
Well, I find it great for riding on rougher terrains. Since you will still be upright with less strain on your hands, your wrists will not be bearing the whole weight of your upper body. As you can see, a figure of around 8 arrangements is mounted on your stem horizontally. This makes room for more comfort and stability.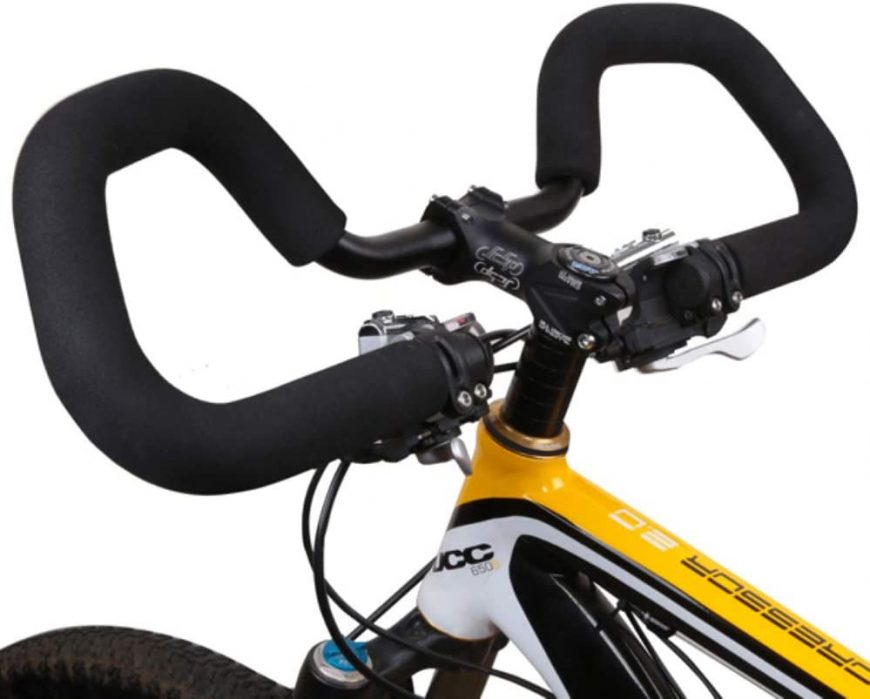 How Are Butterfly Handlebars Different?
Feature
Butterfly Handlebars
Traditional Handlebars
Hand Position
Different
Standard
Design
Figure-of-eight
Traditional
Dimensions
Width: 540mm to 580mm
Stem Clamp: 25.4mm to 31.8mm
Varies
Length
Longer
Standard
Versatility
More versatile
Limited compatibility
Check out the top-rated bike handle grips that you can buy.
4. Advantages Of Butterfly Handlebars
We have established that butterfly handlebars are different. Let's explore the pros and cons of handlebars to see if they really are worth a try.
1. You Will Enjoy An Upright Position
The first advantage of using butterfly handlebars will be having an upright position while cycling. I explained to you that trekking bars make you reach farther forward. It stretches your torso and when that happens, you get to enjoy an upright position. It is suitable for people who experience pain in their body while cycling, especially in the lower back.
1. Your Cycling Posture Will Improve
If I have to be honest, I used drop handlebars for over a year and did not like them much. I noticed that I had more body pain while riding. That's mainly why I switched to butterfly bars. The upright riding position helped relieve the strain on my lower back.
I had better visibility of the road. This helped reduce the stress on my neck which I had to bear when I would be constantly tilting my head upwards.
2. They Increase Cycling Comfort
When I used to ride my mountain bike with butterfly handlebars, I did experience more comfort. This was because of the comfortable cycling posture and upright position. Using drop bars over a long period of time might lead some people to experience body pains.
Trekking bars are made for COMFORT. The different hand positions help you to distribute the pressure evenly across your arms, hands, and wrists. This reduces the fatigue that is caused by keeping the hand in a similar position for longer times.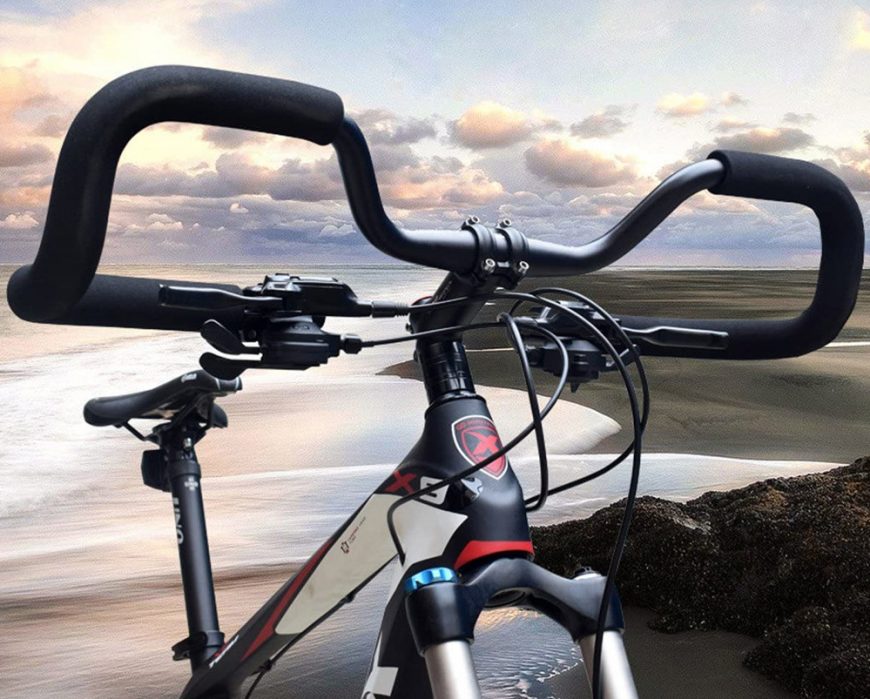 3. Butterfly Handlebars Are Affordable
Butterfly Handlebars are affordable. Their price ranges from $20-$40. I have discussed some options, if you scroll down a bit you can find them.
4. They Provide More Control
With trekking bars, riders have experienced that they have more control over their bikes. A good example of this would be riding over rugged terrain and gravel roads. Since they are wider and have more hand placement options as compared to other handlebars, you will have more ways to control your ride.
3 Disadvantages Of Butterfly Handlebars
Butterfly Handlebars do have some drawbacks.
1. They Are Not Customizable
They are not customizable. What do I mean by customizable? Let me explain it to you. You won't be able to install headlights or a handlebar bag. Some users find it difficult to adjust in the long run.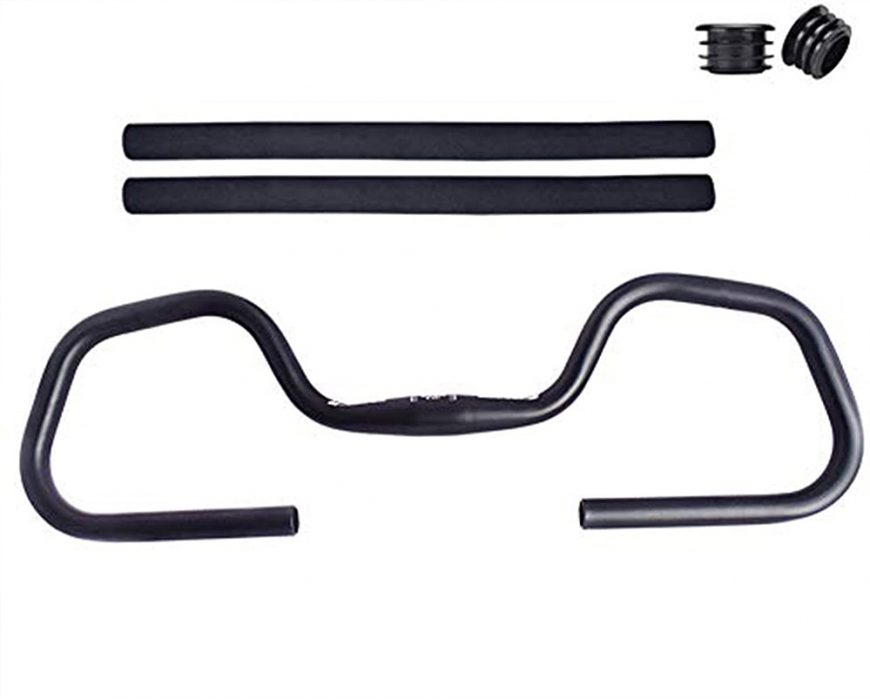 2. The Design Is Not Very
Trekking handlebars are somewhat ugly! These bars have a unique shape but some people are not a big fan of it. They still favor the other kind of handlebars over the butterfly mainly because of the shape.
3. You Will Need A Longer Stem To Install Them
These butterfly handlebars often come into contact with the bike's frame when turning. So if you do install them, I recommend that you get a longer stem. This will make sure that the end of these handlebars doesn't come into contact with the bike's structure.
5 Things To Consider Before Getting Butterfly Handlebars
These butterfly handlebars are amazing, we get that, but how amazing are they actually?
1. The Kind Of Ridding You Prefer
The first thing that we need to know about trekking bars is that they are made for long-distance touring. If you try to use them on a bike for fast travel, it won't work as it should.
2. Your Seat Position!
Yes, you heard it right. These trekking handlebars work better when combined with a wide seat position. You would be able to enjoy far better control at slower speeds as compared to other kinds of bicycle touring handlebars.
3. Your Bike Frame Size
There is a deep connection between the bike sizes and different kinds of handlebars. Bike frame sizes with drop handlebars are going to be a lot different as compared to bike frames with butterfly handlebars. So keep that in mind before getting a bike fit and choosing the right bike size for yourself.
Let's take the example of a road handlebar. You will be fitted at the top of the brake lever, which is also known as the "Hood Position". If we compare this to a flat handlebar, you will have a longer reach, approximately 50mm longer. Thus, different handlebars are going to have different benefits and drawbacks.
Use our bike frame calculator to determine your frame height easily.
4. Your Riding Style
Butterfly handlebars offer only an upright riding position. If that is not the thing for you, you should consider it before buying them.
5. The Features Of Your Bicycle
If let's say, you have a folding bicycle, butterfly handlebars won't do good. They are not adjustable like other kinds of handlebars.
Top 2 Butterfly Handlebars
Here are some of the best butterfly handlebars that we got to try this year. All of these handlebars are different from each other but offer great performance. Let's take a look at them!
1. UPANBIKE Trekking Butterfly Handlebars
Price: $31.99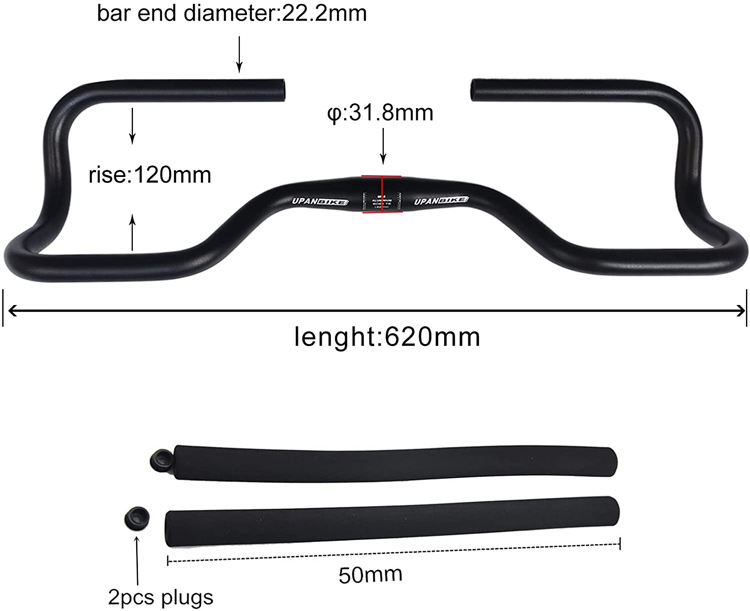 These handlebars are great, they offer style and performance, in all-in-one. They are constructed with aluminum alloy, making them resilient against wear and tear. The UPANBIKE handlebars are even rust-proof so that is an added bonus here.
You can change the hand positions quite often with these handlebars.
Advantages:
You Can Easily Change Hand Positions
Compatible With A Lot Of Bikes
End Plugs Of The Handlebars Are Included
Disadvantages:
There Will Be Trouble Installing The Sponge
Some People May Not Love The Design
2. RXL SL Carbon Handlebar Road Bike
Price: $49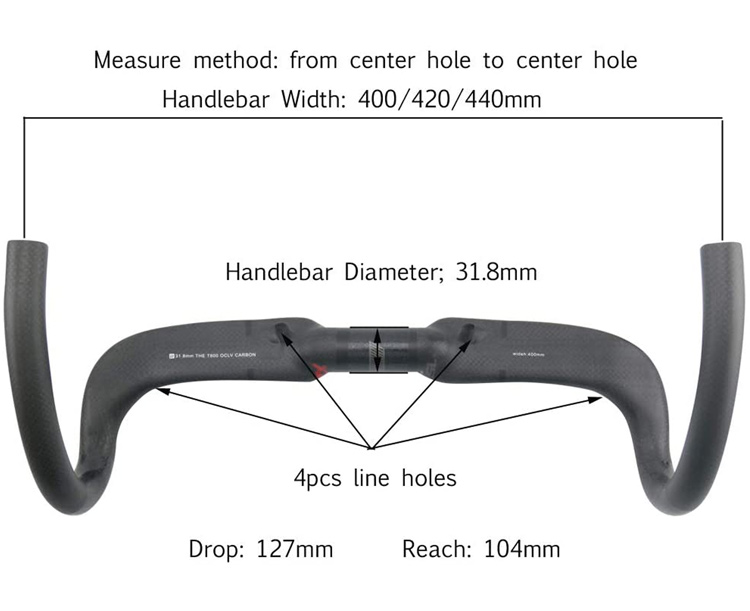 After the UPANBIKE bars come the amazing RXL SL bars. They are strong and lightweight because they are made from carbon and aluminum. They are also rust-proof and are available in different shapes and sizes, so you will not have any trouble finding them.
The only limitation is that they are available in only black color.
Advantages
Comes With Sponge Grips and End Plugs
You Can Hold Every Part Of The Handlebar
Offers Amazing Versatility
Disadvantages
Sponge Installation Is A Bit Difficult
Cycling Positions May Tire You
FAQs
How do you fit butterfly handlebars?
To fit a butterfly handlebar, position it at a comfortable angle. Then adjust your bicycle stem and handlebar according to your preferred riding position. Tighten the bolts and secure your handlebar.
Which handlebar is best for bike?
It depends on the type of riding you prefer. As a common notion, drop bars are best suited for road bikes, butterfly bars if you prefer comfort, and flat bars if you ride a hybrid bicycle.
What is the function of the handlebars?
Handlebars help you steer your bicycle so you can navigate your ride easily. They also contribute in making your ride comfortable as well as have an influence on your riding position.
Do handlebars make a difference?
Yes, handlebars do make a difference.
Are wider handlebars better?
Yes, wider handlebars are better because they provide more comfort.
What are the benefits of bike handlebars?
Bike handlebars help you navigate your bicycle. They also contribute towards making your ride more aerodynamic.
Recap
A comfortable ride is the best kind of bicycle ride. Especially when it comes to long-distance riding. Butterfly handlebars are one of the most suited for enjoying such rides. There are other options too that you may find in the market but these two that I have listed here, I have tried myself. I also researched and found that their material is the most suited when it comes to the durability of handlebars.
Wait, there's more! If you have made up your mind to try butterfly handlebars, don't forget to check the appropriate bike frame size to go with them. If you have any other questions related to butterfly handlebars, reach out to me in the comment section. I'd be happy to help!
Also Read
---