Bike handle grips have the same importance as your bike, they provide the necessary comfort and grip you need. Every now and then, every rider has the thought of replacing their grips with effective ones, that is when you have to make the best choice available.
There are plenty of reasons for changing your bike grips, either the wear and tear have been too much, or you want something better now. When you decide to do so, know that there are going to be enough options in the market that will make you feel overwhelmed.
Chances are that you won't even know where to start properly, so it is very important you know where to start and what to look for exactly. The bike handle grips that you go for will have a very critical role to play in the comfort and performance of your ride in the long-term.
What is The Significance of Bike Handle Grips?
The only points of contact between your body and your bike are the pedals, grips, and the saddle, unless something goes terribly wrong that is. If these points of contact are somehow breached, the whole thing will come crashing down and it could be very dangerous. Sadly, most of the bike riders overlook the significance of bike handle grips, although the reality is that they influence so much, from the safety to the actual performance.
Bike handle grips are important for quality control, endurance, and performance. Until and unless you come into contact with an amazing grip, you won't even know what we are talking about. So it is about due time that you step up your game!
There are chances that you would be using the normal generic grips till now, it is my recommendation that you change them and get those amazing grips, only then will you notice the difference. In order to make the right decision, you would have to familiarize yourself with the different kinds of grips out there.
Lock-On Grips
Looking for amazing grips for mountain bikes, the most popular ones are lock-on grips. Lock-on grips as the name suggest, have a rubber grip in the center, apart from these grips you have grip fasteners on both sides of the handle. These grips are fitted into the bikes using a hex key, this ensures that compatibility is maximized with all kinds of bars. The main concept behind these lock-on grips is that they offer amazing comfort and grip, apart from that they will not slip or shift under any kind of circumstances. They are quite reliable and safe to use!
These lock-on grips also feature a hard-plastic cover that slips over the handlebars. Think of them as protective layers, if they are damaged, they can be easily replaced.
Lock-on grips because of their performance and reliability remain the top choice for mountain bikers, although they are not the only options in store for them!
Push-on Grips
Push-on grips are the absolute opposites of Lock-on grips as the locking ends are no longer there. With the Push-on grips, you have a rubber grip that will stick onto the bar when pushed and it will stay there. Some consider these to be easier and "practical" than the lock-on grips. Let me tell you how they actually work!
In order to install these push-on grips, you will need a liquid adhesive. This will make them easier to slide and be fixated into position without any kind of problem. Push-on grips are made from different kinds of materials, so naturally, they come in different shapes and sizes making them highly compatible!
Within Push-on grips you will find that there are some which are more comfortable and easy to use than the Lock-on grips, other than that there are also the standard ones. What you need to know is that style isn't all that matters, you need to find the grips matching your needs of comfort, reliance, and performance. The choice then falls onto you, either go with the Push-on or Lock-on Grips.
The Best Mountain Bike Handle Grips Ranked:
Now that we have discussed the very basics of bike handle grips, it is time to review and discuss the top bike handle grips that you can find in the market, let's start! All of these grips have been fully tested out by our teams and verified, if you have any questions related to these brands and products, do let us know in the comments below!
1. Weanas New Generation Bike Handlebar Grip For MTB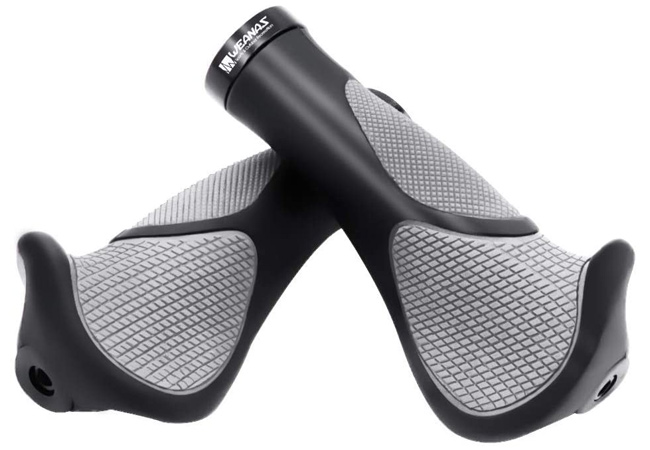 Features:
Made from top-tier products, it is highly durable. The advanced aluminum alloy clamps will result in an amazing and secure ride
The unique ergonomic shape of the grip is amazing
It is compatible with almost all the handlebars
You get a 30-day trial period along with a 12-year full warranty
Pros:
Exceptional in design and comfort
The build makes these grips highly durable
Amazing value for money
Compatible with most of the handlebars
Extended warranty
The Weanas New Generation grips have been manufactured from top-tier materials that guarantee amazing performance with reliability. You can totally count on them for providing the best grip for longer rides. Do you want an amazing grip for your everyday on-road adventures?
There is no better choice than the Weanas. Don't worry, these grips won't slide off or slip, although they are not recommended for races or hardcore adventures.
---
2. Oury MTN Grip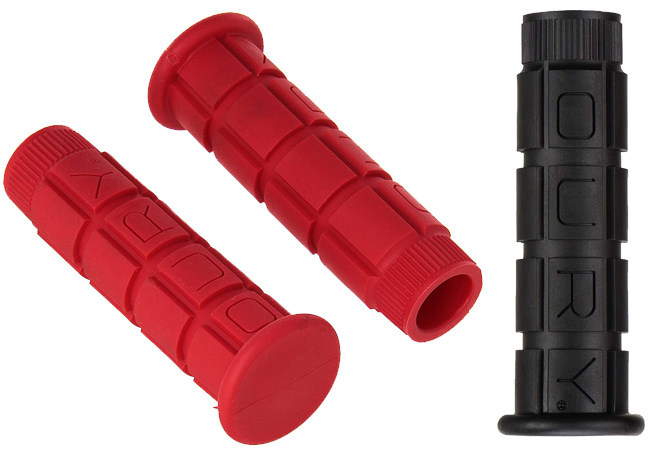 Features:
These grips are used in professional races and events
Exceptional quality and attention to detail
These grips go through amazing quality control
They are compatible with most of the handlebars
The grips are covered by warranty
Pros:
Amazing quality
Very comfortable to use and reliable
They can be easily installed and removed
Amazing value for money
Recommended by all the professionals
The Oury MTN Grip is where simplicity meets performance, the grip and design are simply amazing. The components used are amazing and the grip quality is superb, these are easily some of the best grips you can find in the market. If you are a pro rider then do consider getting them, their quality is just amazing.
---
3. Odi Bike Grips Handle Rouge Bonus Pack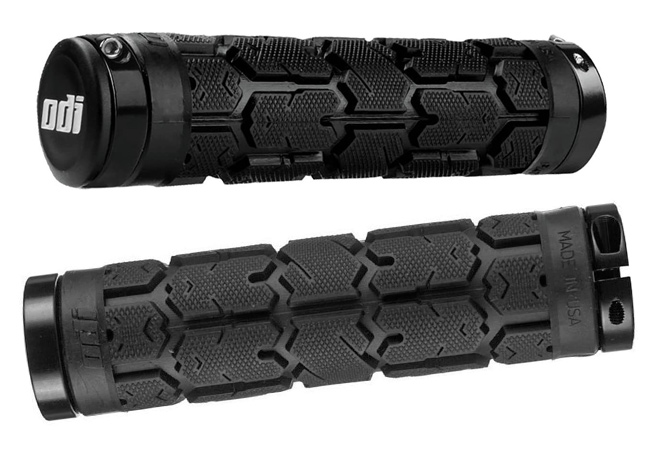 Features:
Extra-large pads for shock absorption and comfort
Debris and other kinds of harmful materials can easily be channeled away
Amazing look that ensures grip fully locks in
Made from premium quality materials
Pros:
The manufacturing quality of these grips is unmatched
Amazing design
They are very comfortable to use
They are recommended by all the professionals
You get amazing value for money
Odi Bike grips are something that you won't find in the competition, the design, attention to detail, and performance are clearly unmatched. They are available in an exclusive black color but the clamps you can find in different colors. They are also very much affordable so you don't have to break the bank.
They are an absolute wonder to hold on to and provide amazing comfort with performance. You can install them without any kind of problems. Don't worry, they won't slip away or budge! I would say that the only downside they have is the expensive lock-on rings that you would have to get if they get damaged.
---
4. OUTERDO Mountain Bike Handlebar End Grips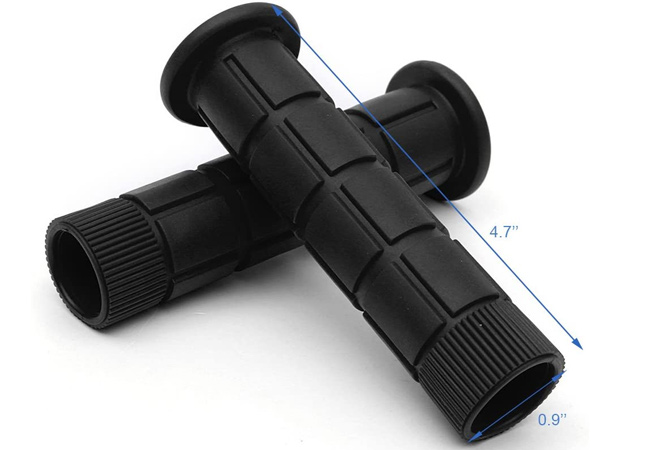 Features:
They are made from the amazing TPR rubber, they will always remain safe and comfortable
You can get them in a variety of colors
Their design minimizes shock and awe
They are compatible with almost all the handlebars
Amazing value for the price
Pros:
They are effective as they are simple
Totally safe and comfortable
Unmatched price point
Can be used without gloves
Can be sued in any kind of weather
The OUTERDO grips are as effective as they are simple, they offer amazing performance. OUTERDO has been a very reliable brand amongst all the mountain bikers, they are known for their resilience and performance. These grips can easily be used for off-road tracks and everyday activities, you won't have to change the grips every now and then.
The bonus is that they offer amazing value for the price and that price point isn't even that high.
---
5. TOPCABIN Bicycle Handlebar Grips
Features:
They are suitable for the majority of bikes, including e-bikes
The texture of these grips maximize traction
They have gone through exceptional quality control
They are covered by a 12-month warranty
Pros:
Their quality is amazing
They are compatible with almost all the handlebars
Compatible with all types of cycling
Amazing value for money
You get an amazing warranty
The first thing that you will notice about these grips is the level of quality they deliver at such a low price. Their design is amazing, as soon as you put them on your bike, the whole persona will change. They feel and perform like an absolute wonder. Although the only downside they have is that once installed, they cannot be removed that easily.
---
6. Lizard Skins Northshore Lock-on Grip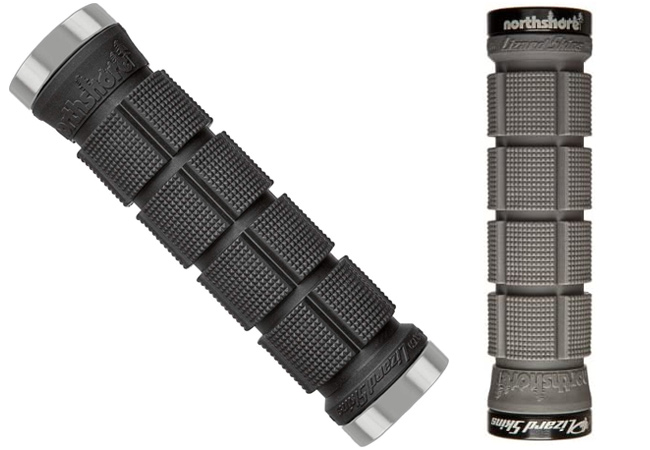 Features:
They are fully compatible for races and competitions because of their thick and chunky design
Made from robust materials that offer amazing performance in any kind of weather
Available in many colors
They are very durable
Pros:
They have an amazing chunky and thick design
You can use them with or without gloves
Their grip and control is unmatched
The lock-on system is unmatched
Amazing value for money
The Lizard handlebars have an amazing reputation when it comes to performance and comfort. They have been recommended by the professionals themselves, you also get unmatched quality. Their lock-on grip becomes more and more comfortable with prolonged use so there is nothing to worry about.
If you have big hands and do a lot of off-road races then they are perfect for you, either way, they can be used by everyone. At their price point, you won't get a better option.
---
7. Vktech MTB Bike Handle Grips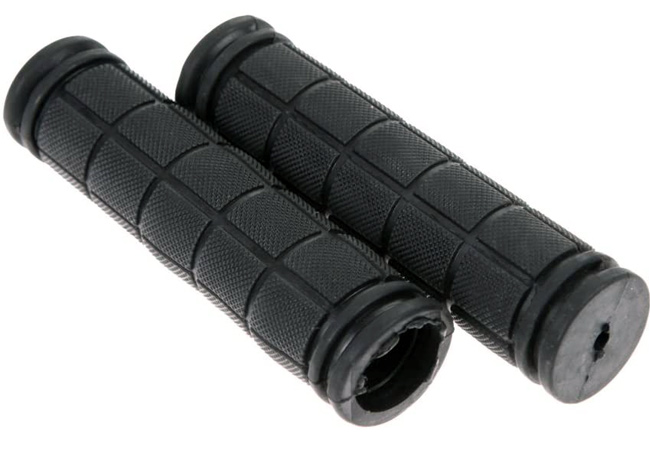 Features:
They are made from the highest-quality antibacterial rubber
The anatomic surface maximizes the traction for all weather types
Compatible with almost all the handlebars
They are very simple to install and remove
They come with a warranty
Pros:
Highly durable
Comfortable to use
The value for money is unmatched
They can be easily removed and installed
Vktech Bike handle grips may not be that expensive but that does not mean that they don't offer the same performance as the high-quality grips. They offer exceptional performance and are very easy to install. Surprisingly, they become very solid once adjusted. Their amazing performance will remain the same, either you use them with or without gloves. You can choose them from a variety of colors.
---
8. MARQUE Grapple Mountain Bike Handlebar Grips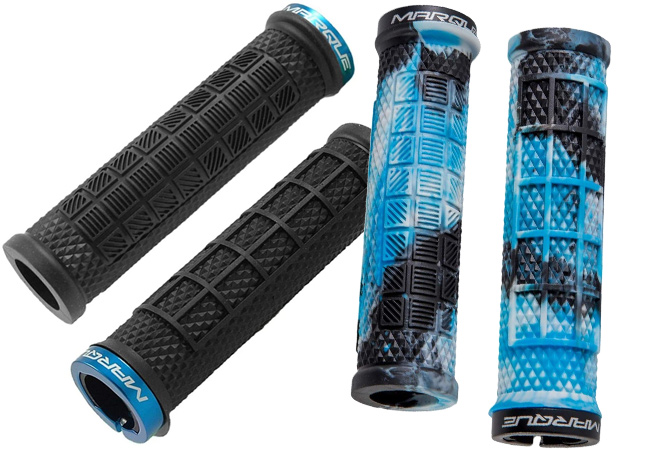 Features:
They are made from the highest quality materials, including anti-slip textured rubber
They are available in different colors
They feature an advanced locking-in feature
Very durable
Pros:
Their design is very unique
You get amazing grip despite the weather conditions
Compatible with most of the handlebars
They can be easily adjusted
Unmatched value for money
Looking for a good replacement for your bike grips? Look no further than the MARQUE grapple handlebar grips. They are manufactured from top materials and offer amazing performance. They won't break the bank and are also visually impressive. Although they have a low profile, expect them to be very reliable!
---
9. GPMTER Bike Handlebar Grips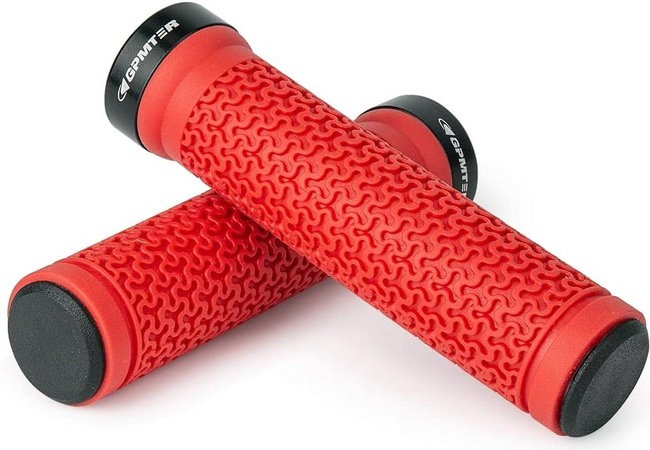 Features:
The non-slip rubber grip provides amazing comfort
The grips feature individual aluminum alloy lock-on feature
They are compatible with all weather conditions
These grips come with a warranty
Pros
Fully vibration and shock-resistant
They are very comfortable to use
Made from high-quality products
Amazing lock-on system
Unmatched value for money
People get attracted to bike grips that offer premium quality at inexpensive prices, that is the case with GPMTER bike handlebar grips. May it be their design, performance, or comfort everything is off the charts. There aren't many colors to choose from but I don't think if that's a problem.
Their shock and awe resistive capabilities also make them the top choice among customers.
---
What to Look For in Mountain Bike Handle Grips
It is very much possible that you can be overwhelmed when looking for bike handle grips. In this guide, we have pointed out some criteria to look out for when choosing the bike grips. Let's take a look!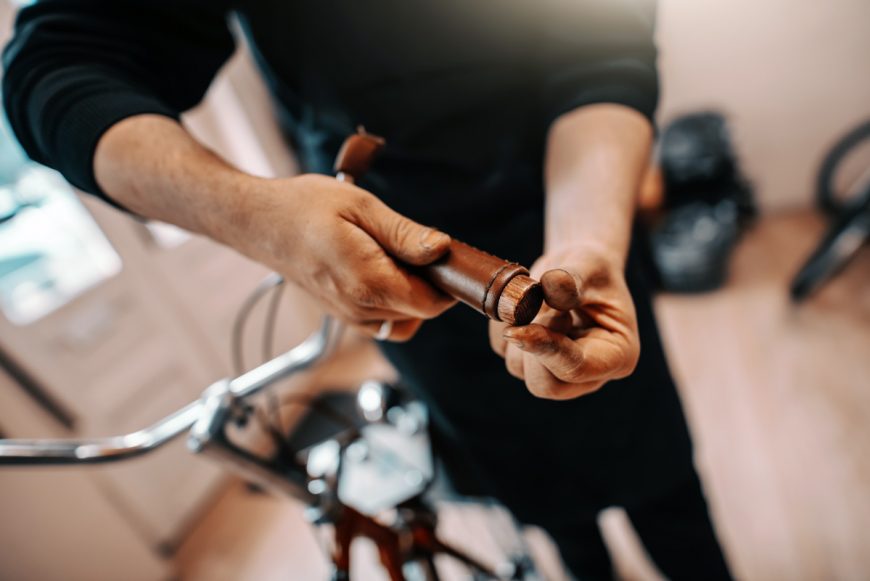 Comfort and Grip Are Very Important
The first aspect that you need to look out for in bike handle grips is the comfort and grip they will be providing, most of the grips that come in the market do a fair enough job. Their amazing and unique design lets them deliver amazing comfort. Some of the grips even have special tread patterns that are great for grip and wicking away moisture and sweat.
You will also find grips that are best for off-road and on-road adventures, while there is also a probability that you can find hybrid grips.
The Quality of Materials Matters!
The quality of materials that will go into the construction of bike grips also matters greatly. High-quality materials will result in amazing products that will have heightened durability. There are some manufacturers out there that only use the best products have amazing products that offer killer performance.
If you go for cheap quality products then they can result in accidents, breakages and other kinds of damages. In order to get the best products, trust your manufacturers and only buy amazing, durable products.
Ergonomics Are A Critical Factor
The actual shape of these grips also matter, but you can choose them according to your preferences. Some of the grips that you will come across will be cylindrical in shape hence smooth, while others could have bumps in their design. Both of them will have amazing performance and comfort.
If you go for the Ergonomic grips then they would provide amazing grip, palm support, and comfort. You would have nothing to worry about!
Take Some Advice From Customer Feedback
Once you have chosen the best grip for your bike, it is necessary to check out the reviews for that product or customer feedback. Unless you know what's the impression of others, there won't be enough satisfaction. If there are positive reviews and responses then go for it, otherwise just ignore!
FAQs
Are bike handle grips universal?
No. They are not universal, they come in a variety of shapes and sizes to fit different kinds of bikes. You can choose according to your preferences.
How do I keep my bike grips from slipping?
You can use better material grips or you can use a spray on the handlebar and inside of a grip to make it stick.
What are bicycle grips made of?
Bike grips are made from a variety of materials, like rubber, and thermoplastic.
Recap
Going to shop for bike handle grips can be very overwhelming, especially when you are bombarded with so many options. Although if you do it the smart way, the list can be skimmed down very easily without any kind of problem. You know the requirements for your bike and what kind of grips you like, just go with them.
Bike grips are affordable and they are also of amazing quality, even if you want a premium product, chances are that you won't break the bank. Although, if you are shopping online, check for reviews and the warranty offered.