Pivot is not coming slow with their onslaught of new bikes, they recently announced the Shuttle SL and LT which promises to break all the limits. Now, this is a Fazua Ride 60-equipped eMTB that also happens to be super lightweight, this bike is aimed at breaking all the perceptions of people, especially those who think that less is more.
Less is sometimes satisfying for people that want only the lightweight bike to traverse from one point to the other. With that being said, there are also people that want more and the best from their e-bikes, may it even be a mountain bike. The Pivot Shuttle SL is here to make that happen and so much more!
What Exactly Are You Getting?
Pivot promises that now you will get more from its lightweight electronic bike, but more of what exactly? With the Shuttle LT, you will be able to enjoy more range, more performance, more travel than before, and definitely more attention to detail. Pivot has made more than life upgrades here with its new bikes, and you will be able to enjoy that once you take this bike for a ride.
The Shuttle LT is inspired by some of the manufacturer's previous hits, we are talking about the Firebird here. It has some resemblance but the Shuttle LT is a complete 29er bike, with a pairing of 160mm travel DW-link suspension platform and a 70mm fork with an eBike-specific tune. With these amazing features, you are getting a completely new bike that still resembles a familiar type of performance.
View this post on Instagram
The Pivot Shuttle LT eMTB- Construction and Specifications (Impressions)
There are a lot of new things in the Pivot Shuttle SL while many are already familiar with the users, a good example of this is the Shimano EP8 drive unit, this drive unit has now been paired with a much juicier battery this time so that you can ride more.
Let's get into the details, shall we? This bike now comes with a 756Wh battery, which is 30Wh more than what was being offered before. The motor is also powerful this time, it features a maximum torque of 85Nm and a maximum power output of 500 watts.
Chris Cocalis, the co-founder of Pivot Cycles had this to say about the newly launched eMTB:
You'll instantly recognize the balanced and planted feel you expect from a Pivot, yet without giving up the 'pop' we've bred into all our EWS-inspired bikes. We really pulled out all the stops with the Shuttle LT. This bike has the heart for enduro racing and is still the bike you'll want to ride every day.
Pivot Shuttle LT Specifications
Here are the specifications of the new Pivot Shuttle LT:
Bike Type: eBike
Fork Travel: 170mm
Rear Wheel Travel: 160mm
Wheel Size: 29"
Motor: Shimano EP8
Battery: 756Wh
Frame Material/Type: Carbon
Sizing Options: S-XL
Introductory Price: $9,899 / 9,999€
What Are The Other Changes?
There are a lot of changes to be mentioned here, but first, let's take a look aesthetically. The Shuttle LT is shorter if we compare it to its sibling (Shuttle SL), we have the vertical shock placement to thank for that. If the bike looks anything familiar then it does has a resemblance with the Pivot Firebird of all the bikes.
As the vertical shock placement is used in this bike to make it shorter, there are other advantages that have been stressed by Pivot Cycles. Less carbon material is used and required, which allows for a lighter weight design than usual. There is more space now inside the front triangle, you can easily store a water bottle down there. There is also extra scope for increased shock rate progression this time, Pivot Cycles also has more control over the bike's standover height this time which is very crucial during construction.
There are two models of the Pivot Shuttle LT, the Ride and Team versions both are installed with 205mm x 65mm air shocks, this is then paired with a Trunnion style upper mount.
You have to love the architecture of this bike, the Shuttle LT has Super Boost Plus 157mm rear-end spacing, this is used to control the rear wheel stiffness that has been plaguing users for a long time.
The Pivot Shuttle LT eMTB- Geometry Impressions
It is time to talk about the geometry of this amazing bike. As mentioned in the specifications table, the bike is available in S-XL sizes, but the rear-center lengths are consistent throughout so there is nothing to worry about. The seat tube lengths are short as expected, and the users should not worry about the standover clearance.
There is enough ranger to cater to riders having a height of 5′-3″ to 6′-1″ and more than that. We talked that the bike would offer more range than before, but how much is more exactly? 445mm to 510mm range is expected from this bike.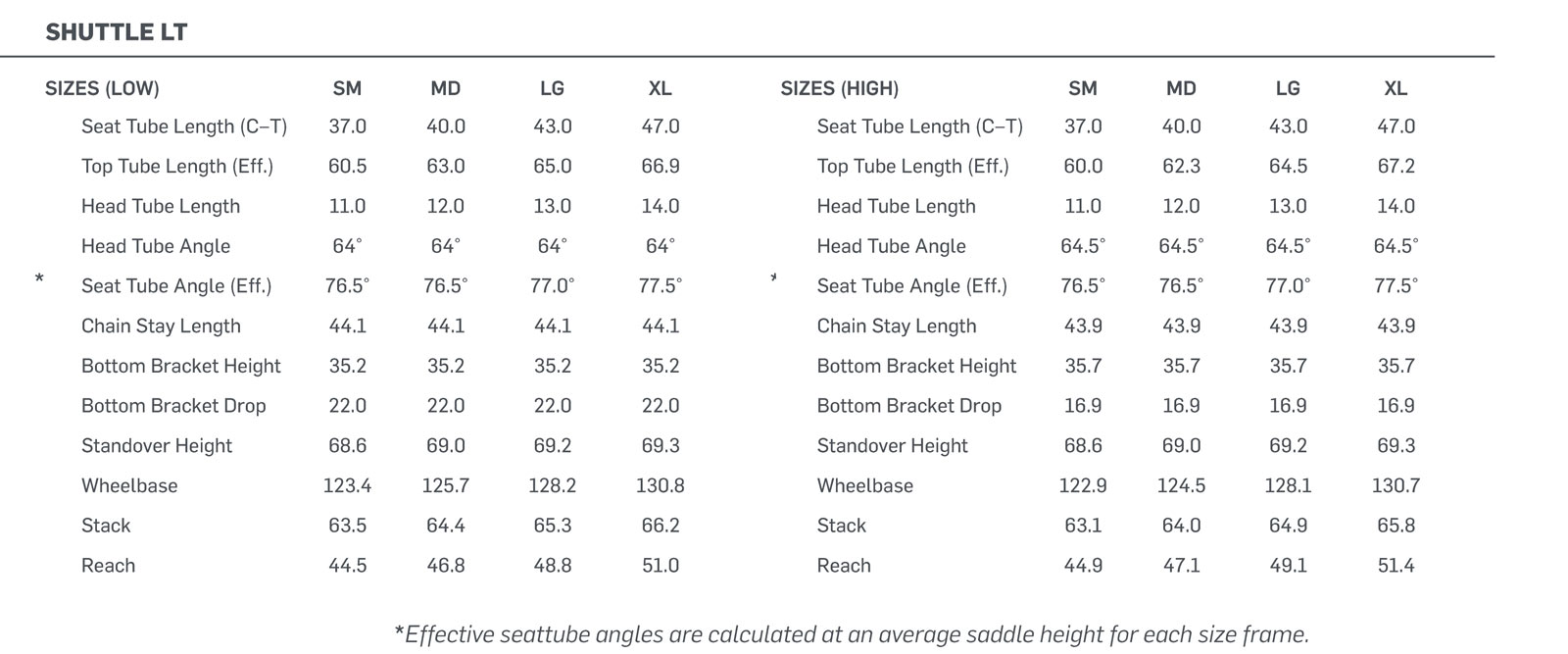 You can take a look at all the Geometry details of the Pivot Shuttle LT above.
View this post on Instagram
Pivot Shuttle LT: Different Models and Pricing
For those looking for an entry-level version of the new Pivot Shuttle LT, I am sorry to disappoint. The bike only comes in two versions (Ride and Team), and both of them are high-end/pricey. Although if we compare both of these models directly then the Shuttle LT Ride is cheaper. That one will cost you around $9,899 / 9,999€.
The other LT Team models are considered to be fancier as they will cost you around $11,999 / 11,999€. The Pivot Shuttle LT (All Models) is now available worldwide. Please contact your nearest Pivot Dealers for more information.
Also Read:
Featured Image Via YouTube/Pivot Cycles
---