Disease, war, poverty and genocide have riddled Africa for decades. Unfortunately movies and television shows have brought more awareness to this problem than the best documented news story ever could. For the devastated continent, any help and awareness is needed.
A few years ago a German based bicycle club of 600 members, Bike Aid, decided to help in a very unique way. Many outstanding organizations send money, clothes, medicine and food to those who need it. One thing that is still lacking is opportunity. For a young cyclist in Africa there was little chance of being able to find a decent bike, be part of a team and one day race in Europe.
Bike Aid changed that. The organization began meeting with young athletes who wanted opportunity. They provide training, bikes and more to help give these aspiring cyclists a chance to live their dreams. They then went beyond that. Bike Aid even helped some get to Germany where they are given food, a place to live and education while they train to be part of the Bike Aid Continental Team. It's truly a remarkable opportunity and a chance for a better life.
Matthias Schnapka, spokesman for Stradalli – Bike Aid, said professional cycling has become so competitive that many people forget why they got on the bike in the first place.
"It's fun, it allows you to connect with different cultures and unites people in a way that only sports can. You can give someone money, but it won't last forever. You can give someone food, but it won't last forever. If you give them a chance to better their lives that not only helps them, but it helps their family and their community." Schnapka said.
Schnapka said the riders of Stradalli – Bike Aid attached a whole new meaning to their training after seeing the harsh conditions in Africa.
"One trip to Rwanda completely changes their perspectives. It takes one visit for our cyclists to realize how important this cause is, how big a difference we are making in people's lives and that's why they want to be a part of it." Schnapka said.
They have raised over €200,000 for their cause and given over a dozen young cyclists the opportunity to race in Europe while living in Germany. The cost of bringing one of these young riders from Africa, train them, provide food, shelter and an education is staggering but that has not deterred the cause in the slightest.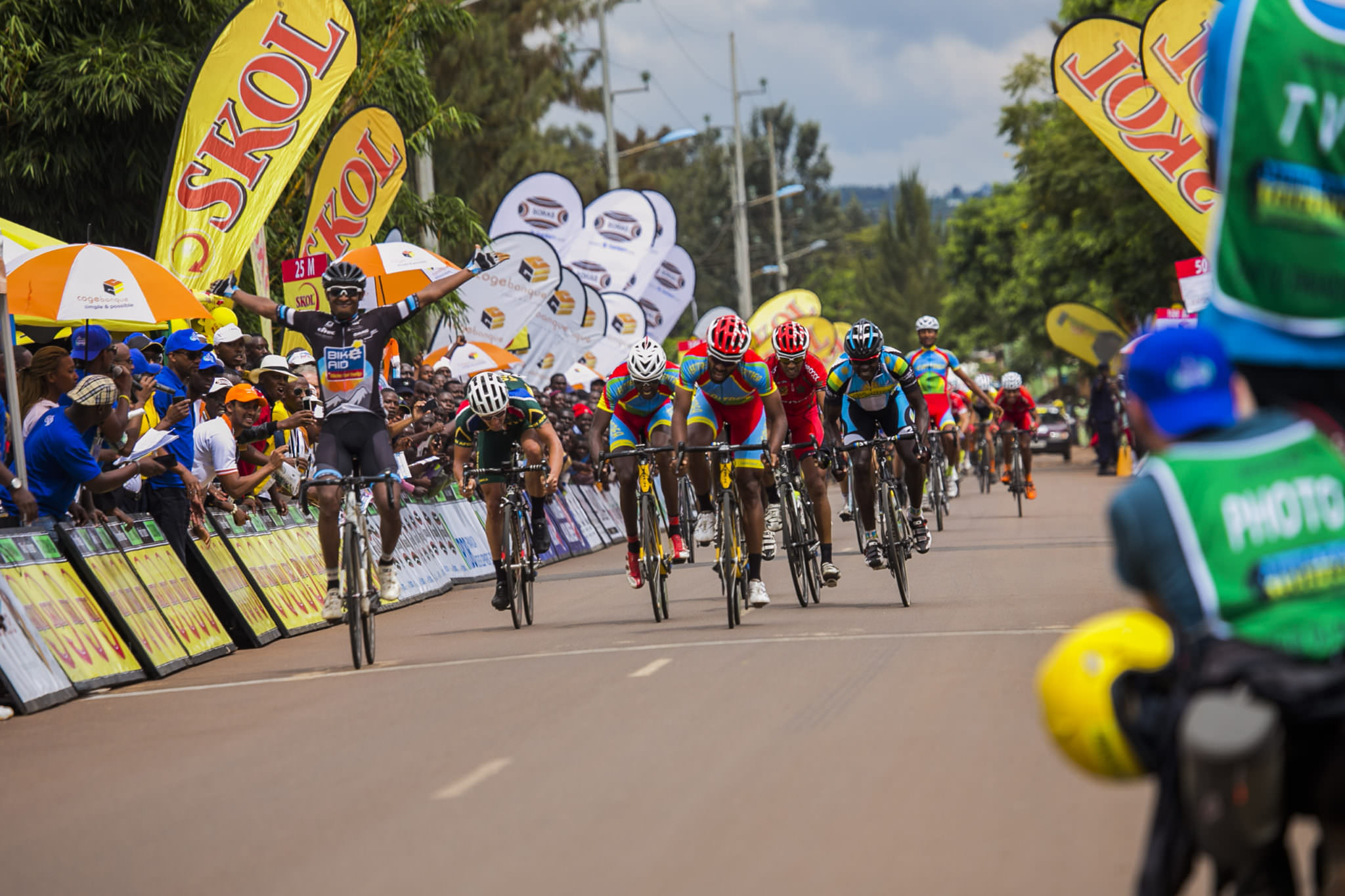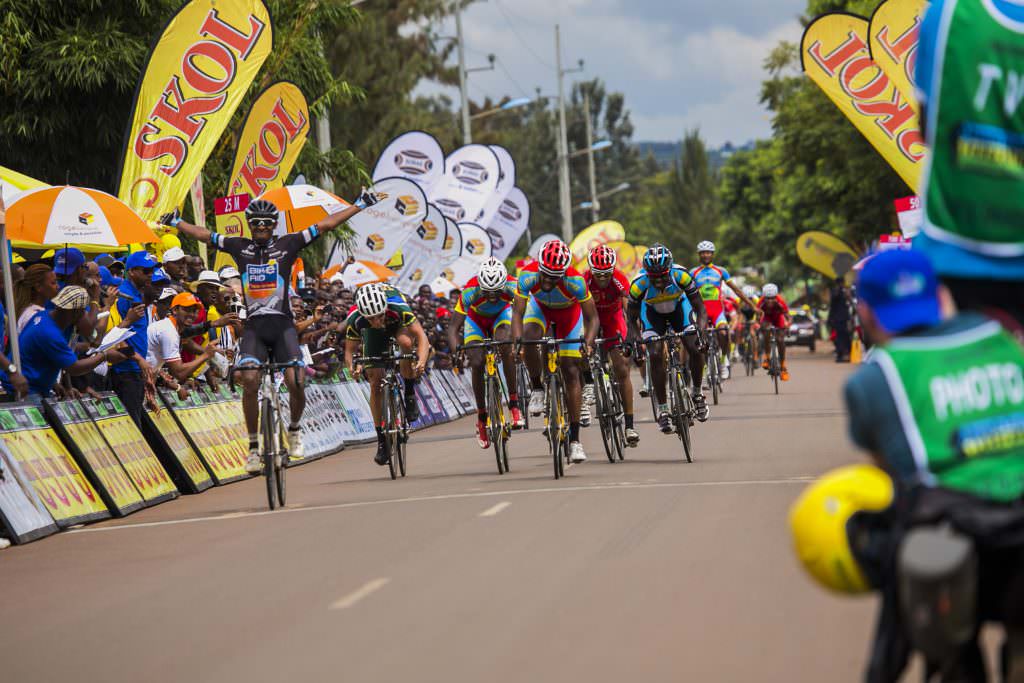 True Progress
One of the young men to join the program early on, Mekseb Debesay, is a true success story. Debesay was brought to Germany to train and ride for the continental team. Debesay has been racing and winning all over the world including Richmond 2015 UCI Road World Championships where he represented his home country of Eritrea. After a successful 2015 racing season it was announced that Debesay would be signing with Team Dimension Data where he would be riding with Mark Cavendish and racing the World Tour in 2016. His fast climb through the ranks of professional cycling would not have been possible without the help of Bike Aid.
Timo Schafer, professional rider for Stradalli – Bike Aid, said Debesay is a perfect example of what they want to accomplish.
"To have someone of his talent possibly looked over because of where he was born is sad. If you can race you deserve to be given the chance to compete with the best in the world. but it's not just about signing guys up to the team. These young men need transportation, a home, food, education, training, bikes, care and much more." Schafer said.
Finding sponsors to commit to such a demanding cause is difficult.
"There aren't many organizations who are willing to put all that effort into helping someone and that's why we require members of our team to be fully committed to the cause, to help raise awareness and also be a great representative of what we do. The racing world needs individuals who can be role models, who believe in clean and competitive racing that unites people. That's who we want on the team. We wish Mekseb the very best and we know he will have great success in the World Tour next year." Schafer said.
Schnapka said representatives of the organization are very happy and proud for Debesay, but it does leave a huge roster spot open for next season. However, they look at it as an opportunity for someone else to step up, get valuable experience and contribute next season.
"We went from just a few applicants from Africa when we started to hundreds and thousands. This doesn't even include the ones we get from racers all around Europe. Mekseb is an awesome talent and he will do great things next year. He earned a spot on our roster and now that opportunity will be available for someone else. Whether it is injury, promotion or any other reason you must have a deep roster and we want more success stories like Mekseb. This year we have more young African riders on our team than ever before and we want this to continue." Schnapka said.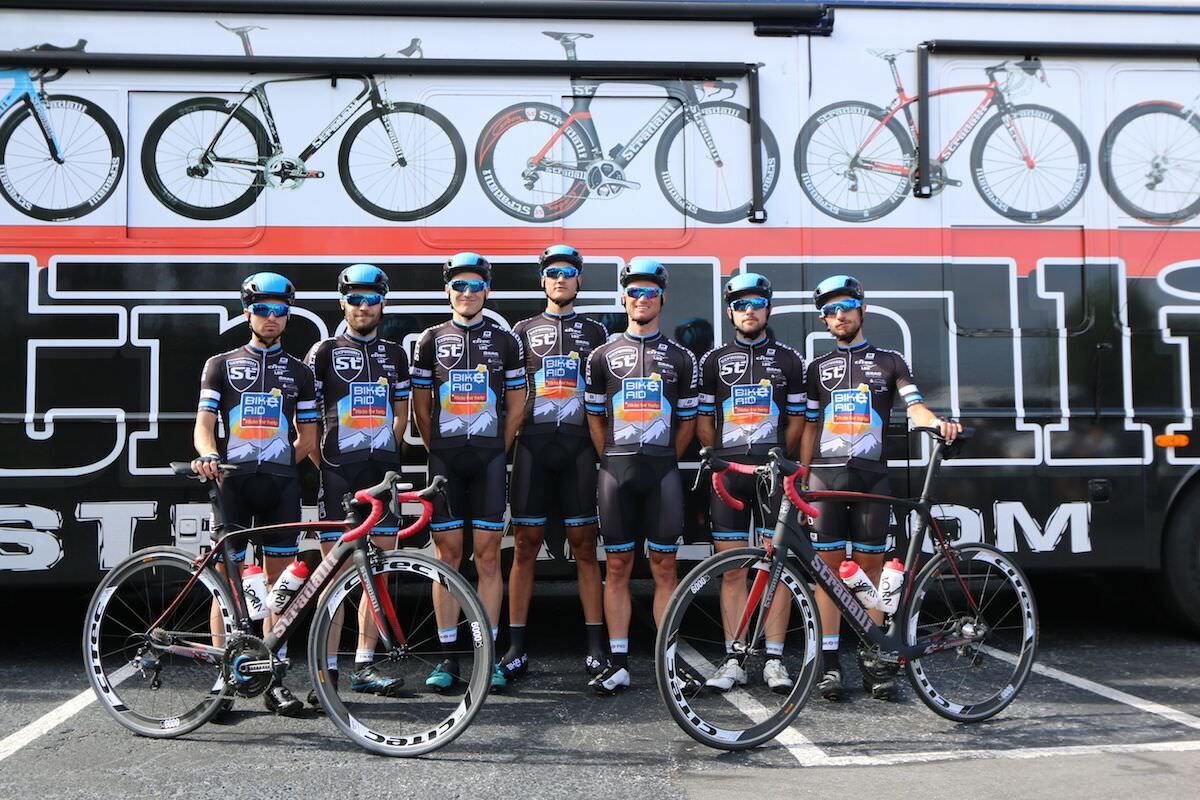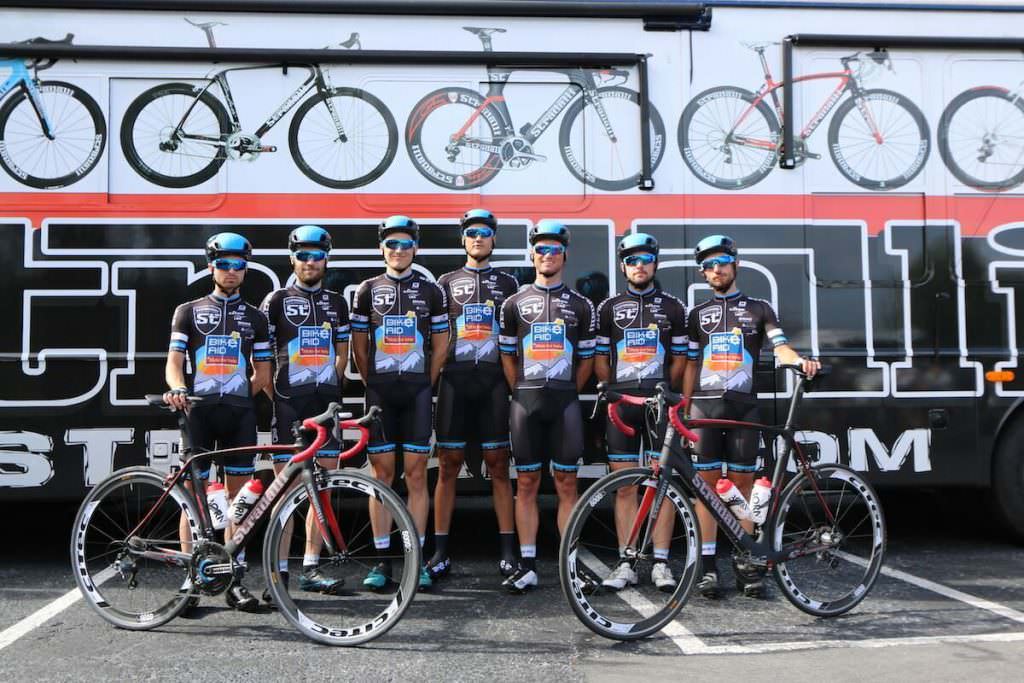 A New Beginning
While many in the cycling community applaud the dedication Stradalli – Bike Aid has shown to helping young African cyclists get into pro European racing, the loss of their top racer could scare sponsors away. Debesay won several races in 2014 and 2015 and was the only one from Eritrea to race in the UCI Road World Championships in the men's elite road race both years.
Schafer said losing that kind of talent makes it hard to sell your product, but the search for a proper sponsor was always going to be difficult.
"We have many sponsors who were interested in us but it was always going to be about finding the right fit. We believe in our mission. We want to win races, but we also want to raise awareness for our charity efforts. Building our name is so important. A sponsor has to be not only acceptable of our cause, but want to help us grow as well."
Schafer said when Stradalli Cycle contacted the team they were excited. He said Stradalli Cycle has a lot of the same goals that Bike has and they took a serious interest in charity efforts, not just the racing side of things.
"If you measure our success this year based on how many times we were on the podium you don't understand what we are trying to do and that only sets us back. When we race we do it the right way. We do it for more than just ourselves and that's what we need organizations to understand." Schafer said.
Stradalli Cycle is a full carbon bike manufacturer based in Pompano Beach Florida. In a short period of time they have developed a global brand for their bikes and have spent the last five years relentlessly working to build a great reputation in the racing world. They were also at Richmond 2015 as the official sponsor of the Colombian National Team and have been looking to build a more global presence.
CEO Tom Steinbacher, who was born and raised in Germany, took an interest in Bike Aid because they represent the clean and charitable image he wants representing his brand overseas.
"If someone wins a race on one of my bikes, that's great. Then if they get in trouble it's not good. I would rather have a group of clean and polite young people representing my brand who give their best and are a compliment to the sport rather than an individual who may embarrass it. Winning isn't everything, you want people who have respect and earn it, who want to be a part of something more than just themselves and I don't know if anyone shows that more than Stradalli – Bike Aid. The work they do and the goals they have set are truly inspirational. We need more of this in professional sports."
After several meetings and a 3 year, multimillion dollar deal the Stradalli – Bike Aid Continental Team has been created for the 2016 season. Stradalli will be the title and bike sponsor, but agreed to not only keep the Bike Aid name but to also help promote it and their charity efforts throughout the United States.
"You are in need of a bike and title sponsor for next year, you lose one of your top racers and you also want to continue to promote your own brand. That's not exactly an easy thing to ask for, but thankfully Stradalli Cycle not only applauded our efforts but wanted to take part in them. We need all the help we can get if we hope to take our efforts to the next level and that's exactly what we plan to do. We can field a competitive race team that competes the right way and help young African cyclists advance their careers to the highest levels. Now the next step is to prove we can do it again and again and we have the sponsor who will help us do just that." Schafer said.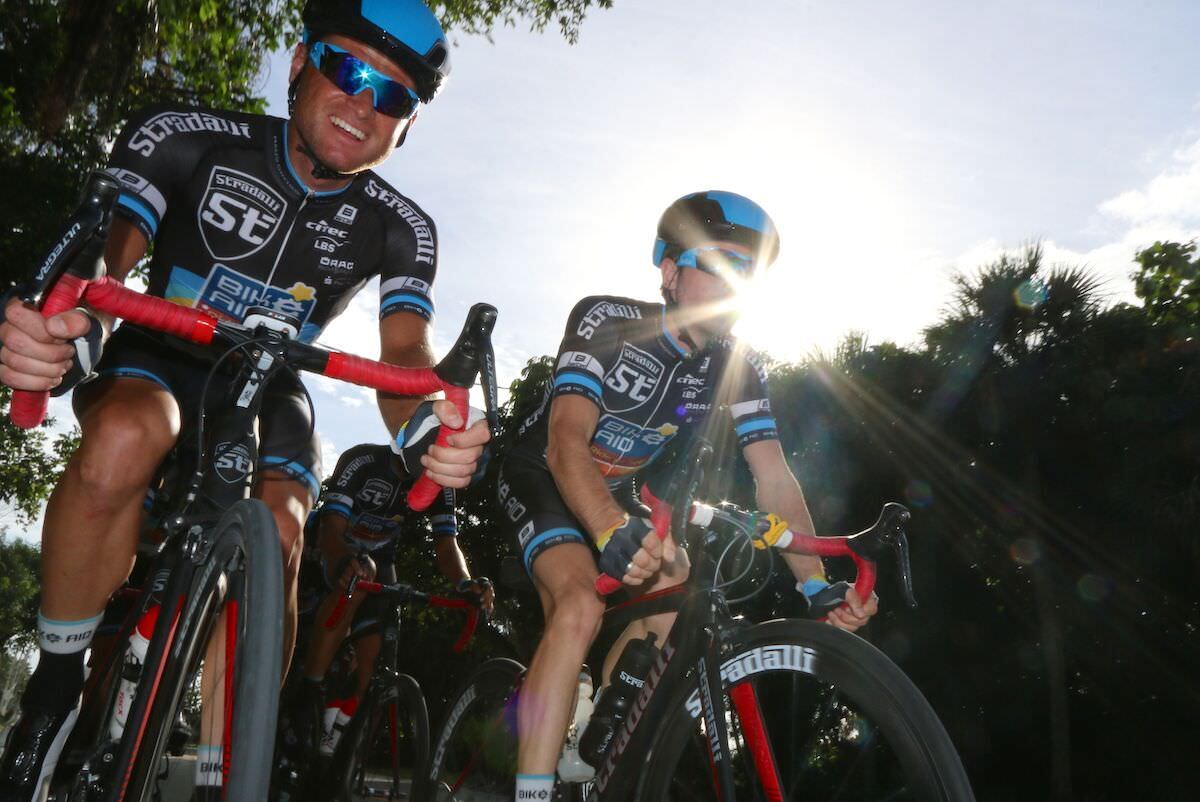 2016 And Beyond
What will the goals be for the upcoming season? What will be needed to accomplish these goals? With every team this time of year there are questions that have to be answered as well as optimism for what is to come, but for this team there are some different objectives to focus on.
The German Continental Team had their first official visit to Florida to meet with Stradalli Cycle representatives. It was an opportunity to not only meet with company officials, but to begin raising brand awareness on a new continent.
Schnapka said the decision to go to Florida was the only logical choice from a training and business standpoint.
"For us it was not a vacation. We trained as you would expect in preparation for the upcoming season and we also got a chance to work with the mechanics and designers of the new Aversa road bikes we will be using next season. However, it was also an opportunity to meet with many of the people who helped build Stradalli Cycle up so quickly, learn from them and also educate them on what Stradalli – Bike Aid is and what we hope to do."
Schnapka said that raising brand awareness for Stradalli – Bike Aid to consumers and potential donors in America was paramount.
"The United States is one country where we felt we had limited reach as far as gaining attention for our African charities and now we feel that we have a great representative for the next few years. I truly feel that this is why this partnership will work. We both need help from the other and the main thing is representation. Stradalli Cycle already has a great reputation as an aggressive company that wants to do things the right way and not take short cuts. We can learn a lot from them."" Schnapka said.
The success of 2016 for both companies will not be based on how many races they win or how many full carbon road bikes are sold. It will be measured in how many young African athletes are given an opportunity to pursue their dreams and become pro racers. The foundation has been built and there are already plenty of success stories to prove that this can work. Now the goals and expectations have grown considerably for both companies.
There is a long track record of how sports can heal a country and unite people. This is a great opportunity for cycling to do more to help a continent heal, to change its own image and do something beyond what anyone on a bike can do: give hope to a nation that somehow keeps fighting and try to change the world one race at a time.