For one reason or another, you may want to use indoor bike trainer stand. This normally happens when the weather is not good for cycling outside, most especially when it is raining or snowing heavily. Other bikers resort to using indoor bike trainer stands when they are warming up for outside biking, training for a race or recovering from some injuries that may not allow them to have a full-scale cycling outside.
Whatever the reason for choosing to use an indoor bike trainer stand, you must pay close attention to the following main features when shopping for a bike trainer. It is important to know that different models of bike stands have different useful features:
(i) Price: The first thing people consider is price. You want to be sure you are buying an indoor bike trainer that is within your budget. Or else you can do all your biking outside and save that money for something else. Getting the best bike stand will surely cost you a couple of hundred dollars or euros, depending on their model/maker. Remember to go for the stand that will be strong enough to withstand the size of your bike. A rough estimates of the prices of various types of bike trainer stands are provided in the table below:
| | |
| --- | --- |
| Trainer Type | Price Range |
| Magnetic | $60 – $400 |
| Fluid | $200 – $500 |
| Wind | ~$200 |
| Rollers | $150 – $400 |
| Specialty | Up to $1300 |
(ii) Resistance level: You also should strictly consider the resistance level of the stands. Notice the strength of such resistance and how it is provided. The resistance must be strong enough to support your bike throughout the training periods. Weak resistance level may make your cycling unstable, wobbling and unfocused.
(iii) Trainer design: It is also necessary that you follow your trainer's recommendations. This is because your trainer may be accustomed to only a particular design and may find it very difficult to perform with another design of indoor bike stand. For optimum efficiency, always ask for your trainer's advice before purchasing any bike stand.
Image ID 2 : 28623043
Here are the different types of trainers in the market: trainers come in different designs based on the types of resistance they provided. You may be familiar with some of these trainer types.
Fluid: To produce the required resistance, this kind of trainer combines magnetic flywheel with fluid chambers. This is a very silent trainer and its pressure can be added during cycling. But too much friction can result in overheat and possibly lead to leaking.
Magnetic: This is just a magnetic flywheel which can produce resistance for the rear tire. The major demerits of this type of trainer is that it creates limited resistance and it is prone to breaking when overheated by friction.
Wind: This trainer utilizes a fan that is operated by the cyclist's pedaling. The faster the pedaling, the more the amount of resistance produced. The only disadvantages of this kind of trainer is that it is quite noisy and there is limited amount of resistance that can be produced.
Centrifugal: The resistance is produced by the pressure plates to the rear tire. It is also silent, and the resistance can be adjusted. However, the only problem is that it can break under intense use.
Roller trainer: This is also known as cycling roller; they are a set of unsupported roller bars that permit you to cycle while remaining in a stationary position. Both the front and rear wheels of the bike will be turning relatively to the rear on the turbo trainer. They are expensive but function very well.
(iv) Noise level Stability: Indoor cycling can be a pain in someone's neck because it is usually boring and less appealing, unlike outdoor biking where you can enjoy beautiful sceneries and sometimes chat with people on the way. To keep themselves motivated, most indoor bikers always watch TV or listen to music. This may not be possible if the noise level is too high. So, it will be a good move to purchase a stand that has super-quiet internal magnet that keep the noise level down.
(v) Size: Do not forget to buy an indoor bike stand that can accommodate the size of your wheels. You will discover that some bike stands correspond with the actual wheel sizes they are built to support. They could support wheels in this range of sizes, like 22-29", 27-28" and so on.
(vi) weight of the trainer: Buy a stand that can hoist the weight of your trainer, or else you will have to be stopped now and then as your trainer falls off the stand. This weight can be 27 pounds, 20 pounds or bigger.
(vii) Trainer installation: Pay attention to the requirements for installing your trainer stand. This will help you to choose the best stand that will fit your trainer's structures and let your bike maintain an upright position.
(viii) Ease of mounting and removing bike from the trainer: This is another important consideration you must have before buying your indoor bike trainer stand. You shouldn't buy a stand that is going to make your bike stuck on it. Forcing a bike out of a stand may destroy its wheel's spokes. And that may incur some other unexpected expenses.
(ix) Fit to a specific type of bikes: As briefly hinted above, it is very important you select a stand that will fit perfectly with your bike type. You can avoid sloppiness and disruptions that may arise when your bike is loosely planted onto the trainer. If you made a mistake of buying a bike stand that doesn't fit, you will have to contend with momentary disruptions.
(x) Main muscle training: As a mountain biker or a triathlon cyclist, building or training your core muscles is an important exercise. The good news is that you can set up a nice facility to accomplish this goal by using an indoor trainer stand that allows your body to be balanced well on the bike. Good balancing positions necessitate acute burning of your fat and converting it into muscles.
(xi) Additional features: Some great indoor bike trainer stands have additional modern features such as a computer or virtual reality features. While you are training your muscles and training hard, you can see movies or play games using the virtual reality devices; you can also play and listen to music all along. The computer can show you your speed level, the rate at which you burn your muscles and the expected outcomes of the training. You may need to use some apps that will be able to assist you in speed training and/or muscle training. Some applications can store the history of your training and may draw graphs or other data computation to show the extent of your progress.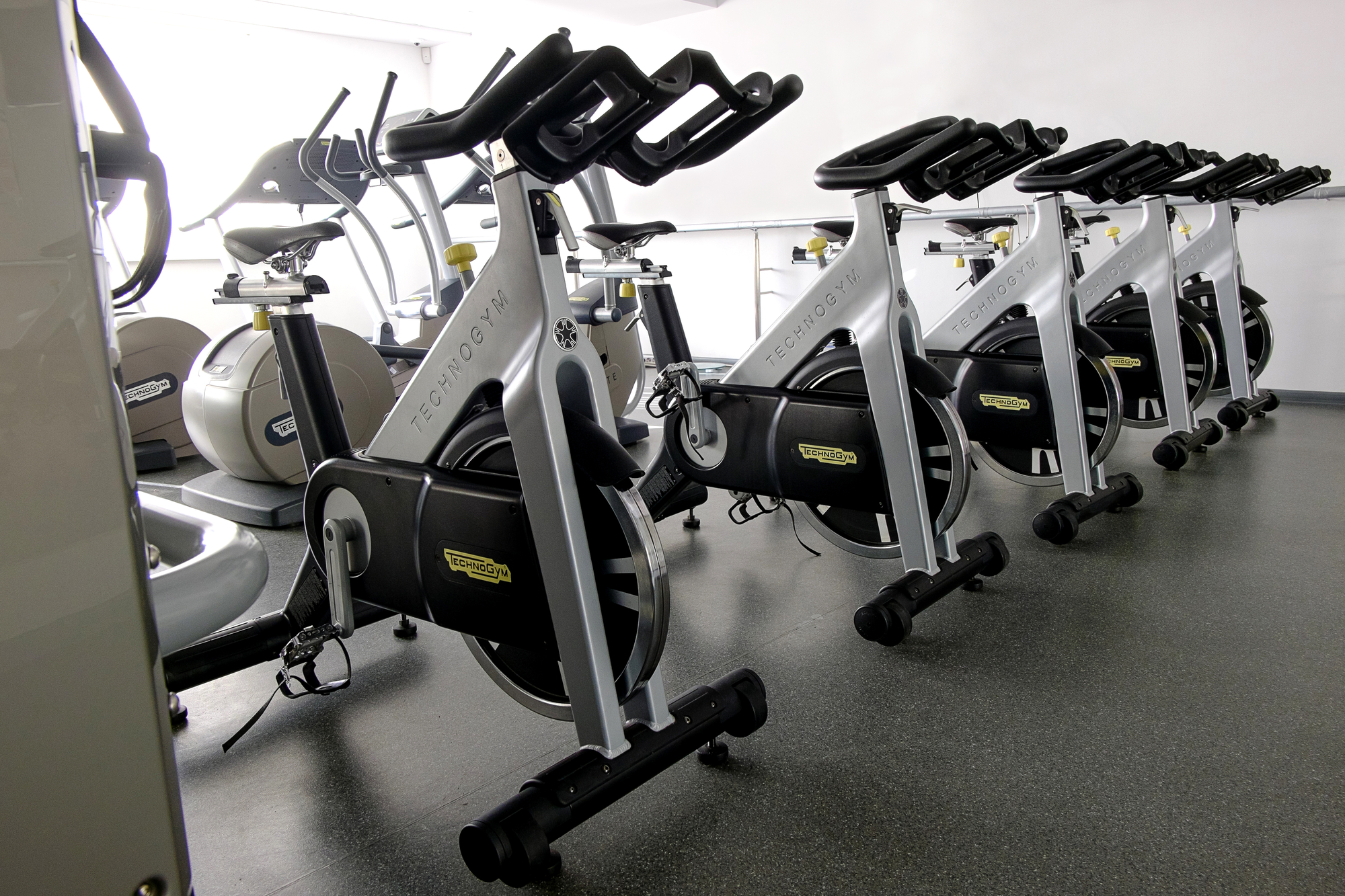 Site link 2:
Other important things to consider before purchasing your best bike trainer:
Make up your mind whether you are going to need a roller or a stationary trainer.
Do you think you will want it quiet or noisy? The wind trainers are the noisiest.
What is your budget for the trainer? Fluid trainers are the most expensive and the wind trainers are the cheapest.
Do you intend to vary the resistance all along? If yes, go for either the fluid or magnetic trainer. If no, you should buy the wind trainer.
Have you figured out how often you want to use your trainer: the durability of each type of trainer is different from the other. Some can break down after a short while due to the friction from continuous usage. Others may last longer because they are made of different materials that can withstand pressure or overheating from being used continuously.
The main advantages of using a bike trainer stand
Image 4 ID : 12954484
Of course, you will have a strong reason for choosing to put your hard-earned money on buying a bike trainer stand. However, for newbie who doesn't really what a bike trainer does, here are some benefits of using a trainer stand:
(i) For maintain a constant training routine, irrespective of the weather conditions, whether it is raining or snowing.
(ii) A bike trainer stand doesn't occupy a lot of space; so, there are no storage worries.
(iii) Using a bike trainer stand permits the possibility of experimenting with different training methods; you can subsequently alter the speed and resistance.
(iv) For competitive cyclists, it means you are actually training with your own bikes, a situation that will lead to you mastering your bike very well in all circumstances.
(v) If your target is to keep fit, you can cycle at different speed and for any duration.
The Best Types of Bike Trainer Stands
(i) The best fluid trainer: Kinetic Road Machine
Its main features:
It possesses automatic resistance controls
It has leak proof magnetic drive system
Its price ranges from $300~$379
It has 80 cooling fins to stop overheating
It has 6.25-pound flywheel with completely sealed resistance unit
It has an extra stable platform
(ii) The best magnetic trainer: Gavin Bicycle Cycling Trainer
Its main features:
It has an extra wide frame that permits additional stability
It is manufactured with heavy duty construction
It is easy to store
It is compatible with most bikes wheels
It has a single resistance setting that increases along the cycling
Its price is about $100
(iii) The best wind trainer: CycleOps Wind Trainer
Its main features:
Its lifetime is guaranteed
It is foldable and lightweight
It has automatic resistance setting
Its resistance is steady and progressive
Its Zinc fan doubles as heavy flywheel
It costs around $159
Also Read: