The Great Bicycle Boom of 2020 changed our lives, as the world changed around us, the rules of engagement also changed. The same people that once used subway systems and buses have shifted to bicycles, creating a better future. Well, I used the term better future because this change is going to transform the world slowly, it is already doing so. Let me show you how!
Bicycling is way cleaner, more efficient, and more fun than any other transportation system we used before the boom. Many people actually enjoy using their bikes to move around the city or even go to jobs than using their cars or motorbikes, and we can't blame them. Apart from being an effective means of transportation, cycling is also creating amazing jobs and is shaping the economy for the better. Take a look at this study, the Political Economy Research Institute has stated that building bike infrastructures is actually going to make more jobs as compared to auto-based infrastructure.
What does the research say exactly? Pedestrian and Bike Infrastructure projects will be creating 11-14 jobs per $1 million expenditure, if we compare this directly with Road Infrastructure projects then that will create 7 jobs for the same expenditure. All of it makes sense actually, the more people will be using bikes, the more infrastructures will have to be created. It doesn't stop there though, apart from infrastructure projects, cycling will be creating jobs in almost every sector there is.
Cycling is shaping up to be the highest employment multiplier, not just in the United States but in other countries as well. Did you know that biking and pedestrian projects require more engineers than construction workers? This is because of the complexity of the whole operation. You don't just need sheer force and manpower to execute these projects, you need unique skills and thinking. Engineering is more labor-intensive work, and these projects will create a lot of jobs for engineers in the near future.
Cities all over the world are looking to boost infrastructure jobs, this is why they will be creating more sidewalks and bike paths. This wouldn't just be creating jobs but will also be making these cities more liveable and enjoyable.
How is Cycling Shaping The World?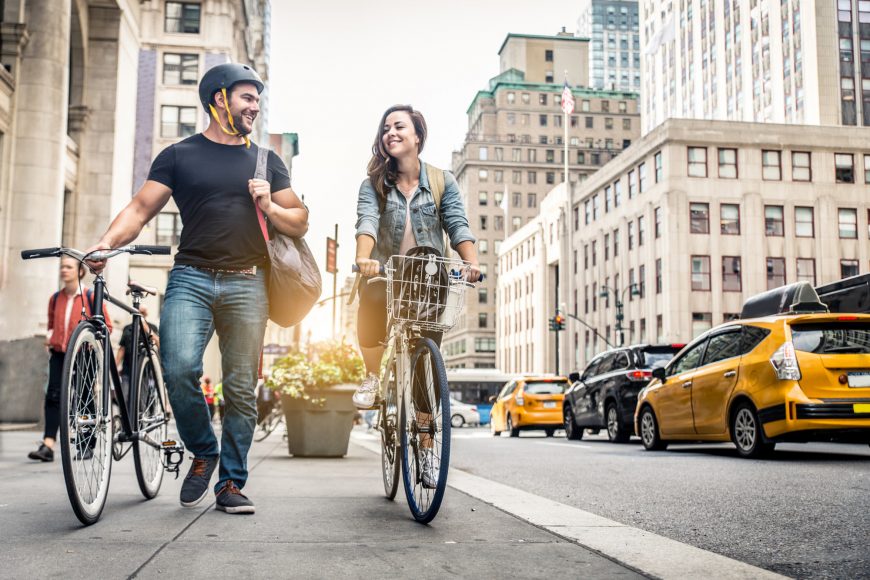 The era that we live in is the era of sustainable solutions and cycling has become a very powerful catalyst for change. There are a lot of benefits of cycling, we all know how it can impact our health and the environment. Apart from these benefits, it is also a gigantic driving force in job creation.
Apart from individuals, governments are also acknowledging the amazing benefits of cycling. This is why investments in infrastructure, technology, and other industries are only increasing. Let's see how cycling is going to be shaping economies worldwide.
Cycling Infrastructure Development
We already talked about this in the beginning but let us go a bit further now. Cycling is growing in popularity and that has created a stellar demand for proper infrastructure, we are talking about sidewalks and bike lanes. As of right now, Governments all over the world are busy investing in the construction of cycling lanes, bike-sharing systems, and bike-friendly urban planning. Our cities are going to be forefront when it comes to supporting cyclists, after all, we want a better and safer future.
These initiatives are indeed amazing and will require a lot of skilled expertise. Governments will be needing architects, urban planners, engineers, and construction workers more than ever. All of this will create impressive job offers in both the planning and implementation stages.
Bicycle Manufacturing and Retail
This one is obvious, since people are using bikes more, bicycle manufacturing and retail will increase. The upswing in the bicycle manufacturing industry is only going to increase in the coming future. We have seen a significant rise in the production of traditional and electric bikes, all of these bikes are fitted with impressive innovations and technologies.
Manufacturing plants all over the world are expanding and increasing their workforce. Skilled labor will be required for production, assembly, and quality control. Apart from this, e-commerce has also seen a very significant rise. You are going to see a lot of opportunities in online retail, customer support, and bike maintenance. Here are some of the biggest bicycle manufacturers in the world, their production numbers just keep on increasing:
Giant Bicycles
Trek Bicycle Corporation
Cannondale
Bianchi
GT Bicycles
Specialized
Merida
Now take a look at this video here, it will provide a glimpse of how much cycling is creating jobs when it comes to manufacturing and retail.
Cycling Tourism and Hospitality
Let's talk about Cycling Tourism and Hospitality now. What is cycling tourism though? Chances are that you could be hearing about this for the first time ever. Cycling Tourism is when you travel and explore new destinations via your bike. You don't just hop on your bike and start traveling though, it consists of planning and undertaking those trips.
Different countries, including America, have invested heavily in developing cycling routes, guided tours, and bike-friendly accommodation options. Following this, we have seen a monumental rise in employment opportunities for tour guides, bike rental shops, hospitality professionals, and even local businesses. We can also do our best in supporting these kinds of businesses.
Bike Sharing and Mobility Services
Urban transportation has been forever revolutionized, and that is because of the increase in bike-sharing systems. People that can't afford a bike get to rent for a fee and that is creating a lot of jobs. Only because of the sheer importance, bike-sharing companies are investing in expansions aggressively. These companies are creating jobs for technicians, logistics experts, and customer service representatives.
In recent times, cycling has also been integrated into mobility services, you can see a lot of people renting e-scooters and e-bikes. I myself used an e-bike and e-scooter from these service providers and the experience was great, I can also say that it definitely takes a lot of labor and skills to handle this kind of operation. Since Bike Sharing and Mobility Services are going to be booming, we can expect them to create more jobs in fleet management and different operations.
Bicycle Technology and Innovation
Technological growth has shaped our economy for the better and it is now impacting the cycling industry. Just like any industry, the implementation of technology and innovation is very important in cycling companies. One cannot seek to create something different without using technology in different aspects.
With that being said, the growing demand for advanced cycling technology has created jobs in different industries. Modern bikes are fitted with GPS and Fitness trackers, then there are bikes that have the lightest but strongest construction. All of this has created a need for engineers, product designers, and software developers. All of them work in sync to push the limits of cycling technology and innovation.
We are not just talking about jobs here, it is so much more than that. Bicycle Technology provides raw ground for entrepreneurs and start-ups, the things that they can achieve are just amazing. So if you are an entrepreneur or just planning on starting your business, invest in bicycle technology, the rewards are so much greater than the risk.
Cycling Events and Sports Industry
You must have seen professional cyclists in action, legends like Mathieu Van Der Poel and Adam Yates get paid a lot for their respective careers. Did you know that Tadej Pogačar (UAE Emirates) gets paid €6.0 million and Egan Bernal (Ineos Grenadiers) gets paid €2.8 million? The more they win and do for their teams, the more they are paid. If you want a specific cyclist to keep on wearing your team jersey, you have to pay for it.
Let's talk about the sports industry now, this is one of the sprawling and most successful industries in the world. This industry hosts events all over the world and you need skilled staff to sustain the event. These events require a lot of event managers, logistics experts, marketing professionals, and hospitality staff. You cannot expect to host an event such as Tour De France without the proper staff, can you? The economic impact of major cycling events is great too, these events boost tourism, increase the hotel accommodation rates in that area, and don't even get me started about the restaurants. It is a win-win for all the parties involved!
Look at this guy here, he actually quit his job as a stockbroker and became a professional cyclist. Let's see how it changed his life.
How Has Cycling Changed The Job Infrastructure: Our Experience
Now, we want to share our own experience with you. How has cycling created jobs for us? We revolve around cycling, may it be bikes, services, or even ideas. Professional Cyclists such as myself give guidance and recommendations where necessary. We have our own set of Marketing Professionals, News Anchors, Logistics Experts, SEO Experts, and Human Resource Professionals. There is so much going on here and that we can't even begin to describe it.
Cycling is one of the few industries that is only seeing growth in its forecast, and it has become a rising tide for economic growth and stability.
Recap
Cycling has come far and is no longer just a mode of transportation, it is a mighty powerful engine driving economic growth and job creation. People all around the world are shifting to bicycles not because it is cheap but because it is healthy and better for the environment. This has created amazing opportunities for people, just look at the investments pouring into cycling infrastructure and related sectors.
The Bicycle Industry keeps on getting bigger with each passing day, technological evolution will only make it bigger and better. This will create more jobs and pave the path to a better and more sustainable future. Bicycles are not going anywhere, and neither are you! The time is now to kickstart your career or business in the realm of cycling. So, what are you waiting for?
Also Read: