If you are looking for a comprehensive guide that provides all the necessary information you need about cycling in Japan, here is one! In this article, you will understand the reasons why there are more bikes than cars in Japan, despite being a country to many car manufacturers; you will discover the commonest types of bikes in Japan and be exposed to Japanese bike technology, cycling laws, track cycling, and how to buy or sell bikes in Japan.
Everyday cycling, why there are so many bikes in Japan?
Next to Amsterdam and Denmark, Japan has been recognized as a biking nation. Japan is referred to as a nation of over 100 million cyclists, and its capital city, Tokyo is the most bicycle dense mega-city in the entire world. It is reported that 16% of all trips made in a day in Tokyo are by bicycle.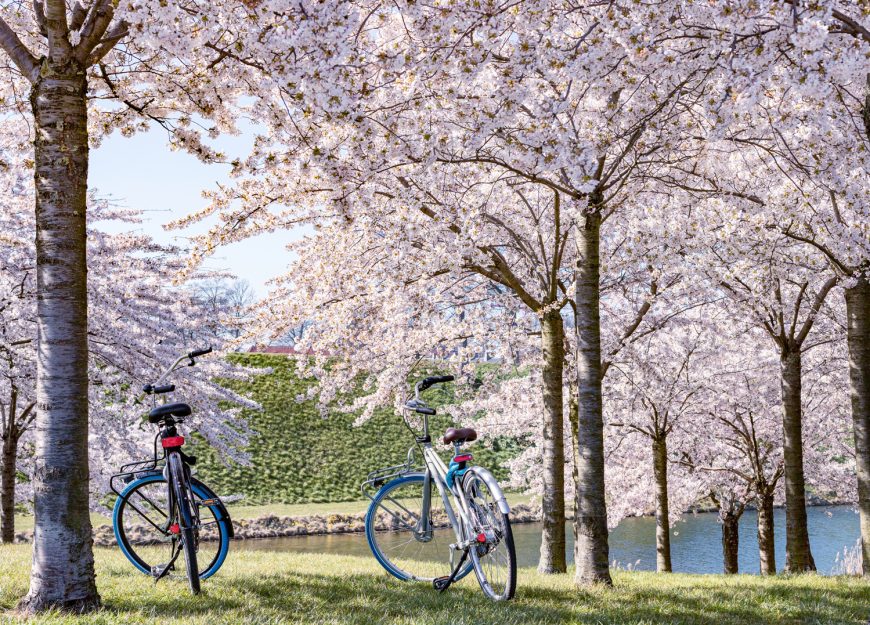 One of the reasons bicycles are common in Japan is that most of the errands or places people want to go are in their neighborhood: schools, supermarkets, hospitals, parks, train stations and so on. So, it would seem a waste of resources to drive 2 or 5 minutes to the hospital or supermarket nearby! As a result of this, Japanese neighborhoods are mainly self-sufficient, meaning that all the services people need are right on their next door. Hence, it makes a perfect sense for residents to cycle no more than 5 to 10 minutes to get to schools, kindergartens, supermarkets, dentists and doctors. This cuts out unnecessary long-distance travel; a daily routine that may have contributed to the better wellbeing for the Japanese people.
In spite of its efficient transport system, many Japanese people still resort to riding bicycles to places like offices and stations and so on. This is because it is convenient and bikes happen to the most readily usable means of transportation in case there is a natural disaster. Japan has always been affected by earthquakes and typhoons. In fact, the number of bike owners purportedly increase after the March 11 earthquake, which crippled the rail system in the region affected. Incidentally, many Japanese use their bicycles to compliment public transport, cycling from their home to the station.
Owning a bike in Japan absolves you from worrying about parking lot, insurance and maintenance costs associated with operating a car.
As a developed country, you would have expected to see the expensive road, hybrid, and mountain bikes in Japan, but that is not the case. The majority of bikes in Japan is mama-chari—these are like the family station wagon in Japan. Mama-charis are cheap, easy to ride and equipped with horseshoe locks, dynamo lights and strong rear wheel kickstands right. The sizeable baskets on the front are good for carrying loads and the racks on the back are used for carrying children. You can see Japanese mothers carrying two (or more) children on a mama-chari. It is a heavy bicycle but it is suited to the Japanese environment.
Because of its popularity in the country, the Tokyo Metropolitan Government hopes to encourage more people to use bicycles and plans to roughly double the total length of bike lanes in the city by the time it hosts the 2020 Summer Olympics. It is not immediately clear if this goal will be achievable, but it speaks volume about the recognition of bicycles as formidable means of transportation.
Mamachari ("Mom's bicycle")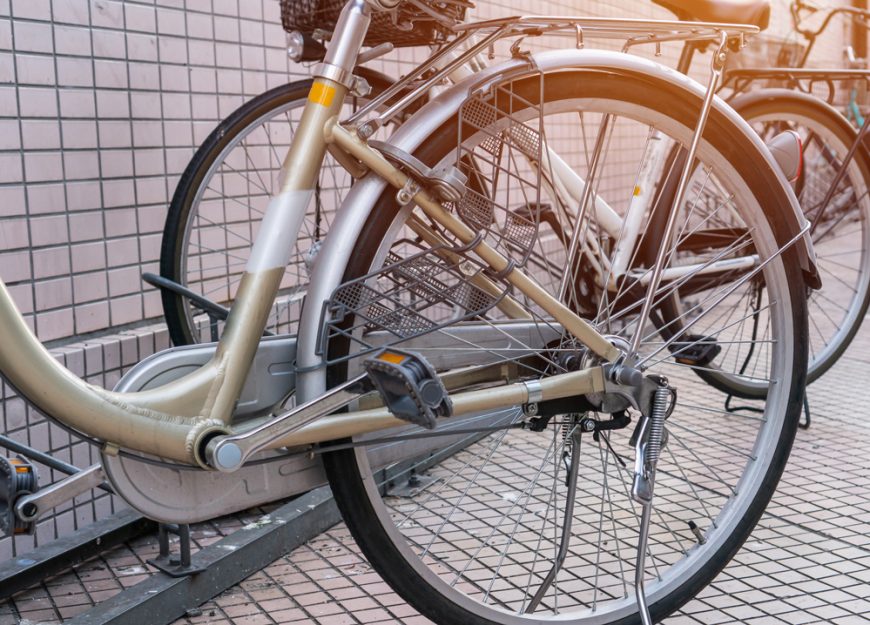 Mamachari is the commonest type of bicycle in Japan which typically shows how resilient and powerful Japanese mothers are. Not only Japanese mother who ride on mama-chari, but you can see them in most Japanese cities and towns carrying loads (bags, shopping stuff etc) in the front basket and children on the seat at the back. Since, it takes energy to pedal up and down, this bicycle culture reveals determination and perseverance among Japanese bikers. Some of them even practice the tradition of 'sannin-nori' – or three-on-a-bike – as they transport their kids to and fro schools. A lot of kindergartens in Japan do not allow mothers to drop off their kids by car, so these powerful 'mama-chariots' are the only eco-friendly alternative.
The Japanese Government's new cycling laws ban the sannin-nori culture, an issue that got some mothers in Japan infuriated. They launched initial protests and it was quickly agreed upon that they could continue to ride with two kids if they are riding trikes.
One mamachari is usually priced between Y10,000 and Y20,000. That is approximately between $90 and $170USD. However, the bikes are treated more or less like a disposable material and they are sometimes left in the inclement weathers and unrepaired when they developed some mechanical faults.
There are some significant differences between mama-charis and mountain bikes: For instance, mama-chari's frame-mounted lock can easily be unlocked when you push in the key; however, for the mountain bike's wire lock, you need to separate it from around the wheel, frame and anything the bike is locked to, which may dirty everything in the process. The lights are attached to the mama-chari bike, which makes them difficult to steal and they don't necessarily require batteries, but for the mountain bike, you must always remember to attach them to the bike. You should also remove them when outdoors lest they get stolen and constantly reattach them when you are with your bike or heading home.
Mama-chari's chain guard keeps everything intact, nice and clean, but for mountain bikes, you will need to use a velcro strap to keep clothing from rubbing on the chain. Mama-chari's mudguards are mostly dry while a mountain bike's is wet. It is very easy to park a mama-chari: all you need to do is to pull in into your destination, kick down the stand and push a lever to lock the bike. On the other hand, packing a mountain bike is a hassle because you need to lock the bike: Remove the wirelock from handlebars and lock the rear wheel and frame to a solid object.
Mama-chari's child seat allows you to take someone on a ride, it may be your own child or your neighbor's, but for mountain bike, there is no chance to carry someone else. And mama-chari's basket can hold any amount of groceries while for the mountain bike, you will need to compress groceries into a backpack or hang them from the handlebars. But make sure they do not interfere with your bike's balance. In fact, it is almost impossible to hang a 10kg rice from a mountain bike's handlebar!
Japanese cycling laws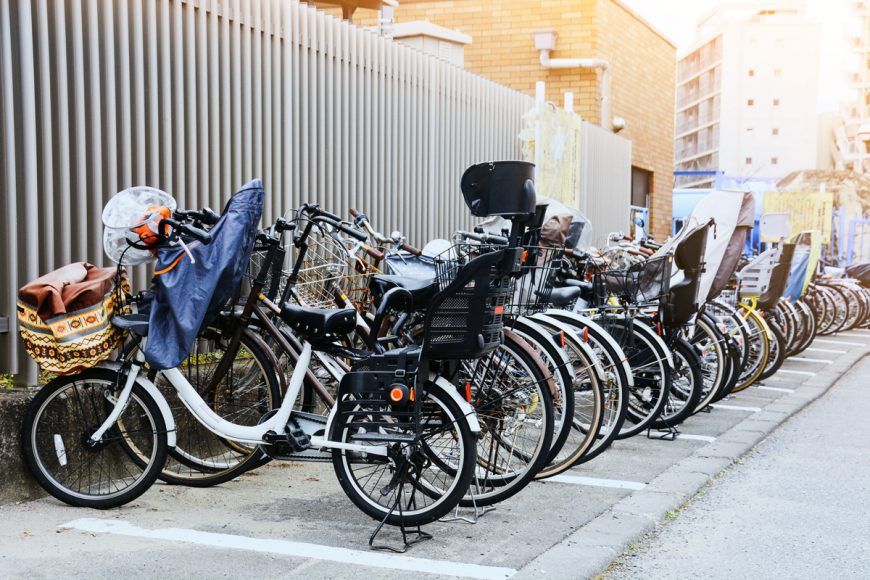 From June 1, 2015, the revised Japan's Road Traffic Law aimed at curbing recklessness among bikers or cyclists in the country became effective. The law was meant to warn and discourage cyclists from causing dangerous and even fatal traffic accidents. People are urged to learn these traffic rules and apply appropriate judgment while riding their bicycles on the road.
The revised law classifies 14 acts as reckless cycling, which includes but are not limited to ignoring traffic lights, failing to stop at intersections where required, speeding on sidewalks, using bicycles whose brakes do not function properly, riding under the influence of alcohol and riding while using a smartphone or listening to music through earphones.
Any cyclists who broke these rules will be ticketed by the police, starting from age 14 or older. Any cyclists who have received two or more tickets within three years will be required to attend a three-hour safety education program. And if such a cyclist failed to do so within three months will result in a fine of up to ¥50,000. The safety education program includes tests on traffic rules, the reading of notes written by victims of cycling accidents or their bereaved families, and the viewing of videos of real bicycle accidents.
The Japanese Government believed that the public should be aware of traffic accidents involving bicycles. In 2014, there were 109,269 accidents involving bicycles; this accounts for about 20 percent of all traffic accidents. There were a total of 542 deaths as a result of the accidents. In the same way, the annual number of fatal accidents involving bicycles but not cars and trucks rose from 51 in 2004 to 82 in 2014. This may have been due to the fact that the rate of violations of traffic rules by cyclists is increasing and about 7,716 tickets issued to cyclists last year (2014), a steep rise from 268 in 2006.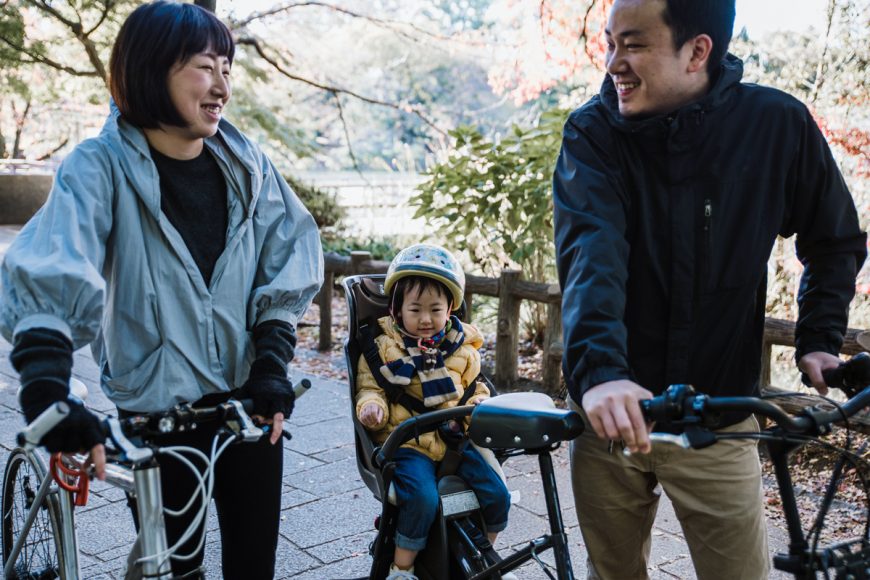 The revised Laws also inform cyclists to know that they or their families can face huge financial responsibilities if they are involved in accidents that caused severe or fatal injuries. The Kobe District Court, in July 2013, ordered the parents of a fifth-grader who knocked down and severely injured an elderly pedestrian to pay ¥95 million in damages. Similarly in January 2014, the Tokyo District Court ordered a male cyclist to pay ¥47 million to the family of a pedestrian he run over and killed.
Hefty fines and damages should encourage everyone who is riding a bike in Japan to take out bicycle insurance policies. In March, 2015, the Hyogo Prefectural Government made the first law in Japan that will make obtaining bicycle insurance compulsory when the bicycles are purchased.
Even though cyclists are expected to ride their bikes on the road, many bikers in Japan still find it difficult to obey the simple traffic laws. In a National Police Agency survey conducted to ask cyclists why they do not follow the rule even though they are aware of it, 462 of 790 respondents claimed that they were unwilling to follow it because of bad traffic conditions. The survey underlines highlighted the need for the national and local governments to create paths or lanes that would be exclusively reserved for cyclists. It is also possible to separate the lanes for bicycle riding either on roadways or sidewalks. But the recent transport ministry's annual survey on such efforts by municipalities across Japan revealed that 55 of the 106 towns and cities surveyed, with large numbers of accidents caused by cyclists, said that they either put such plans in the backburner or have no such plans at all because of the cost of doing so. Some expected the national government to provide financial support to promote such measures. It is also considered essential that the police and schools should educate children on the rules they must follow while enjoying their bikes around the towns.
It is good to say that the new traffic laws have been able to save some lives as the number of bicycle use is increasing along with greater public awareness of health and environmental issues. There are many programs in the cities and the small towns geared towards ensuring that cyclists are safe. As a visitor in Japan, you are expected to follow these rules. If you don't have an idea what these rules are, ask the company you rented your bike from.
Tokyo cycling, Kyoto cycling, etc
For most visitors to Japan, cycling around most cities brings thrill and excitement. Because of their historical relevance, Tokyo and Kyoto are the two main cities tourists love to ride their bikes in exhilarating discoveries. Kyoto's historical and cultural treasures have always attracted large numbers of foreigners who want to connect with the historical past of the country. But getting around the city by car or bus has been problematic for many visitors, irrespective whether the traffic is light or not.
You are somehow limited, and the subway/train stations are far away from most historical sites. There are many one-way streets, and you will even discover that the main roads are often congested with vehicles and pedestrians. To facilitate going from one sightseeing place to another, using bicycles comes readily as the best option. And this is why bicycles are particularly popular. Comparing the population of these cities, after Tokyo and Osaka, Kyoto, with an estimated population of about 1.5 million to Osaka's 2.7 million, has more people who commute to their work or school by bicycle than any other city in the country.
Over-reliant on bikes in Kyoto caused another major problem. The use of bicycles in Kyoto was for several years loosely managed. The parking was random and people queued up their bikes illegal, long rows until they occupied half of the sidewalk. This made pedestrians struggle for the ensuing narrow walking-area.
Probably in preparation for Tokyo Olympics 2020, Kyoto announced some plans at the end of March to make the city friendlier to cyclists. They expect to spend a lot of money by adding bicycle lanes, building parking spaces, improving public knowledge of safety issues and working with the private sector to expand bike tours. Some Kyoto roads already have bicycle lanes, and there are plans to create new routes in three areas of the city, most especially at the city center. To make it easier for tourists to use, the lanes will be marked with pictographs, not kanji (a Japanese character).
To be specific, the efforts to transform Kyoto into a more cyclist-friendly actually started in 2010. About 86,000 illegally parked bicycles were removed by the city municipality. And some new private parking lot owners came aboard to open businesses that will attend to the parking needs of cyclists. As a result of this, there is now authorized parking space for over 54,000 bicycles, the figure is up from about 49,000 in 2010 and 39,000 ten years ago. To discourage illegal parking, the city cracked down on cyclists parking illegally; the city removed over 54,600 illegally parked bikes in fiscal 2013, most especially from the banks of the Kamo River and city streets late at night, and on weekends and holidays.
The progress that has been achieved already makes it easier for the increasing number of tourists to navigate their ways in Kyoto. According to the figures made available recently, more than 51.6 million tourists visited Kyoto during the fiscal 2013, which includes over 1.13 million foreigners who spent at least one night in Kyoto — a 35 percent hike over the previous year.
For several years, some long-term Kyoto expats have taken it upon themselves to offer bicycle tours of the major temples, shrines and historic sites. Their services are unique because they are in English; tourists could get all the information on where, how to get around Kyoto on two wheels and what parking options are available. This expat-floated cyclists are safe thrive because the city is better today than a couple of decades ago when it comes to its bicycle policy. And it is going to get better as the city braces up to make it more-cyclist-friendly environment.
Unlike Kyoto, Tokyo has several well-managed cycling tour companies. The great thing about Tokyo roads is that they have wide sidewalks where both pedestrians and cyclists can compete for space. And it appears that the bike riders in Tokyo are more law-abiding, possibly because the police in Tokyo are more concerned about enforcing the traffic laws to prevent traffic accidents.
Here are examples of the tours some biking companies may offer in Tokyo: You need to confirm from your chosen company what exactly they have in stock for you. A simple Google search can turn up some interesting Tokyo biking tours.
You may be asked, depending on the companies offering them, to take any of these Tokyo biking tours:
Group tour: This is usually guided bicycle tours for 4-12 riders in Tokyo led by an assigned native English speaking guide called "Urban Tour Guide". This kind of tour is open for all the four seasons in Japan.
This group tour can lead riders to any of these sightseeing places in Tokyo:
Cultural historical tour: This will take you to some cultural historical places in Tokyo
Waterfront tour: You will cycle to the waterfront and enjoy a ferry ride with your bike across Tokyo bay.
Half day hybrid tour: this may take you to both the Tokyo cultural historical places as well as the waterfront (Tokyo Bay)
This is a fun-and-slow-paced biking tour around Tokyo. In case you want a solo tour, you will need to arrange for that with your tour operator. It may be a little more expensive than the group tour.
Bike technology
Japan bike technology has evolved over a long period of time. You can discover some interesting bike technologies when you visit Japan. Most especially in the parking of bikes, the limited space available in many cities has compelled many municipalities to adopt underground parking. As shown below, the parking makes it possible for bikers to park their machines underground. Everything is quite automatic, meaning you don't have to descend into the underground parking by yourself. As shown below, all you need to do is to release your bike at the entrance of the parking, and a convoluted system of mechanical carriage will transport it to where it is to be stored. And you can always retrieve your bike whenever you want to. The pictures below speak for themselves!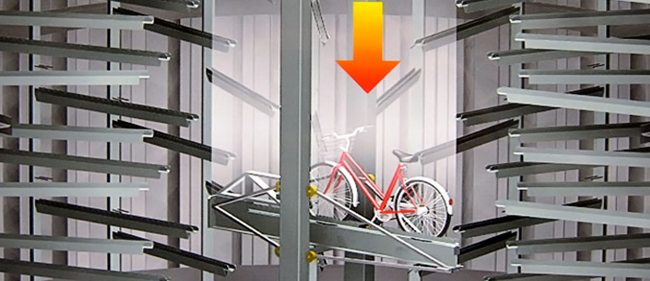 A mechanical carrier lift brings each bike into a designated parking space
image © alastair townsend + kayoko ohtsuki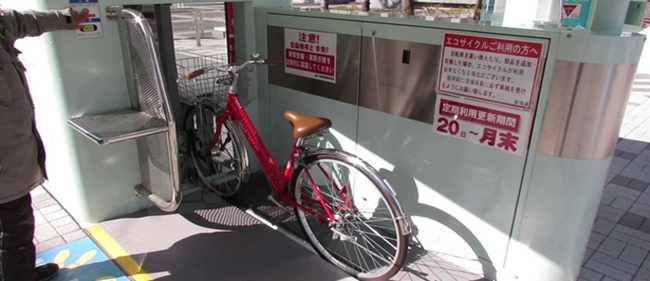 A user loading the bike into the corresponding loading bay
The operation of this bike parking system is easy. Because an IC tag attached to the front wheel corresponds to the user's membership card. All you need to do is load the bike onto the bay and press start. As briefly explained above, inside the system a carrier lift that holds the bicycle rotates downwards, placing the vehicle into an open rack. And to retrieve your bike, one swipes their IC card, and the automated system produces the bike and places it above the ground in about 8 seconds. This parking system is ideal and efficient for peak and rush hour periods.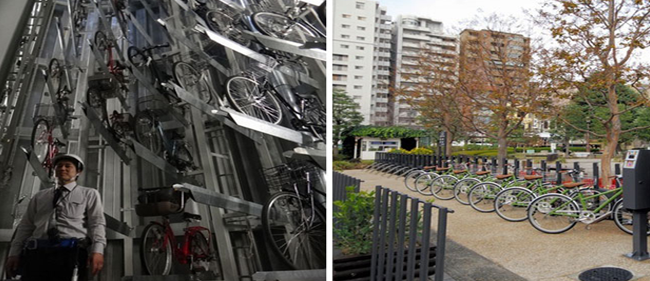 left: inside the high-tech underground parking bay
right: bike share parking lot above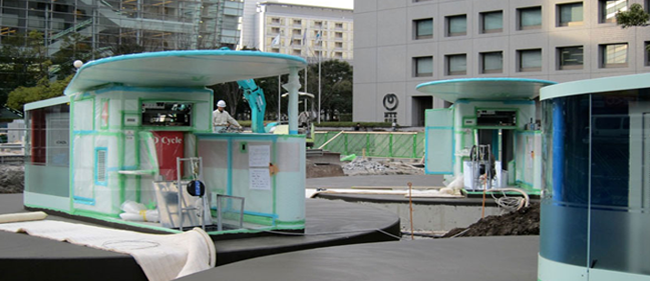 'giken eco cycle' construction
image © alastair townsend + kayoko ohtsuki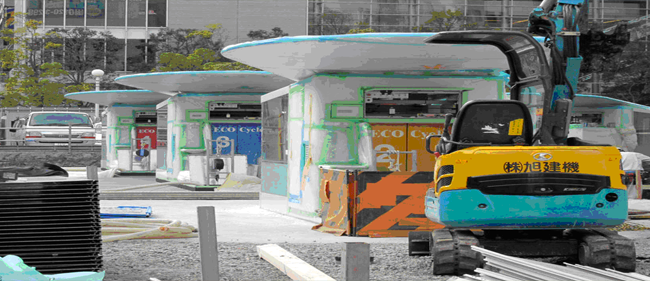 the individual cylindrical shaped structures measure 8.5m x 11.6m below the street surface
image © alastair townsend + kayoko ohtsuki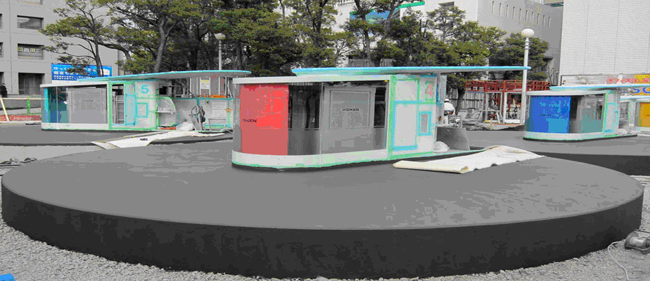 'giken eco cycle' construction overview
image © alastair townsend + kayoko ohtsuki
As a country that is constantly subjected to unannounced earthquakes, Japan has devised a way to shield all of its underground bike parking from the natural disasters. Shown in the picture below, Japan's earthquake-proof underground bike storage systems brings the future to now!
A broad view of this robotic Eco Cycle Anti-Seismic Underground Bicycle Park reveals that the futuristic plan to make cycling safe and efficient is already here. And it takes just 8 seconds for a bike to move downwards the system; human existence finished at the card reader level. One cannot underestimate the speed at which this is done, a good attribute for time management when in a rushing hour.
To those who are not familiar with the way this parking system works, there are plenty of questions begging for answers: (i) What will happen if this parking system malfunctions? (ii) Will bicycles be trapped for eternity underground? (iii) Is the bike storage strong enough to withstand even the most powerful earthquake?
While it is difficult to proffer all the answers people need about this bike storage facility, but the good news is that bikes will at least be protected from natural disasters even though no one can estimate the efficiency of the system in the long-term.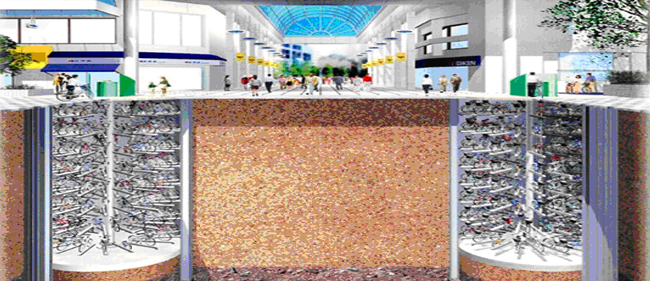 But one thing no one can deny is the environmentally-friendly design this parking system has, which allows for fairly easy de-installation, in case the public demand for safe, subterranean bike parking wane.
And its earthquake-proof quality is a big plus, the main reason why Japan will continue to expand on this technology because of its perennial problem from natural disasters.
Cities like Paris, London, Hangzhou and New York have intensified on bike sharing service. This alleviates the headache of bike parking in this cities, as several persons could ride one bike in a day. Netherland, for instance, is warming up to its first underground bike parking in 2018!
Buying/renting bikes and gears
Renting a bike in Tokyo
Since the most cycling by foreigners in Japan takes place in Tokyo, the information provided here is about buying and renting bikes and gears in Japan's most beautiful city—Tokyo.
As a visitor to Tokyo renting a bicycle can be very difficult. Unlike Barclays Cycle hire in London and Velib Network in Paris which offer bicycle sharing system that will make it easier for foreign cyclists to lay their hands on rented bikes, such an opportunity doesn't exist citywide in Tokyo. And bicycle rental businesses have been springing up and disappearing in Tokyo lately, many tourists who would have loved to ride a bike can't locate where the businesses here; this is also hampered by the language barrier, since many Japanese still shy away from speaking English to foreigners.
One of the best approaches to finding the bike of your choice in Japanese cities is to discuss with some Japanese staff at your hotel. Some tourist-centered hotels do have their own bike-renting services, but most five-star hotels don't. A hotel staff can help you search for a reliable bike rental company and speak with them on your behalf. However, it is very advisable to look up hotels in Japan that also have bike rental services. You can find them on Booking.com as well as on Tripadvisor. You might be lucky to read find some reviews about each hotel that will help you make the right decisions.
Hotels with bike rental systems also offer some discounts that may be used for accommodation in case you want to have an extended stay. This can save you some money in the end. And when there are problems arising from the use of a bike from your hotel, you can easily resolve the issue, unlike when you will have to face a non-English-speaking bike rental clerk on your own!
Another alternative is that you should bring your own bike or buy one while in Japan. This may cost a lot, but you will have the freedom to ride around without worrying about being careful not to destroy someone's bike. Make sure you obtain a bike insurance from the bike shop, and ride carefully around the streets. At the end of your trip, you may opt to sell the bike to one of the bike dealers or decide to send it home. But the only problem about buying a bike in Japan is that the process itself is cumbersome. You may be asked to show your ID, and some people who are not residents in Japan may not be able to purchase a bike.
Whatever option you go for, do not forget to have a pleasurable ride in the land of the Rising Sun!
Track cycling is big in Japan
Japan routinely hosts track cycling. There are Japan Track Cup 1 and Japan Track Cup II, which draw cyclists from around the world. The Japan Track events are sometimes held in other comfortable locations outside Japan. For examples, Japan Track Cup 1 was organized as part of Asian Cycling Championships in Korat in 2015 and Japan Track Cup II was held at Izu Velodrome in Shujenzi.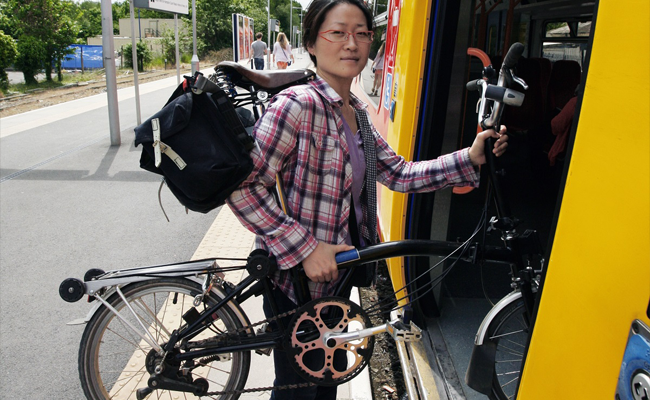 While track cycling is quite big in countries like Belgium, France, Germany and the United Kingdom, it has a tremendous following in Japan. Track cycling is a bicycle racing sport which is normally held on specially built banked tracks known as velodromes.
The physical characteristics of track cycling are almost the same: riders are under the influence of aerodynamic drag. This is why it is important for the bike's frames to be constructed with carbon fiber that will guarantee its lightweight design. To enjoy better aerodynamics, the rider's position is similar to road racing position, and this basically depends on the geometry of the bicycle and the handlebars.
Track cycling is divided into two different categories: Sprint Race and Endurance Race. Riders will somehow falls under one of these categories but will not be able to compete in the other category. Typically, Sprint races are usually between 8 and 10 laps in length while Endurance races are held for much longer distances, and this length varies from 12-16 laps.
Not everyone in Japan is into track cycling: In fact, most bike owners may have no idea what it is. So, you will need to make enough enquiry about this before coming to Japan. Visit the Track Racing Association of your country and ask for advice about how it is done in Japan. It is possible that you may be able to glean one or two pieces of advice from the association's officials at your home country.
Miscellaneous
The best way to enjoy your cycling experience in Japan is to make sure you have made some plans beforehand. Make a checklist of what you need to do before and after arriving in Japan. Your checklist may contain:
Making the appropriate reservation before arriving
If necessary, getting your bike-renting ID before coming to Japan
If you could, making a call to the bike rental shop and familiarize yourself with them
Making sure you first of all try out the bike before renting it
Getting your bike insurance
Familiarizing yourself with your bike guide
Enjoying the bike ride and observing all the traffic rules
If you are going to ride with your child on the bike, make sure you know the safety procedures in Japan. The reason why getting a bike insurance is necessary is that in Japan it is a serious offence to hit or knock someone down while riding a bike. You may be surprised that instead of quietly settling the matter with you, even if the victim can speak a smattering of English, the first person he/she will call is police. And you may be required to pay some money if the injury sustained by your accident victim is a bit severe. This could drain your wallet if you don't have an insurance policy to protect yourself.