A cardboard bike box is a specially designed box that allows you to pack your bike safely without damaging any of its parts. Unlike regular boxes that are commonly used for packing items like televisions, a bike box is specifically made to ensure that your bike is securely shipped without any harm. It's important to note that you cannot just pack your bike in any box and hope for the best – extraordinary things like bikes require special treatment!
In this guide, we will explain everything you need to know about bike boxes, including their weight, size, dimensions, and the correct method for packing them. So, let's get reading!
Size Of A Bike Box
What is the size of a bike box? The size of a standard bike box is typically 43x11x32 inches (110 x 28 x 82cm). This size is widely used because it falls within the international limit for shipping size, which is 130 inches. However, it's worth noting that larger bike boxes are also available. Here are some other sizes you may come across:
47x11x32 inches (120 x 28 x 82cm)
51x11x32 inches (130 x 28 x 82cm)
53x29x9 inches (134 x 73 x 22cm)
54x28x8 inches (137 x 71 x 20cm)
55x11x32 inches (140 x 28 x 82cm)
The FedEx bike box size is 54″ x 8″ x 28″. You can get it for the following prices:
Price For The Box Only: $16.00
Price With Packing: $25.49
Price For Fragile Packing: $31.99
You will get complimentary packing if you decide to ship through FedEx. Personally, I wouldn't recommend you go above the size of the FedEx box. Going above the size may cause you problems in shipping or may even result in a failure to ship your bike.
Weight Of A Bike Box
Next, let's talk about the weight of a bike box. On average, a bike box will weigh around 2 kg (4 lbs), which is the weight of the box itself without anything inside. The actual weight of the packed box will vary depending on the type of bike you are packing.
The equation to measure the weight of your box along with that of your bike is:
2kg box weight + 2kg packing weight + bike weight = bike/box total weight
While the bikes are made using different materials, some have aluminum frames and the others are made of steel, hence the weight is also going to change accordingly. Here is a rough estimate of the weight of bikes so that you can work out the total weight that you will have.
| Type | Average Weight | Average Box Size (inches) |
| --- | --- | --- |
| Hybrid | 25lbs (11.5kg) | 43x11x32 |
| Recumbent | 32lbs (14.5kg) | 43x11x32 |
| Beach Cruisers | 37lbs (16kg) | 43x11x32 |
| E-Bike | 50lbs (23kg) | 43x11x32 |
| BMX | 24 lbs (11kg) | 43x11x32 |
| Road Bike | 20lbs (9kg) | 43x11x32 |
| Mountain Bike | 29lbs (13kg) | 61.81 x 12.99 x 32.68 |
| Kids Bikes | 18-26 lbs (8-11kgs) | 43x11x32 |
Bike Box Cost
A bike box cost can range from $8.33 to $80 but it all depends on your needs, the size of the box you require, and other things. You can get a bike box from bike shops easily.
How To Pack And Ship Your Bike
Sometimes, it is much cheaper to ship your bike rather than to fly with it. No matter if you want to ship your bike or fly it somewhere, the packing process will be the same. Pro bike cases are great since they keep your bike really safe but they can be very costly.
A Cardboard Box
I am going to tell you how to make your own travel box with some simple packing supplies and a few tips and tricks that I learned over time. First, you need to get a bike cardboard box. You can get this from any local bike shop if you ask nicely, or you can get one from FedEx or online and they are quite reasonable. If you find one at your local bike shop, ask them to keep all the packing material inside the box, You can use this material to pack your bike.
Plumbing Insulation
If they don't have the material, you will need to go to a hardware store and get some basic plumbing insulation. This will protect the frame of your bike. Before disassembling the bike, we have to make sure that the top tube and the down tube are well protected.
The plumbing insulation that you bought, cut it in size, cover the top and the down tube with it and tape it together or use a zip tie to keep it in place.
Remove The Handlebars
To take off the front of the stem, use an Allen Key (4-5-6MM) and remove the handlebars. Be sure to put the headset back into place so that you do not lose anything.
Once you have removed the handlebar, add some bubble wrap to it. Take your break cable and your handlebar, tuck them behind your frame, and secure them with a zip tie.
Remove The Pedals
Now, we will have to remove our pedals. If you used grease while installing your pedals, they will come off easily. I used the pedal wrench to remove my pedals, which is the proper tool to do the job.
Put the wrench in place and pedal backward, this will make the pedals come off. Once they are off, wrap your pedals in some bubble sheets too to make sure that they are secure and don't clutter around in the box.
Remove The Wheels
Next comes removing the wheels. To take off your front wheel, use a 15-millimeter wrench. After the front wheel is removed, wrap any exposed parts in bubble wrap or pipe insulation. This is to make sure that nothing on your bike gets scratched. You don't need to remove the rear wheel because once we have taken off the front wheel, the bike will fit inside the box.
Remove Your Seat-Post
After this remove your seat-post and your seat and wrap them in bubble sheets too. This is where the fun begins, you have to now put your bike and all the parts that you have removed inside the box. Start with the frame and the rear wheel assembly, and carefully place them inside the box.
What I do is that I cut extra pieces of cardboard and cover the axles so that they don't poke through the box during shipping. Make sure that everything in the box is secured and add bubble sheets or pipe insulation if required.
Pack Your Tools
The most important part is to make sure that all the tools and supplies that you used for packing your bike are placed inside the box so that you can easily assemble it once shipped to your destination. This will also help you in packaging your bike up again for sending it home.
Tape It Up
Once everything is inside the box, tape it up securely for shipping bikes. Just in case, I write my name on the outside of the box in bold. This is a cheaper way to ship bikes but you should first check in with your airline. The process will be the same for all kinds of bikes.
Companies That Ship Bikes In The US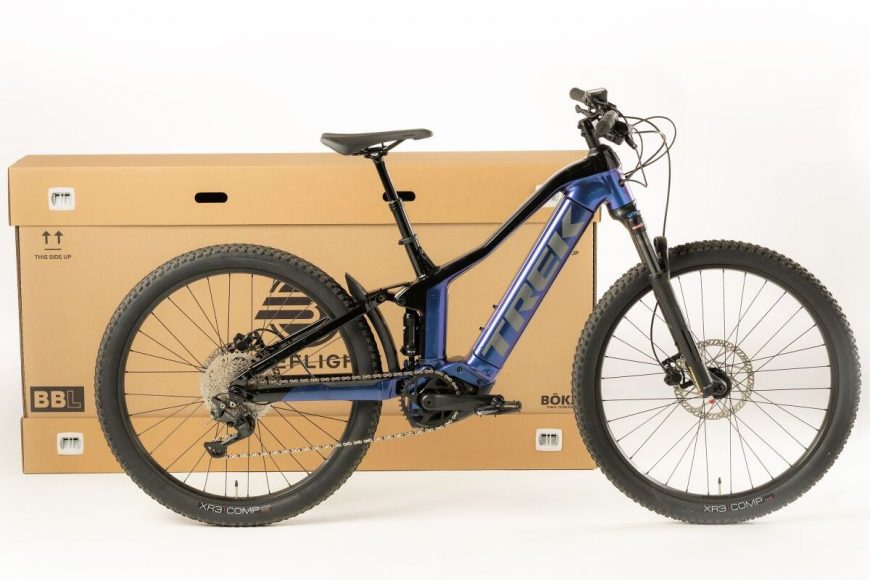 Some bike shipping companies in the US are:
Some other sites for UK and Europe are:
Airline Requirements For Bicycles
While traveling with any sports equipment, there are certain airline requirements that you must meet. These are a set of rules and regulations that you must follow to avoid any inconvenience. Below is the standard weight, dimension, and other requirements that you will be asked to meet, but make sure to double-check with the airlines that you choose. These regulations may differ from one airline to another.
Maximum Linear Size
The maximum linear size ((length + width + height) that you will be allowed is 126 in / 320 cm.
Maximum Weight
You will be allowed a maximum weight of 70 lbs / 32 kgs, but that depends on the cargo space available as well as the size of the airplane.
Requirements
Following are the requirements that you must meet if you want to fly with your bike. You may be asked to open the bag/box to see what's inside:
The bicycle is secured in a bicycle box, a hard case, or a bag made for transporting bicycles.
The handlebars have been fixed sideways (just like we taught you) in such a way that the handlebars are parallel with the frame.
The pedals have been removed.
The pedals as well as the handlebars are wrapped in safety material i.e. bubble sheet or any similar material
Standard Charges
You will have to have to pay the standard checked bag fees of the destination you are flying to. It will be applied up to 50 lbs / 23 kgs and 126 in / 320 cm (length + width + height). The standard overweight fee will be applied from 51 lbs / 23 kgs to 70 lbs / 32 kgs.
Here is an airline bike fee master guide, the fees are one way only.
Airline
Bike Fee/ USD
Mex Dimension
Max Weight
Air France
$75-150 USD depending on dest.
300 linear cm
23 kg
Aero–mexico
$75 USD in Mexico
$150 USD Intern.
203-292 linear cm
32 kg
Air
Canada
$50
292 linear cm
32 kg
American Airlines
Standard checked bag fees
320 linear cm
23 kg
Alaska Airlines
Standard checked bag fees
Waived
Waived
Allegiant Airlines
Standard checked bag fees
203 linear cm
18 kg
Emirates
Standard checked bag fees
300 linear cm
20-50 kg
British Airways
Standard checked bag fees
350 linear cm
23 kg
Delta Airlines
Standard checked bag fees
292 linear cm
23 kg
Frontier Airlines
$75
279 linear cm
45 kg
Hawaiian Airlines
$35-$150
292 linear cm
23 kg
JetBlue
Standard bag fee + $100 USD
80 linear in
45 kg
Lufthansa
Changes depending on dest.
280 linear cm
32 kg
Spirit
$75 USD
Waived
Waived
Qantas
Standard checked bag fees
250 linear cm
23 kg
United Airlines
Standard checked bag fees
Waived
23-32 kg
Southwest
$75 USD
157 linear cm
23 kg
WestJet
Standard Bag Fees + $50 Handling Fee
292 linear cm
45 kg
Virgin Atlantic
Standard checked bag fees
Not specified
23 kg
Steps To Avoid Oversize And Overweight Fees
With a bike, the oversize and overweight fees can be a nightmare. Here are a few tips to avoid such charges and save some bills:
Avoid Hard-Sided Bike Cases
The hard-sided bike cases are too heavy and they always end up being the cause of overweight fees.
Purchase Extra Baggage
With most airlines, you can purchase extra baggage before time which can help you save on overweight fees.
Avoid Bike Bags
I used to use a bike bag, and I would pack my tools along with other things in it but that would always make my bag overweight. I ended up paying almost a $200 overweight charge (one-way) which is when I decided to say goodbye to the bike bags.
Make Two Bags
If you have decided to use a bag, you can divide the components into two bags. This will make the bag lighter and two checked bags within the weight limit are much more affordable than an overweight bag. You can pack your frame using the frame bags and make as many bags as you can handle.
FAQs
What are the dimensions of a bike box?
The dimensions of a bike box depends on the type of bike being shipped. Most bike boxes measure 43 by 11 by 32 inches. However, there are also smaller and larger options available.
Can a bike box fit in a car?
Yes! A bike box can fit inside a car without normally compromising the seating. I did fit my bike box inside the trunk of a normal-sized sedan. The box was 43x11x32 in size and I used it to transfer my Hybrid bike. I certainly did not want to take a holiday without my bike.
Can I travel with a bike box?
Yes, you can travel with a bike box. In fact, many airlines write about bicycle carriage in their policies. You can box up your bike in a cardboard box or use a hard case or even a bag, but be sure to check in with the policies of your airline. One cheap way is to ship your bike rather than flying with it but it all depends on your preferences.
Can I fly with an E-Bike?
No, Unfortunately, most airlines do not allow you to fly with a lithium battery over 100Wh, and most electric bikes have a battery way over the said limit. So, you will not be able to fly your electric bike on most airlines. You can check in with your airline for any exceptions.
How big is a bike box in cm?
132 x 18 x 73 cm 2KG, this type of double-walled bicycle cargo box is often made for custom deliveries.
What are the dimensions of a large bike box?
62x13x32in x 84cm are the dimensions of a large bike box. You can easily pack your frame, front wheels and pedals in such a box along with the seat and the seat post.
Conclusion
Cardboard bike boxes are the best way to transport your bike. Although they are made of cardboard, they are durable enough to secure your bike and house a variety of bikes. No matter if you want to ship your bike or are flying with it, the most important thing is to secure it finely and pack it well so that you can unpack it as soon as it arrives at your destination and enjoy the road.
Double-check with your airline or the carrier service that you select to make sure that you have everything in place.
Also Read: The Safest States For Cyclists In United States
---