Bikepacking is a relatively new thing on the scene. Although touring and other forms of bike travel have been around for quite some time, it really hasn't been until now that folks are starting to make gear and bikes specific to bikepacking. Obviously we can't explore everything but what I can do is give you a basic bike and gear list for you to kind of explore and add to as you figure out your bikepacking needs. A word of warning; don't get so interested in always buying the next new piece of awesome gear that you forget to make time to actually go bikepacking!
Bikepacking is basically backpacking where your backpack has been replaced by your bike. Your bike is not only a tool for your movement (you can now cover hundreds of miles, as opposed to 20-40 in a weekend) but it is also a solid frame for carrying all of your essentials for life out in the back country. Each heading will be a different subcategory of gear that you may find useful. Keep in mind that you may have a very different set up based on the things you feel like you need.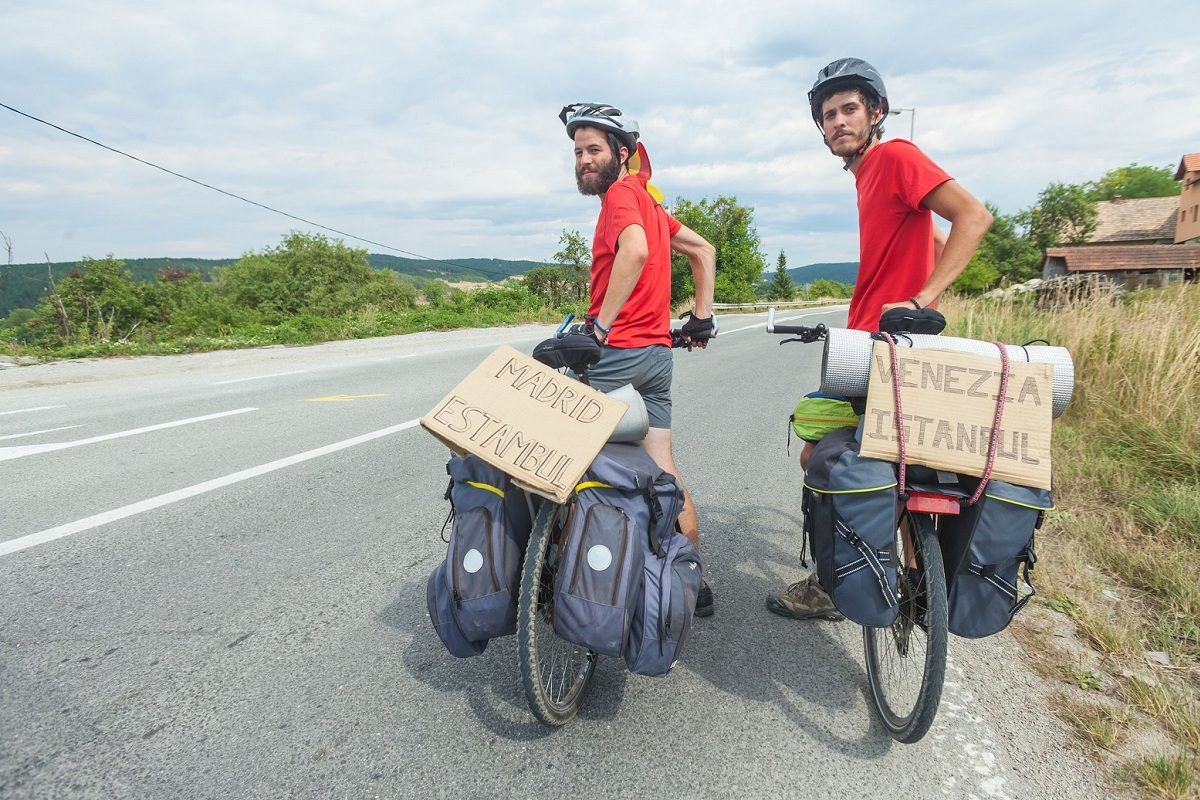 Bikes
There are several brands out there that have made a name for themselves in the realm of bikepacking and touring, even long before it became popular to do so. Look into brands like Surly, Salsa, Chumba, Yeti, Kona and so many more. Certain things you may want to consider are shocks, tires (size, profile, and width), gearing, shifters, handlebars, disc breaks and rack mounts. There are some brands that are better than others at giving you all of these things with a complete build. They have put tons of research into their bikes with bikepacking in mind. For example Surly developed the ECR to have 3.0 inch tire clearance, 2 x10 or 1 x11 gearing options, rack mounts all over and some of the best handlebars in production.
Salsa did the same with their quintessential model, the Fargo. Many different standard gearing options, rigid or hard tail style frame, their famous wood chipper bars and rack and bottle mounts all over. They lifted the bottom bracket way off the ground and gave you longer cranks for better leverage on the uphills. It has clearance for 2.5 inch tires as well. Shocks aren't critical for bikepacking but I have seen and heard people say they would have been nice depending on the trail being ridden. Maybe the best way to go would be to get something with a lockout fork so you can have the best of both worlds. Or maybe a big enough tire like the Surly Ice Cream Truck or Krampus can dampen the worst the trail throws at you.
I think a very common way to approach bikepacking is to buy a complete build first and after a few trips, really hone in on what it is you want your bike to do. All the while building up an extra parts store in your garage or basement; then once you are in a position to buy what you want (after testing it out of course) either switch out the parts on your existing frame or start your perfect build from the frame on up. With all of the extra parts you can switch things out on your bike depending on what your trip requires.
As a disclaimer you should also be aware that you don't need the fanciest most awesome bike to get out and explore. Google "cheap bikepacking" and you will find people blogging about their experiences with 1990's mountain bikes they picked up off craigslist. I will say that typically, get something that is steel or titanium. Carbon and aluminum are much harder to repair, but you will find companies with these models like the Trek 920 and Salsa Cutthroat. With older bikes just make sure the frame is in good shape and that you have the gearing to get up some tough hills. Modern mountain gearing can go all the way to a 44 tooth rear cog and 18 tooth front cog making it easier to really carry yourself and gear up those hills.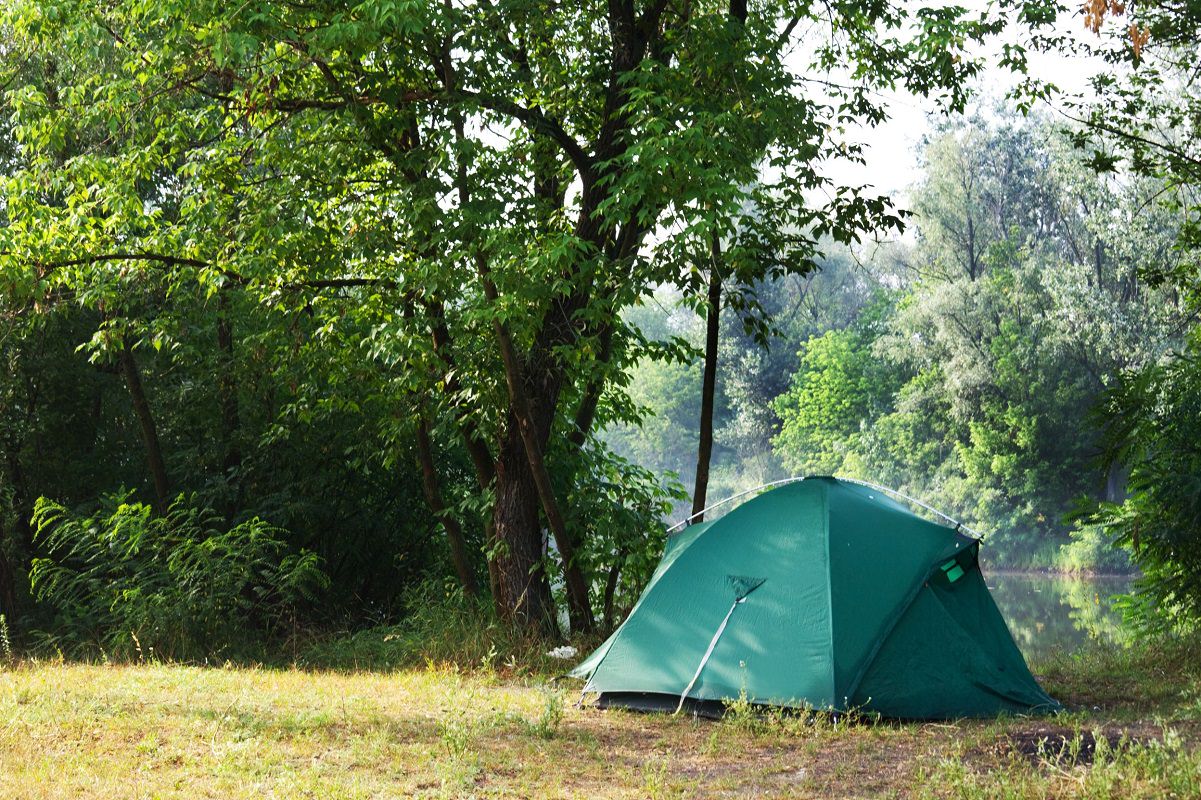 Read also: Bike Size Chart: What Size Bike Should I Get?
Shelter (tents, bivies, bags, pads and more)
Just like backpacking, bikepacking will require you to have some sort of shelter and sleep system. Some people have a very minimal approach while others bring the kitchen sink for comfort. My opinion is that you should be prepared for anything based on the season and be as certain as you can of the weather conditions you expect to encounter. For example, some people I know only carry a tarpaulin or some sort of cordura sheet and a heavy blanket when they go on summer trips. This eliminates the extra weight and space of a bulky tent, sleeping bag and pad (if you don't mind the ground being a little hard).
A tent is nice because of the space it gives you to maybe dry some of your things and it protects you from the elements. Bivies are little smaller and they save you the weight and space of the poles so you don't have to carry them on your bike. If you don't want to carry a pad, you can get bivies that string between two trees like a hammock. This pulls you off the ground and better insulates you from the cold of the ground.
In terms of bags and pads it also really depends on when and where you are going. Don't worry too much about buying the lightest most awesome 0 degrees bag or pad. Try it out with what you have first within reason. Obviously, do not go to Montana in November without a 0 degrees bag and don't go to the plains of Africa in summer with a 0 degrees bag because it will be overkill. Be smart about packing, when you can save weight or space by upgrading, think hard about it. Often because of the way your bags are set up on your bike, you won't have much room to spare. Most people will strap a tent to their handlebars and put the rest of their sleep system into a large frame bag.
Brands to consider are Marmot, Big Agnes, REI, The North Face, Mountain Hardware, Arctyrx, and so many others. I live in the USA so this is mainly what we have here; I know there are tons of other brands across the world. Take a trip to your local outdoor retailer and do some browsing.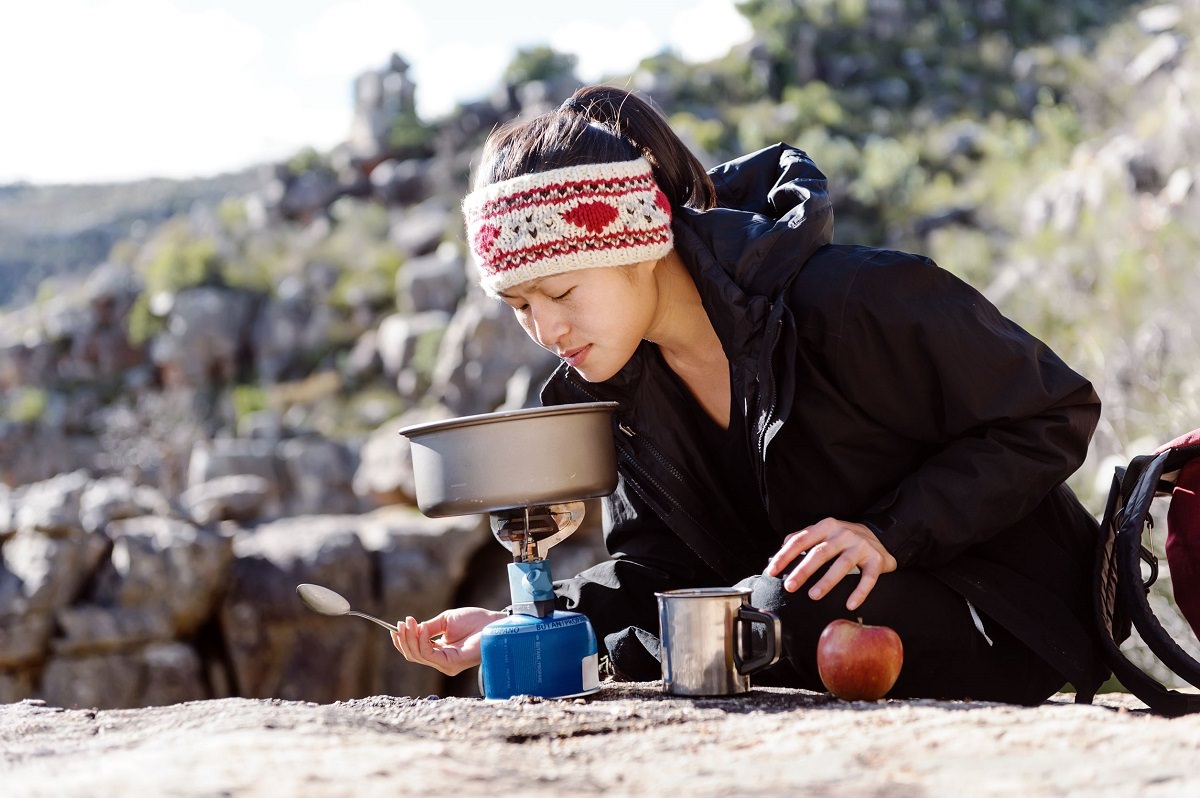 Kitchen (Camp Stoves, Utensils, Dishes and More)
The more you go backpacking, the more you will know about what it is you like when it comes to your kitchen. I take a lightweight MSR backpacking stove. They have a few models like the dragonfly, whisperlite, windburner, and reactor. For me they are the ultimate when it comes to stove systems but you may find you like something else. There are alcohol burning fuel stoves that work great at lower altitudes, are super light, and the fuel is much cheaper when bought in bulk.
Dishes will be something you accumulate over time. The bare essentials are a pot to cook in and maybe something to put your coffee in. From there I grabbed a resealable container with a screw on lid, a bowl that has flaps that snap into place (doubles as a cutting board), and a folding frying pan. My pot has a lid which locks in place so some of these other things aren't necessary and I wouldn't include them to save space and weight, but if I wasn't concerned I'd bring it all to maximize comfort.
The utensils I always bring are a spoon and a multitool with a knife on it for cutting my food if I need to. These are always light and small by default, don't worry about buying some fancy titanium spork if you don't want to.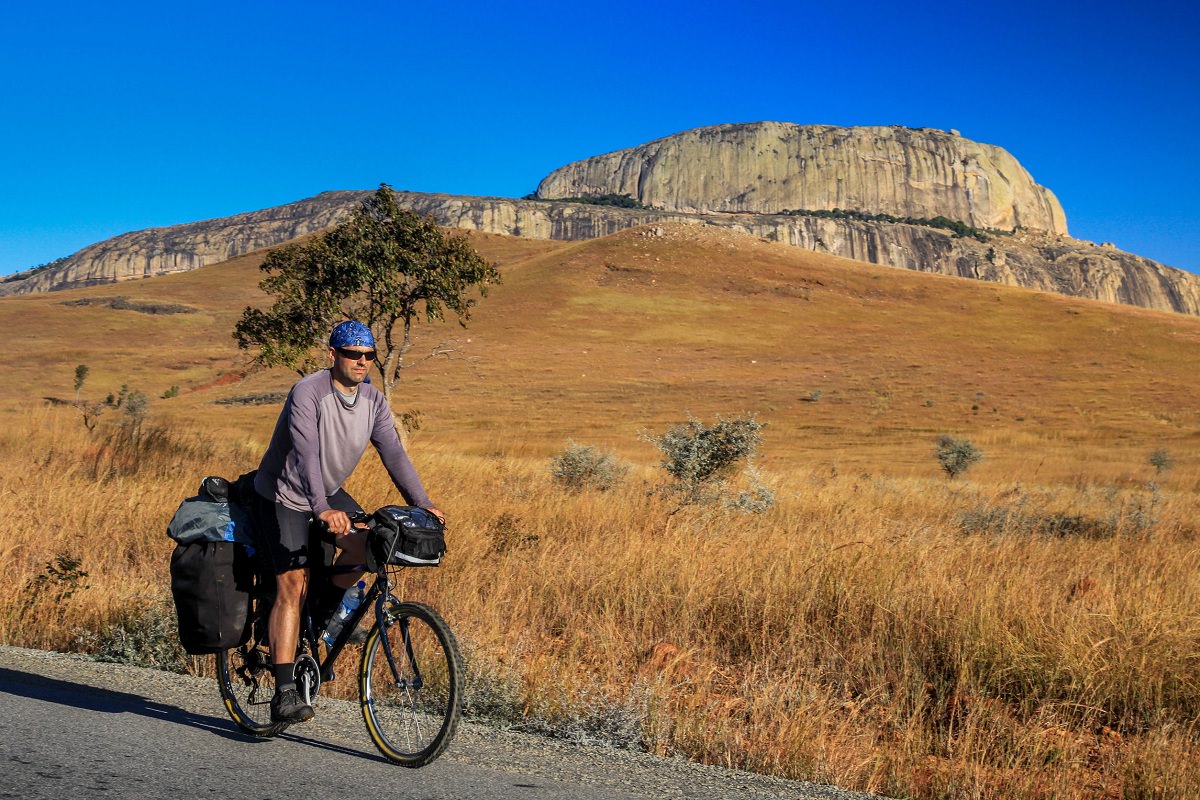 Bags (Panniers, frame bags, and more)
This is mostly where people differ on the setups they like. With smaller local manufacturers taking the lead on new designs, a lot of riders are opting for sleek frame bags that keep the weight of their items in line with their wheels. This makes it easier to take turns and climb. Panniers can affect steering and can be pretty big targets for wind in open country. An "A Frame Bag" or "Top Tube Bag" is where people carry most of their big items and weigh. It fits right in the main triangle of your frame.
From there, handlebar bags and seatpost cinch bags are added to make room for the rest of the necessities. Look into these brands but also do some exploration on your own: Blackburn, Salsa, Porcelain Rocket, Swift Designs, and Carsick Designs. These brands are really pushing the envelope with structurally solid and well thought out designs. They are a little more expensive than some of the other brands but I think well worth it.
Panniers and racks have been the traditional setup for touring cyclists, so if you already have some and your bike can take on trails, just try it out. You might find that you really don't need some pricey frame bags because you aren't racing down some single track or doing 180 mile days on the Tour Divide. Ortlieb and Axiom have been the go to names in panniers for many years and that is because they make a solid product. Find the design that is right for you and you'll never have to buy another set of panniers.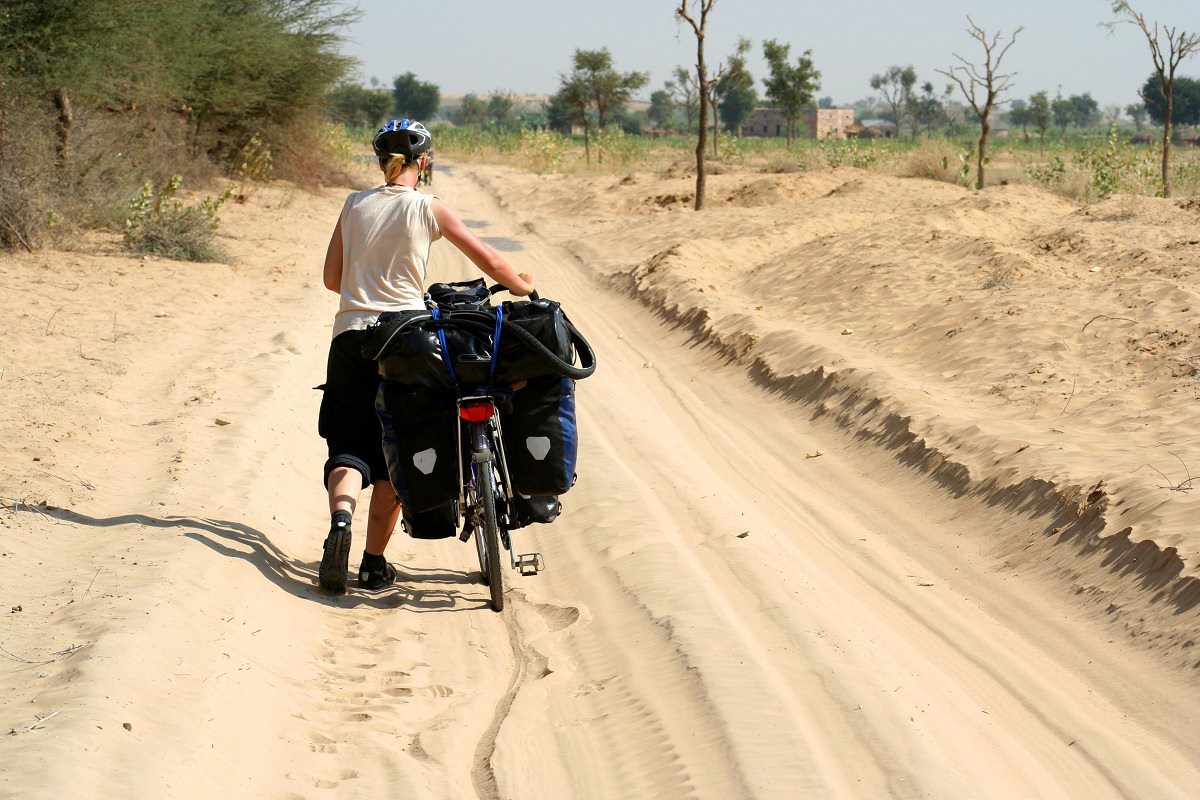 Racks (Ways to carry your gear)
I wanted to include a little about racks if you aren't going to run a frame bag system. Racks mount to your frame and are a great way to both carry panniers and other things that don't really fit. Look into Tubus, Surly, Salsa, and Velo Orange. Of course there are some smaller rack builders out there but they might be pretty expensive. Winter Bicycles and Rivendell come to mind.
You might not need a full rack either. Salsa makes a cage called the "anything cage" which is about 2-3 times the size of a regular bottle cage. You can carry large water bottles and even some sleeping bags or pads depending on how small they pack down. They can also mount in places that larger racks cannot. Worth checking out for sure.
Another potential setup is riding with a trailer. Trailers are cool because you can hook them up to any rear wheel and they wouldn't interfere with you running front shocks as some racks might. They have usually have a single rear wheel and sometimes two which supports most of the weight of your gear instead of putting it on your rear wheel. Look into companies like Burly and B.O.B.. I am certain there are others but these are the staples of the industry. They will often come with cordura bags as well, definitely worth it for keeping your gear dry.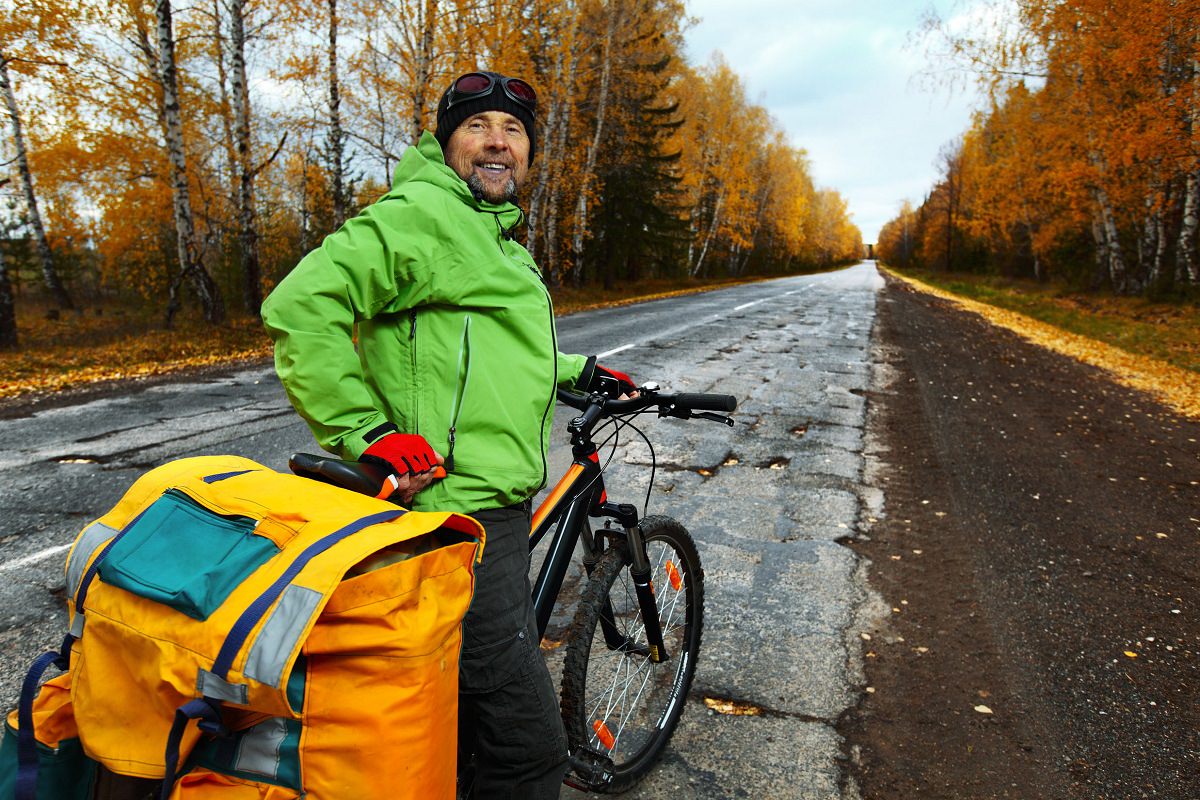 Conclusion
Bikepacking is still in its infancy. As it becomes more popular we will see an explosion of gear and bikes built for this purpose. We will see resources and maintained trails expand in number for people looking to explore the great backcountry. Like any hobby, you will find what you like and what you don't, just be open to trying new things. Look to the classifieds or gear outlets first if you are hesitant about something new. Ask your friends, try out their setups. Don't be intimidated by some of the longer rides out there. You can break them up into smaller sections; you can explore trails that haven't been ridden before. Get out there, have some fun!