Clarence Eckerson runs Streetfilms.
Through Streetfilms, he has made more than 700 films about cycling and sustainable transportation. 700+ films that has been played more than 10 million times in total!
In this interview Clarence talks about how Streetfilms started out, how he is making the films, his favorite films and what he think about both bikes and cars.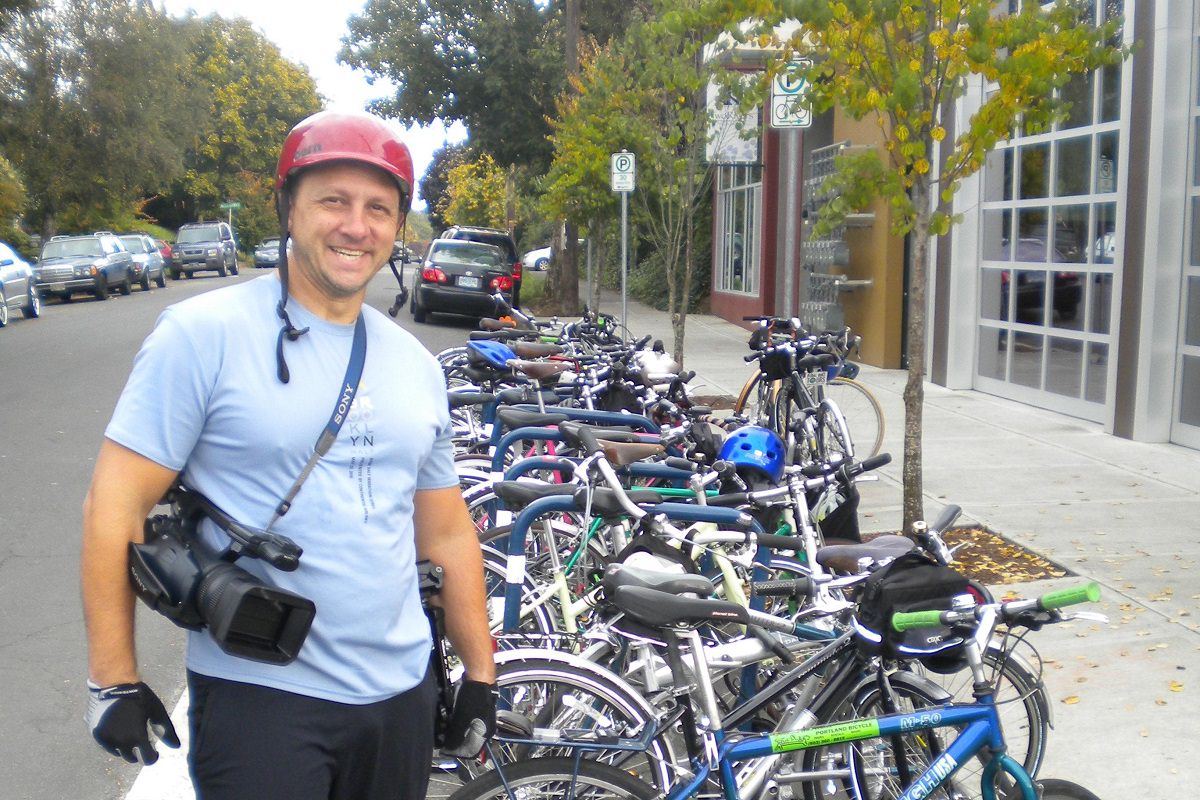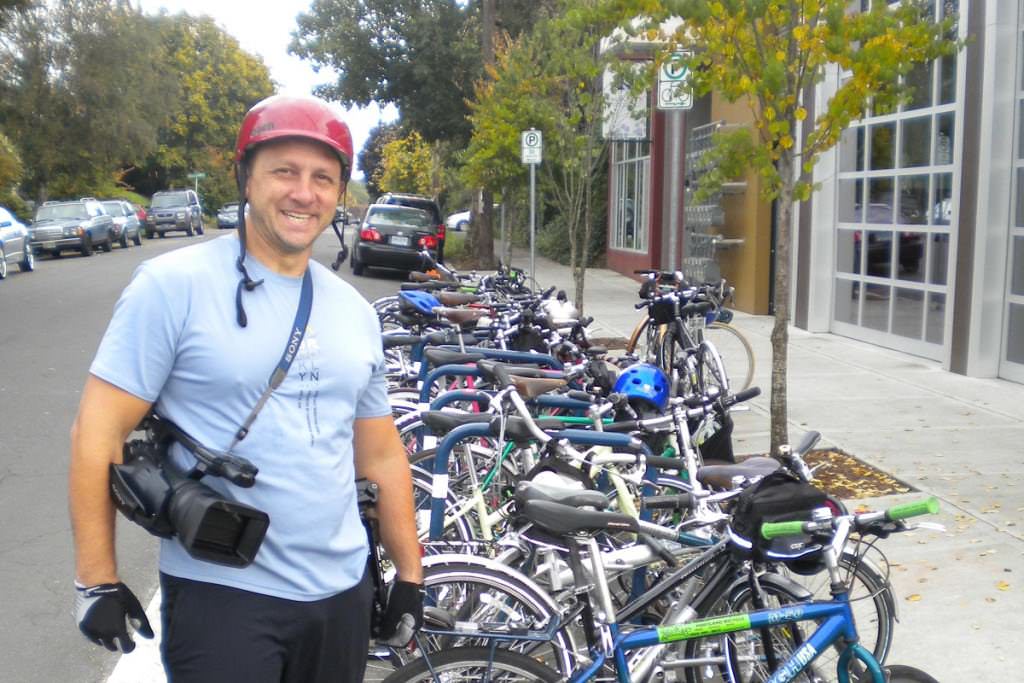 How did you start Streetfilms?
The site that became Streetfilms was a long, unpredictable evolution. To put it briefly: from 2001 to 2005 I was part of a cable-access TV show in NYC for many years called "bikeTV".
It was fun, showcasing all the great stuff in NYC you could do by bike, but also calling out the city on where we needed drastic improvement.
Gradually I began to do more videos that spanned the full transportation world (walking, transit, transportation, policy, open space) until in 2005 a very generous funder and wonderful livable streets advocate by the name of Mark Gorton approached me about making videos full-time for a job. Of course I said "yes" immediately.
A year later when our sister site Streetsblog started publishing, the films I was making and posting became christened "Streetfilms" and our own website was established. We've had over 10 million plays of 700+ films since. Of those 700 I have probably personally made at least 450.
Are you making all the films yourself?
Currently I am producing and shooting almost every Streetfilm on the site. That's the way it was in the beginning.
For a five year period, when we had much greater funding, I had a number of outstanding colleagues shooting films with me including Elizabeth Press and Robin Urban Smith, who did excellent work.
But since the end of 2012, I have been doing everything solo. That's producing, shooting, editing, researching, writing, archiving and promoting everything on Streetfilms, which is an absolutely daunting task sometimes.
But it is so fulfilling and worth it seeing all the positive change going on in the world and getting to document that in many cities every year.
However, sometimes I wish there was a documentary crew tailing me to see just how much a one-week trip can take its toll on the body and mind.
I am in constant motion on these trips, trying to maximize every moment of the day, sometimes sleeping only a few hours a night, sometimes churning out short films the night of a shoot while preparing and juggling the next day.
Sometimes I go most of a day without eating or drinking much fluids. I honestly can say, I don't know of anyone else that can do it this way.
I love it all, but approaching age 50, I realize I cannot maintain this pace/style forever.
What kind of equipment do you use to make the films?
It's really as simple as it gets. The only goal for everything I carry is to be as compact and light as possible.
And since I shoot everything on foot, bike or transit (I don't have a driver's license). Occasionally I will grab a taxi or someone I am interviewing or meeting with may offer to take me somewhere by car. But that's it.
So I am constantly using bike shares, looking at bus schedule apps, buying train tickets, and it is not atypical for me to walk up to 10-12 miles a day in a city looking to get the right shots.
So for gear, I usually carry the following: my Sony HXR-NX70U digital camera. It is very small but shoots an outstanding image outdoors (inside, not as good, but 95% of what I shoot is outdoors).
It has a small shotgun mike and two XLR plug ins, which I can use for most interviews, though I always have a pair of lavs (wireless Lavalier microphones) in my bag for really important folks or situation where it can be noisy or I need a subject to be highly mobile. I carry 3 extra batteries.
I bring along a GoPro but don't use it very much since I can break down my Sony to a very small handheld cam to shoot while I ride a bike.
For headphones, I use simple Apple earbuds and always have 2 or 3 pairs in my bag. I usually have a very small table top tripod as well, but only use that if I need a shot to be completely motionless.
This allows me to be completely mobile and travel light. If my gear was any heavier I'd not be able to spend time documenting in cities from sunrise to sunset!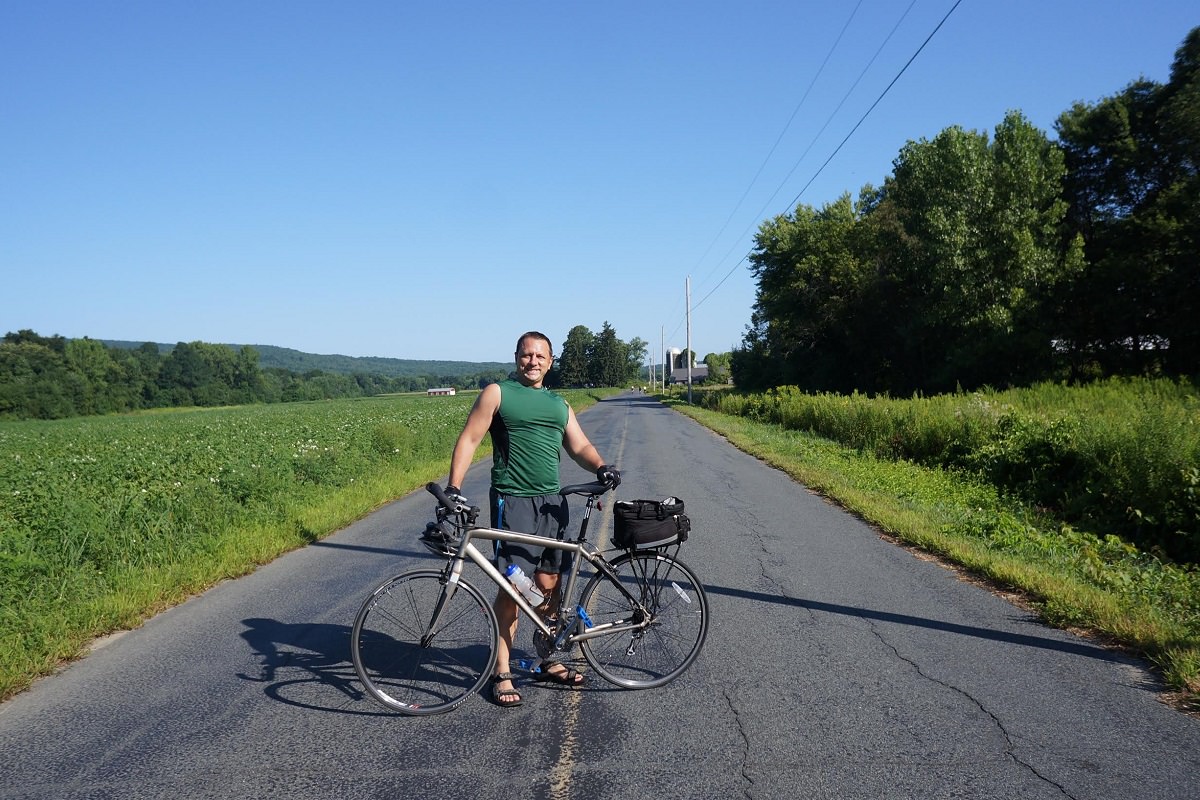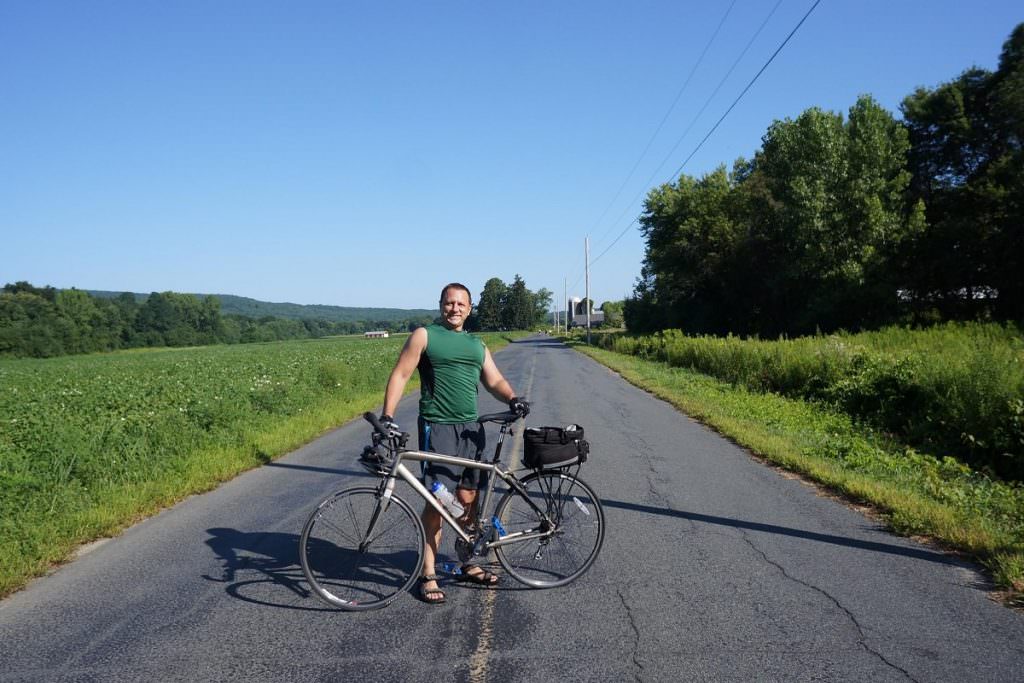 How is Streetfilms funded?
Our funding comes from a variety of sources. We have one large funder we are very grateful for in Mark Gorton, but we also receive some foundation support, donations, sell footage to other news & documentary outlets and from time to time enter into contracts with like-minded organizations to shoot films on best-practice cities.
The goal is to educate and enlighten as many people as to great strategies when it comes to transportation and highlight those in the United States and around the world.
How did you manage to get millions of people to see the films?
I'd be lying if I told you I knew going in what I was doing. I didn't. I had endless energy and was doing something no one else was as a full-time job.
I just wanted to make really good, educational films and then try anyway I knew to get them in front of people.
Early on with the advent of Youtube (and then Vimeo) I knew the best way to get as many people to watch them was to make them free to use and play.
Youtube and Vimeo served as a delivery to the world. Early on I got some fans in the transportation world who liked my work and promoted it on their blogs or within their communities.
Since our films are free to embed and report on, we get some great blogs like Streetsblog (our sister site), Treehugger and CityLab who like to report on our videos. Additionally we have a great Twitter and Facebook community.
What has been the biggest success for Streetfilms?
We have done a lot to provide communities energy and resources to get their advocates psyched and to see there is a better way than the status quo.
We've helped stir up discussion in many cities (including right here in NYC) in order to change our street designs.
Where NYC was 10 years ago you wouldn't recognize today. That' s not to say we don't have a lot of way to go, but progress is highly visual. Much of the energy behind the initial ciclovia/open streets movement throughout the world has been attributed to our December 2007 Streetfilm from Bogota.
We helped turn the tide in many cities by documenting how protected bike lanes worked. We also have shot more films than any other entity on bike share. I've personally used bike share in 15 cities.
As for failures, we have the occasional film that doesn't really resonate. But that is largely due to trying to produce quantity. Quality too of course, but I'd rather not over produce or "over think" videos and topics.
I'd rather do 10 films and have 1 or 2 not be a big hit instead of spending far too much time doing just one, which is what a lot of people tend to do. I'll take some failures with a high success rate.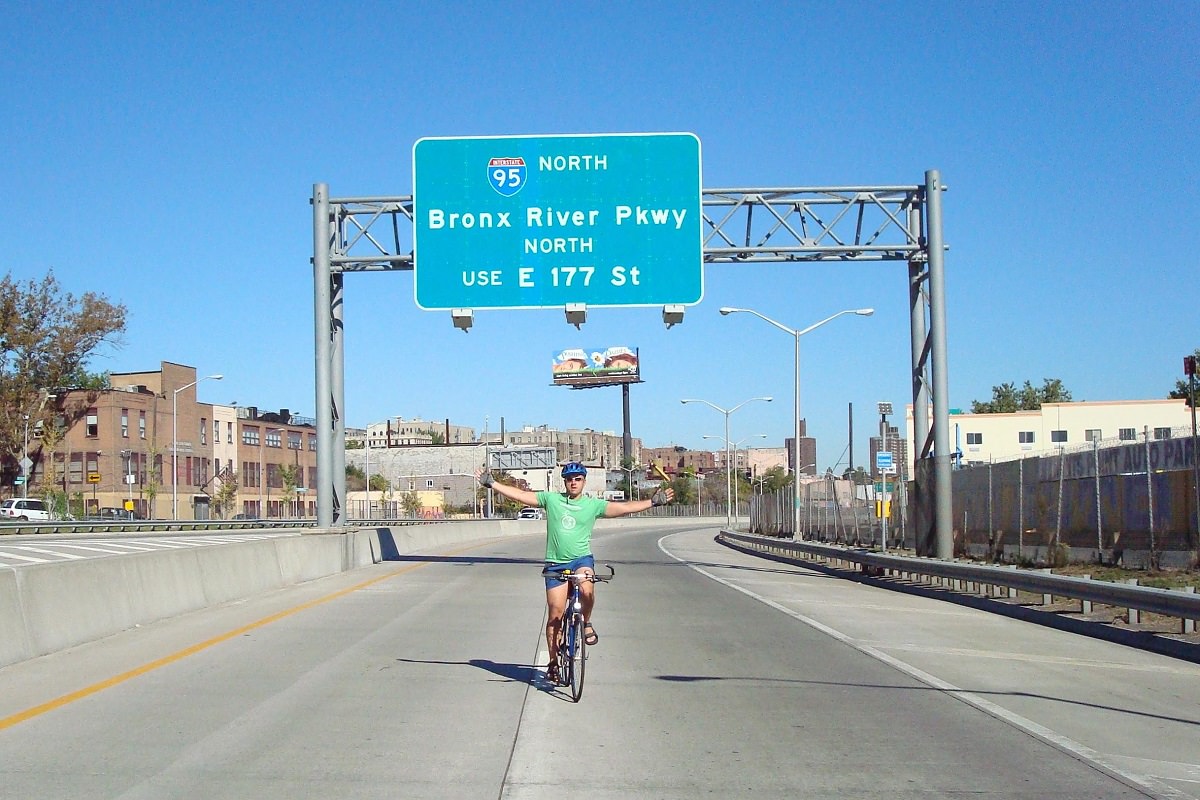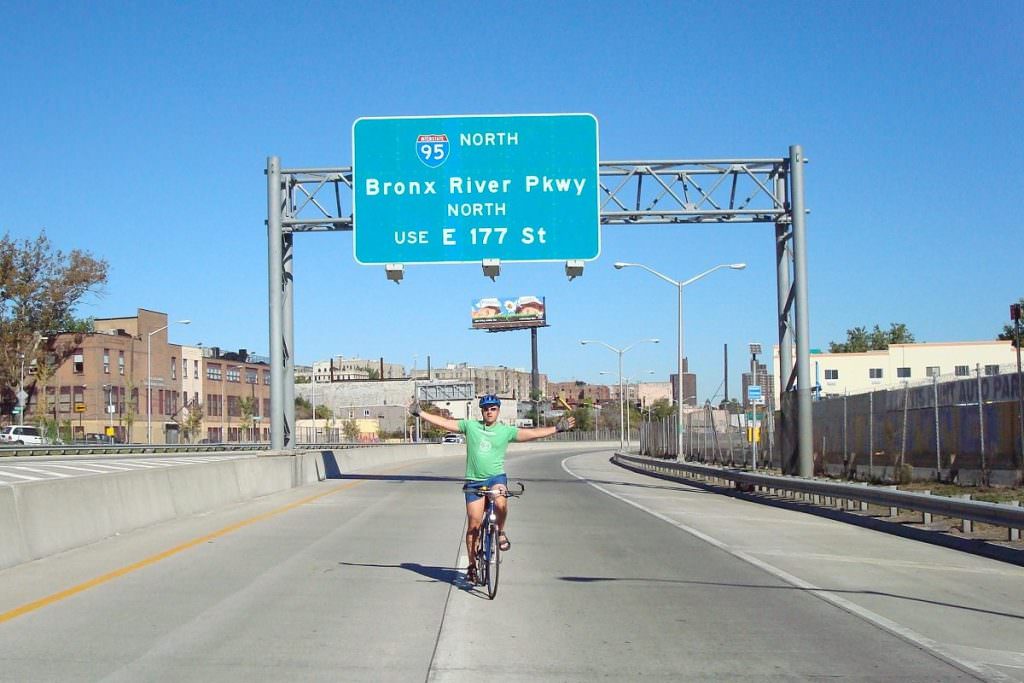 What are the future plans for Streetfilms and OpenPlans?
Well with the funding world the way it is, my goal is to continue to survive and keep making films as long as there is funding and my body can keep it up.
There was a time when I had my two colleagues where we would do north of 50-60 films per year. Now with it just me it's more like 15 to 20, with the occasional extra fun bits thrown in.
I'd love to keep on finding those not so well known stories out there and highlight them.
I'd also like to get conservatives into our corner and enlighten them to why biking, walking and transit is a good thing. We just can't build more roads!
Your top 3 favorite Streetfilms ever?
Sometimes I change my mind, but when I look at my trip to Bogota in 2007 to do a Streetfilm on Ciclovia, that was not only groundbreaking films, but I had the time of my life – since a few of my best friends were in Colombia for that trip.
Additionally, I loved my trip to Groningen a few years ago. "Groningen: The World's Cycling City" is very special to me.
I think I effectively captured my wonder and enchantment of the bicycling there. Finally, in 2010 I got to go to Velo City in Copenhagen and got to meet many great advocates from around the world. It was there I shot "Cycling Copenhagen, Thru North American Eyes", another huge hit for the site.
Those three films combined have been watched 1 million times.
A lot of your films focus on cycling. How did you get into cycling?
I've been bicycling since the 4th grade. I used to deliver newspapers by bike as a teenager before school. It has always been with me.
But I really started to see it as a transportation necessity and option when I moved to NYC in 1991. I started periodically commuting to work and encouraging friends to ride.
We'd go on fun weekend rides to beaches or to eat or just to see the city. It was then I started combining my love of biking and videography to start "bikeTV" (which refers back to question #1)
I ride a 7 year old TREK hybrid I don't even know the name of anymore. 🙂 It was a mid-range priced bike ($1500) when I got it. I use that for commuting when I can bring the bike indoors with me. Also for longer, exercise & fun rides.
But for everything else I ride an orange Batavus Dutch Bike that weighs 52 pounds. It gives me an incredible workout, but I can lock it up anywhere and no one will touch it. In NYC with all the stickers and such all over it, it is a one of a kind.
How do you feel about cars in general?
My wife owns a car. She uses it smartly, sparingly and responsibly, which is how car use should be done. She walks, bikes and takes transit whenever she can and would never dream of driving into Manhattan from Queens.
However, I have never had a driver's license. I wholeheartedly support car-free living and we need more people to be doing it.
We need drivers to be more careful and stop driving dangerously on our streets with all these new distractions.
But I also am not a car-free absolutist. I think car-share, taxis and individual car ownership have their places.
The key is responsible use. They also need to pay for what their true damage to society is through gas taxes, congestion charging, and off-setting pollution they create. Currently, in most countries we don't even come close.
How can people support Streetfilms?
Funding is the key. If people and advocates want to see more Streetfilms or want it to continue they should straight up make a donation.
The funding climate is a tough one. We have been providing high-quality free tools for people and organizations throughout the globe for ten years, but sadly the amount of work Streetfilms has done has not been compensated.
Also Read: Bike Trek Serial Number Lookup: Importance, Registration And More