Cycling is an art, it is both beautiful and mysterious at the same time. While most cyclists may know everything about their bodies and capabilities, there are some things that are yet to be pondered upon, such as the Cycling Limiters.
When cyclists start slowing down on the road, what is the main reason behind it? Is it a problem with the glycogen stores or the main muscle glycogen? When cyclists hit the wall when they are extremely tired, there are specific terminologies, some may call them bonking, cramping, or just fatigue, they may seem familiar but are actually very different.
A cyclist can't just avoid bonking when it occurs, there is a certain way of treating it, getting back up will require patience and discipline. Although before we get started, it is necessary that we understand these terms fully, what they mean and what they actually do.
What is Bonking?
Let's get started with bonking first. Bonking is a term used to describe the "Hitting The Wall" feeling. It mainly happens to cyclists at the end of a race, a day-long trip, or a very steep climb. This is surely a pain that affects the person's mental and physical health.
Some people make the mistake of confusing bonking with fatigue and cramping, it may seem the same but it is clearly not. Think of bonking as the same when a kite gets hurled away by a gust of wind or by the story of Icarus in Greek Mythology- You fly too close to the sun and your wings get burned!
Although there is no solid explanation for bonking, it has to do something with the muscles getting depleted of energy and glycogen stores, we will discuss that shortly.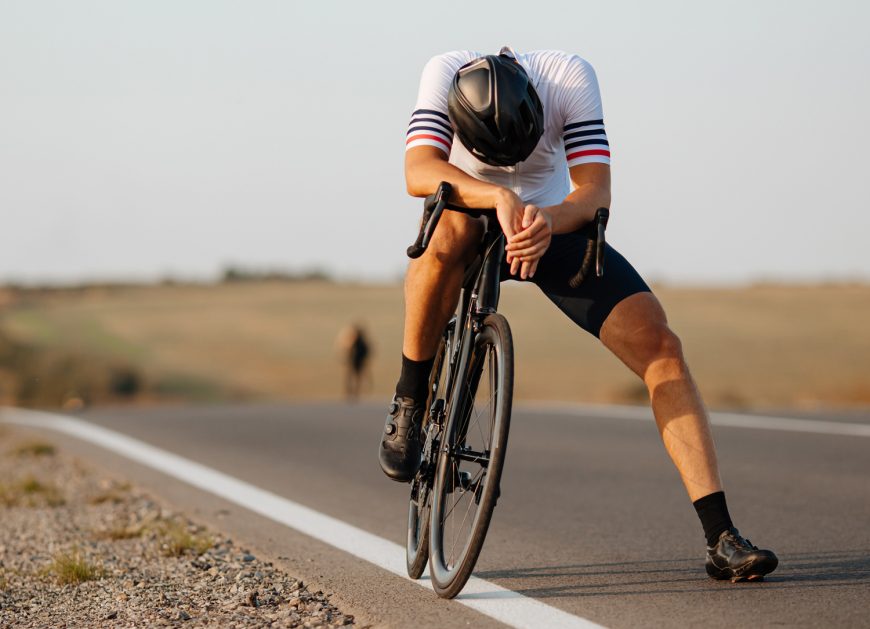 Why Does Bonking Occur?
The big bad question is, Why Does Bonking Occur? A person will bonk when their body's glycogen stores have been fully depleted. When the carb intake is low, there becomes a problem with the blood glucose production and that then leads to bonking. This is the main reason why bonking occurs.
When there is not enough blood glucose in the body, there is not enough strength to have intense rides or even day-long rides. The best thing that you can do here is taking care of your carb intake, that way you would avoid bonking and have amazing rides.
If you feel hungry during a ride, do stop and eat something, even having a sports drink would count.
What are The Symptoms of Bonking?
As people can get easily confused between bonking, cramping and fatigue, let us discuss the symptoms of bonking so that there are no confusions left.
The first thing that cyclists can experience is the drastic loss of performance when this happens you will not be able to continue riding. As the energy stores will be depleted, you will not be able to do much and also lose motivation.
You will still be burning fat but it won't do you that much good, what good is losing some calories when you feel dreadful after? Not being able to function properly will definitely take a stroll on the rider and because of that, there could be a lot of complications.
During a normal bike ride, this might not happen. The chances of it happening are during long rides and steep climbs, where extra efforts are required.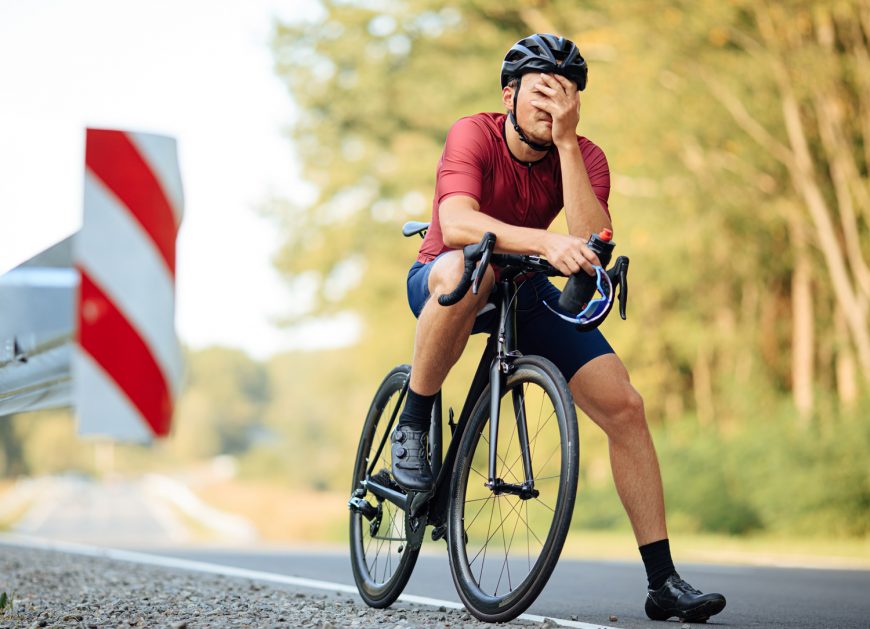 How Deadly is The Brain Bonk?
There are some people that completely forego how deadly the bonk can be, not just to the cyclist's body but also to the brain. Your body isn't the only one that burns glucose for energy production, the brain does too, if you think the effects on the body are intense, just wait till you see what happens with the brain.
In addition to the physical deficiencies, you will also be experiencing mental and emotional problems and they are going to be much more severe. When there is not enough glucose for the brain, you may experience the following symptoms:
Blurred Vision
Nausea
Severe Confusion
Migraines
Poor Coordination
Body Shaking
Light-Headedness
What actually happens when a person's blood glucose drops too low? The body protects the brain by allocating all the energy to it, this way all the muscles are shut down. Although, you will still not feel the physical effects till all the energy is allocated to the brain.
My point here is that the mental effects of bonking are going to be far more deadly than the physical ones. You might even experience hallucinations or something even worse, think of it as consuming too many drugs at once!
The Different Emotionally Charged Stages of Bonking
Bonking is an evil thing that happens to cyclists, we get that, but how severe can it be? People that are still in limbo about this need to know about the stages of bonking. Time to reel you guys in with the details!
Stage 1: Denial Will Be Everywhere
The first stage of bonking is going to be denial, and there will be a lot of denials. If you are in a group while cycling, you will lack the energy and motivation to stay with the group. Your vision will start getting blurry and you will not be able to go in a straight line, and then this thought will occur- "Maybe this is because I am going too hard on myself?"
The energy required to go forward will suddenly vanish and will experience the legs turn. You will then start thinking that this is not just you but everyone will be feeling the same way.
Although what is actually going in that your glycogen reserves will be ending and quite rapidly at that. When this happens, your brain ceases to function properly.
Stage 2: There Will Be A Lot of Anger
After denial comes anger, riders afflicted with bonking will start showing signs of aggression. Aggression doesn't mean that the riders will start hitting each other, this will be a different kind of anger. The world in front of you will become 25mm wider, and you will start venting at your friends for leaving you alone in this critical time.
Although this will not be the case, your friends will just be ahead of you, having a fun time riding. Even some of the best endurance athletes will suffer at the hands of bonking sometimes, so you best be ready.
The main problem is that you did not eat enough, and you find comfort when you blame your situation on others. You will get angry for not packing enough food, maybe also at others when you guys didn't have that snack break. It may seem that everyone is trying to ruin your day.
In the end, you will come to know that this anger is just a surge in the adrenaline levels, think of it as an emergency state of the body when the energy is rapidly draining.
Stage 3: You Will Try To Bargain
Till now you must have realized that your glycogen stores are dangerously low, and you need to do something about it and fast. Thoughts start rambling your brain, maybe if you stop somewhere have energy jello or a drink, everything will go back to normal.
You are even willing to go further, maybe even try asking some of your "friends" for something to eat. You will pretend to be extra good to get sports nutrition back. At this point, anything must be done to get back the energy.
Your body desperately needs fuel at this point and you will stop at nothing to get it, maybe even sacrificing your dignity will seem a viable solution. You will even hurt your fragile ego to get the food your body so desperately wants.
Stage 4: Depression Starts
Now things will start getting really serious, you might start having depression. There will be some serious regrets, maybe why you skipped breakfast in the first place. Let me tell you, you could even end up crying on your bike, there will be a lot of tears.
I am not afraid to admit that I have done the same, I have also cried during bonking. At this time, any sign of food, any kind of food will seem like God-Send.
There will be a lot of fatigue, this is because your blood sugar will be dropping and even the adrenaline will run out. The endorphins will have left your body by now, as your cycling group did on that last steep climb.
Stage 5: Accept The Truth
Time to accept the truth now, it is time to accept your defeat against the cycling limitation. You will now just head to any grocery store and get yourself a delicious snack, after all, you need to fill your body with the essential energy.
Hydration needs to be fulfilled too, so it would be advised that you also get something to drink alongside a snack. Make sure that you have enough food before cycling again, freshening up will also be a good idea.
Now that you have gotten all the essentials, your body will start calming down. Your blood sugar will get back to normal, brain functions will also be normal again. Although be prepared for the next bonk, if you are not careful, it might arrive sooner than you think.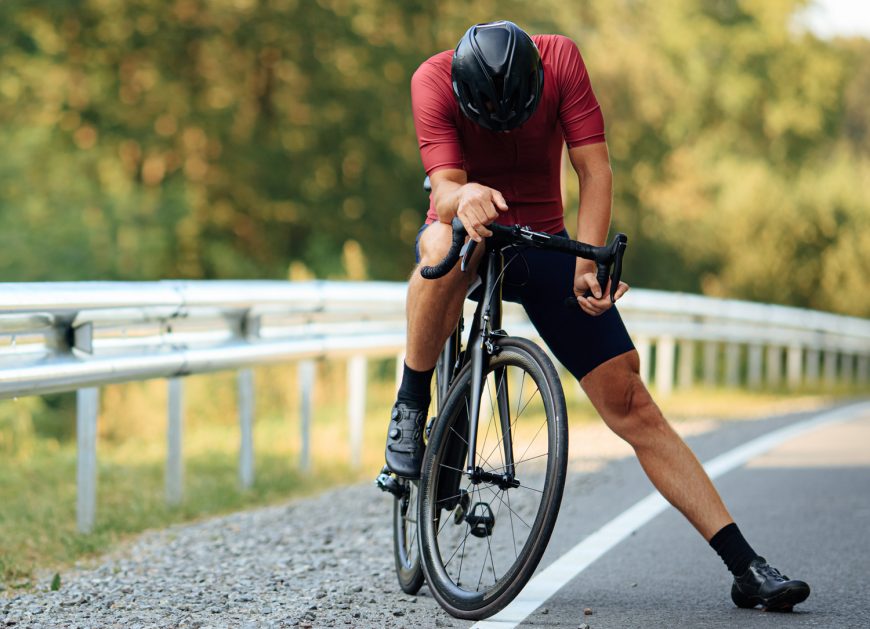 What Is Fatigue?
When you will start having performance issues, fatigue will be the first indicator. You will start feeling fatigued when the body's glycogen levels are low. Bonking and Fatigue are related, fatigue is the effect of bonking. Although they are related to each other, they are also different, here's how.
Fatigue and Bonking- How Are They Different?
You may think that fatigue and bonking are the same but in reality, they are not. Bonking is the actual feeling and fatigue is the message that your body is trying to give you that your condition is worsening. Now, your body will tell you to stop whatever you are doing and rest.
This is a cycling limitation, your brain is trying to slow you down and you must listen to it.
What is Cramping?
Cramping is going to be the deadliest of the cycling limitations that you will ever face. If you don't take care of it, then cramping will stop you dead in your tracks and you won't be able to recover from it soon enough, so let's discuss what it actually is.
Cramping will be a sharp pain that will be because of bonking and fatigue, think of it as a burning and raging sensation in your body.
How to Fix Bonking?
There have been many theories about bonking and its solutions, but here is the definite solution- Eat Properly! Since the problem starts with glycogen reserves being depleted, make sure that they never do. Have a really good meal before going out for cycling, it could be a really good lunch or breakfast.
Keep snacks with you, sports drinks are heavily recommended here. Some people would suggest exercise to add some resistance against bonking but that never works, trust me! At some point, your body will definitely give in to bonking and then you will suffer its wrath!
Read also: What Is Anterior Knee Pain? Cycling Pain Explained!
Recap
Bonking is a real pain and cycling limitation, it will stop the riders dead in their tracks if not taken care of. Bonking, Fatigue, and Cramping all are related but they do have differences of their own. We have discussed what they can do, what are the different stages of bonking, and how you can address them.
Bonking happens from time to time, we just need to be fully prepared for it. We hope that with this guide, you have a good amount of knowledge about bonking and how to counter it. Be sure to have an amazing cycling session next time!
---