Looking in a newspaper one day, I saw a picture of a bike with a house on – sort of a bike-autocamper. I had never seen anything like that before, so after a bit of research I found out that the bike was a project made by the artist Keven Cyr.
Very interesting, so I got in touch with Kevin and asked a few questions about The Camper Bike.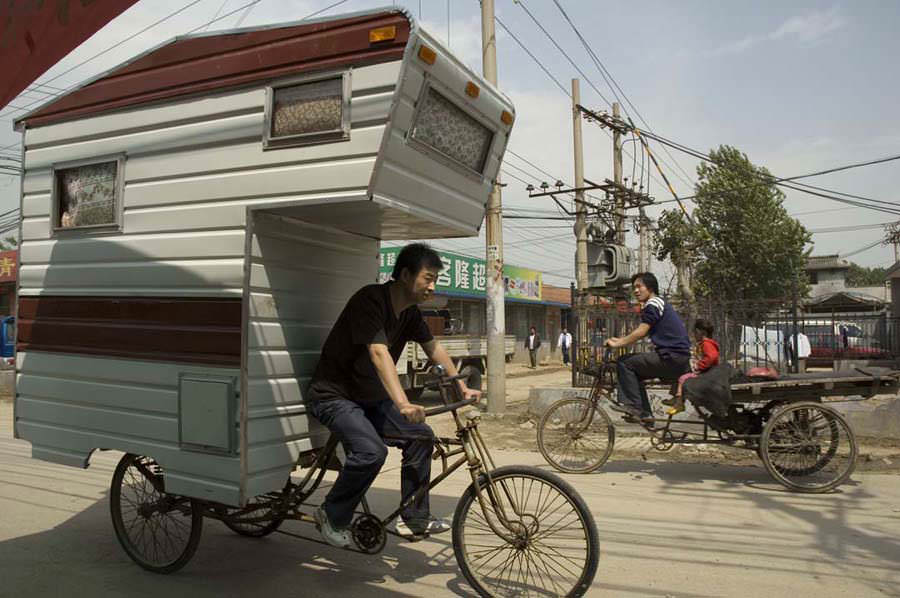 How did you get the idea for The Camper Bike?
The idea first came to me while I working in Beijing. I was joking with a friend that the only thing not on the back of bikes in China are houses. I had been seeing people, mostly working class men hauling goods on three wheeled bikes—rickshaws with bamboo flat beds. They were carrying huge loads of foam and plastic for recycling, furniture, and building materials. There were also a lot of food venders at open markets cooking meals on the backs of these bikes, it was very interesting. They seemed to use them in every way imaginable much in the way Americans use pick-up trucks.
I had been a bike messenger in Boston a few years prior to my trip to China, so I absolutely marveled in the amount of stuff that could be carried on Chinese bikes and immediately wanted to create a project incorporating them.
The Camper Bike Project initially began as a drawing and painting project. Over the course of three trips in as many years the project evolved into a full-scale sculpture.
Have you used The Camper Bike to sleep in?
Other than taking naps I can't say I've used it to sleep or travel in. It's actually very scary to sleep in because the camper is so tall, 9 feet, and the bed is way up top. It sways and rock when you climb up the bunk.
As for getting around it would be too slow for travel.
I created it as an art project, a piece to talk about Chinese and American cultures. I found it interesting that young people in China aren't really interested in bicycles, and certainly not three wheeled bikes, they'd prefer to own cars. In America very few young people are interested in campers, especially the type made for trucks.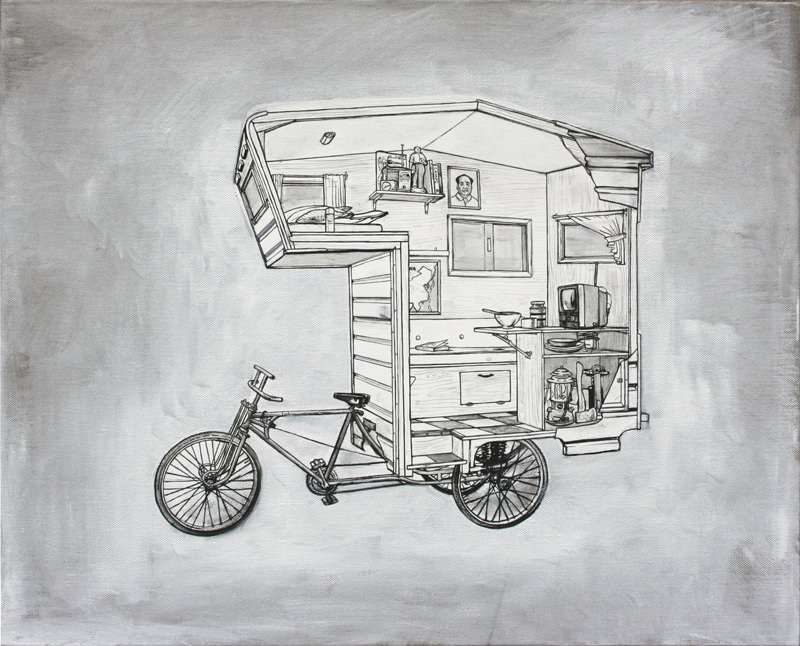 The Camper Bike looks very heavy. How much does it weight – and how many kilometers can you expect to bike on it per day?
I don't know exact how much it weights, but my best guess would be about 200 kilograms.
I think if someone could travel 40 kilometers in a day they'd be pretty exhausted at the end of it.
Was it difficult to build it?
It wasn't too difficult. By the time I built it I had been making drawings for a couple years so I had a really good idea of how to tackle the construction.
I also wasn't too concerned about how well it would ride, so aesthetics took president over function. I used wood despite it being heavy and I made the camper much larger than it was in my drawings—I wanted to push the size as much as possible.
How much did it cost to build?
I built it in Beijing so it was very cheap, about four hundred dollars. Other pieces I've made have cost around $2,000.
I don't have construction plans. It was a lot of trial and error during the building phase. I don't think it functions well enough to be considered a real product, it's really best as a concept piece.
Would you change anything if you had to build a version 2 of The Camper Bike?
If I made another Camper Bike but strictly for function I would change many things.
I would use a much better bike. The old government made Chinese bikes are too old and way too heavy. It would also need a wider wheel base and a small electric motor to assist up hills.
The camper would have to be much lighter and not quite as tall to give it better stability. I would hope to keep the aesthetics the same though. I really like it's old school style. I worked on making the piece look old to harken back to the era of Nixon's visit with Chairman Mao, and the opening of China.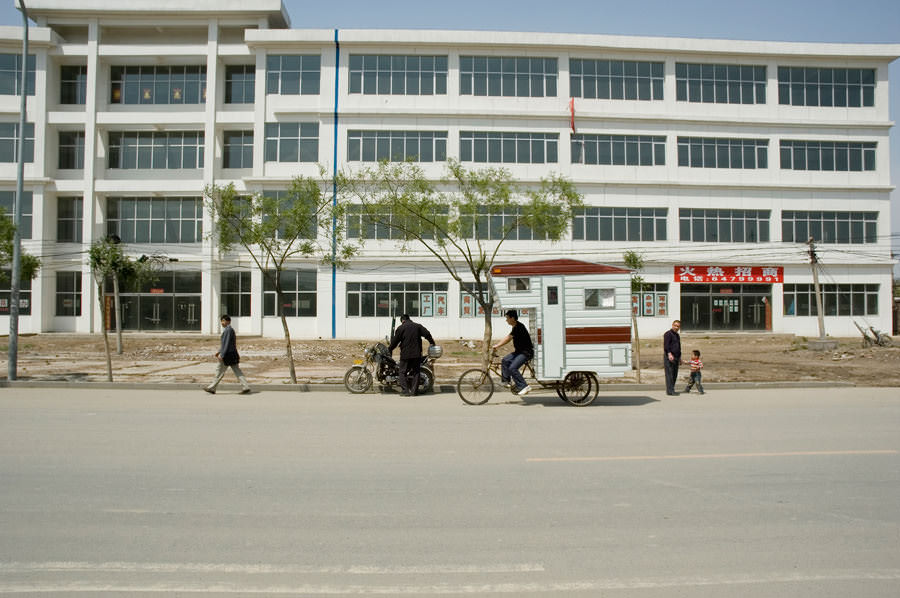 What will the future bring for The Camper Bike?
The Camper Bike is now part the Oxylane Art Foundation in Lille France. It's been exhibited in different cities throughout Europe as part of Oxylane's bike related art collection. The next exhibition will be in Mons, Belgium which is one of Europe's cultural cities for 2015.
I've been working on plans for a small pop-up camper to be towed by a bike. The camper is based on a 1977 Apache pop-up my parents owned. It would be made out of fiberglass and other lightweight material. One aspect of the project (still an art project) would include a performance or video of me retracing various family trips taken in the 80's. Of all the projects I've made it might the most practical to travel in. I've made scale models and would love to build it soon.