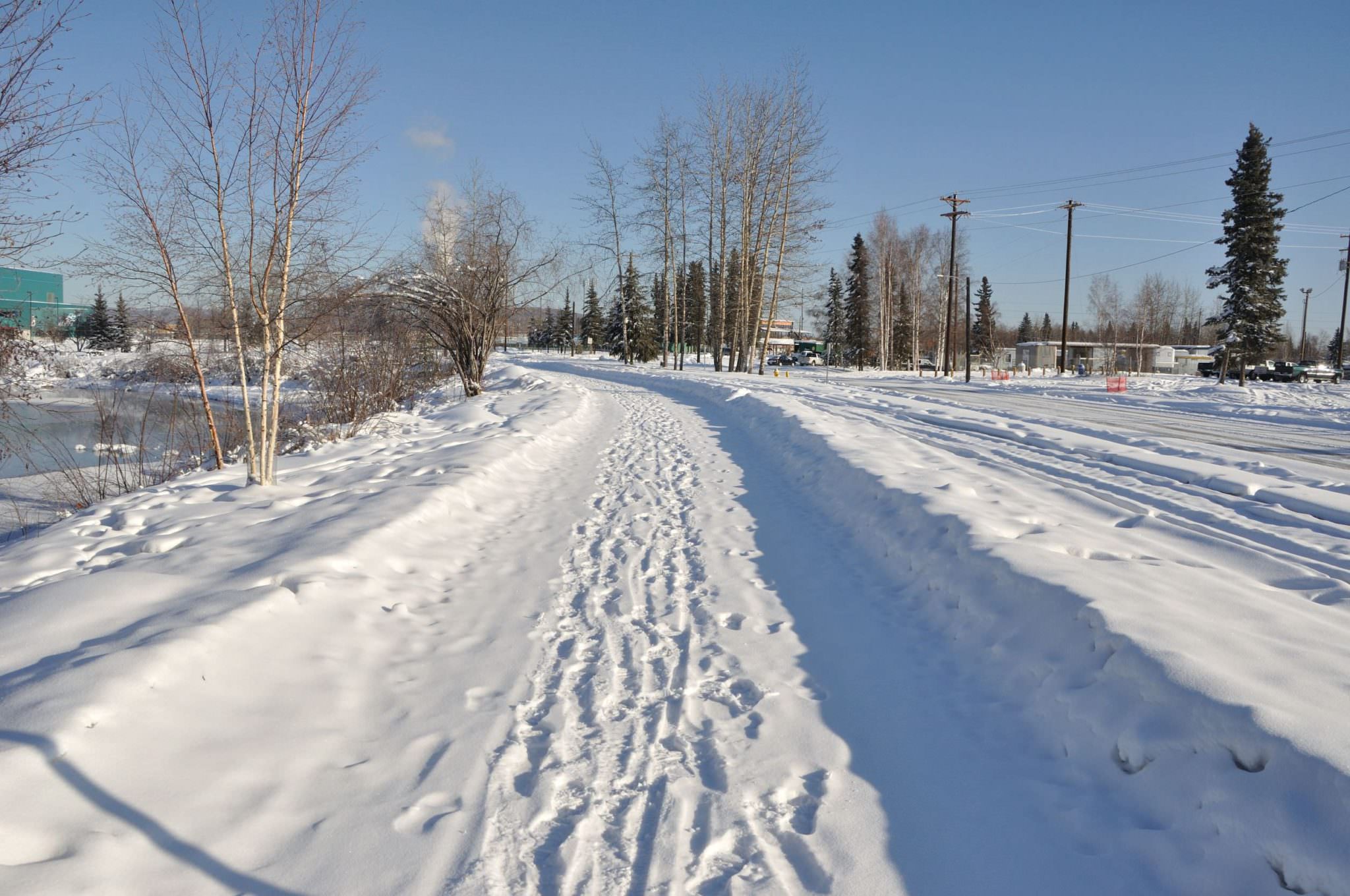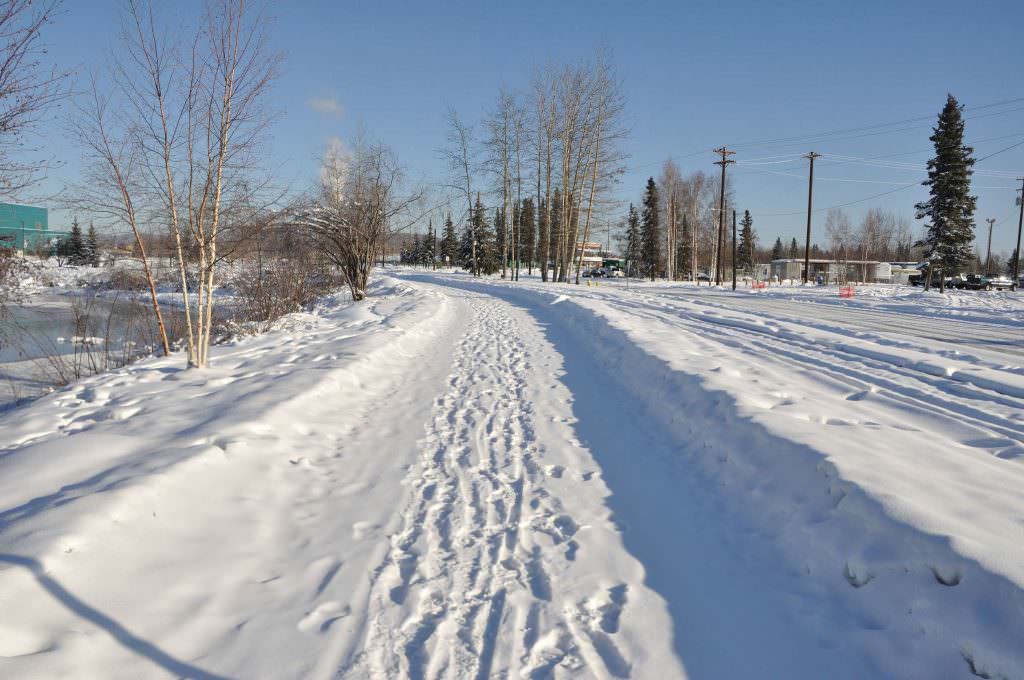 The products mentioned on this page are rather old, so they are not available any longer. But there is still good stuff to be learned from the reviews, so that's why we are keeping them here.
To learn more about ice biking, check out this page. You might also want to check out our guide to winter cycling clothes and winter cycling gear.
Nashbar NS-TUD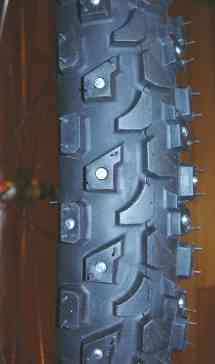 My first reaction to the Nashbar studded tires was "finally." Even before I tried them, it's good to know there might be another resource out there for commuter-level studded tires, since the high-end Nokians can be a little tough on the budget, and the Innovas get a bad rap for losing studs. I was ready to give them a workout.
I live in Vermont, with conditions that vary from hard-pack ice-covered dirt roads to well-plowed paved roads. I have a steep driveway that is occasionally solid ice, and the dirt road that leads to my house is generally icy with some dirt/salt cover with drifts along the edges. This road can be covered in a few inches of snow, rutted by large trucks with chains on their tires, or smooth and clear.
The paved roads quickly lose their shoulders in this weather, and black ice is generally a regular occurrence (although I haven't been able to find much this winter), as are drifts and ruts. While the roads are different than, say, the average city commuter, if they can make it here, they can make it there.
The first thing I noticed about the Nashbar studded tires when they arrived is the difference between the Nashbar tread and what I would assume are its closest competitors, the Nokian Mount and Ground and the Innova 104s.
While all sport angled, wide tread, the studs on the Nashbar were set further out to the edge of the tires, and the edge tread seemed a bit more aggressive than the Nokian. The comparable Innova studded tires has its 104 studs on the center treads.
The Nashbar tires keep the center treads clear, and put its studs on the side tread. They weigh nearly 300 grams less and cost more than the Innovas, and weigh a touch more and cost less than the Mount and Grounds.
I expected them to be difficult to mount on my rims (I use Weinman ZAC19 rims for winter riding), but it had to be the easiest tire putting-on experience I've ever had. They are wire bead, and stiff – and of course the studs make them heavy, but even me, who generally has to struggle and swear a lot to seat a tire, had no problem getting them on and seated properly.
I decided that I'd run them closer to the bottom of their suggested air pressure, and pumped them to 45psi to start. Since my winter bike is a older, non-suspension mountain bike, there was plenty of tire clearance. I have Planet Bike Freddy Fenders, and didn't have to adjust them for fit/clearance, since I'd been running fairly high treads before.
I had been riding Geax Blades and had good luck with them in snow (but not on anything icy), so to compare I first went out in the 4-6 inches of fresh snow that had just fallen. At first, I couldn't get anywhere with the Nashbar tires. I spun out and they quickly packed full of snow. Then it hit me, I'd had them in 60+ indoor temperatures, and I took them outdoors in below-zero temps and the snow just melted into the nice warm tread. Not their fault.
When the temperature balanced out, they shed snow well, but still weren't as grippy as the Blades in the soft stuff. But, when they started to slide a bit, they easily gripped the hard-pack below and got the bike back on track.
Still, even though they can make it fine through an inch or so of fresh snow, I quickly found that – as expected – these are not meant for heavy snow travel, and even at low pressure I'd rather have a wider, non-studded tire on a snowmobile trail or comparable surface. Since these are marketed to the everyday rider, I concentrated on roads I would commute on.
They were a joy on the hard-packed ice/dirt roads, and even down the icy driveway I felt at ease. On hard surfaces, rolling resistance was better the harder they were pumped up, and at 60 psi, it was like riding regular knobbies on a paved road – not as easy as slicks, but not noisy or with any extraordinary drag.
My theory is that the higher position of the studs up off to the side contributes to keeping the noise and the drag minimal.
Because my road terrain is often riddled with chucks of ice, rocks, salt chunks and dirt, I tend to keep the psi toward 40, and found that the tread was more than competent to handle frozen tire ruts and road debris.
I tried to unseat studs by pulling hard stops on dry pavement, both with softer and harder psi, but I couldn't pull it off. Maybe a more daring rider who stopped regularly by skidding sideways Dukes of Hazard style could do it, but try as I might, the studs stayed in and the tires stayed seated. I'll keep trying and report back.
There are still a few months to the snow-tire riding season here in Vermont, and the -20 to -30 temperatures have kept me off the bike more than I'd like, but so far my impressions of the Nashbar tires are quite favorable, especially at sale price.
by Crystal Waters
Nokian W106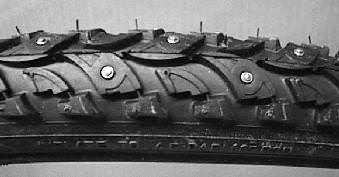 I picked up a couple of Nokians for my road bike (700c x 35) from Peter White's sale last week (thanks, Peter). I figured I'd hang them in the garage till next winter as things were getting pretty Springish here in Boston. We got a bit of a Nor'easter this weekend which gave us a couple of inches of snow to play with so I took the tires out for a spin or 2.
On Sat morning, we had a club ride scheduled, & although the web weather maps looked like the front wouldn't hit until just after the ride ended, the storm was supposed to start with sleet & freezing rain, not what you'd want to get caught in 15 mi from home. I couldn't decide whether to mount the new tires or not, but since I had put one on the front the night before to check fit, I decided I'd just leave it on, and leave my 700 x 23 on the back.
It was a rather strange looking combination, but ran OK. I wound up doing the 30 mi ride on just wet roads. It was sleeting a bit, but nothing was sticking, although at by the end the bikes were pretty well iced up. The tire felt fine, heavy, but stable. I didn't sweat 30+ mph downhills. This would probably be a reasonable setup (stud front, plain rear) for dealing with black ice and the occasional snow mound.
This morning, I went out to do the Charles River bikepath with both studded tires. I was disappointed to find the path mostly plowed. It turned out that there were some long stretches that weren't, so I got to evaluate the tires in a variety of conditions ranging from slushy to crunchy crust (frozen granular) and ice, including some under a couple of inches of water.
All in all, the tires worked very well. I think I impressed a few riders picking their way along the icy sections on MTB's as I blasted by on my road bike with probably a 5-6 mph speed differential.
The tires seem to have enough tread & studs to grab icy surfaces well. In the soft stuff they started to fishtail, almost sending me into the drink along one stretch of snow covered wooden pier. Expecting any tire to work on wooden planks with 2-3″ of slushy granular is probably asking a bit much, & 15-16 mph was probably too fast for the conditions 🙂
My conclusions? I think these tires definitely have a place in my rotation. There have been several club rides this winter where the conditions have been marginal. At those times I usually rode my MTB, w or w/o studs.
On the streets, I vastly prefer my road bike, but the thought of hitting icy patches at high speed always worried me. I think I'd be much more confident with these. A word of caution though, these tires have tall treads and might not fit some frames.
by Peter Cole
Nokian Extreme W296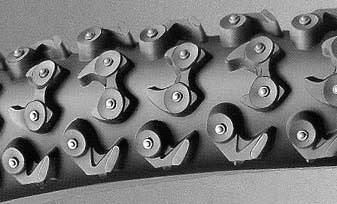 Location & Conditions: 12/97. Berkshires of western Massachusetts, temp. @ 15-20 F. Hard packed and icy snowmobile trails in the woods, no snow here since mid-Nov. so things are pretty packed down, with bare ice in lots of places, especially the normally wet and seepy places of the trails.
Results: WOW! Was I impressed with these tires! Started off carefully, occasionally locking up the rear wheel to see how it held, making sharp (but slow) turns with the front wheel to check the "bite". After an hour I was going full blast without any (well, maybe some…) concern for slipping.
In places where I was riding a few days ago with regular summer MTB tires at a very slow and scary pace I was cooking right along in the big ring – the difference between riding at 5mph and 25 mph!
Tests: I performed three tests as to the effectiveness of these studded wonders:
Standing up and accelerating on ice while climbing up hill.
Result: no problem, no slipping.
Riding down a particularly steep, twisty, nasty, icy section with lots of off camber bare ice. The site of some particularly bad falls in winters past.
Result: I was nervous and "on edge", but kept up my speed as much as I dared, and the tires held perfectly!
Full "emergency" stop (both wheels) on crusty/bare ice.
Result: Some slippage, but no sideways washout. About what you would expect doing the same kind of braking action on dry dirt or gravel.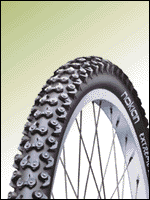 The BIG pictures: I've been ice biking for years, been slammed to the ground w-a-a-a-y too many times, w/too many injuries as a result.
Tried some homemade studded tires a few years ago, but the studs were too few and wore down too quickly. Even road riding was a nervous venture when I had to ride across frequent icy sections of the road. These Nokians will make all the difference.
My advice: skip the homemade junk and the cheap stuff, save your $$ and buy the best. They will last you a lifetime and will be worth every dollar spent. Look at it this way: Do you drive your car in the winter with summer tires, or unstudded tires or with homemade studded tires? Do you feel safe doing that? If not, then why ride a bike w/o the right tires. These tires make winter riding a whole different sport now.
by Tom McCrumm
Nokian Hakkapeliitta 300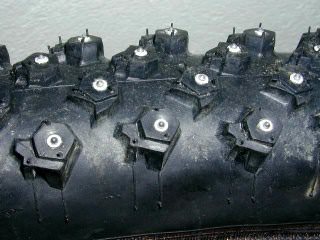 Hey All, I ventured out to Foxboro, MA this morning despite the blowing snow to try out the new Hakka WXC 300 Nokians.
They have 300 studs, aluminum retainers with tungsten carbide grippers (the part that hits the ice), Kevlar bead, 65 tpi high puncture resistance, and they weigh only 695 grams. (This is not much more than a Velociraptor). The size is 26x 2.1 although I could swear they seem narrower than that.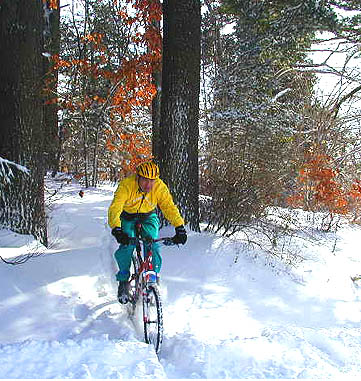 Mounting was easy. I went with the same orientation for both the front and back and ran the full 43 psi tire pressure that the box recommended. After a two hour ride on roads and trails, I would give them a "thumbs up".
They handled deep snow, ice, and everything in between very well. They were absolutely flawless on ice. Only in the brown mashed potato snow were they a bit squirrelly, but there was not much to grip. On bare pavement they were noisy and felt slow, but needless to say that is not what they were designed for. In the few instances where I had the choice between bare pavement and snow along the side of the road, I chose the snow for a smoother, quieter ride.
The best thing about the Hakka's is that my bike does not feel like a heavy slug with them on the bike! These tires are going to be winners for Nokian.
by Dave McElwaine, photo by Colt McElwaine