Last fall I noticed that my well used rain pants were no longer waterproof. They tended to cling when wet, and the nylon had worn thin in the seat. The zippers had long since failed, and been replaced with Velcro, and even that was failing.
No matter how much ScotchGard Outdoor I used on them they still tended to leak in short order. They were pretty cold too. Still I got a lot of use out of these old Cannondale rain pants over the 10 years I had them.
I was grousing to Lou Binik of FoxWear about the lack of good rain pants for fall, spring or mild winters. Everything on the market seemed to be made for warm weather. Too light, and designed more to live in your pack than on your bottom. The sort of rain pants you carry around hoping never to have to use them. Icebikers know better.
He started asking what sort of features one wanted in rain pants for icebiking use. I had to think about that for a while. I've had several pair, and always ended up going back to the old beat up Cannondale. Why was that? Turns out they were the best available for a long time.
I came up with some items I really would like in a winter rain:
Cuffs adjustable enough to go over the boot top. (Keeps rain out of the boot)
Roomy enough to slip on over a cycling shoe or small boot.
Draw string waist, No zippers. No snaps.
Secure pockets (I hate trying to fish keys out from under my rain pants.)
Pockets located away from hips where you bend while riding.
No seams in the sit area
Rugged, snag proof fabric
Warm
Wind proof
Non cling fabric
Reinforced seat
Stretchable
Breathable
Oh, yeah, water proof. Almost forgot that one.
I sent this wish-list to Lou, and he started working on a design.
He sent me a bewildering array of fabric swatches to check out. We went back and forth via e-mail and finally decided on a couple promising prospects, and he quickly knocked together a set of Rain Pants with my preliminary list of features.
He was coming into his busy season at FoxWear, but he took the time to put this prototype together in a hurry. These were to be strictly a mock-up.
Mock-up or not, the first pair Lou sent were pretty good. Made of a light Polartec, with a gray color, they had a thin fuzzy inside, and full height reinforced seat. The reflective strpes make them look a little like Firemen's Turnout gear.
I wore these for November and December. They were not totally water proof, especially in the horizontal rain we tend to get. And that fuzzy inside absorbed moisture, making them hard to dry. They tended to rip at the top of the slit for the cuff opening. But Lou was definitely on the right track. We just needed to find a different fabric.
Via e-mail, Lou and I discussed trimming down the reinforcement for the seat, and improving the leg slits with stitching to prevent ripping.
Lou found another fabric that he thought would be more water proof. He knocked together another pair. This was a dark blue fabric and it was a tad heavier, but also warmer. The fabric is called Durastretch, and it waterproof yet still breathable. Its a laminated, stretch woven, and has a Durable Water Repellant surface treatment.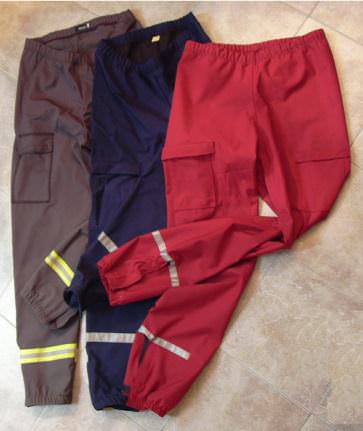 The pockets were just right (keys and phone is all you really need to carry in your rain pants), I wore these for the rest of the winter and the usual spring rains, and wet snows. They wore like iron, and dried faster than the first pair.
The only drawback is they would still occasionally drip into my boot. Lou made himself a pair and discovered that the legs needed to be longer and the cuffs larger to go over boot tops. I suggested some velcro placement for maximum adjustability of. the cuffs.
Since I ride in darkness much of the rainy season, I asked Lou if there were any more conspicuous colors available, and he found a medium Burgundy in the same fabric as the Deep Blue of the second prototype.
Lou went back to the sewing machine and soon I had another pair (I was feeling guilty, this fabric is expensive, and my closet was starting to look like RainPants "R" Us).
The stitch work was excellent. The reflective stripe was moved down to the top of the leg slit making for a very strong rip stop.
I was very happy with this version. The cuff was roomy, and there was enough adjustment available to allow it to fit over a boot top, or regular cycling shoes, and still allow you to cinch it up tight over bare legs in warmer weather.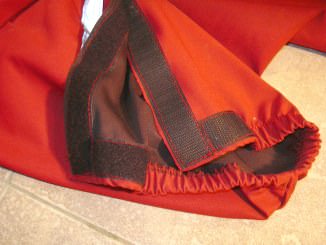 This was accomplished with two "L" shaped Velcro closures on the cuff. Prior versions had a single vertical Velcro strip. The new design, allows a full four inches of adjustment by offsetting the lower portion of the "L".
The legs are long enough so that the pants cover the boot top even with a bent leg while on the bike.
The slit allows easy slip on/off over large size cycling shoes. Boots, depending on size may still have to be removed.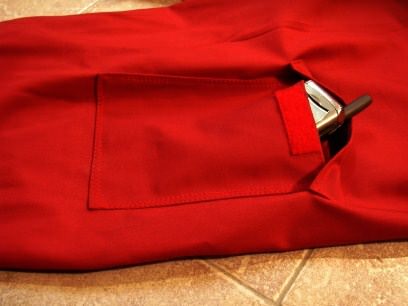 Pockets are small (my preference, Lou might work with you on that), and located where you can reach them on the bike, not where they will interfere with riding. The are perfect for a phone, keys, credit card, or bike lock. They have Velcro closures and the top corners tacked down so nothing falls out no matter how fast you pedal.
These pants fold flat, and roll tightly so that you can put them in your pack against the day you get caught out in the rain. They are easy to slip into while hopping on one foot at the side of the road if necessary. But they are breathable enough that you won't mind slipping them on before the ride if skies look threatening.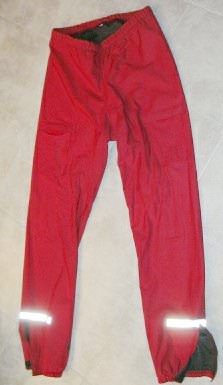 The 3M reflective material at the cuffs moved up and down as you pedal, and really gets attention from overtaking traffic at night (photographed with flash, the 3M Reflective tape blazes as it would in a car's headlights.).
The burgundy color is conspicuous in daytime against virtually any background. Lou reports he will also make the dark blue color if desired. Its the same fabric (see the top picture, middle sample).
His tentative pricing is around $95, having checked around the net, I found the price is very competitive. Similar rain pants out of the same material are advertised by Arc Terex for $150.
But these FoxWear Rain Pants are designed for cyclists by cyclists and engineered for people who ride in winter. You can't beat that.
My 10 year old, Cannondale pants are history.