In the winter of 98/99 Icebike.org conducted a survey of winter cycling using an automated web page which tallied answers to the twenty questions printed below.
The survey was first posted only on the Icebike mailing list. After the membership of that list responded, the survey was made available to the internet as a whole via postings in bicycling groups on Usenet.
The survey attracted 406 entries over the course of the winter, and the results stayed (percentage wise) largely as they appear here over the course of the survey period. There was no significant change in the percentages after posting to usenet than prior. There were no obvious attempts to induce a bias, and analysis of the resulting raw data did not show any indication of duplicate voting.
There was one error in the engine which caused the question Average Days Per Week that you Ride in Winter? to be under reported by about 6 in the 2 to 4 day category. This was detected early on, before the survey was widely advertised in Usenet, and Icebike list members were asked to privately email the webmaster if their selection of this category did not show.
The following definition was stated. We asked all respondents to adhere to this definition to help keep our survey meaningful:
Winter Cycling: By this, we mean riding bicycles in snow and winter rains and on ice in temperatures below 40F (5C).
Several questions were designed so that data cross-checking could be achieved. For example the answers to the distance and time questions stand the test of reasonableness, as well as what we know about winter speeds.
Remarkable results include the number of new icebikers, those with less than two years experience. This tends to suggest what several winter cyclists have noticed – a growing popularity of icebiking. Either that, or no one can stand it for very long.
Also notable is the tremendous gender gap. Wider than the (already substantial) perceived gap in cycling populations in summer, the imbalance drew much comment on the Icebike mailing list.
The high incidence of helmet use went almost unnoticed.
Percentages may not add up to 100% due to rounding
Gender

Age

Why do you Ride in Winter (most relevant reason)

Years of Routine Winter Cycling (discounting once-a-year rides etc.)

Average Days Per Week that you Ride in Winter

Average (out and back) Distance of your Winter Rides(miles)

Average (out and back) Time per Ride

Your Normal Cold-temp Cut-off point for winter rides

Your Coldest Ride ever

What winter condition will cause you to cancel rides (most frequent)

What Was Your Worst Winter Cycling Accident?

How many Bikes do you own

How many Bikes do you use for Winter cycling

Do you wear a helmet for Winter Cycling

Do you ride after dark in winter

What pedal system do you most often use in Winter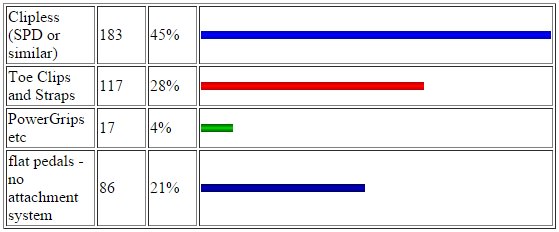 In snow and ice, which tires do you use most often

Where is Most of your Winter Riding done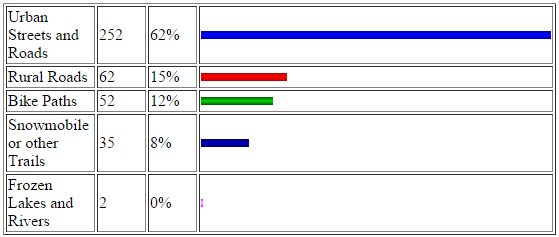 How would you classify your Winter Bike(s)

How did you hear about this Questionnaire