Patrick Jones and Meg Ulman spend a year cycling up and down the east coast of Australia with their two boys. Great idea – and what really made their trip unique was that they aimed to live of foraging, roadkill and other free food!
By doing so, they showed just how much free food there is out there and at the same time they also saved a lot of money (you wouldn't believe just how little their trip cost).
In this interview Patrick and Meg talks about their trip and how you can also find free food and be outdoors for a long time while spending very little money.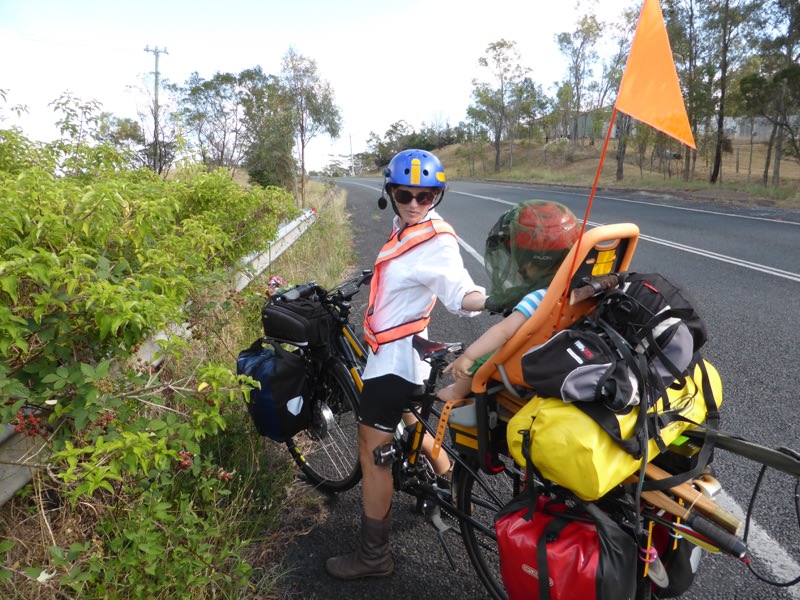 How did you decide to go biketouring?
When we got together nine years ago we both had cars, which we sold when we decided to take more seriously reducing our family's carbon and financial outputs. For the same reasons we decided to boycott air travel. We continue to take public transport but walking and bike riding are our preferred modes of transport.
On buses and trains in most states in Australia you are prohibited from travelling with furry family members, which ruled out us moving around this way as we wanted to take Zero our Jack Russell.
We considered walking, but as there are five of us, and only two adults to carry the majority of gear (tents, sleeping bags, clothes, food, water etc), cycle-touring made the most sense.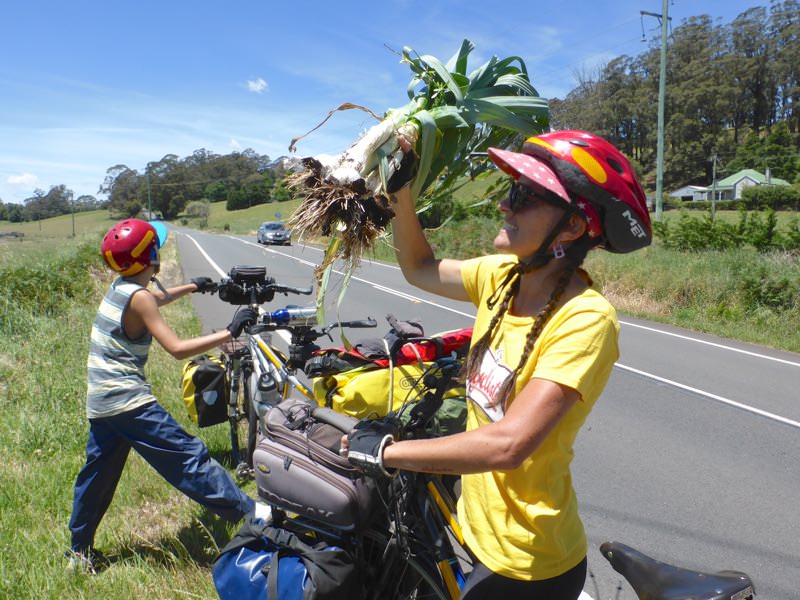 Why did you decide to live off free food?
The intention of our trip was to record how many edible species there are in Australia that are free to harvest, catch and gather. Before we left we had already recorded 100 species, the majority of which we ate on a regular basis.
This list was the catalyst for travelling and adding to it, expanding our ecological knowledges as we went.
Before we left we recognised that the more knowledge you have about the land the less dependent you are on the monetary economy, and that is very freeing.
Our 400 days on the road living mostly in climate zones we were unfamiliar with meant that we were fast learning students not experts in bush tucker, foraging and fishing, so overall we probably only lived off 20% free food. This learning was like being on a permanent treasure hunt, which was exhilarating for all of us.
Even Zephyr, who turned 12 on the trip and who has the least interest in unusual foods, engaged enthusiastically in the hunt.
Woody, who was just 14 months old when we left, was eager to learn more since the very first loquat fruits plucked from a roadside tree awakened his senses to the possibilities of finding other free delights. He returned with exceptional foraging skills and alertness. Zeph was probably more focussed on keeping an eye out for the fast food shops.
Our backup plan for not finding food involved bulk-bought pasta and oats, which were our staples on the trip.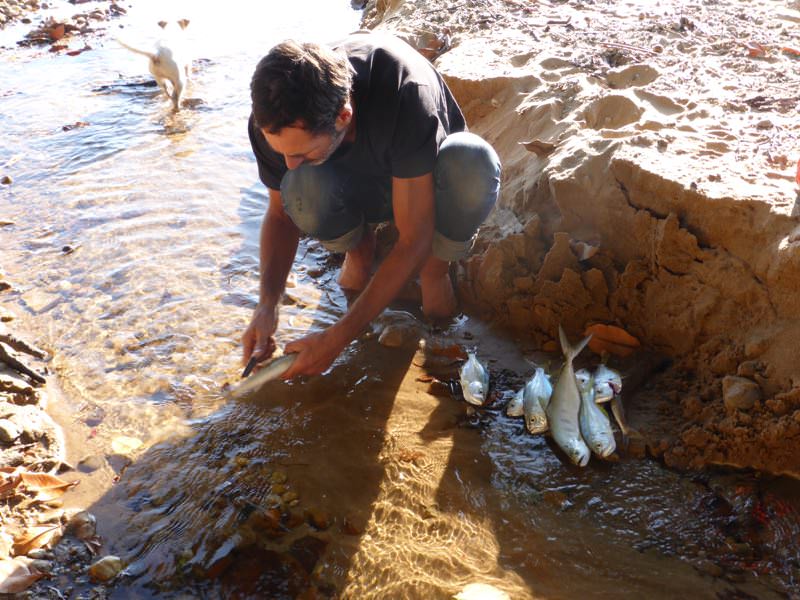 What kind of free food did you eat?
We expanded our list to 256 species which included plant vegetable such as mallow, wild radish, dandelion and sow thistle to fruits such as star apple, custard apple, guava, blackberry nightshade and cherry plum. Shellfish included limpets and mud whelks. Coastal fare included bower spinach, pigface, Warrigal greens and neptune's necklace which we cooked with any number of fish species hand speared and line-caught.
While there is an endless supply of roadkill on Australian roads, which deeply disturbed us, it didn't feature much in our diet because the meat was nearly always rancid. We butchered a car hit possum and cooked it all day in the billy with various weeds and carrots. It was tender and dark fleshed with a texture between lamb and duck.
We ate green ants and the parasitic bloodwood apple in far north Queensland, which were both surprisingly good. Because we normally eat a whole foods diet with no processed foods and therefore no processed sugar, we found we were better prepared to explore an alternative food economy.
Honey made from local bee populations is our only sweetener. As a culture the proliferation of a high-sugared supermarket diet has more or less cancelled out our ability to enjoy bitter foods.
Before we left home we hadn't bought food from a supermarket in over 7 years. We replaced this food system with growing our own at home and at the community gardens we helped establish, swapping excess fruit with neighbours and community friends, buying whole foods such as spelt grain and lentils in bulk from our local co-op, relying on small, nearby farms for some specialty produce, and hunting, fishing and foraging for the rest.
Because we live like this normally we were well prepared for the strange foods we came across.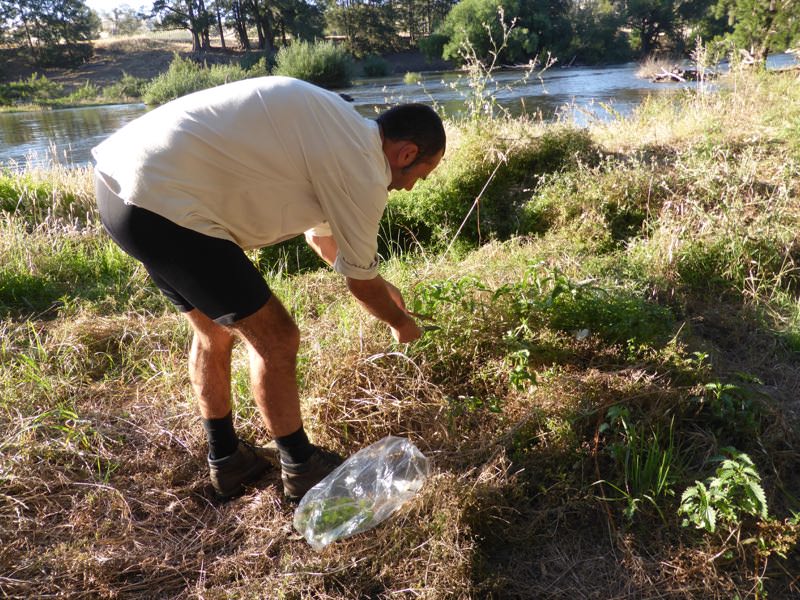 Any recommendations for people who want to live off free food?
Some of the easiest foods to find are the thousands upon thousands of fruits that line the roadsides of Australia. Guavas, peaches, apples, nectarines, blackberries, blackberry nightshades and loquats are among the most common in the temperate and sub-tropical climates. But there are many.
In our book, The Art of Free Travel, we have listed the common and Latin names of all 256 species we came across. While some of these species are only for medicinal use and require special preparation, many are simple to apply to a salad, a pasta dish or a soup.
Most of these wild foods have more vitamins and minerals and greater nutrient-density than supermarket food. When we had to buy from shops on the road, on the days when we could find little, our cycling bodies immediately felt the effects.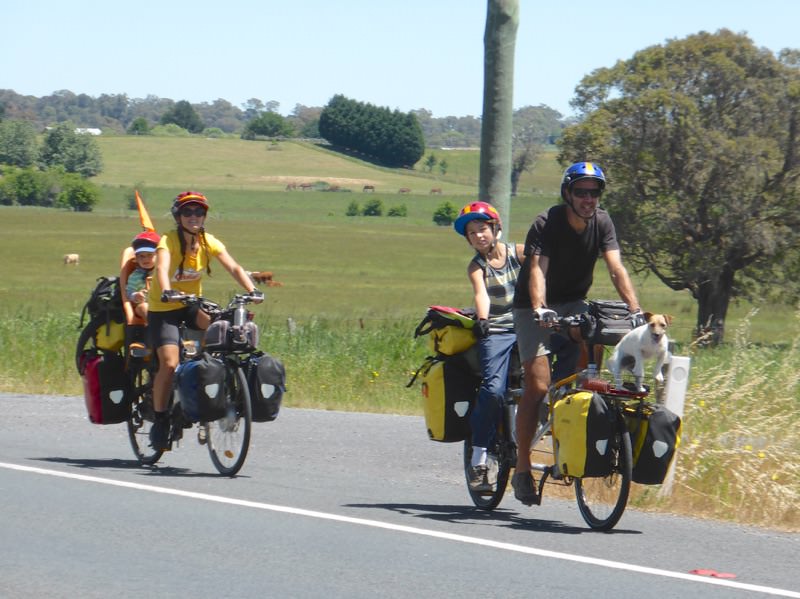 How much did your trip cost and how was it funded?
We averaged approximately $35 a day while on the road. We raised $3700 before we left with a Pozible campaign, which helped us buy good quality sleeping bags and mattresses, panniers and other things like helmet mirrors – a life-saver for cycle-tourers in Australia.
Because we bought bulk foods reusing our own packaging again and again and because we guerrilla-camped and stayed with people along the way (warmshowers.org), bartering our skills in permaculture design and food growing for a patch of lawn or a bed, we we able to live very frugally.
The most expensive part of our trip was when, after 11 months on the road and having travelled from our home in Daylesford near Melbourne to Hope Vale in East Cape York, we rode back to Cairns and hired a car to Sydney.
We then rode the last 1000 kms back home along the NSW and Victorian coasts. We had rented out our home and therefore our tenants were paying off our small mortgage. After the mortgage repayments were met we had a tiny bit to live on plus some government money for being a low-income household with kids.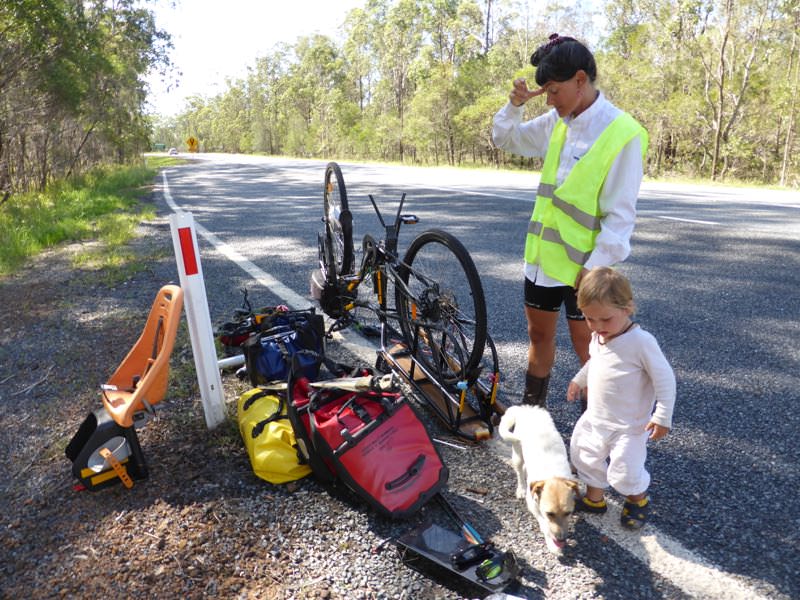 What was the best and worst things that happened on the way?
We both had a near-death experience on the road.
Patrick nearly drowned after a day of hard riding from Bulahdelah to Boomerang Point in central NSW. When we arrived he was keen to get in the water and spear something for dinner. He didn't know it at the time but he was dehydrated and as soon as he got in the water he was caught in a rip. He tried to kick his way free but got severe leg cramps.
On the return leg, on the NSW south coast, Meg (with Woody on the back) was approaching the crest of a hill on a very narrow section of the Princes Highway north of Cobargo when a Bonaccord truck decided to scream up the hill and pass her. He met another truck on the crest coming the other direction and in order not to collide with it almost side-swiped Meg and Woody, missing them by millimetres. It was by far the most reckless driving we'd come across in over a year of travelling.
Because we were 5 mammals on two bikes and our bikes were already overloaded we could only take so much water. In Central Queensland, trying to avoid the dreaded Bruce Highway we took an alternative 120 km route.
We didn't know it when we left that this road was to be so treacherous and it took twice the time we had planned to ride it.
There was no place to refill our bottles and with about 40 ml to last us 40 more kms on a road where we were only averaging 7 kms an hour, we were in a bad way.
How did people react to your tour?
When we met people on the road, usually the first questions we were asked were if Zero ever jumped out of his basket (No) and what we were doing about schooling for Zephyr our older son? (School of the road – his final year of primary school.).
For the last few years before we left we were home educating Zeph. When we returned from the trip he decided he wanted to go to secondary school. After our cycling trip and after being home educated we weren't sure how he would go at school but he has adapted very easily, demonstrating on a daily basis the maturity and resilience he developed while on the road.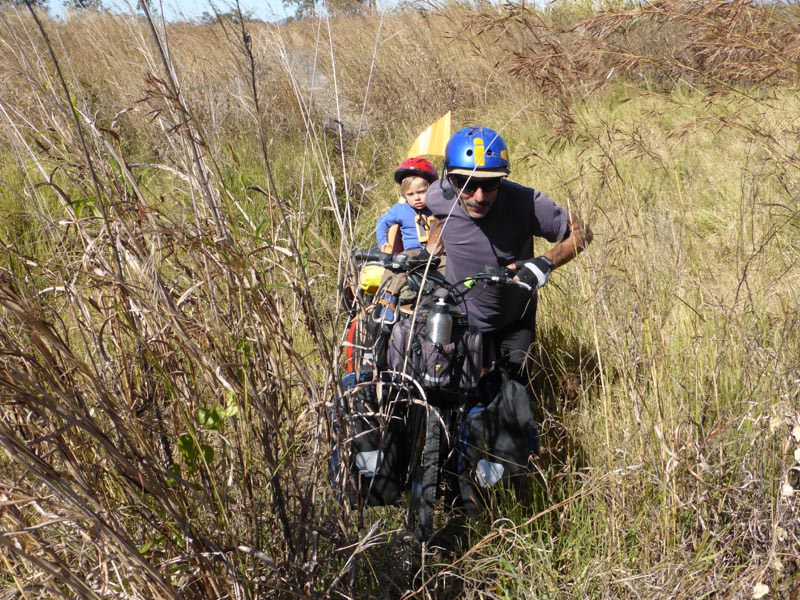 What kind of bikes and gear did you use?
Meg rode a Kona Ute with a Yepp baby seat on the back. Patrick rode a second-hand, ex-hire model Holstar Grand Tourer Tandem with Zeph on the back and Zero in a basket up front. We carried 5 Ortlieb panniers on each bike.
As well as camping gear and clothes, we took various wild food and bush tucker books to help us identify what we found, line fishing gear, a hand spear and a wooden fold up bow and arrows.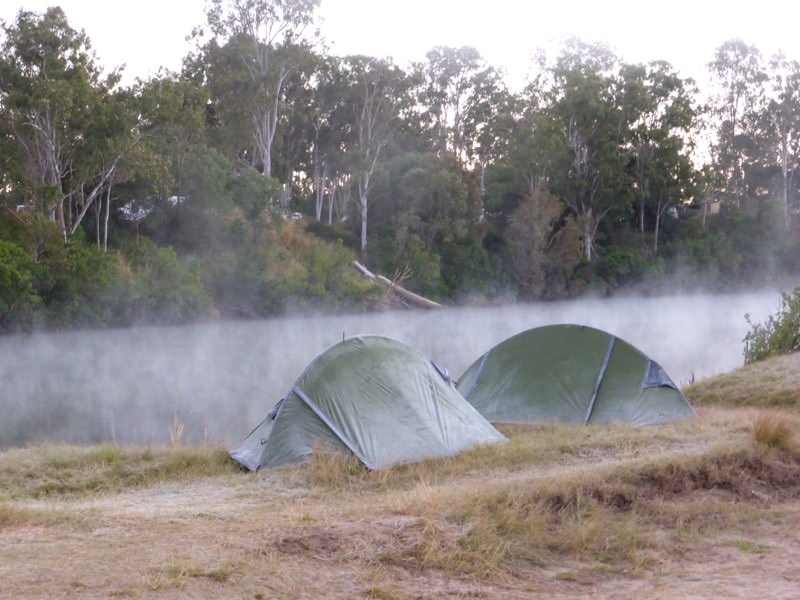 What will the future bring?
We are still in the process of researching our book on free food that we set out to write. We are looking forward to continuing our cycle touring adventuring so we can keep adding to our list of edible and medicinal species. But as Zeph is at school we're not sure when this trip will be.
Our book tour is only for two and half months, which is much shorter that our previous 14 month trip, but we are really looking forward to being on the road again. Like our last trip, we will be guerrilla camping and eating free found foods.
We are travelling on some of the same roads as last time, so we are keen to revisit our old favourite fruit trees and foraging places.
The Art of Free Travel is out now through NewSouth Publishing. Keep up-to-date with Patrick and Meg's family adventures on their blog.