Robert Crane runs Bobs bikes for needy kids.
When I first heard about Robert, I was really touched because Robert's life's mission is to provide free bikes to needy children – and although he gets most of the bikes donated, he is also financing a lot of the expenses out of his own pocket.
If there is someone in the cycling world that deserves more attention it's Robert, so I'm happy that I could make this interview with him.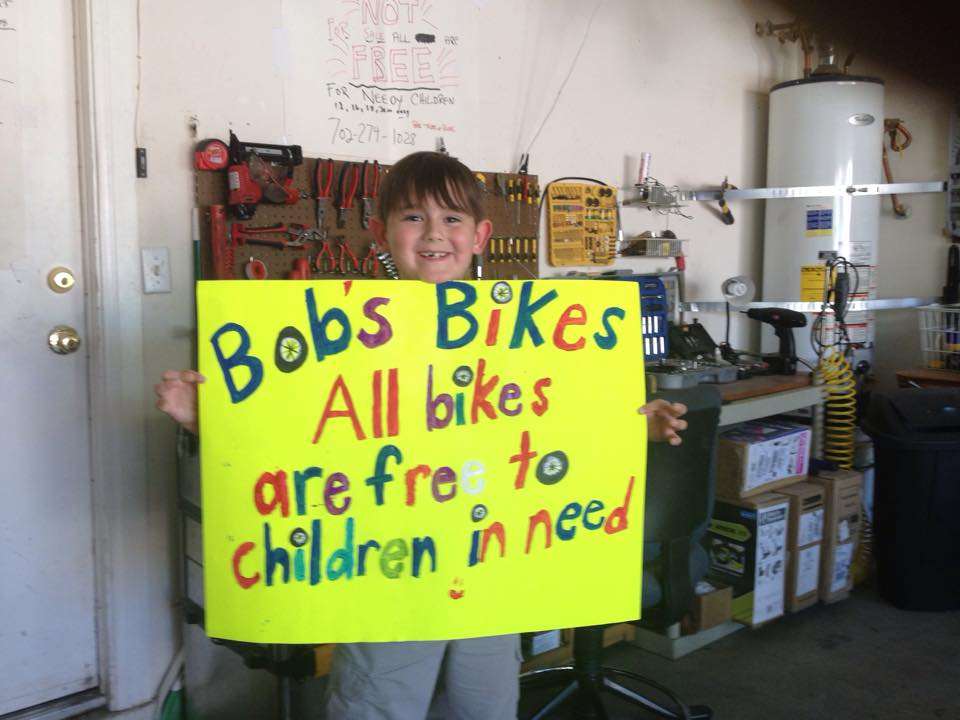 Can you start out by telling a bit about yourself and your mission?
My name is Robert Crane, I am 62 years old, I was born and raised in Chicago. I have been married for 43 years and have 4 children and 5 grandkids.
I have always worked in the automotive field and loved working with my hands. When we moved to Las Vegas I eventually found myself disabled and my health issues prevented me from working on cars any longer.
I used to bike in my early teens but was never an avid bike rider. I would ride from one side of Chicago to the other, I enjoyed it.
As I got older, a car came into play. I never worked on them like I do now, but I have always had mechanical jobs and like working with tools.
Before starting Bobs bikes, I didn't have any ambition to do anything and now I wake up every morning looking forward to helping these children.
It brightens my day and makes my life feel meaningful.
It is called "Bobs bikes for Needy Kids" because Bob is my nickname and just sounds better than "Roberts bikes for Needy Kids".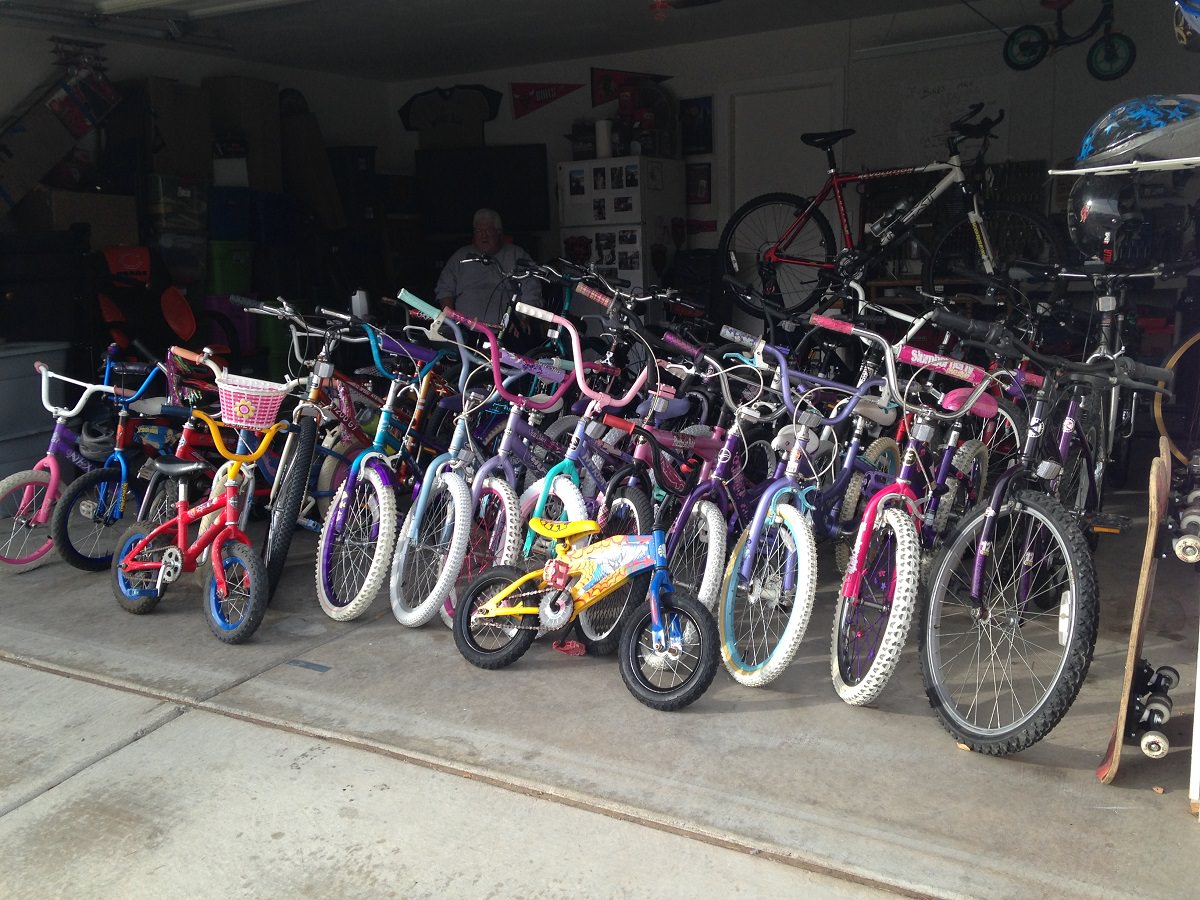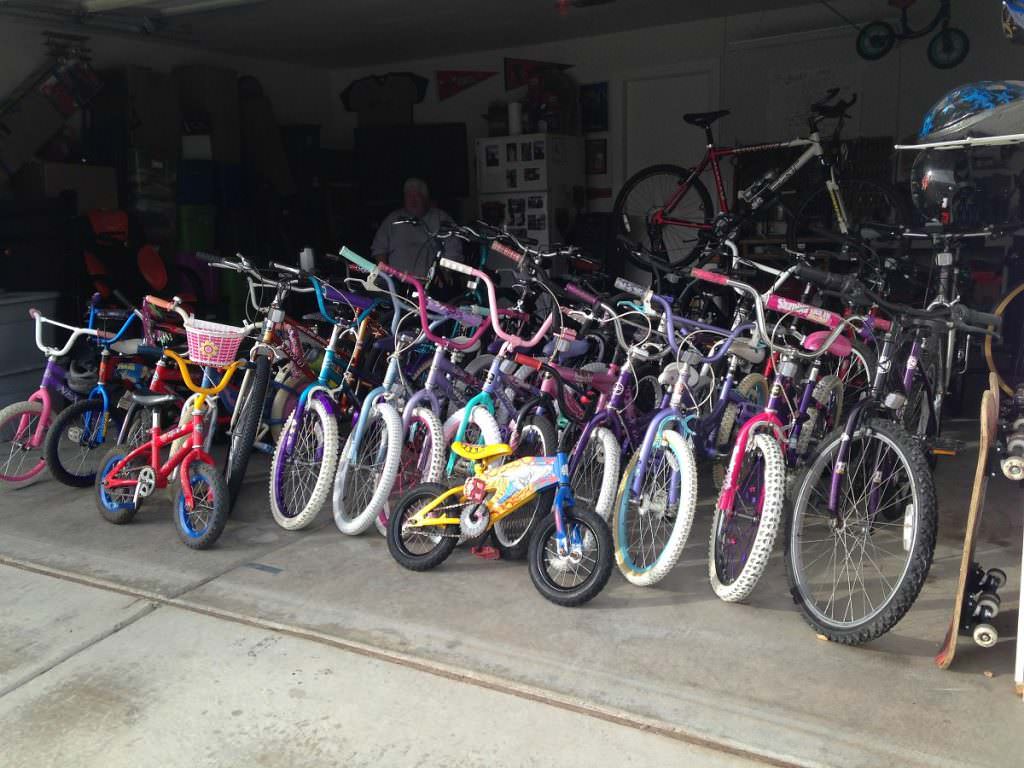 When did you start giving bikes to needy kids?
Bobs Bikes was founded one day on accident when I purchased a bike at a garage sale for my grandson but he already had one.
I listed it for free on Craigslist and I had 75 replies for one bike. That is when I realized how many children go without something as simple as a bike and I made it my mission to help the children in need.
I then began looking for more bikes and repairing them to give out to more kids.
Bobs bikes have given away bikes for 2 years and I have given away over 200 bikes.
Are you doing this alone or do your work with any organizations?
I founded this on my own but my neighbors and the good people of Las Vegas now help with donations. I have donated to the Abigail International House of Children.
On a monthly basis, I spend out of pocket around $200 to $400 a month depending on needs and inventory.
Concerning donations, I have received mostly bikes, a few monetary donations, and parts.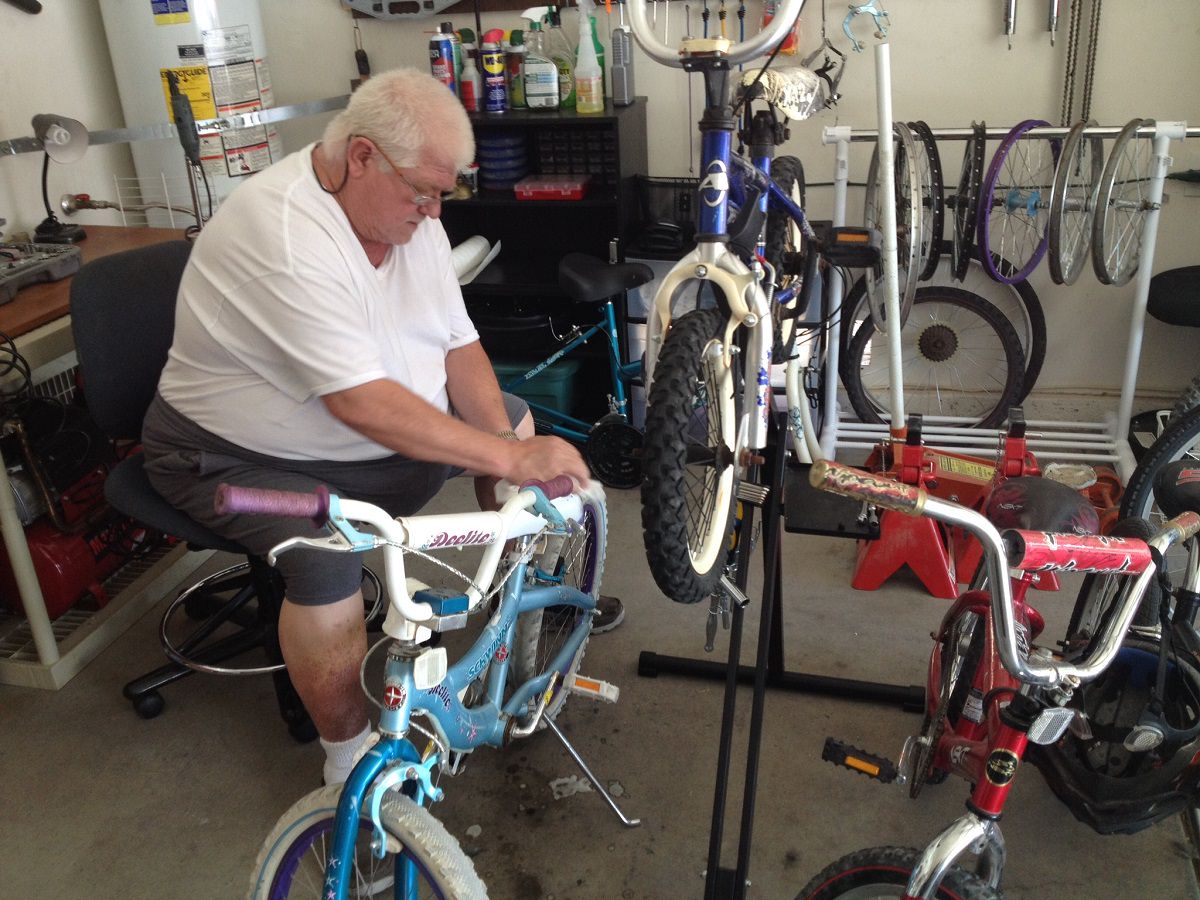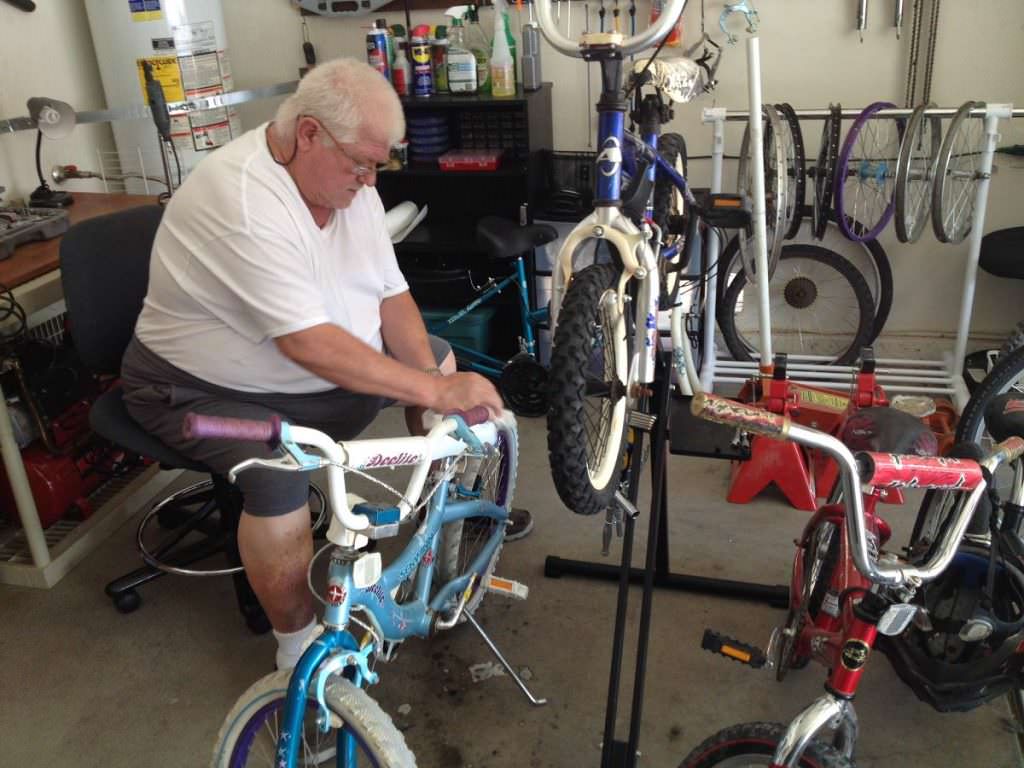 Where do you receive the bikes from?
I look for bikes at garage sales and get donations. I do repair all the bikes that need it.
It really varies on how many bikes I get a week, on some weeks none, on others up to 10. I do fix every bike and make sure they are safe for the children to ride.
The most common repairs are new tubes, grips, brakes and seats. I make sure every bike is inspected and test ridden by my grandson.
When I receive a bike that is too damaged to be fixed, I will take what parts I can salvage and the bike is picked up by a scrap man.
How do you finance repairs and spare parts?
I finance these strictly on my own. I do not ask for monetary funds but occasionally I have received help from good people in this town.
People can donate to the cause by dropping off new or used bikes and parts to my garage. I am always in need of tubes and training wheels.
I do not like to accept monetary donations but they can be sent to my paypal account and the email is [email protected].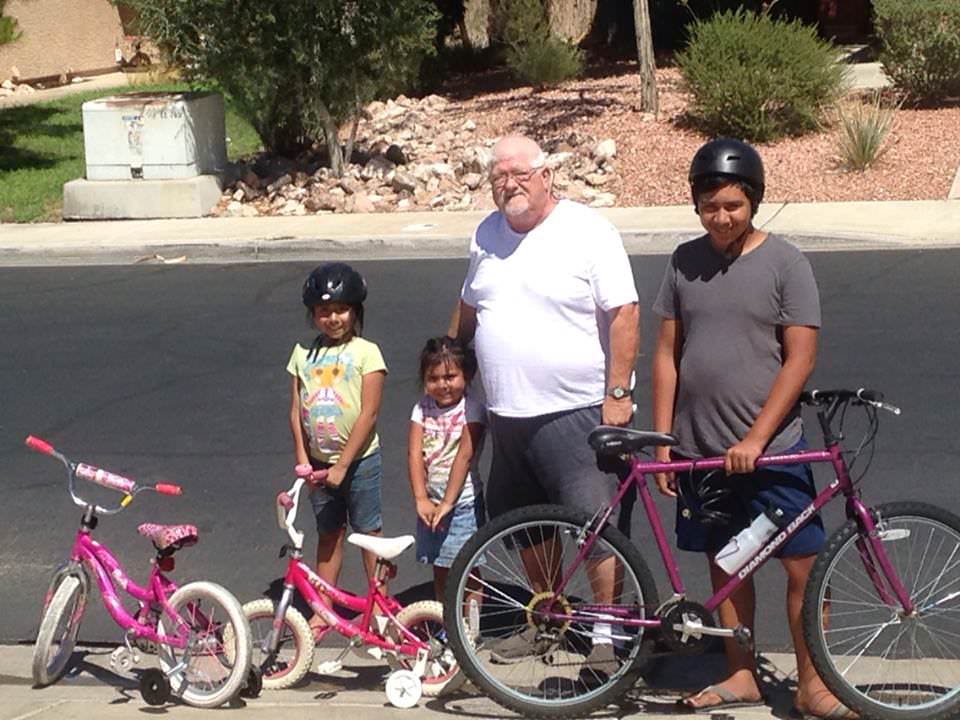 How do you determine if people cannot afford to buy bikes themselves?
I don't judge others so it is hard to determine who really is in need. I give a bike as long as the child and parent show up.
People sometimes call and ask for a specific model or brand. I know they are trying to scam the other kids out of a bike.
I can only afford one bike per family but I have given away as many as 5 for one family.
I don't know if people are requesting a bike for themselves or a child. That is why I ask that the child be present.
I don't think that people are truly mean at heart but when they see the word free, they try to take advantage of it.
Are there some of the bikes you have given away that you remember more than others?
There are bikes and children that leave a mark on my memory more than others but they are all great children.
I really love working with the special needs kids, they light up this world. I have given away a bike to a girl with Down syndrome and she taught me to be grateful no matter what life throws at you.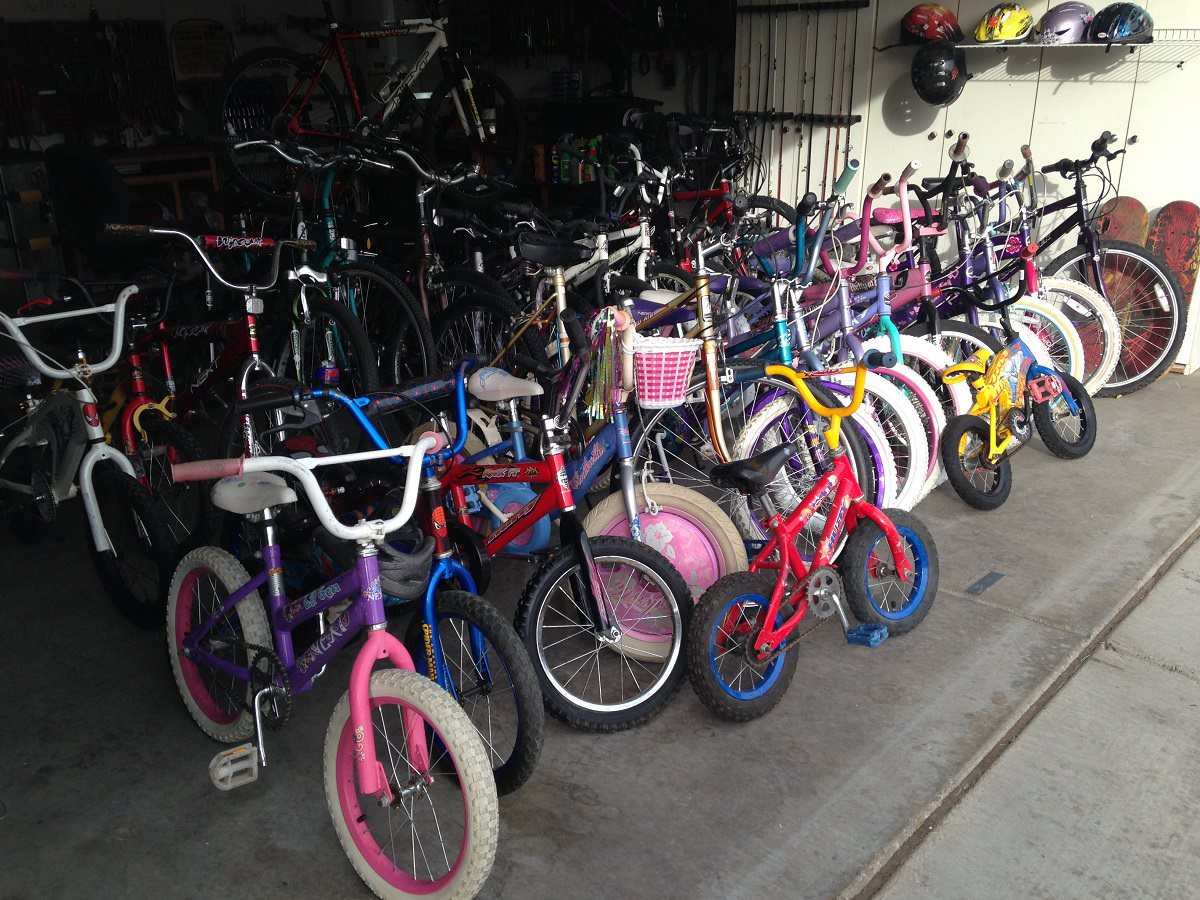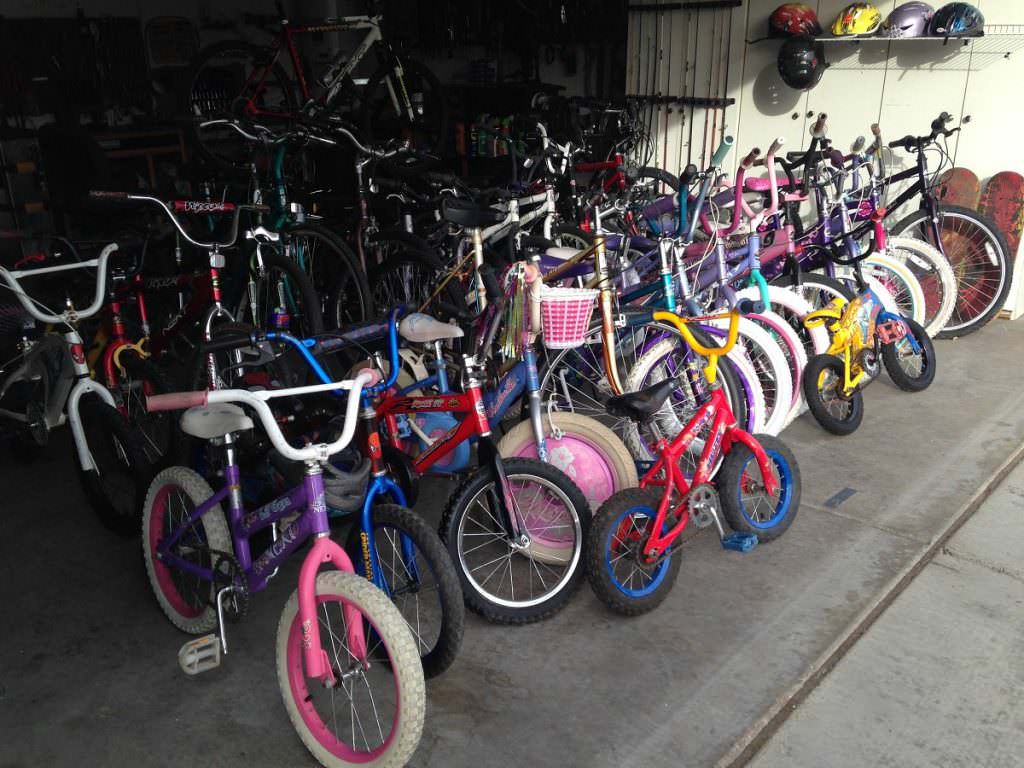 What are your plans for the future of Bob's Bikes?
Bobs bikes plans to be open as long as financially possible.
At this moment, we are secure but my household finances do come first. We do take care of my disabled brother and sister in law.
My wifes mother was living with us but just recently passed away. There are months that things are tight but we work with what we have and donations.
It would be nice if other people did the same as I do, but I cannot expand this on my own.
If I had more funding, I would be able to help everyone and purchase new bikes. I would also be able to help out adults that need a bike for transportation purposes even though I have helped adults in the past.
I do help adults by doing repairs for free if they bring the bike to me.
Visit Bobs bikes for needy kids on Facebook
---