Editors note: The Åland Islands group consists of nearly three hundred inhabitable islands, of which about eighty are inhabited, the remainder being desolate rocks. These islands form a continuation of Åbo skärgård (in Finnish, Turunmaan saaristo), the archipelago adjacent to the southeast coast of Finland. More info about the Åland Islands.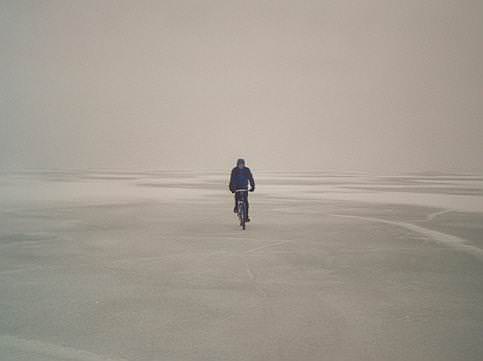 Visibility
There were three reasons which made this happen:
Saint-Petersburg cycling club "Velopiter" organizes yearly a (summer) trip to the Ålands; the place is advertised as "cyclists' heaven".
Last week my friend and former university mate Slava cycled by the ice of the Ladoga lake from Sortavala (north coast) to the Valaam (an archipelago in the northern part of the lake), and enjoyed the trip a lot. Here are some pictures and a short description from another participant, Jukka Karvonen.
In the Helsingin Sanomat newspaper there was an article about the ice road, connecting Turku with Marianhamina. The road was even cleaned of the snow! Such a cold winter that the gulf freezes happens quite seldom nowadays, maybe once in 10 years.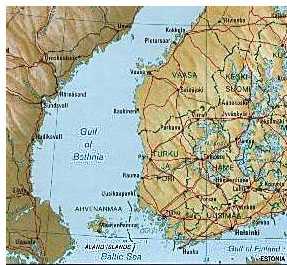 It was impossible to resist the desire to look at such a thing. The weather was just for that: already enough light, not yet too warm. Studying the wind forecast, we chose the direction "to the mainland". After carefully looking at a map on the "Viking Line" ferry (yes I know what I mean, this is a matter of style — look at the map only when it is already late to turn back!), it becomes clear that the venture looks somewhat too audacious. Point-to-point, we have 80km of ice of unknown condition.
In the worst case, we'll be carrying bicycles on our backs for 24 hours and finally stop at the open fairway. Well, as a last resort there are local ferries circulating between most of the big islands.
Here is a small map of where Aland is located.
Happy get-up at 4:00 on ferry in the morning, moaring in the Maarianhamina at 4:30. Starting up along the road number 2. Bicycle lights grasp white spots out of the invisibility. In the twillight we noticed such uncommon road signs: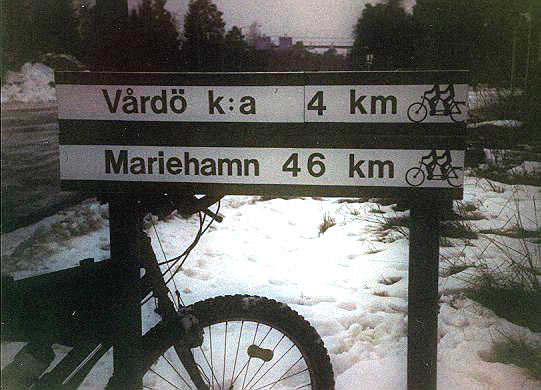 Tandem-only road?
After riding some 30 km in the darkness there was a short tunnel. At 7:30 we approach the first ferry. Some schedule is available, but we decide to practice ice-riding before the 80 km of ice and pass the indraught 100 meters to the side. That goes well. Several more kilometers, and we approach a small village Hummelvik, where we expect the advertized ice road to start from.
Nothing like that seems to be present.
But there is at least a "waiting hall", unlocked warm hut. We take time to warm up and to think on our further action. Well, there is no much to think about. General direction is clear, either Enklinge, or Kumlinge, and the details how exactly we get there can not be figured out before we try it.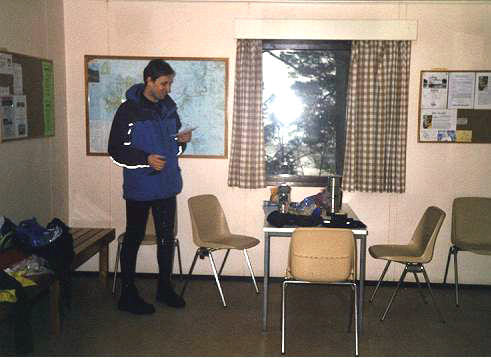 "Waiting hall". Clean, warm and uninhabited.
After some hour relaxing we step on the ice. Fortunately, there is not much show, so that we can cycle, not carry the bicycles (which was considered as one possibility). On the other hand, it is impossible to make any orientation: visibility is less than 1km, some islands appear in all directions around. We ended up following the open water-way which was going straight just where we wanted to go.
White areas covered with snow are mixed with dark grey spots of bald ice. We are trying to pass by deeper showy fields or to rush through them after a good acceleration. Average speed is about 14 km/h, which is not at all bad for a gulf's surface.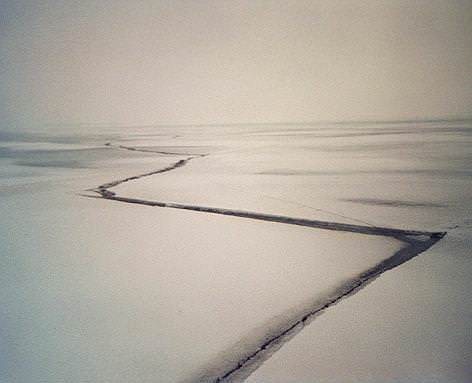 Curved frozen slit in the ice. Width is about 40 cm.
In the beginning we carefully stepped over such slits, but later on started to dash through. They were all quite reliably frozen. A suspension fork would probably have helped dash through them faster. The indraught line helps a lot, it is so easy to follow it in some 50 meters to the left.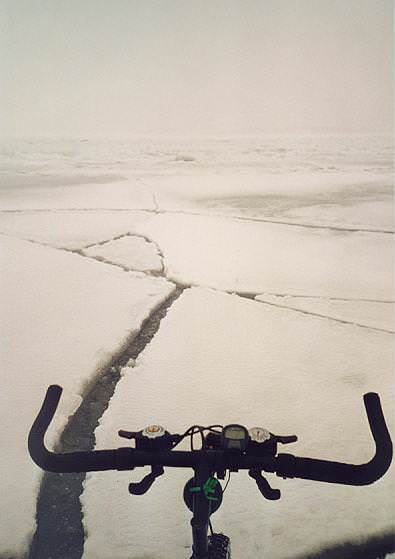 These icy heaps in the back are the indraught's sides.
We met a conical buoy once. It was so uneven around it, but I've managed to stand next to make a very valuable picture 🙂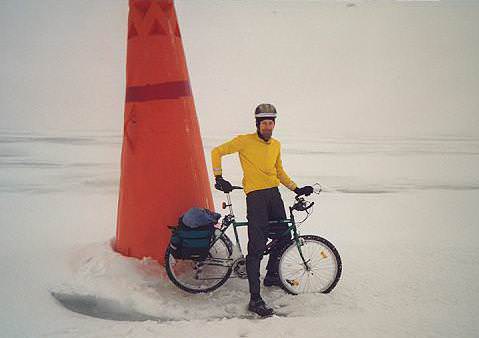 Very valuable picture: me and buoy.
Two more hours, and we approach the next big island. Unexpectedly we meet something which is almost a highway for us. Here it is, the promised ice-road. It is clear that it left the shore somewhere to the north from the place of our start. Now it is quite easy to follow. And it really is a highway!
We are riding easily 20km/h, there are obviously no hills, and the "pavement" is excellent. Studded tyres roll on the ice almost like on the asphalt. We met quite many cars. Drivers often yielded to us, most waved their hands, and some were even picturing us. Probably they thought that a car on the ice is more natural than a bicycle on the ice!
A line of cars.
About halfway to the next big island the road forked and there was even a self-made direction sign, indicating places where the road goes to.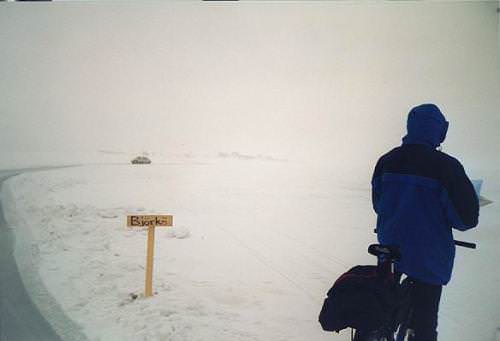 Direction sign.
20 more kilometers, and we are on the earth again. We could continue to follow the nice iceroad, but it will be up to 100 kilometers more, while 100 are already behind. It is possible to try to get to the continent in the direction of Kustavi, which is closer, but there can be indraught for the ships going to Turku from the north. We decide to take a ferry going from Åva to Osnäs. It is 15 km to the northern tip of the island.
There is again a "waiting hall", not so clean as the first one, but still warm. Two and a half hours are easily spent eating 🙂 One hour before our departure a smaller ferry from Jurmo has arrived. There was not a single passenger coming.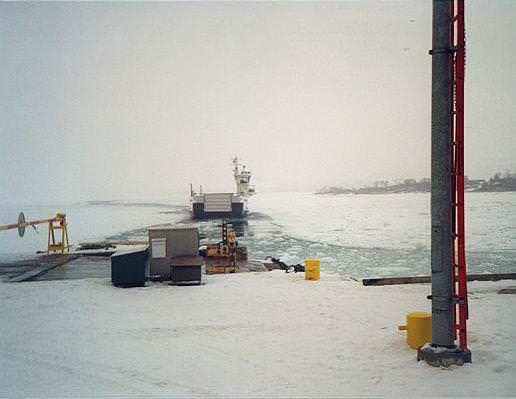 Empty ferry from Jurmo.
Our ferry named "Viggen" was much bigger. It could easily take a hundred people, but now there were some 8 passengers. For us the trip was free, because the fair is charged for a car only. Maybe in the summer tourist season this does not look so absurd — huge cruise boat with a cafeteria inside running there and back almost empty.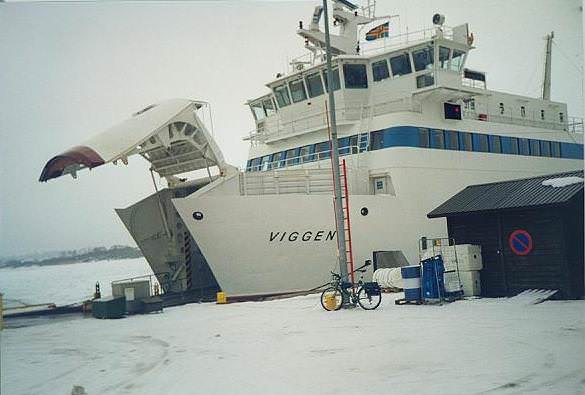 Cars and bikes are loading into Viggen.
It is again nice, warm, clean and spacy. The ferry runs quite fast, certainly faster than we'd have cycled. And, the most important notice was that we indeed crossed the indraught, which would have made us turn back in case we had been going by the ice.
The side of our machine is regularly hit by big pieces of the ice. It seems to be about 20 cm thick.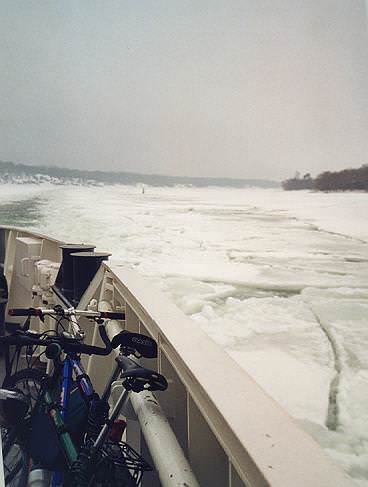 Ice hitting the ferry side.
From this ferry to the next one we had 20 minutes and 8km by the island road. It will be no problem to pass the next straight by the ice, but after a good rest we did these kilometers in time. The next short ferry looks to be designed to be free. There is only one person in the high cabin guiding it.
Quite interestingly, there was no crashed ice in the straight. How can this be possible, is it warmed artificially?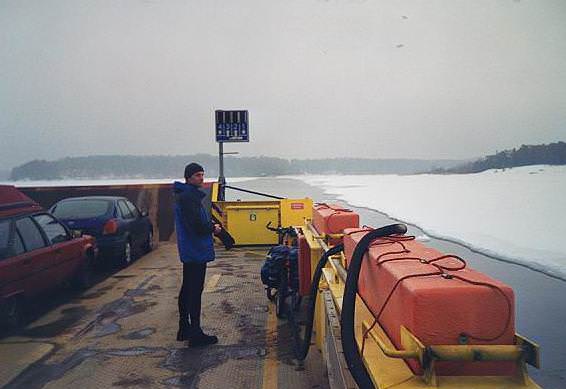 The second ferry.
From Kustavi some 60 km is left to a small town Mietoinen, where we hope to catch a direct bus to Helsinki. That distance passed in good tempo. At the bus stop, the computer shows 160 kilometers. By 11 in the night, we are again at home.