Nancy Sathre-Vogel went on a trip that took her from Alaska to Argentina and lasted almost three years. And she was not alone. Together with her was her husband and their two 10 year old children.
Here she tells us about the trip, how it is to do long distance biking as a family and how you handle that your children are away from school for several years.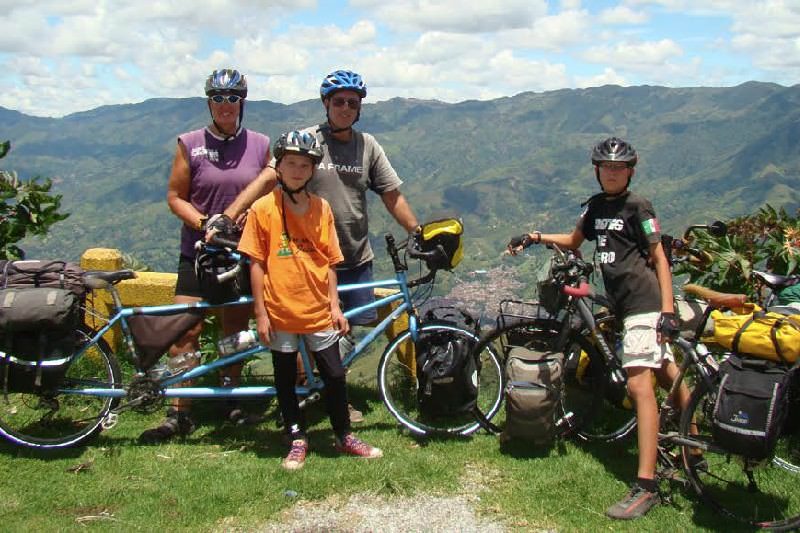 Can you start out by telling us a bit about yourself and your trip?
I am Nancy, more commonly known as Mom to Family on Bikes. Together with my husband and children, I rode my bike from Alaska to Argentina. Bike touring has long been a passion of mine, dating back several decades. My very first bike tour, in 1988, was from Norfolk, Virginia, to New Orleans in the USA. A couple years later, in 1990, I took off with a man I didn't know (but is now my husband) to spend a year pedaling around the Indian subcontinent.
We toed the line and did normal, expected stuff until 2006 when we put our twins on the back of a bicycle built for three and cycling around the USA and Mexico. In 2008 we flew to Alaska and started pedaling south.
How did you get the idea to bike with your family from Alaska to Argentina?
Our initial idea was to spend a year exploring our own country on bikes, then return home and go back to ¨normal¨ life. As we pedaled the Pacific coast, however, we met some other cyclists who were on their way to Argentina. The dream was born…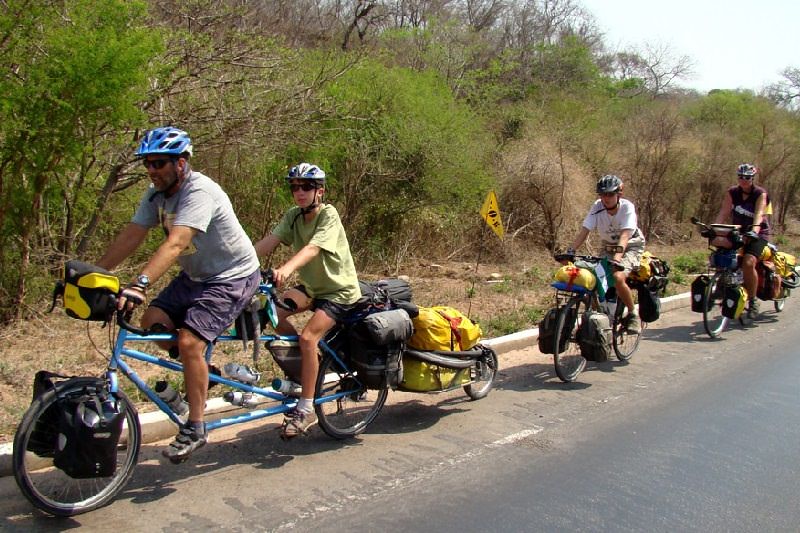 How did you choose your route and how long were you away?
Our PanAm journey took nearly three years, and we pedaled 17,285 miles. As for the route – there were a number of factors that influenced it. Partly, it was based on sights we wanted to see. Partly on road conditions or hills. And sometimes, we chose the only road through an area because… well, because it was the only road.
What was budget for the trip – and did you do anything to limit your expenses?
In general, we spent about $2000/month while on the road. That was about $1500/month ($50/day) for basic day-to-day expenses like food and a place to sleep. The remaining $500 we reserved for special, one-off expenses like a trip to the Galapagos Islands or to rebuild the bikes. We were prepared to spend more if we needed it, but found that budget worked fairly easily.
What did you eat and where did you sleep?
This varied tremendously. In general, in the north and south, we camped out and cooked over our stove. In the tropics we typically stayed in small hotels and ate in restaurants. There were certainly exceptions to that rule, but that is how it mostly happened.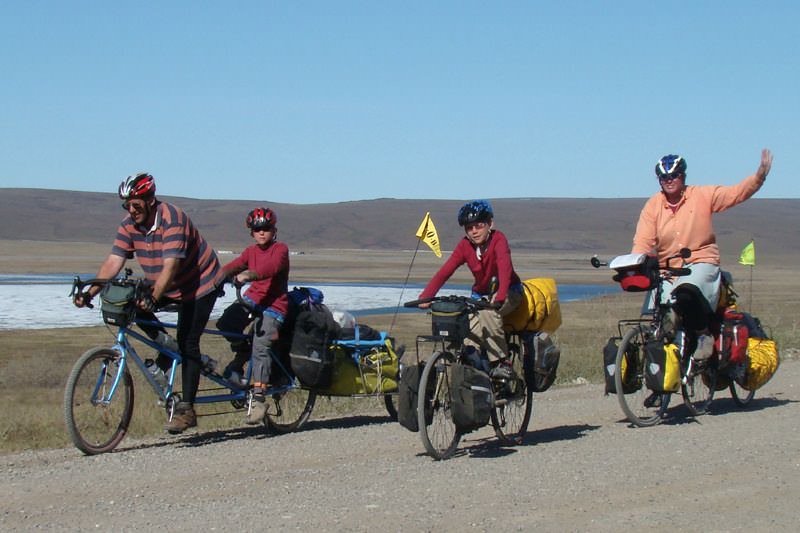 What bikes did you ride on – and why did you select these bikes?
I rode an REI Novara Randonee. I chose it because it was steel, although I didn't like that it had 700c wheels (those were impossible to find in Latin America, so all replacements had to come from the USA.)
My son rode an REI Novara Safari. We chose that initially because it was small enough for him to fit on. Before we crossed into Mexico, he was ready for a new bike, so we simply bought another Safari in a couple sizes bigger. Again, we didn't like that it had 700c wheels, as the replacement problem in Latin America is definitely a problem.
My husband and other son rode a custom-made Rodriguez tandem.
What other equipment did you bring?
Everything we needed. We were completely set up to camp on the side of the road whenever inclement weather moved in. We had clothes for four seasons. We carried homeschooling materials for our sons, and enough tools/spare parts to completely rebuild the bikes.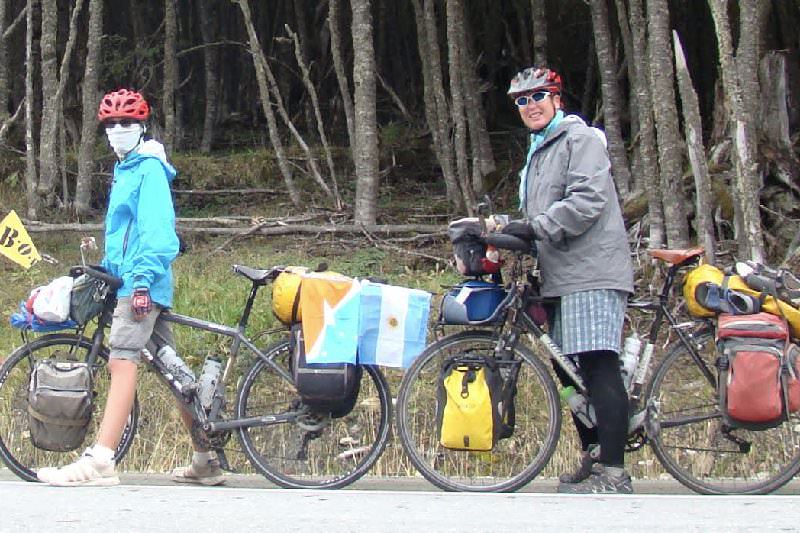 Did you train before you left?
Not nearly as much as we should have.
How did you handle the children's schooling while you were away?
Basically, we used our journey as the basis of their education. For example, when we were at the Panama Canal, we researched the history of the canal, the challenges involved with building it, the physics of raising and lowing ships, the economic ramifications of cutting a week off the journey, and the ecological impact of connecting the two oceans. No matter where we were, there was always something we could learn about.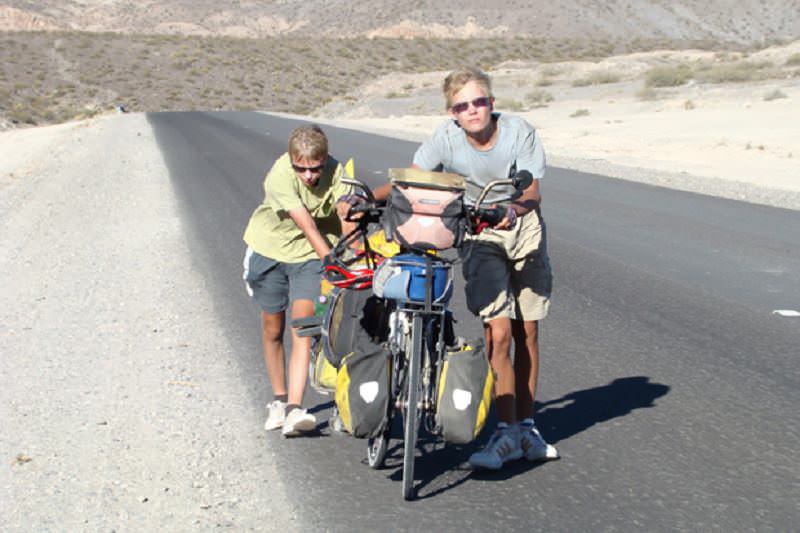 Did it create any problems for them to be away from school?
Not at all. In fact, when we arrived back home, they were advanced compared to their peers.
How did the children feel about going on the trip, being away – and coming home again?
They missed their friends, like all kids would. We expected that. But more importantly, they were excited about going, and remained excited about the journey til the end. Coming home was challenging in many ways, but we looked at it as a new phase in our journey and dived right in.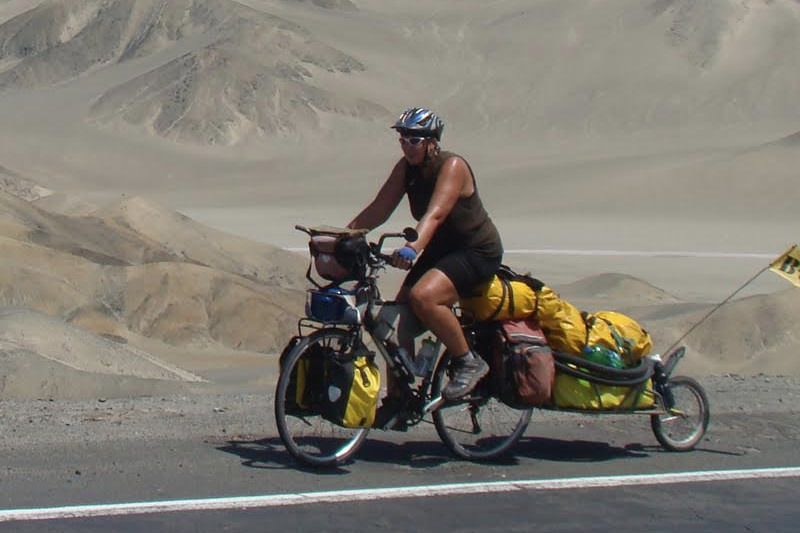 Could you also tell us a bit about your books?
I have written a total of five books: